If you're travelling in Seoul this winter, you have the chance to see snow-capped palaces, frosty fortress walls blanketed in snow, and many other wintry sights from Korea's capital. So, where does it snow in Seoul and what are the best places to see snow?
These top 10 snowy sights in Seoul are perfect for those who want to capture pretty pictures of the city bedecked in powdery white snow. Families and other travellers will also enjoy these locations as they offer a chance for wintry fun.
Be sure not to miss these snowy Seoul scenes this winter. Read on to find out all about Seoul's winter sights, where to see them, and how to enjoy this chilly season.
Disclaimer: This site contains affiliate links and I may earn commission for purchases made after clicking one of these links. Affiliate Disclaimer
---
Best Places To See Snow In Seoul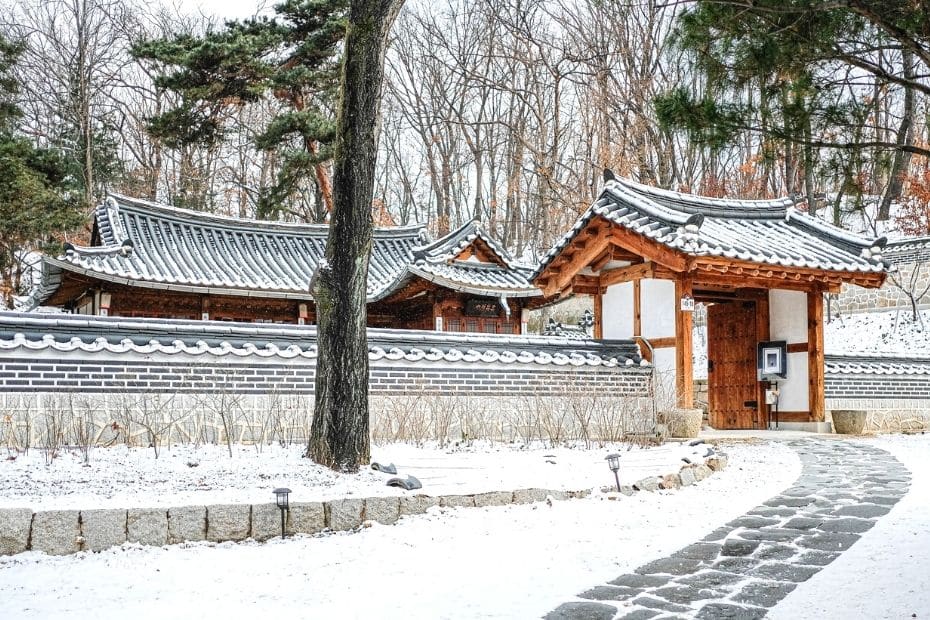 There are various attractions and famous sights where you can play in the snow, experience traditional Korean culture, and have an exciting day out in Seoul.
This article will cover 10 pretty locations where you can see snow in Seoul and introduce unique and interesting activities that you can do in these areas.
I'm recommending these places as they're unmissable spots in Seoul with a reputation for winter fun. They're worth visiting any other time of year, too.
If you're looking for places to enjoy snow outside Seoul, check out this article:
---
When Does It Snow In Seoul?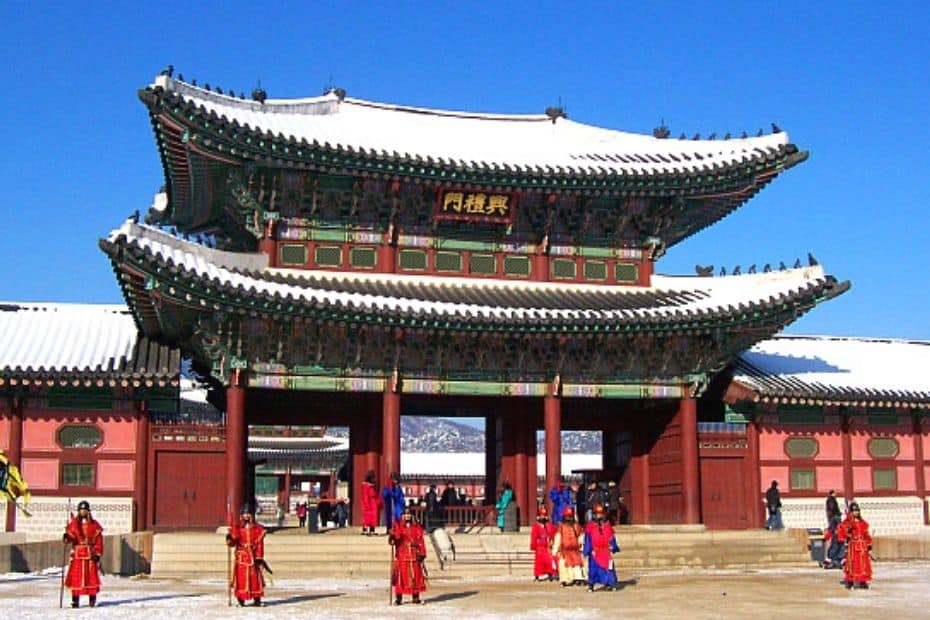 The first snowfall in Seoul in 2021 was on November 10th, 30 days earlier than 2020 and 10 days earlier than the average first snowfall in Seoul, which is November 20th.
Although snowfall in Seoul starts from November, you're most likely to see snow in Seoul in January and February as these are the coldest months, with temperatures around 0 degrees (and colder at night).
You can see snow in Seoul from late November to early March, however, I'd recommend visiting from late December to mid-February for the best chance to see snow.
Here are the top 10 prettiest places to see snow in Seoul.
---
1: Inside Seoul's Royal Palaces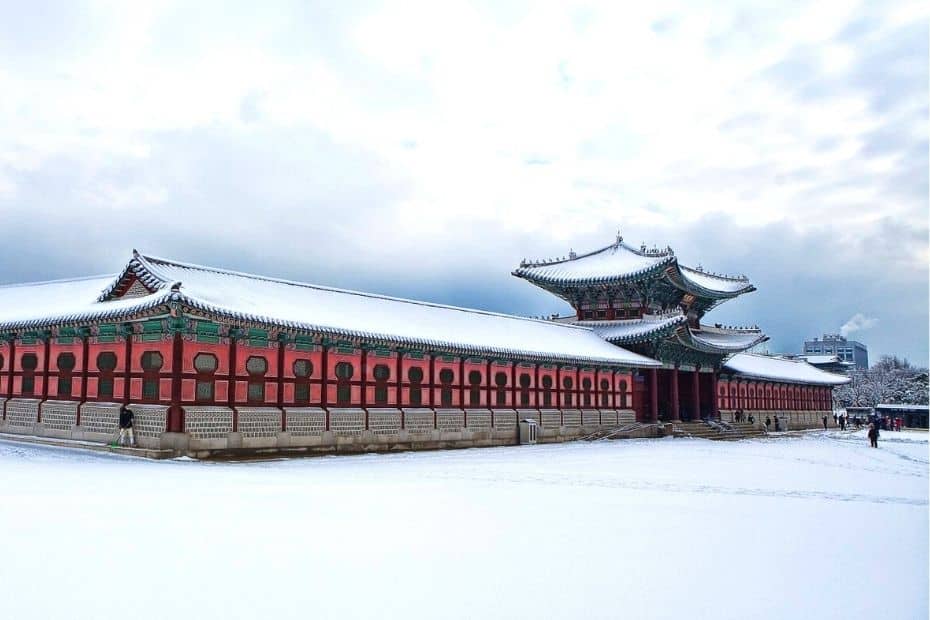 Located in the centre of Seoul and within walking distance from each other, Seoul's royal palaces are a beautiful reminder of Korea's past and definitely something to add to any South Korea bucket list.
The bright greens, reds, and other vivid colours that set these traditional buildings apart from the drab greys of modern buildings look even more impressive than normal when covered in shiny white snow during winter.
The five royal palaces in Seoul (and nearest subway stations) are:
Gyeongbokgung Palace
(Anguk Station)
Changdeokgung Palace
(Anguk Station
Changgyeonggung Palace
(Anguk Station)
Deoksugung Palace
(City Hall Station)
Gyeonghuigung Palace
(Gwanghwamun Station)
To enjoy these snow-bedecked palaces to their fullest, why not rent Korean hanbok (traditional clothes) to make your stroll around the palace even more authentic.
You can find hanbok rental shops in the areas around the palaces. If you're wearing hanbok, you can gain access to all of these palaces for free! More info about Hanbok Rental in Seoul.
---
2: Exploring Bukchon Hanok Village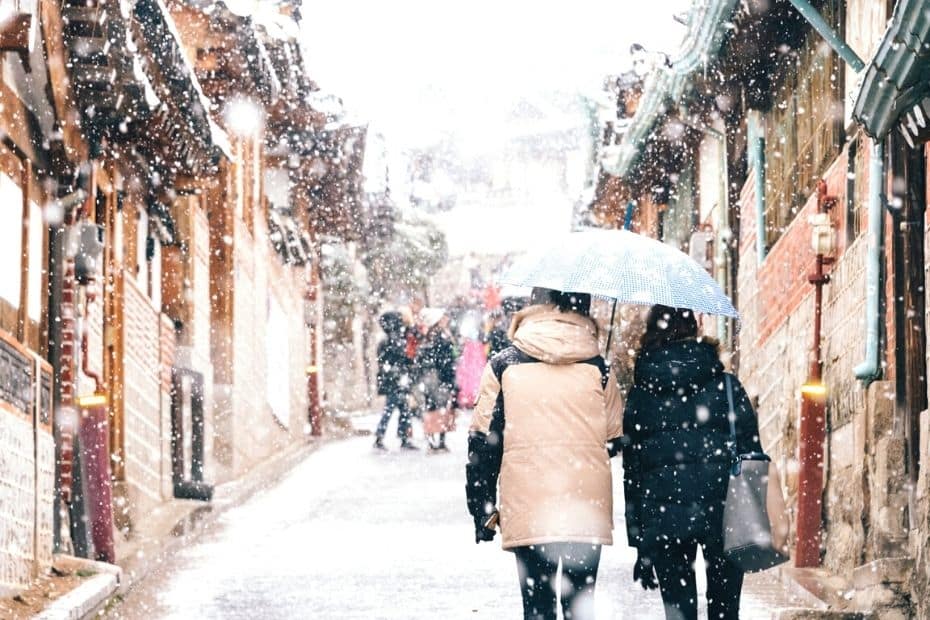 The historic district of Bukchon Hanok Village is full of old hanok buildings beautifully preserved and restored. Walk through these peaceful streets with wooden beams and black tiles covered in soft white snow.
As with the royal palaces, this is a great place to dress up in hanbok and explore the quiet lanes. Grab your camera and choose one of the many doorways or streets to take some cute pictures. If the snow gets too heavy, be sure to visit one of the many delightful cafes and tea rooms and experience more Korean traditional charm in a warm and cosy atmosphere.
How To Get There
Take the subway to Anguk Station (Line 3 – orange) and walk north from exit 2. You should see signs for the Bukchon Hanok Village straight away.
There are other hanok villages in Seoul that offer a glimpse of traditional Korean life. Here are a few more to check out:
---
3: Hiking In Bukhansan National Park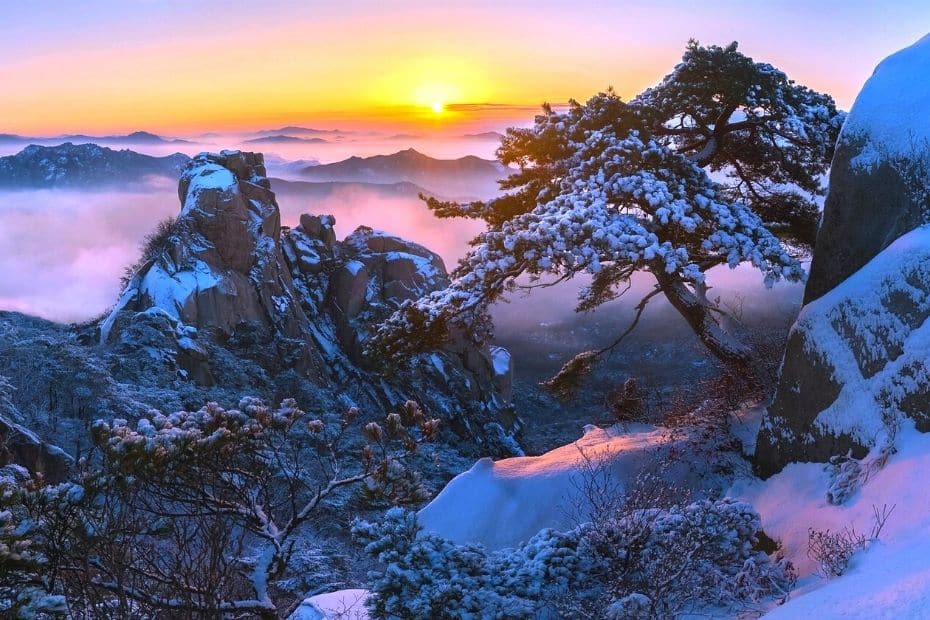 An obvious choice for snow in Seoul has to be in Seoul's own national park – the ruggedly astounding Bukhansan National Park. You'll probably recognise this mountain range if you've been to the top of the N Seoul Tower and looked north. You can't miss it.
I've climbed Bukhansan several times, including in mid-March, and there was still snow falling at that time. In January and February, you're more likely to see thick, powdery snow here than in other places in Seoul.
How To Get There
Easily accessible from Seoul and with a number of different routes to explore, this is certainly a great way to see snow in Seoul and a nice introduction to hiking in Korea.
Here's more information about how to Climb Bukhansan In Winter and some general Hiking In Korea Tips that'll help you prepare for the journey.
---
4: The Top Of N Seoul Tower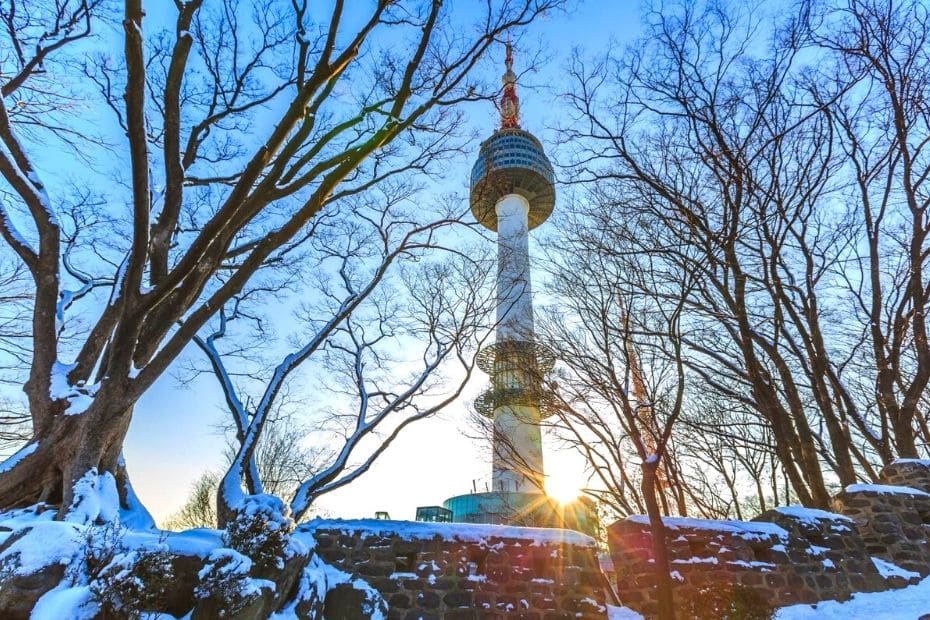 One of the must-see sights in Seoul, the N Seoul Tower is great for looking out to see snow blanketing Seoul like a clean cotton sheet in all directions.
Take a hike up the short trail to the top of Namsan Mountain to reach the N Seoul Tower, passing by snow-covered fortress walls and ghostly snow-lined limbs of trees on the way.
If hiking isn't for you, take the Namsan Cable Car to the top and enjoy a pleasant ride, looking down over central Seoul, royal palaces, and Bukhansan National Park in the distance.
You can save money on entrance fees and attractions at the tower by booking online, which also avoids long queues and gives you more time to see snowy sights in Seoul.
How To Get There
There are several ways to get to the N Seoul Tower, including on foot, by cable car, bus, or car. The most scenic way is by cable car. Walking takes about 30 minutes from Myeongdong Station.
---
5: Lotte World Theme Park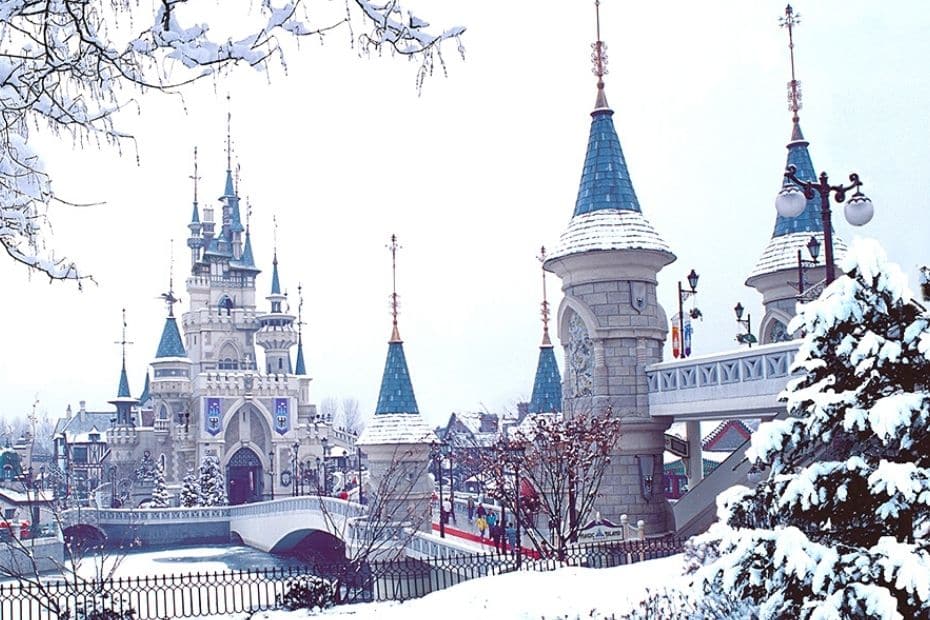 For those wondering where to see snow in Seoul with kids, you certainly can't beat the Lotte World Theme Park in Jamsil. Although most of Lotte World is indoors, the Magic Island (pictured above) is located on the edge of Seokchon Lake.
From here, you might see frozen waters with snow on the empty cherry blossom trees that are waiting to show their glory in the coming spring. In other words, a perfectly magical spot to see snow in Seoul.
Also located nearby is the world's 6th tallest building – Lotte World Tower. Take a trip up to the 123rd floor of the Seoul Sky Observatory for incredible views across Seoul's snow-drowned buildings.
How To Get There
Take the subway to Jamsil Station (Line 2 – green or Line 8 – red). Lotte World is right outside subway exit 4 and the Lotte World Tower is outside exit 1.
If you want to see the Lotte World Adventure theme park and other premium attractions in Seoul, you can save a lot of money by purchasing a Discover Seoul Pass. You can get free entrance to this place, as well as many other top sights throughout Seoul.
---
NEED TRAVEL ADVICE FOR SOUTH KOREA?
Join Korea Travel Advice on Facebook | Discover amazing places to see in Korea | Connect with a friendly community | Get essential advice for your Korean journey.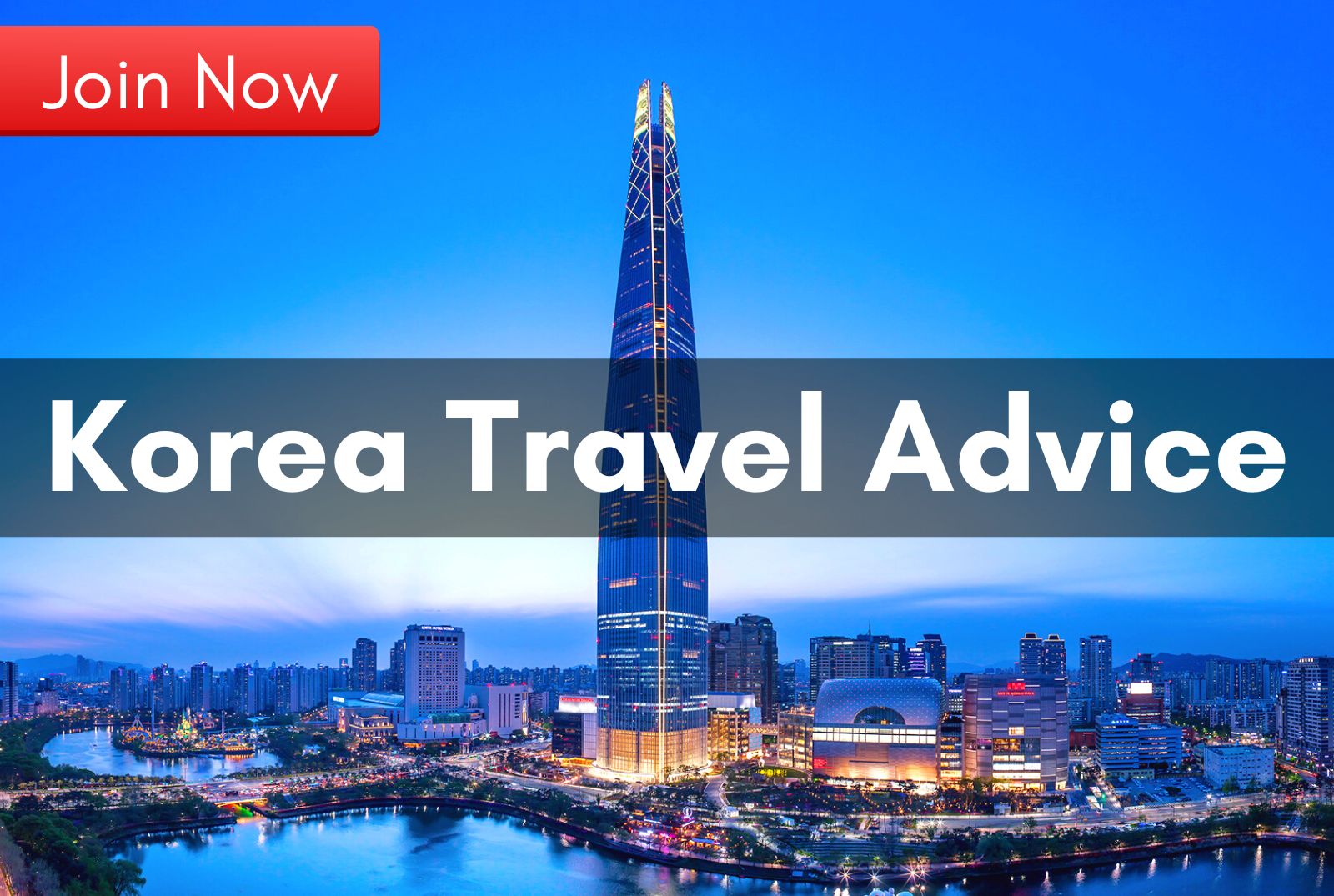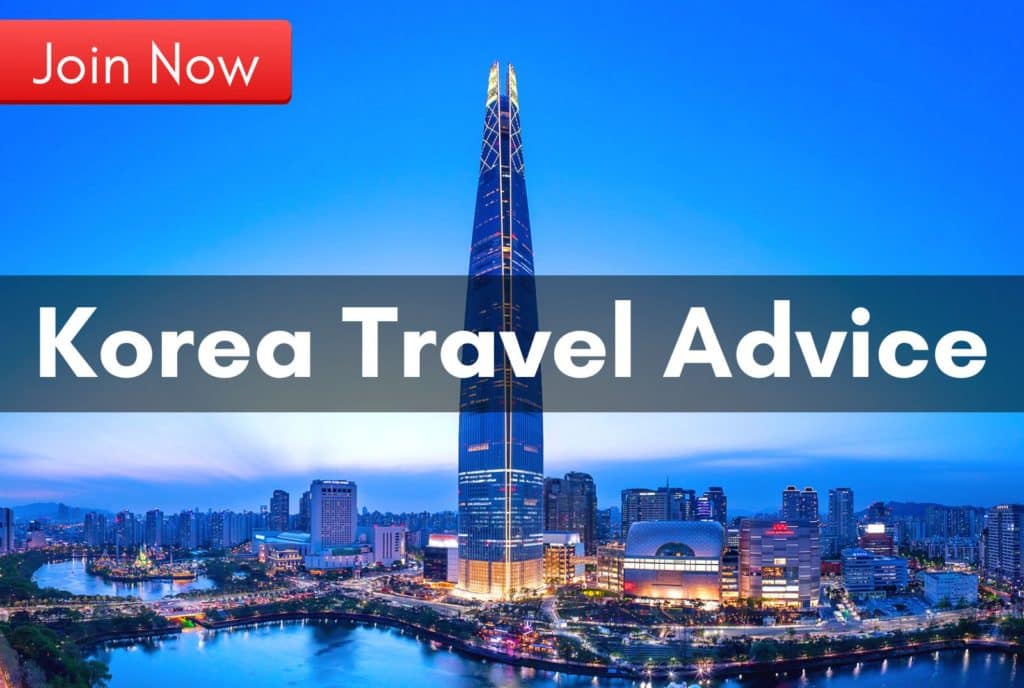 ---
6: Walking Along Seoul's Fortress Walls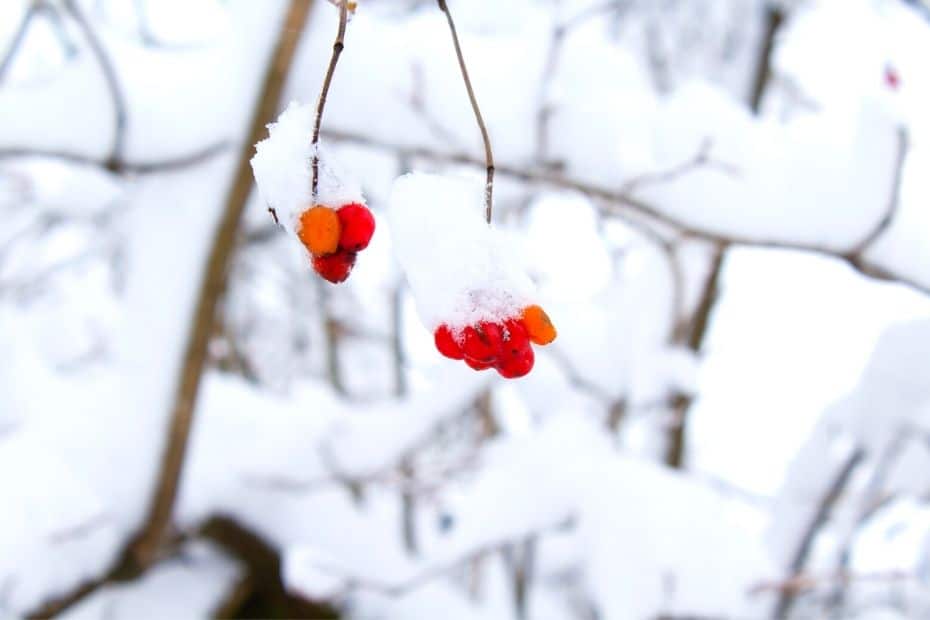 Walk along Seoul's lofty fortress walls to gaze out over the city when it's covered in snow, and to see clean snow not trampled down by traffic and pedestrians in the busy streets below.
The fortress walls are great for a bit of winter exercise (but be sure to wrap up warm), and see a historic side of Seoul. The fortress walls are over 600 years old and are the perfect place for a morning stroll or night hike without having to leave the city.
You can hike the fortress walls in many areas, but I'd recommend a short walk starting at Naksan Park – easily accessed from Hyehwa Station by walking up the hill to the east. You will also see some beautiful views on the walk from the station to the park.
How To Get There
Take a subway to Hyehwa Station (Line 4 – light blue) and walk east up the hill towards the park. Alternatively, head to Dongdaemun Station (Line 4 – light blue) and you'll find fortress walls here, too.
More information about Seoul's Fortress Walls.
---
7: Haneul Park & Meta Sequoia Lane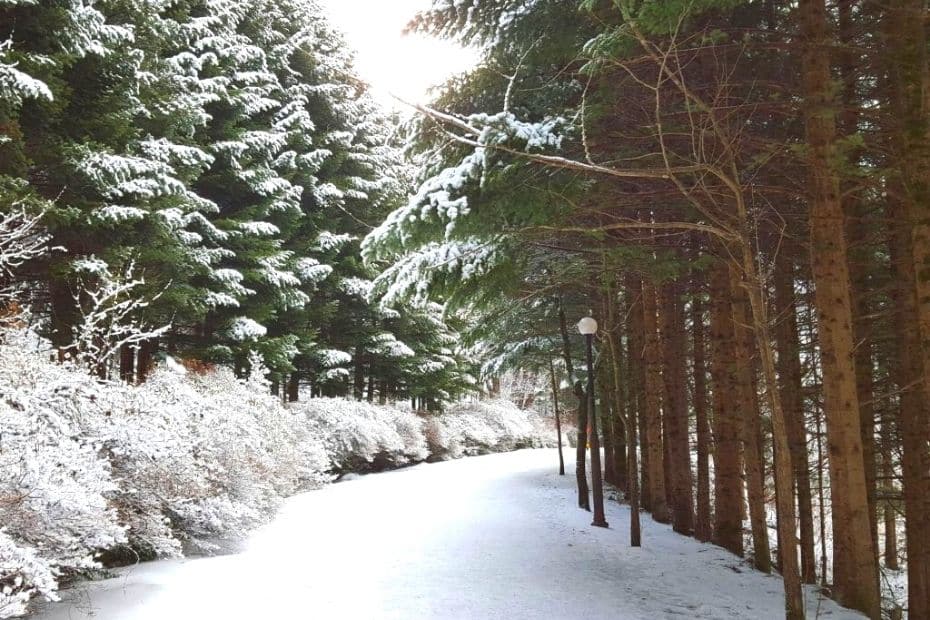 The Haneul (Sky) Park near World Cup Stadium, a great place for Autumn Leaves, looks so beautiful when the snow falls in winter. The tall reeds are crested in white snow and offer many interesting photo opportunities.
Perhaps even better is the meta sequoia lane in the adjacent Nanji Hangang Park. Meta sequoia (dawn redwood) are tall conifers soaring up to 165 foot into the air, certainly unmissable in the snow. The dark trunks provide a wonderful contrast to light snow.
There are loads of pretty riverside parks to see the snow in Seoul. Take a stroll along the Han River and enjoy them all. If it's cold enough, the river might even be frozen, too!
How To Get There
Take a subway to World Cup Stadium (Line 6 – brown) and head towards the rivers. There are numerous parks in this area. Haneul Park is on top of the hill – you can't miss it. You can also find the Oil Tank Culture Park here, a free attraction that is worth a visit.
---
8: Seoul Land In Seoul Grand Park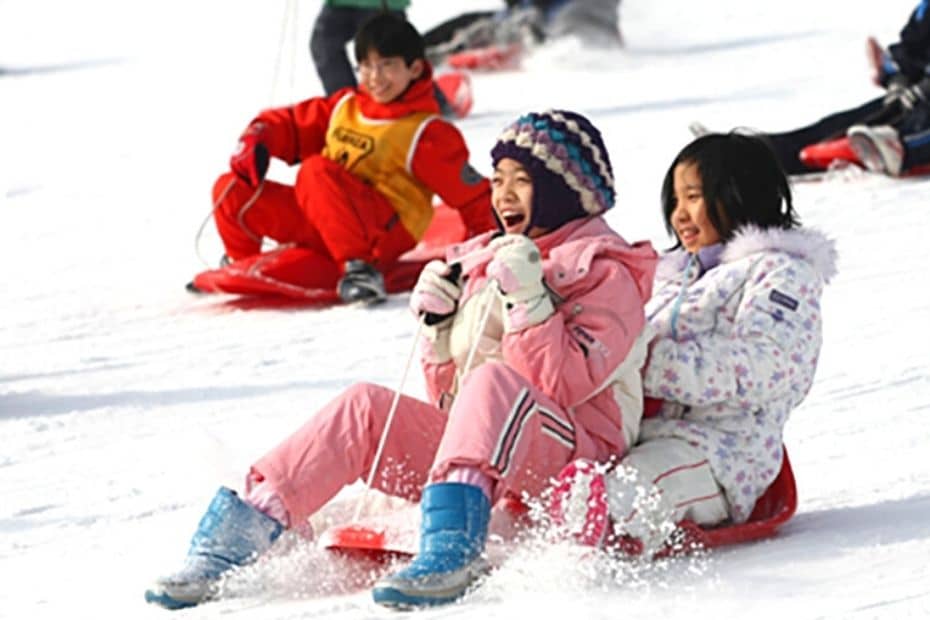 Seoul Land, located in Seoul Grand Park, is a fun spot for families to enjoy a day outside playing in the snow. Besides the regular attractions on offer in the park, there are special winter activities available for the snowy season, including snow sledding on Samchulli Hill.
This area is great fun for kids and adults alike and everyone can have fun playing in the snow in Seoul Land. Grab a sled, walk to the top of the snowy mound, then zip down to the bottom.
Seoul Zoo is also located in Seoul Grand Park and has a wide variety of animals to see. You can visit both areas in a day and you can get discounted tickets to see all the attractions.
How To Get There
To get to Seoul Grand Park, take the subway to Seoul Grand Park Station (Line 4 – light blue). A small train (the elephant train) runs between Seoul Land, Seoul Zoo and Seoul Grand Park.
---
9: Seoul Forest & Seongsu-dong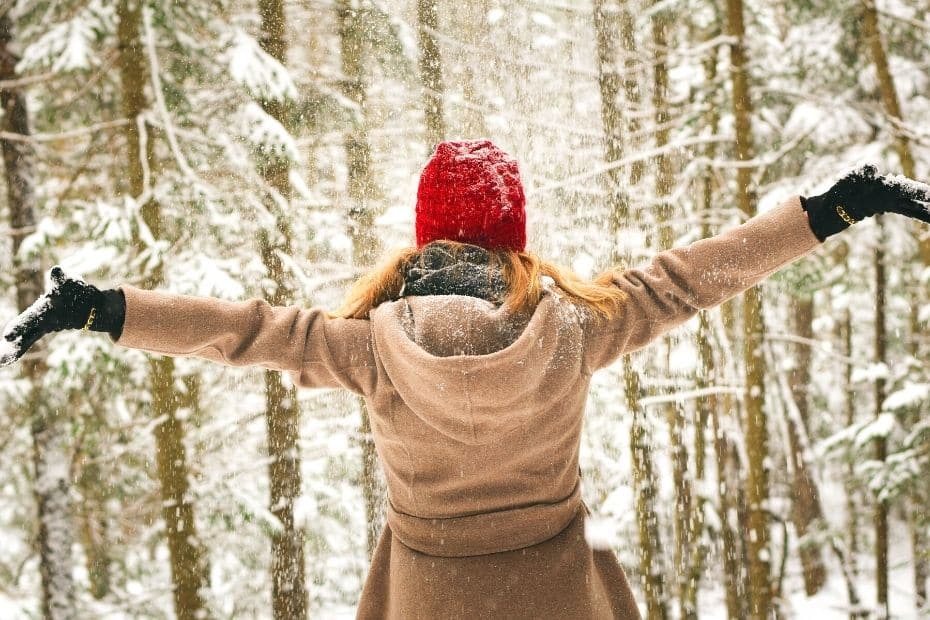 Seoul Forest in Seongdong district has been described as the Hyde Park or Central Park of Seoul. Wedged between two parts of the Han River, the park is a welcome oasis from the busy city any time of the year.
In winter you can meet dozens of deer, giving you the impression of being in Lapland, not Korea. This is a family park, so if you're travelling with children, they can have fun with the animals (there's also a petting zoo), see snow covered trees, frozen lakes, and play on the many slides and swings.
If the cold weather becomes too much, head into the hip Seongsu-dong area to warm up. You'll find lots of artsy shops, cafes, the Under Stand Avenue (shipping container galleries, shops, and cafes), unique restaurants, and several museums and galleries.
How To Get There
Take the subway to Seoul Forest Station (Bundang Line – yellow/orange). You'll probably have to transfer at Wangsimni Station if you're coming from central Seoul.
---
10: Skating On Ice At Seoul Plaza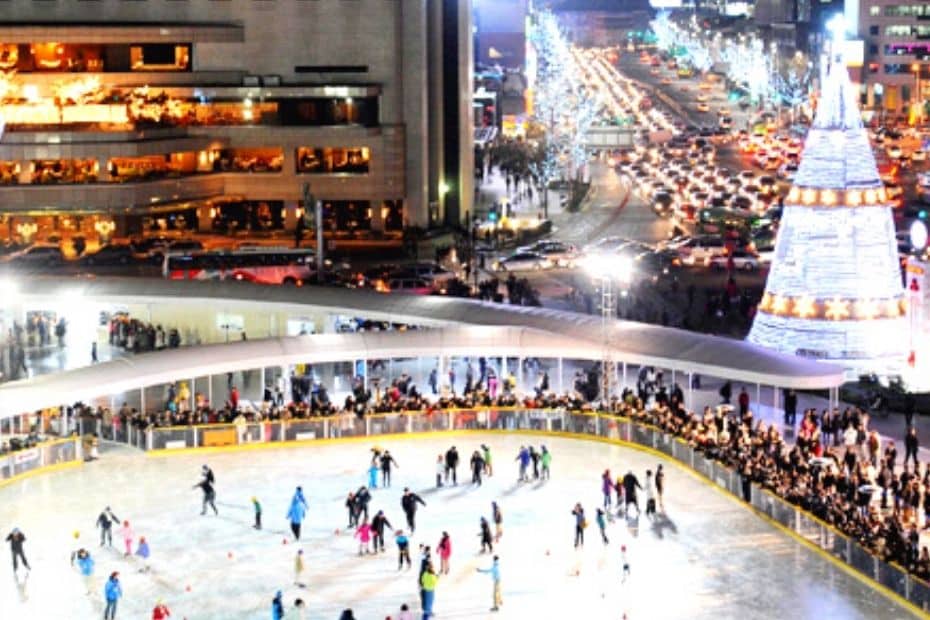 One of the most popular ice skating rinks in Seoul is the Seoul Plaza Ice Skating Rink, located close to Deoksugung Palace, meaning you can combine these two great snowy locations in Seoul. There are other indoor and outdoor rinks you can visit in Seoul, too.
Why not grab some skates when it snows in Seoul and slip and slide through the hard ice, or watch as others do it more gracefully? A wonderful wintry activity amongst the snowy streets of Seoul.
Please note: Check ahead to make sure the ice skating rinks are open when you plan to visit. There may be closures this winter due to the ongoing pandemic.
How To Get There
Take the subway to City Hall Station (Line 1 – dark blue). The ice rink is near the City Hall building, opposite Deoksugung Palace.
---
Tips To Enjoy The Snow In Seoul Safely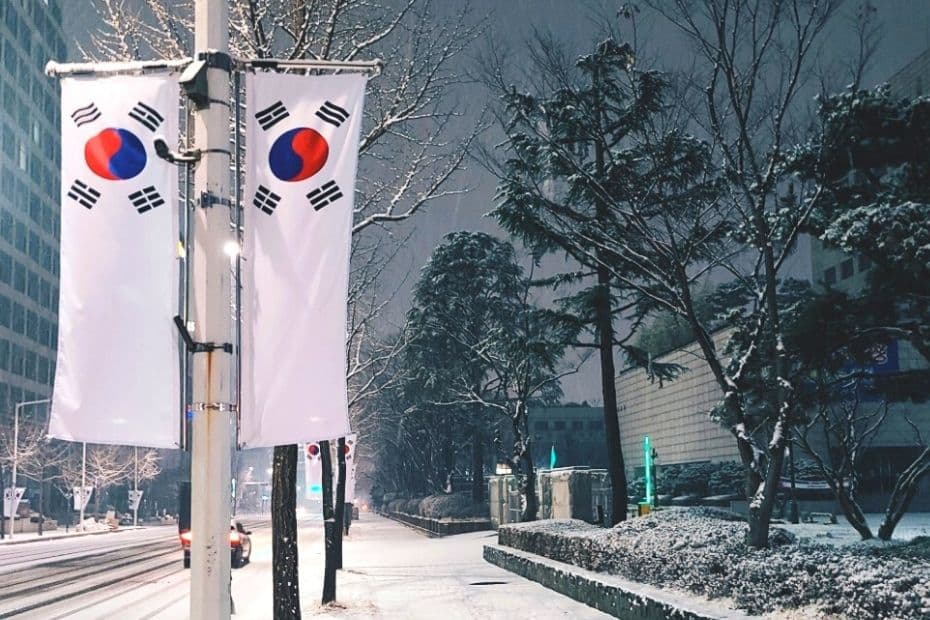 Here are a few tips for enjoying Seoul's snowy sights safely. Winter may be colder and icier than you're used to, and being prepared will save you from problems.
Wear The Right Clothes
First, I want to say how important it is to wear the right clothes. The ice can be slippery, the weather is bone-numbingly cold at times, and the snow can get everywhere. Wear several layers and make sure you have a thick jacket when you go outside.
Be prepared for the weather and you should be fine. Even if you're not, Seoul has all you will ever need to survive. Check out the markets near Seoul Station or in Myeongdong Market and Namdaemun Market for cheap winter clothes.
Bring The Right Equipment
If you're in the city, a good pair of training shoes or something with grip will be fine. If you're planning to hike Bukhansan or another mountain, be sure to wear hiking boots.
If you're going hiking in deep snow or ice, find out whether or not you'll need crampons (probably) to stop you slipping. And try to bring some hiking poles, too.
Pack Some Heat
Heat packs, whilst not too great environmentally, are certainly a wonderful way to keep warm and stop your fingers from falling off. You can buy these from convenience stores, cosmetics shops, and supermarkets in Seoul.
Warm Up In A Cafe
When it's cold and windy outside on the streets of Seoul, the best way to stay warm and recharge is to pop into a cafe, take your jacket off for a while, and re-heat with a hot drink.
There are thousands of cafes across Seoul, but if you want to try something a bit different, why not visit a tea room in one of the traditional hanok villages for a cup of refreshing Korean tea in beautiful surroundings?
Look After Your Skin
Winter is the driest season in Korea and your skin will dry out quickly. Be sure to pack lots of skin cream, hand cream, and lip balm and apply them daily. You can buy these from cosmetics shops in Seoul at reasonable prices. I'd recommend visiting Myeongdong, Namdaemun, or Dongdaemun for cheap cosmetics.
Stay Hydrated & Fill Up
As mentioned, winter is very dry. Stay warm and drink lots of hot drinks. Stay hydrated to avoid problems, especially if you're out in the mountains. You can get heated drinks at convenience stores, including healthy ginseng drinks for extra energy.
Try Korean Winter Snack Foods & Dishes, you won't regret it. There's nothing like a bit of spice for staying warm, but be careful with some of it or you'll be sweating like a turkey at Christmas.
Book Ahead To Avoid Disappointment
Winter festivals and hotels in popular places can sell out far in advance. To avoid disappointment, make sure to book tours and accommodation as soon as you make plans to go somewhere. Especially when travelling around Christmas, New Year, or Seollal (Korean Lunar New Year).
Seoul For Under $25 A Day: Find out how to travel around Seoul for less than $25 per day!
---
Korean Travel Essentials
To save you time and money when you travel to Korea, here are my personal recommended Korea travel essentials.
Korea Electronic Travel Authorisation (K-ETA)
Most countries need a K-ETA to travel to Korea. Apply online before you travel only with the Official K-ETA Site.
Transportation
The best way to get around cheaply and conveniently is with a T-Money Card. No tickets and discounts on every ride.
Korea Rail Pass
If plan to use Korea's high speed train network, then save money and get unlimited rides with a Korea Rail Pass.
Hotels In Seoul
Here's the 10 Best Hotels In Hongdae, Seoul's coolest district, and 10 Budget Hotels In Myeongdong which are close to Seoul's sights. I recommend Klook or Agoda for the best deals.
Flights To Korea
Always look around before you book flights. I recommend flight comparison sites such as Expedia and Skyscanner for the best deals to fly to Korea.
Learn Korean
Want to learn Korean before you travel to Korea? I recommend 90 Day Korean as they have well-structured lessons and loads of useful resources.
---
Wherever you go to see snow in Seoul, I hope you have a safe and exciting time!
By the way, if you want more information about what to do or where to stay in Seoul, check out some of my other articles about Korea's capital:
Free Things To Do In Seoul: The best way to have fun in Seoul without breaking the bank. Loads of great secret and popular places you can visit for free.
50 Things To Do In Seoul: Want to create a bucket list for Korea's capital, here are 50 ideas to start.
---
Visiting Seoul In Other Seasons?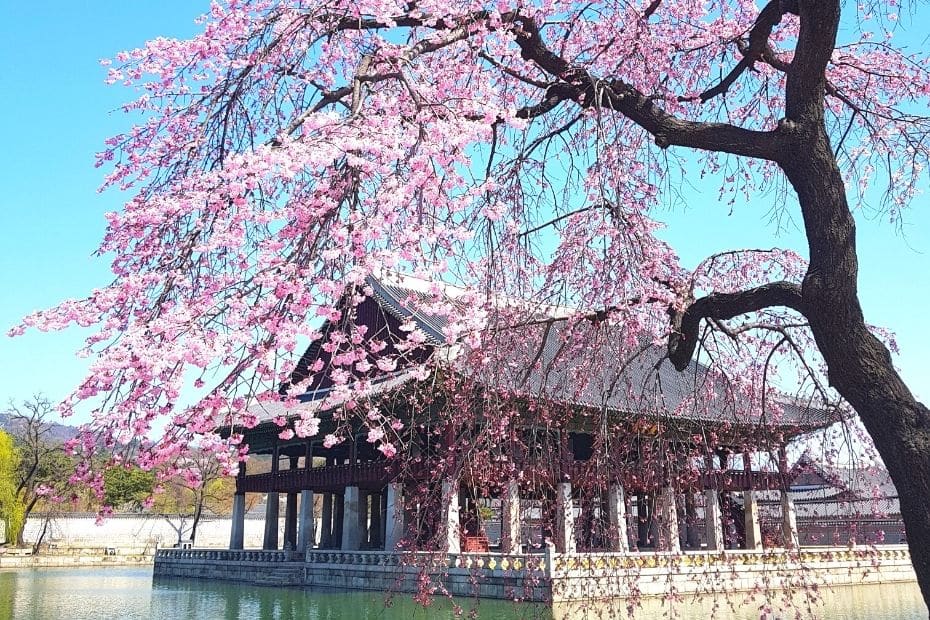 Can't travel to Seoul in winter?
No worries, Seoul has so many amazing sights to see and things to experience all year round. Here are a few articles that will help you out in other seasons:
Spring: Spring is all about the new blossoms and nature returning for the new year. The biggest thing to do in spring is to see Cherry Blossoms Across Korea. From royal palaces to riverside walkways, there are loads of places to enjoy the fresh nature.
Summer: A hot and rainy time of year, but perfect for getting out to enjoy the best Korean Summer Activities, such as water sports, camping by the beach, summer festivals, eating yummy Korean summer foods, and getting a tan. If the rain is too heavy, there are plenty of Indoor Activities in Seoul where you can stay dry and still have fun.
Autumn: Like spring, autumn is all about nature and the change of seasons represented by the fall foliage. There are many incredible places to see Autumn Leaves In Korea, including golden gingko leaves and multi-coloured maple leaves, which change from green to gold to red.
There's so much to see in every season: winter snow, spring cherry blossoms, summer beaches, and autumn leaves. There's never a bad time to visit Seoul.
---
Where To See Snow In Seoul FAQs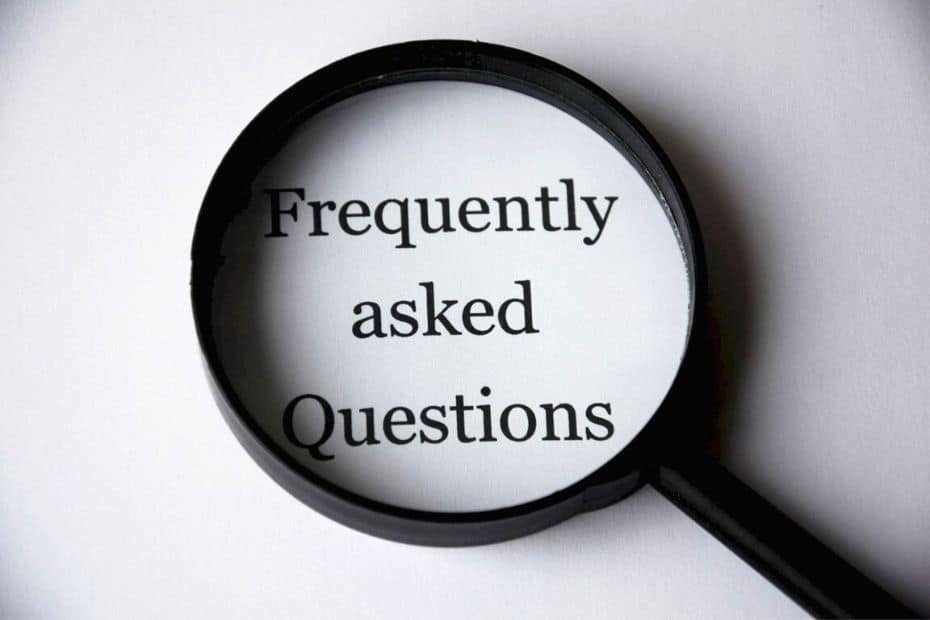 Finally, here's a few FAQs about where to see snow in Seoul, in case the article didn't answer all of your questions.
Does It Snow In Seoul?
Yes. It snows in Seoul most years, but it's not guaranteed. Other parts of Korea, such as in the mountains, are more likely to see snow. For the best chance to see snow in Seoul, visit in January or February.
When Does It Snow In Seoul?
The first snowfall in Korea, which can include Seoul, is usually in November, but can be as early as October. The most common months to see snow in Seoul are January and February, which have the highest levels of snowfall in Korea.
When Is The Best Month To See Snow In Seoul?
The best months to see snow in Seoul are January and February. These are the months with the heaviest snowfall in Korea. You can still see snow in November, December and early-March, but the chance of seeing snow outside of the mountains is lower.
What Is Winter Like In Korea?
Winter in Korea is cold and dry. The temperature in Korea, especially in the Seoul area, stays around or below zero degrees Celsius during the day and even lower at night. As winter is the driest season in Korea, there isn't much rainfall, which makes it good for travelling.
Can I See Snow In Seoul?
Yes. You can see snow in Seoul in many places, including in parks, along the Han River, and in the surrounding mountains. However, snow is never guaranteed and it is infrequent in the city. The amount of snowfall during winter fluctuates annually and some winters in Seoul may see a lot of snowfall, whilst other winters don't get much at all.
Where Can I See Snow Outside Of Seoul?
You can see snow outside Seoul in many places, including in ski resorts and in the mountains. Hiking in the national parks in Korea is a good way to enjoy seeing snow outside Seoul.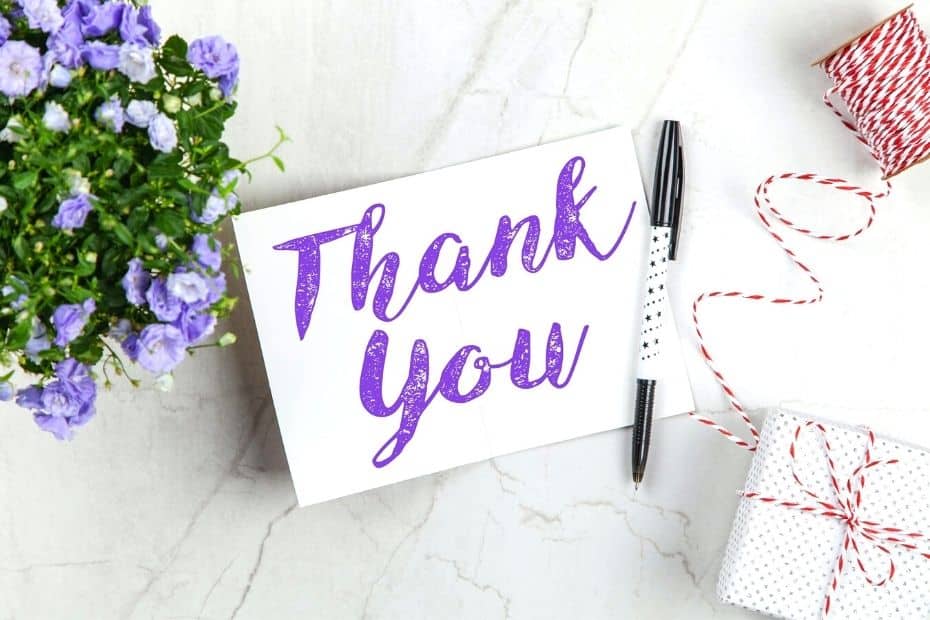 Share Your Thoughts
If you enjoyed reading this article, or if you have any thoughts about it that you want to share, please feel free to leave a message in the comments below. I'd love to hear your feedback about this article and the subject.
Thanks for reading. If you want to help me to create more great content in the future, why not buy me a coffee?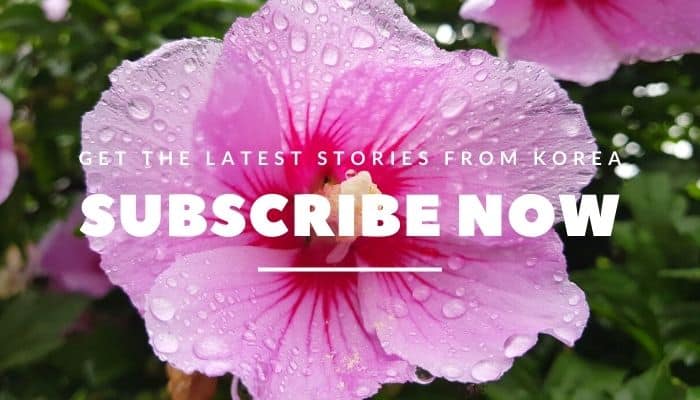 Liked This? Pin It For Others
If you enjoyed reading this article, then please share this with your friends on Pinterest.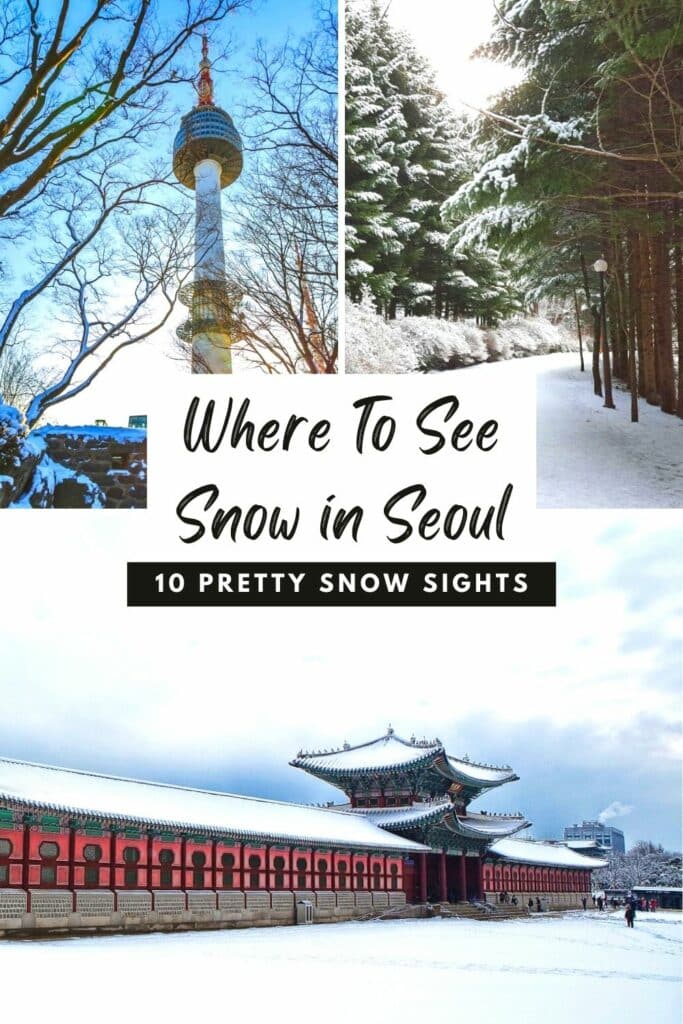 Related Articles