One of the biggest problems when travelling to South Korea is trying to figure out the best option to stay connected to the Internet and how to keep in touch with friends and family as you travel. That's why I want to share my thoughts on the tourist-friendly SK SIM card in this review based on my experience using the SIM card while travelling across Korea.
As a frequent traveler, I know that having reliable connectivity is essential as you travel. We use apps to navigate, communicate, upload pictures, and to find out what to see and where to go. And to check this blog for the latest travel tips, I'm sure. That's why having the best SIM card is really important.
Check out this SK SIM card review to learn whether this tourist SIM is perfect for you. I'll cover the convenience of getting set up, the different plan options, data speeds and coverage, pros and cons, FAQs, and ultimately whether it's the right pick for your upcoming Korea trip.
Affiliate Disclaimer: This site contains affiliate links and I may earn commission for purchases made after clicking these links.
---
4G SK SIM Card Review Summary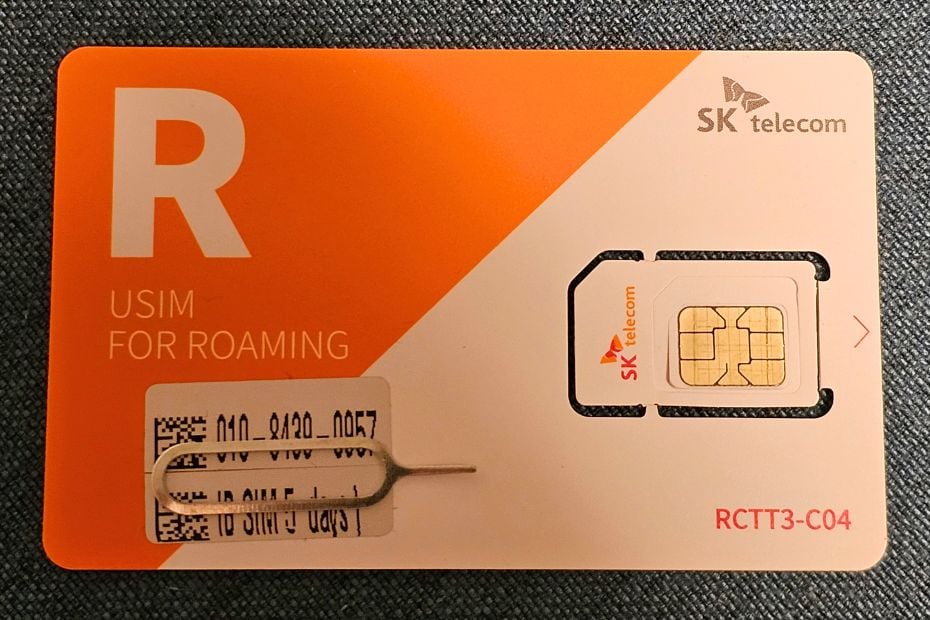 If you just want the quick facts about the SK 4G SIM card and to know if it's the best option when you visit Korea, this summary will cover a few of the pros and cons and my overall feelings about the SIM card. Please read through the whole article if you want a more detailed review of the SIM card.
I purchased a tourist-only 4G SK SIM card at Incheon Airport and used it for 5 days as I travelled across Korea to write this review. The SIM gave me high-speed data everywhere I went and I could receive calls and texts without any problems. It took about 3 minutes to install and start using this SIM.
I chose a SIM card from SK Telecom as they have the biggest, most reliable network in South Korea and their tourist SIMs are really popular and offer great service when travelling in Korea. Their prices are the same as the other operators and their SIM card will fit most phones from the last decade.
SK tourist SIM cards are convenient to purchase at Incheon Airport and activate in minutes. You can order them online at a lower price, too. You get unlimited data which you can use across Korea, as well as a Korean phone number and free incoming calls and texts (but not outgoing).
Compared to the SIM card I purchased the last time I visited the UK, which often lost connection and only worked half the time, the SK tourist SIM card is an absolute dream! It might even be better than your home service and a cheaper, more reliable alternative to expensive roaming charges.
Pros And Cons Of The SK 4G SIM Card
I think it's always best to summarise by looking at the pros and cons before going into more detail in the rest of the article. So, here's a run down of the good and bad things about the SK 4G SIM card for tourists to help you decide whether it's something you might want to get.
| Advantages of the SK 4G SIM | Disadvantages of the SK 4G SIM |
| --- | --- |
| Award-winning network and service | Can't make outgoing calls or texts |
| Biggest mobile operator in Korea | Can't extend beyond 30 days |
| Reliable service across Korea | Maximum plan of 30 days (others up to 90) |
| Unlimited data that isn't throttled | May be more expensive than a WiFi router |
| Free incoming calls and texts | Requires an unlocked phone |
| Priced the same as other tourist SIMs | Doesn't support NFC functions |
| Available online and at arrival airports | |
| Easy to install and activate | |
| Support in multiple languages at airports | |
| Range of plans from 1 to 30 days | |
| Rated 4.8 online by thousands of people | |
| Works in most modern phones | |
Pros and Cons of the SK 4G SIM Card for Tourists
---
Cheapest Place To Get The SK 4G SIM Card
I preordered my SK SIM card online and picked it up at Incheon Airport as many tourists would do. You can purchase the SIM card online before you travel and collect it when you arrive, or you can wait and purchase it when you arrive at the same location. Both options give you the same SIM card.
As you can see from the table below, there is a discount for buying the SK 4G Tourist SIM card online through online sellers such as Klook, Trazy, or KKDay. If you plan to book tours online through one of these operators, I recommend preordering a SIM card at the same time to save money.
---
Why Get A SIM Card In Korea?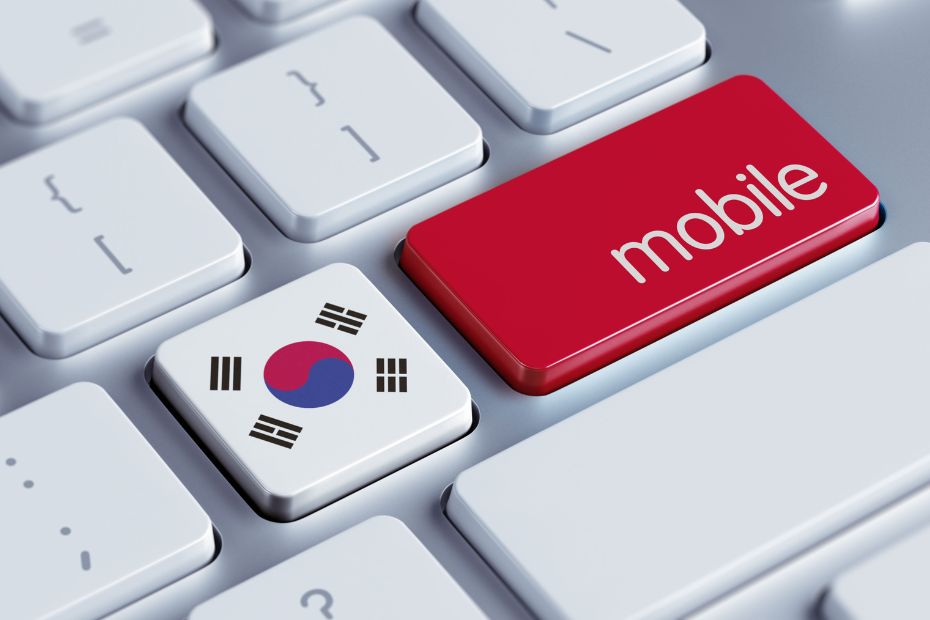 Being able to access the internet through a local SIM card, like the 4G SK SIM card, is definitely a top priority when travelling to Korea. As a regular traveller, I always make getting a SIM card one of the first things I do upon arrival in any country and Korea would certainly be no exception.
Although free WiFi is available in public places in big cities such as Seoul, it's not so easy to connect when you're out and about on the street, which is when you usually need it most. Public WiFi can also be insecure, so having your own SIM helps keep your data safe, giving you peace of mind
Having mobile data through a local SIM is crucial for using apps that provide maps, translations, travel bookings, taxi-hailing apps and more. A local SIM allows you to use the internet without running up a huge bill and paying expensive roaming charges from your home provider.
There are alternatives to a Korean SIM card, such as a portable WiFi router or your home provider's roaming service, which you might find more suitable. In this article I'll share my experience using a 4G SIM card from SK Telecom and explain why a SIM card might be the best option for you (or not).
---
Planning to visit Korea? These travel essentials will help you plan your trip, get the best deals, and save you time and money before and during your Korean adventure.

Korea Electronic Travel Authorisation (K-ETA): Most countries need a K-ETA to travel to Korea. Apply before you travel only with the Official K-ETA Site.

Staying Connected: Pre-order a Korean Sim Card or a Portable WiFi Router to collect on-arrival at Incheon Airport. Collection desks are open 24 hours. Alternatively, download a Korean eSIM for you travels.

Hotels In Korea: Staying in Seoul, I recommend Myeongdong (convenient), Hongdae (cool culture) or Gangnam (shopping). Find the best hotel prices across Korea with Agoda, Klook, or Hotels.com.

Incheon Airport To Seoul: Take the Airport Express (AREX) to Seoul Station or a limo bus across Seoul. Don't like carrying heavy suitcases? Book an Incheon Airport Private Transfer and relax to or from the airport.

Korean Tours: Find the best tours in Korea with tour companies that have a big presence in Korea, including Klook, Trazy, Viator, and Get Your Guide. These sites also offer discounted entry tickets for top attractions.
Seoul City Passes: Visit Seoul's top attractions for free with a Discover Seoul Pass or Go City Seoul Pass. These passes are especially good for families and couples visiting Seoul and can save you lots.

Transportation: Get a T-Money Card or WOWPASS to pay for public transport, including buses, subways, and taxis. For Korea's high speed trains, save money and get unlimited rides with a Korea Rail Pass.

Travel Money: Exchange foreign currency in Myeongdong or Hongdae money exchanges. Pick up a Wise Card or WOWPASS travel money card for the best rates and convenient card payments in Korea.

Flights To Korea: I recommend using flight comparison sites such as Expedia and Skyscanner to find the best flights to Korea from any country. Air Asia is a good option for budget flights from Asia.

Learning Korean: Want to learn Korean? I recommend a complete language learning course from 90 Day Korean or Korean Class 101 – both have well-structured lessons and lots of useful resources.
---
A Quick Overview Of SK Telecom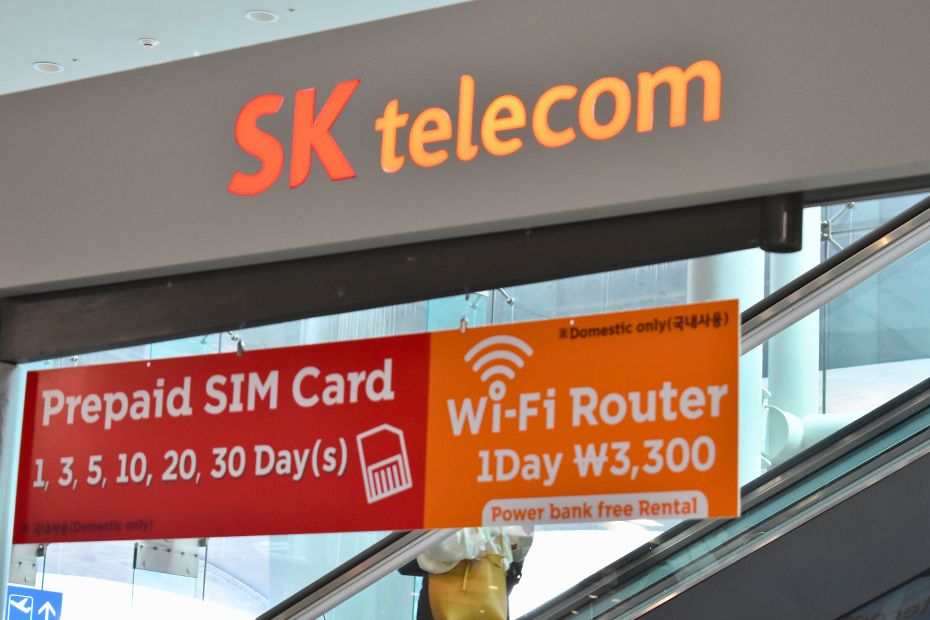 SK Telecom is one of Korea's big three mobile operators. It has been in the Korean telecom industry since 1984 and continues to be the largest mobile provider in Korea today with over 30 million subscribers locally, far more than 2nd place KT Telecom, which has fewer than 9 million subscribers.
SK Telecom built and owns the country's top mobile network that has excellent connectivity across Korea. They operate 4G LTE-Advanced nationwide and were the first in Korea to launch 5G in 2019 and rank first in many categories in the Mobile Experience Awards, as shown below.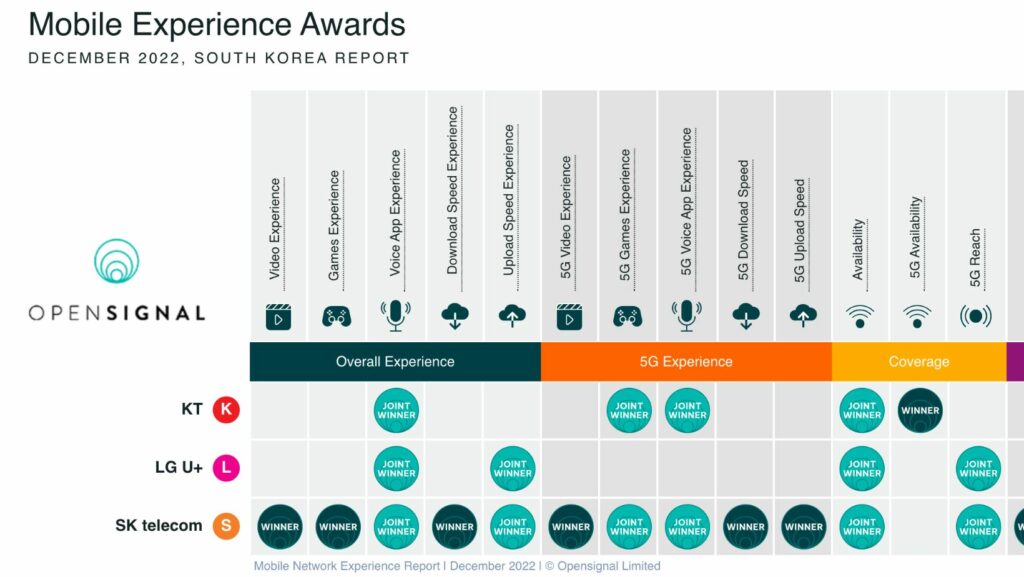 Like all three major Korean mobile operators, SK Telecom produces SIM cards specifically for foreign travellers, allowing them to connect to their network for up to 30 days. SK Telecom's prepaid tourist SIM plans leverage the company's excellent network to provide fast speeds and reliable service.
With widespread coverage across Korea, easy setup, and competitive rates for data and calling, SK Telecom visitor SIM cards are a great option for seamlessly keeping connected on your Korea trip through a highly reputable provider. They're arguably the best SIM cards for tourists in Korea.
It's because of the high reputation and many awards that I decided to choose the 4G SK Telecom SIM card to review. I want to provide information about the best SIM card options to travellers to Korea and starting with the most popular and best ranked SIM in Korea is the obvious place to start.
---
SK SIM Card Options For Foreigners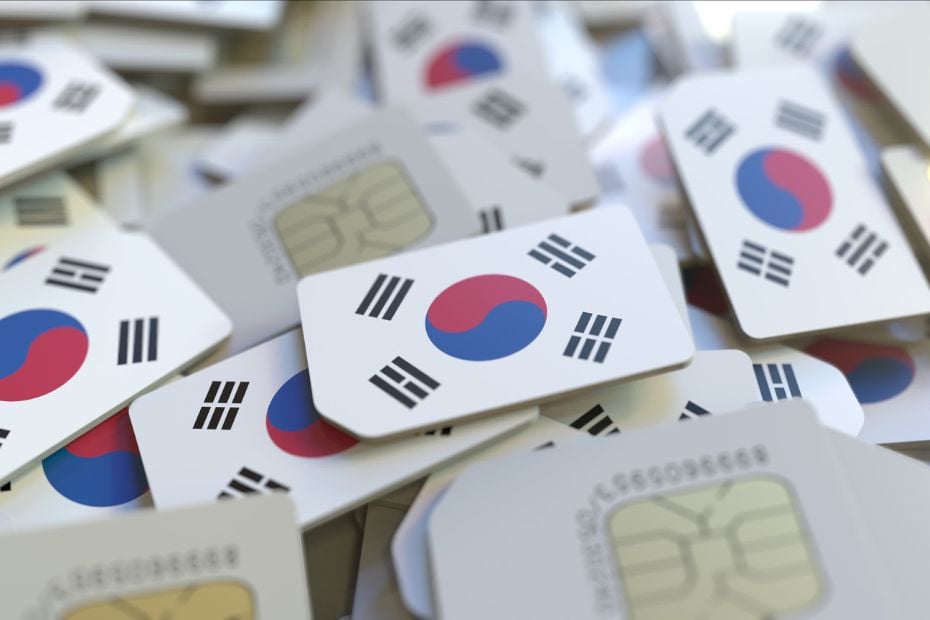 Travellers to Korea have a wide range of SIM card options that can be purchased online or in-person at Incheon Airport and other entry points into Korea. I've covered those in detail in my guide to Korean SIM Cards, which you should definitely check out for a more detailed look at SIM options in Korea.
This article will only look at SIM cards offered by SK Telecom for tourists in Korea, which are different from the long-term plans available to Koreans and expats living in Korea. There are special plans only available for tourists in Korea that allow them to use the Korean mobile networks for up to 90 days.
There are basically two choices for SK SIM cards for tourists:
1: 4G SIM Cards For Tourists: These are regular SIM cards that come in 'normal', 'nano', and 'micro' sizes, as shown in the picture below. They fit in most phones made in the last 10 years.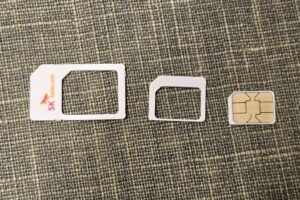 2: 4G eSIM Cards For Tourists: For phones that are eSIM compatible, SK Telecom also offer a digital version of their tourist SIM card that is downloaded to your device instead of inserting a SIM.
Both of these SIM cards:
Use SK Telecom's 4G LTE network.
Cost the same amount of money
Last for the same number of days
Provide the same great service
I'll provide more details about my experience buying, installing, and using the regular 4G SK SIM card in the next few sections, as well as my review of the process and how tourist-friendly it is.
---
What's The Availability Of SK SIM Cards?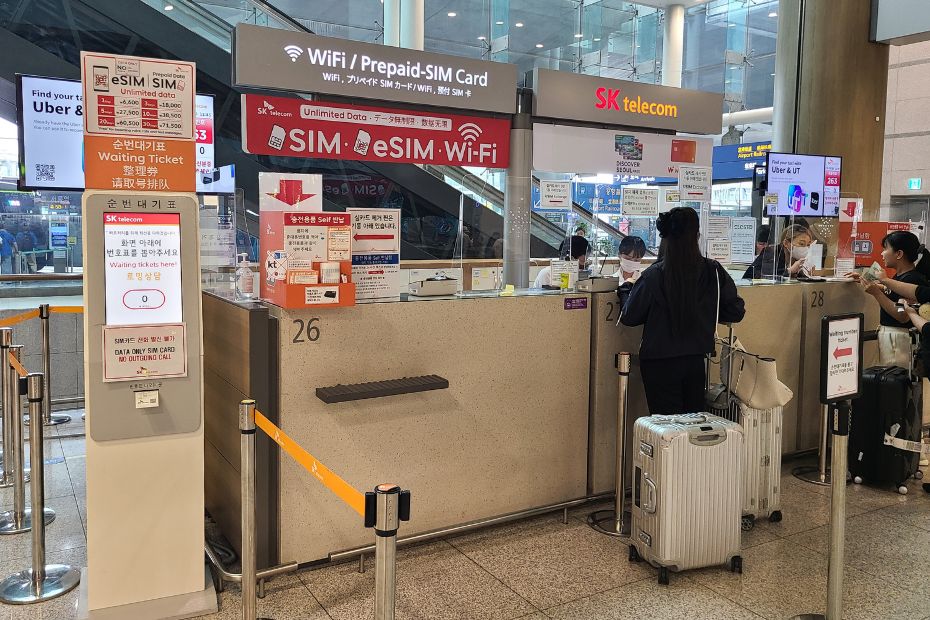 As SK Telecom is Korea's largest mobile operator, it's really easy to find a shop or booth selling their SIM cards at entry points into Korea like Incheon Airport. Tourists who want to buy a SK SIM card can either preorder a SIM card online to collect on arrival, or buy from a shop or booth in Korea.
Here's a quick overview of the two ways to get a SIM card.
1: Preordering A SIM Card: You can buy a Korean SIM card online from tour operators such as Klook and Get Your Guide. You can compare SIM card periods and prices and there are exclusive offers that might not be available when purchasing at the airport.
Benefit: Preordering a SIM card online is cheaper than buying on arrival, gives you a chance to check reviews, and allows you to pay online in your home currency.
2: Buying A SIM Card At The Airport: This is the easiest option for many travellers to Korea as the booths selling SIM cards at Incheon Airport are directly outside the arrivals hall. Simply approach the booth, ask for a SIM card, and the staff there will help you set it up.
Benefit: Getting your SIM card when you arrive saves time looking online and allows you to ask questions and check your phone's compatibility with staff at the airport booths.
As well as dedicated booths by the 3 major Korean operators, you can also buy a SK SIM card from convenience stores at the airport, such as CU, 7/11, and GS 25. However, I recommend either buying online or direct from booths as it'll be more convenient and trustworthy.
---
Features & Benefits Of The SK SIM Card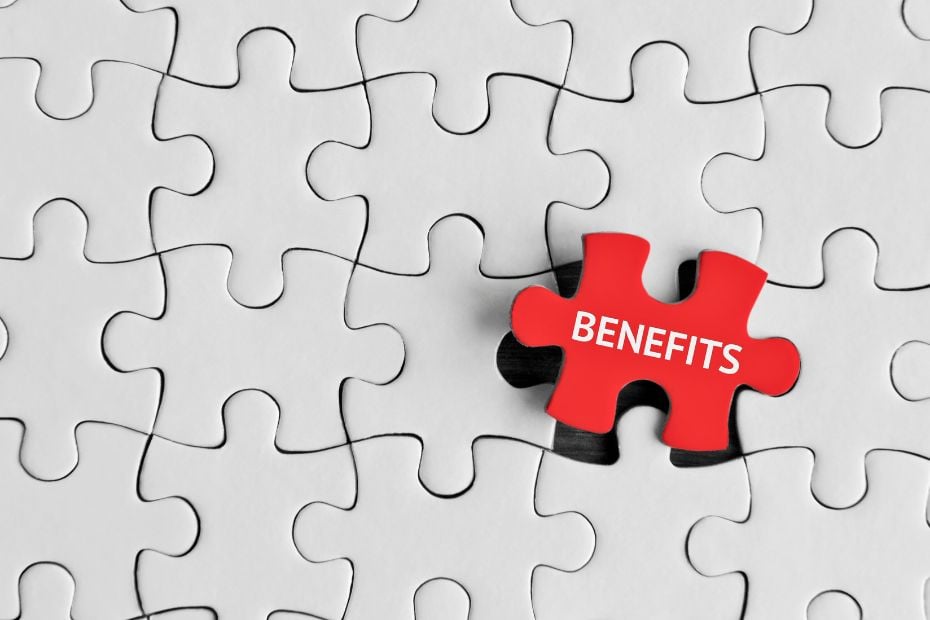 Here's a quick overview of the features and benefits of the 4G SIM card from SK Telecom so you can see why it's really useful for travellers to Korea. These are some of the things that I experienced when I used the SK SIM card for 5 days while moving around Korea.
High Speed Internet Access: Browsing the Internet with the SK SIM card was an absolute joy. Pages and apps load quickly, there's no delay when playing a video, and using the network connection to make calls and video calls within Korean caused no problems at all.
No Data Limit: The SK 4G SIM card comes with unlimited data, which means you can browse the web, watch videos, and use apps freely. SK guarantees that the data speed won't be slowed down no matter how much you use it, which is really reassuring as some SIM cards come with limits.
Korean Phone Number: Mobile phone numbers in Korea start with '010' and with a 4G SK SIM card, you will get a number that starts with 010. This means that you can use your SIM card to receive calls and texts and to make reservations / bookings online.
Free Incoming Calls & Texts: Even though this SIM card doesn't come with calls and texts, although you can add them on, you're always able to receive calls and texts for free. This lasts as long as the SIM card is valid and you won't be able to get them after the period has expired.
Coverage: I tried the SK SIM card while I was in Seoul and Daejeon and never had any connectivity issues. The coverage was always great and I had full signal the whole time, even when I was in a lift or underground. This is usual for Korean mobile coverage, which is really good.
Works Instantly: After I inserted the SK SIM card into my phone and turned the power on, the SIM card connected to the SK Telecom network and I was able to use it immediately. This is really useful for people who need to connect to the Internet to navigate from Incheon Airport to their hotel.
Can Be Activated Later: If you don't plan to use your SIM card immediately, you can keep it with you and activate it later on. This is useful if you plan to use free WiFi in the city but want to have a reliable network connection if you're visiting locations outside the city.
Which SIM Card Has The Best Features?
I have used both a KT Telecom SIM card (my regular SIM card) and this SK Telecom SIM card while visiting different locations in Korea. Which SIM card has the best features? That's hard to tell as they both offer great coverage, network connection, data speed, and are very reliable.
I use KT as I've had it since I moved to Korea and don't see the need to change mobile provider (I get a big discount for staying loyal). However, if I was to change company, I would certainly consider SK as the experience I had during the 5 days when I was testing the SIM card was perfect.
For tourists, I don't think there'll be much difference, but the fact that SK Telecom has won so many awards for its excellent network and service, as well as its leading position in the Korean market, makes it a safe bet. If you have to choose a safe, reliable SIM card with great coverage, choose SK.
---
What Plans And Prices Are There For SK SIMs?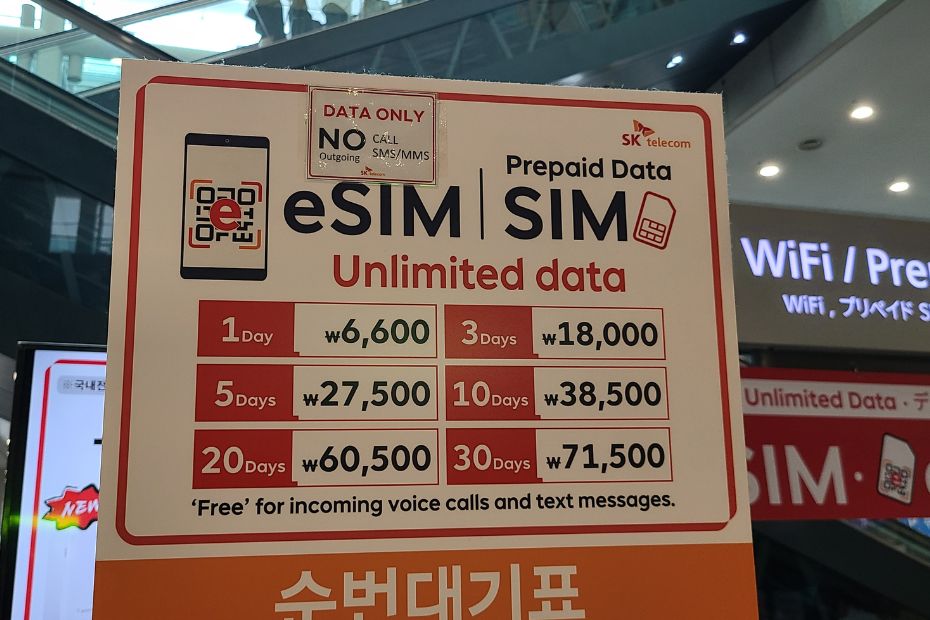 In this section, I want to share some basic information about the SK SIM card plans for tourists and give some insights into how it compares to other phone companies.
SIM Card Plans: There are 6 basic SK 4G SIM card plans available at Incheon Airport, as you can see in the picture above. These plans all come with unlimited data, which is not capped, as well as 'free' incoming voice calls and text messages. The plans range from 1 to 30 days.
SIM Card Costs: SIM cards from SK start at ₩6,600 for one day and go up in price to ₩71,500 for a 30 day plan. The cost-per-day of each plan drops, giving you lower prices with longer plans. The 30 day plan has a cost-per-day of just ₩2,383.
Outgoing Calls & Texts: The big let-down with the 4G SK SIM card is that you can't make outgoing calls and texts with this SIM plan. You can receive incoming calls and texts from within Korea.
Cost To Activate: There is no cost to activate the SK 4G SIM card and no unexpected costs.
SIM Plan Extension: Unfortunately, it seems that the SK Telecom SIM card can't be extended beyond 30 days. This shouldn't be a problem for most tourists, but if you plan to stay in Korea for more than 30 days, it might be worth considering a KT SIM card which goes up to 90 days.
SIM Card Vs. Portable WiFi Router: The cost of a portable WiFi router is ₩3,200 per day, which is cheaper than the daily cost of any SK SIM card under 20 days. SIM cards become cheaper per day when you use them for more than 20 days, but offer different benefits than you get with a router.
Discounted SK SIM Cards: There are ways to get a discounted tourist SIM card when you visit Korea by buying them online. For example, the WOWPASS Airport Package offers the SK 4G SIM card as part of a bundle that includes a WOWPASS, T-Money Card and Airport Express Ticket.
Overall, the price of the tourist SIM card from SK is pretty decent in a country where mobile phone costs are high. As an expat in Korea, I pay around ₩50,000 for unlimited data, which is a low price compared to some price plans which can go up to ₩100,000 per month for 5G services.
SK SIM Card Prices Vs Other Companies
The SK SIM card and SIM cards from KT Telecom and LG U+ are all priced exactly the same if you purchase the SIM card from Incheon Airport, as you can see in the table below. These prices apply for both physical SIM cards and eSIMs and both SIM types come with unlimited data from all companies.
Please Note: I've added links for these SIM plans so you can buy them online. The online price is lower than the price at Incheon Airport so the prices won't match what you see below.
---
I think the SK SIM card offers the best value for money due to it's excellent service, network coverage, and reliability across Korea. The price of 1/3/5/10/20/30 day SIM card plans are the same for all networks and therefore it makes sense to go with the mobile operator with the best service.
However, if you want a 7-day or 15-day SIM card, these are only available from LG U+ and can provide better value for money vs. getting a longer SIM plan than you need with SK. Tourists to Korea who want a SIM card for exactly 1 or 2 weeks would be better off getting the LG U+ SIMs.
The KT and LG U+ SIM cards also have the extra benefit of offering a 60-day and 90-day SIM plan, which makes them more suitable for longer-term travellers to Korea who will need a SIM card for up to 3 months. If you're visiting for 30 to 90 days, I would recommend a KT or LG U+ SIM card.
---
How Easy Was It To Set Up?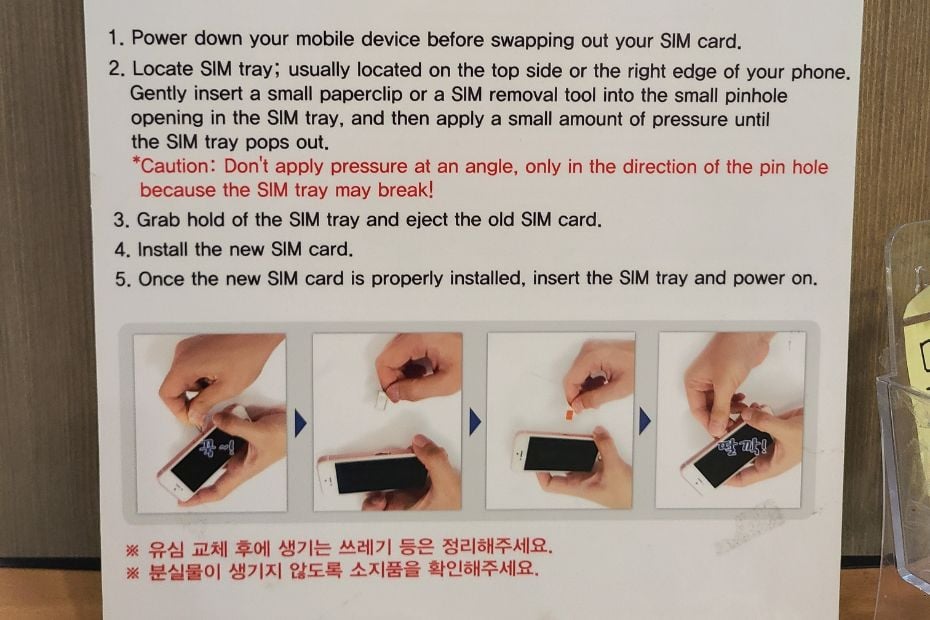 Purchasing and installing the SK 4G SIM card is really easy and I had no problems setting it up. The instructions for setting up the SIM card are clearly displayed at the SK Telecom booth at Incheon Airport and there are instructions in multiple languages, including English.
Whether you purchase your SK tourist SIM online (to collect at Incheon Airport) or buy it in person at Incheon Airport, there will be someone available to help you install the SIM card in case you have any problems. The small pin needed to remove your existing SIM card is included with the SK SIM.
The pictures below show the process of how I setup my SK SIM card with my phone. I opened the SIM card and took the metal pin out, used that to open the SIM card tray in my phone, then replaced my existing SIM card with the SK SIM card. My phone uses the micro SIM card size.
Please Note: You'll need your passport to collect your SIM card and the matching credit card if you ordered it online. When you arrive at the booth at Incheon Airport, you should get a ticket and wait to be served if it's busy. Otherwise, go to the counter to get your SIM card.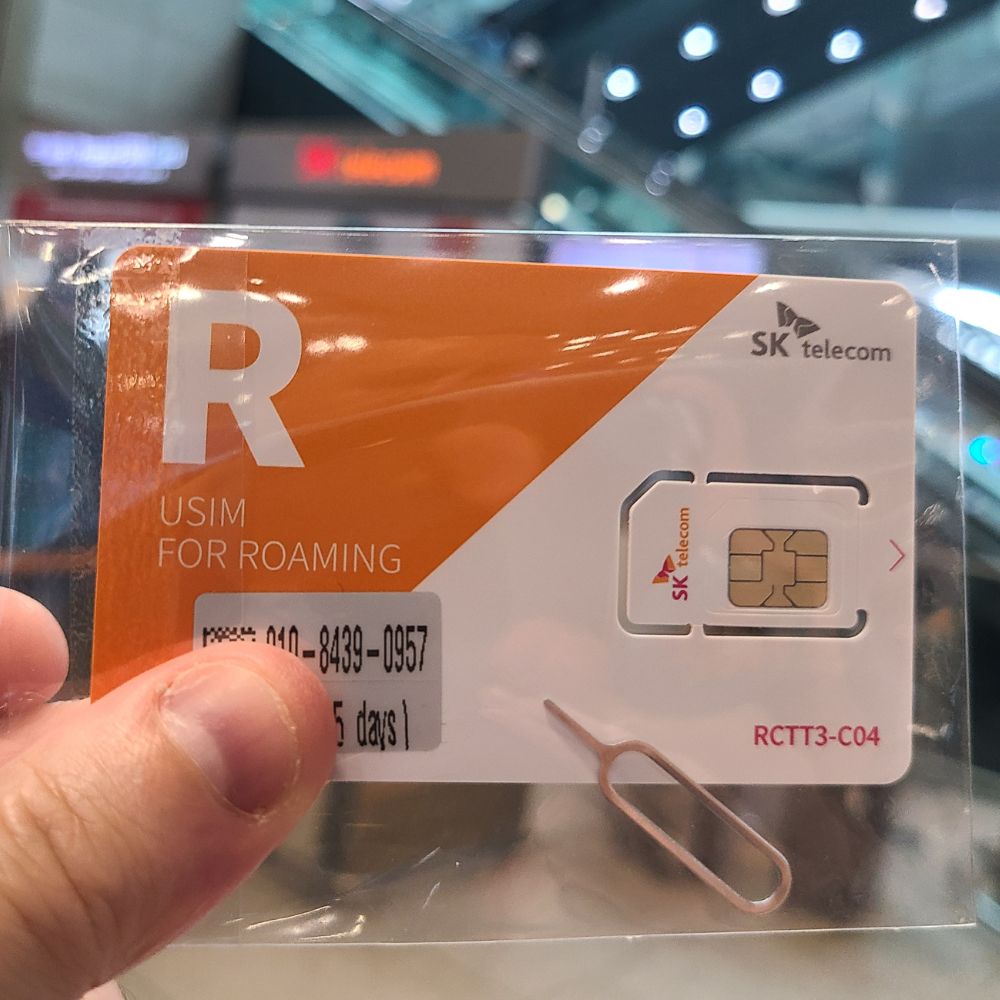 ---
How Do You Activate The SK SIM Card?
As with installing the SIM card, activating the SK SIM card is really easy and can be done in the following ways, depending on whether you're using an Android or Apple.
How To Setup For Android:
Turn off your mobile device and place the SIM inside.
Turn on your mobile device, then disable airplane mode and activate the data network.
Check if the phone is displayed as "SKT"
How To Setup For Apple:
Set Wi-Fi and Airplane mode OFF, and cellular data ON.
Turn off your mobile device and place the SIM inside.
Check if the phone is displayed as "SKT"
The SK website offers troubleshooting tips if you have any problems activating your SIM card. If you're at Incheon Airport, you can also ask the staff for help. The customer service from the booths are very good and when I picked up my SIM card, it was really fast and effortless.
Activating the SIM was simple and all I had to do to activate it was turn the phone on after installing the SIM card. It worked first time for me, but I've heard it may take a couple of times for some phones.
---
Conclusion: Is It The Best Korean Tourist SIM?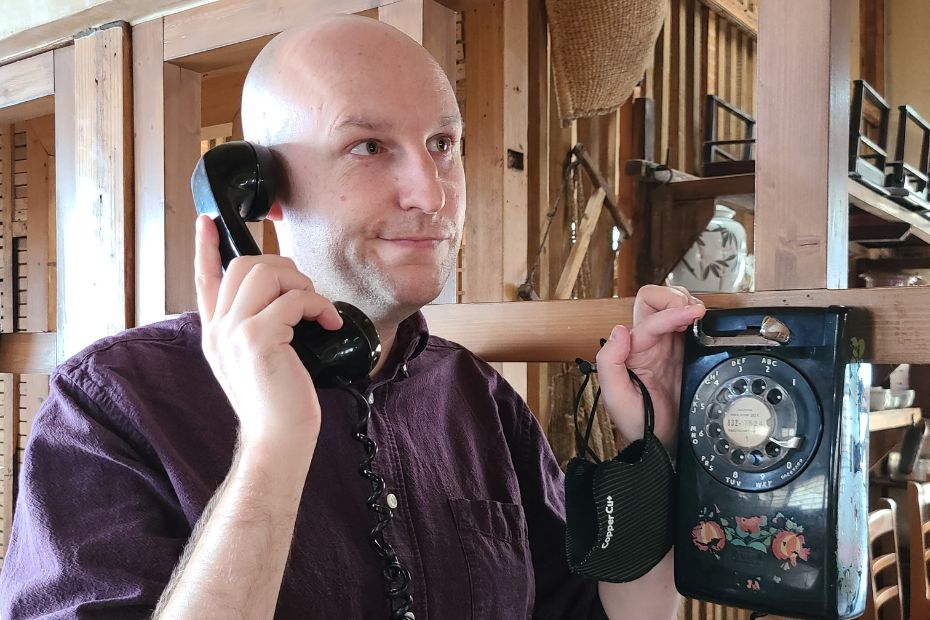 Is the SK 4G SIM card the best option for tourists and travellers to South Korea? Honestly, I don't think there's much of a difference between the 3 major mobile operators in Korea, but SK is the best of the bunch and their tourist SIM is definitely great value for money, therefore it's the best.
The network connection from SK is amazing, one of the best I've used in any country that I've visited, and the service is reliable, meaning you'll always be connected. The browsing speeds are fast and you can easily watch videos and access the Internet as you travel across Korea.
The user reviews of the thousands of other travellers who have purchased the SK SIM card speak volumes for how good the SIM card is. Everyone agrees that as a pick-up-and-go SIM card, the SK SIM card is easy to install, simple to use, and provides a reliable service.
Here's a small selection of reviews from the Klook page for this SIM:
Highly recommend! Easy to get SIM card & they will activate for you!
This 4G Sim Card was easily redeemable at the Incheon Airport. This kept us connected during our stay in South Korea without interruption.
Great value and superb reception. Useful if you're in Korea on a business trip or visiting family, unlimited data and great coverage all at a very economic price.
However, there are some downsides that might put you off SK's offering vs. those from other Korean mobile operators. The main downside is the length of the SIM card, which is only 30 days vs. 90 days for other operators. You can't extend the SIM card (as far as I can tell) past the original 30 days.
The other problem is that you can't make outgoing calls and texts. This probably won't be an issue for the majority of travellers, but if you are in a situation where you need to make a call, this SIM card has no options for you. Other networks allow call add-ons, but not the SK Telecom network.
I can understand why they don't offer calls and texts. It's probably not a feature many people use. It's easy enough to send messages through the Internet via Messenger, Kakao Talk, WhatsApp and similar apps. I don't make that many calls with my own network and I live in Korea, so I understand.
Should you get the SK 4G SIM card? Absolutely, if the price is right for you and you need an easy to use mobile Internet option when visiting Korea. There are cheaper options, such as getting a global roaming SIM that you can use in other countries, but they might not have the same service.
---
Frequently Asked Questions
Here are some frequently asked questions that you might have about the SK tourist SIM card that will help you figure out if this SIM card is right for you or not. This information is from my own experience and from the help page of the SK Telecom website.
Can you refund the SIM card? Once the case is opened, you can't request a refund. Refunds can't be processed after 30 days from when you bought the SIM card, either.
Can this SIM card be used on phones with a country lock? No, this SIM card will only work with unlocked phones. Contact your mobile provider to check if your phone is unlocked or not.
Can you receive calls and texts? Yes. The SK SIM card comes with a Korean phone number which can receive calls and texts.
Can you make calls and texts? No, you can't use the SK SIM card to make outgoing calls and texts.
How long is the SIM card valid for? The prepaid SK SIM card is valid for 1 year after purchase and can't be used after that.
Does the plan start immediately or from midnight when you activate? The SIM card works immediately and will expire 1/3/5/10/20/30 days from the moment you activated it based on your chosen plan. If you activate the 1 day SIM at 1pm on Monday, it will expire at 12:59pm on Tuesday.
Does the SK 4G SIM card limit data? No, the SIM card comes with unlimited 4G data that you can use continuously at a speed of 20Mbps.
Does the SIM support NFC? No, the SIM doesn't support NFC functions.
Is this SK SIM purchased online the same as the one sold at Incheon Airport? Yes, the SK Telecom 4G SIM sold through online tour companies is the same as the one sold at the SK Telecom booths at Incheon Airport. You need to collect SIM cards purchased online at the airport booths.
---
---
Liked This? Pin It For Others
If you enjoyed reading this article, then please share this with your friends on Pinterest.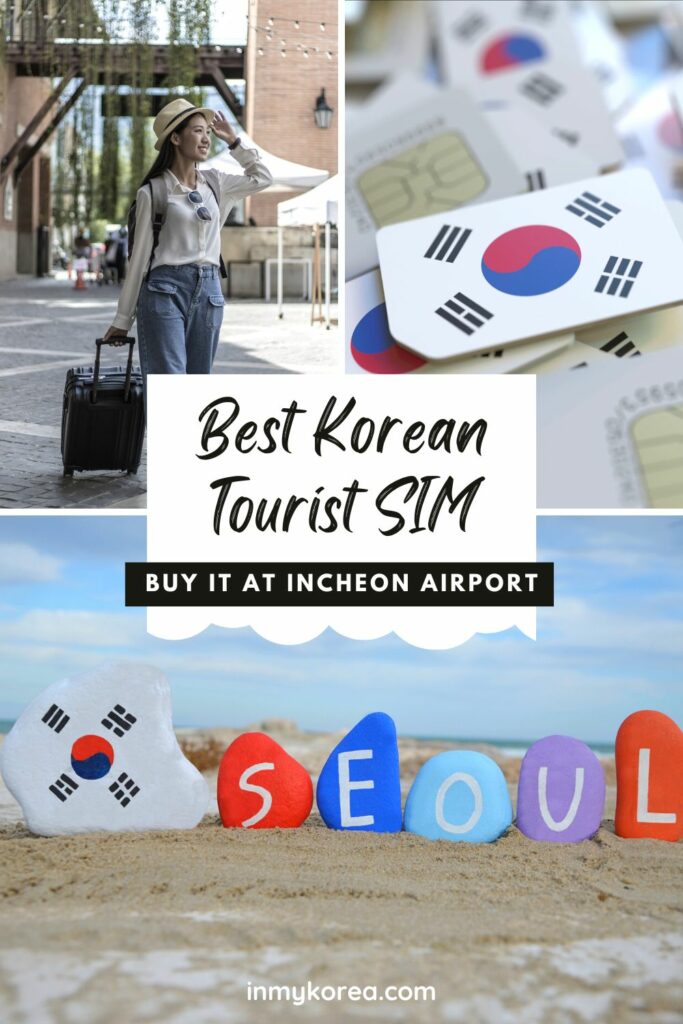 ---
Related Articles