Planning a trip to Korea but not sure where to start? First-time traveller who isn't sure if Korea is the right country for your next trip? Worried about travelling to Korea and facing problems with the Korean language, culture, money, Internet, transportation, hotels, food, or etiquette? Then this complete South Korea travel guide is packed full of tips that you'll certainly need.
You'll find all the best Korean travel tips and advice in this article. Whether you're a first-time traveller to Korea, or you've visited before, this South Korea travel guide will show what to see, when to travel, and which places to visit, as well as help you avoid any difficult situations or surprising culture shocks.
This guide is designed to walk you through everything you need to know to prepare for your trip to Korea. You can use it to plan your itinerary, to pre-book travel essentials, to learn about what festivals and seasonal events are on, and to find more reasons to want to travel to Korea right now.
Affiliate Disclaimer: This site contains affiliate links and I may earn commission for purchases made after clicking these links.
---
What's In This South Korea Travel Guide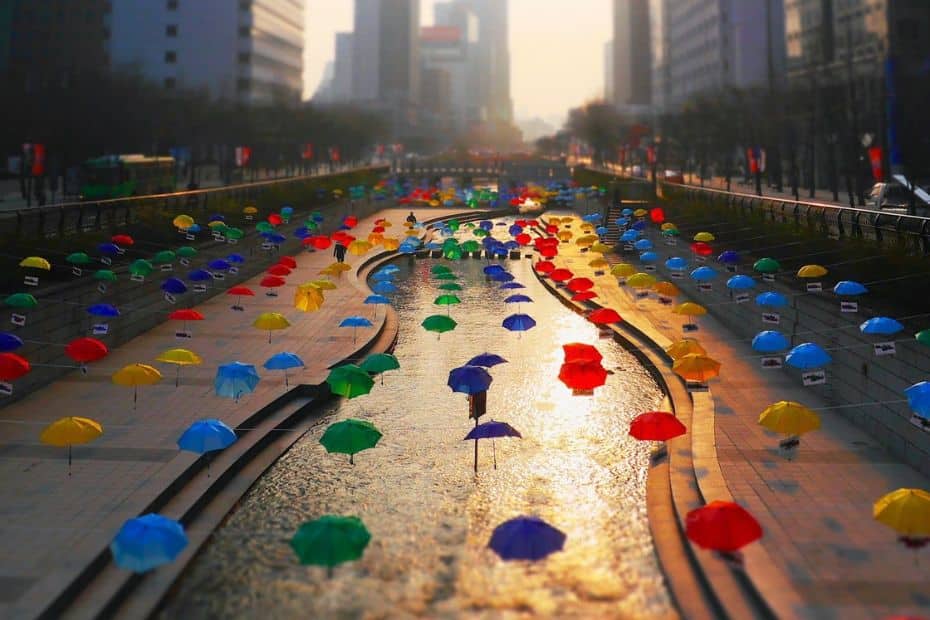 This South Korea travel guide covers all the essential information you need to plan a trip to Korea. This is useful for first-time travellers to Korea who might not be aware of uniquely Korean cultural and travel issues. Even if you've visited Korea before, I'm sure you can learn a lot from this travel guide.
This article contains lots of insights and knowledge about travelling to Korea and is quite long. I've added links in each section to articles that provide more information about each topic. Therefore, I suggest viewing this South Korea travel guide on a desktop computer as it will be easier to read.
What Are You Looking For?
To help make it easier for you to find what you're looking for, I've broken this article into the following sections. Click the quick links below to jump straight there or keep reading through all parts.
---
Korean Travel News And Travel Restrictions 2023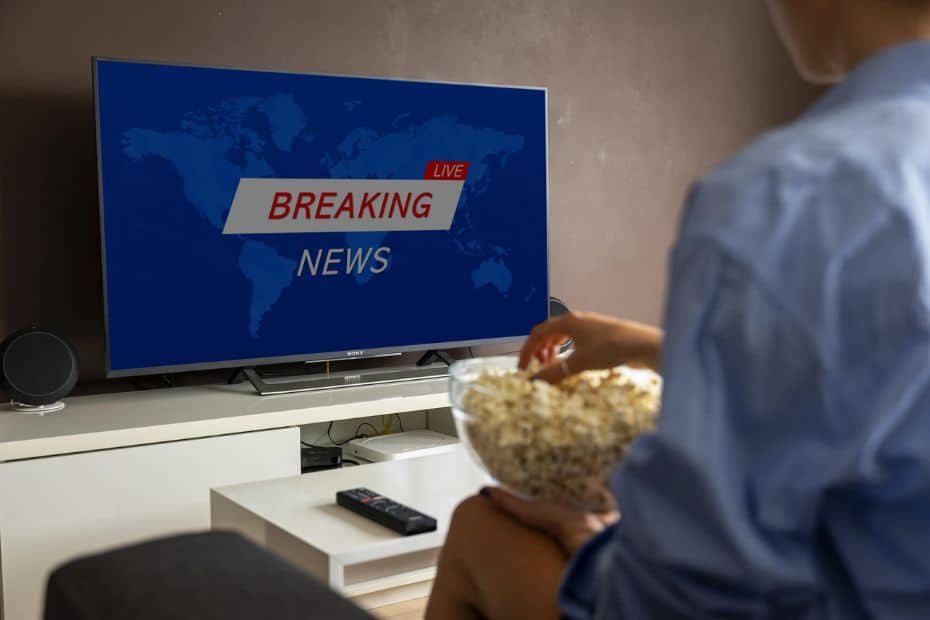 This section of the South Korea travel guide will show you the latest travel news and restriction updates, including any temporary or permanent changes to the entry process, visa changes, and other things that might affect travel to Korea. COVID-related updates will also be posted here.
Latest Korean Travel News In 2023
This section will detail any interesting or important travel news that could affect travellers to Korea, such as price increases in public transport, travel changes, new services, or closures.
August 2023: Increased public transportation costs

From August 2023, the price to travel on buses in Seoul is set to rise. Bus fares will rise to 1,500 KRW per journey. From October 7th, 2023, Seoul's subway fares will rise to 1,400 KRW per journey. Other cities in Korea will enact similar rises throughout 2023 to cover higher costs of public transportation. Source: Korea Herald
July 2023: Q-Code no longer required

From July 15th, 2023, the requirement to register your health condition through the Q-Code portal will be scrapped. Source: Korea Times
July 2023: Korea extends the K-ETA period and excludes children and seniors

From July 3rd, 2023, children aged 17 years and younger, as well as adults aged 65 and older, will no longer need to apply for a K-ETA to travel to Korea. Furthermore, the validity period has been increased from 2 years to 3 years to make travelling to Korea easier. Source: K-ETA website.
June 2023: Korea declares an end to the pandemic

From June 2023, Korea will end almost all pandemic-related restrictions for tourists and locals. Masks will no longer be necessary except in hospitals and infected people no longer face mandatory self-isolation (although the government still recommends 5 days self-isolation). Q-Code requirements haven't been mentioned, however. Source: Korea Herald.
April 2023: Korea to pause K-ETA requirement for 22 countries

From April 2023 until December 2024, travellers from 22 countries won't have to complete a K-ETA when visiting Korea, saving time and money for citizens of those countries. People from other countries still need a K-ETA. Source: K-ETA

The 22 countries temporarily excluded from the K-ETA requirement are Australia, Austria, Belgium, Canada, Denmark, Finland, France, Germany, Hong Kong, Italy, Japan, Macao, Netherlands, New Zealand, Norway, Poland, Singapore, Spain, Sweden, Taiwan, UK, US (including Guam).
April 2023: Free entry to palaces and tombs for under-19s

From April 2023, all foreigners under 19 years old (18 and under) can now enter major royal palaces and tombs, including Seoul's Gyeongbokgung Palace, for free. Previously, all foreigners were made to pay a fee to enter. Source: Korea Herald
March 2023: More cash-free buses in Seoul

From March 2023, a quarter of all buses in Seoul will refuse cash payments and allow only card payments using transportation cards, such as the T-Money card. Seoul's night buses won't be included for now, and 262 of Seoul's 370 bus routes will still accept cash. Expect further increases in cash-free buses in the future. Source: Korea Herald
February 2023: Increased taxi fares in Seoul

From February 2023, the base fare for a taxi journey in Korea has increased by 1,000 won to a minimum of 4,800 won. The distance that the base fare applies has also been shortened from 2km to 1.6km, which will make fares more expensive. Source: Korea Times
---
What Are the Current COVID Restrictions In Korea In 2023?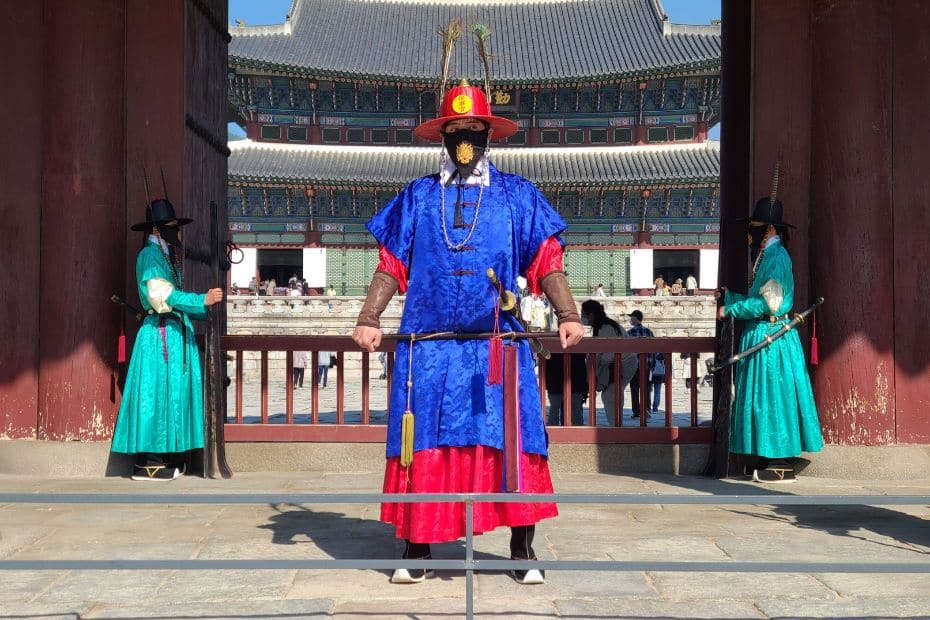 Korea has been removing COVID-related restrictions in the country throughout 2022 and 2023. It is no longer necessary to show a QR code to enter a building and restrictions involving masks and health checks have mostly gone. The latest COVID-related rules for Korea are as follows.
Masks: From Monday, March 20th, Korea has removed the mandatory mask rule for public transport, one of the final places that masks were required for the general public. The only places that require a face mask (from June 1st) are in medical facilities (hospitals). Masks are not mandatory elsewhere, including in schools, shops, restaurants or anywhere outside. Source: Korea Herald
Self-Quarantine: From June 1st, Korea will no longer impose a mandatory self-isolation period on infected people. The government instead 'recommends' a period of self-isolation for 5 days to reduce the chance of transmission to other people. Source: Korea Herald
For further details about the latest COVID requirements for entering or travelling in Korea, check out the second section of this South Korea travel guide, which has a list of all the updated entry requirements, including visas, tests, and other considerations.
---
---
Current Requirements To Travel To Korea In 2023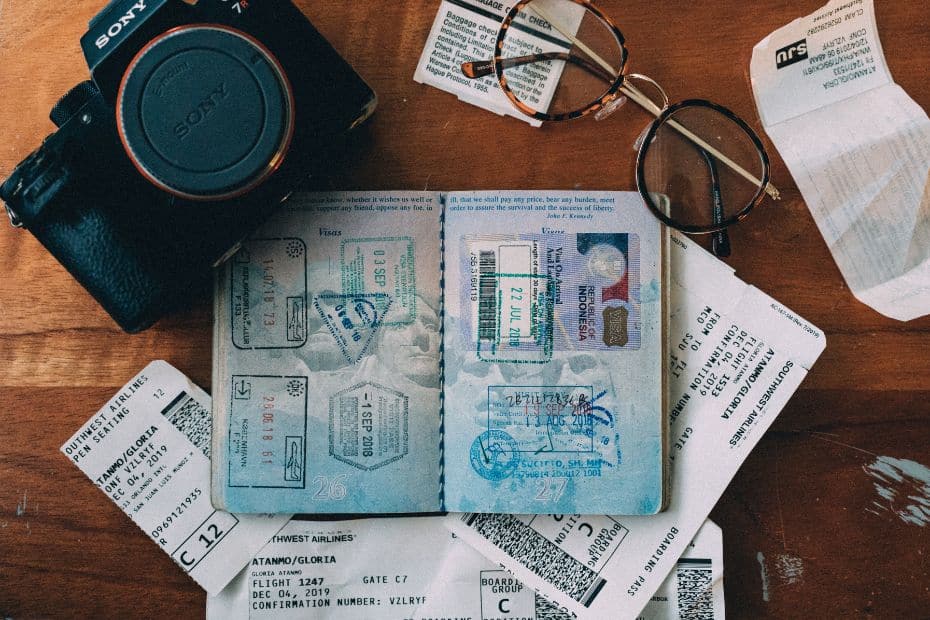 This part of the South Korea travel guide is for tourists. If you plan to travel for business, employment, or other reasons, check your nearest Korean embassy for the latest travel requirements.
Most of the restrictions and requirements for travelling to Korea have now been scrapped. You can see what entry and travel rules are in place for Korea in the table below:
---
The following section provides more information and exceptions about these requirements:
COVID-positive travellers should avoid travelling to Korea: To avoid infecting others on the way to Korea, as well as in Korea, the Korean government recommends that you shouldn't travel to Korea if you exhibit COVID-symptoms or have tested positive. Self-quarantine is mandatory in Korea.
There are no PCR or other testing requirements: It is not necessary to take a PCR or other test before travelling to Korea. However, you will be asked to take a test if you show symptoms of COVID or similar illnesses when travelling to or arriving in Korea.
There is no quarantine on arrival: Travellers to Korea no longer need to quarantine when entering Korea. From June 1st, there is only a 'recommended' 5 day self-isolation period for infected travellers, but this is not enforced.
Complete the self-health check before or on arrival: From July 15th, 2023, travellers to Korea no longer need to complete a Q-Code self-health check or declare their health status on arrival.
Apply for a K-ETA or tourist visa before travelling: You need to apply for either a K-ETA or tourist visa for South Korea before flying to the country. Entry will be prohibited without the correct one. From April 1st, 2023 until December 31st, 2024, 22 countries are excluded from the K-ETA.
If you're not sure which of these you need to apply for, more information is provided in the next section of this South Korea travel guide about the K-ETA and tourist visa for Korea.
---
K-ETA (Korean Electronic Travel Authorisation)
The K-ETA (Korean Electronic Travel Authorisation) is an online travel authorisation that visa-free foreign visitors aged 18 to 65 must obtain before entering the Korea for tourism, visiting relatives, participating in events or meetings, and for business purposes other than profitable activities.
Tourists from 112 eligible countries need to apply for a K-ETA before travelling to Korea and won't be allowed to board a flight to Korea without it. The approval process isn't difficult, but requires accommodation details, travel dates, and personal details such as passport number, etc.
---
The K-ETA is based on your nationality, not the country you're travelling from. That means, if you require a tourist visa from your home country (e.g. the Philippines), but are travelling from a country that requires a K-ETA (e.g. the USA), you can't use the K-ETA to travel to Korea.
Tourists should apply as far in advance as possible at the official K-ETA website. If you would like to know more about the K-ETA, check out my article explaining what is the K-ETA. The K-ETA costs 10,000 KRW (about $9.00 USD). If you are charged more than this, you're on the wrong site.
Not sure if you need a K-ETA? Check out this infographic to find out.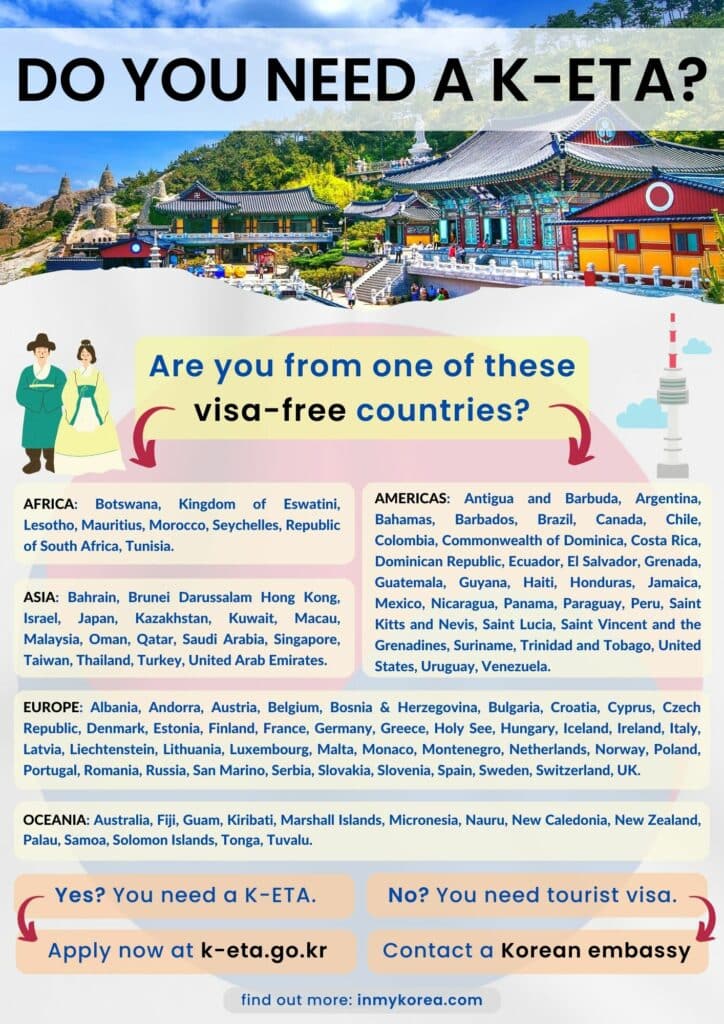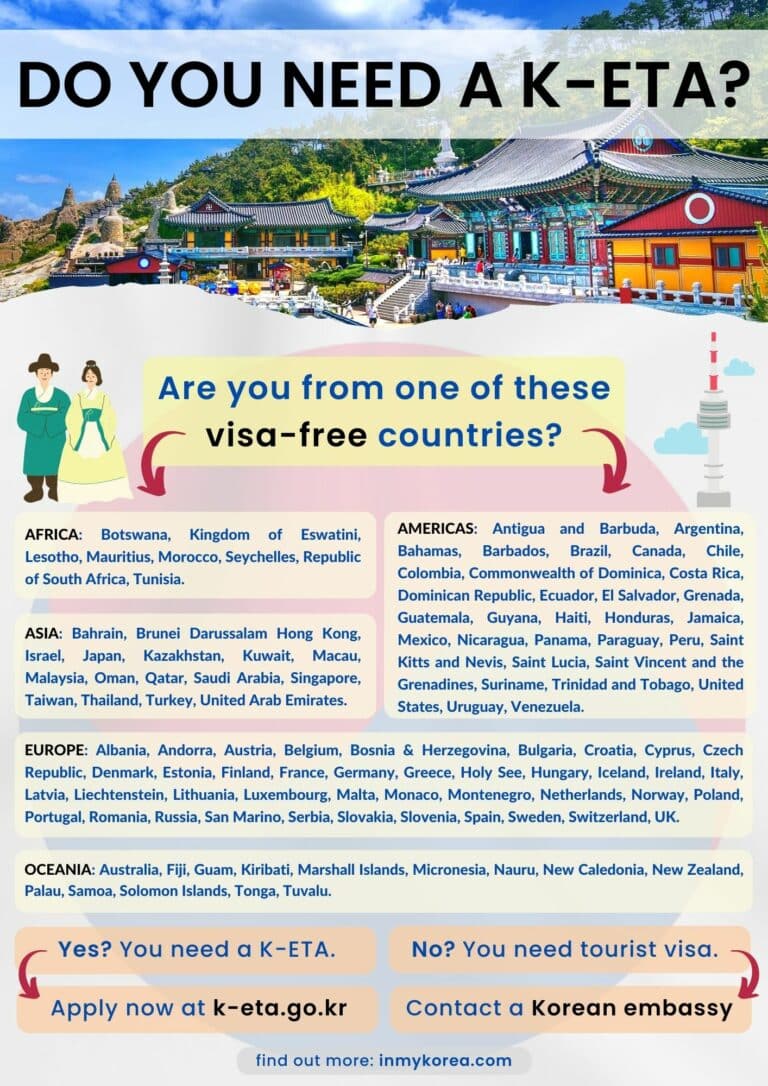 Will The K-ETA End In The Future?
The K-ETA will continue for the indefinite future. It is not a pandemic-related travel restriction but a permanent feature that just happened to start in 2021. The Korean government have stated that the K-ETA will be ongoing and other countries and areas, such as the EU, are planning similar ETAs.
Update: In July 2023, the Korean government stopped requiring children 17 years and younger and adults 65 years and older to apply for a K-ETA. The validity period was also increased to 3 years.
Update: In April 2023, the Korean government suspended the K-ETA for travellers from 22 countries (listed previously). This is in an effort to reduce the burden on travellers visiting Korea during the 'Visit Korea Years' of 2023 and 2024. This lasts until December 2024, but could possibly go on longer.
---
Tourist Visas For South Korea
Tourists that aren't from one of the 112 countries that require a K-ETA to travel to Korea will need to apply for a tourist visa. This includes nationals from countries such India, Indonesia, Pakistan, and the Philippines. Tourist visas are based on nationality (passport), not country of residence.
The process to apply for a tourist visa differs depending on the country and may be as simple as submitting an application at the Korean embassy in the country you live in. For other countries, it may be necessary to submit extra information like bank statements and a full itinerary.
If you need a tourist visa for South Korea, contact your nearest Korean embassy as soon as you can to start the process. Tourist visas may be rejected, delayed, or take longer than expected. For some countries, such as the Philippines, it is necessary to apply through a specialist visa agency.
---
Transit Tour Visas For South Korea
Visa-free entry for foreign transit passengers at Incheon Airport will resume from May 2023 after being suspended for 3 years during the pandemic. There are two types of visa-free transit entry methods for travellers to Korea, they differ in length, requirements, and eligibility.
The first type of visa-free entry for transit passengers is open to all travellers to Korea and allows entry for 3 days, as long as they take a transit tour from Incheon Airport. The second type of visa-free entry for transit passengers is available for 30 days, but only from travellers from 36 select countries.
Visa-Free Entry For Transit Passengers (3 Days)
From May 15, 2023, travellers from any country can travel from Incheon Airport to the Seoul Metropolitan area for up to 3 days, as long as they book at least 1 transit tour from Incheon Airport. If Korea is not their final destination, they're free to explore more of Seoul after the tour.
There are a wide range of transit tours available from Incheon Airport, including cultural, historic, food, shopping, and entertainment tours. See the sights of Seoul's most popular places in a few hours, or stay for longer and see more. You can find out more about transit tours from the Visit Korea website.
Requirements: To be eligible for a transit tour visa, travellers must:
Have an onward flight to their home country or a 3rd country after Korea.
Participate in a transit tour program by a designated travel agency.
Stay within the Seoul Metropolitan area only.
Have more than 2 hours between connecting flights.
Eligible countries: Visa-free entry with a transit tour is open to passengers of all countries, as long as they meet the above requirements.
Tip: If you have a transit tour in Korea, I recommend staying in Hongdae, as there is a direct train from Incheon Airport to Hongdae called the All-Stop Airport Line. Hongdae is also a really fun place where you can see lots of culture, try Korean dishes, and pack your suitcase with Korean souvenirs.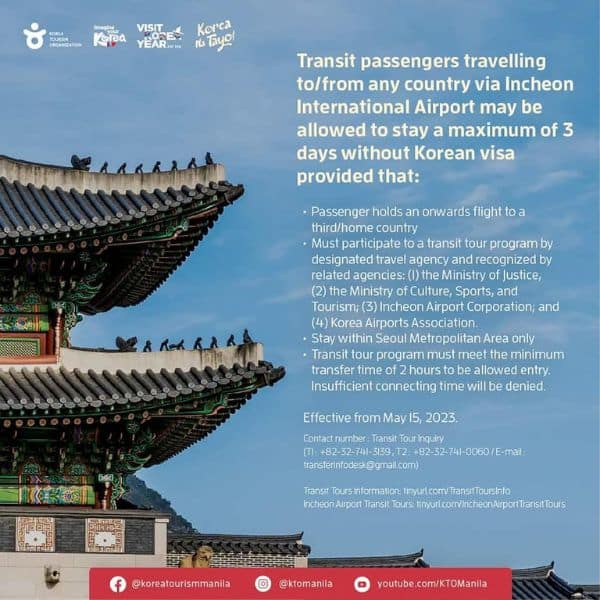 ---
Visa-Free Entry For Transit Passengers (30 Days)
This will allow travellers from 36 countries to enter and stay in Korea for up to 30 days without a Korean visa. Travellers must be travelling to or from one of these 36 countries to be eligible to stay in Korea without a visa. This includes passengers who are not citizens of those countries.
Requirements: To be eligible for a visa-free entry as a transit passenger, travellers must:
Hold an onward flight to any of the 36 countries mentioned below.
Have no illegal stay records of any kind, nor have been denied entry to Korea.
Not have exceeded a maximum of 3 days stay in any other transit airport.
Eligible countries: Travellers from the USA, Canada, Australia, New Zealand, and 32 EU countries (see picture below) can stay for up to 30 days, as long as the above-mentioned requirements are met.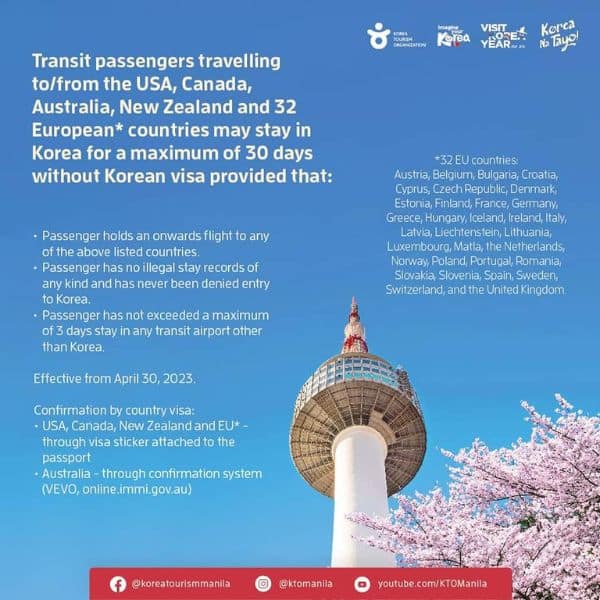 ---
Why You Should Travel To Korea In 2023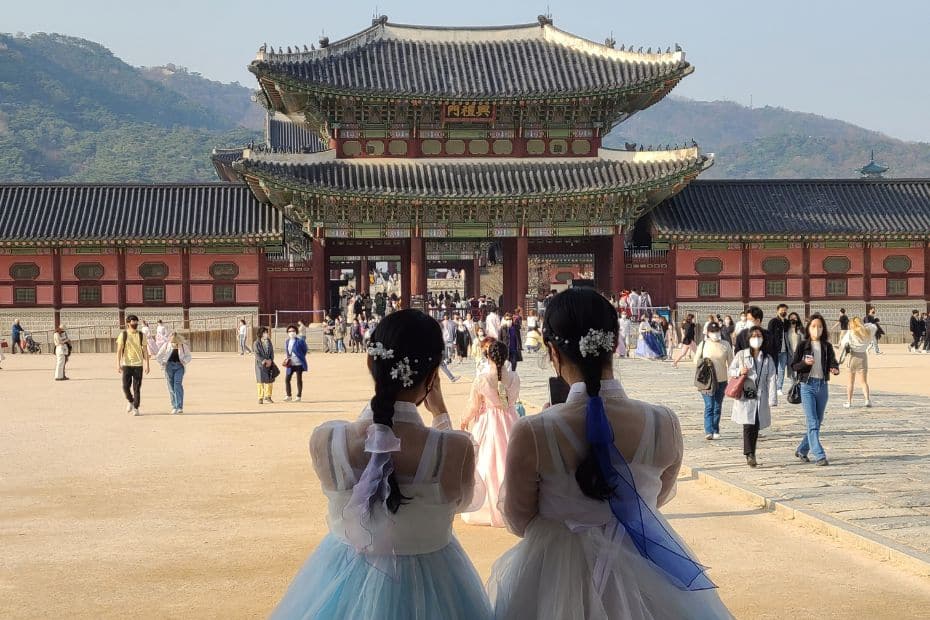 There's not enough space in this South Korea travel guide to write down all of the reasons why you should travel to South Korea. Korea is an under-appreciated gem that has so much to discover and experience that's completely different from what you'll find in other countries.
Much the way that Japan has a very distinct culture and history, Korea has lots of unique, appealing places to see, people to meet, history to learn about, and natural sights to appreciate. Many people only see a small slice of Korean culture and beauty through modern media, but there's a lot more.
Here are some of the reasons you should travel to Korea:
Delicious foods and tasty seasonal dishes.
Four distinct seasons that offer a variety of views.
Fascinating history to learn about and explore.
Stunning mountains and beaches for outdoor lovers.
Unique and unusual festivals throughout the year.
Friendly locals and a safe country to travel around.
Modern, high-tech cities that are clean and efficient.
Welcoming Buddhist temples and temple stays.
Cheaper than most other developed countries.
A shopper's paradise with many markets and malls.
Korea really wants you to come and visit.
Korea wants you to visit so much that they declared 2023-2024 the Visit Korea Year. This two-year period, confusingly referred to as a single year, is set to feature loads of events and activities to draw tourists to Korea, and includes promotions for discounted flights, accommodation, and food.
Some of the events you can expect to see during the Visit Korea Year(s) include K-Pop concerts, e-sports competitions, food festivals, and cultural celebrations. There'll be K-Cultural stars involved, too, including your favourite K-Pop and K-Drama stars. Get ready to travel to Korea soon!
Want to know what you can do in Korea that you can't do in other countries? Check out these amazing unique Korean experiences that should definitely be on your Korean bucket list.
---
The Best Time To Visit Korea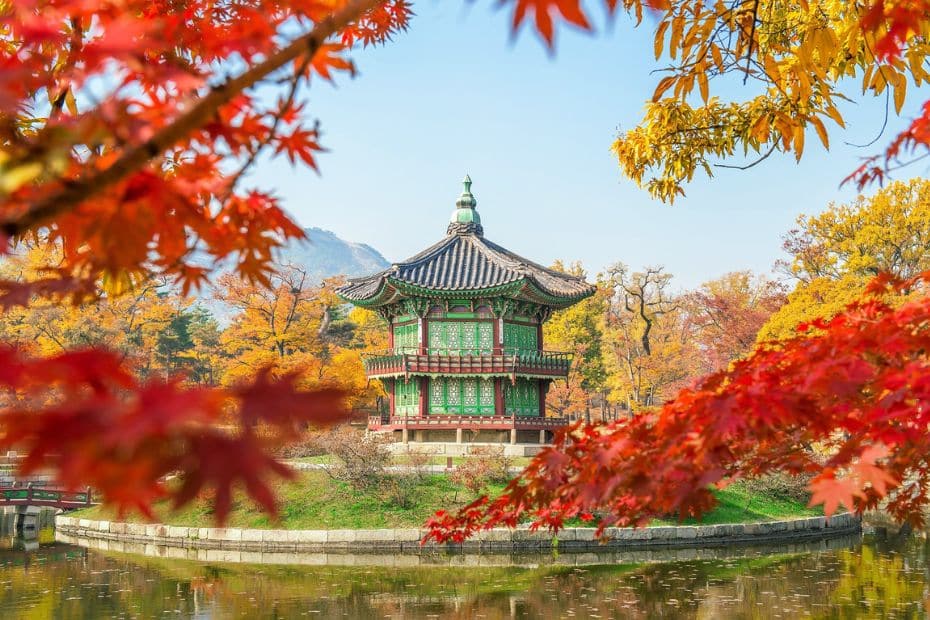 The best time to visit Korea is in spring (late-March to May) or autumn (mid-September until mid-November). These seasons have the most comfortable weather, ranging from 10 to 30 degrees Celsius, an average amount of rain, and also have the most festivals and events.
My favourite months to travel in Korea are April and October. Early-April is when cherry blossoms come out and the weather warms up enough to stop wearing a jacket. October in Korea is a beautiful month when autumn foliage sweeps across the country and the weather is warm and calm.
When you travel to Korea, the season you travel in can have a big impact on what you can see, eat, and do. This section of the South Korea travel guide is one of the most important and if you want to travel to Korea in the future, I recommend learning about Korea's seasons before making plans.
What Can You See In Korea Each Season?
Although spring and autumn are undoubtedly the best time to visit Korea, there are plenty of reasons to visit in other seasons, too. Visitors to Korea who are restricted to travelling during certain times, such as during school or work holidays, needn't be put off by travelling in summer or winter.
Here's a summary of what you can see and do in each season in Korea:
What Is The Weather Like In Korea?
The weather in Korea follows a similar pattern each year, spread over five distinct seasons. As well as spring, summer, autumn, and winter, Korea also has a rainy season, which starts around mid-June and finishes mid-July. It doesn't constantly rain during rainy season, but may do for several days.
There's always something to do in Korea, no matter what the season. Even rainy season in Korea is fine for travelling, as long as you plan lots of indoor activities and can be flexible with your schedule. Don't let the weather in Korea put you off visiting, you'll find plenty to do in each season.
Here's a summary of the weather in Korea each season:
---
The graph below shows you the average temperature each month in Seoul. This is an average temperature, so some days will be much hotter and others much colder. I've experienced summer temperatures of over 35 degrees and winter nights of -20, so be prepared for both.
The table below shows the average rainfall for each month in Korea, based on records from climate-data.org. The summer months have the most, while winter in Korea is very dry. The rainfall in the winter months can turn to snow when it's cold enough, too.
---
There will be more information about the sights, festivals, and events you can enjoy in Korea in later parts of this South Korea travel guide. Check them out for travel ideas for your trip to Korea.
---
How To Book Flights To Korea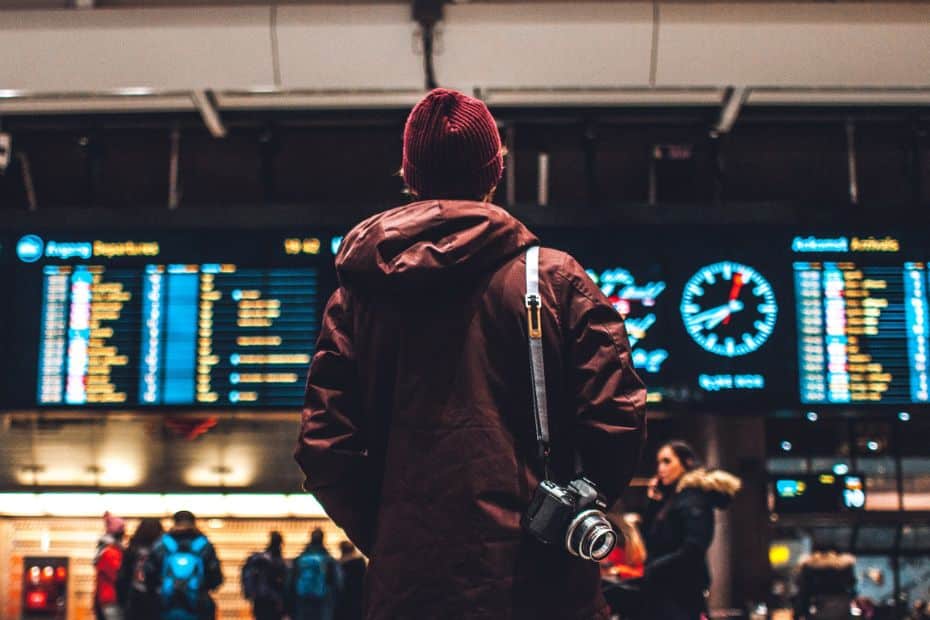 Flying to Korea in 2023 is getting easier with more airlines offering direct or connecting flights to Korea and budget airlines adding more routes to Korea from other parts of Asia and as far away as the USA. There aren't as many routes as there were in 2019, but they are returning month by month.
Booking a flight to Korea is one of the first things most people do and finding the right flight can really affect your travels. Choosing the right flight not only affects how much money you need to spend, but also when you'll arrive, how you'll get to your hotel, and where you'll arrive in Korea.
Check out my guide to booking flights to Korea to discover the best ways to book a flight to Korea, including the best time to book (21 to 127 days before travel), where to get cheap flights, the various airlines that offer flights to Korea, and lots more.
Arriving At Incheon Airport
Most flights to Korea arrive at Incheon Airport, which is near Seoul. It takes about an hour to get to the centre of Seoul from Incheon Airport and there are various transportation options including a high-speed train, subway, limo buses, taxis, and private transfers.
The best option for transferring from Incheon Airport to your hotel is usually a limo bus as these run to popular areas of Seoul, such as Myeongdong, Hongdae, Gangnam, and Insadong. There's also a direct train to Seoul Station and a subway that goes to Seoul Station via Hongdae.
Arriving during the daytime gives you the best options for getting from Incheon Airport into Seoul, while nighttime flights will leave you fewer options. There are a few night buses that run, but late arrivals will either need to stay at the airport or book a private transfer or taxi instead.
If you want to book a private transfer direct to your hotel from Incheon Airport, contact Jerry Heng, a freelance driver. I want to recommend Jerry as he has years of experience organising airport pick-ups and drop-offs, as well as personalised tours around Korea. He's also a friendly guy.
Recommended Flight Comparison Sites
I suggest checking at least one flight comparison website before booking any flights. You can alter the arrival and departure times, flight duration, choose direct or indirect flights, and sort by price to find the perfect flight for you. Skyscanner is my preferred comparison site, but they're all useful.
Take time to change the dates and flight times to find the most suitable flights for you. Cheaper flights often have inconvenient arrival times, so you should decide whether it's worth the hassle to save a bit of money. Sometimes spending more for the right flight is worth it, especially when time is limited.
I try to go for a balance of convenience and savings and avoid flights that arrive late at night or leave too early in the morning. These flights require you to book an extra night at the airport or make you lose time when you could be travelling and doing more interesting things.
Here are 4 of the best flight comparison sites for booking flights to Korea:
---
Where To Stay In Seoul
Incheon Airport is the main arrival destination for most travellers visiting Korea, with more than 71 million travellers passing through the airport in 2019, making it the world's 14th busiest airport. It's close to Seoul and has lots of transportation options to get into Korea's capital.
Seoul is the first place people visit, not only because it's close to Incheon Airport, but because it's undeniably the heart and soul of Korea. The greater Seoul area includes about 50% of Korea's population (25 million people) and is by far the biggest, most vibrant, and fun city in Korea.
To travel to Korea you need either a K-ETA or tourist visa. One of the requirements to apply for these is the address of the first place you'll be staying in Korea. Therefore, you should book at least your first hotel in Korea so you can begin those applications. Seoul is an ideal first place to stay.
Best Neighbourhoods To Stay In Seoul
Deciding where to stay in Seoul can be difficult because there are so many unique neighbourhoods, each offering something interesting for travellers to experience. Knowing which has the best sights, entertainment, culture, shopping, transport, markets, restaurants, cafes, etc., is useful.
Seoul's neighbourhoods typically contain a mixture of several of these elements and will appeal to different types of travellers. Below is a very rough guide for which neighbourhood each type of traveller might enjoy. Of course, there are plenty of other things to do in each area.
---
As you can see from the list above, both Hongdae and Myeongdong have a lot to offer and I would definitely recommend either of these neighbourhoods for first time travellers to Seoul. Even people who have travelled to Korea before will find lots of reasons to stay there. They're where I usually stay.
I have detailed guides to hotels in the two best districts for staying in Seoul – Hongdae and Myeongdong. My guide to hotels in Hongdae includes a range of hotels for all types of travellers, while my guide to hotels in Myeongdong highlights Myeongdong's best budget to mid-range hotels.
Each neighbourhood feels unique and offers something to discover, from traditional markets and eateries, modern Insta-worthy cafe districts, peaceful parks and lakes, world-class skyscrapers, and many fun activities. Wherever you choose to stay, you're sure to find something you enjoy.
I've included the 8 best neighbourhoods in Seoul in this South Korea travel guide, along with a small summary about what you can expect in each area. These are the most popular areas for tourists to stay in, but certainly not the only places to stay. There are also links to hotels in these areas.
Here are the 8 best neighbourhoods in Seoul:
Seoul's neighbourhoods are informal designations, not necessarily the official district name. For example, Hongdae is a neighbourhood in the Mapo-gu district and Myeongdong a neighbourhood in the Jung-gu district. Whereas Jongno is both the neighbourhood and district name (Jongno-gu).
You might see some areas referred to differently. However, the terms I've used in this section are the names most commonly used to describe these areas by tourists and expats. Koreans will certainly know which area of Seoul you're talking about when you use these names.
---
Hotel Recommendations For Seoul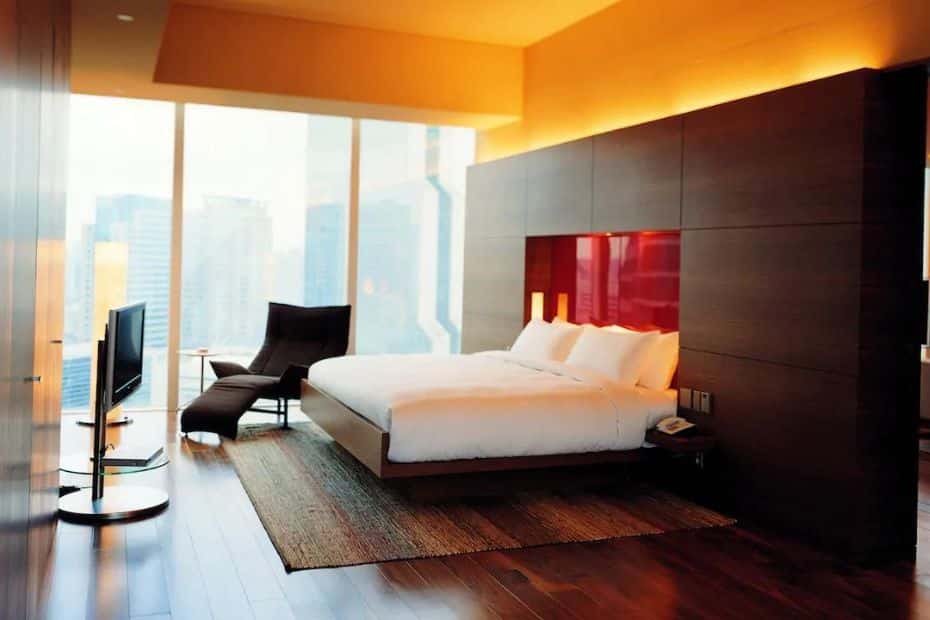 There are hundreds (maybe thousands) of hotels in Seoul to choose from ranging from multi-person dorm rooms to the height of luxury looking down over Seoul from a 5-star hotel room in the Lotte World Tower. Whatever your budget or requirements, there'll be somewhere to stay in Seoul for you.
To save you time searching for the best places to stay in Seoul, I've created a list of the 9 best luxury, mid-range, and budget hotels in Seoul, as well as 6 long-stay serviced apartments. This list has been created based on customer reviews, location, facilities, amenities, reputation, and quality.
I live outside of Seoul, so often book hotels when I'm visiting for the weekend. I've stayed at quite a few of these, so can personally recommend them based on my own experience. I've had both good and bad hotel experiences in Seoul and only want to recommend the best to you.
Recommended Luxury Hotels
Seoul has some incredible luxury hotels to enjoy, each with a true 5-star service, excellent amenities, and delectable restaurants. Many of Seoul's best luxury hotels are located in Gangnam, Seoul's wealthiest district, where you can find top restaurants and designer brand shopping.
---
Recommended Mid-Range Hotels
If you want to experience a luxurious stay in Seoul without breaking the bank, then these mid-range hotels will be perfect for you. These unique, 4-star hotels are reasonably priced and provide stylish, comfortable rooms that you'll sleep easily in after a busy day exploring Seoul.
---
Recommended Budget Hotels
Seoul has a wide range of excellent budget hotels with prices that might surprise you for a large city. These are some of my favourite places to stay in Seoul when I visit for the weekend and are popular with travellers due to their convenient location, facilities, and comfortable beds.
---
Recommended Serviced Apartments
If you plan to stay in Seoul for a month or more, these serviced apartments will provide you all the comforts of home with the benefits of staying at a hotel. These excellent serviced apartments come with cleaning services, health facilities, cooking facilities, and are value for money.
---
Cost To Travel In South Korea In 2023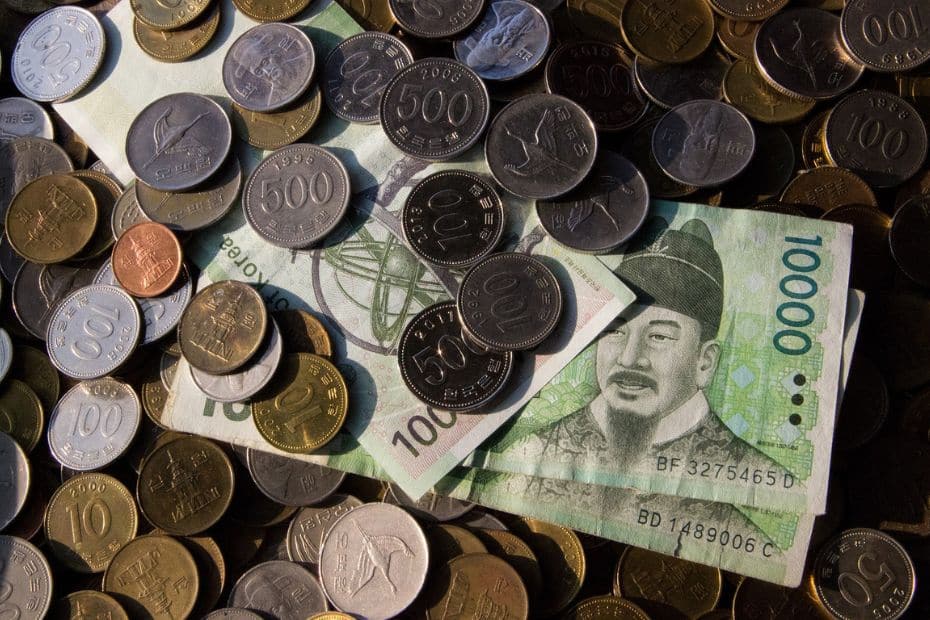 This part of the South Korea travel guide will help you understand some of your expected costs to travel to Korea. The costs to travel to Korea include flights, accommodation, food, drinks, transportation, activities, sim cards, visas, souvenirs, travel insurance, and lots more.
The costs you will pay when you travel vary massively depending on what type of traveller you are and what style of travel you can afford. If you want 5-star luxury and fine-dining, your budget will be very different from someone eating ramyeon from 7-11 and staying in a budget guesthouse.
Therefore, I will try to provide expected costs for 3 different types of traveller – budget, mid-range, and luxury. These aren't exact figures, but should give you a rough idea of how much you'll spend. Check out my detailed article for a more complete look at the cost to travel in Korea.
Daily Costs To Travel In Korea
There are costs that you will pay each day when travelling in Korea that can be averaged out to give you a daily cost. Knowing these figures will help you plan your budget for Korea and to see where you can afford to spend more for the one-off costs to travel, which will be covered next.
The daily costs are accommodation, food & drinks, transportation, attractions & tours, and miscellaneous expenses that can pop up unexpectedly. These miscellaneous costs might include getting a street food snack, an unexpected entrance fee, or a few extra drinks in the evening.
Transportation will be covered later in this South Korea travel guide and there are some useful tips to reduce your transportation costs. You will also be able to see some of the best attractions, tours, and activities in Korea and you'll be able to work out how much you'll spend on those.
Here are the daily costs per person to travel in Korea:
---
Please note: These are costs per day, per person. Couples and families sharing a room will have lower costs as double rooms aren't much more expensive than single rooms. Some days will be cheaper, some much more expensive, especially if you take day trips or visit premium attractions.
There are also one-off costs not included in these daily costs. These can be pre-travel costs, such as flights and a K-ETA or tourist visa (already covered), travel insurance, vaccinations, and such like. Pre-travel costs are different for each traveller and depend on your country of residence.
Other one-off costs during travel in Korea may include day tours, souvenirs, shopping, celebrations, medical costs, and expenses that you don't normally pay each day. Again, these vary for each traveller and are difficult to calculate as people's budgets are so different.
Is Korea A Cheap Country To Travel In?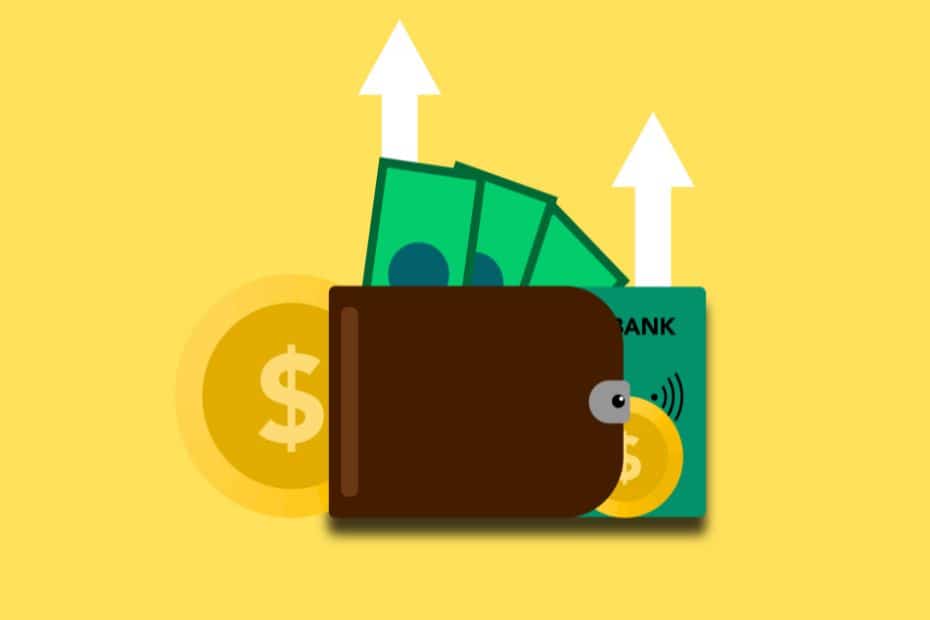 Korea is relatively cheap country to visit, but certainly isn't always a budget destination. The cost to travel to Korea has risen over the last few years and might be more expensive than you think, even if you've previously visited Korea. Flying to Korea is certainly more expensive now.
Food costs rose by 7.5% in 2022 alone and these costs have been passed on to restaurants, which now charge higher prices for meals. Transportation costs are set to rise by about 20% in 2023 for buses and subways, although these are still relatively cheap compared to some countries.
Despite these price increases, travelling in Korea is still cheaper than travelling in most other high-income industrialised countries such as Japan, the USA, and Western Europe. If you're from countries such as the Philippines, Thailand, Indonesia, or Malaysia, Korea may seem expensive.
City Passes That Save You Money In Seoul
There are a number of city passes that can save you money when visiting Seoul by offering free or discounted entry to some of the best attractions in the city for a single price. The original city pass for Seoul is the Discover Seoul Pass, but now there is also the Go City Pass and Klook Pass Seoul.
Here's a summary of each of these Seoul city passes:
Discover Seoul Pass: Available in 24 | 48 | 72 hour periods, allows entry to top attractions in Seoul such as Lotte World Adventure, N Seoul Tower, COEX Aquarium, Alive Museum, Zoolung Zoolung, Sealala Sauna, Gyeongbokgung Palace, and more. Prices start at 50,000 KRW.
Go City Seoul Pass: Available as 1 – 5 day passes or a flexible pass for up to 7 attractions. Covers a wider amount of attractions than the DSP, including a DMZ Tour, Nanta Cookin' Musical, Seoul Land, Seoul Pub Crawl, Seoul Ghost Tour, and more. Prices start at 68,000 KRW.
Klook Pass Seoul: Available for use 2 – 5 attractions, including Everland or Lotte World Adventure theme parks. The Klook Pass Seoul allows free entry to selected attractions within a 30 day period. Attractions include the N Seoul Tower and Lotte World Aquarium. Prices start at 44,000 KRW.
If you'd like to know more about these passes, be sure to check out my article about the Klook Pass Seoul, as well as my suggested Discover Seoul Pass itineraries. I'll have a review article of the Go City Seoul Pass soon, too.
How To Save Money In Korea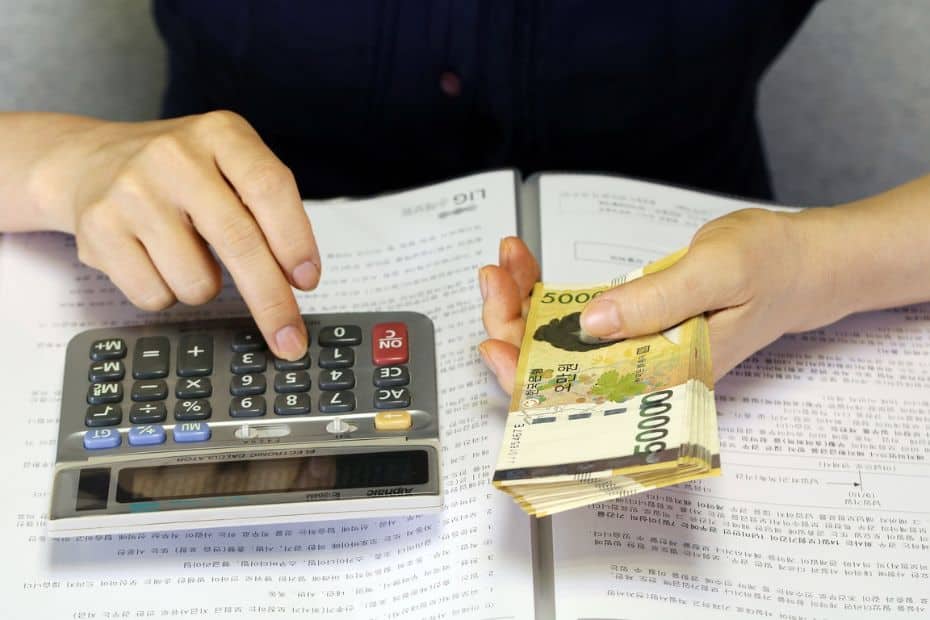 There are always ways to save money and spend less in Korea. Budget options exist for travellers and you can travel in Korea for less than 150,000 KRW per day, even as little as 50,000 KRW per day. Here are some of the ways you can save money in Korea and travel more for less:
Eat like a local: Visit the traditional markets, food stalls, and traditional Korean restaurants. These are much cheaper than eating foreign foods in Korea. University areas are usually cheap, too.
Spend less on coffee: Coffee in Korea can be expensive, but it doesn't have to be. A latte could cost you 5,000 KRW in a chain store, but there are cheap hole-in-the-wall cafes where it's half that.
Shop in the markets: From designer goods (possibly fake) to souvenirs, the markets of Seoul and other cities usually have the best prices. Don't be afraid to haggle.
Use public transport: Korea has a fantastic public transport network both in cities and between cities. Don't waste money on taxis and private transfers when you can use a bus or subway.
Book everything online: You can find discounted entry and tour tickets online that are much cheaper than the regular price. Use Klook, Get Your Guide, and Viator for the best prices.
Stay in guesthouses and hostels: You can find rooms for as little as 10,000 KRW per night in shared dorms and 20,000 KRW in guesthouses. Book ahead to find the best prices.
Take advantage of free things: There are lots of places you can visit for free and free services, such as walking tours in Seoul, 30-minute hanbok rentals, and even free entry to the palaces.
Get your tax back: Korea makes it really easy to recover tax you've paid when shopping. Stores in Seoul will process tax returns for you or you can claim a refund at the airport when you leave.
You will see tips and links in this South Korea travel guide that are designed to help you save money when you visit Korea. Booking tours, attractions, and sim cards in advance can save you a lot of money, as can using a T-Money card and Wise travel card. Keep reading for more money-saving tips.
---
Travel Money And Money Exchanges In Korea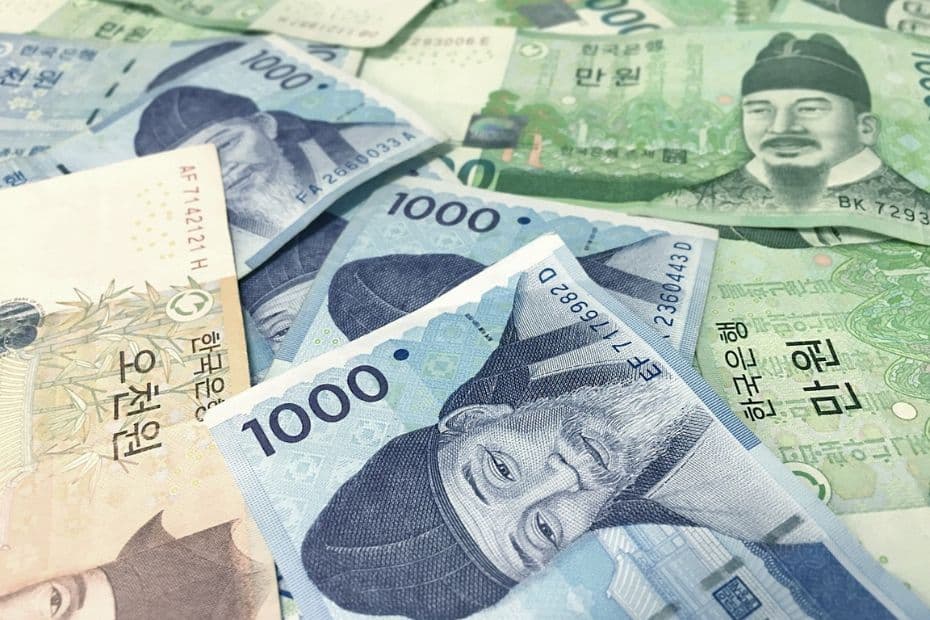 If you follow the tips in this section of this South Korea travel guide, you can certainly save yourself a lot of money and avoid unnecessary fees when spending in Korea. Learn where and how to exchange money, how to avoid ATM and card fees, and how to get tax back before you leave.
Because this section covers a lot of the common questions people ask about travel money in Korea, it will be broken down into a question and answer format. This should make it easier for you to find the information you're looking for and discover answers you didn't know you were looking for.
Can You Use A Foreign Card In Korea?
Almost all foreign credit cards with Visa or Mastercard will be accepted in Korea and it is possible to use these cards to pay across the country. American Express is also accepted in popular tourist areas, but not as widely as Visa or Mastercard and may have problems outside of big cities.
Foreign debit cards should work if they use Visa or Mastercard, but there may be restrictions in place with your bank when using them abroad. It is recommended that you call your bank to check before travelling. For both credit and debit cards, check your bank for any fees you'll pay overseas.
Can You Withdraw Cash From An ATM In Korea?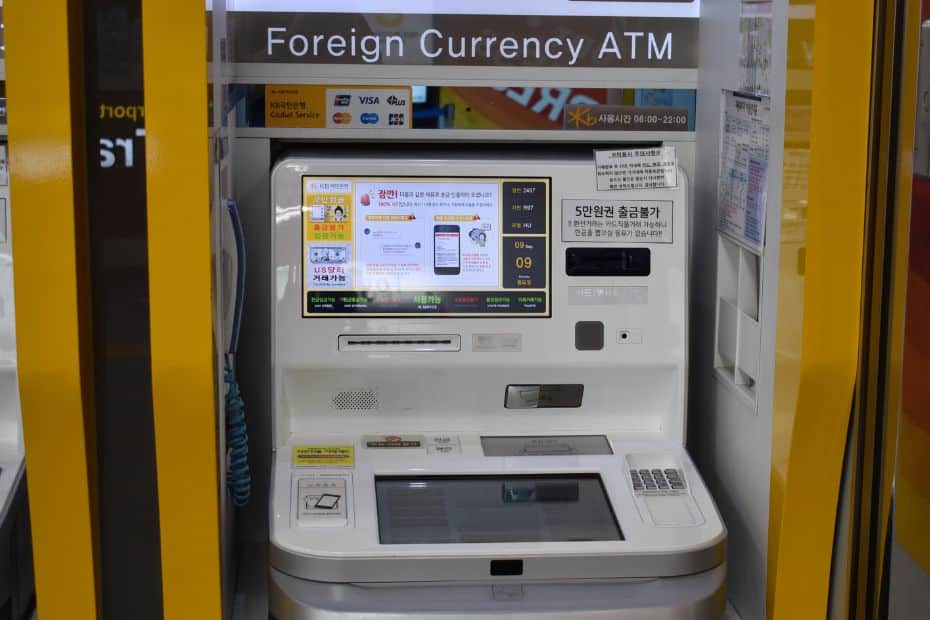 You can withdraw cash from ATMs in Korea using a debit card, but not all ATMs will accept international cards. Look for a sign saying 'Global ATM' or 'Foreign Currency ATM' to withdraw cash in Korea with a debit card. You can also withdraw cash using a credit card, but it's more expensive.
Whether you use a debit or credit card, an ATM is likely to charge a fee to withdraw money using a foreign card. Your bank or credit card company may also charge a fee or give a bad exchange rate. These costs can add up a lot if you withdraw regularly, so try to make fewer withdrawals.
How Can You Save Money When Paying By Card In Korea?
Instead of using a foreign debit or credit card in Korea, which might have expensive fees or not work in places, here are two better options. The first is the WOWPASS travel card, which offers tourist-friendly card services in Korea. The other is to apply for a travel card that can be used globally.
Both the WOWPASS and the two other travel cards offer the ability to pay by card in Korea and to withdraw cash in Korean won. They also offer better exchange rates than you'll find in airport or local money exchanges in Korea. They each have some unique features, which will be illustrated below.
Pay Like A Local With WOWPASS
The WOWPASS is a new way to pay in Korea that combines the essential functions of a T-Money transportation card with the benefits of a local debit card. This is a prepaid card you can top up at more than 90 locations in KRW or your own currency. Just look for the bright orange WOW machines.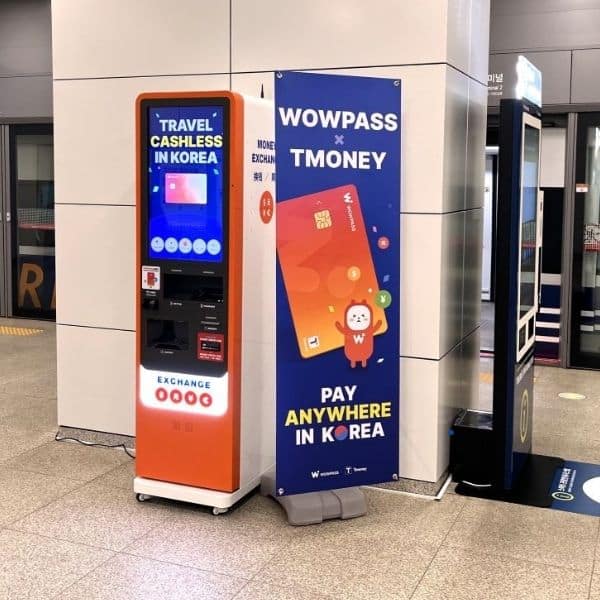 ---
The T-Money function in the WOWPASS means it's more useful than other travel cards as you don't need to carry two separate cards when you travel. Please note, you still need to charge the T-Money balance of WOWPASS with cash, just like a regular T-Money card.
The WOWPASS travel card allows you to add up to 1,000,000 KRW to your card and can be used to pay for almost anything in Korea without any fees. The card is issued by a Korean company, so you can use it to withdraw cash at any WOWPASS machine located in Seoul & other cities in Korea.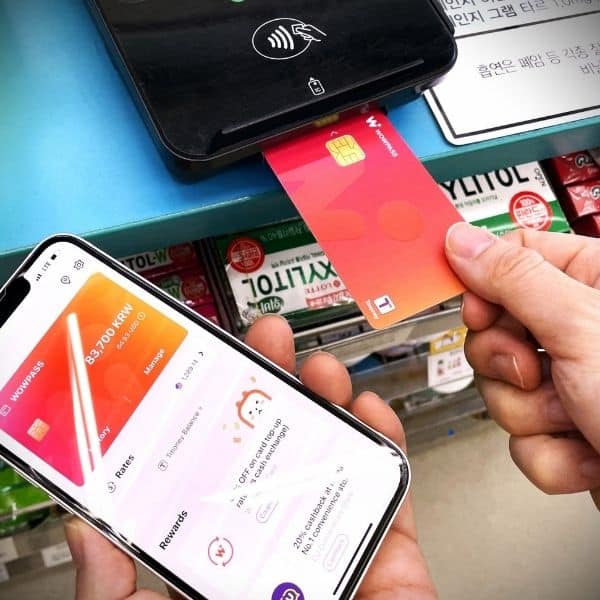 ---
Thanks to the user-friendly WOWPASS app, users can freeze or replace their card, check their spending, add funds, and check exchange rates. Because the WOWPASS isn't tied to your home bank account, it also reduces the damage by card fraud, in case the worst was to happen.
As well as a regular WOWPASS, you can also reserve the All-In-One Airport Package, which includes the WOWPASS, 10,000 KRW T-Money balance, and a discounted Korean sim card. This is really useful for those who want to get connected and travelling as soon as they arrive in Korea. Get the WOWPASS app for Android or Apple.
Tip: Use the invitation code INMYKOR1 to get cashback on WOWPASS top-ups in foreign currency.
---
Overseas Travel Cards You Can Use In Korea
Overseas travel cards are another option for spending in Korea and I use them myself to spend money from my UK bank account in Korea, as well as when travelling in other countries. They're really simple to use and are much cheaper than paying with my foreign card or exchanging money.
Two of the leading travel card companies are Wise and Revolut. I use both of these to pay for things in Korea and have written an article about how to use the Wise card in Korea. You can use them to pay for hotels, food, drinks, transportation, taxis, attractions, and lots more. They're really useful.
Here's a summary of the main features of these travel cards:
Can You Use Apple Pay In Korea?
Apple Pay wasn't previously available in Korea due to a lack of approval by Korea's financial regulator. However, in February 2023, Apple Pay received approval to begin operating in Korea through the Hyundai Card Co., allowing payments with Apple devices from March 2023 onwards.
The Apple Pay payment system has been available in Korea since March 21st, 2023 and allows Apple Pay members to pay for goods and services at NFC-enabled payment terminals. However, on the launch date of Apple Pay, there were only 70,000 NFC-enabled payment terminals in Korea.
The lack of NFC-enabled payment terminals will be a big issue for Apple Pay users in Korea as there are around 2,900,000 shops in Korea and most won't accept Apple Pay. Franchises like Starbucks can't accept Apple Pay and it can't be used to pay for public transport. You'll need a T-Money card.
Samsung Pay, which uses MST technology, not NFC, currently dominates the Korean market. NFC-enabled terminals should grow, especially in tourist areas and city-centres from 2023 onwards. This will be good news for Google Pay, which also uses NFC technology and also isn't in use in Korea yet.
Should You Exchange Money Before Travelling To Korea?
It is not necessary to exchange money into Korean won before travelling to Korea, but it can certainly be useful to have a small amount of money. Exchange rates for Korean won outside Korea may not be as good as within Korea and changing large amounts of cash before you travel isn't essential.
It might be hard to get Korean won from your local bank or money exchange as it's not one of the most commonly exchanged currencies. Therefore, you might find exchange rates less favourable and extra fees applied to exchange money. Using travel cards like Wise or Revolut is a better option.
Should You Change Money At Incheon Airport?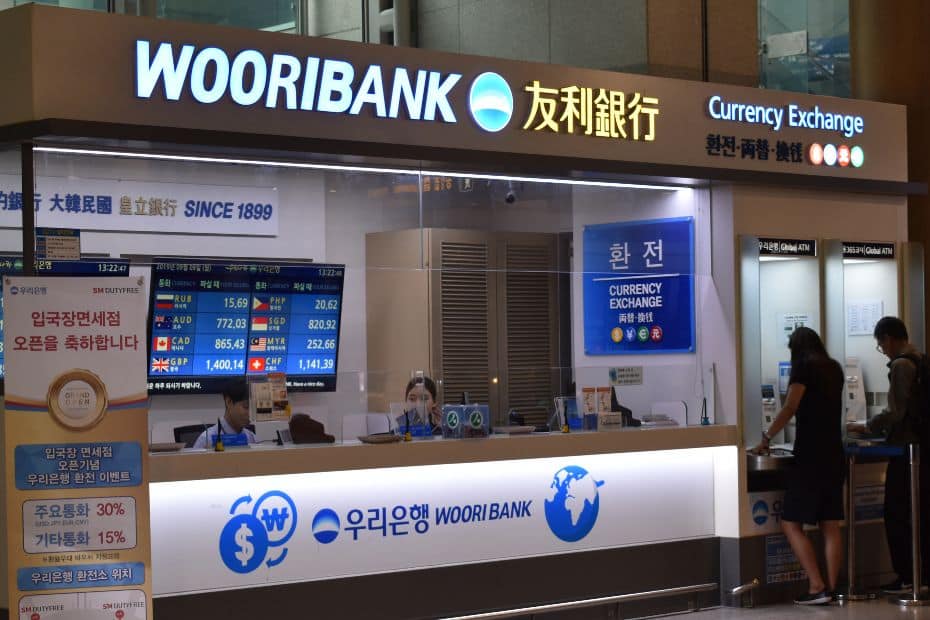 I've travelled around the world and always avoid exchanging money at the airport if I can help it. Airports often have the worst rates for money exchange as they know people need to get local cash, there aren't many other options, and you need at least a bit of money to travel to your hotel.
Incheon Airport is an exception to this rule and I've compared travel exchange rates at several times when flying into and out of the airport. The foreign currency exchange rates at Incheon Airport aren't that bad and are just slightly higher than what you'd find in Seoul. Not the best, but not bad.
There are also Global ATMs at Incheon Airport, so you can withdraw cash here. If you have a Wise or Revolut travel card, you can withdraw up to $200 fee-free from an ATM in Korea. However, Korean banks will charge a withdrawal fee (about 3,000 KRW), which applies to any foreign card used.
Where Can You Exchange Money In Seoul?
Seoul is the first destination for most travellers to Korea and if you want to save money on exchange rate fees, I recommend exchanging money in the capital. There are two main options for exchanging money easily and quickly in Seoul – WOW money exchange machines and money exchanges.
Here's a summary about the two main ways to exchange money in Seoul:
Can You Get Tax Back When Shopping In Korea?
Travellers to Korea can claim tax back on eligible purchases during their trip. This can be done immediately after you purchase an item (if the shop offers the service) or at Incheon Airport or other airports in Korea before you depart.
Instant tax refunds are available at certain locations in Seoul and other big cities. These are usually department stores and large chain stores. You are able to claim tax refunds for goods up to a total value of 1,000,000 KRW (incl. tax). There is a tax refund limit of 300,000 KRW per receipt.
To claim a tax refund you need:
To show your passport
To be a tourist in Korea
To spend between 30,000 to 300,000 KRW in one place
To be leaving Korea within 3 months
Tax isn't refundable on all purchases, so be sure to check when shopping. Tax refunds can also be claimed at the airport as long as you have the receipt and the goods you've purchased.
To find out how to claim your tax back, as well as discover some other money saving tips, check out my article about how to save money in Korea as a tourist.
---
Mobile Phones And Internet In Korea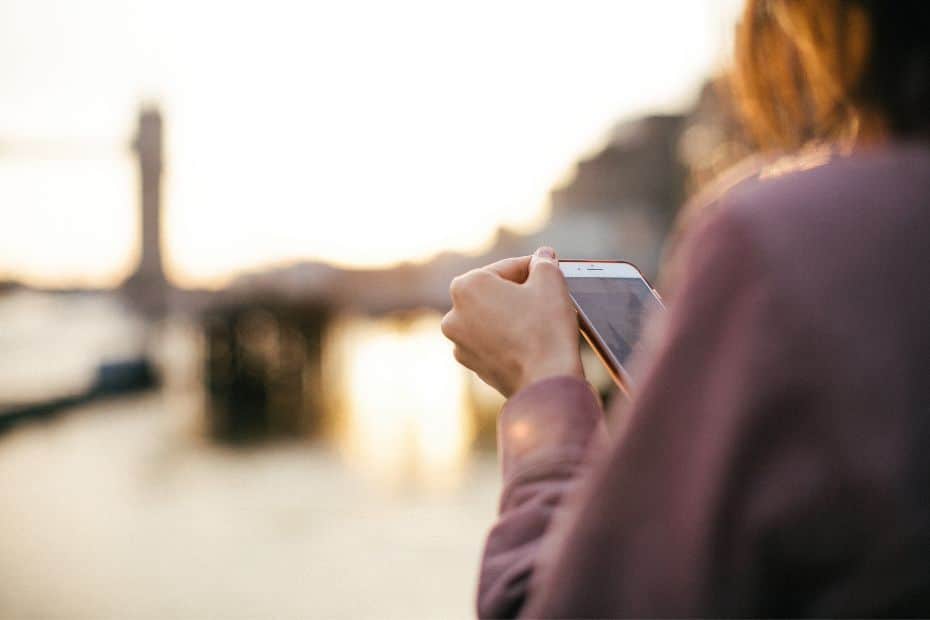 Staying connected to the Internet when visiting Korea is becoming more and more essential these days. Keeping your mobile phone, tablet, or computer connected to the web is useful not only to stay in touch with people back home, but also to help you save money and travel Korea more easily.
There are several options to stay connected in Korea when you travel. The main options for travellers are tourist SIM cards, either physical or eSIMs, portable WiFi routers, and relying on free WiFi provided in public places and hotels. All of these are good options, but there are other considerations, too.
This South Korea travel guide will cover the main differences between Korean SIM cards and portable WiFi routers and which will be most suitable for you. There are also details about why you might want a Korean phone number and which apps to use to help you travel in Korea.
Don't forget, if you bring your phone or other mobile devices to Korea, you'll need a travel adapter.
Should You Get A Korean SIM Card Or WiFi Router?
Both a Korean SIM card or portable WiFi router will provide access to Korea's high-speed mobile networks and keep you connected to the Internet. They provide a secure internet connection, but do so in a different way and with different available features. Find out about the best Korean SIM card for tourists in this SK SIM card review.
Here are the main features of Korean SIM cards and WiFi routers:
---
Costs: SIM cards and WiFi routers are similarly priced when using them for a two week period, but they are charged in different ways. SIM cards are fixed-price and can be bought for set time periods, whereas WiFi routers are charged daily. WiFi routers are cheaper in the short-term.
Ease of use: If you purchase or pre-order a SIM card or portable WiFi router at Incheon Airport, which I highly recommend, the staff will install or setup everything for you. Once they're activated, it's very simple to use either one. Cancelling and returning them at the airport is also easy for both.
Here are the reasons you should get a Korean SIM card or portable WiFi router in Korea:
Where Can You Get Korean SIM Cards Or WiFi Routers?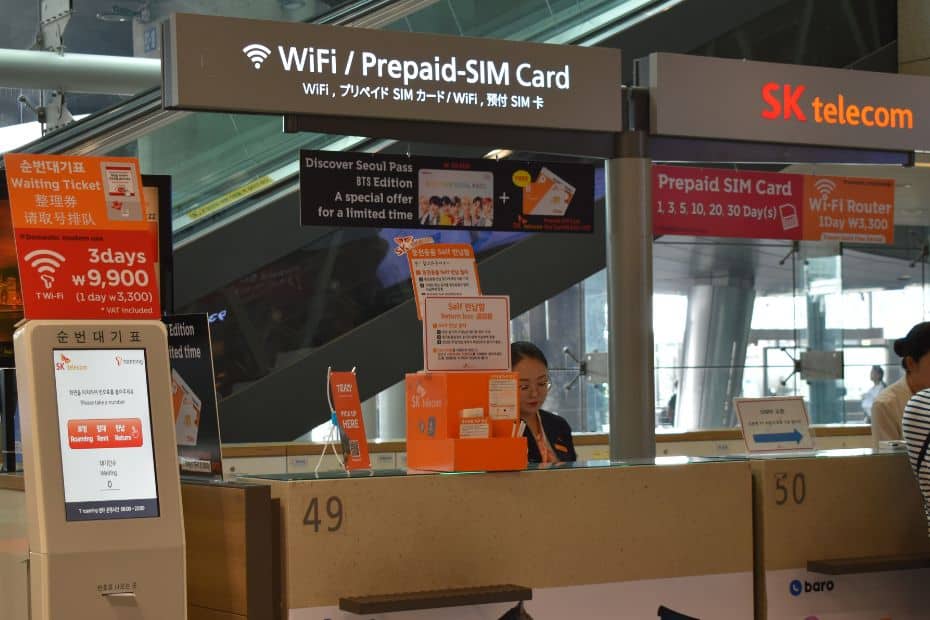 You can get a Korean SIM card or portable WiFi router in several ways. The easiest way, and one that I definitely recommend, is to purchase online through a tour company such as Klook, Viator, or Get Your Guide, and get a SIM card at Incheon Airport or other entry point into Korea when you arrive..
The main reason I recommend this method is that you can guarantee you will get a SIM card or router and it will be waiting for you when you arrive. The collection desks at Incheon Airport are open 24-hours a day and they will help you install everything you need to get started immediately.
You can also get SIM cards and WiFi routers when you arrive at the airport and you should find similar rates. However, you won't be guaranteed a device and you will need to pay in person. When you book online, you can pay in your home currency and avoid those issues.
I don't recommend getting a SIM card or WiFi router in Seoul or other cities. It is possible, but you may run into language issues and find less tourist-friendly options. Phone shops outside the airport usually cater to Koreans, not tourists. Airport rentals are the easiest options for visitors to Korea.
What's The Benefit Of A Korean Phone Number For Tourists?
There are two main benefits of having a Korean phone number for tourists. The first benefit is the ability to call people when you're in Korea. This can be useful for making reservations, keeping in touch with people, and in case of emergencies.
The second benefit of having a Korean phone number is the ability to use Korean apps. It isn't mandatory to have a Korean phone number to use Korean apps, but most won't let you use their services unless you sign up with a phone number. Using Korean apps makes travelling easier.
A phone number is like a form of identity in Korea, which is why you need your passport to register a SIM card. Once you have a phone number, many more services are available, including food delivery, ordering taxis, making reservations (such as for the Busan Sky Capsule), and online messaging.
What Apps Do I Need For Travelling In Korea?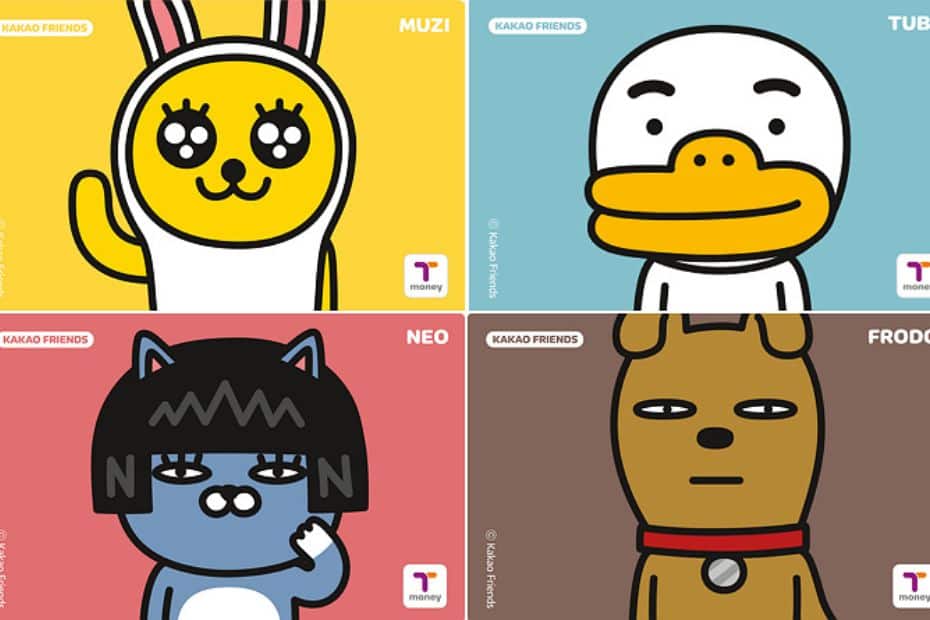 If you have a Korean phone number, you can use Korean apps. Even without a Korean number, you can still download these apps and use some of their services. Full features typically require a phone number though. There are other, non-Korean apps that will help you when travelling, too.
Here are the most useful apps to use when travelling in Korea:
Papago: This is the essential translation tool for visiting Korea. Papago's translation services are the best and you can use the app to take pictures and translate Korean signs, menus, and other pictures.
Naver Maps: To find your way around Korea, use Naver Maps or Kakao Maps. Their systems are much more accurate in Korea than Google Maps. Use them to plan travel routes and transport times.
Kakao Taxi: Uber and Grab don't really exist in Korea, so if you plan to take a taxi, you'll need to use Kakao Taxi. Simple to use and takes the hassle out of trying to use Korean to give directions.
Kakao Talk: This is Korea's most popular messaging app and is useful for keeping in touch with Korean friends, contacting businesses in Korea, and even calling abroad.
Seoul Subway: Use this app to travel around Seoul's underground more easily. Plan your route, see when the next train is due to arrive, check connections, and see how late the trains run.
Korail Talk: This app allows you to book trains on Korea's high-speed train network and regular train routes. This app has an English setting, so you can check train times and prices easily.
Coupang Eats: This is a food-delivery app that allows you to order almost anything edible and get it sent directly to you. You can even order convenience store goods. Useful for rainy days.
Mango Plate: Find restaurants in Korea with this app and discover the best places to go out and eat. You can also see restaurant details and get directions in Naver Maps and Kakao Maps.
WOWPASS: To use the WOWPASS to pay like a local in Korea and for T-Money functions, you'll need the WOWPASS app. This will let you check your balances and spending and control your card.
Wise & Revolut: As mentioned in this South Korea travel guide, using a travel card to pay for items in Korea will save you money when you travel. If you use Wise or Revolut, make sure you have the app.
Klook: This company provides some of the best tours in Korea and if you make bookings through their website, you can easily manage them with the Klook app.
Intercity Bus by T-Money: This app is great for booking buses between cities in Korea. There is an English version that allows you to book tickets, check times, and see available seats.
These apps should be available on both Android and Apple. Some of these apps might default to Korean, but you should be able to change them to English in the side menu.
Is There Free WiFi In Korea?
Travellers in Korea have the option to not get a sim card or portable WiFi but still stay connected. This is thanks to the excellent Free Wifi in Korea that is provided in public transport, government buildings, restaurants, cafes, and many other places. This is mostly in the cities, however.
Hotels also provide free WiFi in most cities in Korea. If you plan to rely on free WiFi, I recommend using the hotel's WiFi to plan routes, check opening times, and research places you want to visit. Take screenshots of these details so you can see them later, even if you don't have Internet access.
The only warning I would give about relying on free WiFi when travelling in Korea is the increased use of mobile-dependent apps and passes in Korea. Physical tickets and passes are being phased out in favour of digital versions, which often need an active Internet connection to use.
I've noticed in recent years that services that impact travellers have moved to digital versions. This includes the T-Money card, Discover Seoul Pass, train and coach tickets, attraction tickets and event tickets. I believe that having a reliable net connection will be a must for most travellers soon.
---
Using Public Transport In Korea In 2023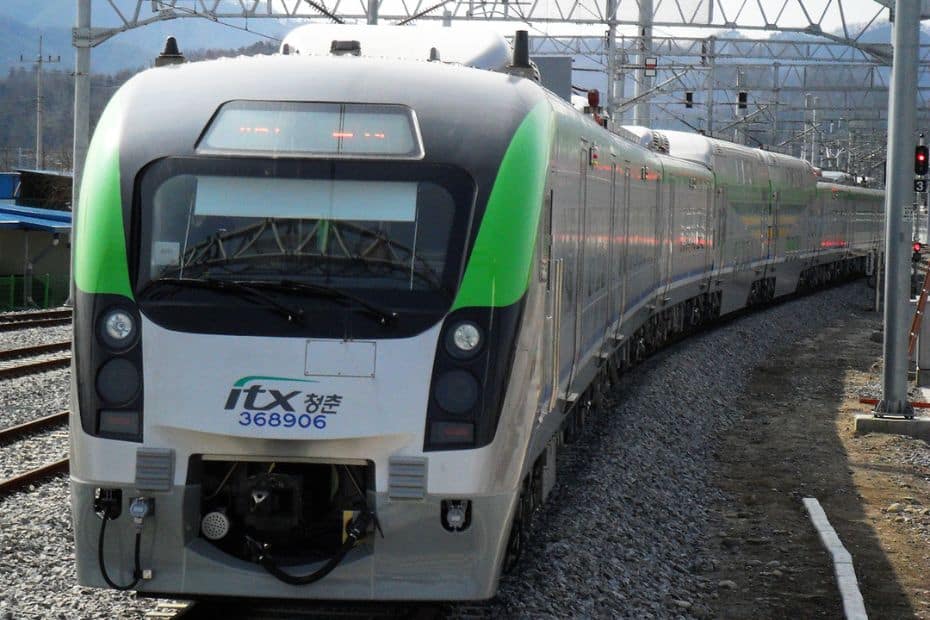 This section of the South Korea travel guide looks at Korea's public transport system and how to navigate it as a traveller. Korea has arguably one of the best public transport systems in the world. It's cheap, well-connected, frequent, and runs on time. Other countries could learn a lot from Korea.
The great news for tourists is that Korea's public transport is very foreigner friendly and information is provided in English in almost all places, as well as Chinese and Japanese in popular areas such as Seoul and Busan. Travelling by public transport in Korea is cheap, easy, and convenient.
How Much Does Public Transport Cost In Korea?
The cost of public transportation in Korea is fixed, no matter what day you purchase tickets on. If you buy one month in advance, or last minute, you will pay the same price for the journey. Journeys within a city are a single price and not dependent on how far you travel, unless you leave the city limits.
All journeys are single fares and you can't buy return tickets. You will need to buy two singles when you want to travel somewhere and back again. The cost of a single fare depends on how you pay for the ticket – by cash or with a transportation card.
Here are the costs for public transport in Korea by payment method, type and user:
---
Please note: The cost of subway rides is set to rise to 1,400 / 1,500 KRW in October 2023. These prices will be adjusted when this occurs.
How Do You Pay For Public Transport In Korea?
The cost of public transport in Korea depends on whether you pay with a transportation card, such as T-Money, a Korea Tour Card, or Cashbee, or in cash. This applies to both subways and buses. If you use a transportation card, you should add credit to it, then touch it to the card reader at the subway or bus to pay.
To use cash to buy a subway ticket, you will need to buy a ticket at the station. For buses, you should pay the correct fare to the driver when boarding the bus. However, since 2022, buses across Korea have started to end the use of cash and some will insist on payment by transportation card only.
In the future, bus payments are expected to become simpler with fares deducted via bluetooth-enabled phones that have the relevant app downloaded. This system has already been in place in Gyeonggi Province since March 2022 and is likely to spread to more bus routes in the future.
I highly recommend getting a T-Money card when you travel to Korea. You can use it to pay for public transportation (at a discounted rate), and it will work almost everywhere in Korea. It can also be used to buy goods from shops, cafes, and restaurants. It's really convenient and a must-have for Korea.
Using T-Money To Pay For Public Transport In Korea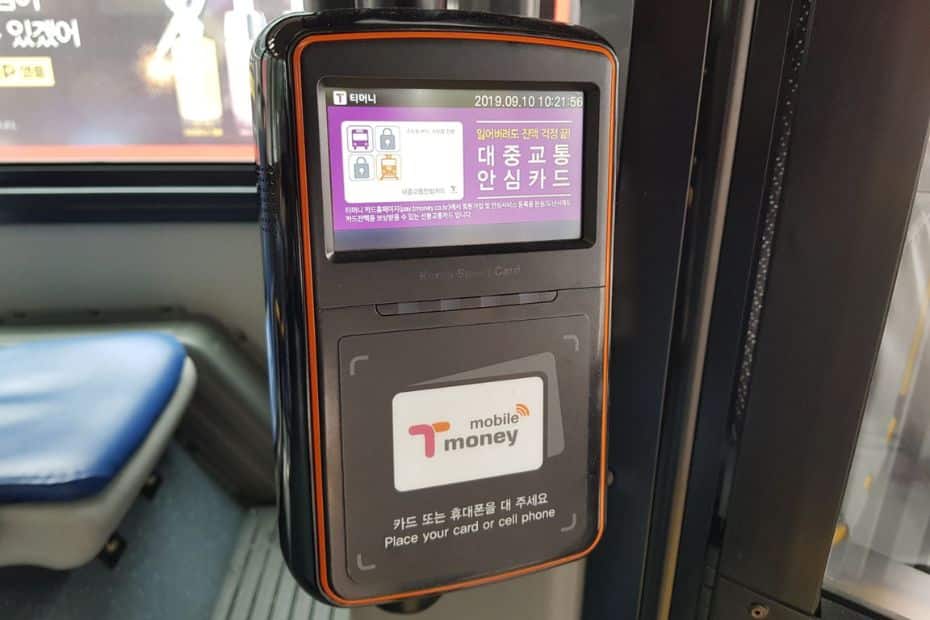 A T-Money card is the essential transportation card for using public transport in Korea. You can purchase one at Incheon Airport, subway and train stations, and convenience stores across Korea. The card can be used in many places. It never expires, so you can use it on different trips, too.
Here is how to use a T-Money card in Korea:
Purchase a T-Money card (2,500 KRW)
Add money to the card (cash top-up only)
Enter the bus or subway station
Tap the T-Money card against the card reader (see pic above)
Tap the T-Money card again when you get off (for transfer discount)
Recharge when necessary
I recommend adding about 10,000 KRW for each day you plan to travel in Korea. That means about 70,000 KRW for a week. You can add more money later if necessary. You can top up at convenience stores and transport stations. There is also an app version of T-Money, but the card version is better.
How Do You Use Trains In Korea?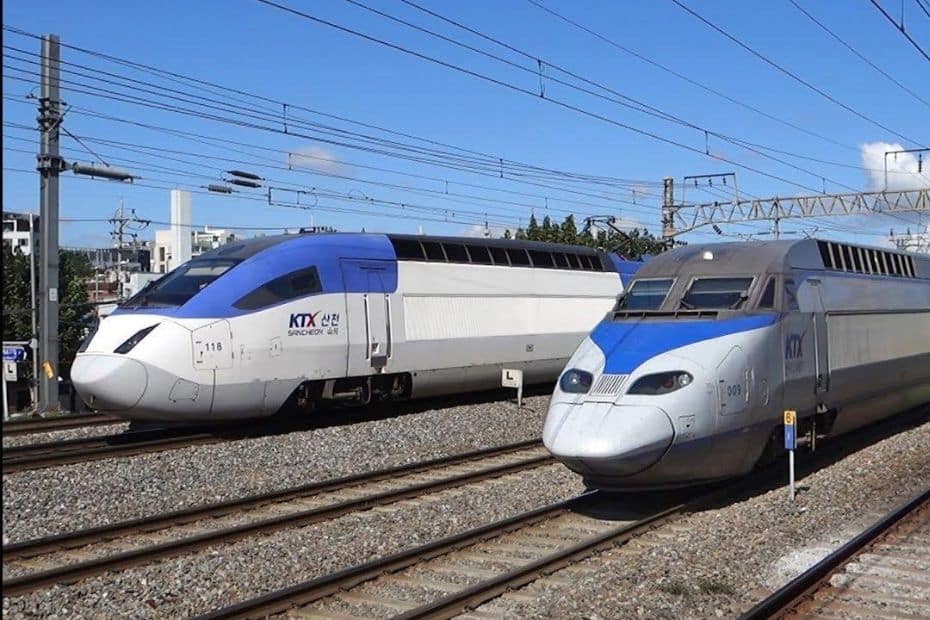 The train network in Korea is divided into high-speed trains (KTX) and regular trains (ITX and Mugunghwa). The KTX network connects major cities in Korea and is convenient for travelling around Korea quickly and cheaply. The carriages are comfortable and come with modern facilities.
Unlike other forms of public transport in Korea, transportation cards like T-Money aren't accepted for trains. You will need to buy a train ticket to travel and all tickets are single tickets. The price to buy a ticket doesn't change and you can refund a ticket up to the last minute for only a small fee.
You can book tickets within 30 days of travel through the official Korail website or app, or at a train station in Korea. Unfortunately, buying a train ticket online in Korea can be difficult as Korean payment systems often reject cards issued outside of Korea. Buying in person is recommended.
How To Book Korean Rail Tickets Outside Of Korea
If you want to book Korean train tickets outside of Korea, you can do it online with Trip.com, which is Korail's exclusive overseas distributor. The price is slightly higher (about 5%) than the price you'll pay in Korea, but it will allow you to book tickets online and secure your seat in advance.
If you plan to travel on the main KTX route between Seoul and Busan, I highly recommend booking tickets in advance. There are three types of tickets available – first class, regular, and standing. The journey takes 2:34 and you don't want to be standing for all that time. Book ahead for comfort.
Is The Korea Rail Pass Worth The Price?
The Korea Rail Pass is a good option for tourists who plan to travel long distances by train in Korea, such as between Seoul and Busan or Seoul and Jeonju. The pass has two main options – flexible and consecutive. These mean you can use it any time (flexible) or within consecutive days.
The flexible pass is more expensive, but offers more freedom to travel around Korea over a longer period. You can use the pass to only cover big journeys and won't feel pressured to use it again until you're ready. The extra cost is more than worth the inconvenience of having to rush travel plans.
Will you save money with the Korea Rail Pass? That depends on your travel plans, how often you'll be travelling by train, and how many people are travelling. If there are 2 people or more, purchase the group saver pass and save 10,000 KRW each on the pass. Group tours make it better value.
The Korea Rail Pass does not allow you to ride on the subway for free, which would make it better value. It can also be complicated to reserve tickets online using the pass and buying tickets in the regular way is more convenient. Overall, the pass isn't essential, but might save you money.
How Do You Use Taxis In Korea?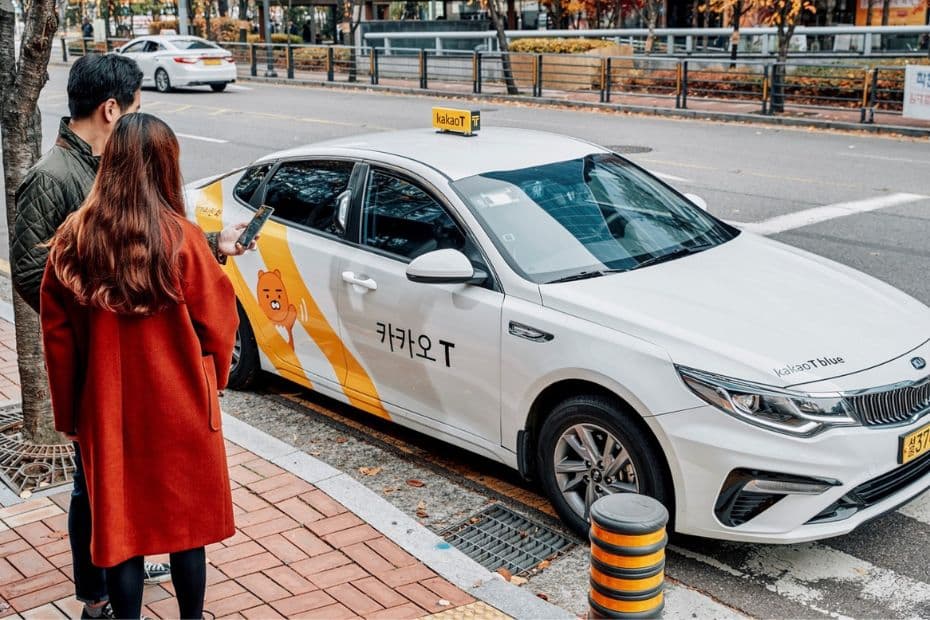 Taxis in Korea can be hailed from the street or called directly to you using apps such as Kakao Taxi. Companies like Uber and Grab don't have a large presence in Korea and operate the same way as Kakao Taxi, by helping you find an official taxi driver. Private taxi services aren't common.
The big issue facing the Korean taxi industry in 2023 is the lack of taxi drivers. This can make it hard to get a taxi, even when using an app like Kakao Taxi. Late night taxis are particularly difficult to find. Read this guide about how to use Kakao Taxi to help you learn how to call a taxi in Korea.
Taxi prices in Korea are reasonable, especially compared to countries like Japan and the UK. Although base taxi fares rose in 2023 to 4,800 KRW, the price is still low and relatively affordable to travel by taxi if you need to. It's a good option if there are no direct public transport routes.
Taking a taxi to and from Incheon Airport is a convenient option if you have a lot of bags or you are travelling in a group. For solo travellers or couples, I would recommend using public transport or a limo bus, as it's significantly cheaper and won't take much longer than a taxi.
How Do You Use Intercity Buses In Korea?
Intercity buses in Korea operate in a similar way to trains. You can only book tickets within 30 days of travel and can only buy single tickets. Book tickets online through websites such as T-Money Bus or Bustago, through app versions of these sites, or at the bus terminal you will depart from.
You can't walk onto intercity buses without a ticket, nor can you use transportation cards like T-Money to pay on entry. You will need to pay for and receive your ticket (physical or digital) before you can enter the bus. Ticket machines usually (but not always) have English options for buying tickets.
There are no return bus tickets in Korea and you can only buy tickets from your point of departure, unless you book online or via an app. If you're travelling from Seoul to Gangneung, for example, you will need to buy a ticket in Seoul and then a ticket in Gangneung. You can't buy both in Seoul.
How Can You Hire A Car In Korea?
Renting a car is a great way to see parts of Korea that aren't covered by the train network and gives you the freedom to explore at your leisure. If you plan to travel to Jeju Island, which doesn't have any trains, hiring a car will be a lot more convenient and is almost a must if you plan to travel inland.
Car rental in Korea isn't that expensive and you can rent a modern car for as little as 75,000 KRW per day. I recommend booking car rentals through Klook, they will deal with the Korean car rental companies and reserve a car for you. This is easier than trying to do it in Korean.
To hire a car in Korea, you will need:
Driver's license (must have had it for at least 1 or 2 years)
International Driving Permit (in some cases)
Credit card (in the name of the main driver)
Valid photo ID (passport)
Printed voucher for rental (if booked online)
Here's some more information about the International Driving Permit and rules you should follow when driving in Korea, such as the legal requirement to wear seatbelts, booster seats for under 6s, and not using your phone while driving. Be sure to read up on local rules before driving in Korea.
---
Best Places To Visit In Korea In 2023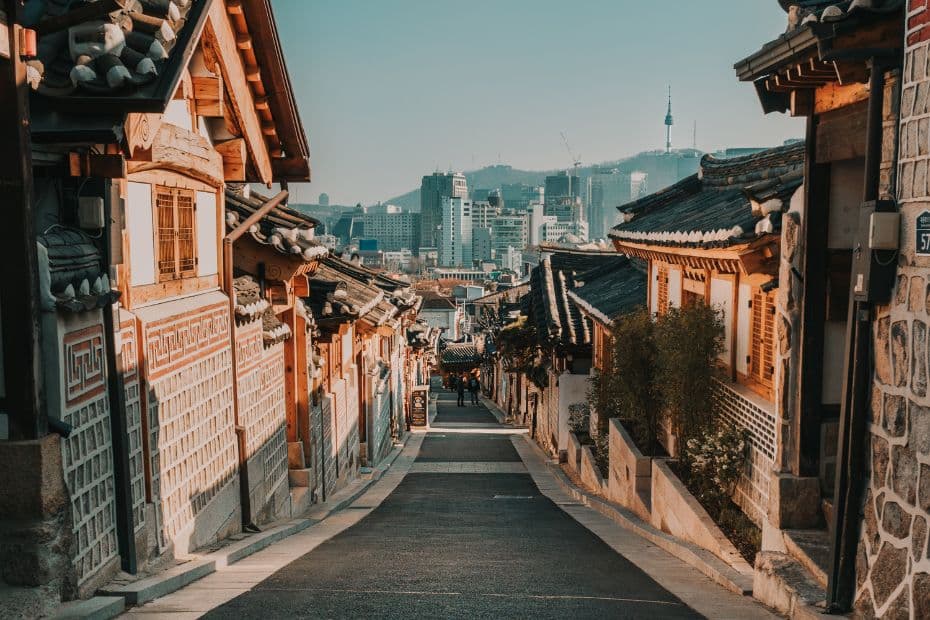 The next few sections of this South Korea travel guide will help you figure out what you want to do and see on your travels. This first section will give you a brief introduction to the best places to visit in Korea, including the major cities, tourist hotspots, and unique areas that you're sure to love.
Here are the best places to visit in Korea:
As you can see, there are many great places to visit in Korea. Korea is truly a country of undiscovered wonders that people aren't aware of. Seoul is an incredible place to visit, but there's so much more to see. That's why I try to include lesser-known places in this South Korea travel guide.
The list above covers a lot of the most popular or tour-worthy destinations in Korea, but there are still more places I could recommend, such as Andong (home to the mask dance festival), Gunsan (port town with a retro vibe), Daegu (big city with historic sights), Daejeon, and many more.
Besides cities and towns in Korea, there are also 18 national parks to explore, thousands of mountains, Buddhist temples, beaches, bike routes, campsites, and so much more. I'll include a few of each of these in the next few sections of this South Korea travel guide.
---
Best Day Tours From Seoul In 2023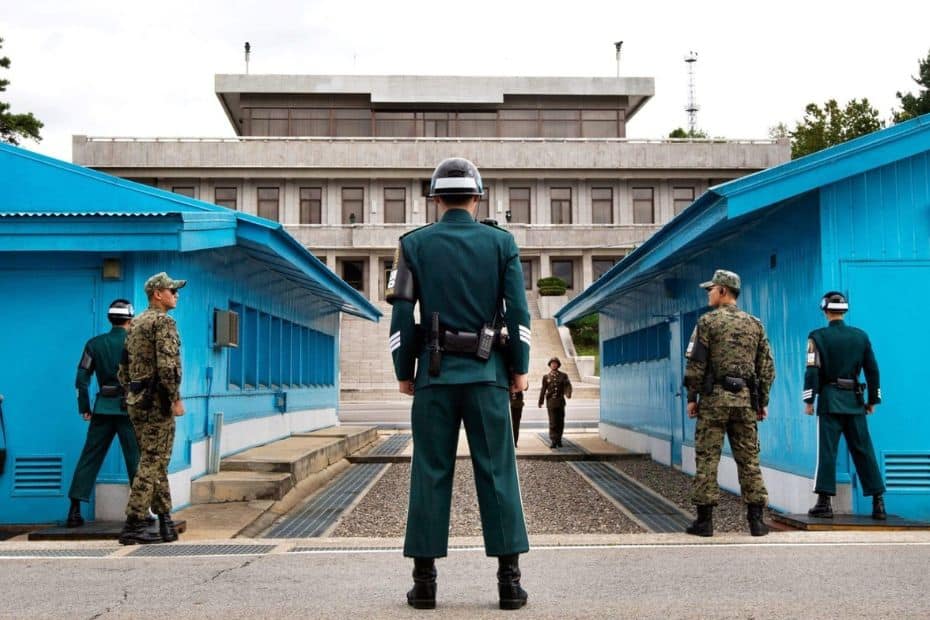 Taking a day tour while you're staying in Seoul is a great way to see more of Korea's top attractions without the hassle of moving hotels to somewhere new. The 10 day tours from Seoul below can all be done in a day or less and can even be combined with other activities in the same day.
I don't want to include every day tour available in this South Korea travel guide as there isn't enough room to talk about them all. If you want to find more day tours, I recommend looking at the options available through tour providers such as Klook, Viator, and Get Your Guide.
Please note: There are many day tours from Seoul and they come with various prices. I recommend avoiding the very cheapest as these will often waste your time by taking you to some overpriced gift shop area and pressuring you to buy souvenirs or rushing you through too many attractions.
Here are 10 great day tours from Seoul:
I've linked to tours provided by reliable tour companies in Korea. If you would rather book a tour through a local guide, contact Jerry Heng or Andrew Chung Hanbyul. They're freelance guides with years of experience offering tours in Korea and both offer amazing service.
These places are accessible by public transport, but may take much longer than a tour would do, wasting your precious time. Check out my guide for getting to Nami Island to help you navigate Gapyeong County. For other destinations, I would recommend a tour – it's more practical.
---
Best Sights To See In Korea In 2023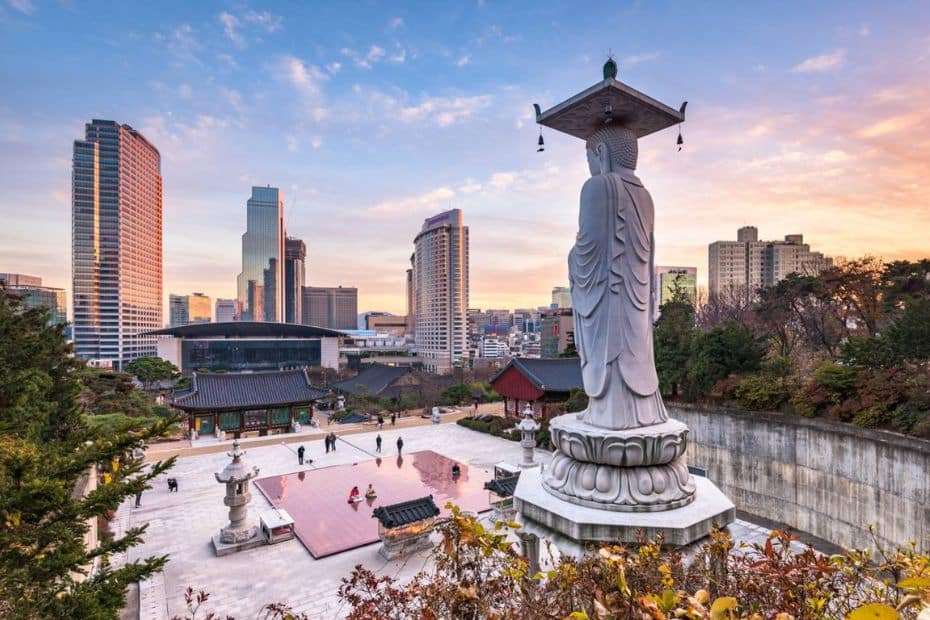 South Korea truly has something for everyone. There's so much I want to include in this South Korea travel guide, which is why this section is full of different sights to see and explore. However, to keep things short and simple, I'll just list them, not give full details about each one.
Whether you're travelling to Korea to learn about Korean culture or history, to see Korea's impressive landmarks, to enjoy family fun attractions, to hop from cafe to cafe, to immerse yourself in nature, or simply to eat and shop, then you'll definitely find something for you in this section.
These 100 ideas are just the tip of the iceberg for what you can enjoy when travelling to Korea. There's so much more to discover and I recommend you add some time to your travel plans to explore without a plan. Sometimes the best travel memories come from unexpected discoveries.
---
Best Activities To Try In Korea In 2023
Often the most memorable moments when travelling come from the experiences we have, not just the places we visit. Visiting a palace is interesting, but visiting a palace while dressed in traditional Korean hanbok, pretending you're Joseon-era royalty with your friends or family is much more fun.
This section of the South Korea travel guide offers 10 fun activities you can try when you visit Korea. These will give you a good introduction to Korean culture, food, history, and nature. If you want more ideas, check out my list of 50 unique Korean experiences you can only do in Korea.
I recommend trying at least a few of these unique activities, they'll really make your trip to Korea more memorable and offer insights into Korean culture and life. My advice is to be brave when visiting Korea and try new things, even if they seem a bit unusual at first. The same applies to Korean foods.
---
Best Korean Festivals To Join In 2023
There are dozens of festivals held in Korea each year celebrating the seasons, local products, traditions, culture, and often just for the sake of having fun. Visiting a festival in Korea will offer you a glimpse of how locals celebrate life, culture, and nature and let you join in the fun.
Whenever you visit Korea, there'll be festivals going on. However, the biggest festivals occur in spring or autumn. As mentioned previously in this South Korea travel guide, these are the best seasons to visit Korea as the weather is pleasant and people are celebrating the end of summer or winter.
Knowing when you plan to visit Korea will help you research what festivals are on and what the weather will be like. There are certainly a lot more than just the ones mentioned above, including some others mentioned previously in the seasons part of this South Korea travel guide.
I recommend using a tour company to see out of the way festivals like the Jinju Lantern Festival and the Jinhae Cherry Blossom Festival. These are often far from typical tourist destinations and can take hours to get to by public transport. Tours are worth the cost to save you time and avoid hassle.
---
Recommended Itinerary For Korea In 2023
In this section of this South Korea travel guide is my recommended first-timer itinerary for South Korea. This introduces you to two of Korea's biggest cities, as well as a couple of day trips to highly rated destinations in Korea. There's a mix of history, culture, nature, sights, and experiences.
This itinerary starts in Seoul as that's where most people arrive to Korea after flying into Incheon Airport. If you arrive in Busan, you can change the route to start and end there instead. For travellers to Korea with only 2 or 3 days, I recommend using the first few days of this itinerary instead.
The itinerary lasts for one week, which isn't enough time to see all of Korea, but enough time to get a feel for the country. If you have more time, use this itinerary and add in or replace extra destinations as you like. Jeju Island is certainly worth visiting if you have an extra 2 or 3 days.
Classic Sights Of Korea Itinerary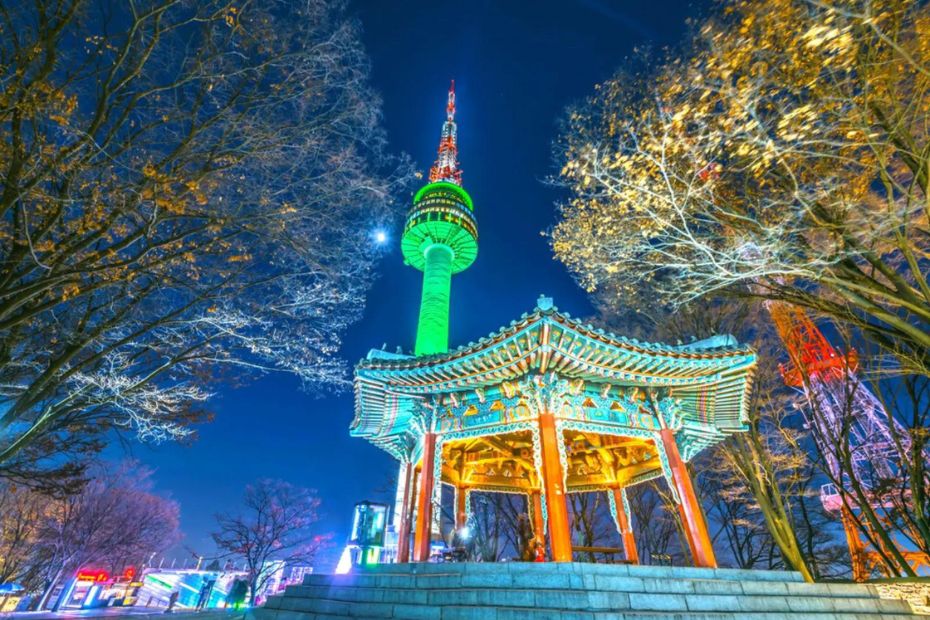 This itinerary covers a few must-see sights in Korea, including the two largest cities, the history city of Gyeongju, and some popular day trip destinations from Seoul. For more itineraries, check out this article with a few more one week itineraries for Korea.
Day 1: Arrive in Seoul and explore Gyeongbokgung Palace, Bukchon Hanok Village, Insadong Art Street, Jogyesa Temple, and Cheonggyecheon Stream. Get dinner at the Jonggak Avenue of Youth for authentic Korean food that's better than the touristy places in Myeongdong.
Day 2: Learn about Korean history at the War Memorial of Korea or National Museum of Korea, explore Seoul's traditional Gwangjang market in Dongdaemun, take the cable car to the N Seoul Tower for sunset & night views, then head down to Itaewon or Myeongdong for dinner & drinks.
Day 3: Take a day trip to Gapyeong and visit Nami Island, the Garden of Morning Calm, and the Gapyeong Rail Bike Park. Return to Seoul for dinner and rooftop drinks in Myeongdong and then walk along the fortress walls from Dongdaemun Station if the weather is good.
Day 4: Take the KTX to Busan, drop your bags, and take the subway to Nampo-dong for Jagalchi Fish Market, Bosu-dong Book Alley, and traditional sights. Take a taxi to Huinnyeoul Culture Village. End the day in Haeundae for evening dinner & drinks and a walk along the beach at night.
Day 5: Take the bus to Haedong Yonggungsa Temple, then a taxi to Songjeong Beach. Relax in a beachside cafe, then take the Haeundae Beach Train to Cheongsapo, change to the Sky Capsule, and end up in Haeundae. Take a bus to Gamcheon Culture Village and get dinner at Songdo Beach.
Day 6: Take a day trip from Busan to the UNESCO World Heritage City of Gyeongju. Visit the Gyeongju Historic Area, then Gyeongju Gyochon Traditional Village for traditional food and sights of Woljeonggyo Bridge. See tranquil night views of Wolji Pond before getting dinner at Hwangnidangil.
Day 7: Head back to Seoul on the KTX for a final day of shopping and sightseeing in Hongdae. Walk along the Gyeongui Line Forest Park or Book Street or visit a theme cafe. Take the subway directly to Incheon Airport from Hongdae or spend a night here and check out the lively night scene.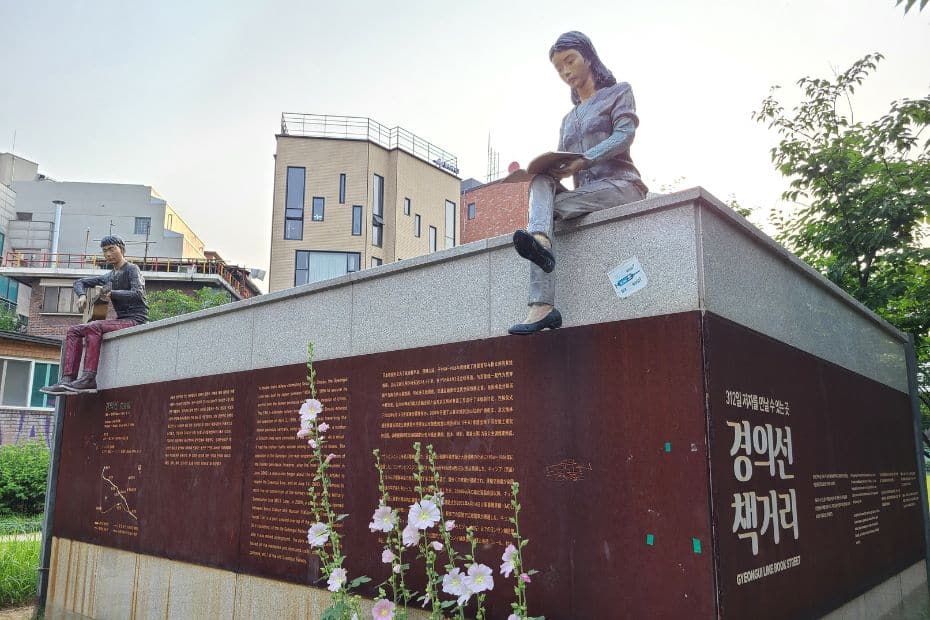 Please note: I recommend trying not to cram too much into your itinerary. You may want to see as much as possible, but people often end up rushing past sights and not appreciating them. Plan for less and see more if you have time. It gives you a chance to be spontaneous.
To plan a realistic itinerary for South Korea, it is important to factor in transportation, meal breaks, and rest times. Use Naver Maps to plan your route and work out travel times. A short journey on the map might take much longer if there's no direct route. Also consider breaks if you plan to walk a lot.
---
Cultural Issues When Visiting Korea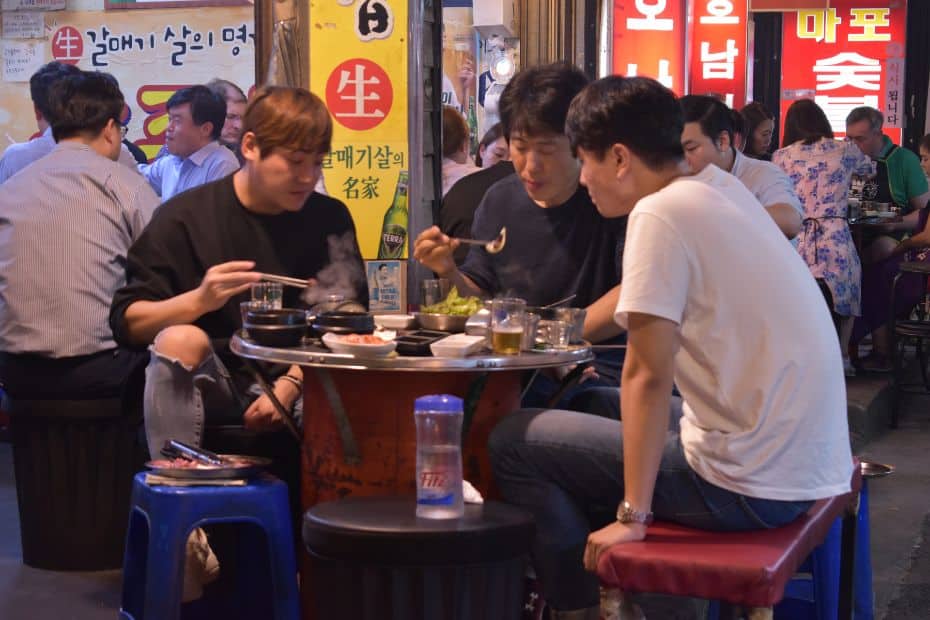 The next few sections of this South Korea travel guide will provide answers to some of the most common questions first-time travellers to Korea have in regards to cultural, language, and safety issues. Korea is a culturally unique country with customs and traditions you might not be aware of.
Korea is a society that places a strong emphasis on social image, respect for others, and social harmony. This means Koreans will often try to avoid conflict, especially in public. To show respect for Korean culture and to avoid being rude, try to respect social harmony and always avoid conflict.
If you follow these tips, you'll find it easier to avoid accidentally upsetting someone in Korea. There's far too much to cover in this South Korea travel guide, so if you'd like to know more, check out my detailed guide to Korean etiquette and culture, it's packed with tips and insights to understand Korea.
What is considered rude in Korea? It is considered rude to point with one finger or with chopsticks, give and receive with one hand, cross your legs when sitting, and to walk inside with your shoes on. Things considered rude in other countries such as swearing and spitting are also rude in Korea.
What is considered unlucky in Korea? It is considered unlucky to write someone's name in red ink and to stand chopsticks upright in rice. Both are used in rituals for deceased people. The number 4 is also unlucky as the word is the same as the word for 'death'.
Do you need to tip in Korea? It's not necessary to tip in Korea and most restaurants and cafes won't expect or allow you to tip. There is no service charge added to bills in Korea, with the exception of some upmarket restaurants, bars, and hotels in touristy areas of Seoul. Tipping guides is okay.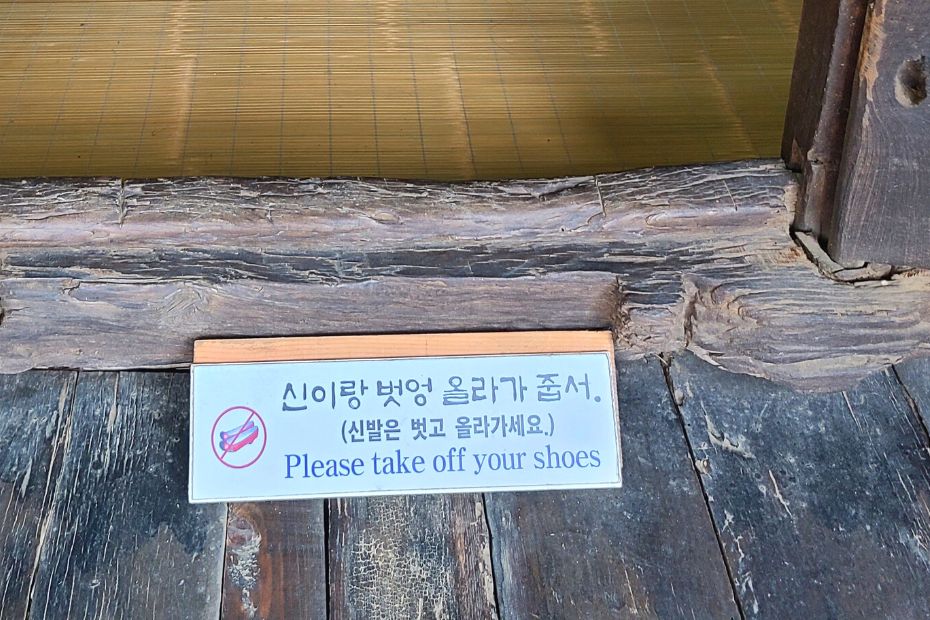 Do you need to take off shoes when going inside? If you enter someone's house in Korea, you should take off your shoes. This rule also applies to temples, traditional restaurants, and other places in traditional buildings. Most cafes, shops, and restaurants won't ask you to take off your shoes.
When should you use two hands in Korea? You should use two hands when giving and receiving things in Korea, such as money, a gift, a business card, or food. When you shake hands, use both hands, not just one. The same applies to pouring drinks, both pouring and holding a glass.
Do I have to act like a Korean in Korea? You don't have to follow Korean customs and traditions when you visit Korea. You are a guest in the country and Koreans won't expect you to know every rule. However, showing cultural awareness in Korea will help you make friends and impress locals.
The best tip for being culturally sensitive in Korea is to first consider all the things that you'd consider rude in your own country – spitting, swearing, shouting, physical violence, etc. Show the same acts of kindness you'd show at home – help others, give up your seat for those in need, be polite, etc.
Furthermore, remember that social harmony is really important in Korea and try not to cause a scene. Keep your voice down in public, don't talk or act aggressively, be polite, and don't force things when people are reluctant. Koreans may feel obliged to do things, even when they don't want to.
---
Language Issues When Travelling Korea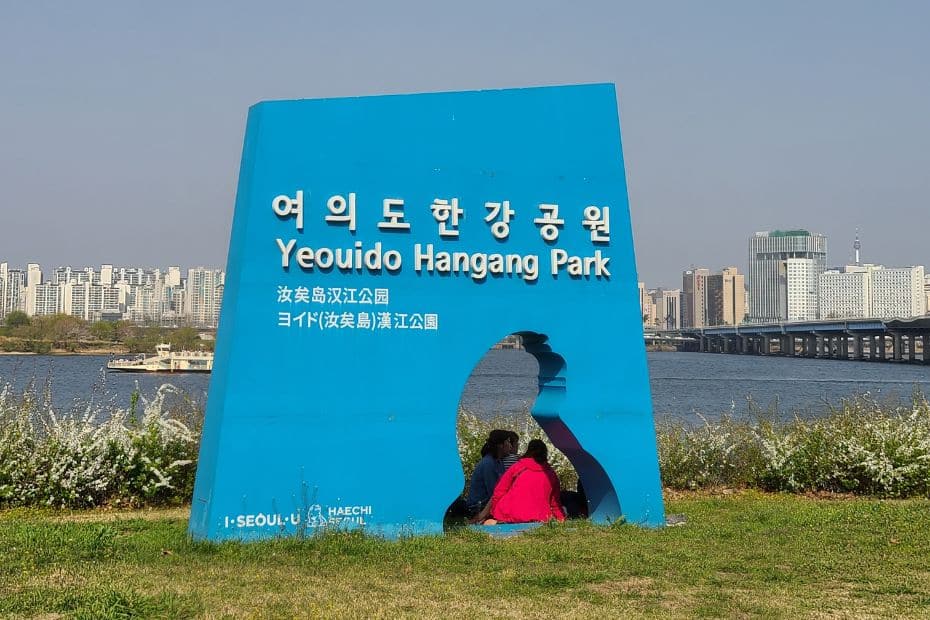 Language issues can be a big concern for first-time travellers to Korea as Korean is a very different language from English and has a unique alphabet. Korean is also one of the most difficult languages to learn for English speakers, ranked alongside Japanese, Chinese, and Arabic.
However, as a tourist to Korea, you don't need to worry about mastering the language. English is used for signs and announcements in most places that you'll need it, such as on public transport, at the airport, at attractions & tourist sites, on menus, and most other places. It's common across Korea.
If there is a sign or notice that isn't in Korean, I recommend using the Papago app to take translate it. Use the image translation function in the app to scan the sign and Papago will translate it into English for you. It's really convenient and the way I translate things I can't read in Korean.
Do Korean People Speak English?
Speaking in English to Korean people is different from being able to read and translate signs. English is taught from elementary school until the end of high school. That doesn't mean everyone will remember it, but there's a good chance some people will know English, especially younger Koreans.
It is best to ask if someone speaks English before trying to have a conversation. You can do this in Korean by asking "영어 할 수 있어요?" (Yong-oh hal su iss-o-yo?) or just ask it in English. Tour guides and people in the tourism industry will probably be able to speak English, but it's not guaranteed.
Shyness is an issue in Korea and locals may be reluctant to speak English at first for fear of making a mistake. As an English teacher in Korea, I know that Korean students are usually quite competent in English, but lack confidence to use it. Be patient and encouraging when talking in English.
Although some Koreans may be too shy to use English, other people may be enthusiastic about speaking English to you and want to practice it. I've been asked random questions in English by strangers in the street in Korea who want to practice English and find out about my life.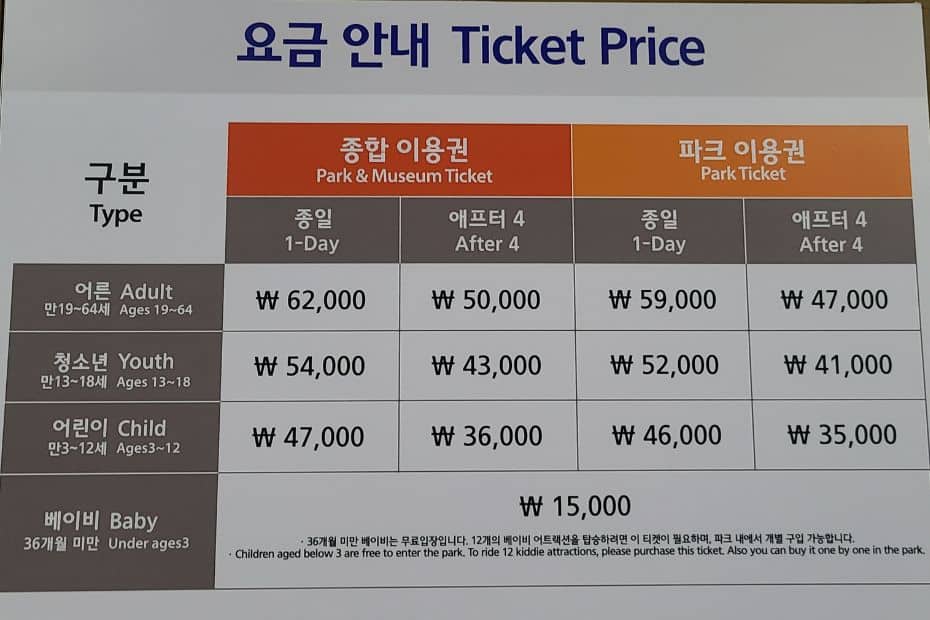 Should You Learn Korean Before Visiting Korea?
If you do want to learn some Korean before you travel, I recommend you start by learning the Korean alphabet, or at least learning some basic Korean travel phrases. Knowing how to introduce yourself, discuss prices, ask for directions, and ask for help will make your trip to Korea a lot easier.
You can learn Korean online through courses such as 90 Day Korean and Korean Class 101, or with self-study textbooks like the excellent Talk To Me In Korean series. There are lots of resources on YouTube, too. I particularly like Learn Korean with GO! Korean Billy as he explains things clearly.
Another way to prepare to move to Korea is to read some Korean novels in English. Although these books won't teach you any Korean, they'll offer up valuable insights into Korean culture, both traditional and hidden under the surface. Literature is a good way to gain an understanding of a culture.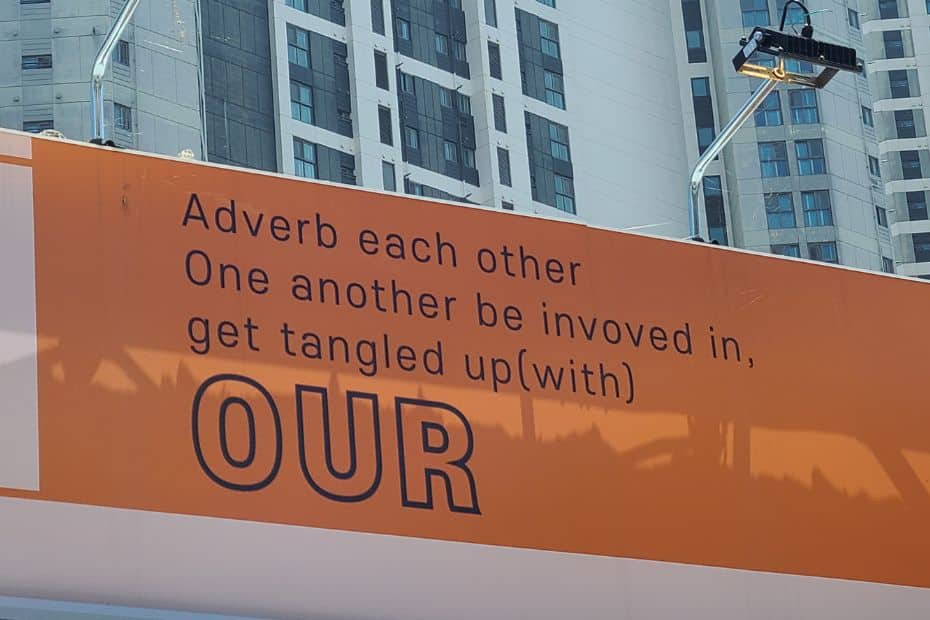 A warning about Konglish: Although Korea uses English in many useful ways, there's also a lot of Konglish. The sign above is a good example of random English words being used to look cool, but ending up being confusing. There's a lot of this in Korea and it's mostly harmless, so don't worry.
---
Health And Safety Issues In Korea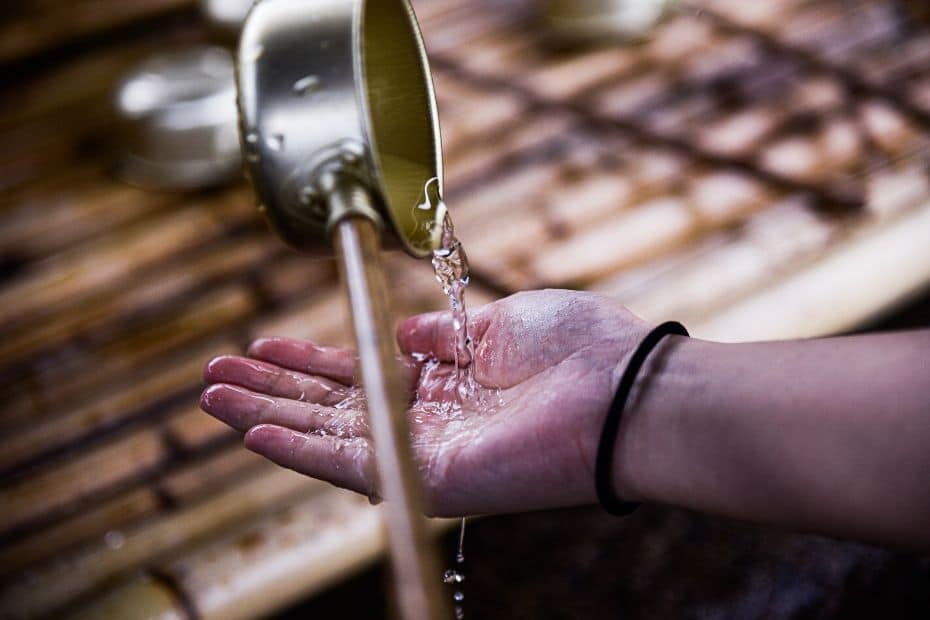 First-time travellers to Korea may be worried about health and hygiene issues, such as if certain foods are available and if they're safe to eat. Other issues include vaccinations, personal safety, and how easy it is to contact emergency services. These issues are addressed below.
Is Korean Street Food Safe To Eat?
Korean street food is generally safe to eat and won't give you any health issues unless you have an intolerance to the food. Korean street food can be spicy or contain a lot of salt, be aware of your own personal tolerances and dietary requirements before trying it.
Also be careful when ordering food with meat or seafood and check that it is cooked thoroughly. Korean street food that has been left out for a long time is more likely to cause food poisoning problems, so ask for freshly cooked food if you're concerned.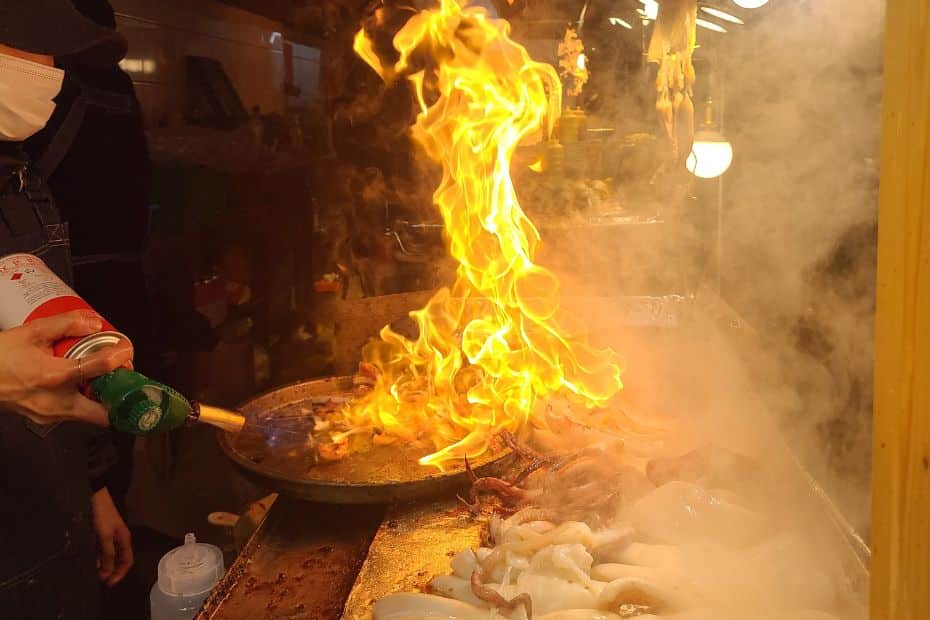 Is It Easy To Find Vegan-Friendly Food In Korea?
There are many vegan-friendly Korean dishes, such as gimbap, japchae, pajeon, bibimbap, ramyeon, and tteokbokki. However, some restaurants may use non vegan-friendly ingredients when preparing these foods, so be careful. Kimchi isn't vegan-friendly due to its seafood ingredients & sauces.
Vegetarianism and veganism aren't common in Korea with fewer people following these diets than in countries such as the USA or UK. Vegetarians in Korea account for 3% of the population, while vegans in Korea are only 0.2% of the population as of 2022. The UK is 10% and 2% respectively.
However, the number of vegan-friendly restaurants and bakeries is increasing each year in Korea, especially in areas such as Hongdae and Itaewon. Korean Buddhist temple food is vegan-friendly and a good option for vegans who want to enjoy vegan food while learning about local Korean culture.
If you're concerned about accidentally ordering non vegan-friendly food, or want to know how to tell someone about food allergies or requirements, check out my guide to Korean phrases for ordering food. This has a whole section about special requests when ordering food in Korean.
Is It Safe To Drink Tap Water In Korea?
Korean tap water is potable and safe to drink. Korea ranks 23rd for water hygiene, which is above the USA, Canada, and Australia. However, many Koreans don't drink tap water, preferring to use water purifiers and bottled water instead, claiming that tap water smells strange or water pipes are bad.
Personally, I don't like drinking tap water in Korea as it tastes a bit stale, but it's perfectly fine to drink and doesn't cause any problems. Bottled water is very cheap in Korea and costs 600 KRW for a 500ml bottle from a convenience store. Buying water from a supermarket is a cheaper option though.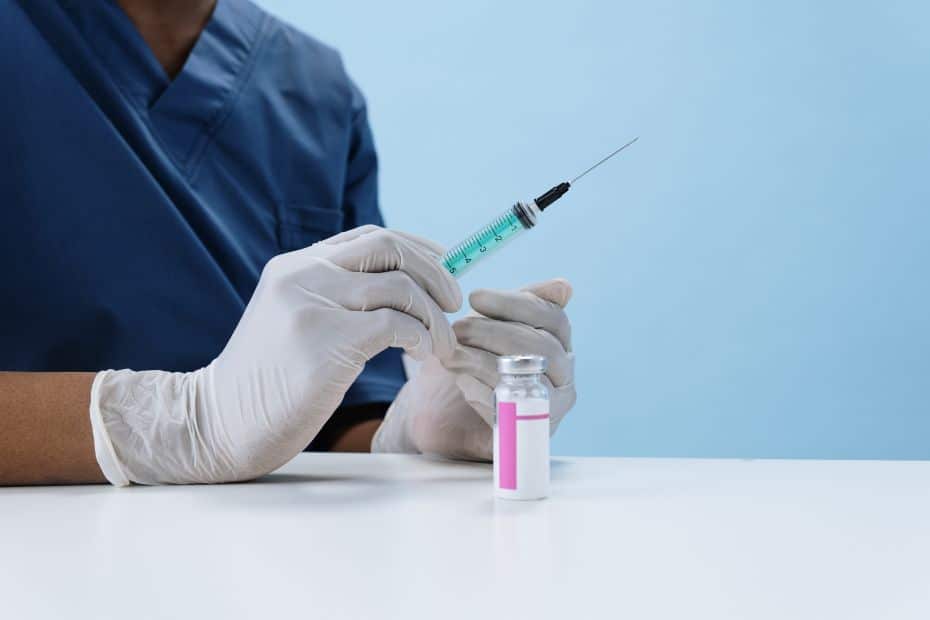 Do You Need Any Vaccinations To Travel To South Korea?
There are no mandatory vaccinations required to travel to Korea, but it is suggested you should have at least routine vaccinations such as tetanus, MMR, and polio. Hepatitis A & B, typhoid, and Japanese encephalitis vaccinations are also recommended.
Is Korea Friendly To Tourists?
Korea is generally friendly and welcoming to tourists. The Korean government spends a lot of money and effort to promote Korean tourism to the world and there are many incentives to bring people to the country. Korean people are also mostly polite and welcoming, especially in the tourism sector.
Is Korea A Dangerous Country To Travel In?
South Korea is a safe country to travel in and the crime rate in Korea is low, comparable to Norway or the Netherlands. Public crimes, such as theft and assault, are rare. Pickpocketing and purse snatching aren't common and unattended goods are generally left alone or reported to the police.
How safe is Korea? I regularly see people leave their phone or handbag on a cafe table to reserve it before going up to order a drink. People even leave their laptops open while they pop out for lunch or go to the toilet. Stealing disturbs social harmony and is one of the reasons it's rare in Korea.
Physical violence is also rare, but still occurs in Korea, as it does in all countries. This is most often found in areas with lots of bars and when people are drunk. However, visiting bars in Korea is a lot safer than I've experienced in other countries and trouble is not common, even in busy places.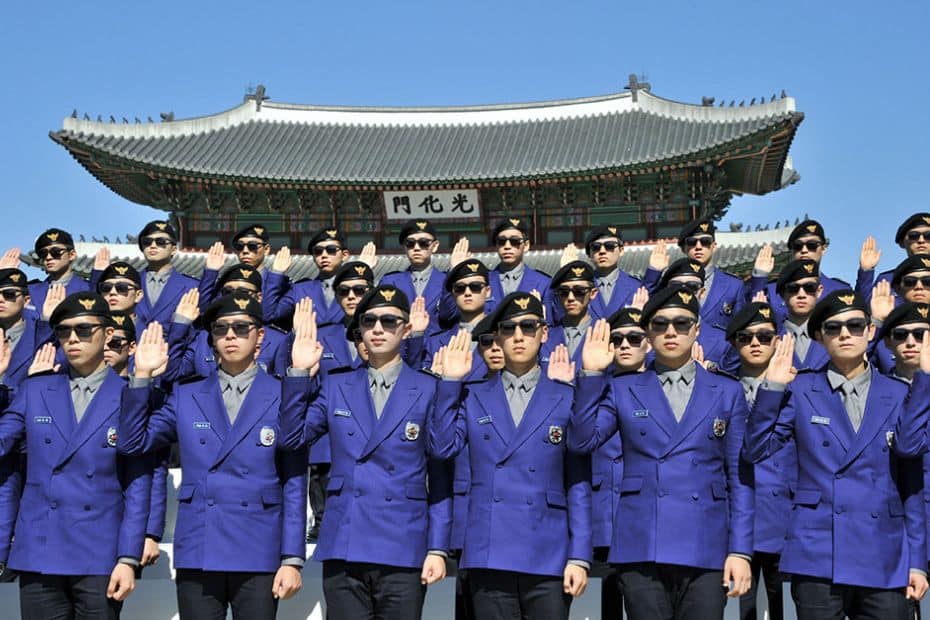 How Do You Contact Tourist Information Services In Korea?
Call 1330 in Korea to contact the Travel Helpline. The Korean Travel Helpline provides the following services free of charge to tourists in Korea.
Tourist Information: Find out about attractions, opening hours, prices, and other information.
Tourist Interpretation: Access travel information in several languages.
Tourist Complaints: Report rip-offs and problems you encounter when travelling in Korea.
Tourist Police: Report minor crimes in English and other languanges.
There are tourist police patrolling the streets of Seoul, dressed in purple uniforms as shown in the picture above. In popular tourist locations like Myeongdong and Bukchon Hanok Village, you'll also find friendly tourist information staff dressed in red shirts with matching red cowboy hats.
What Should You Do If You Have An Emergency In Korea?
If you need to report a fire or medical emergency in Korea, you should call 119 from any phone. To contact the police in Korea, call 112. You will need to select an option to report an emergency in English or another language. It may take some time to be redirected to an English speaker.
119 – Medical Emergency & Fire Rescue
112 – Police
When you use medical services in Korea, you have to pay the cost of treatment, but there is no fee for the ambulance ride as this is covered by the Korean government. Travel insurance should cover the cost of medical bills, so if you're worried about a large medical bill, insurance is recommended.
Fortunately, the cost of treatment in Korea is quite reasonable and Korea has advanced medical facilities, which is why it's a popular medical tourism destination. Many people travel to Korea for minor and major surgery, including laser eye surgery, cosmetic surgery, and internal medicine.
Is Air Pollution A Problem In Korea?
Air pollution is an issue in Korea, especially in spring & summer. Winds blow yellow dust from Central Asia, field burning spreads fumes across Asia, and fossil-fuel burning contributes to higher levels of air pollution. Some days there'll be very low visibility and health risks for people with lung problems.
---
My Personal Travel Tips For Korea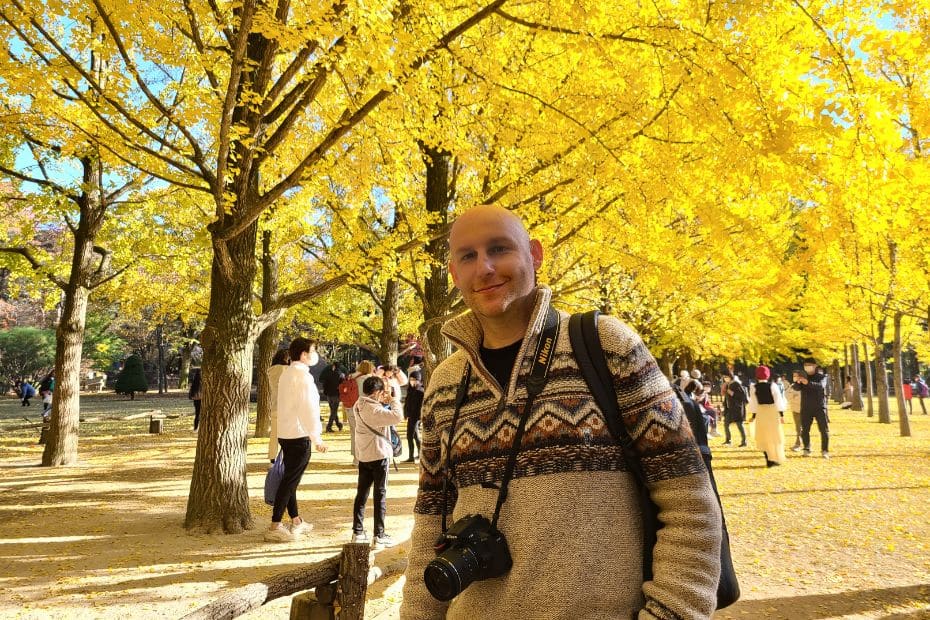 This South Korea travel guide is a collection of information I've researched and learned since moving to Korea in 2015 and blogging about Korean travel since 2019. I hope the provided information and insights are useful and assist you plan your dream first-time, or even tenth-time, trip to Korea.
This section includes my personal tips that didn't really fit anywhere else and reflections built from travelling all over Korea in all seasons. These are tips I would offer to first-time travellers to Korea and people who might have some worries about visiting the Land of Morning Calm. I hope they help.
The Real Korea Isn't What You See On TV
Korea is a developed country that went from being a 3rd world country in the mid 20th Century to a high-tech country in a short time. Despite the many high-rises and modern K-Pop stars, there are still shadows of the former Korea seen in both run-down slums and people with 'traditional' values.
The image created by selective K-Culture can distort people's reality when dreaming of a trip to Korea in the same way Korean people can suffer from Paris Syndrome when visiting France. There are many wonderful things about Korea, but don't travel thinking that everything is as shown on TV.
Be Prepared For Culture Shock
One of the best things about travelling is seeing a country and people that act and behave differently to how you do in your own country. This is known as culture shock and can be both a blessing and a challenge for first-time travellers to Korea. Things you might be used to can be different in Korea.
Some examples of culture shock in Korea include the way age determines hierarchy in Korea and how older people can be rather pushy, especially on the subway. Younger people also typically don't question the decisions of older people in Korea as it is considered rude and disrespectful.
Less extreme cultural differences that might confuse some first-time visitors to Korea include having to shout to call someone to take your order in a Korean restaurant or not giving a tip. Koreans might similarly look at you strangely if you do something culturally different, such as walking while drinking.
Don't Overpack When You Travel To Korea
First-time travellers to Korea may be worried about visiting a country like Korea without taking everything they need from home, even the kitchen sink. My advice is to pack as light as possible and leave yourself some space in your suitcase. There are two reasons for this.
You can buy most things you need in Korea. This includes sun cream, heat packs, clothes, shoes, cosmetics, travel accessories, etc. They're also probably cheaper in Korea, too.
You will want to take home lots of things. From weird Korean snacks to beautiful hand-crafted pottery and woodwork, there are so many things to buy in Korea.
(1) The only exception is if you might have a problem finding correct-fitting items. Korean shoes and clothes are slightly smaller than what you'd find in Western countries and the sizes are also differently labelled. I'm a medium in the UK but a large (sometimes XL!) in Korea. Be careful when shopping.
(2) It's hard to fit everything you buy in Korea into an already full suitcase. Fortunately, you can buy extra suitcases at low prices. Check out Namdaemun Market for cheap luggage options, as well as shops like the one pictured below (this is in Busan) in places like Hongdae and Dongdaemun.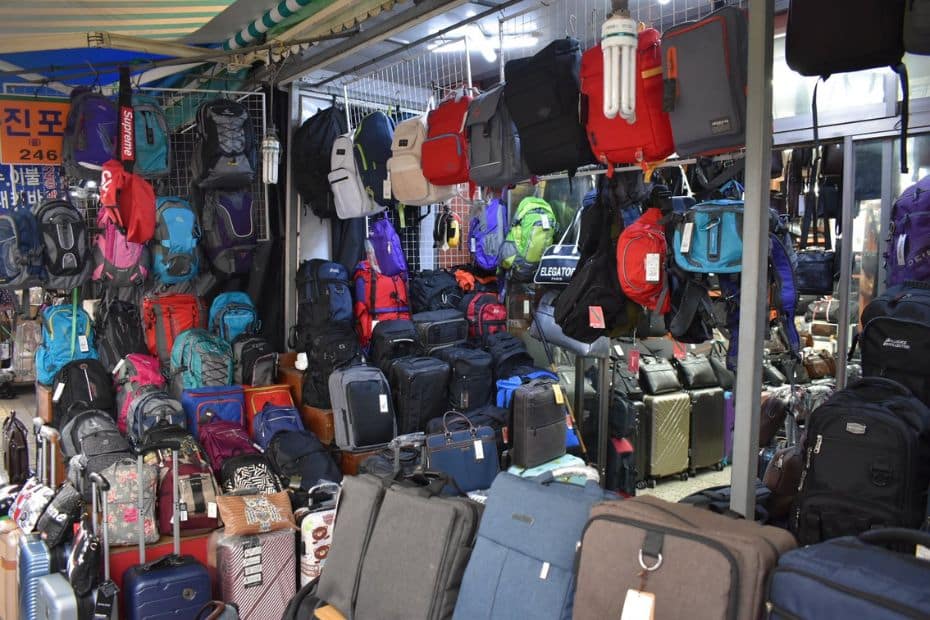 Electricity In South Korea
Be careful with electric items when travelling to Korea. Korea uses type C and F plugs, which are used in Europe, Russia, and other parts of Asia. The standard voltage is 220V with 60Hz frequency. Anything designed for a standard voltage between 220V and 240V should be fine in Korea.
Laptops, mobile phones, and other portable devices will be fine when you travel in Korea as long as you use a travel adapter with a USB or socket connection. Hairdryers, shavers, curlers, and similar devices might have problems charging in Korea and run out of power very soon. My shaver did.
Go With The Flow And Go Quickly
Korea is a very busy country and you might hear people mutter '빨리빨리' (ppalli ppalli) if you walk slowly, especially in the subway. Koreans work long hours and are eager to get home or go out for dinner. Don't take it personally if people push past you and don't feel like you have to rush.
Know Where To Throw Away Rubbish
It can be difficult to find a bin to throw away rubbish in Korea, even in urban areas. The best place to dispose of rubbish in Korea is at a convenience store. You can find recycling and trash bins in these shops. If you go hiking or explore the countryside, expect to carry your rubbish home with you.
---
South Korea Travel Guide FAQs
Finally, here's a few FAQs about this South Korea travel guide, in case the above information didn't cover enough for you.
---
Liked This? Pin It For Others
If you enjoyed reading this article, then please share this with your friends on Pinterest.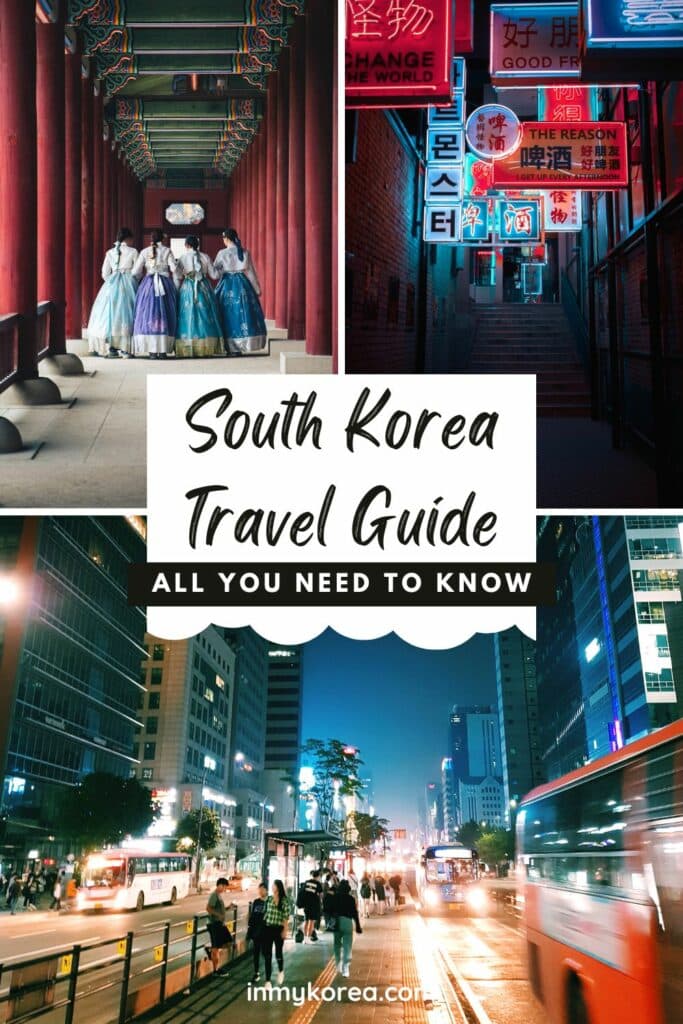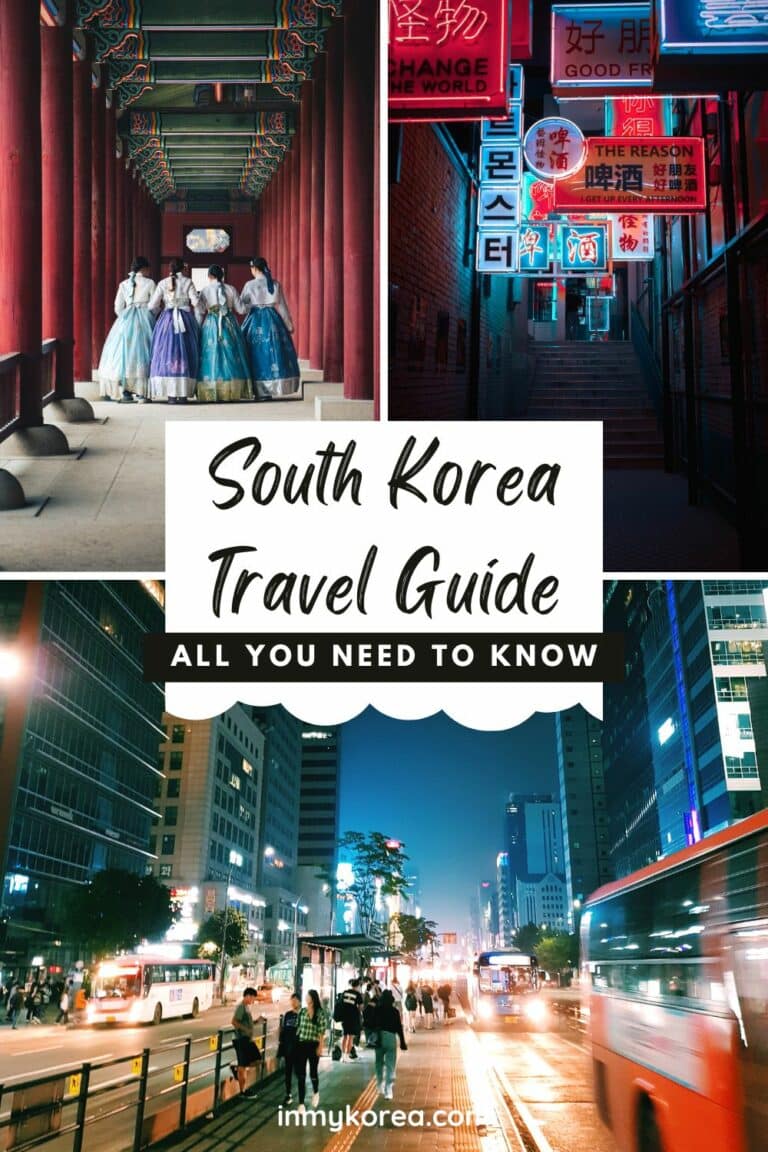 ---
Related Articles