Thinking about visiting Korea in October but not sure where to go, what to do, and what sights to see in this amazing autumn month? Then read this guide to October in Korea and discover where to see autumn foliage, how to join exciting festivals, what delicious foods you can try, and lots more.
October is a wonderful time to visit Korea. The weather is warm and sunny, there are lots of fresh foods waiting to be eaten, a wide range of festivals (both traditional and modern), and nature is dressing up in golds, reds, and oranges for one last show before winter sets in.
However, because October is such a good month to travel in Korea, it's also one of the busiest. Find out how to get around, avoid crowds, when to visit the top places, and how to plan your travels more easily with my essential travel tips.
Discover the beauty that The Land of Morning Calm has to offer in this most breathtaking of months. Read on to find out why October is the best time to visit and enjoy the picturesque views displayed in all corners of the country.
Affiliate Disclaimer: This site contains affiliate links and I may earn commission for purchases made after clicking these links.
---
Quick Guide To Korea In October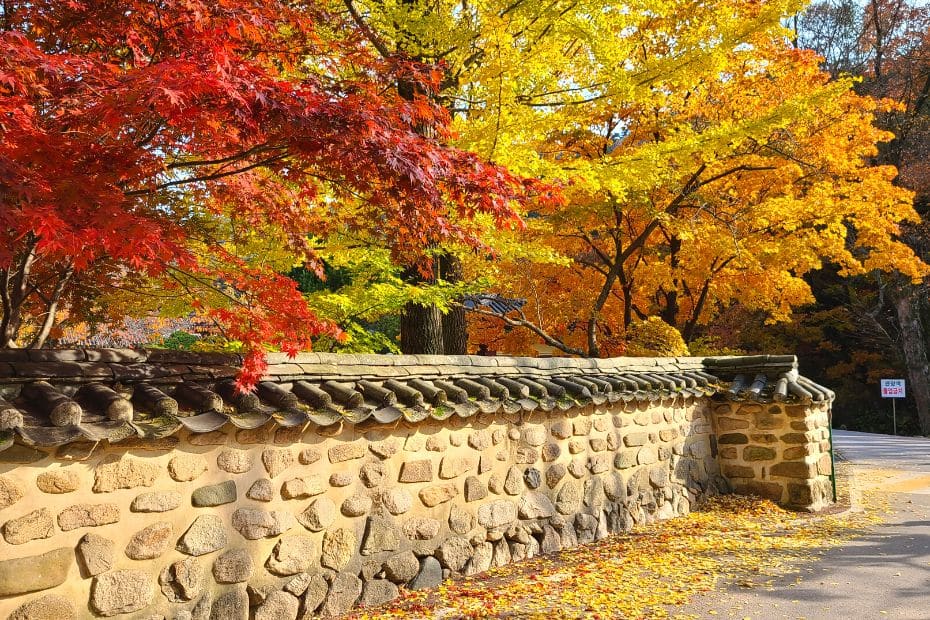 Here's a brief overview of what you'll find in this article about visiting Korea in October. You can use the Table of Contents above to jump to the section you want to learn more about.
Korean Festivals In October
Jinju Lantern Festival
Andong Mask Dance Festival
Busan Rock Festival
Busan Film Festival
Seoul Fireworks Festival
Gangneung Coffee Festival
Baekjae Culture Festival
and lots more…
Popular Activities In Korea In October
Autumn Foliage Viewing
Hiking & Trekking
Korean Templestay
Night Markets
Beach Trips
and lots more…
Where To Visit In October
Gyeongju City
Seoraksan National Park
Asan Ginkgo Tree Road
Haneul Sky Park
Naejangsan National Park
Korean Foods To Try
Chestnuts
Makgeolli
Pajeon
Jujube
Persimmons
Rice Cake Sweets
How To Get Around In October
1 Week Itinerary For October
What To Wear In October
Travel Tips
There are more details about each of these in the following sections. However, before looking into those, here's a brief overview of the weather and public holidays in October.
---
October Weather In Korea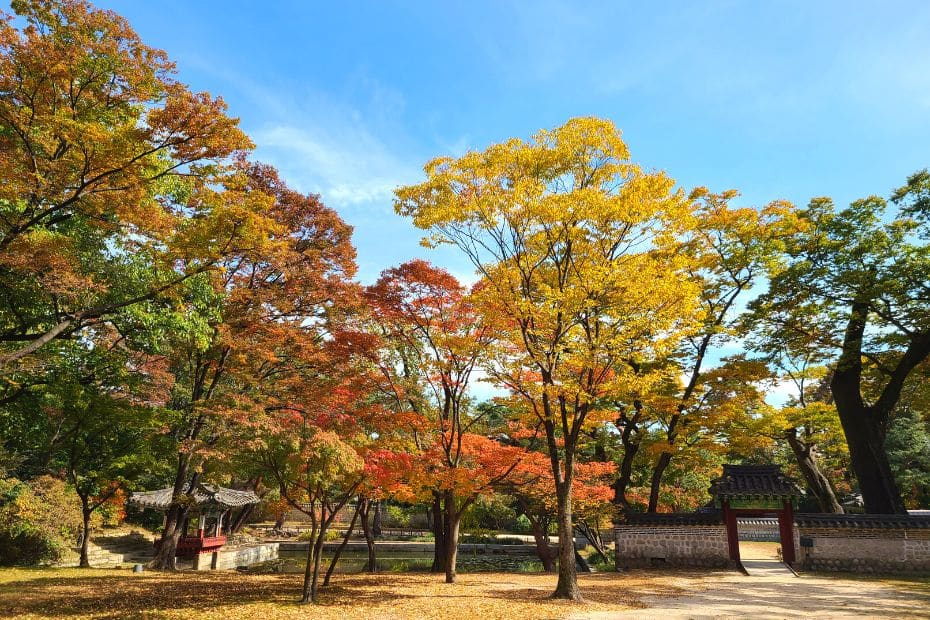 What is the weather like in Korea in October? The weather is still warm in most parts of the country during the day, but cold in at night. Jeju Island in the south is a few degrees hotter on average than Seoul, which is in the north.
Temperatures range from 15 to 25 degrees Celsius during the day and 5 to 15 degrees Celsius at night. It can get as low as 0 degrees at night, but that's not common. Bring warm weather clothes if visiting Korea in late October.
October has less rain than July and August, the wettest months in Korea, and is less humid. There can still be rainfall during October, but it's not as common and doesn't last for more than a few days at a time.
Expect to see clear blue skies with thin, streaky clouds on many days in October, like in the picture above. In my experience, there are more good weather days than bad in October, however, it's not always perfect.
One of the best things about visiting Korea in October is the lack of fine dust. Air pollution is at its lowest at this time of year. Air pollution numbers start to rise in winter and peak in spring.
---
Typhoon Season: Technically, October is part of typhoon season in Korea. That means there can be some extreme weather, including strong winds, waves, and heavy rain.
Typhoons don't often hit mainland Korea and usually only affect the southern regions. Jeju Island, Busan, and southern areas are more at risk than places like Seoul and Gyeongju.
There's not much that can be done about typhoons, and it's very hard to predict where they'll actually hit, but it's good to keep an eye on the weather forecasts and to have backup plans.
---
Public Holidays In October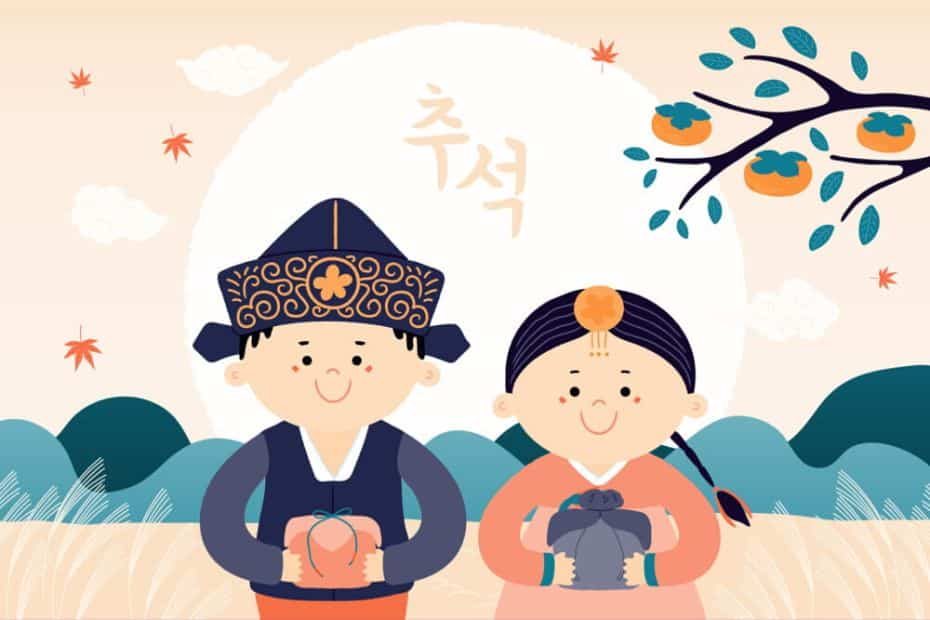 There are a couple of public holidays that fall in October each year, as well as a big holiday that is in October on certain years.
It's useful to know about these public holidays as they can affect your travel plans. Some places may be closed and popular places may be busier than normal.
Chuseok – Korean Autumn Harvest Festival
Korean Chuseok, also known as Korean Thanksgiving, is an autumn harvest festival that celebrates the bountiful harvest for that year. This is one of Korea's biggest holidays and usually lasts for 3-4 days with millions of Koreans returning home to spend time with their family.
The dates are based on the lunar calendar, and therefore change every year. Although Chuseok occurs most often in September, it can land in October, too. The next time Chuseok is in October will be in 2025. The last time Chuseok was in October was in 2020.
---
National Foundation Day: October 3rd
National Foundation Day, also known as Gaecheonjeol in Korean, is a public holiday at the start of October that celebrates the Korean creation story and founding of Korea in 2333 BC. Korea was known as Gojoseon back then.
Hangul Day: October 9th
Hangul Day, or Korean Alphabet Day, is a public holiday in Korea designed to commemorate the creation of the Korean alphabet in the 15th Century by King Sejong the Great.
If you're interested in learning the Korean alphabet, here are some really useful free resources to learn Korean.
Please note: Public holidays that fall on a Sunday are usually moved to the following Monday so people still get a day off.
---
---
Popular Korean Festivals In October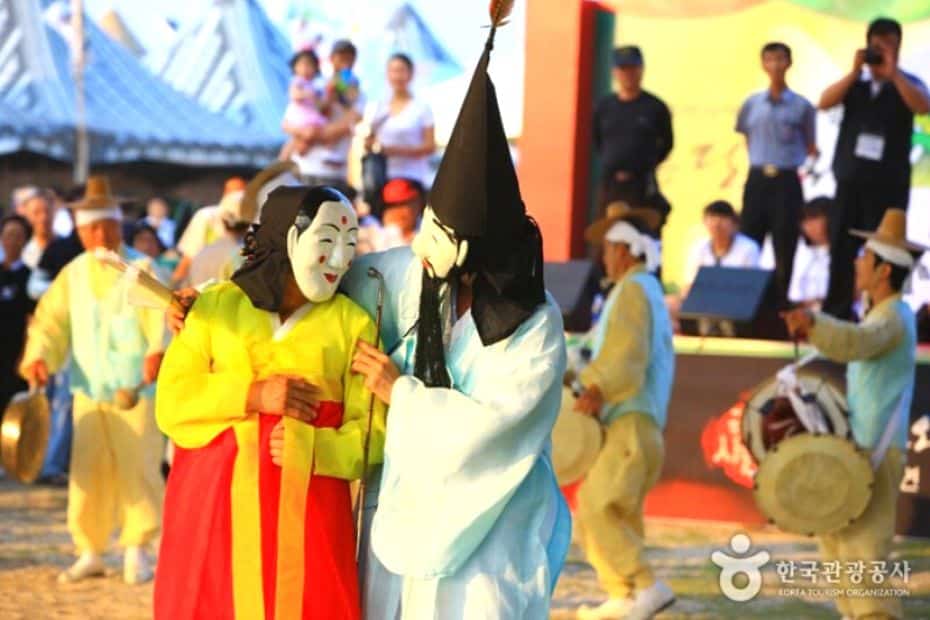 October is a great time to experience cultural festivals in Korea. Once the harvesting has been done, Koreans have long celebrated the last of the warm weather and start of fall foliage with some colourful celebrations.
Travellers to Korea in October can not only experience traditional Korean festivals, such as the Andong Mask Festival and Jinju Lantern Festival, but also discover modern Korean culture at the Busan International Film Festival.
Here are some of the biggest and best festivals in Korea in October for you to enjoy:
---
Festival Dates: Oct 8 – Oct 22 2023
Address: 626, Namgang-ro, Jinju-si, Gyeongsangnam-do 경상남도 진주시 남강로 626
---
Festival Dates: Oct 2 – Oct 9 2023
Address: 239 Yuksa-ro, Junggu-dong, Andong, Gyeongsangbuk-do 경상북도 안동시 중구동 육사로 239
---
Festival Dates: Oct 4th – Oct 13th 2023
Address: 120 Suyeonggangbyeon-daero, Haeundae-gu, Busan 부산광역시 해운대구 수영강변대로 120
---
Festival Dates: Oct 7 – Oct 8 2023
Address: 686 Samnak-dong, Sasang-gu, Busan 부산광역시 사상구 삼락동 686
---
Festival Dates: Oct 6- Oct 9 2023
Address:102 Surigol-gil, Gangneung-si, Gangwon-do 강원도 강릉시 수리골길 102 (and other locations in Gangneung)
---
Festival Dates: Sept 23 – Oct 9 2023
Gongju Address: 553 Shinkwan-dong, Gongju-si, Chungcheongnam-do 충청남도 공주시 신관동 553
Buyeo Address: 364 Dongnam-ri, Buyeo-eup, Buyeo-gun, Chungcheongnam-do 충청남도 부여군 부여읍 동남리 364
More Info: Check out my detailed guide about Things To Do In Buyeo to discover what to see and do in the former Baekje Kingdom capital.
---
Festival Dates: Oct 1 – Oct 10 2023 (Dates TBC)
Address: Gyeonggi-do, Goyang-si, Ilsandong-gu, Hosu-ro, 595 경기도 고양시 일산동구 호수로 595
---
Festival Dates: October 7 2023 (Date TBC)
Address: 330 Yeouidong-ro, Yeongdeungpo-gu, Seoul 서울특별시 영등포구 여의동로 330
---
Regional Korean Festivals In October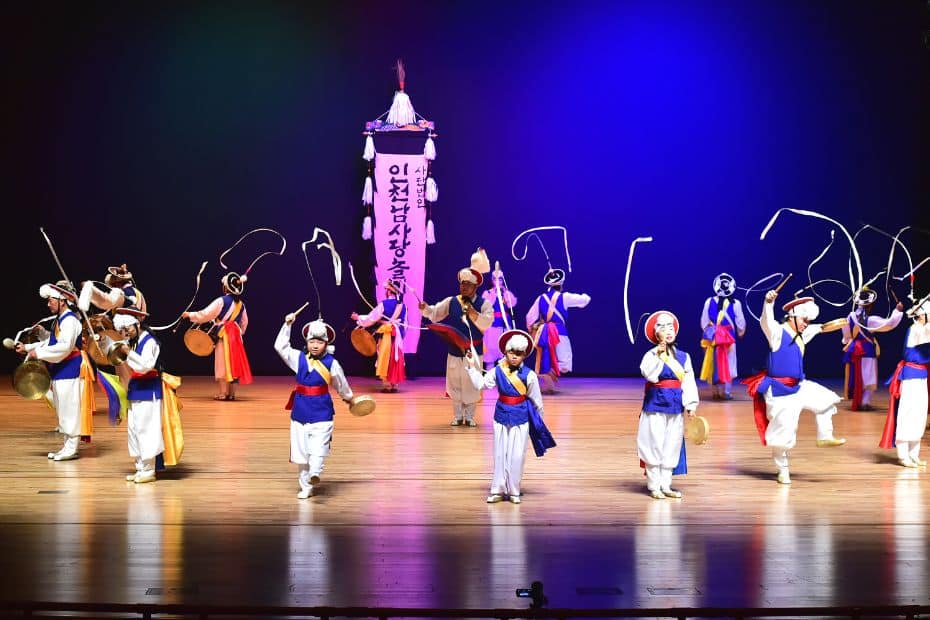 Here are some smaller regional festivals that might be of interest to you if you're visiting Korea in October. These festivals may occur in September in some years as they're usually around the Chuseok holidays, which follow the Lunar calendar.
Gimje Horizon Festival 2023 (김제 지평선축제)
Oct 5 – Oct 9 2023
Wonju Dynamic Dancing Carnival 2023 (원주 다이내믹댄싱카니발)
Sep 22 – Sep 24 2023
Bupyeong Pungmul Festival 2023 (부평풍물대축제)
Sep 22 – Sep 24 2023
Bucheon International Comics Festival 2023 (부천국제만화축제)
Sep 14 – Sep 17 2023
Hanseong Baekje Cultural Festival Seoul 2023 (한성백제문화제)
Sep 22 – Sep 24 2023 (Dates TBC)
Sancheong Medicinal Herb Festival 2023 (산청한방약초축제)
Oct 6 – Oct 10 2023
Korea Wine Festival Yeongdong 2023 (영동와인연말기획전)
Oct 12 – Oct 15 2023
Seosan Haemieupseong Fortress Festival 2023 (서산해미읍성역사체험축제)
Oct 7 – Oct 9 2023
Jinan Red Ginseng Festival 2023 (진안 홍삼축제)
Sep 22 – Sep 24 2023
Nonsan Ganggyeong Salted Seafood Festival 2023 (논산강경젓갈축제)
Oct 12 – Oct 16 2023 (Dates TBC)
Gwangju Chungjang Festival 2023 (추억의 충장축제)
Oct 5 – Oct 9 2023
Silla Cultural Festival Gyeongju 2023 (신라문화제)
Oct 14 – Oct 16 2023 (Dates TBC)
These regional festivals don't attract as many tourists, but can give you an interesting look at life in Korea and offer a chance to learn more about Korean culture.
---
What To Do During October In Korea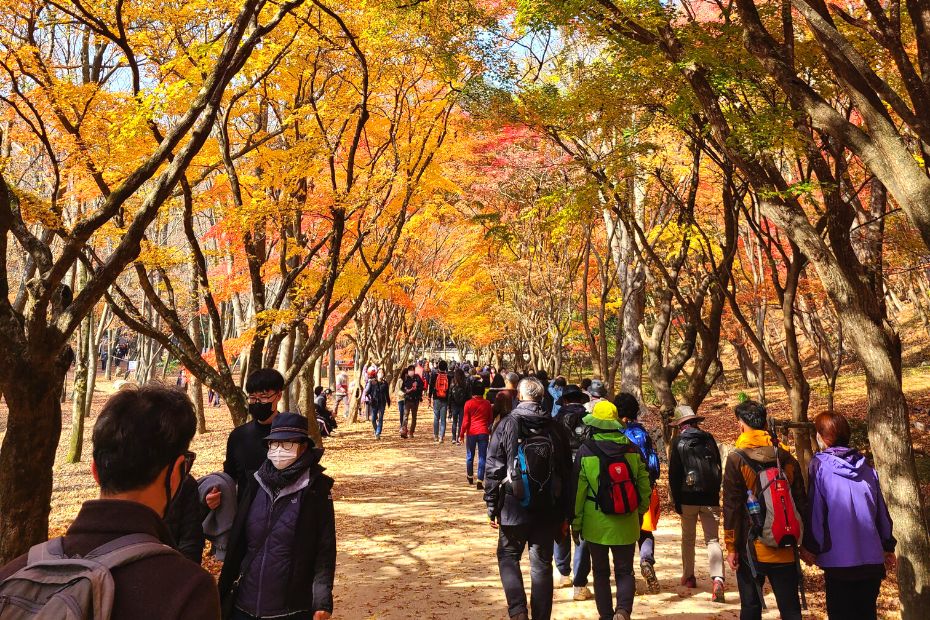 There are so many things to do in Korea in October that you might find you don't have time to do them all. From autumn foliage spotting, to riding along riversides, sleeping in Buddhist temples, and exploring night markets, you'll not get bored during this autumn month.
Below are some of the most popular things to do in October. Of course, there are many other popular activities that you can do at any time of year in Korea, such as wearing Korean hanbok, touring royal palaces, soaking in a Korean sauna, singing in a noraebang, and more.
If you want more ideas about what to do in Korea at any time of year, be sure to read my guide to Unique Korean Activities you should definitely add to your South Korea bucket list.
---
Where: National parks and many other places across Korea, including Seoul's palaces.
More Info: Check out my guide to Autumn Leaves In Korea for full details about where, when, and how to see fall foliage, including the latest autumn foliage forecast.
---
South Korea Autumn Foliage Forecast 2023
If you want to know when to see the autumn foliage in Korea this autumn, here's the most up-to-date fall foliage forecast. Please note, the exact dates for the 2023 South Korean autumn foliage forecast won't be ready until early September 2023.
The picture below will show you the expected dates for the fall foliage in Korea in 2023. Start and peak foliage times typically stay within 1 week of the dates of the previous year.
---
Where: Jirisan, Seoraksan, Hallasan, Odaesan, and Naejangsan are all great national parks for hiking or trekking in October. Bukhansan National Park is closest to Seoul.
More Info: Check out my Seasonal Hiking Guide for info about the best places to visit in each season, how to prepare, and where to hike. Want to hike Seoul's highest mountain? This guide to hiking Baegundae Peak in Bukhansan National Park will tell you all you need to know.
---
Where: Yakcheonsa Temple (Jeju), Bulguksa Temple (Gyeongju), Beopjusa Temple (Songnisan National Park) are popular Templestay locations.
More Info: I've been on several Templestays and shared my experiences in this article about How To Do A Templestay In Korea. You can see what to expect during a weekend stay.
---
Where: You can visit night markets in Seoul (Bamdokkaebi Markets, Namdaemun Market), Daegu (Seomun Market), Seogwipo on Jeju (Maeil Olle Market), and in other cities.
More Info: Here are 10 of the best traditional markets in Korea, from Seoul to Jeju Island.
---
Where: Sokcho Beach, Gangneung Beach, and Surfyy Beach on the east coast are popular beaches in Korea. Visit Haeundae Beach, Songjeong Beach, and Songdo Beach in Busan.
More Info: Here's an article about the Best Beaches In Korea to help you figure out where to go. I'd recommend booking a hotel by the beach so you can watch the sun rise.
---
Where: Bikes can be rented in Seoul and other cities such as Daejeon and Busan.
More Info: Here's a guide about How To Rent Bikes In Seoul that will help you locate and rent bikes. If you buy the Discover Seoul Pass, you get 1 day of free bike rental.
---
---
Day Trips From Seoul
Here are a few popular day trips from Seoul that you can enjoy in October (or any month).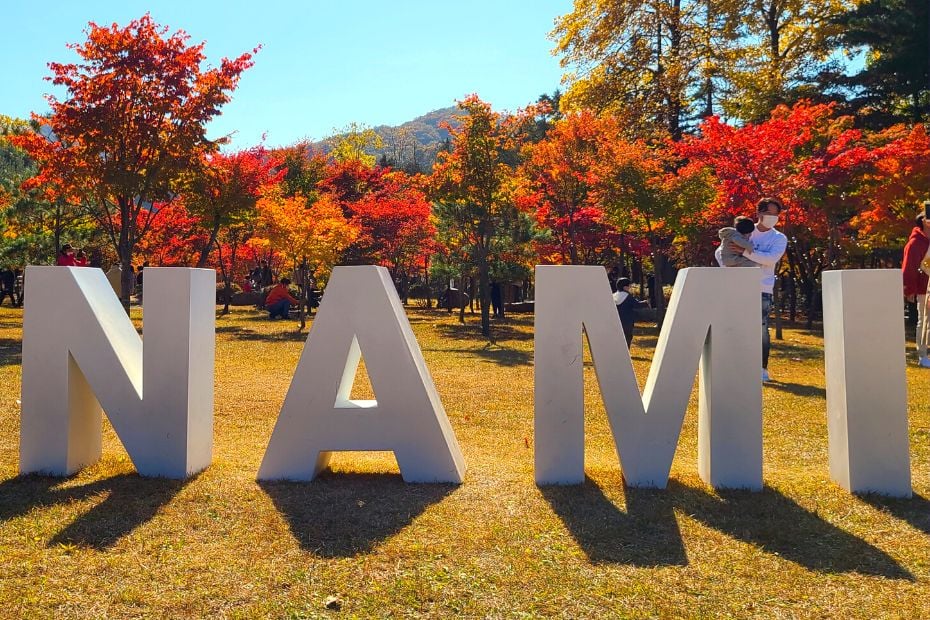 Nami Island & The Garden of Morning Calm
See the Best of Gapyeong County with these charming spots of natural beauty. Nami Island hosts wild animals (rabbits, deer), tree-lined pathways, cafes, and cultural performances. The Garden of Morning Calm is one of the prettiest walks you'll experience in Korea, passing through carefully curated displays of flowers, trees, and traditional Korean architecture. For directions to these places, check out my guide to Getting to Nami Island.
---
DMZ (Korean Demilitarised Zone)
Probably top on everyone's list of day trips from Seoul is a Trip to the Demilitarised Zone (DMZ). There are so many reasons to visit the DMZ. Whether you want to learn about Korean history, experience a real-life war zone border, or simply want a chance to step over into North Korea, this is a uniquely Korean trip.
---
Suwon Hwaseong Fortress
A short journey from Seoul, Suwon hosts the historic Hwaseong Fortress, complete with nearly 6km of fortress walls, palaces, guard houses, gigantic gates, and other buildings. Nestled among this historic beauty is a pretty river, green areas, cafes, and Suwon's famous Fried Chicken Street – home to Korea's best fried chicken!
---
Everland & Caribbean Bay
Theme park fans and thrill seekers will probably find this to be one of the best day trips from Seoul. Everland is Korea's largest theme park and boasts the world's steepest roller coaster. Caribbean Bay is one of the world's largest water parks. With loads of rides, this is the best place to have fun this October.
---
For more day trips, check out the following companies.
---
Where To Go In Korea In October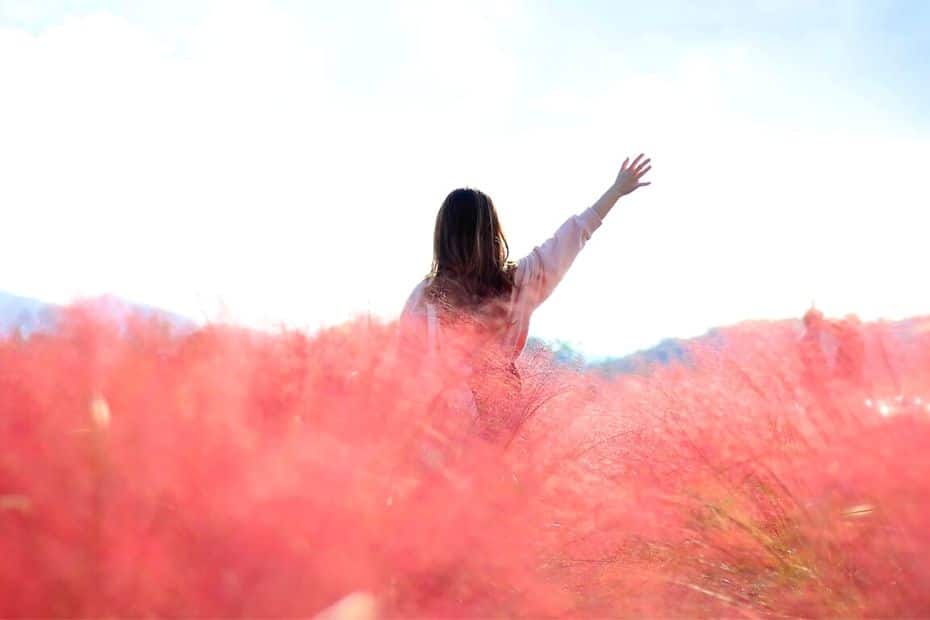 Besides fun festivals and exciting activities, there are lots of places to visit during October that will show you Korea's natural and traditional charms.
Pink muhly in Gyeongju, golden ginkgo in Asan, silvery reeds in Seoul. In this section you'll find 5 of the best places to visit in Korea in October, with lots to see and do in each place.
For more ideas about where to go and what to see in October, check out my article about the 20 Best Autumn Foliage Spots In Korea.
---
How To Get There: Take the KTX train from Busan to Singyeongju Station and take a bus or taxi to the historic area. Bulguksa Temple and Bomun Lake are outside the city and require a separate bus ride from the city centre. Buses run from Gimhae Airport or Busan Central Bus Terminal to central Gyeongju.
When To Visit: Mid to late October is the best time to visit for pink muhly and autumn leaves.
Tour Options: Day tours from Busan are available from Klook, Trazy, and Get Your Guide. These are a great option as you can see many sights in one day, including the out of the way places. Prices from 75,000 KRW for a day trip.
---
How To Get There: Seoraksan National Park is located 2.5 hours away from Seoul and can be reached by car or bus. Take an intercity bus to Sokcho, then transfer to a local bus to the national park. Tours are an easier option that avoid time consuming transfers.
When To Visit: Seoraksan autumn foliage starts at the end of September, but mid-October is the best time to visit to see them at their peak.
Tour Options: There are tours from Seoul that will take you to the main entrance of the national park and guide you around the top spots, too. Day tours available from 65,000 KRW from Klook and Trazy. These usually take you to other tourist spots, too, such as Nami Island.
---
How To Get There: To get to Asan Gingko Tree Road, take the KTX from Seoul Station (40 minutes) or on Subway Line 1 (over 2 hours) to Asan Station, then take a taxi to Asan Gingko Tree Road (은행나무길 in Korean).
When To Visit: Ginkgo trees are one of the last to shed their leaves so the end of October is the perfect time to visit to see them on the ground. To see them on the tree, visit in mid-October.
---
How To Get There: Take a subway to World Cup Stadium (Line 6 – brown) and head towards the rivers. There are many parks in this area. Haneul Sky Park is on top of the hill – you can't miss it. You can also find the Oil Tank Culture Park here, a Free Attraction In Seoul that is worth a visit.
When To Visit: Silver reeds are around for most of autumn and any time in October should be a good time to see them at Haneul Sky Park.
---
How To Get There: Take the KTX train to Jeongeup Station and transfer to local bus 171 to get to the park. Check out this article about How To Get To Naejangsan National Park as well as what to see, do, and eat in the park.
When To Visit: Naejangsan autumn foliage peaks at the start of November, but you can still see lots of colourful leaves at the end of October.
Tour Options: Day tours to Naejangsan from Seoul and Busan are available from the companies below. Prices start at 65,000 KRW. The Trazy tour from Seoul also visits Jeonju Hanok Village.
---
Peak Season In October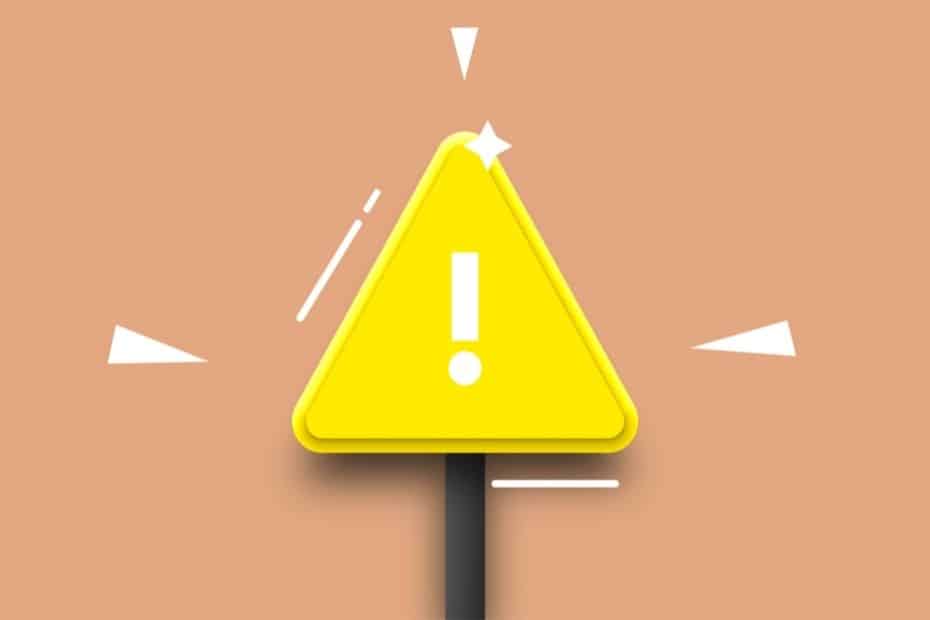 Due to the warm weather, public holidays, and autumn foliage, travelling in Korea in October is very busy with tours and hotels booked up in advance. October is peak season in Korea, along with April and May.
Popular destinations such as national parks (autumn leaves), historic cities (Gyeongju), and tourist spots such as Seoul and Jeju Island will be particularly busy, especially on the weekends.
I recommend booking as much as possible in advance (hotels, tours, transportation) to avoid disappointment. Booking ahead also means you're likely to get a better price. Last minute bookings usually come with higher prices.
---
---
Korean Foods To Try In October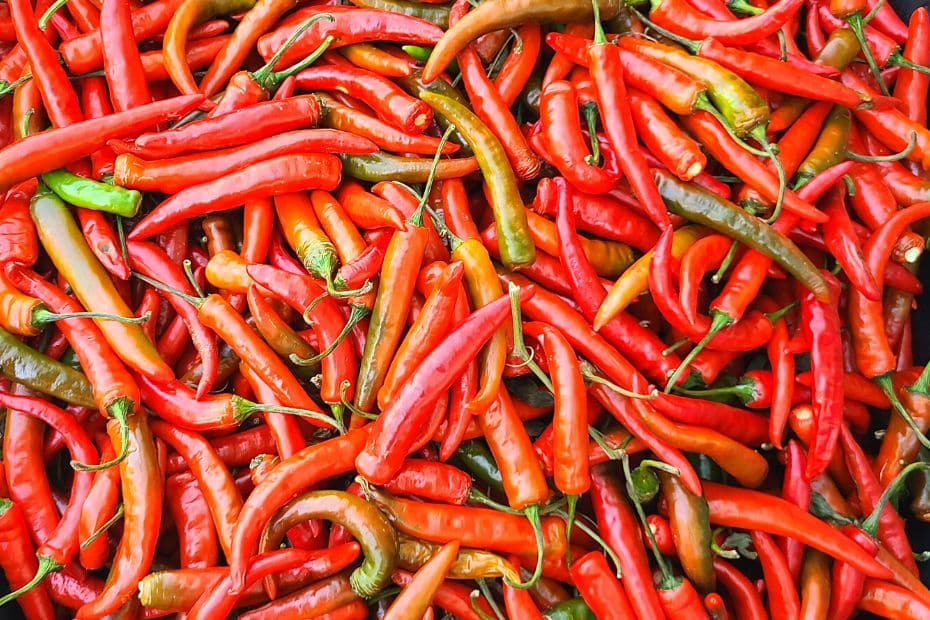 October in Korea is the best time to get fresh fruits, vegetables, and other locally grown produce when it's ripest and ready to be plucked or pulled and then eaten.
If you walk through Korean villages, or go hiking in the mountains, you'll see an array of colourful foods on farms or for sale in traditional markets, street corners, or even from the back of a lorry. Some of it you can even pick up from the ground.
Typical foods you'll see during October include chestnuts (watch out for spiky shells when hiking), slim chilli peppers, cabbages, jujube, persimmons, sesame plants, and lots more.
---
---
---
---
---
---
---
How To Explore Korea During October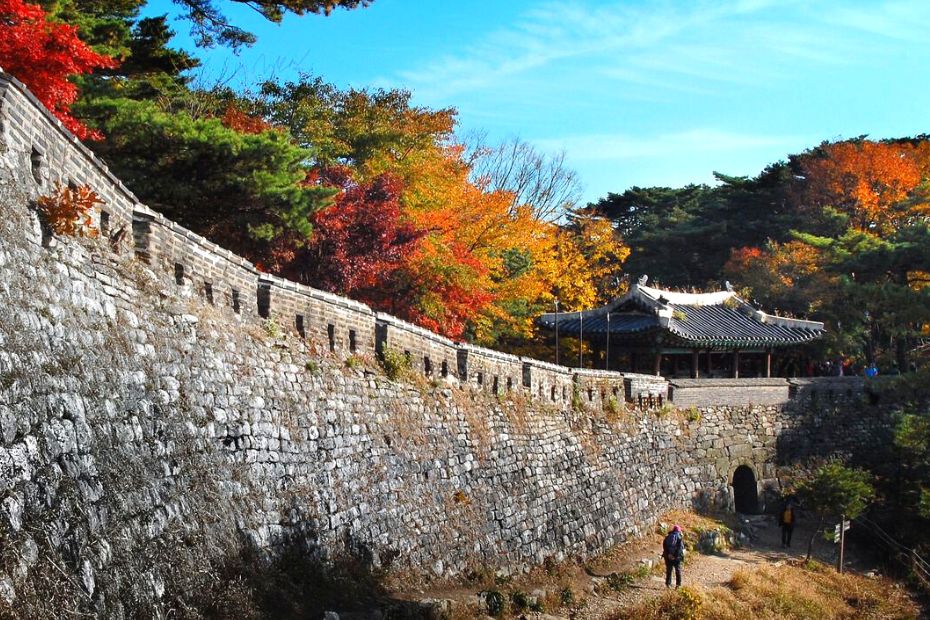 This final section is a collection of my personal tips and recommendations for travelling in Korea in October and how to get the most out of this colourful month.
There is a one-week itinerary for October which takes you to some of the best sights, including Seoraksan, Gyeongju, Suwon and more.
Next is a guide to what to wear in Korea during October, explaining how warm or cold it can get, what you can pack to dress comfortably, and examples of what I wear during this time.
Finally, there are a few of my own tips for travelling during October. October is a busy month and there's a lot of be aware of. These tips will help you plan better and avoid problems.
---
Recommended Itinerary For October In Korea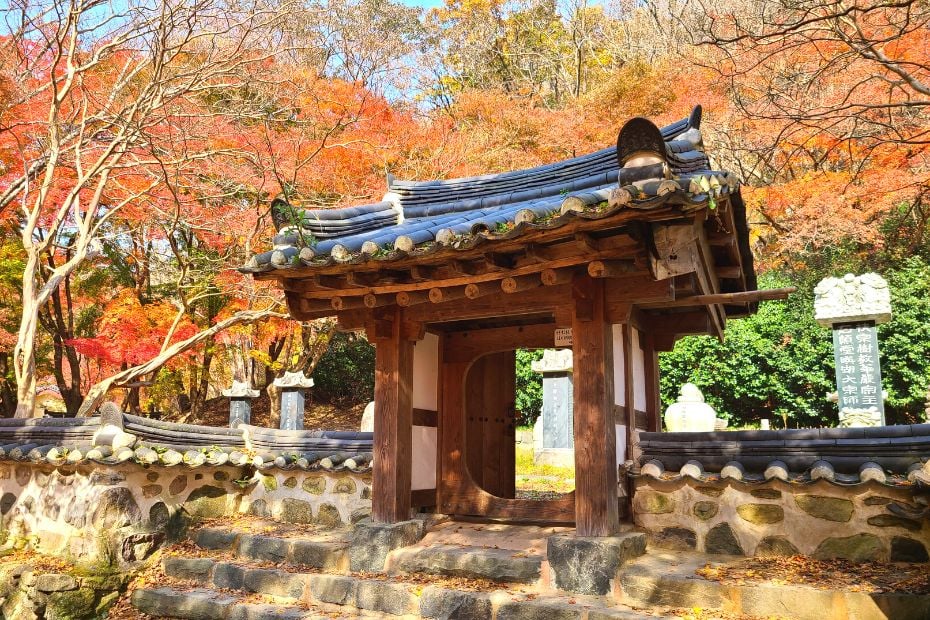 Planning to visit Korea in October but not sure where to go for the best sights and experiences? This 7 day itinerary will help you get started planning your October adventure.
The itinerary uses 2 cities as a base (Seoul and Busan), but will take you far and wide across Korea; to mountains looking over the east coast, to Korea's historic capital, to ancient fortresses, and to lots of beautiful autumn foliage spots.
---
Day 1: Seoul Sights
As most flights arrive to Korea via Incheon Airport, which is just outside Seoul, it's usually best to spend a bit of time in Seoul getting over jet lag and embracing Korea's capital. If you stay in Myeongdong, you can easily get access to the royal palaces, N Seoul Tower, Insadong Art Street, Myeongdong street food and markets, Dongdaemun Design Plaza, Jogyesa Temple, and lots more. Spend the day walking, eating, and seeing the sights.
Here are some great Budget Hotels in Myeongdong that I personally recommend.
---
Day 2: Seoul River Parks
The Han River is a wide stretch of water that splits Seoul right in the middle. Check out Haneul Sky Park and Oil Tank Culture Park on the north side of the river, stop by Hongdae for some lunch, then head over the river to Yeouido Hangang River for more parks and natural beauty. Take the subway to Gangnam to see the massive COEX Mall, K-Pop sights, Bongeunsa Temple, and eat dinner in the Apgujeong area.
---
Day 3: Seoraksan Day Trip
Get up early and take a day trip to Seoraksan National Park, passing through the beautiful Korean countryside on the way. Follow the easy valley walking paths, past historic Korean temples and shrines, hike to the peaks, or take the cable car to the mountaintop. Try a traditional hiking dinner – pajeon and makgeolli for an authentic Korean experience.
---
Day 4: Suwon or Jeonju Day Trip
Take a day trip to Suwon or Jeonju and explore the historic areas in either city. Suwon is home to Hwaseong Fortress. Walk the walls in the morning, explore the fortress grounds in the afternoon, try your hand at Korean archery, stop off in a cafe, and enjoy Korea's best fried chicken at night. Jeonju hosts Korea's largest hanok village with more than 700 traditional Korean hanok houses. Dress up in hanbok, eat traditional Korean snacks and dishes, and discover Korea's past.
You can get to both of these cities through a guided tour or on the KTX trains.
---
Day 5: Busan Beaches
Ride the KTX train from Seoul to Busan in under 3 hours and see a different side of Korea in its second largest city. Known for its beaches, seafood markets, and maritime history, Busan is less busy than Seoul, but just as fun. Haeundae is a good place to stay, as well as the central Seomyeon district. Spend the day visiting the beaches (Haeundae, Songdo, Gwangalli, Songjeong), exploring the colourful Gamcheon Culture Village, riding the Haeundae Blue Line Train (a good way to get from Haeundae Beach and Songjeong Beach), or checking out Jagalchi Fish Market and the nearby Nampo shopping area.
---
Day 6: Gyeongju Day Trip
From Busan, take a short train ride to Gyeongju, the former capital city of the Silla Kingdom. Discover historic sights, including Bulguksa Temple, Wolji Pond, Cheomseongdae Observatory, Woljeonggyo Bridge, ancient tombs, and lots more. Eat dinner in the popular Hwangnidan Street, lined with old Korean hanok houses that are now cafes, restaurants, and bars. If you don't want to travel all the way to Gyeongju, visit Haedong Yonggungsa Temple in Busan – a stunning cliffside temple with waves crashing below and surrounded by rocks and trees. Guided tours available from Klook.
---
Day 7: Seoul Shopping
Head back to Seoul on the speedy KTX train from Busan and pack your bags with souvenirs to share with your family. Hongdae is a great place for last minute shopping and you'll find gifts, clothes (modern, boutique, and street fashions), sweets, and lots more for sale here. There are lots of dining options in Hongdae, from traditional Korean BBQ to Michelin-starred international cuisine. After dinner, sing your heart out at a noraebang (Korean karaoke), or watch the street performers at night. Stay in Hongdae for your last night and then you can take the all-stop train directly to Incheon Airport .
Here are some great Hotels in Hongdae that are close to shops and entertainment..
---
This is a very simple itinerary that will give you a rough idea of where to go and popular sights you can visit that are best in October. There are plenty of other places that you could visit on a one-week trip, including Jeju Island, Gangneung, Sokcho, Jirisan National Park, and lots more.
---
What To Wear In Korea In October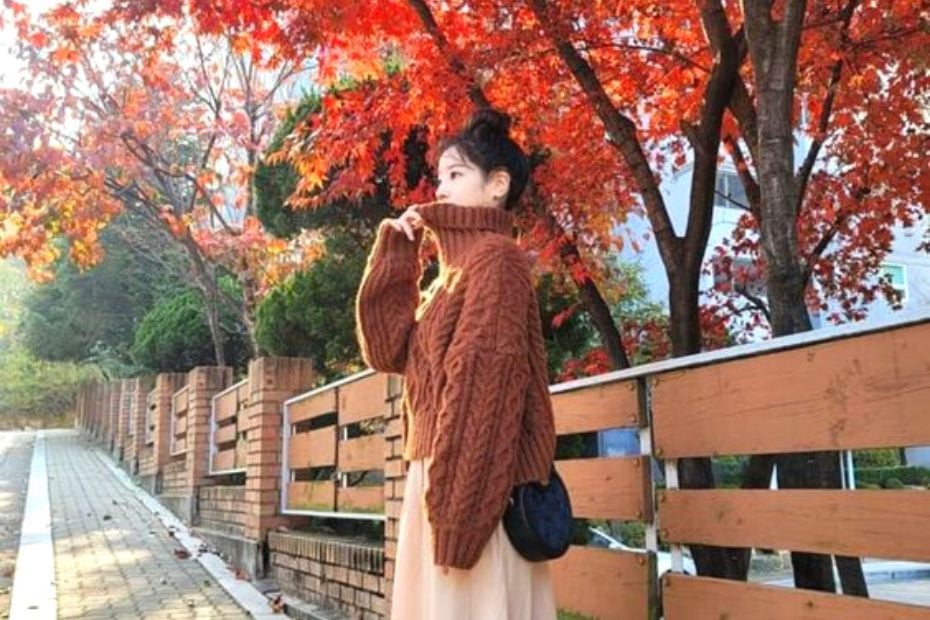 October in Korea is warm during the day, but cold at night. Temperatures typically range between 15 and 25 degrees Celsius during the day and as low as 5 to 15 degrees at night, depending on the time of month and weather conditions.
Since the weather can vary, it's useful to pack a range of clothes for cool and warm weather. Layering will help you stay warm in the morning and evenings, but try not to wear an overly large jacket or coat as you'll probably want to take it off and carry it during the day.
October is quite dry, so you shouldn't need to worry too much about bringing an umbrella. You can certainly buy one easily enough in Korea. It still rains, but not as much as summer. A jacket or coat that is waterproof could be a good option to prevent coldness and to stay dry.
A t-shirt and jumper / shirt should be good for most days to keep you warm. Some people still wear shorts and a t-shirt during October, but that depends on the person. If you're comfortable with cooler weather, then you'll not have any problems dressing like that.
I wouldn't recommend sandals for October, especially if you plan to do a lot of walking or visit the national parks, unless you plan to visit the beach. A good pair of trainers or walking boots should be fine for most situations.
The picture above was taken on October 10th in Gyeongju. It was raining that day, but wasn't that cold. I was fine in a shirt and t-shirt with jeans.
I typically start wearing a woollen jumper by mid-October with jeans and walking boots. I'll pack a light jacket if I'm planning to be out at night or hiking (it gets cold at the top).
Winter usually starts around mid-November and the warm autumn weather quickly disappears before the cold winter weather arrives to freeze everything in place.
Predicting the weather is very tricky, so be prepared for the worst, which would include colder weather than expected. Packing an extra jumper or jacket is probably best.
If you're stuck with the wrong clothes in October, you can always visit the markets in Seoul and find lots of cheap clothes to keep you warm.
---
Tips For Visiting Korea In October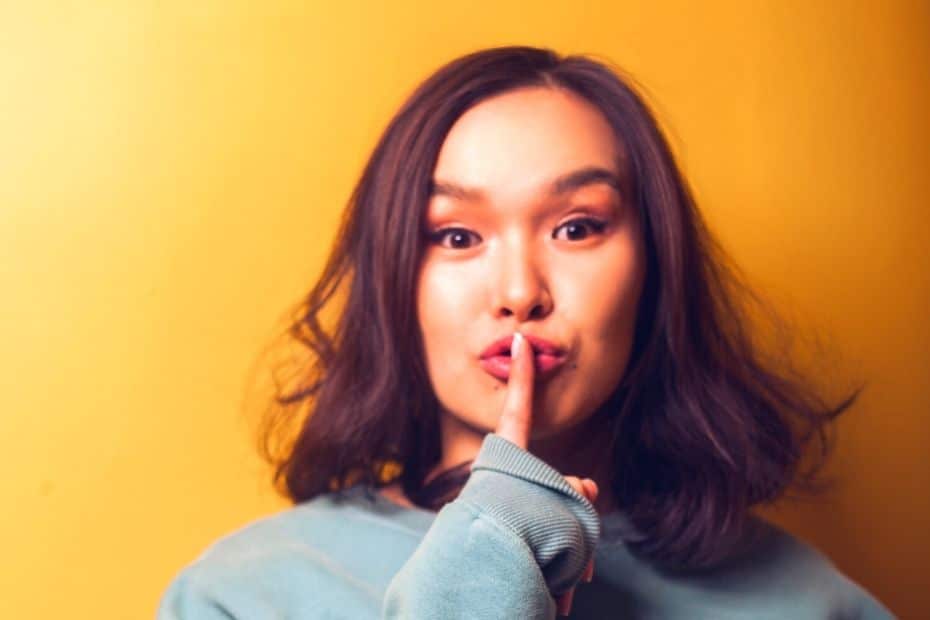 Finally, here are some of my tips to help you travel Korea in October. October is the time I'm out travelling the most in Korea and you'll find lots of other people doing the same.
Book ahead: As I've mentioned, October is peak season in Korea and many things will be booked up weeks or months in advance, especially around the public holidays.
Plan your route: Be careful when travelling on trains and buses. Use Naver Maps to help you plan your route and use the official Korail website – letskorail – to book train tickets.
Expect delays: Want to visit the best autumn foliage spot when it's just about to peak? Well, so does everyone else. Expect traffic delays, crammed buses, and long queues. That's part of peak travel.
Pack appropriately: October is a month that swings from warm to cool and the temperatures can vary depending on where you travel. Assume the worst and bring some cold weather clothes.
Get out of the cities: The best sights in Korea during autumn are typically outside of the cities and in the national parks. There are plenty of national parks in Korea, including Bukhansan National Park which is right next to Seoul.
Join a walking tour: Walking or social tours are a great way to meet other travellers and explore more of Korea with others. You can find lots of these in the Korea Travel Advice group.
Want more tips about travelling to Korea? Check out these Korea Travel Tips to help you plan your journey and make sure you're fully prepared.
---
Visiting Korea In October FAQs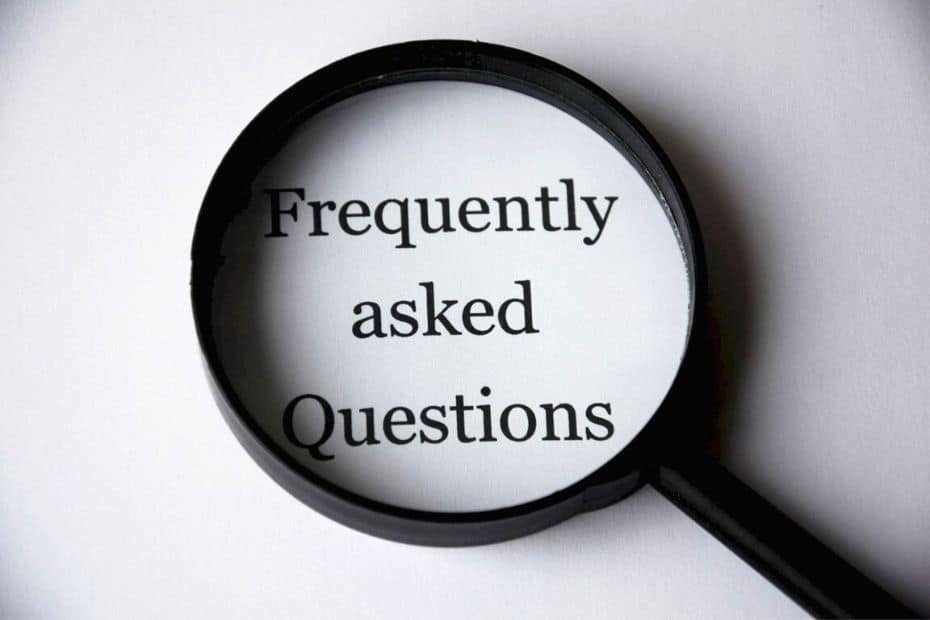 Finally, here are a few FAQs about visiting Korea in October, in case the above information didn't cover enough for you.
---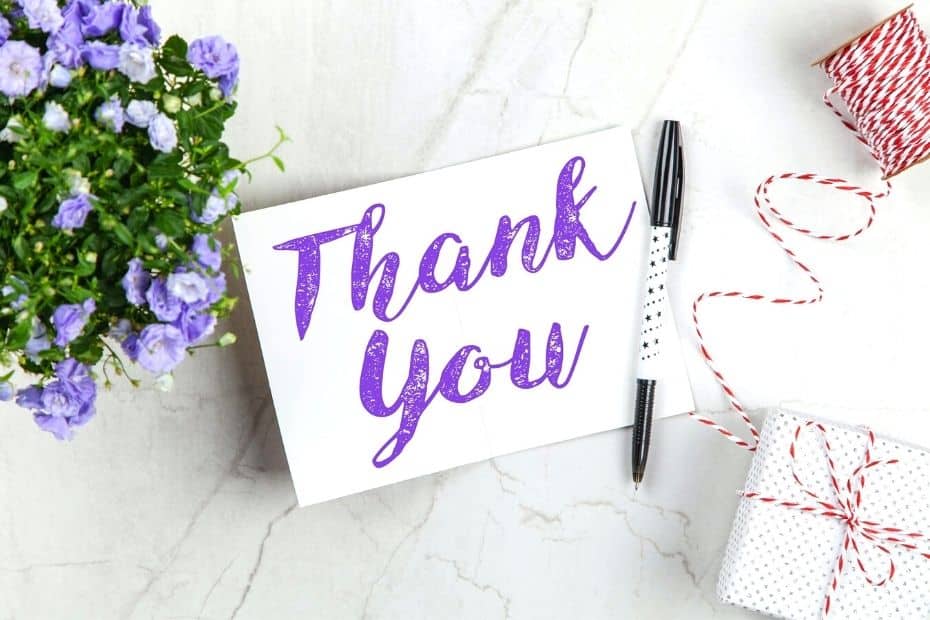 Share Your Thoughts
If you enjoyed reading this article, or if you have any thoughts about it that you want to share, please feel free to leave a message in the comments below. I'd love to hear your feedback about this article and the subject.
---
Thanks for reading. If you want to help me to create more great content in the future, why not buy me a coffee? A strong coffee helps me write more.
---
---
Liked This? Pin It For Others
If you enjoyed reading this article, then please share this with your friends on Pinterest.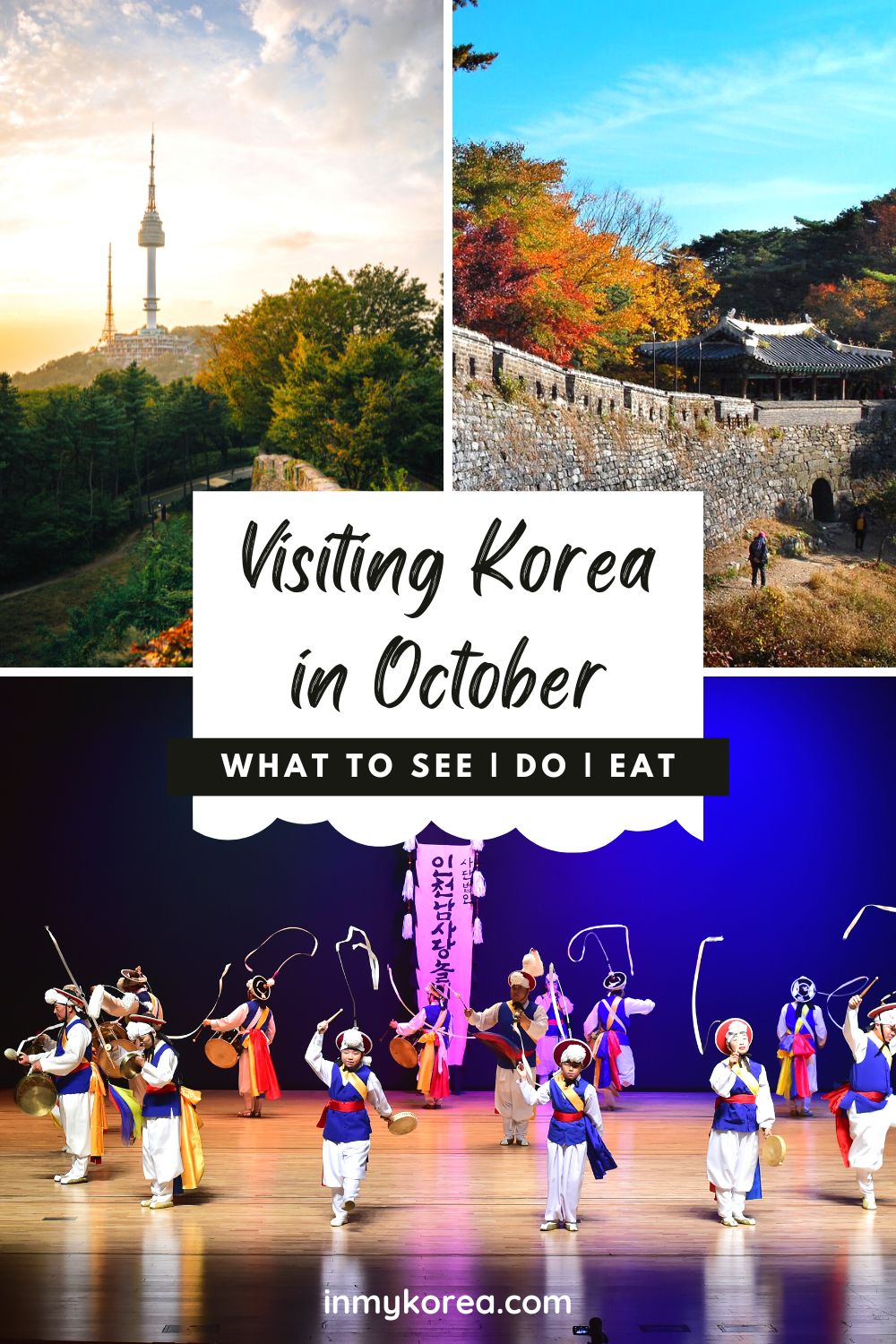 ---
Related Articles