Want to experience the majestic beauty of Korea's many mountain ranges, but not sure when to explore them? Worried about the weather when you plan to go hiking in Korea? Interested in exploring Korea's national parks when you visit Korea? Then this Korean seasonal hiking guide has you covered.
This guide provides a season-by-season guide to the kind of weather you can expect, as well as the potential problems (and benefits) the seasonal changes bring. Find out when to watch out for typhoons, when to wrap up warm, and when to bring waterproofs for rainy season.
Hiking in Korea is more than just watching the weather. There are so many incredible sights to see. From cherry blossom-lined streets to the stunning views of autumn leaves, silvery reeds, and snow-capped mountain tops, I'll show you the best places to see them all.
Never miss out on the best mountains at the best time with this essential guide to hiking in Korea's magnificent mountains. I hope you enjoy it and have many amazing days out hiking in Korea.
Affiliate Disclaimer: This site contains affiliate links and I may earn commission for purchases made after clicking these links.
---
When Is The Best Time To Go Hiking In Korea?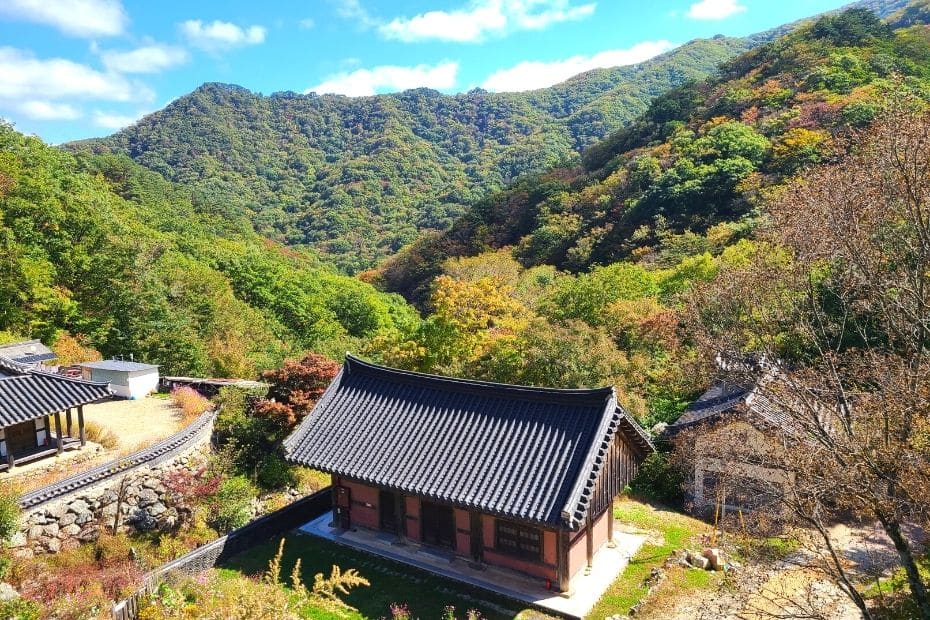 The best seasons to go hiking in Korea are definitely spring and autumn, which both feature warm, sunny days and clears skies while you hike. Summer and winter are tougher, but you can definitely enjoy a day out hiking during these seasons.
Each season in Korea has its own charms – from winter snow to autumn leaves and a lot else in between. There's not really a bad time to go hiking in Korea, but there are definitely better places to go during each season, and places to avoid.
This Korean seasonal hiking guide will give you a quick overview of the weather in each season, some of the best mountains to hike in each season, what you can expect to see, and how to prepare for hiking at that time of year.
Don't forget to check out my top 21 Korean Hiking Tips to get even more advice about how to have a fun day out hiking in Korea's national parks. Also, be sure to check my Complete Guide To Korea's Seasons to know what to experience in each month. This covers a month-by-month guide to weather, events, activities, and festivals to enjoy throughout the year in Korea.
---
Planning to visit Korea? These travel essentials will help you plan your trip, get the best deals, and save you time and money on your Korean adventure.
Korea Electronic Travel Authorisation (K-ETA): Most countries need a K-ETA to travel to Korea. Apply before you travel only with the Official K-ETA Site.
Flights To Korea: Look around before you book flights. I recommend flight comparison sites such as Expedia and Skyscanner for the best flights to Korea.
Hotels In Korea: Staying in Seoul, I recommend Myeongdong (convenient), Hongdae (cool culture) or Gangnam (shopping). Get the best hotel prices with Klook and Agoda.
Tours In Korea: Find the best tours in Korea with tour companies that have a big presence in Korea, including Klook, Trazy, and Get Your Guide.
Staying Connected: Pre-order a Korean Sim Card or a Portable WiFi Router to collect on-arrival at Incheon Airport. Collection desks are open 24 hours.
Travel Money: Exchange foreign currency in Myeongdong or at a WOW exchange machine. Pick up a Wise or Revolut travel money card for the best rates and convenient card payments.
Transportation: Get a T-Money Card to pay for public transport. If you plan to use Korea's high speed trains, save money and get unlimited rides with a Korea Rail Pass.
Incheon Airport To Seoul: Take the Airport Express (AREX) to Seoul Station or a limo bus to other parts of Seoul. Don't want to carry heavy suitcases? Book an Incheon Airport Private Transfer and relax to or from the airport.
Learning Korean: Want to learn Korean before you travel? I recommend 90 Day Korean as they have well-structured lessons and loads of useful resources.
---
Spring Hiking In Korea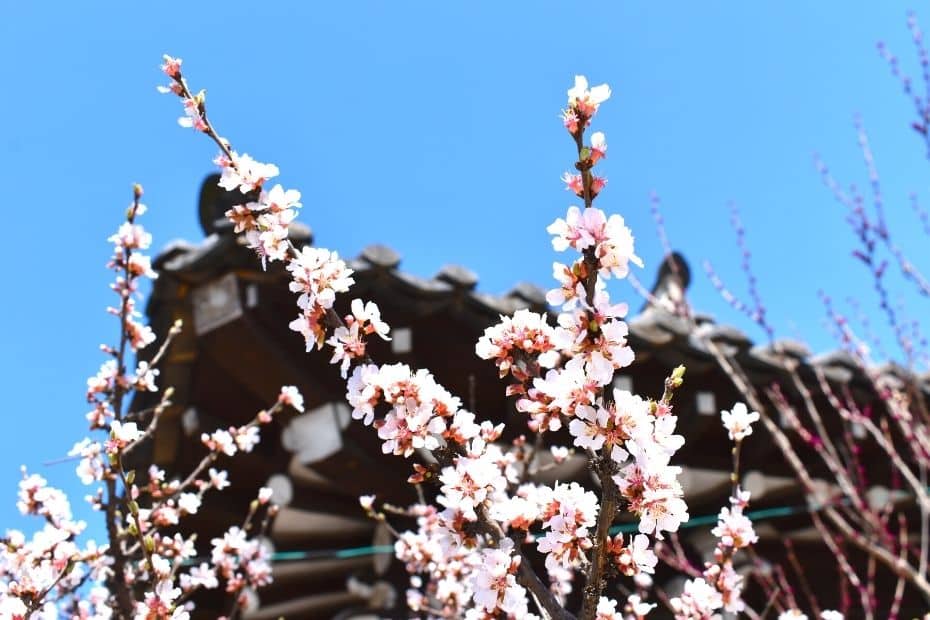 One of the best seasons to go hiking in Korea. Full of nature, new beginnings, bright flowers, and warm weather. After a long winter, spring brings positivity for the year ahead. The arrival of the cherry blossoms brings a lot of people out into the mountains.
Spring Weather
Still cold from winter in early March, quickly warming and quite hot by the end of May. There can be seasonal fine dust during early spring, but the weather is quite nice apart from that. There can be some showers in early April, but they're not too strong and you can hike with waterproof clothing.
Best Mountains To Hike
Head to Jirisan or Hallasan (Jeju) for incredible views of Cherry blossoms. Hwangmaesan Mountain in Hapcheon (near Busan) has fields of pink flowers on the mountainside, old fortress walls, and even sheep wondering the hills – a nice secret spot away from the crowds.
Near Seoul, Bukhansan National Park is always good, and you can get views of the greenery returning to parks and palaces across the capital.
Chiaksan National Park near Wonju is packed with more trees and there is also the Wonju Rail-bike Park that offers a fun rail-bike experience along an abandoned train line, passing by lakes, cliffs, and lots of pretty sights.
---
What You Can See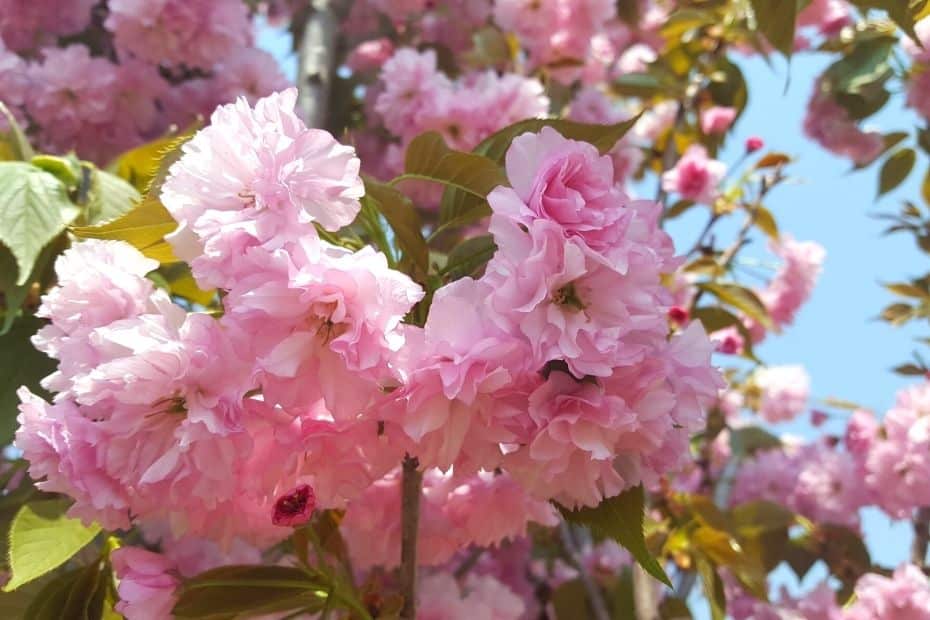 An abundance of flowers, blossoms, and blue skies. The first blossoms of the season are the plum blossoms (maehwa) in early March, followed up by the Cherry Blossoms in mid to late March and early April. There are also magnolias, azaleas, forsythia, and lots more.
There are many Korean festivals celebrating spring and Buddha's Birthday that are held in the national parks and mountains. The most popular festivals are the cherry blossom festivals, including the Jinhae Cherry Blossom Festival, which attracts millions of visitors each year.
What To Watch Out For
Fine dust is the biggest issue in spring. Check the air pollution levels before hiking and bring a mask if you expect it. It won't stop you hiking, but will often spoil the view.
Crowds can also be an issue, especially during cherry blossom season (late March to early April). If you can hike during the week, it'll be much quieter than the weekends.
---
Summer Hiking In Korea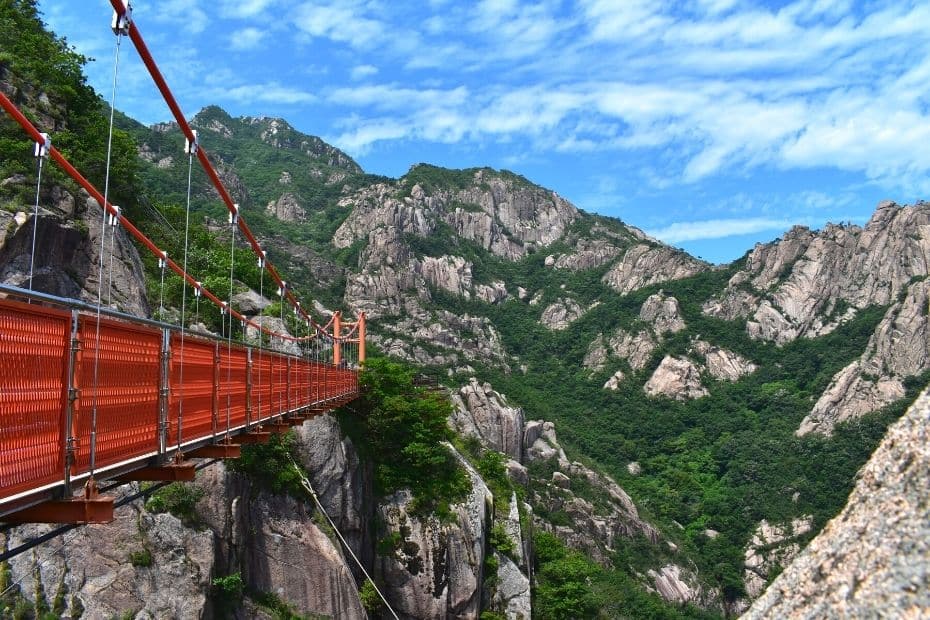 Definitely the toughest season to go hiking in Korea, but one where you can still enjoy getting out and seeing the sights. There are more than just mountains to see and the warm summer nights offer the opportunity for night hiking, particularly in Seoul.
Summer Weather
Hot! It doesn't get cold during summer unless it rains, which it does a lot during July. This is rainy season, so definitely check the weather forecast and pack appropriately if you're hiking in summer. Night time is cooler and good for special night hikes.
Best Mountains To Hike
I love Odaesan and Gyeryongsan for summer hiking. They have thick forests that provide shelter from the sun's heat and aren't too exposed at the top, protecting you from the sun.
Geumosan Mountain in Gumi (near Daegu) is a nice hidden gem that has a large waterfall you can walk under and a pool to stay cool. You can ride a cable car up to the mountain top and hike back down.
If you're in Seoul, hike Namsan Mountain at night or along the Seoul City Fortress Walls.
---
What You Can See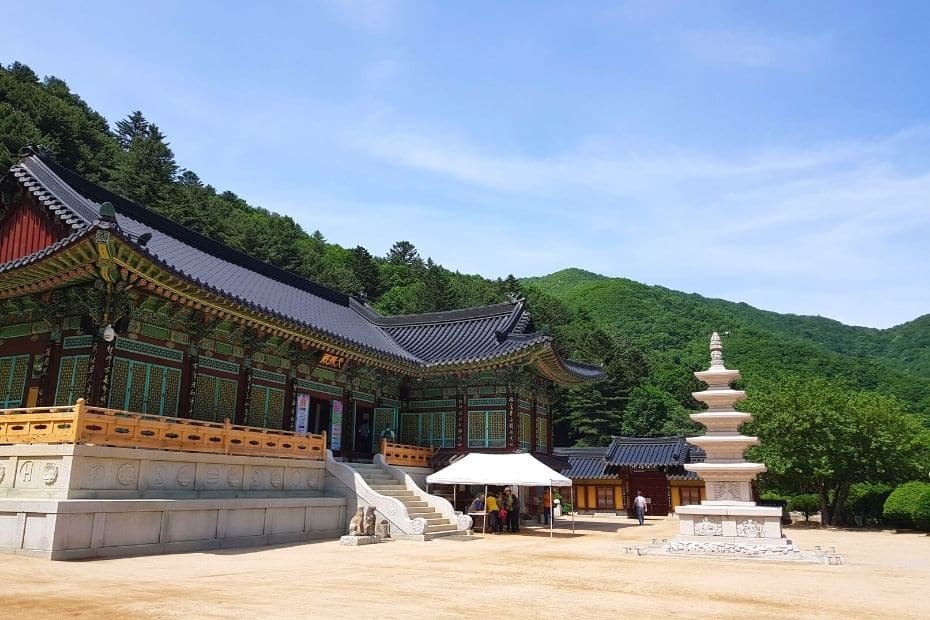 Greenery. After rainy season, plants and trees have a growth explosion and cover everything. Thick leaves, bushes, and plants are everywhere, along with more wildlife and flowers than in any other season.
What To Watch Out For
The heat. Stock up on water and be prepared to sweat. Also be prepared for mosquitoes. They are out in force during summer and you should wear long sleeves to protect against bites. Summer In Korea is tough, but there are many great places to check out, too.
---
Autumn Hiking In Korea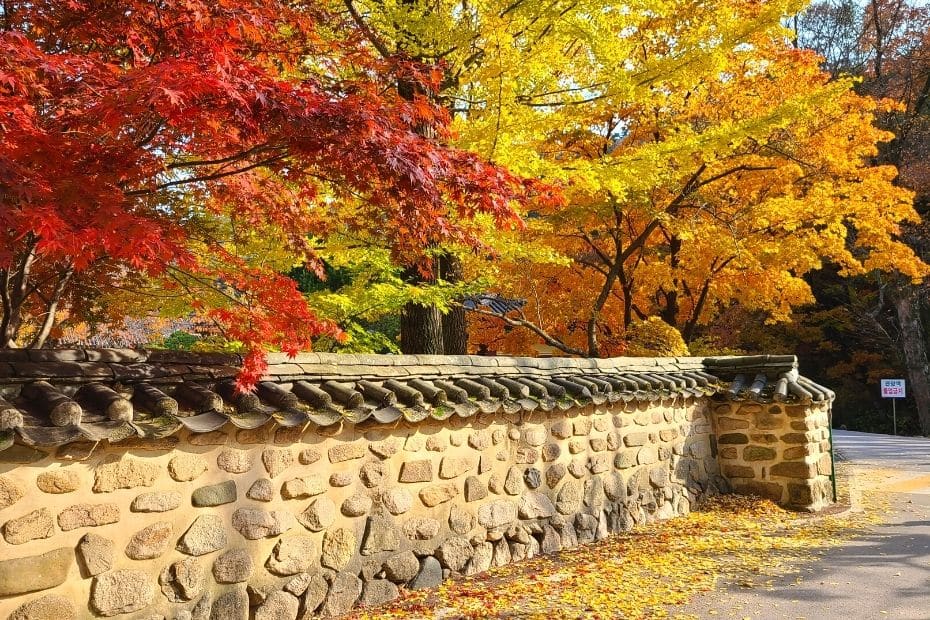 My favourite season to go hiking in Korea. Long, warm days. Blue skies. And the many colourful autumn leaves that are on display at this time of year. They all add up to one of the best times to be out in nature and hiking. It's also the most popular time to go hiking in Korea.
Autumn Weather
Lower air pollution than other seasons, more blue skies, and warm (but not hot). The best weather of the year. There are the occasional typhoons, which can be an issue if you're hiking on Jeju or along the south coast. However, there aren't as many as in other countries in East Asia.
Best Mountains To Hike
Seoraksan is the most popular destination during autumn, as well as Jirisan, which has loads of maple trees. Naejangsan is considered one of the most beautiful spots for autumn leaves.
Daedunsan Mountain near Daejeon also has incredible views, as well as a suspension bridge and stairway between peaks (with a scary view below).
If you want to find oceans of silver grass reeds, head to Mindungsan in Gangwon-do.
Check out this article for details about How To Get To Naejangsan. If you want to know more about the best time to travel in Korea, check out my Guide To October In Korea, which is packed with info about festivals, sights, must-do activities, and lots more.
---
What You Can See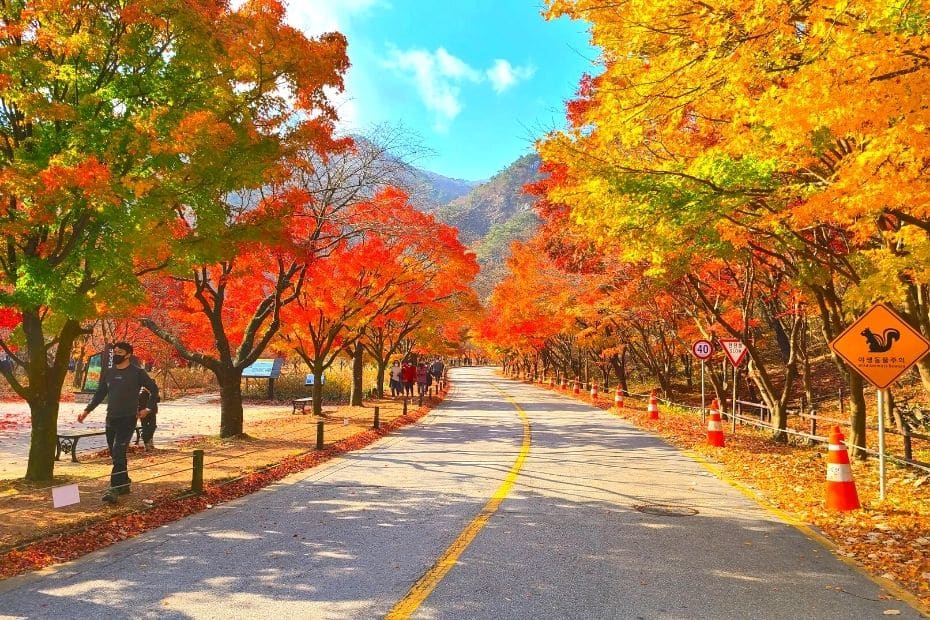 Korea's Autumn Leaves. These start in late September and run through to early November. There are also various cultural festivals celebrating the harvest and different locally produced products are on sale, such as chestnuts, persimmons, and jujube.
What To Watch Out For
Typhoons. Although they aren't common, the strong winds and heavy rains make it very dangerous to go hiking. Also keep an eye out for snakes hiding in the fallen leaves.
---
Winter Hiking In Korea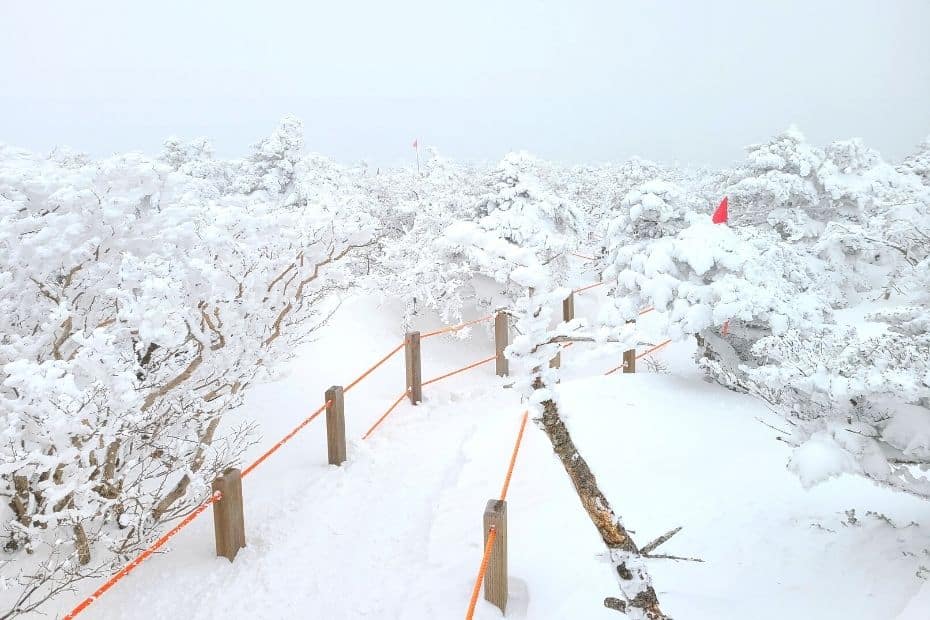 The coldest season in Korea is actually still a good one to go hiking. Be prepared, wrap up warm, and you can see some incredible sights, including snow-capped mountain tops, snow flowers, and lots more.
Winter Weather
Cold! From mid-November the temperature plummets and is often below 0 degrees Celsius in January and February. This can bring snowy weather, but not all the time.
Hiking in the mountains gives you the best chance to see snow. It'll also be a lot colder as you start climbing higher. The weather is generally dry during winter, which is good for hiking. Watch out for ice though.
Best Mountains To Hike
Deogyusan is my favourite mountain for winter hiking. There's often snow and the connected ski-resort gives you an easy way down the mountain after hiking to the top. Jirisan also has great winter views.
If you want to experience snowy mountain views, head to Taebaeksan, it's famous for its winter festival and snowy scenes. You can get a shuttle bus from Seoul during festival time.
Visiting Jeju Island in winter? Then be sure to try Winter Hiking On Hallasan Mountain for incredible snowy sights.
---
What You Can See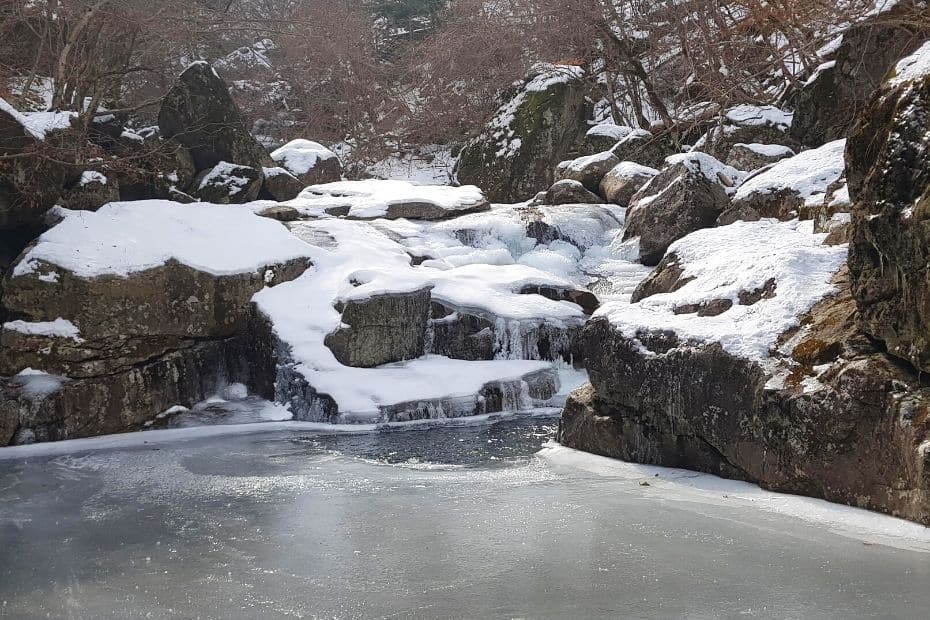 Snow! In the highest mountains (Seoraksan, Jirisan, Deogyusan, Hallasan), there's a much better chance of seeing snow than in the cities. A lot of the big ski resorts are in Gyeonggi Province or Gangwon Province in the northern part of Korea, close to Seoul.
What To Watch Out For
Ice. If you're hiking, make sure you pack some spikes (crampons) and hiking sticks. Wrap up warm because winter is cold and the mountains are freezing. You'll warm up as you hike though. It gets dark quickly, too. Be prepared to end your hike around 5pm.
I've written several other articles about how to enjoy winter in Korea, including the best Korean Winter Activities and Where To See Snow In Korea.
---
The Best Places To Go Hiking In Korea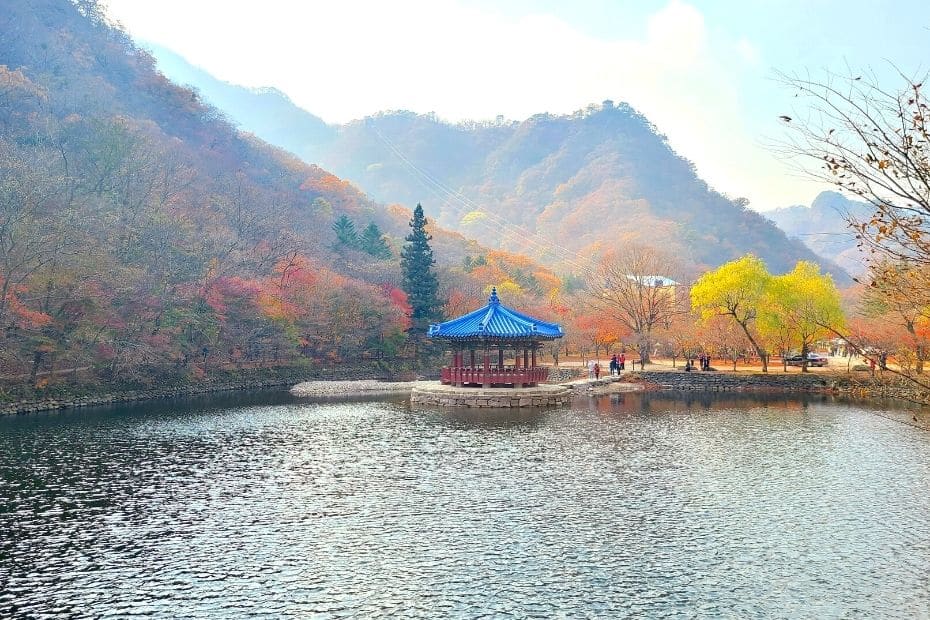 There are literally hundreds, if not thousands, of mountains to choose from if you want to go hiking in Korea. The country is 70% mountainous and knowing which ones are the best ones you should visit can feel a bit overwhelming.
The list below are for the best mountains you can visit from Seoul and then the best mountains you can visit across Korea in case you're starting from other locations.
Best Mountains To Hike In Seoul
These mountains are all inside Seoul and accessible by public transport
Bukhansan National Park
Namsan Mountain (N Seoul Tower)
Inwangsan Mountain
Gwanaksan Mountain
Cheonggyesan Mountain
Ansan Mountain
Achasan Mountain
Best Mountains To Hike In Korea
For other parts of Korea, here are some of the best national parks that are typically suitable for all levels.
Chiaksan National Park
Seoraksan National Park
Odaesan National Park
Jirisan National Park
Hallasan National Park (Jeju)
Gyeryongsan National Park
Songnisan National Park
Naejangsan National Park
These mountains are some of the Best Mountains To Hike In Korea.
---
How To Get To The Mountains In Korea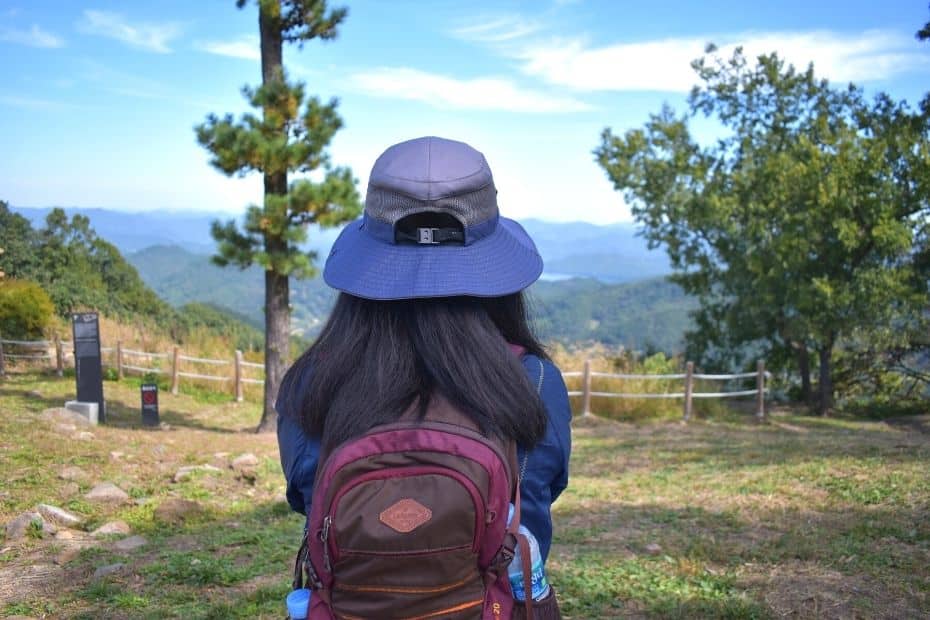 Here are a few tips about how to get to the mountains to start your hiking journey.
By Car
If you have car, then you won't have many problems getting to the mountains. Look for the national park entrances, there are usually car parks right outside.
Be careful during the busiest times (cherry blossom & autumn leaves season) as traffic can be backed up. Arrive early and leave early to avoid the worst traffic.
By Public Transport
Korea has an amazing bus and train network that goes to the most remote national parks. I don't own a car and have had to rely on public transport to get to most places.
You'll need to do some research, and check the routes with Naver / Kakao map apps, as well as Korean bus apps, but it's certainly possible.
A lot of the major hiking destinations have online guides and you can find out the best way to get there with a quick search. It's often cheap but be prepared for long journeys. That's not so bad as you can sleep on the way.
One word of warning: bus drivers in Korea love to turn the heating up to maximum during winter. It's really, really hot on the bus (way too hot) and you should be prepared to take off most of your winter hiking clothes. The opposite is true in summer when it's freezing cold with the aircon.
By Taxi
If you travel to nearby towns, getting a taxi is a reasonably priced and convenient option to get to the hiking routes.
For example, if you want to hike Daedunsan near Daejeon or Odaesan near Jinbu, you can get a taxi from these places and be there in 20 – 30 minutes. It's a lot more convenient as the buses aren't that frequent.
By Tour Operator
There are a number of great tour operators that provide tours for locals living in Korea or tourists visiting Korea. These can be more expensive than taking public transport, but also get your straight to where you want to go without detours and long waits between connections.
Furthermore, tour operators also provide insights from local guides, extra stops along the way with additional activities you might never get the chance to experience, as well as visiting several famous locations in the same area.
Online tour operators I recommend:
Facebook-based tour companies operating in Korea:
There's also the option to hire a private driver to take you to various places and guide you around.
I hope these few sections of this guide to hiking in Korea have helped you to figure out when, where, and how to go hiking.
---
Why Should I Go Hiking In Korea?
Did you know that one translation of 'Korea' is 'land of high mountains and sparkling streams'? Whenever you go into the Korean countryside, you're surrounded by mountains and awe-inspiring views. You'll easily understand why it has that name.
I hope this guide to hiking in Korea has inspired you to get your boots on and go out and experience the incredible scenes you can find all across Korea. In case you're not convinced about why hiking is a must-do activity in Korea, here are a few more reasons why you should try it:
It's great exercise – A day hiking in the mountains can burn hundreds or even thousands of calories and work many different muscles.
To make friends – There are many social clubs where people go hiking together. It's a great way to meet new people and find people who like to get out and enjoy nature.
You'll see incredible sights – There are incredible scenes waiting to be discovered out there. Waterfalls, friendly squirrels, forested valleys, frozen lakes, snowy peaks, autumn leaves, cherry blossoms, and so much more.
It's a cheap day out – Unlike a day at a theme park or visiting expensive attractions, hiking is really cheap. Park entrance fees are a few thousand won and food and snacks don't cost much at all.
Chance to see snow – if you're looking for snowy sights, the mountains during winter are the best places to find them.
The best Buddhist temples – whilst Seoul has some nice temples, the best ones are all hiding in the national parks. You can even do a temple stay and enjoy hiking in the mountains at the same time
For those living in Korea, I'd recommend joining a hiking Facebook group such as the Seoul Nature & Hiking Group or Hiking In Korea.
---
Hiking In Korea FAQs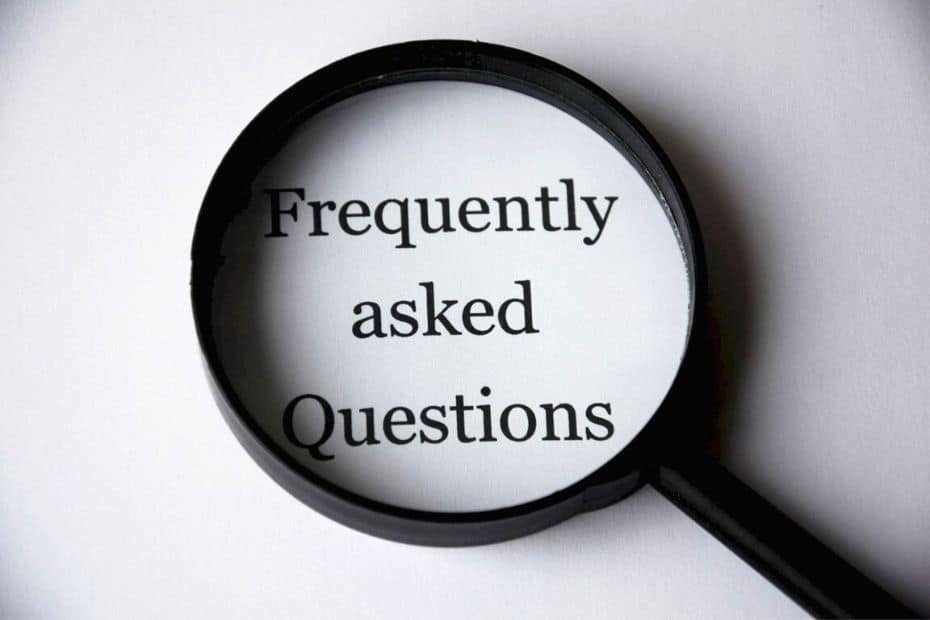 Finally, here's a few FAQs about how to go hiking in Korea, in case the above information didn't cover enough for you.
Is Hiking In Korea Suitable For Families?
Yes. There are many family friendly places to go hiking in Korea and you'll often see children as young as 4 or 5 hiking, even all the way to the peaks. There are a number of 'recreational forests' in Korea which are designated as family-friendly areas for gentle hiking and trekking. Most national parks feature flat walking areas.
What's The Best Place To Hike Near To Seoul?
Bukhansan National Park. Seoul, like most other places in Korea, is surrounded by several large mountains. The best of these for hiking is Bukhansan National Park, which is actually within the city itself and can be accessed by bus or subway. There are various hiking routes in the park, as well as several Buddhist temples to see along the way.
What's The Best Place To Hike Near Busan?
Jirisan National Park. Although not in Busan itself, Jirisan National Park, Korea's largest national park, is only a short drive or ride away from Busan and provides the highest peak on mainland South Korea. There are over a dozen trekking courses around the park, as well as incredible sights of Korea's famous cherry blossoms and autumn leaves. Alternatively, the southern parts of Geoje provide good hiking, including Hallyeohaesang National Park.
Can I See Snow While Hiking In Korea?
Yes, during winter. Whilst snow isn't guaranteed, you're likely to see it while you go hiking in Korea during winter (December to February). The chance of seeing snow increases in the northern part of Korea, which is where you'll find many high mountains and ski resorts. Mountains such as Seoraksan and Taebaeksan are popular winter hiking spots for people who want to see snow in Korea. You can also see snow as far south as Hallasan Mountain on Jeju Island during some parts of winter.
Do I Need Special Equipment To Hike In Korea?
No. For most mountains in Korea you won't need any special hiking equipment, just a set of good boots and appropriate clothing. However, if you plan to hike during winter in Korea, hike overnight, or on one of the harder mountains (Seoraksan, Chiaksan, Hallasan), I would recommend preparing special equipment. In winter it's best to have heat packs, crampons (spikes), heat-warming clothing, removable layers, and hiking poles. If you're going to hike overnight, be sure to pack a sleeping bag and enough provisions for the entire trip.
Will I Get Altitude Sickness While Hiking In Korea?
No. You won't get altitude sickness while you go hiking in Korea. Korea's tallest mountain is Hallasan, which is around 2,000 metres above sea level. Altitude sickness doesn't start until you reach 3,000 metres above sea level.
When Is The Best Time To Go Hiking In Korea?
Spring and autumn. Although you can go hiking any time in Korea, the best times (and busiest) are definitely in spring and autumn. The weather is warm and sunny, there are fewer insects than you'd find in summer, and there are a lot of incredible natural sights to see, such as cherry blossoms (April) and autumn leaves (October). Summer is a difficult time to hike, but you can still enjoy walking in the cool, shaded valleys. Winter is cold but offers rare sights of snow.
---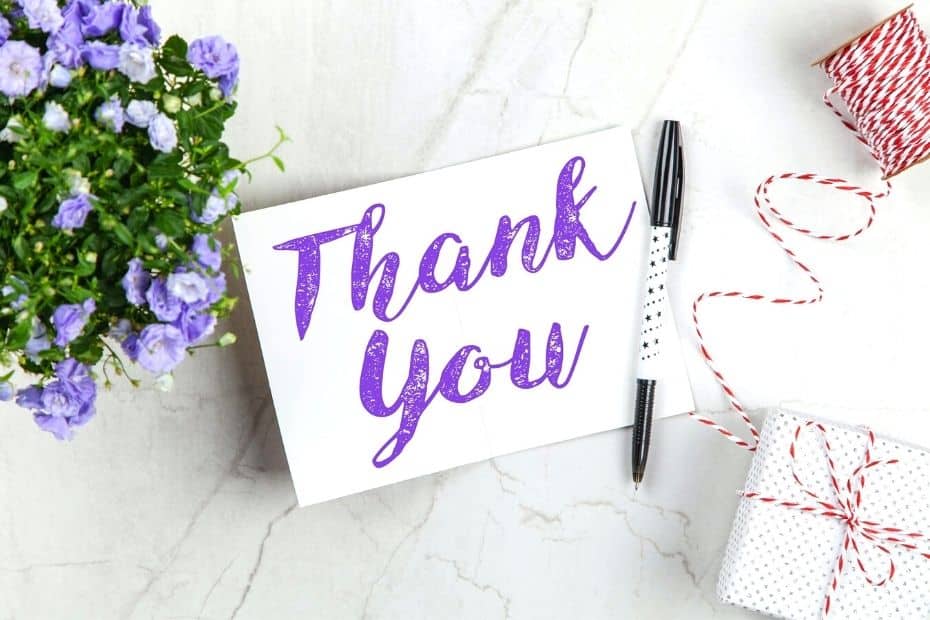 Share Your Thoughts
If you enjoyed reading this article, or if you have any thoughts about it that you want to share, please feel free to leave a message in the comments below. I'd love to hear your feedback about this article and the subject.
Thanks for reading. If you want to help me to create more great content in the future, why not buy me a coffee? A strong coffee helps me write more.
---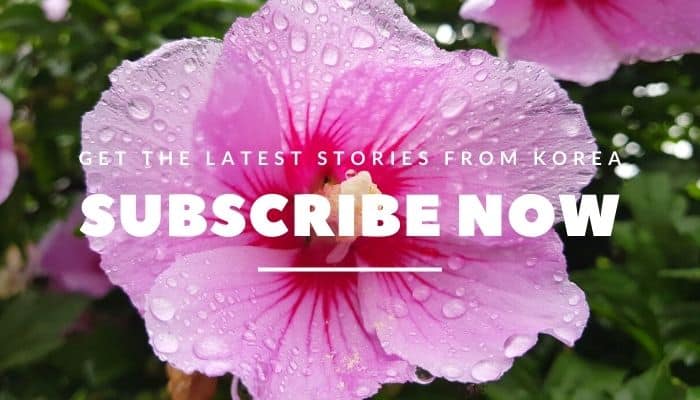 ---
Liked This? Pin It For Others
If you enjoyed reading this article, then please share this with your friends on Pinterest.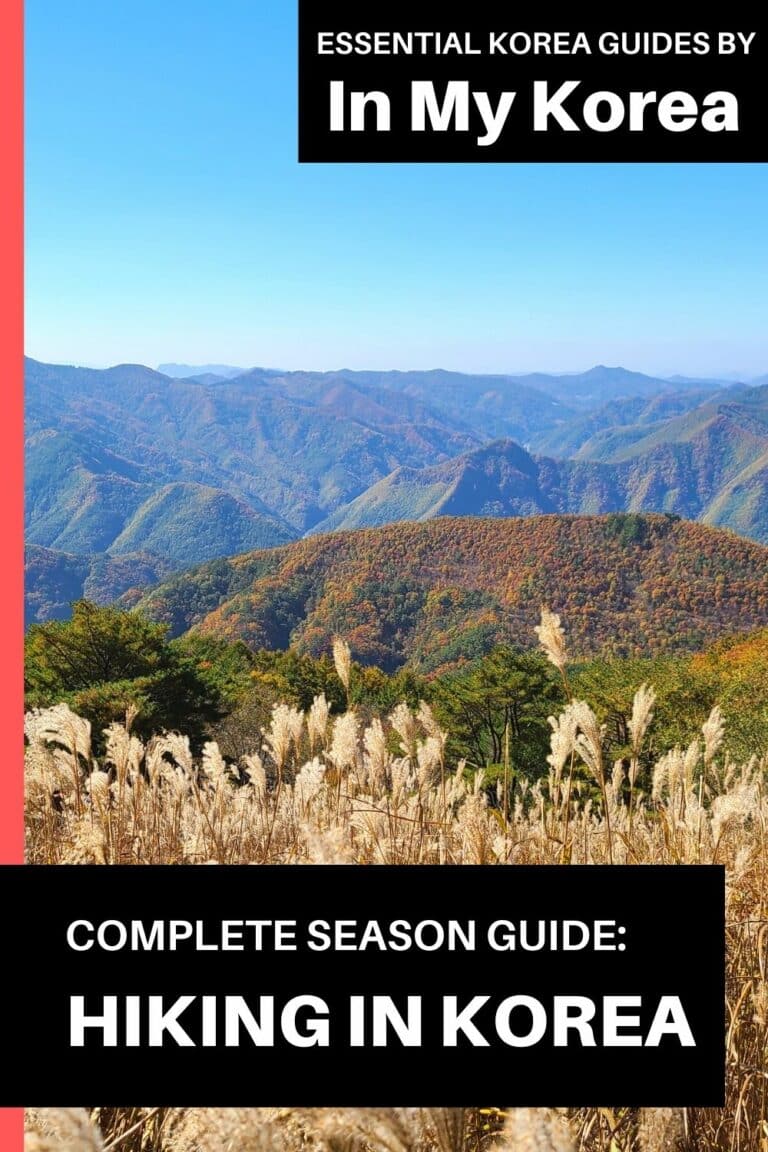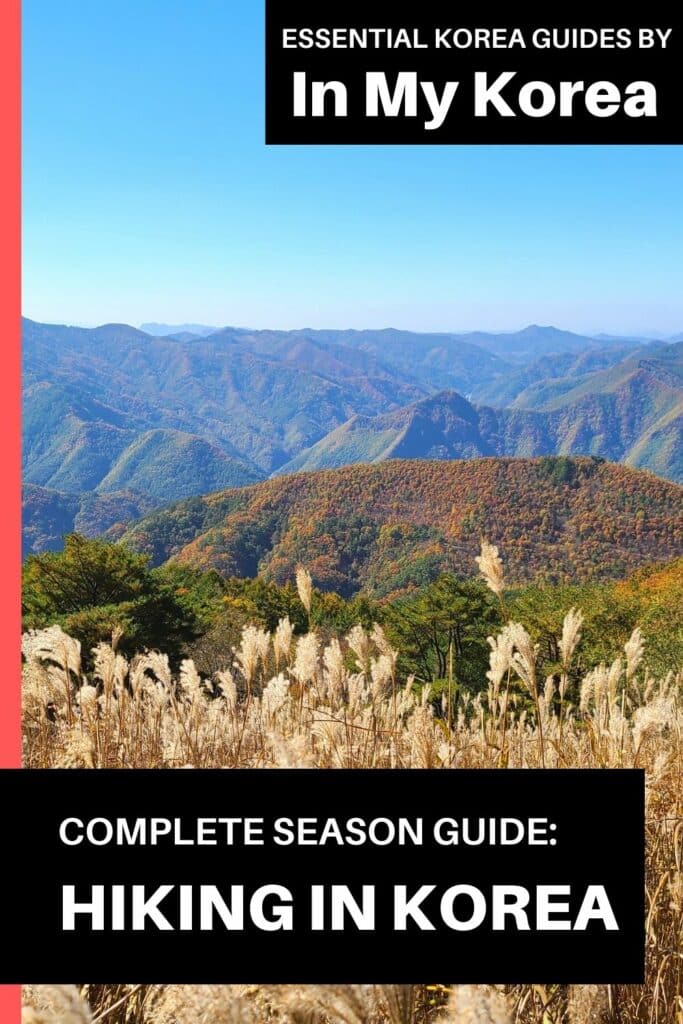 ---
Related Articles