Want to see colourful blossoms and blooms in Korea this spring? Interested in learning more about Korea's traditional and modern culture? Looking for a fun day trip for your spring itinerary? Then check out these amazing Korean spring festivals and add them to your plans.
Spring is one of the best times to visit Korea due to the warm weather, sunny days, and bright nature that reappears after the cold Korean winter. This is the busiest season for festivals of all kinds, including the famous cherry blossom festivals in late March / early April. There's so much to do.
This guide to the best spring festivals in Korea covers all the fun festivals between March and May and in all parts of Korea. Learn about what's on this spring, how to get to each festival, when the festivals start and end, and all the exciting activities you can do at each festival. Find out more below.
Affiliate Disclaimer: This site contains affiliate links and I may earn commission for purchases made after clicking these links.
---
The Best Korean Spring Festivals In 2024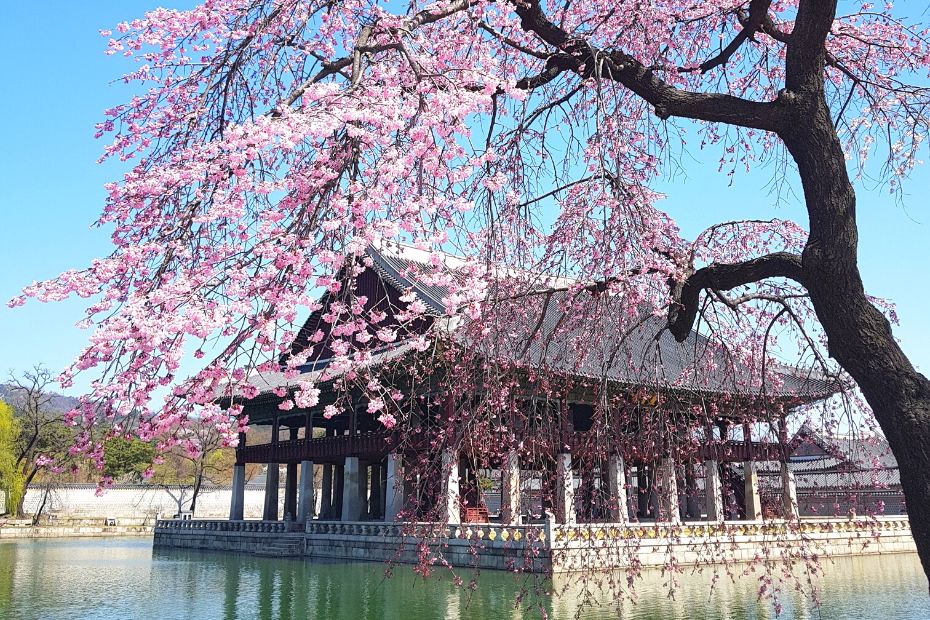 There are various spring festivals to enjoy in Korea between March and May that happen across the country in this lovely season. Whether you want to see bright & beautiful nature, unique sights & experiences, or learn about traditional & modern culture, there is a Korean spring festival for you.
Here's a brief overview of what you can find in each section of this article:
2024 Korean spring festival summary: All of the 2024 Korean spring festivals listed in month order to help you figure out what you can see during your visit. Also some top festival tour options.
Korean cherry blossom festivals: Cherry blossoms festivals are some of the most popular festivals during spring in Korea. Find out which ones to see and when the blossoms will be out this spring.
Spring nature festivals in Korea: Besides cherry blossoms, there are lots of nature-based festivals to visit in Korea, including festivals for plum blossoms, bamboo trees, green tea, and lots more.
Unique Korean spring festivals: These Korean spring festivals are like nothing you've experienced before, including a sea-parting miracle, modern Korean cultural shows, and a lantern festival.
Korean spring cultural festivals: Find the best of Korean traditional and modern culture, as well as international cultural events, at these spring festivals. Perfect for those looking to learn about Korea.
Guide to visiting Korea in spring: Make the most of your trip to Korea in spring with these tips about spring weather, public holidays in spring, how to get around, and where to stay to visit festivals.
Use the links above to jump to the section you're most interested in, or read through to discover all of the best Korean spring festivals you can see and explore. There's also some great tips at the end of this article to help you enjoy visiting Korea in spring and to travel more easily.
---
2024 Korean Spring Festival Summary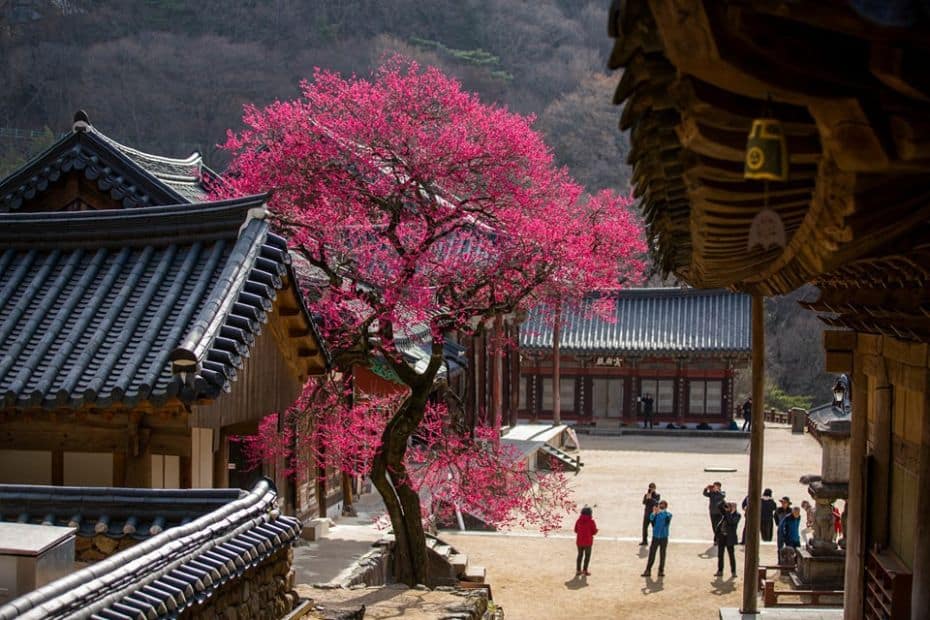 There are dozens of spring festivals in Korea to check out from March to May. To help you see what festivals are on when you're visiting, I've added a summary of the festivals by month. These festivals are included in the article and you can find more information about each in the following sections.
Korean Spring Festivals In March 2024
March is the start of spring in Korea and there are lots of festivals celebrating the return of nature after the long winter. There are maehwa (plum blossom) and cherry blossom festivals to see in the southern part of the country, as well as cultural festivals featuring Korean and international culture.
Everland Fairy Town Tulip Festival
Gurye Sansuyu Flower Festival
Gwangyang Maehwa Plum Blossom Festival
Holi Hai Festival
House Of Yu Gi-Bang Daffodil Festival
Hwagae Market Cherry Blossom Festival
Jeju Canola Flower Festival
Jeju Cherry Blossom Festival
Jeju Field Fire Festival
Jinhae Gunhangje Cherry Blossom Festival
Nonsan Strawberry Festival
Seocheon Camellia Octopus Festival
Tongyeong International Music Festival
Wondong Maehwa Festival
Yeongam Wangin Festival
---
Korean Spring Festivals In April 2024
April is when the cherry blossoms start to bloom in the northern half of the country, including Seoul. Not only are the cherry blossoms on display, there are many other beautiful flowers that get their own festivals, including azaleas and tulips. Visit the Seoul Festa for a look at modern Korean culture.
Boseong Green Tea Culture Festival
Garden Of Morning Calm Spring Festival
Gijang Anchovy Festival
Goryeosan Mountain Azalea Festival
Goyang International Flower Festival
Gyeongju Cherry Marathon
Gyeongpodae Cherry Blossom Festival
Jindo Sea Parting Festival
Seokchon Lake Cherry Blossom Festival
Seoul Festa Festival
Suncheonman International Garden Festival
Taean Tulip Festival
Yeongdeungpo Yeouido Spring Flower Festival
---
Korean Spring Festivals In May 2024
May has fewer festivals than the other two months of spring, but there are several large festivals to visit, including the Seoul Lotus Lantern Festival, which celebrates Buddha's Birthday. The Damyang International Bamboo Festival is a great festival for those looking to walk among giant bamboo trees.
Busan Gwangalli Eobang Yellowtail Festival
Changwon Jindong Midodeok Festival
Chuncheon International Mime Festival
Damyang International Bamboo Festival
Eumseong Pumba Festival
Yeon Deung Hoe (Seoul) Lotus Lantern Festival
The Samgwangsa Lotus Lantern Festival
Haeundae Beach Sand Festival
The Seoul Jazz Festival
The Color Run Korea
---
Available Spring Festival Tours In Korea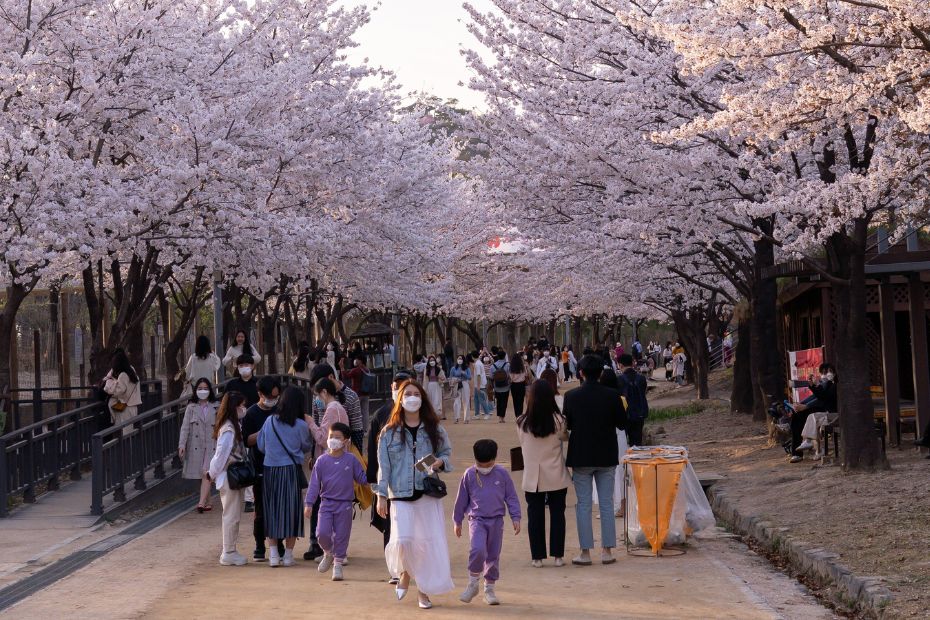 Why not take a day trip to a fun festival this spring? Travelling to Korea's spring festivals by public transport can sometimes take longer and be more difficult than a guided tour. Here's a collection of the best spring festival tours leaving from Seoul and Busan that you can add to your Korean itinerary.
Korean Spring Festival Tours From Seoul
Korean Spring Festival Tours From Busan
You don't have to book a day tour to visit most of the festivals in this article, but it can certainly help save time and planning if you do. Some of the festivals are in rural locations and I would certainly recommend using a day tour to see those. Alternatively, rent a car and drive there.
---
---
Korean Cherry Blossom Festivals Spring 2024
The biggest Korean spring festivals have to be the cherry blossom festivals, which run in late March and early April. Starting on Jeju Island and finishing on the country's northern border, the return of spring is truly encapsulated in the celebration of these soft blossoms.
These spring festivals can draw thousands of people each day, with millions attending popular locations like Jinhae, Seokchon Lake, and Yeouido Hangang Park. The festivals below are 6 of the most popular in Korea with some of the most incredible cherry blossom views to enjoy this spring.
Korean Cherry Blossom Festival Tour Options
Here are some tours that will take you to these cherry blossom festivals if you want a simpler and faster way to visit the tours than by travelling on public transport.
Want to know whether it's worth visiting a spring cherry blossom festival in Korea? Check out this video of some of the prettiest, pinkest cherry blossom views in Seoul.
---
Korean Cherry Blossom Forecast 2024
The 2024 Korean cherry blossom forecast won't be available until February 2024. For now, you can use the 2023 Korean cherry blossom forecast to get an idea of when the blossoms will be out. However, the dates for 2023 were earlier than usual and 2024 could be a week later in each area.
The 2023 Korean cherry blossom forecast below will show you the start dates for cherry blossoms in Korea this spring. The cherry blossom peak (the best time to visit) is usually around 4-7 days after the start of the blossoming. The spring cherry blossom festivals typically run from the first blossoms.
For a more detailed guide to seeing cherry blossoms in Korea this spring, check out my Korean cherry blossom guide. This guide covers all the best festivals, riverside and lakeside walking spots, peaceful forests abloom with nature, and useful tips for getting around Korea in spring.
---
Spring Nature Festivals In Korea 2024
Spring is one of the best times to visit Korea. The main reason for this is the abundance of vibrant plants and flowers that come alive in this season. Korea has beautiful nature and shows it a lot of respect with a profusion of spring festivals focused on foliage, blossoms, and blooms.
From cool and shaded bamboo forests, to distinctly Dutch-looking tulip farms, there's certainly plenty of nature-based spring festivals in Korea that will please outdoors lovers. These Korean spring festivals begin with the very first blossoms of the season, apricot plums, in early March.
Spring Nature Festival Tours
Many of these Korean spring nature festivals are located far from the major cities and are therefore quite difficult to get to, even if you are familiar with using public transport in Korea. Therefore, I've included some tours that will help you see these festivals and save you a lot of time.
The address of each of these spring festivals has been included below, as well as directions for how to reach the festival. Please note that some of these festivals may take up to 4 or 5 hours to get to one-way from Seoul or Busan, which is why tours really can be a much better option.
---
Unique Korean Spring Festivals 2024
Spring in Korea is a time with many unique festivals that celebrate both local and international culture, traditions, and spectacles, including a miraculous sea parting. These spring festivals are not to be missed and will show you some sights you won't normally see in other seasons.
This section contains diverse festivals that have happened for a long time, such as the Seoul Lantern Festival for Buddha's Birthday, and the Jeju Fire Festival. These historic festivals are a window into Korea's past, while others show modern and international cultural influences on Korea.
These unique spring festivals are not to be missed if you're in Korea at the right time, especially the Seoul Lantern Festival. It's a massive parade that goes through the centre of the city and will be something you'll remember for a long time. Here's a video of what it looks like.
---
Korean Spring Cultural Festivals 2024
Korea has lots of unique culture and traditions that are best witnessed in these Korean spring festivals. You can experience traditional crafts, learn about folklore and historical events, and visit long-running festivals that celebrate life and harmony in Korea during spring.
As well as traditional Korean culture, some of these spring festivals showcase the best of international culture and performances, such as the Chuncheon Mime Festival and Tongyeong International Music Festival. These smaller festivals will offer a unique glimpse into Korea.
There are lots more smaller cultural spring festivals in Korea that might appeal to those who want to see a different side of Korea. I won't go into detail about these festivals, but you can learn more about them from the links below.
Most of these links are in Korean. If you can't read Korean, I recommend using a plugin like Google Translate, or translating via an app like Papago. There typically aren't tours for these as major tour companies don't bother to visit them. Trazy is probably the only tour company that might.
If you're not sure how to use Papago, check out my guide to the Papago app and find out why it's a must-have when travelling to Korea. I used it a lot when writing this article.
---
Guide To Visiting Korea In Spring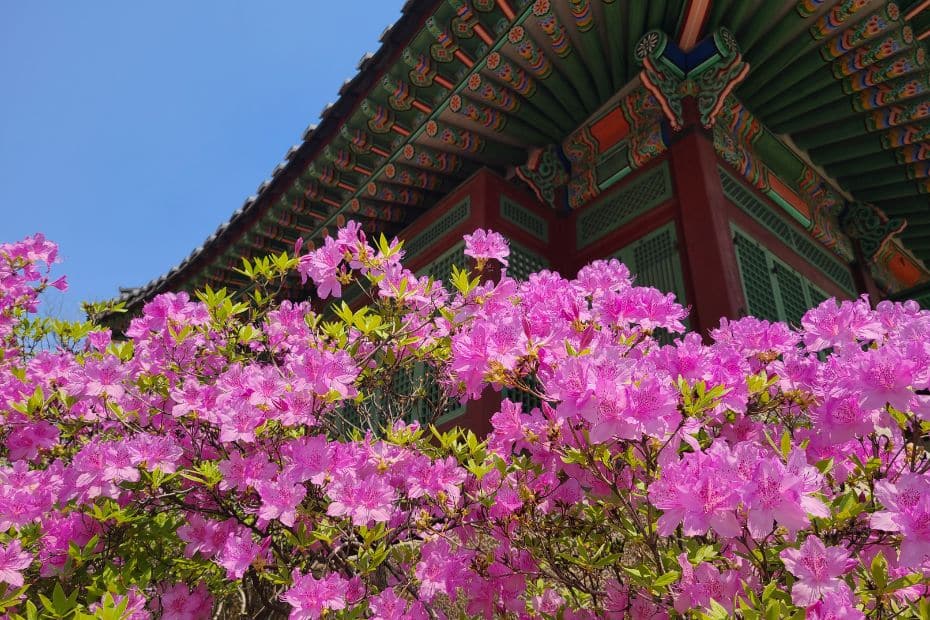 To get the most out of these Korean spring festivals, it is important to consider what travelling to Korea during spring is like. Spring is one of the best seasons to visit Korea as the weather is pleasant, nature puts on a good show, and there are many things to see and do.
However, there are some issues when travelling to Korea during spring, such as public holidays that might make it difficult to travel, seasonal air pollution, and peak travel problems. The following section of this guide to spring festivals in Korea offers lots of useful information to help you travel more easily.
What Is Korean Spring Weather Like?
Here's a quick summary of the weather in Korea during each month of spring:
March: cold and wintry still
April: warmer and sunny, some rain.
May: warm and sunny, some rain.
March is the start of spring in Korea and there's still a chance of snow. Temperatures at night are below zero in the first half of March but may be up to 20 degrees during the day. The weather changes a lot during March and may be snowing one week and warm and sunny the next.
April has warmer temperatures, especially at night, but usually requires a jacket at the start of the month. There is more rain in April, which can be a problem if you want to see cherry blossoms, but it's not usually constant. Generally, April is warm with clear skies and a great time to travel in Korea.
May is a much warmer than the start of spring and the summer weather starts to begin. Temperatures can be as high as 30 degrees, but typically stay around the low 20s with clear skies and lots of sunshine. There are still rainy days, but they're not as bad as June, which is rainy season in Korea.
For more information about what Korea is like in each season, check out this guide to Korea's seasons. You'll find a month-by-month and season-by-season guide to Korean weather, foods, festivals, and other events. It'll help you plan your travels whatever season you visit Korea in.
Fine Dust During Spring In Korea
Although the weather in Korea during spring is usually clear and sunny, with mild rain showers on some days, the air pollution is at its worst. The seasonal air pollution, known as Yellow Dust, hits Korea during spring and can cause thick pollution that's dangerous to be outside in.
If you're sensitive to air pollution, be sure to read up about fine dust in Korea and wear an appropriate face mask. Use a weather or air pollution app to check the current situation and take appropriate actions. You can tell when the fine dust is serious as there will be a yellow haze in the sky.
Are There Any Public Holidays During Spring In Korea?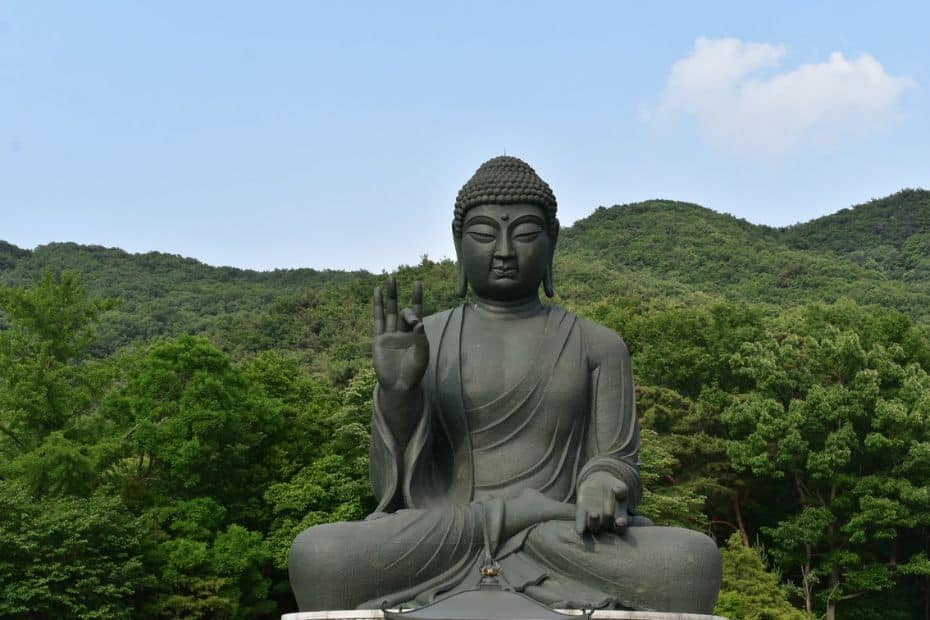 There are several public holidays during spring in Korea that might affect your travel plans or provide extra festivals to see. Most of these are fixed to a certain date, but Buddha's Birthday, was is based on the lunar calendar, changes each year. Be sure to check the correct dates for the year.
May 15th: Buddha's Birthday (celebrated May 15th in 2024). This public holiday is the Buddhist equivalent of Christmas for Christians. There are big celebrations at Buddhist temples across Korea on this day, with lanterns, cultural events, and food provided by temples. Tourist sites should be open.
March 1st: Independence Day. This is a public holiday for workers, so banks and government buildings will be closed. Tourist sights and shops should still be open with regular hours.
May 5th: Children's Day. This is a public holiday to celebrate children. Banks and government buildings (incl. schools) will be closed. Expect family-oriented places to be especially busy on this day as families celebrate their children and the weather is usually good for being outdoors at this time.
June 6th: Memorial Day. This is a public holiday to remember those who have died in wars. This isn't in spring, but may affect travel plans for those travelling between seasons. Banks and government buildings will be closed, but tourist sights and shops should be open.
Please note: holidays that fall on a weekend day will usually be moved to the following Monday.
How Can You Travel To Korean Spring Festivals?
The easiest option to see Korean spring festivals is with a guided tour. There are many tour companies that provide tours to popular festivals during spring, such as the cherry blossom and flower festivals. Here are some of the best tour companies operating in Korea:
To get around on Korea's public transport, it is best to get a T-Money card, which is a prepaid transportation card used for buses, subways, and taxis in Korea. You can purchase a T-Money card at Incheon Airport when you arrive, or at convenience stores in Korea.
Travelling to city-based Korean spring festivals can be easy, depending on the location of the festival and its popularity. Korea has a well-connected public transport system that covers the country, as well as excellent bus, subway, and train networks in big cities that are mostly available in English.
However, travelling to remote spring festivals in the Korean countryside may be more challenging and might not be feasible without a car. You can rent a car in Korea to help you get around outside the cities and see a very different side to Korea than you'll find in the urban areas.
Useful Apps For Travelling Korea In Spring
There are many apps and websites that can help you navigate in Korea and find your way to spring festivals more easily. The most useful apps include Naver Maps, which you can use to plan routes and check bus times, and Papago Korean Translation, which can help you translate Korean.
Kakao Taxi is the best Korean app for booking taxis in Korea. Kakao Taxi is easy to use and you can use my guide to help you setup Kakao Taxi with or without a Korean phone number. Finally, use the official Korean Rail website to check train times and book tickets in Korea.
For more tips about how to travel around Korea to see festivals and other attractions, read my South Korea Travel Guide. It's full of useful tips to help you plan your journey to Korea and has more information about what to see, do, and discover during spring and other seasons.
Where Should You Stay To Visit Korean Festivals In Spring?
Tours that go to Korean spring festivals, such as the Jinhae Cherry Blossom Festival, usually start from Seoul or Busan, so staying in one of these cities is the best option if you plan to book a day tour. If you're planning to see festivals on Jeju Island, then Jeju City is a good place to stay.
Seoul and Busan have several spring festivals that can be accessed by public transport and each city has a good transport network that means you don't need to stay near the festival to see it. I recommend finding a good location you want to stay in, then travelling to the festival that day.
For Seoul, I recommend looking for hotels in Myeongdong or hotels in Hongdae for first time travellers. These areas have good hotel options for budget to mid-range travellers, great transport connections, lots of interesting nightlife, and good food and cafe options nearby.
For Busan, I recommend looking for hotels in the Haeundae Beach area or in the downtown Seomyeon area. These two areas are popular with travellers and have lots of dining and accommodation options. Haeundae Beach is also close to attractions and has coastal views.
---
FAQs About Spring Festivals In Korea
Finally, here's a few FAQs about Korean spring festivals, in case the above information didn't cover enough for you. If you have any other questions you'd like to ask, feel free to leave a comment.
---
Liked This? Pin It For Others
If you enjoyed reading this article, then please share this with your friends on Pinterest.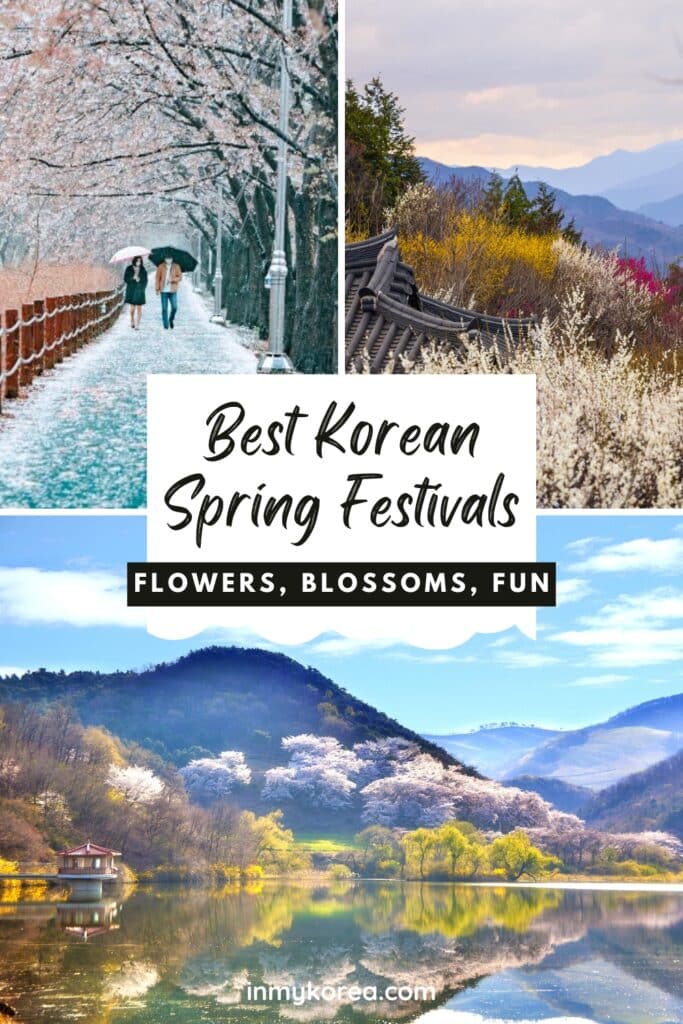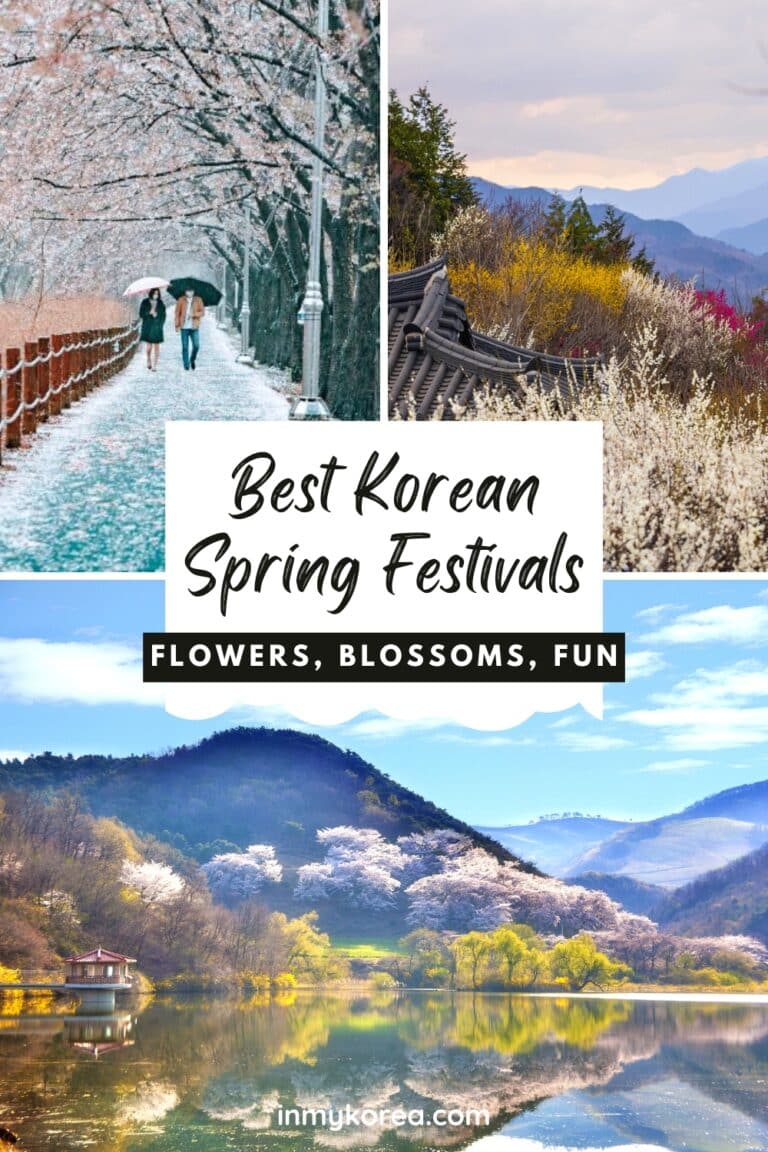 ---
Related Articles