Not sure if you want to spend summer in Korea as a traveller? Looking for ways to spend days out (or in) during the hot Korean summer? Then this list of 20 cool summer activities in Korea will help you decide if you should travel and what you can do during Korea's hottest season.
Although summer in Korea lacks the cooler days of spring or autumn, or the snowy sights of winter, there's an abundance of natural beauty, sandy beaches, fun attractions, and night-time activities just waiting to be checked out.
In this article, I'll give you some great tips about what to eat, how to stay cool, where to visit, and what to wear during this bright and colourful season. Learn about the best beaches, festivals, and delicious Korean treats that you'll love.
There are loads of great summer activities in Korea that are just right for you! Read on to find out more.
Affiliate Disclaimer: This site contains affiliate links and I may earn commission for purchases made after clicking these links.
---
About These Summer Activities In Korea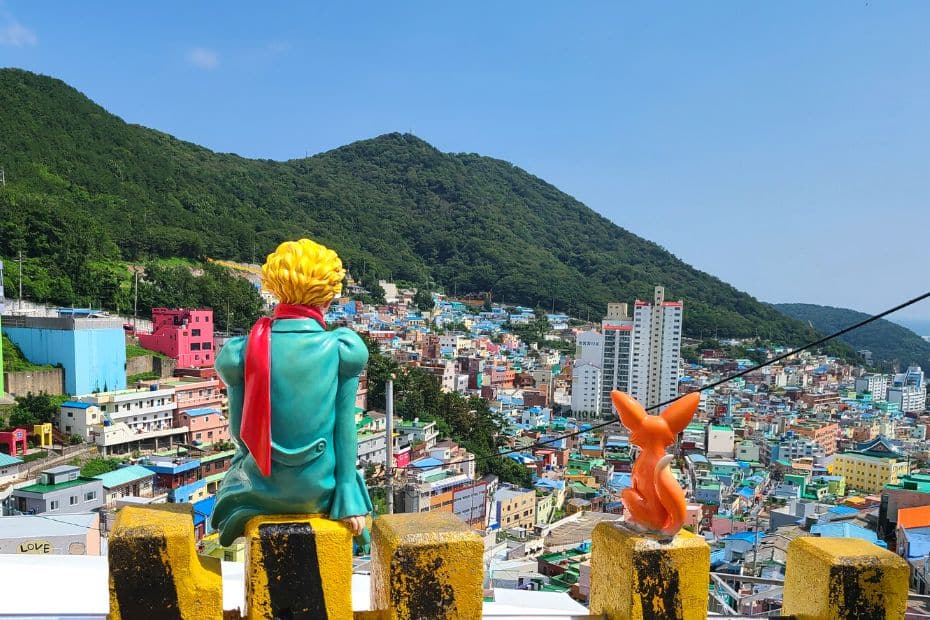 Find out about the top 20 summer activities in Korea right here, as well as information about the weather during summer, what to pack, and what to wear during this hot season.
After the top 20, you'll also find some tips about how to deal with the summer conditions (hot and humid) and some other articles about travelling in other seasons.
First, here's a short introduction about to what to expect during summer and some really useful tips to help you enjoy these various summer activities safely and enjoyably.
---
An Introduction To Summer In Korea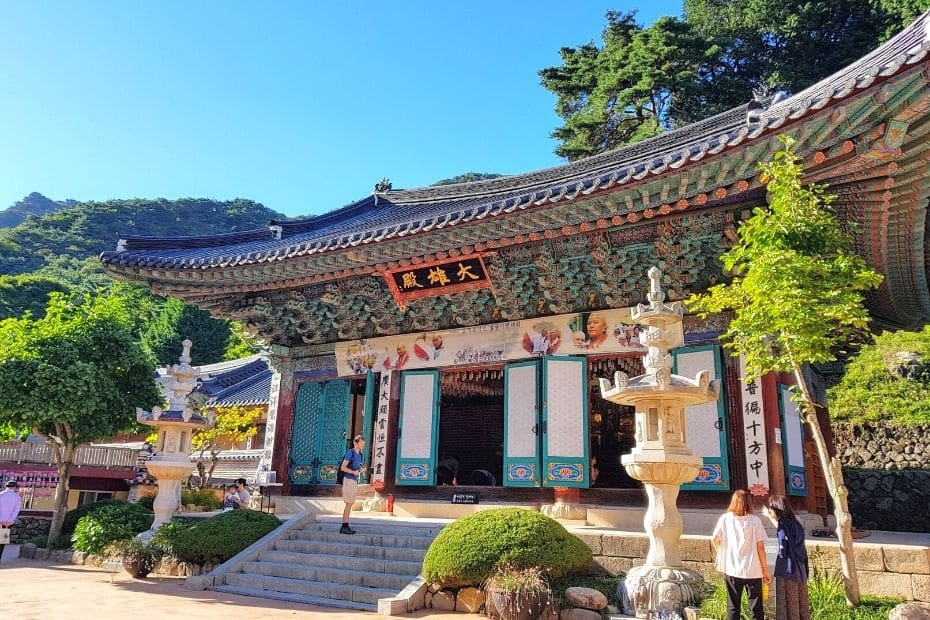 Here's a few key bits of information that will help you figure out if you want to travel during summer in Korea and how to be prepared for it if you do.
Summer Weather
The first half of summer in Korea is hot and humid, with high chances of rain. Rainy season runs from mid June to late July. However, it's not always raining, but there is a high chance of it. Evenings are cooler, but still warm.
Stuck in Korea when it rains? Check out these Seoul rainy day activities or Busan rainy day activities in case the weather doesn't go your way.
The second half of summer runs from late July to early September and is mostly hot and humid. Really hot. The temperatures can get up to 40 degrees (the humidity makes it feel hotter than it is) and it's over 20 degrees even at night.
What To Wear
For a comfortable summer in Korea, you'll definitely want to bring light clothes, comfortable sandals for walking around in, and a light jacket that you can stuff in your bag. The light jacket is for going inside, ironically. Korean cafes and shops love to run the air-conditioning at full during summer and you can often find yourself getting cold when you're inside. If you plan to visit the beach (you definitely should), then don't forget your swimwear.
What To Pack
Essentials for summer are sun cream (the stronger the better), mosquito repellent, a fan (electric or otherwise), sunglasses, sun hat, and a reusable water bottle. You can fill up with water in many restaurants and cafes and it's a great way to save money and stay hydrated as you travel. Korea will have all of these available at reasonable prices, so don't worry too much if you forget something.
If you want to know more about what to prepare for before you visit Korea, check out my complete South Korea Travel Guide, which has dozens of tips for travelling to Korea.
---
Planning to visit Korea? These travel essentials will help you plan your trip, get the best deals, and save you time and money before and during your Korean adventure.

Korea Electronic Travel Authorisation (K-ETA): Most countries need a K-ETA to travel to Korea. Apply before you travel only with the Official K-ETA Site.

Staying Connected: Pre-order a Korean Sim Card or a Portable WiFi Router to collect on-arrival at Incheon Airport. Collection desks are open 24 hours. Alternatively, download a Korean eSIM for you travels.

Hotels In Korea: Staying in Seoul, I recommend Myeongdong (convenient), Hongdae (cool culture) or Gangnam (shopping). Find the best hotel prices across Korea with Agoda, Klook, or Hotels.com.

Incheon Airport To Seoul: Take the Airport Express (AREX) to Seoul Station or a limo bus across Seoul. Don't like carrying heavy suitcases? Book an Incheon Airport Private Transfer and relax to or from the airport.

Korean Tours: Find the best tours in Korea with tour companies that have a big presence in Korea, including Klook, Trazy, Viator, and Get Your Guide. These sites also offer discounted entry tickets for top attractions.
Seoul City Passes: Visit Seoul's top attractions for free with a Discover Seoul Pass or Go City Seoul Pass. These passes are especially good for families and couples visiting Seoul and can save you lots.

Transportation: Get a T-Money Card or WOWPASS to pay for public transport, including buses, subways, and taxis. For Korea's high speed trains, save money and get unlimited rides with a Korea Rail Pass.

Travel Money: Exchange foreign currency in Myeongdong or Hongdae money exchanges. Pick up a Wise, Revolut, or WOWPASS travel money card for the best rates and convenient card payments in Korea.

Flights To Korea: I recommend using flight comparison sites such as Expedia and Skyscanner to find the best flights to Korea from any country. Air Asia is a good option for budget flights from Asia.

Learning Korean: Want to learn Korean? I recommend a complete language learning course from 90 Day Korean or Korean Class 101 – both have well-structured lessons and lots of useful resources.
---
The 20 Best Summer Activities In Korea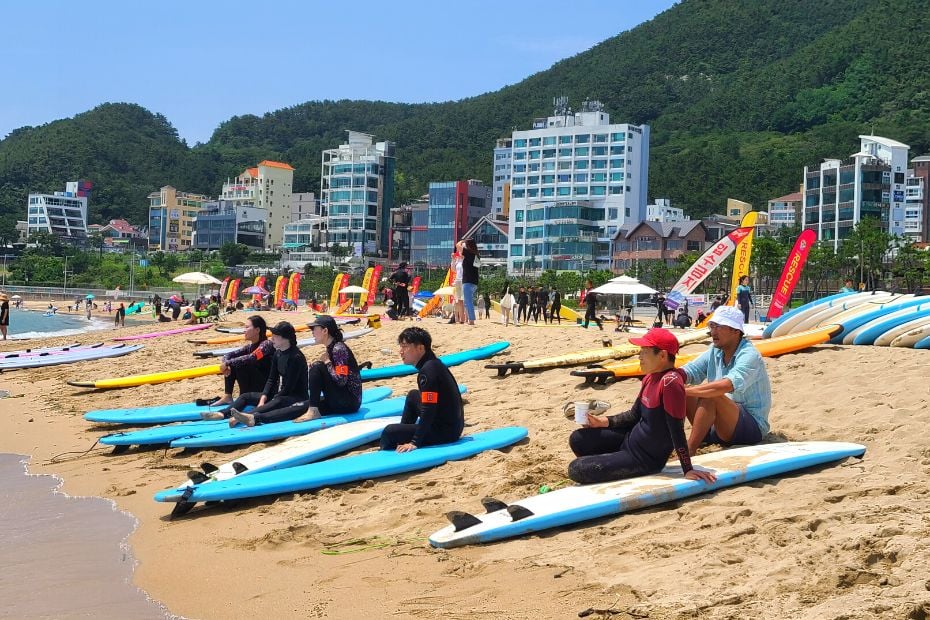 Whether you enjoy the great outdoors, or prefer to stay cool indoors, there are loads of incredible summer activities in Korea for you to enjoy. Solo travellers, families, and everyone else in between will find something fun during this sunny season.
I'll admit, being a big lover of Korean food, there are also a lot of delicious things to enjoy during this time of year. If you're anything like me, be sure to check out tips #3, #11, and #12. Your taste buds will be eternally grateful!
Now, without further ado, here are the 20 coolest summer activities in Korea:
---
1: See The Sea At Korea's Beautiful Beaches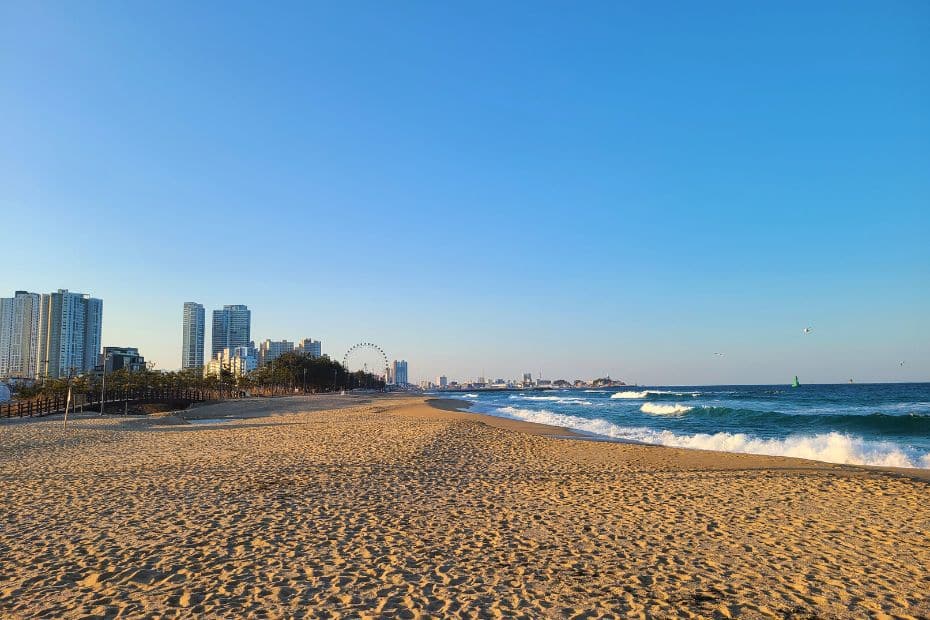 Without a doubt, this has to be the best of all summer activities in Korea. Grab your swimwear and suncream, find a spot on the sandy shore, and work on your tan as the gentle waves lull you to sleep.
Try out some beach sports and other activities to work up a sweat before a big seaside dinner of raw fish and cool beer. The evening is the best time to enjoy the cooler weather. Visiting the beach at night allows you to watch fireworks and take in the night lights.
Top 4 Beaches To Visit:
Here are four of the best beaches to visit. These will be very popular during summer in Korea, so if you plan to visit, be sure to book ahead.
Sokcho Beach, Sokcho
Located on the east coast, Sokcho is one of the premier beaches in Korea, with silky white sands lined by scenic pine trees. There are loads of great facilities here, and you can rent all the beach equipment you need. You can only swim in the beach during July and August, but the beach is open all year round.
Gyeongpo Beach, Gangneung
Gyeongpo Beach in Gangneung is one of my favourite beaches to visit during summer in Korea. The long, sandy beach goes on for a long way, melting into other beaches as you walk along the coast. Not only is there the beach to check out, with various water sports and family fun games to play, this area is a treat for coffee lovers (like myself).
Haeundae Beach, Busan
One of Busan's top attractions, Haeundae Beach is a gorgeous stretch of sand that winds its way along one of the most lively areas of Korea's second city. At night, when the temperature is still warm enough to sit outside, you can see fireworks or listen to live music from local artists looking for an audience.
Surfyy Beach, Yangyang
For lovers of surfing, you'll have to check out Surfyy Beach on the northeast coast. Located within the Hajodae Beach area (which is beautiful itself), this area is restricted to surfers only, which means no swimmers getting in the way of your surfing pleasure.
Here are some other honourable mentions:
Looking for some fun water sports activities? Check out these great water sports activities in Seoul, Busan, and Jeju Island.
---
2: Enjoy Korea's Awesome Summer Festivals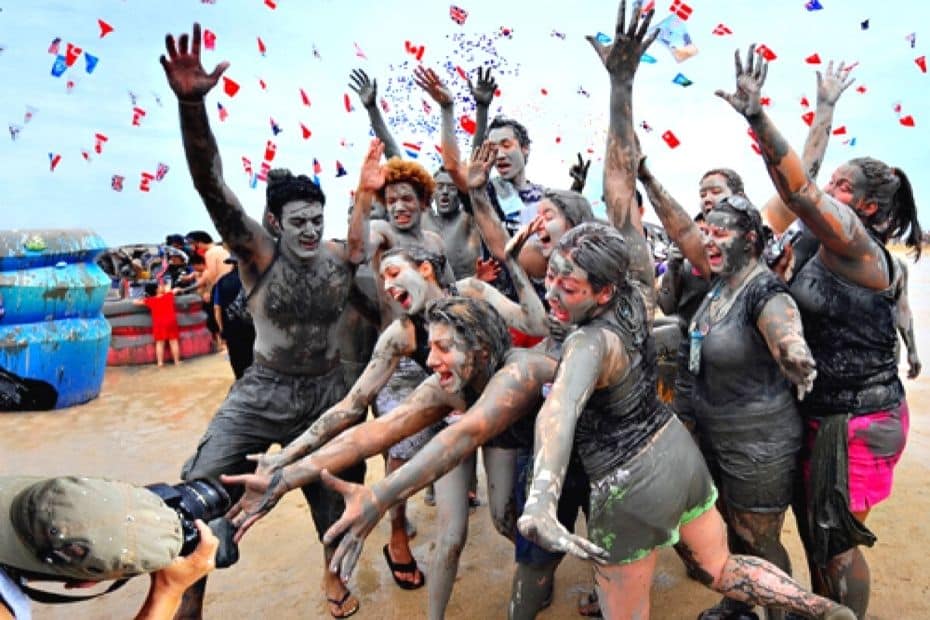 Summer is one of the best times to get out and join a festival. I'll cover 3 of the top summer festivals below, but if you want a complete guide to all the best festivals in Korea, check out my guide at the end of this section.
The Boryeong Mud Festival – July 21st to Aug 6th, 2023
The Boryeong Mud Festival has it all – mud wrestling, mud bathing, extreme mud sports, K-pop concerts, fireworks, a water park, and lots of great beachside restaurants. This is the perfect way to cool off during summer in Korea, as well as help your skin feel great.
Daegu Chimac Festival – Aug 30th to Sept 3rd, 2023
Korea has a love of fried chicken and beer which is combined perfectly at the Daegu Chimac Festival. The ice cold beer keeps you fresh, while the fried chicken just tastes so damn good! This year's Daegu Chimac Festival runs from August 30 to September 3, 2023.
Sinchon Water Gun Festival – Aug 12 to Aug 13th, 2023
With the slogan of 'Making Korea More Fun Through Festivals', the Sinchon Water Gun Festival is certainly succeeding. One of the craziest festivals in Korea, as well as one of the most needed in the summer, this festival reminds me of the Songkran festival in Thailand.
If you want more details about these and other festivals in Korea, check out my guide to the best festivals in Korea. You can find information about Korean festivals to enjoy in summer, spring, autumn, and winter, as well as useful information about how to get to each one.
---
3: Sample Korean Summer Dishes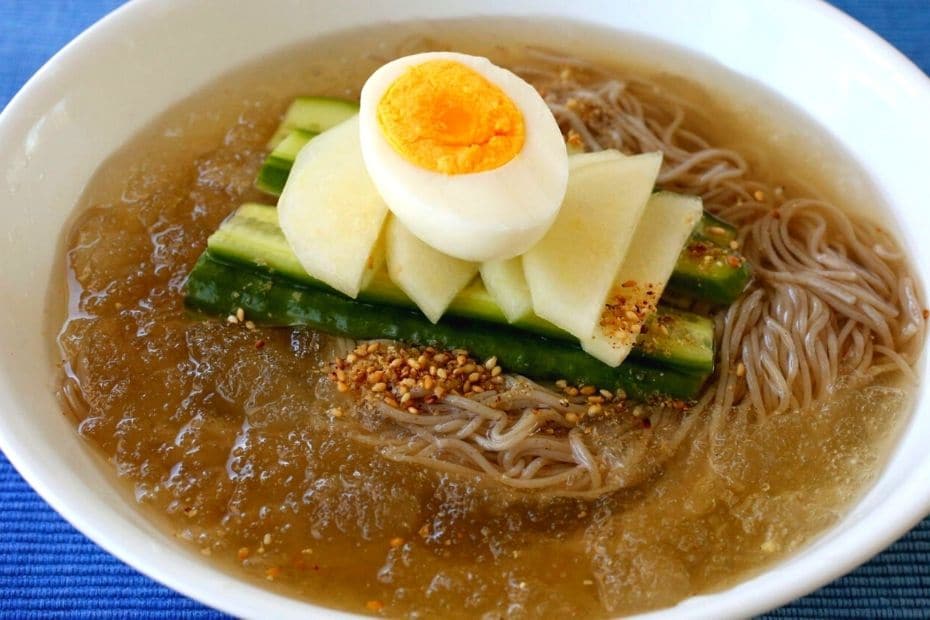 Here are a couple of the best Korean dishes to enjoy in summertime. I'll cover some other refreshing dishes later on, including the famous bingsu dessert.
Naengmyeon (Cold Noodles)
There are two main versions of naengmyeon – mul-naengmyeon (icy-water) and bibim-naengmyeon (spicy noodles, no water). Both are fairly simple dishes, with a generous helping of noodles, a few veg, a boiled egg, and a few side dishes. Simple, yet really delicious and refreshing.
Samgyetang (Whole Chicken Soup)Samgyetang includes a whole small chicken packed with rice, garlic, jujube, and ginseng inside a bowl of steaming hot broth. The thick soup absorbs all of this whilst cooking, leaving a soft, tender chicken and an aromatic, hearty broth. Perfect!
If you want to know more about why this is perfect for summer, or about Korea's other delicious traditional dishes, then check out my guide to the traditional Korean dishes.
---
4: Hike Seoul's Fortress Walls At Night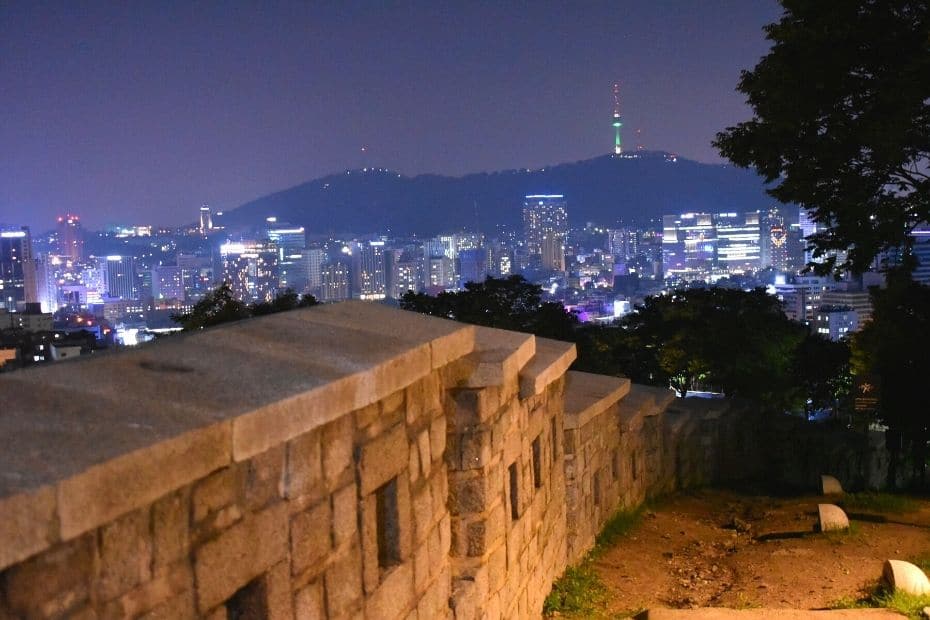 Once the sun goes down, the weather cools a lot and it's the perfect time to explore more. Take this chance to discover Seoul's Ancient Fortress Walls that weave through the heart of the city.
You can join the fortress walls in many places throughout Seoul and two of the easiest ones are from Hyehwa Station (Naksan Park) or Dongdameun Station (Heunginjimin Gate).
Bring your camera and get ready to snap lots of awesome night pics, with outstanding views across central Seoul at night. End the hike in one of the rooftop bars and cafes that stay open late in summer.
---
5: Go Island Hopping On The South Coast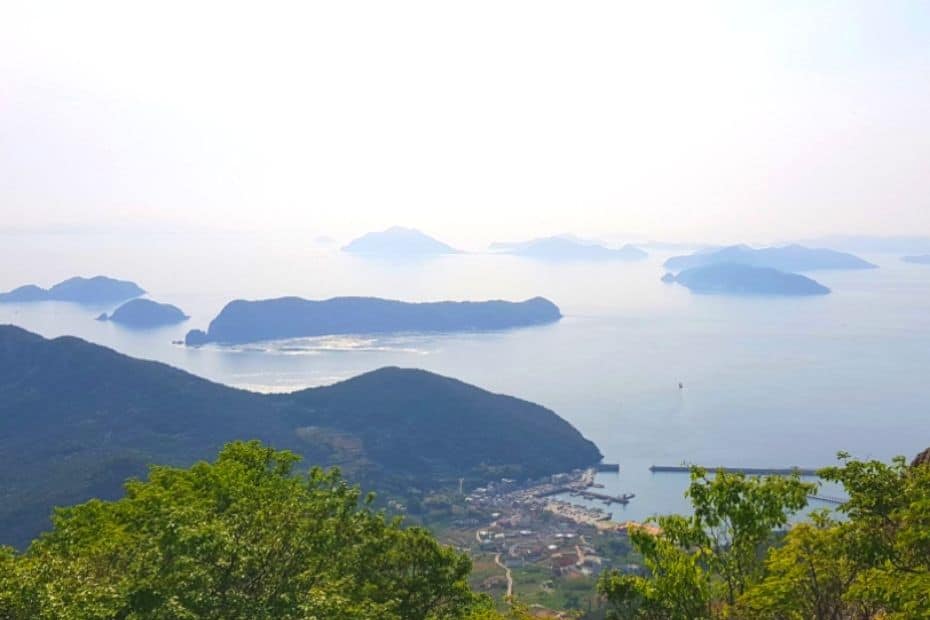 Korea has literally thousands of islands to explore along the south coast, as well as the world-famous Jeju Island a short flight away. Island trips often include many of these summer activities into one experience.
Some of the best places to visit on the south coast, with great beaches, BBQ, and natural wonders to enjoy, include Geoje, Yeosu, Tongyeong, Jindo, Wando, and Namhae.
You'll find loads of great Korean summer activities, such as water sports, hiking, camping, sharing BBQ, boat tours, skyline luge (Tongyeong), canoeing / kayaking, and even visiting some K-drama filming sets (Wando).
If you have an international licence, renting a car and driving along the south coast is also an incredible way to see more of this stunning area.
---
6: Enjoy A Summer Picnic In Style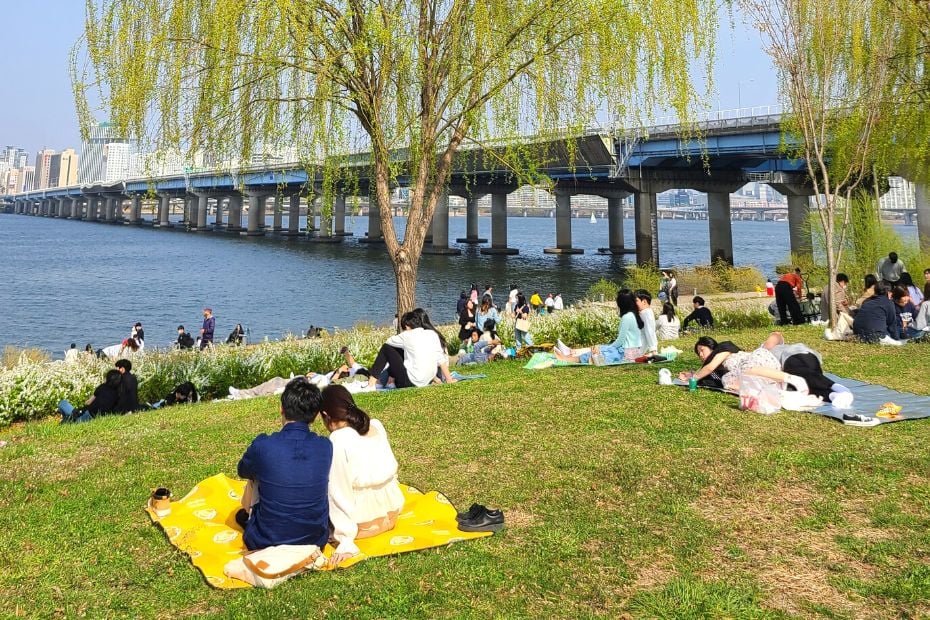 In recent years, picnicking has become a popular event for locals in Seoul and other cities across Korea, mostly thanks to the Instagram-friendly scenes you can create with a well-crafted picnic set. Yeouido Hangang Park is one of the most popular places for a summer picnic in Seoul.
But there's a lot more to enjoying a summer picnic than the style – you can also rent some really lovely picnic sets that range from the basics up to champagne sets, like you'll find at Bohemian Picnic in Seoul (link below).
If you want to rent a picnic basket and the relevant equipment, you can usually find these near river parks or picturesque lakes, such as Hwaseong Fortress, Suwon, or World Cup Park, Seoul. Rent a picnic basket from Bohemian Picnic Seoul. Here's more info about picnic spots in Seoul.
---
7: Spend Long Summer Nights By The River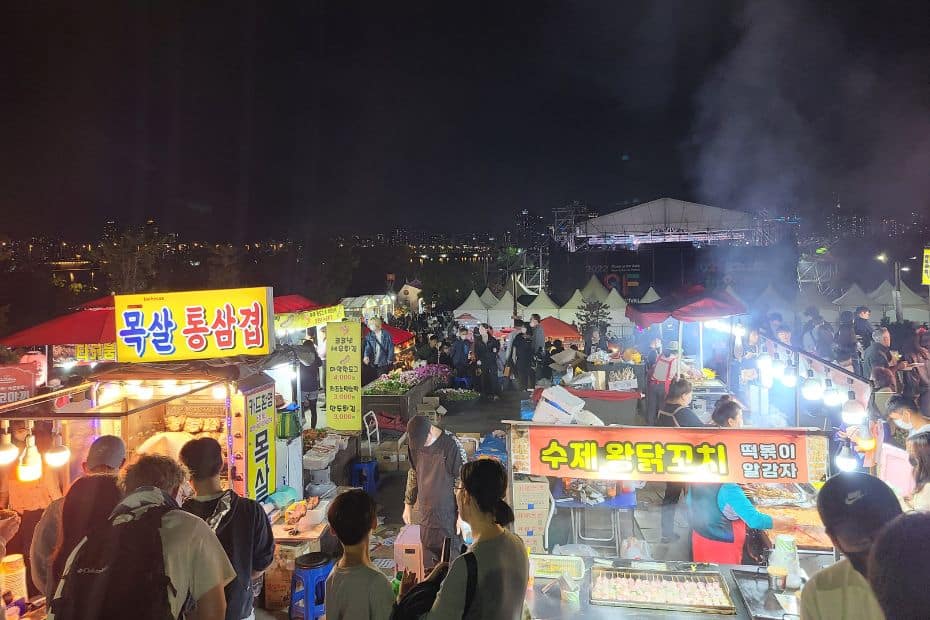 The Han River is the perfect place for summer activities in Korea, both day and night. During the day it's a great place to see local Seoulites enjoying a picnic on the grass, riding, skating, swimming, and generally relaxing.
At night the area comes alive with music, food trucks, night markets, and people enjoying the warmer evening weather you find during summer in Korea.
For those who want a cheap night out, head to the convenience stores by the exit of Yeouinaru Station (Line 5 / Purple Line) and grab some discount beers and instant ramyeon noodles or gimbap. Relax by the river and enjoy the peaceful summer night.
To see all the Han River sights, book a river cruise. These cruises are best in the evening when you can see fireworks shows, Seoul's night lights, and the illuminated banks and bridges along the river.
---
8: Explore Seoul's Night Markets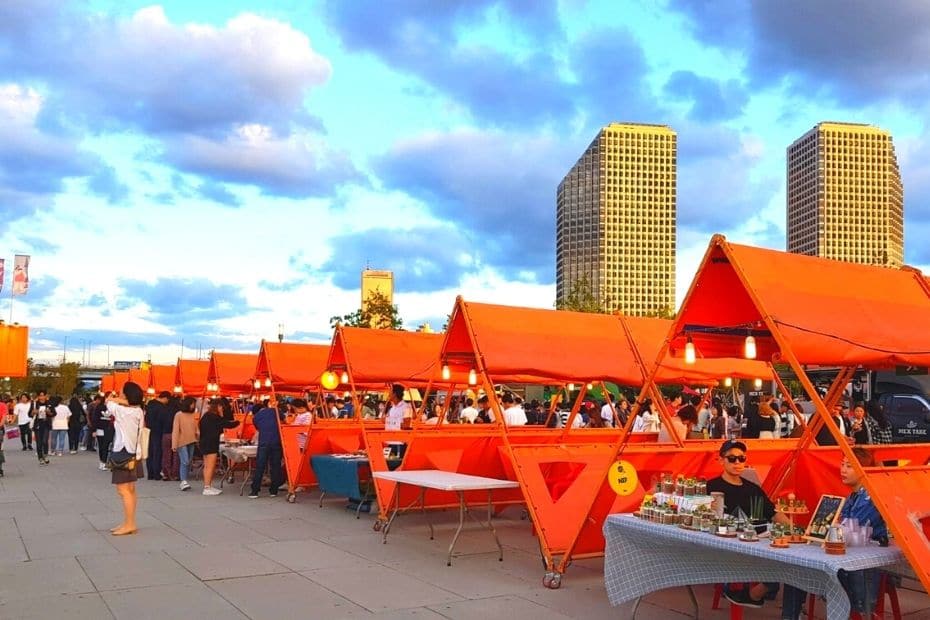 Known as the 'Bamdokkaebi Night Markets', Seoul hosts a wide range of night markets across the city that are awesome places to spend the hot summer evenings.
You can find these night markets in several of Seoul's hottest spots, including Yeouido Hangang Park, Banpo Hangang Park, Dongdaemun Design Plaza (DDP), and along the Cheonggyecheon Stream.
Most markets are also open before it gets dark, too. You'll find plenty of unique accessories, fashion, street food, souvenirs and other knick-knacks at these markets.
Please note: Night markets operate on Fridays, Saturdays, and Sundays during summer in Korea, but not all are open on each night.
---
9: Visit Korea's Thrilling Theme Parks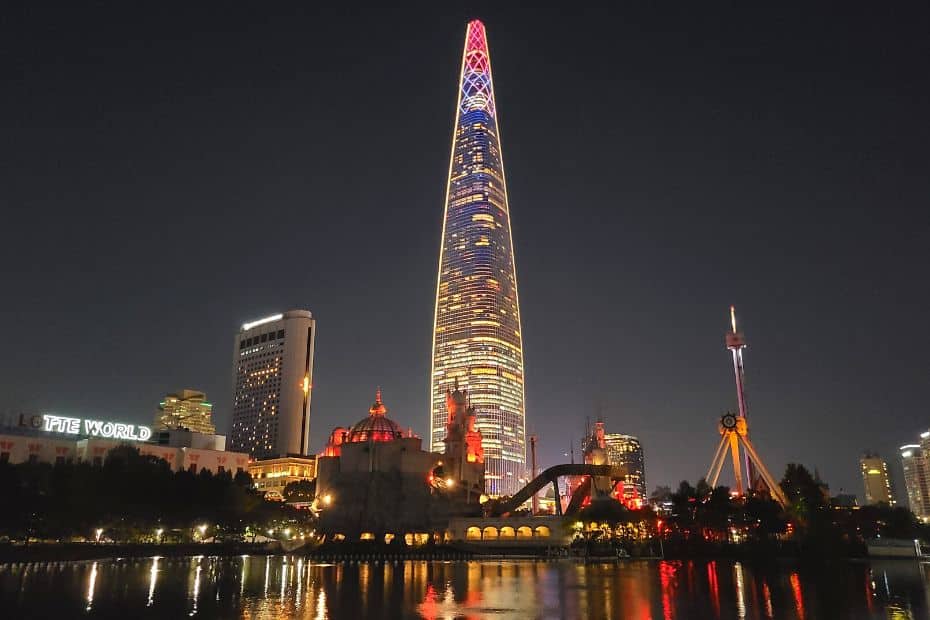 This is a great family-friendly activity to enjoy during summer. Two of the best theme parks to visit in Korea are in or close to Seoul – Everland and Lotte World.
Everland, Yongin City, Gyeonggi
Everland is Korea's largest theme park and boasts one of the world's steepest wooden roller coasters. Great for thrill seekers, families, couples looking to create some unforgettable memories, and even animal lovers. With rollercoasters, safaris, a magical kingdom, water rides, panda world, and flowers all year round, you won't get bored in Everland.
Click here for Everland Discount Tickets
Lotte World, Jamsil, Seoul
Although smaller than Everland, Lotte World has a lot to offer and is the world's largest indoor theme park, which means you can escape the heat and still have lots of fun. Featuring loads of exciting roller coasters, attractions, games, VR-zones, and family friendly rides, this is perfect for the whole family. There's also an outdoors section called the Lotte Magic Island, which offers views of Seokchon Lake and the Lotte World Tower.
Click here for Lotte World Discount Tickets.
If you plan to visit Lotte World, then I'd really recommend checking out the Discover Seoul Pass. This pass gives you free entry to the park, as well as a range of Seoul's other sights and attractions.
---
10: Splash Around At A Water Park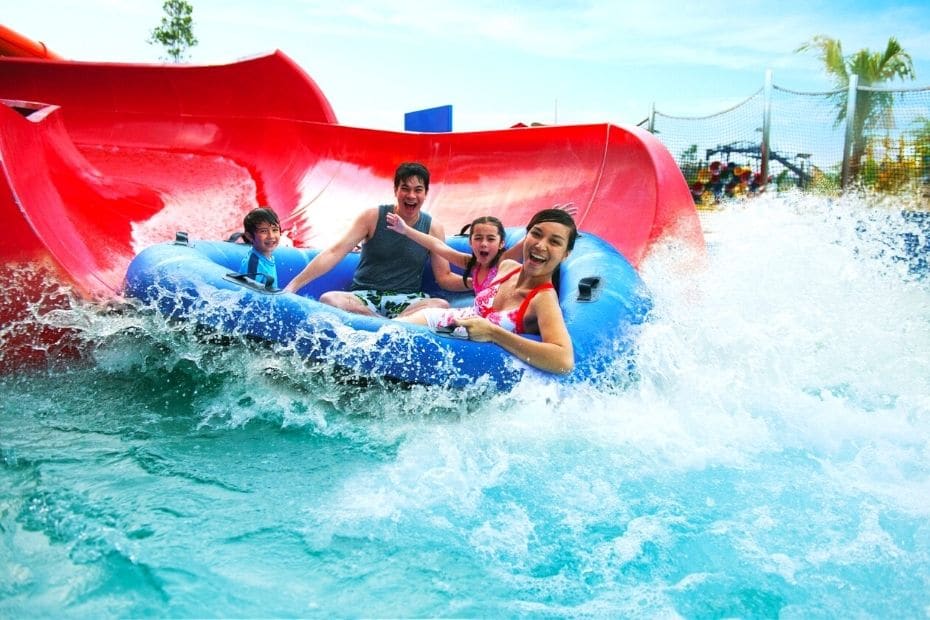 The second of these hot summer activities in Korea for thrill seekers are the water parks. Korean summer is brutally hot and there is nothing better than stripping off to your swimming stuff and splashing around in the cool, refreshing water at a water park.
There are many amazing water parks in Korea where you can have watery fun, such as Caribbean Bay (Seoul), Ocean World (Vivaldi Park, Gyeonggi Province), Lotte Water Park (Busan), Sealala Water Park (Seoul), and Onemount Water Park (Seoul).
Caribbean Bay
Caribbean Bay, modelled after the gorgeous beaches of the Caribbean, is the premier destination for water park lovers in Korea. Packed with pools, slides, rides, and ways to chill out in the sun, this is one of the best day trips from Seoul in the summer heat.
Some of the best rides at Caribbean Bay include the Mega Storm, Aqua Loop, and the Tower Raft. Caribbean Bay also features an indoor infant pool, sauna, spa, diving pool, and many types of swimming pools.
Lotte Water Park
Korea's largest water park, Lotte Water Park near Busan is packed full of attractions to enjoy. Taking inspiration from a Polynesian island, Lotte Water Park features both outdoor and indoor wave pools, a 118m tornado slide, Tiki Island spa, and loads of other great facilities to keep you entertained and feeling cool.
For those who want to enjoy playing in the water without fear of sunburn, this is definitely for you. You can get to Lotte Water Park by subway / light train in around 45 minutes from Seomyeon Station in central Busan.
---
11: Sip Cool Lattes In Cosy Cafes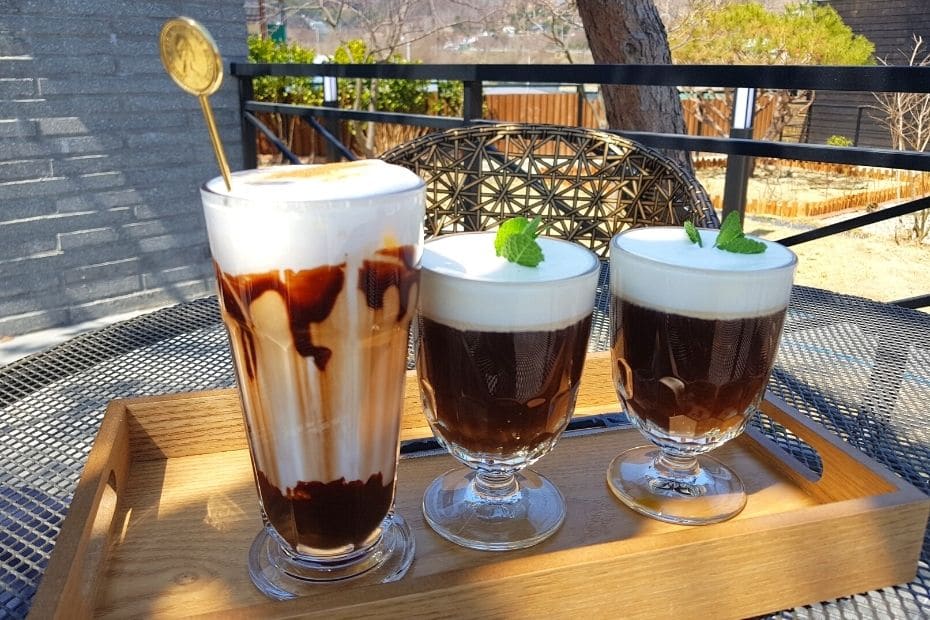 Summer is a time for cool drinks and even cooler desserts (more on that soon). Take time out during your busy day exploring to recover and recharge in one of Korea's many cafes. There are so many unique drinks to keep you cool.
Come and see for yourself and find your new drink addiction. Ever tried a Jeju Honey Peanut Latte, Organic Jeju Green Tea Latte, Jeju Hoji Tea Cream Frappuccino, Sweet Potato Latte, Oatmeal Latte, Lavender Cafe Breve, 'Monkey Banana' Coffee, or even a Black Pepper Latte?
That last one was pretty gross, to be honest, but you've got to try them all at least once, right?
---
12: Indulge In Korea's Famous Bingsu Desserts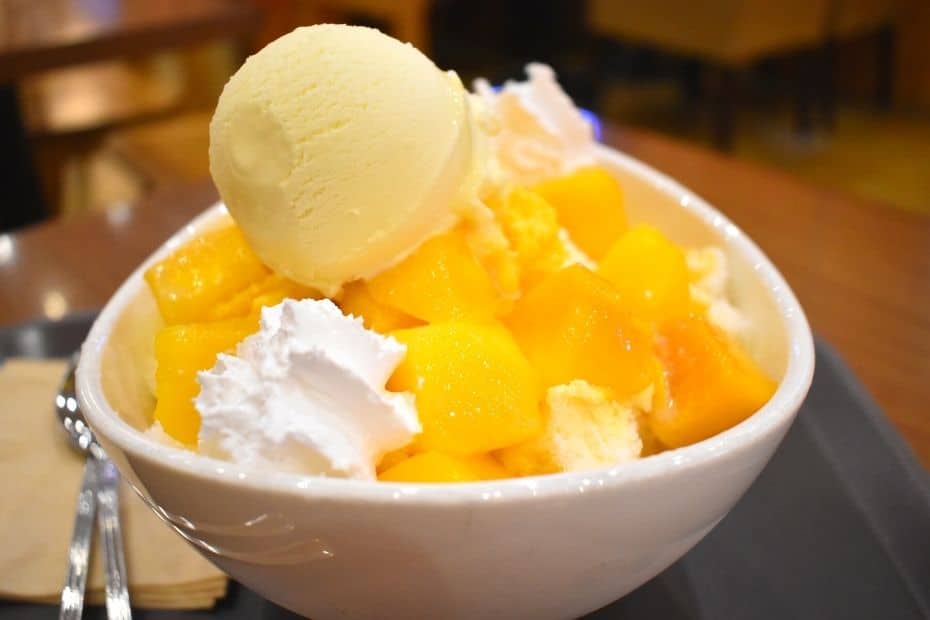 There's one dessert that defines summer – bingsu. Bingsu is a very simple dessert consisting of shaved ice flakes with a topping and sauce. It's ridiculously refreshing and keeps you cool when the weather is hottest.
There are many types of bingsu you can enjoy with a plethora of different toppings. Some of the simpler ones contain fruit, ice cream, yogurt, sauces, nuts, or red beans. The red bean topped bingsu are known as pat-bingsu.
Modern-day dessert maestros have concocted all sorts of original bingsu that contain cakes (whole slices), chocolates, cookies, injeolmi (rice cake), brownies, macarons, and just about anything else you might think to eat for dessert. Find one that's right for you.
---
13: Cool Off In Korea's Beautiful Nature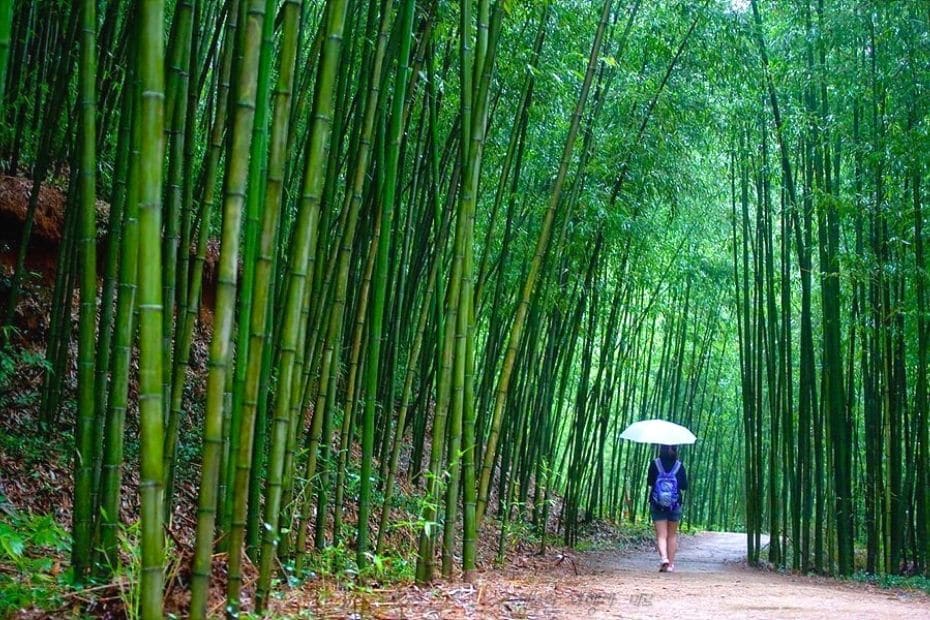 Getting out of the big cities is one of the best summer activities in Korea as it means getting back to nature and away from the concrete jungle. Korea is awash with charming natural beauty, with vibrant green trees and a cacophony of brightly coloured plants to get lost in.
Here are 3 of the best day trips from Seoul to take during summer in Korea for some unforgettable experiences in nature. You can also visit these places from other parts of Korea, too.
Damyang Bamboo Forest
The lush, dense Damyang Bamboo Forest drowns out the noise and heat of modern Korea and is a breath of fresh air. Take a deep breath and cleanse your lungs and soul as you walk through the cool forest.
The Damyang Bamboo Forest provides a unique opportunity to see incredible gigantic bamboo trees, to get lost within the shaded pathways, experience a traditional Korean village, and even try some delicious bamboo beer.
Nami Island & Surrounding Area
Nami Island is an idyllic island that you access by boat or zip-line that has long tree-lined streets and loads of cool cafes, walking spots, and photo-zones.
Located in the same area are The Garden of Morning Calm, Petite France, and the Gangchon Rail Bike, which you can book together in one tour. Alternatively, you can make your own way by public transport, as detailed in my guide to getting to Nami Island.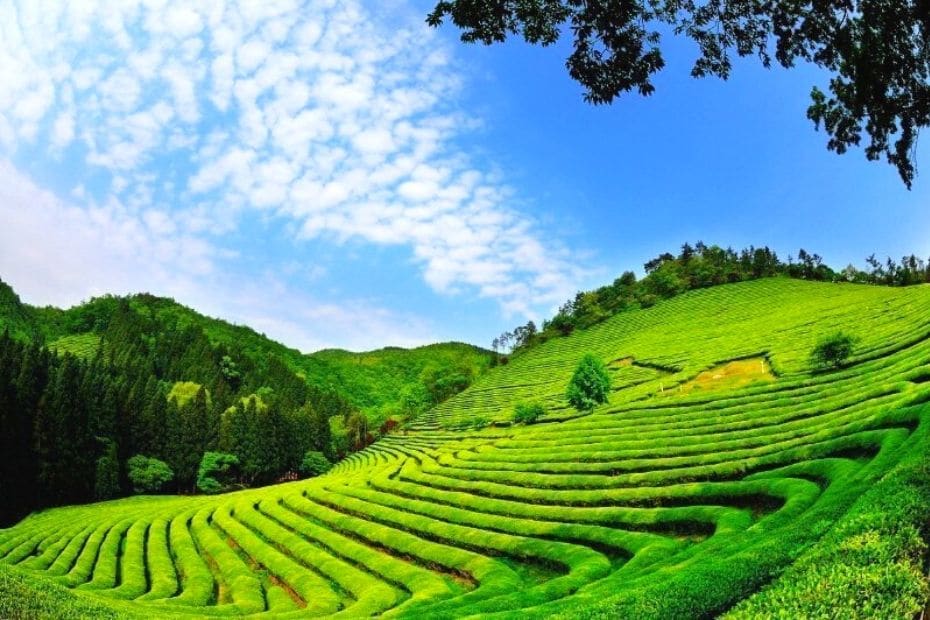 Boseong Green Tea Plantation
The vibrant rows of fresh, bright green tea leaves spreading out over the hills of Boseong are an incredible sight to see. The oldest tea plantation in Korea, and the home of Korean tea, Boseong Green Tea Plantation is a great place to visit during in summer.
Besides growing the tea, the plantation now welcomes curious tourists who wish to learn more about green tea. Spend your time walking around the green tea bushes, where you might even be able to see the sea on a sunny day. Truly postcard-like views!
For more summer day tours from Seoul, check out my top day tours from Seoul.
---
14: Try Your Hand At Kayaking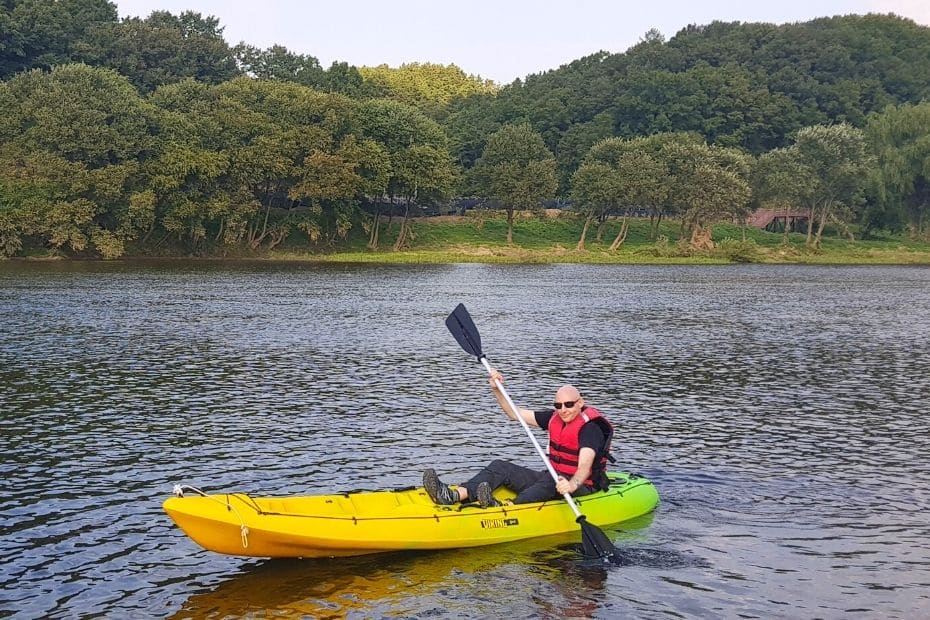 If you're looking for cool and healthy summer activities in Korea, then jumping in a kayak and paddling on a river or in the ocean is a great choice. You can find places to rent kayaks all over Korea. Here are some of the best spots to rent a kayak:
Ttukseom Hangang Park (Seoul)
Gwanggali Beach (Busan)
Hado Beach (Jeju Island)
Baekripo Beach (Taean)
Naerincheon Stream (Inje)
There are plenty of other spots where you can rent a kayak and do other water sports, such as body boarding, windsurfing, or snorkelling. Check out the beaches mentioned in #1 and #5 of this list for places to find water sports.
---
15: Get Back To Nature In The Parks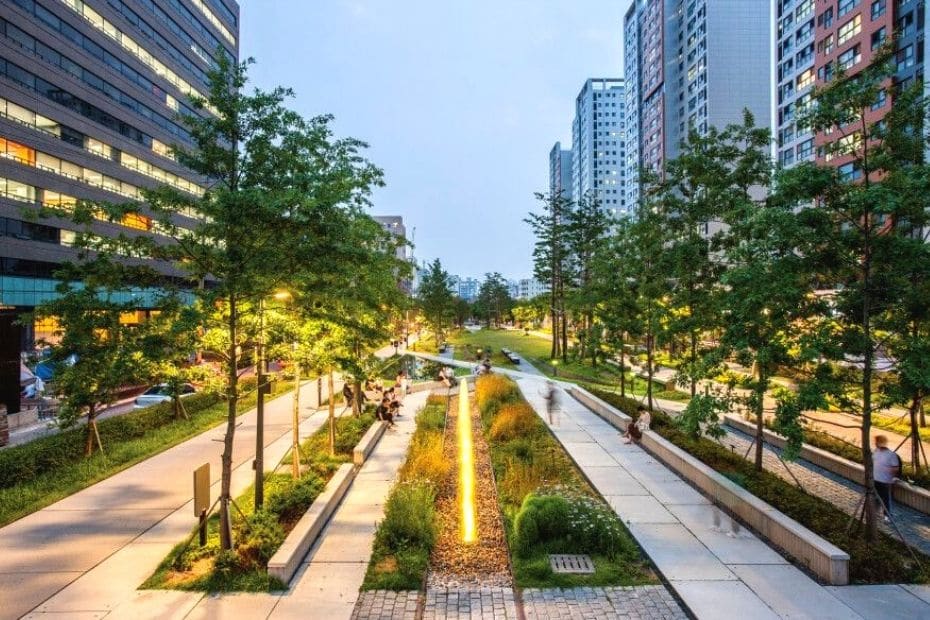 If you want to experience life as a local, then grab some cold drinks, bring some food (or get it delivered!), and chill out on the grass.
Some of the major parks to visit in summer in Seoul include:
Seoul Forest
Haneul Park
Songdo Central Park
Yeouido Hangang Park
Olympic Park
Seokchon Lake
Yangjae Citizen's Forest
Gyeongui Line Forest Park
Gyeongui Line Book Park
Seoullo 7017
Seoul Children's Grand Park
There are countless parks and green zones where you can do this all over Korea, and many of the big cities will have market stalls, food trucks, and sometimes live performances by local artists.
---
16: Rent A Bike And Go For A Ride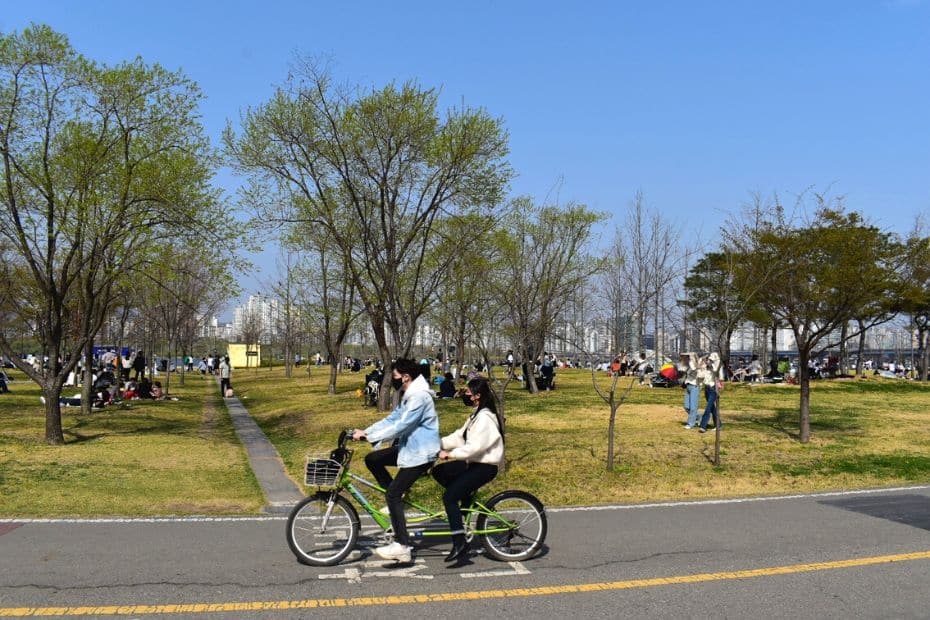 If you want to see the best parts of Seoul, or even other parts of Korea, then why not rent a bike? Bikes are a really convenient to get between places and avoid traffic congestion.
There's no better time to do this than during summer in Korea, when nature is abundant and the days are long and often sunny. It's a great summer activity that gives you some exercise, let's you move around quickly, and shows you some excellent parts of Seoul at the same time.
You can rent bikes through the Seoul Public Bike system, or through the yellow Kakao T Bikes that appear throughout the city. There are also single and tandem bikes for rent at popular parks such as Yeouido Hangang Park. You can also book bike tours from We Ride Korea, in Seoul.
Want to know more about where to go and what to see by bike? There are so many places to go cycling in Korea, including mountain passes that bring you to glistening lakes, wooded national parks with Buddhist temples inside, and long cycle paths following Korea's biggest rivers.
---
17: Go Camping Or Glamping Around Korea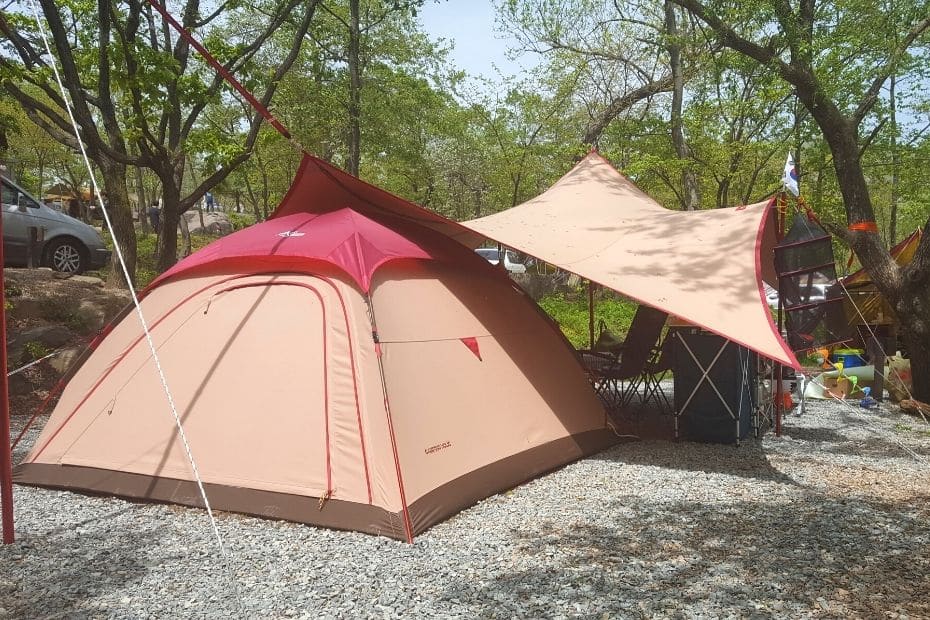 This is another of my favourite summer activities in Korea and one that is incredibly popular with Koreans. Korea has some incredible camping and glamping sites across the country.
You can go camping in the mountains at the national parks, or by the beach along the coast. Both are really popular options and most campsites provide modern conveniences and BBQ facilities (the must-have meal when camping!). There are many incredible national parks in Korea to check out.
Good news for those who don't want to rough it, Korea has embraced the glamping (glamourous-camping) movement and there are many great glamping spots throughout Korea, too. Again, you'll usually find glamping sites in national parks or along the coast.
Click here to read a Guide To Camping In Seoul.
---
18: Make New Friends At A Rooftop Bar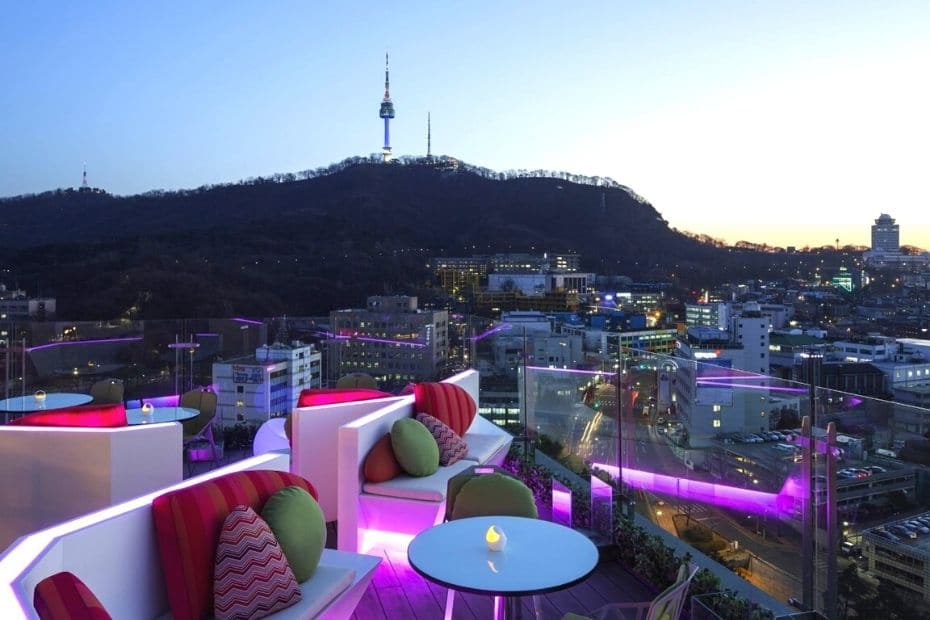 Spread throughout the city, in some of the coolest districts like Hongdae, Gangnam, Itaewon, and Myeongdong, there are some sweet spots for watching the sunset and city lights at night.
You'll find plenty of locals and tourists mixing at these busy summer hotspots, with plenty of drinks, games, and conversation to keep you company. In fact, if you want to make some Korean friends, or practice Korean, then this is a great for that.
If you want to spend the nights in Seoul's rooftop bars, here are some places you might want to visit:
Playground Rooftop Cafe & Bar – Hongdae
Owl's Rooftop – Hongdae
Southside Parlor – Itaewon
Rooftop Bar KLOUD – Gangnam
Rooftop Bar @ Hotel Cappuccino
For those who want their night views in Seoul that are even more breathtaking, then I'd recommend visiting N Seoul Tower or the Seoul Sky Observatory at Lotte World Tower.
---
19: Rock Out At A Summer Music Festival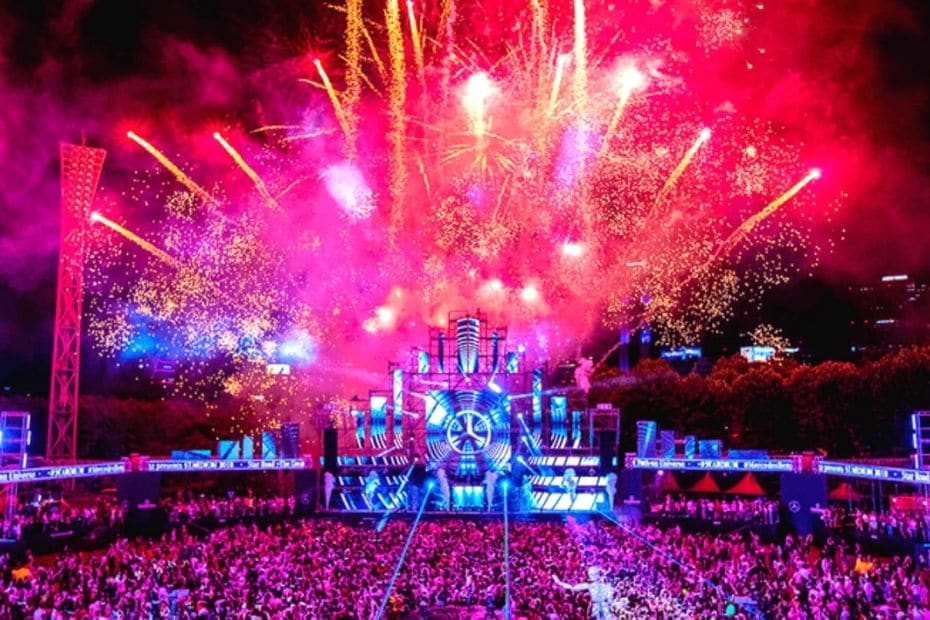 Expats and travellers spending summer in Korea have a whole load of fantastic summer music festivals available to them. Grab a mat, cold beer, and a nice spot in the sun, and get ready to rock out at one of these awesome events.
From peaceful soul music at the Seoul Jazz Festival, to head-banging tunes at the Pentaport Rock Festival, and fast electronic beats at Ultra Music Festival Korea, there's so much good music to enjoy.
Here are some of the best summer music festivals you won't want to miss.
K-Pop Music Festivals In Korea:
Dream Concert – Seoul
Spectrum Dance & Music Festival – Seoul
Rock Music Festivals In Korea:
IT'S A FEST – Incheon
Pentaport Rock Festival – Incheon
Indie Music Festivals In Korea:
GreenPlugged – Seoul
Grand Mint Festival – Seoul
Rainbow Island – Gapyeong
EDM Music Festivals In Korea:
Seoul World DJ Festival – Seoul
Ultra Music Festival Korea – Seoul
5tardium – Seoul
EDC Korea – Seoul
Other Music Festivals In Korea:
Seoul Jazz Festival – Seoul
DMZ Peace Train Music Festival – Seoul
NBA Buzzer Beat Festival – Seoul
Rapbeat Fesitval – Seoul
SKA Superswag Festival – Incheon
Big Day South – Busan
---
20: Walk Around And Explore The Night Life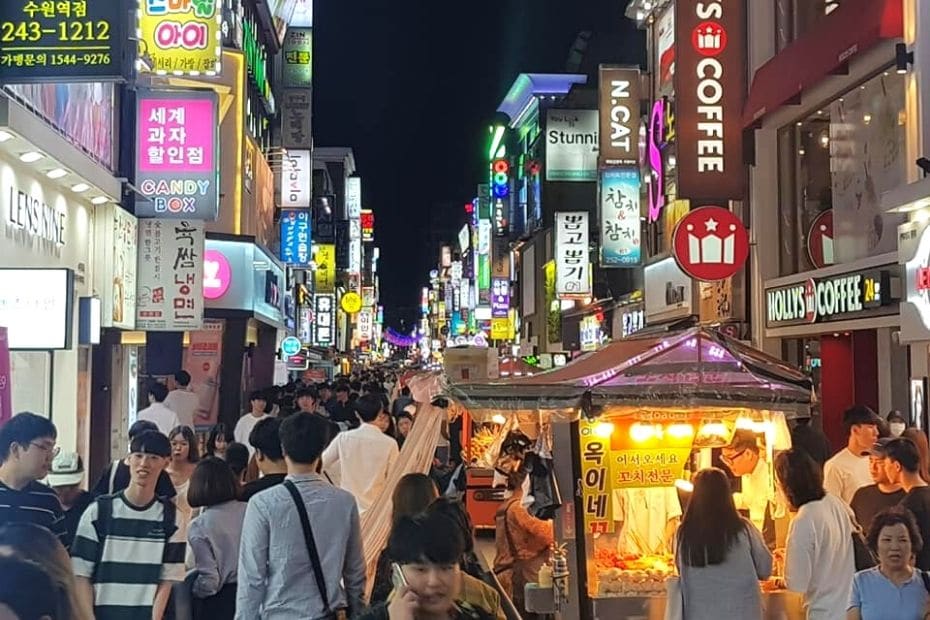 I've saved the simplest and most popular of all summer activities until last – walking at night. It's definitely my favourite.
The weather is warm (you can go around in a t-shirt all night long), and, as Korea has a strong all-night culture, there's always somewhere to go or something to do.
From 24-hour saunas (jjimjjilbang) and karaoke (noraebang), to late night cafes and night markets, you can have an incredible time exploring when the sun goes down.
There are often special night-time events in Seoul that you can only find during summer in Korea, including evening shows at Gyeongbokgung Palace, late-night cruises along the Han River, or live performances in outdoor spaces.
In case you're worried that walking around at night during summer in Korea might be dangerous, I can only say that I don't think I've ever felt safer or more comfortable walking at night than I have in Korea.
---
How To Survive Summer In Korea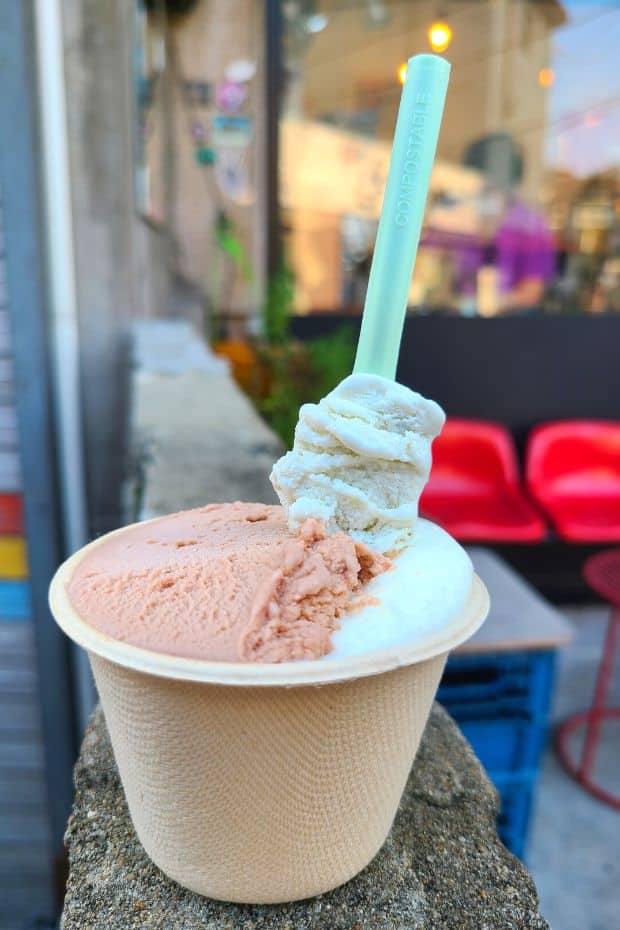 I hope you've enjoyed my list of the best summer activities in Korea and how to make the most of this hot time. Here's a few final summer in Korea survival tips that will help you make the most of this season, keep cool, and have an awesome time.
Dress Down
Drink Lots Of Water
Buy A Mini Fan
Stay Cool In A Mall
Eat All The Ice Cream
If you want to see my full list of 10 tips to help you survive the tough season so summer when you're visiting Seoul, check out my tips about How To Survive Summer In Seoul.
---
When Is The Best Time To Visit Korea?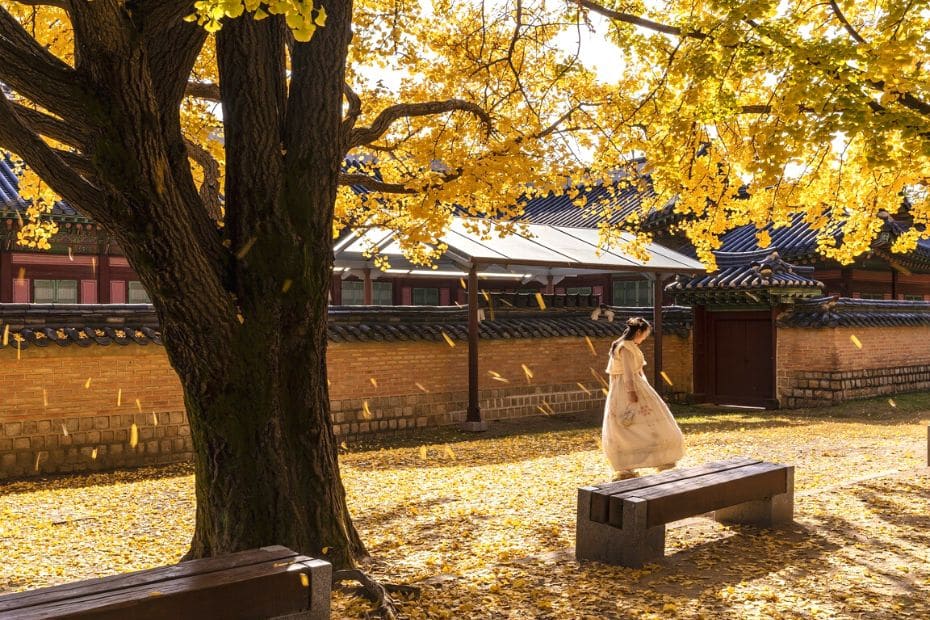 Korea is an amazing country to visit any time of year and undoubtedly has four very distinct seasons with lots of other activities, sights, foods, and festivals waiting for you in each one.
Therefore, don't forget to check out my other awesome seasonal guides for Korea to make sure you're getting the most out of your trip to Korea whenever you travel, including a Season Guide To Korea which covers every month of the year. Be sure to check out the Best Korean Festivals, too.
Spring: Spring is all about the new blossoms and nature returning for the new year. The biggest thing to do in spring is to see Cherry Blossoms Across Korea. From royal palaces to riverside walkways, there are loads of places to enjoy the fresh nature.
Autumn: Like spring, autumn is all about nature and the change of seasons represented by the fall foliage. There are many incredible places to see Autumn Leaves In Korea, including golden gingko leaves and multi-coloured maple leaves, which change from green to gold to red.
Winter: After the beauty of the fall foliage and the rains of summer, winter is the complete opposite – snowy white and extremely dry. Winter has very little rain, which makes it perfect for exploring outside and enjoying one of the many things to do during winter in Korea. Just make sure you wrap up warm! If you're visiting Korea in winter, I highly recommend check out my Jeju Island Winter Itinerary.
---
Summer In Korea FAQs
Finally, here are a few FAQs about summer activities in Korea, in case the above information didn't cover enough for you. If you have any other questions you'd like to ask, feel free to leave a comment.
Is Korea Hot During Summer?
Yes. Summer in Korea is hot and temperatures are usually over 30 degrees during the daytime and above 20 degrees even at night. Humidity is also high during the summer, which can make you feel even hotter. Temperatures can go above 35 degrees during the hottest periods of summer, which include July and August. June and September are cooler and dryer, but still have many hot days.
What Is The Hottest Month In Korea?
August. The hottest month of the year is August and the average temperature at this time of year is around 30 degrees. However, it can get much hotter, with temperatures over 35 degrees on some days. July is also very hot and both months have high humidity.
What Is Summer Like In Korea?
Summer in Korea is hot. However, there are also lots of amazing summer activities in Korea where you can enjoy the unique culture, the many beaches, and try lots of delicious Korean summer treats. Despite the difficult weather, many people enjoy the relatively cooler evenings and there are lots of fun night-time activities during summer, such as night hiking, street dining, rooftop bars, camping under the stars, late night concerts, and lots more.
Does It Rain During Summer In Korea?
Yes. Summer in Korea is the wettest period of the year and July and August have the highest rainfall. This makes the weather very humid and adds to the intensity of the heat, making it feel even hotter than it actually is. The rain isn't constant and there are still many sunny days between short downpours.
Are There Mosquitos In Korea In Summer?
Yes, many. Sadly, summer is the time of year when mosquitos are most present. They are active from April until October each year, but summer is the worst time. Be prepared if you plan to travel to Korea during summer and bring mosquito repellent and a scarf to cover your face if you plan to go into the forest or mountains. Rivers and large areas of water generally attract more mosquitos as these are ideal breeding grounds for them.
Are There Many Beaches In Korea?
Yes. Korea is a peninsula surrounded by water on three sides. There are many incredible beaches to visit in Korea, as well as hundreds of islands along the south coast of Korea. Famous beaches in Korea include Haeundae Beach in Busan, Gyeongpo Beach in Gangneung, and Sokcho Beach in Sokcho. These beaches will be very busy during summer in Korea, so get there early for the best spots.
Does Korea Get Typhoons In Summer?
Yes. Summer in Korea (June – September) is also typhoon season. However, Korea doesn't experience as many typhoons (nor as powerful) as areas in South East Asia or Japan. Although Korea doesn't get as many strong typhoons, it still gets lots of rain during this season.
---
Liked This? Pin It For Others
If you enjoyed reading this article, then please share this with your friends on Pinterest.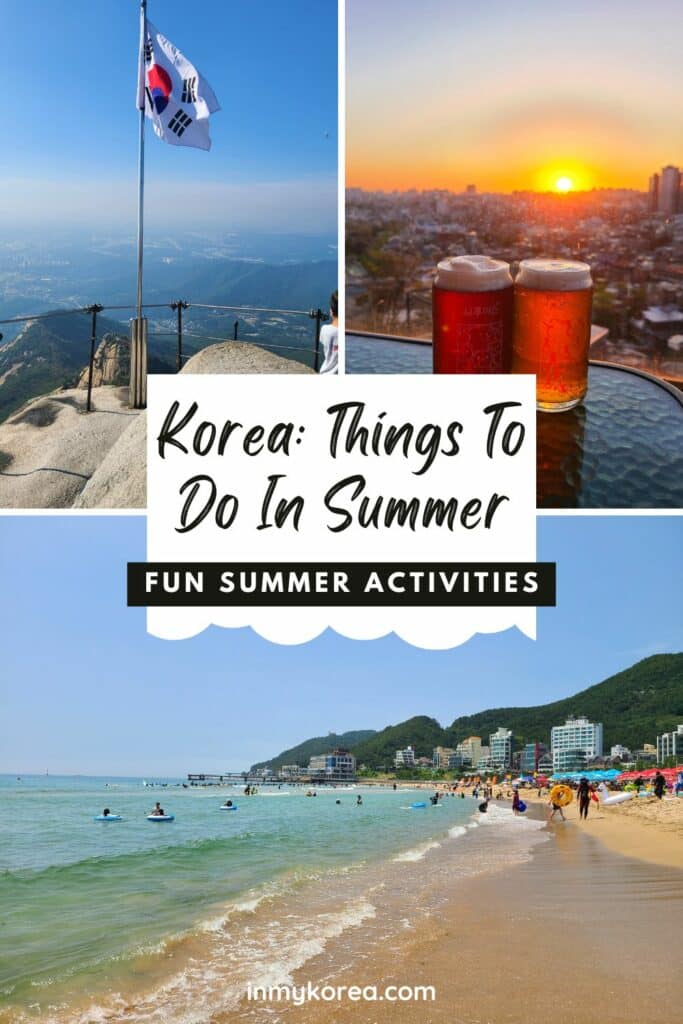 ---
Related Articles