Seeing autumn leaves in Korea is an absolute must. Dazzling reds, burning oranges, rich golds, and lush greens paint the forests and mountains of Korea's countryside in waves of splendour that shouldn't be missed.
Not only does the Korean countryside come alive with fall foliage, parks, palaces, fortresses, and other city sights display resplendent views of autumn beauty and provide the perfect backdrop for memorable photos.
Autumn is the best time to visit Korea. It's a season where you can't stay in, you've got to go out and embrace the gorgeous Korean nature, it calls to you!
That's why I want to share this list of the 20 best places to see fall foliage in Korea, put together from more than 6 years of travelling and exploring Korea, hiking dozens of mountains, and travelling far and wide across the country.
Useful Korean Resources:
Disclaimer: This site contains affiliate links and I may earn commission for purchases made after clicking one of these links. Affiliate Disclaimer
Official Autumn Leaves In Korea Forecast 2021
Wondering when is the best time to travel see autumn leaves in Korea?
Well, here's your answer. This is the Korean autumn leaves forecast for 2021, based on the most up-to-date forecast information for autumn 2021.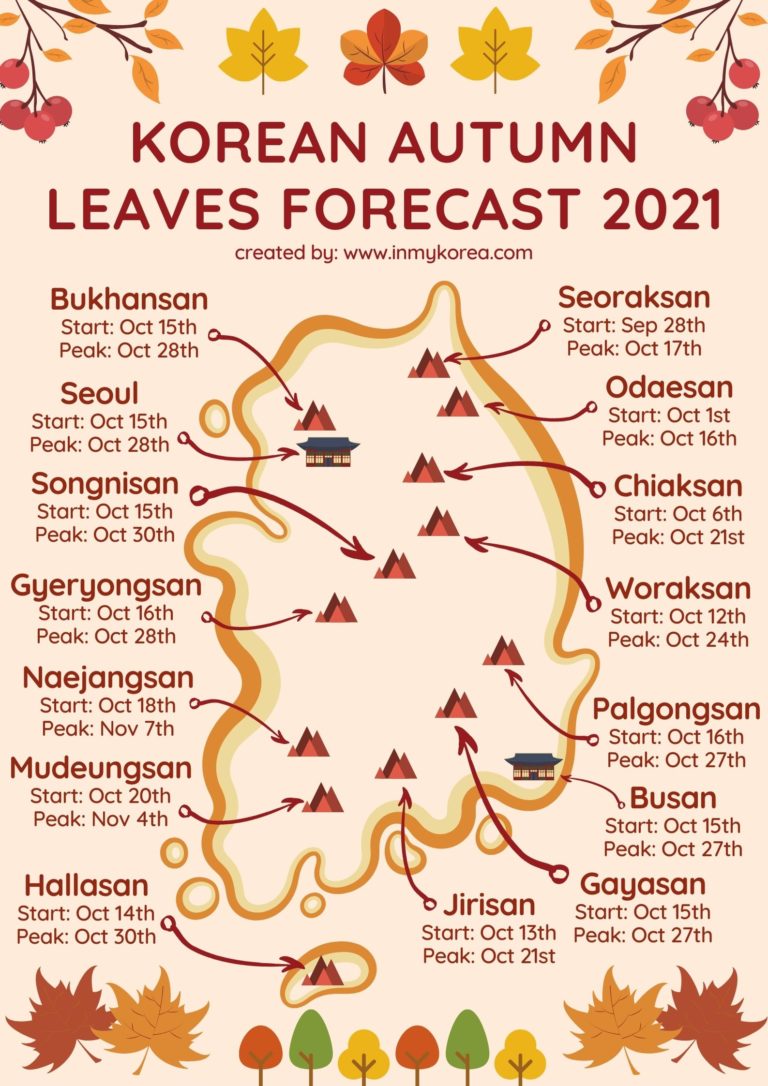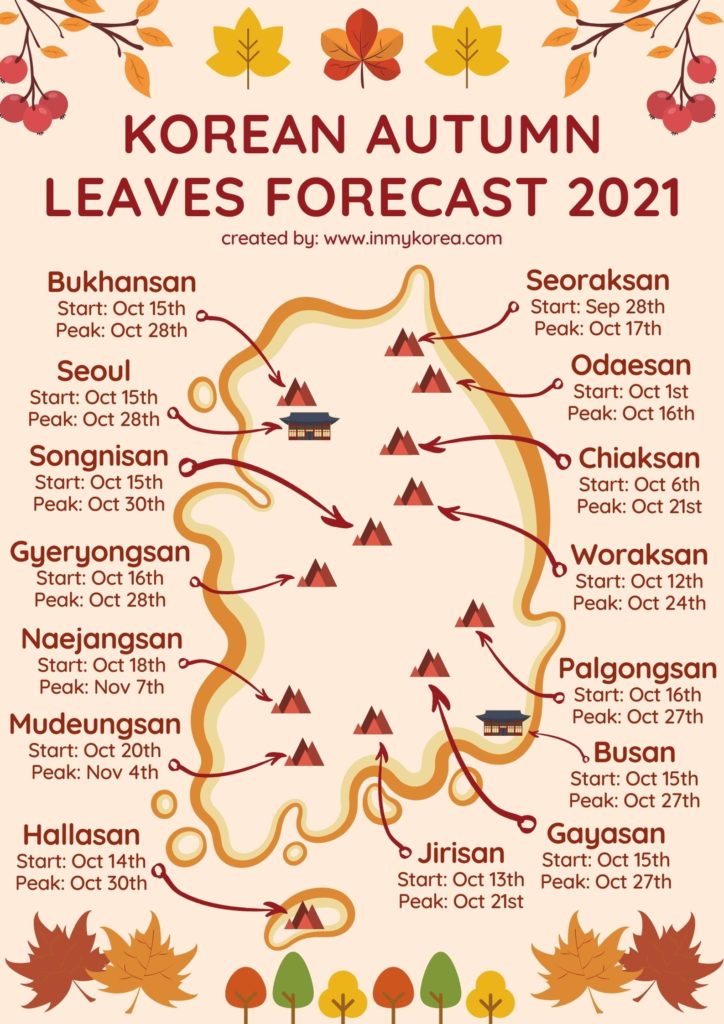 The autumn leaves typically last for 2-3 weeks, peaking 2 weeks after they first begin to appear, with the exception of Jirisan National Park, which peaks 1 week after.
Autumn leaves in Korea can last for quite a long time, lying on the ground as golden blankets of gingko leaves or red rivers of maple leaves.
You can still see autumn leaves into early November in some places, especially in the southern parts of Korea. Follow them from north to south to get the most of this season.
If you want to know more about travelling in Korea's different seasons, check out my Korean season guide below: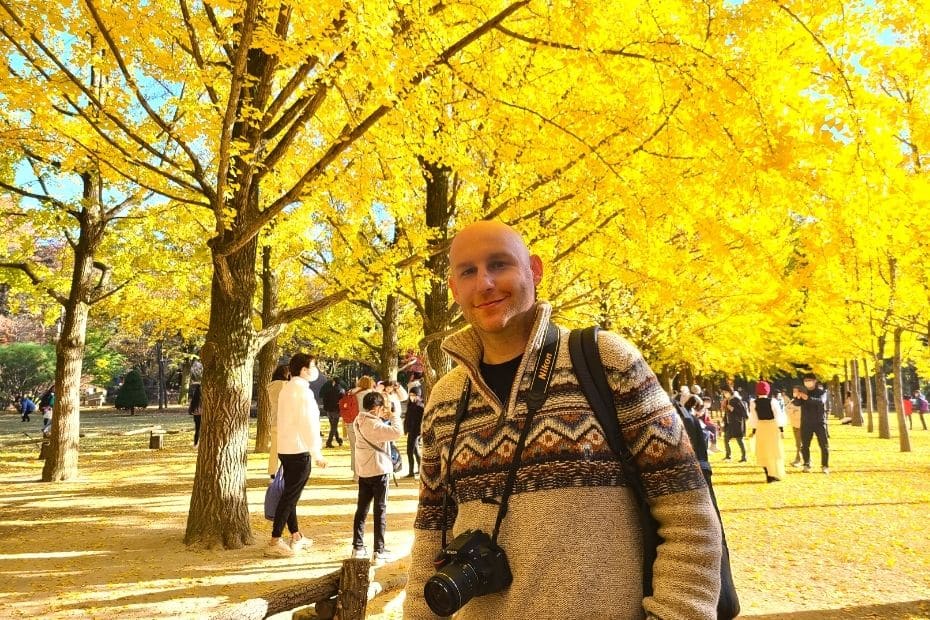 My Top 3 Fall Foliage Sights In Korea
There are breathtaking views of fall foliage across Korea. So many. If I had to pick just 3 to visit during autumn, I'd pick these sights due to their uniqueness and the glorious colours on display in each location.
1: Naejangsan National Park – Arguably one of the best fall foliage sights in the whole of Korea, this small national park is crammed full of scenic spots surrounded by maple and gingko trees.
2: Nami Island – A top destination any time of year, Nami Island really shines during autumn due to the long, tree-lined streets that spread across this natural landmark. It's also surrounded by forests across the water.
3: Changdeokgung Palace & Secret Garden – One of the best palaces in Seoul that offers incredible fall foliage views with backdrops of traditional Korean architecture that also hides the Secret Garden inside, a treasure you shouldn't miss!
Read on top find out more about each of these places and the other 17 top fall foliage spots in Korea.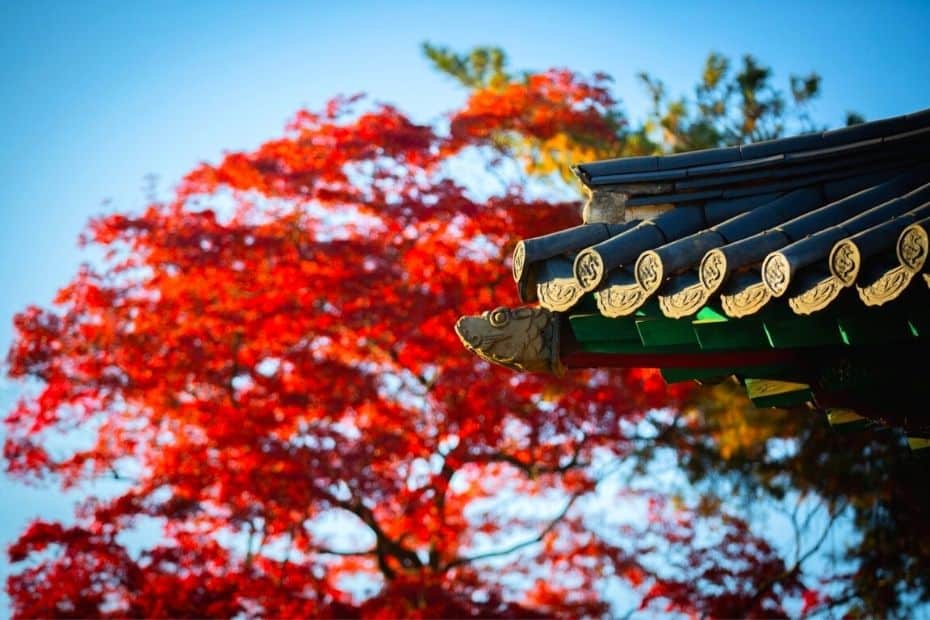 Top 20 Places For Autumn Leaves In Korea
Without further ado, here are the most amazing places to see autumn leaves in Korea.
From leafy palaces and parks in big cities, to the nature-filled national parks and their incredible beauty, you'll find somewhere to see the fall foliage wherever you are in Korea.
If you want to see the best of my Korean autumn leaves pictures, be sure to check out this article with 45 of my best fall foliage snaps so far.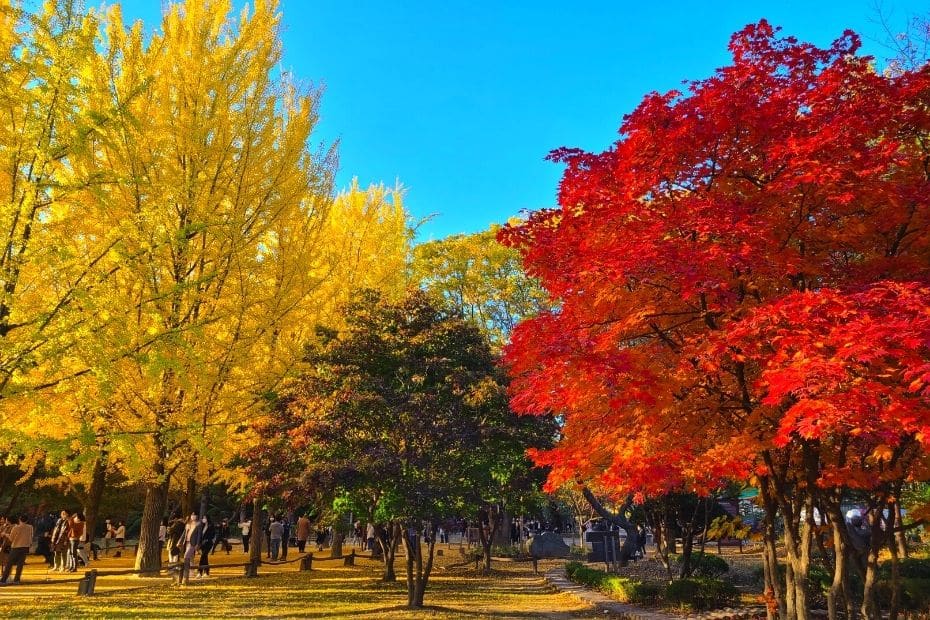 1: Nami Island
early – late October
Nami Island is famed for its natural beauty all year round, but even more so in autumn. With tree-lined streets of giant metasequoia and golden gingko, this is one of the most pleasant places to see autumn leaves in Korea.
Known as a family-friendly eco-park, as well as a romantic day-trip spot, there's something for everyone here. You can combine a day trip to Nami Island with the Garden of Morning Calm for a perfect day of fall foliage viewing.
How To Get There
There are many ways to get to Nami Island from Seoul, including a free shuttle bus, train (Cheongpyeong Station), bus (Cheongpyeong Terminal), or guided tour.
For more details about how to get to Nami Island, as well as more pictures of Nami Island in autumn, check out my guide below.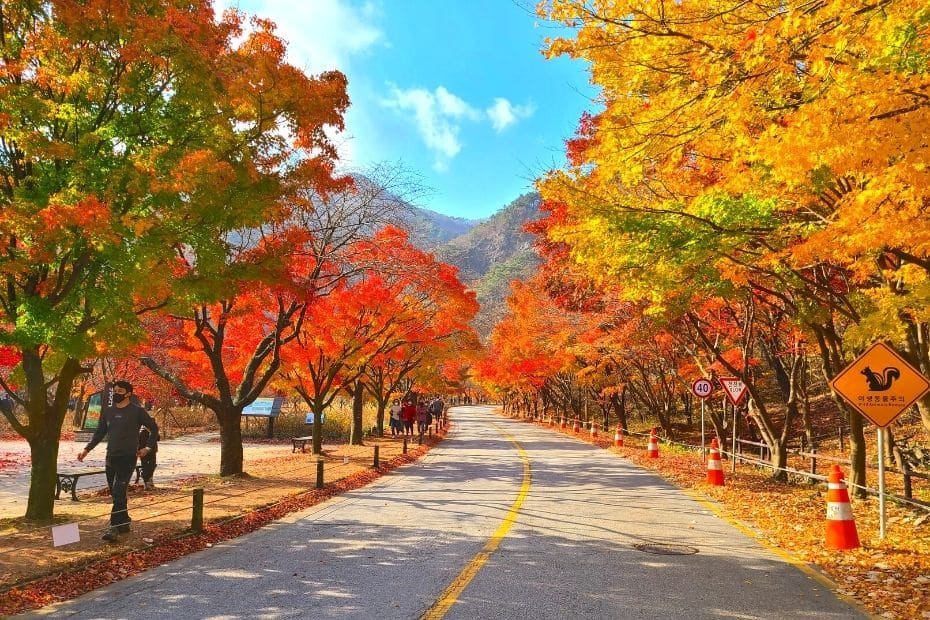 2: Naejangsan National Park
late October – early November
Naejeangsan National Park is one of the must-see places for autumn leaves in Korea for many reasons. Naejang, meaning 'many secrets', is packed full of delightful presents.
From the fiery colours you'll see passing through the Maple Tree tunnel, to the golden gingko leaves surrounding Naejangsa Temple, this park has an impressive array of photo-worthy locations.
You'll also want to see the Uhwajeong Pavilion, located inside a crystalline lake and surrounded by leafy slopes of warm fall foliage. Besides this, you will find several waterfalls, wonderful Buddhist temples, and hundreds of different plants and animals.
How To Get There
To get to Naejangsan National Park, travel to Jeongeup Station on the KTX and then transfer to a local bus to get to the park. You can also book intercity buses to Jeongeup City or tour buses that will take you directly to the park.
For more details about how to get to Naejangsan, as well as more pictures of Naejangsan in autumn, check out my guide below.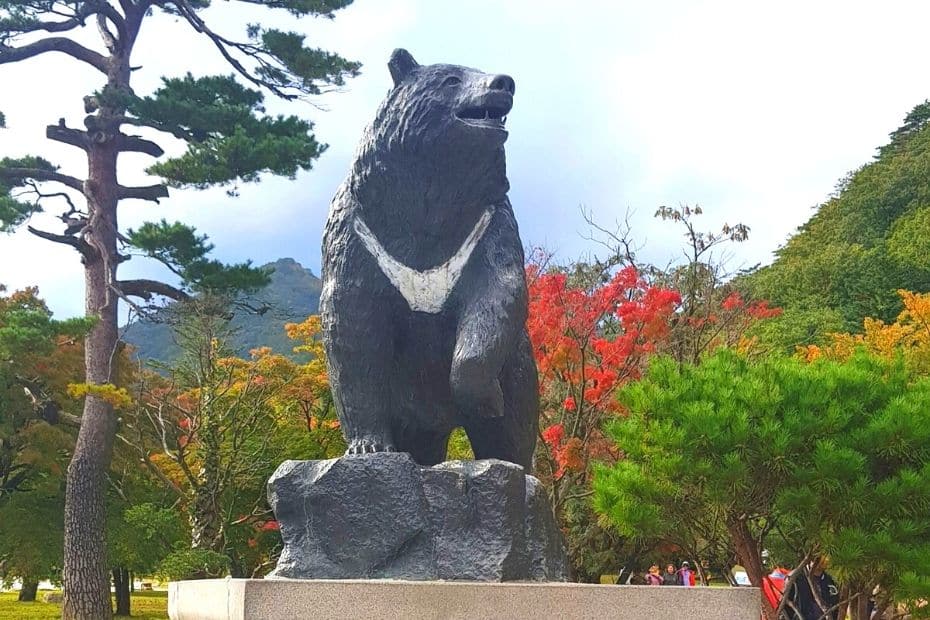 3: Seoraksan National Park
early – mid October
A great day trip from Seoul, Seoraksan is one of the most convenient national parks to see beautiful fall foliage. Situated near the northeastern coast, this is also one of the first places to see the autumn leaves in Korea.
This national park is packed full with stunning rocky peaks, the most important Buddhist temple in Korea, and plenty of ways to explore it all. There's a large range of trails for all levels and seeing it all from the bottom is worth the trip alone.
If you want to explore the mountain range without getting too sweaty, then take the Seorak Cable Car. Local guides can help you navigate through the park and will point out all the beauty and wonders that can be found here.
How To Get There
From Seoul:
Take an intercity bus from Dong-Seoul Bus Terminal to Sokcho Intercity Bus Terminal. From here, transfer to bus 7 or 7-1 towards Seoraksan National Park.
I'd recommend staying in Gangneung or Sokcho so you can spend a weekend visiting Seoraksan and seeing the lovely east coast, too.
4: Garden Of Morning Calm
early – late October
Located close to Nami Island, this sculptured garden provides dozens of pathways through hundreds of beautiful plants, trees, and bushes.
The Garden of Morning Calm also holds festivals throughout the year, including the gorgeous Maple Tree Festival. The maple tree is the definitive tree for autumn as its leaves fade from green to gold to deep red, often at the same time.
Strolling through this area provides dozens of opportunities to get close to nature, and take some amazing pictures, too. Coupled with Nami Island, this makes for a great day trip out of Seoul and a chance to really see a beautiful, natural side to Korea.
How To Get There
There are many ways to get to the Garden of Morning Calm from Seoul, including by train or subway (Cheongpyeong Station), by bus (Cheongpyeong Terminal), the Gapyeong City Tour Bus, or with a guided tour.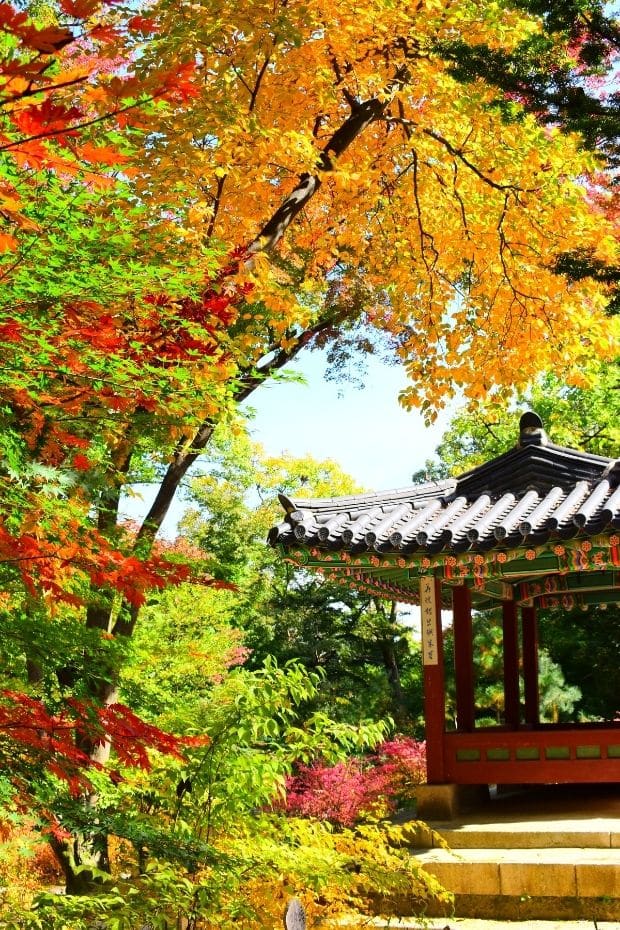 5: Seoul's Royal Palaces & Secret Garden
mid – late October
Marvel at the contrast between nature and history in Seoul's Royal Palaces during autumn and see aesthetic delights provided by traditional Korean architecture blended with the natural beauty of autumn in Korea.
All of the palaces in Seoul will offer incredible views of autumn leaves, but the best place to visit has to be the Secret Garden located inside Changdeokgung Palace. This hidden garden showcases some of the finest fall foliage in Korea.
There's a beautiful pond where you can see the golden autumn leaves reflected in the water. Entry to the garden is limited each day, therefore get there early to book tickets and avoid disappointment.
Don't forget to hire some traditional Korean hanbok for truly memorable pictures. Not only that, you'll get free entry to the royal palaces if you're wearing it!
How To Get There
The Secret Garden is located inside Changedeokgung Palace. To get to the palace, head to Anguk Station (Line 3 – orange) and walk east from Exit 2.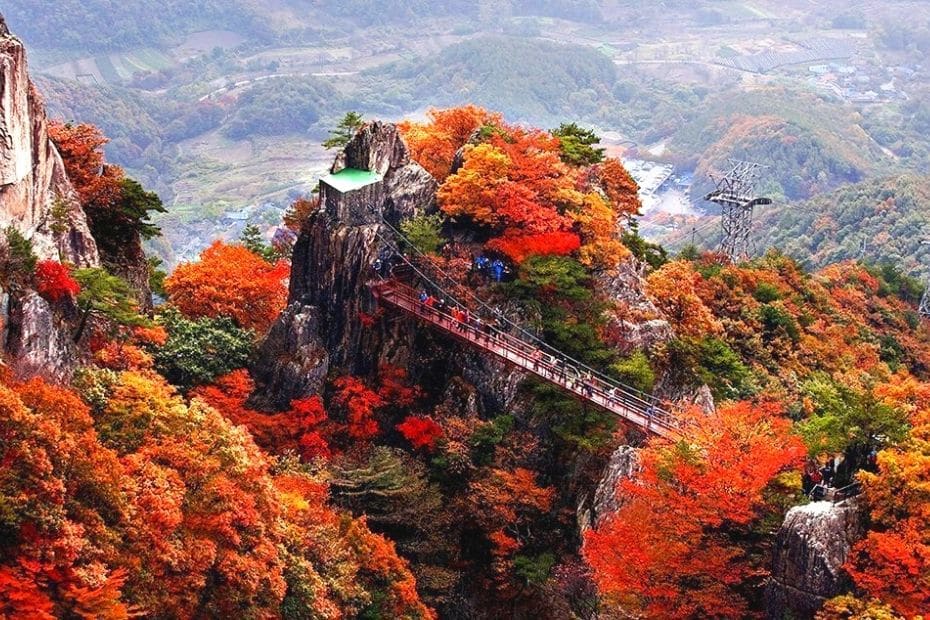 6: Daedunsan Provincial Park
mid – late October
Daedunsan Provincial Park is a joy to visit for both autumn leaves and the many unique attractions you can see when hiking here.
For those only interested in the sights, take the cable car to the top of the mountain. Don't worry, you won't miss out on the best parts of the mountain, such as the suspension bridge passing between two rocky slopes with autumn views below.
Just before the peak, you can climb a near vertical ladder over a sheer drop to another peak. Known as the Cloud Bridge, this is not for faint-hearted people, but provides amazing views.
I hike here every autumn to see the fall foliage and every time its breathtaking. Therefore, I'd definitely recommend it if you're passing through Daejeon.
How To Get There
Depart from Seobu Bus Terminal in southern Daejeon and take Bus 34 to the Daedunsan Rest Stop. Walk 10 minutes down the road to get to the park entrance. You'll see a cable car running up the side of the mountain. If in doubt, head for that.
Another great option close to Daejeon is Gyeryongsan National Park – one of my favourites. You can find out about hiking both these places from the links below: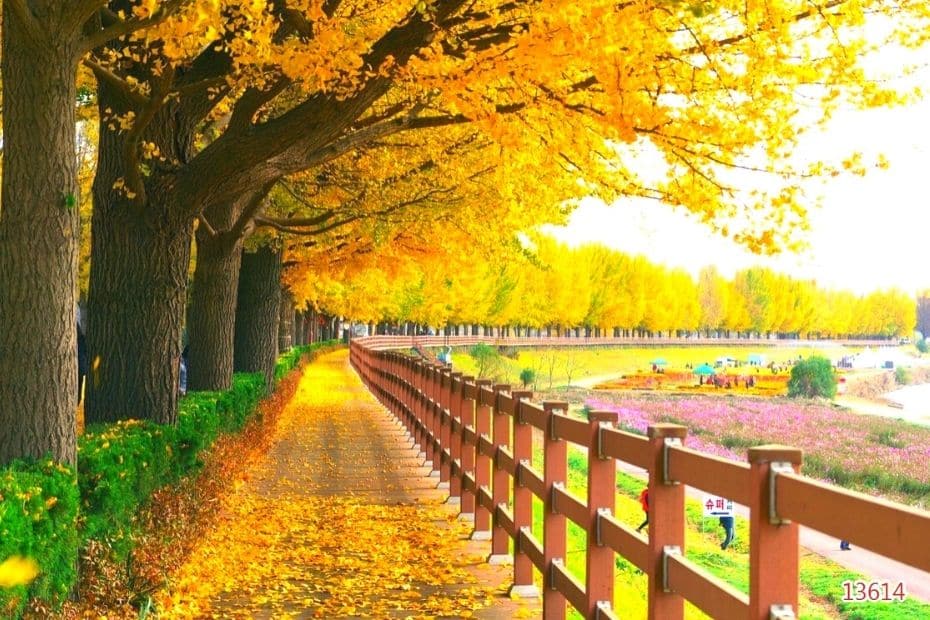 7: Asan Gingko Tree Road
mid – late October
There are two trees that are perfect for seeing autumn leaves in Korea, they are the maple and gingko. The Asan Gingko Tree Road specialises in the latter and is the best place to see this gorgeous golden cascade of colours.
Imagine yourself strolling down the beautiful, tree-lined streets of Asan Gingko Tree Road, with a carpet of golden leaves below, and lemony clouds above.
Gingko trees are famous for their copious leaves and creating a golden carpet all around. In short, it really is magical and worth the trip.
How To Get There
To get to Asan Gingko Tree Road, take the KTX from Seoul Station (40 minutes) or on Subway Line 1 (over 2 hours) to Asan Station, then take a taxi to Asan Gingko Tree Road (은행나무길 in Korean).
8: Gyeongju City
mid – late October
Gyeongju, known as the Kyoto of Korea for its collection of beautiful historic buildings and attractions, is one of the most popular places to see autumn leaves in Korea.
Gingko leaves dropping down on temple rooftops, maple leaves lining the ancient streets, sparkling ponds reflecting the dazzling autumn hues of the resplendent fall foliage, there's so much to see and photo in Gyeongju.
Like Seoul's palaces, the best way to experience Gyeongju's historic sights is dressed up in traditional Korean hanbok. Explore Gyeongju, Korea's biggest outdoor museum, in style.
How To Get There
Train from Seoul:
Take the KTX from Seoul to Singyeongju, then take a local bus to the Gyeongju Express Bus Terminal to get closer to the city centre. This takes about 2 hours and 20 minutes and costs around 60,000 KRW one way.
Bus from Seoul:
Take the bus from the Seoul Express Bus Terminal (Gyeongbu Line) to Gyeongju Bus Terminal. This takes about 3 hours and costs around 30,000 KRW one way.
Bus from Busan:
There are buses from Nopo Bus Terminal in Busan to Gyeongju Bus Terminal every hour. The journey is 45 minutes and fares are around 5,000 KRW.
9: Jirisan National Park
mid – late October
The largest national park in Korea offers so many chances to see Korean autumn leaves. Packed full of maple trees and other fall foliage, as well as small villages, wild animals, and other mountain sights, this is an all-round experience not to be missed.
Jirisan National Park is great for all levels of hikers & trekkers. There are many easy courses that anyone can walk, including a 16-stage loop around the national park.
You can book lodges to stay overnight on the mountain, which will allow you to do a sunrise hike to the highest peak in the mountains and see some breathtaking sights over the park. There are also lodges lower down the mountain which can be used as a stopping point between day hikes / treks.
How To Get There
Jirisan is best accessed from Busan or other southern cities, or by car from Seoul.
Bus from Busan:
From Seobu Terminal in Busan, take buses heading for Ssanggyesa, Jungsan-ri, or Gurye.
You can also access one of the many entrances to Jirisan by bus from cities such as Jeonju, Gwangju, Daegu, and Daejeon.
10: N Seoul Tower (Namsan Tower)
mid – late October
The unmissable N Seoul Tower in the heart of Seoul is a great place to hike and see fall foliage on cool autumn days, as well as impressive views of Korea's capital from up high.
You can hike from Myeongdong Station all the way to the top, passing old stone walls, big leafy trees, and views of Seoul to the sides. For an easier trip to the top, take the Namsan Cable Car. Relax on the short journey to the peak and back, taking in the sights as you go.
Once you're at the peak, be sure to check out the other great sights of the N Seoul Tower, including the love locks, traditional Korean rest stop, and the observation tower, which gives you fascinating 360 degree views of Seoul.
How To Get There
Cable Car:
Head out of Exit 3 from Myeongdong Station and walk towards the cable car station up the hill. Return tickets cost 9,500 KRW for adults and 6,500 KRW for children. The cable car runs from 10:00 am to 11:00 pm every day.
Shuttle Bus:
These are hop-on hop-off buses that also cover many of central Seoul's top sights. Bus numbers 2 & 4 go to the N Seoul Tower.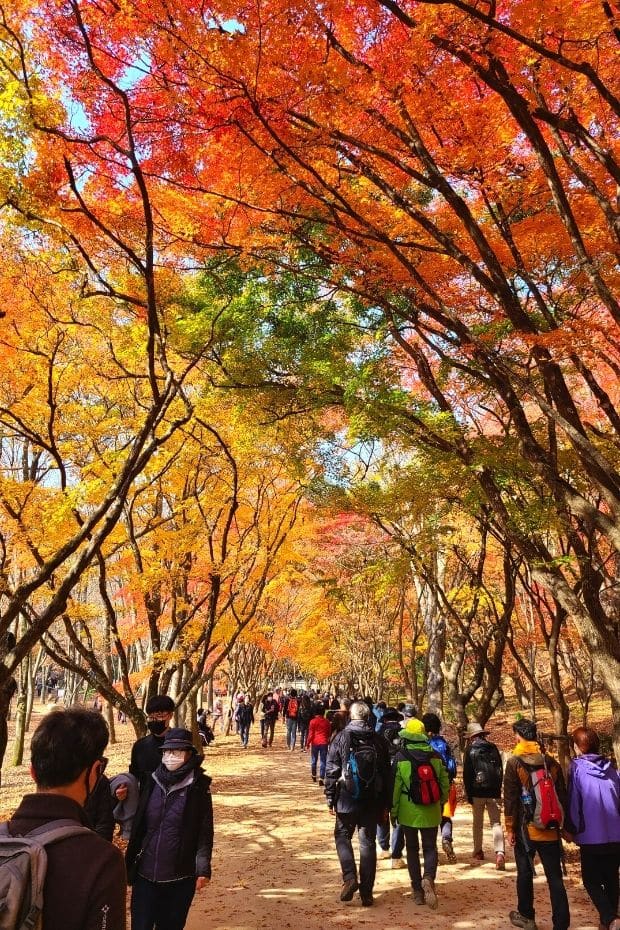 11: Gangcheonsan County Park
late October – early November
A very popular place to see autumn leaves in Korea for Koreans, but not so well known by tourists, is the culturally and nature-rich Gangcheonsan County Park.
Hidden away in Sunchang, Jeollabuk-do, this large park has lush valleys lined with thick, bushy trees that turn into red, yellow, and orange mushrooms during fall and tall hills bedecked with resplendent fall foliage.
Inside Gangcheonsan County Park you'll find lots of cultural wonders, such as Gangcheonsa Temple, the Geumseongsanseong Fortress, and the Gancheongsan Five-story Stone Pagoda.
The real attraction is the suspension bridge hanging above the valley, which offers trekkers the chance to see these incredible leaves from above, offering truly unique sights.
How To Get There
Bus from Seoul:
Take a bus to Sunchang Bus Terminal. From Sunchang Bus Terminal Bus Stop, take a local bus bound for Jeongeup or Gurim and get off at Gangcheonsan Mountain Bus Stop.
You'll also find the Damyang Bamboo Forest nearby.
12: Bukhansan National Park
mid – late October
Bukhansan National Park provides great options for hiking and enjoying fall foliage. There are several hiking routes, with each one providing stunning views of northern Seoul and autumn's splendour.
Hikes will take the best part of 3-5 hours to get to the top and back. The weather is cool at this time of year, which is perfect for hiking. If you're only visiting Seoul, this is probably the most convenient place to see autumn leaves in Korea and try hiking at the same time.
How To Get There
Travel to Gupabal Station (Line 3 – orange) and go out of Exit 1. Then take Bus 704 for Bukhansan-seong Fortress and get off at the Bukhansan Park Entrance bus stop
For more details about hiking Bukhansan Mountain, as well as alternative ways to get there, check out this guide.
13: Namhansanseong Provincial Park & Fortress
mid – late October
Another lesser-known autumn leaves hotspot in Korea is the Namhansanseong Provincial Park and Fortress. Located a short distance from Seoul, this is a great place to see fall foliage away from the city and the crowds.
There are several hiking paths to enjoy, as well as cultural relics from Korea's past. Walk along the fortress walls and gaze down at the long views miles into the distance. Hiking paths take as little as 90 minutes but pass through several historic and natural sights.
Top sights include the tall fortress gates, Sueojangdae (West Command Post), the pine forest, and 12.4km of fortress walls.
How To Get There
From Samseong Station (Line 8 – red), take bus 52, 9, or 9-1 directly to the fortress.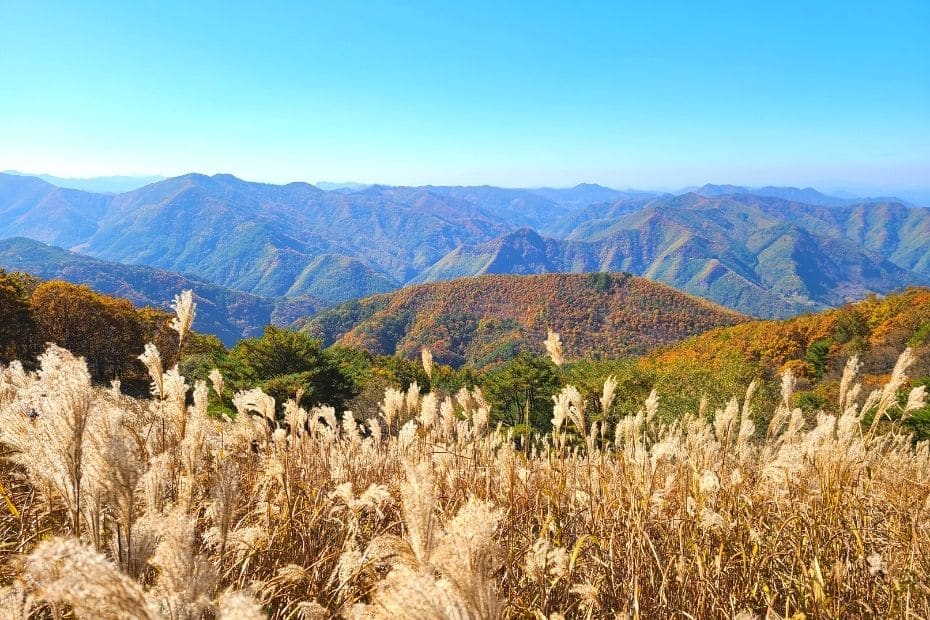 14: Mindungsan Mountain Trail
mid – late October
There's more to autumn leaves in Korea than maple trees and gingko trees. Autumn is also the time to see silver grass (eulalia) – tall reeds that create white waves across mountains, rivers, and lakes throughout Korea.
These reeds are a symbol of autumn and you'll find a whole mountain's worth of them at the Mindungsan Mountain Trail, which has its own festival from mid-September to early November, celebrating these special reeds.
There's also plenty of autumn leaves to see on the hike to the top of the mountain, which is where the reeds are on display. The hike takes about an hour and you can stop on the way to enjoy traditional Korean pajeon and makgeolli – I highly recommend them both here.
How To Get There
Take a train from Cheongnyangni Station in Seoul to Mindungsan Station (Mugunghwa Line to Taebaeksan). Exit the station and head down the hill to the start of the trail.
15: Odaesan National Park
early – late October
Odaesan National Park is great for those who want to experience trekking and all the stunning autumn views you'd expect from a national park without having to hike up to the top of a mountain.
To do this, take the Seonjae-gil Road, a 10km trekking path that follows the valley floor through lush autumn foliage and is known as a 'peaceful breath of fresh air, a place for meditation and reconnecting with nature'.
The start location, Woljeongsa Temple, also includes another treat, a fir tree lined street. Fans of K-drama may recognise it from the hit show 'Goblin: The Great and Lonely God'.
How To Get There
Take the intercity bus from Dong-Seoul Bus Terminal to Jinbu Bus Terminal (2 hours). From Jinbu Bus Terminal, take a bus to the Minbak Village (Woljeongsa Stop) or to the Sangwonsa Temple Bus Stop.
Alternatively, take a taxi straight to the park entrance, which will cost about 30,000 KRW.
16: Gayasan National Park
mid – late October
Gayasan National Park is a great place to hike and see autumn leaves for people in Busan. This national park explodes with colour from mid-October, with grey boulders from the rocky mountains providing a stark contrast of views.
Culture lovers will also enjoy visiting Haeinsa Temple, a UNESCO World Heritage Site and very impressive temple that's worth the visit alone.
Like Jirisan, the most prominent type of tree on display in autumn is the maple tree, with each tree showing off thousands of small, spiky leaves that can often include green, yellow, and red leaves on the same tree.
How To Get There
Bus from Daegu:
Take the bus from Daegu Seobu Intercity Bus Terminal directly to Haeinsa Temple. Takes about 1 hour. Travellers from Seoul and Busan should transfer in Daegu to get to Gayasan.
Bus from Daejeon:
Take the intercity bus from Daejeon to Haeinsa Temple.
17: Seoul Forest Park
mid – late October
With sycamore trees producing leaves the size of dinner plates and bigger, you'll find some unique autumn foliage in Seoul Forest. A great place for families, you'll also find a petting zoo, deer, playgrounds and lots more.
There are four sections to this park, including the Culture & Art Park, Educational Experience Park, Eco-forest Park, and Riverside Park along the Hangang River.
If you're in the area, be sure to check out the nearby Under Stand Avenue – a collection of old shipping containers that have been turned into artsy shops, cafes, and galleries.
How To Get There
Take the subway to Seoul Forest Station (Bundang Line – orange). You'll see signs for the park as you exit. Under Stand Avenue is on the opposite side of the station and there are some small galleries and cafes to the north.
18: Hallasan National Park
late October – early November
Hallasan Volcano, rising up out of the ocean to create Jeju Island, provides an incredible hiking experience. It's also one of the last places to see the autumn leaves in Korea as the cold weather makes its way through Korea, touching Jeju Island just before winter sets in.
Don't worry, you won't have to climb the highest mountain in Korea to see the fall foliage. Shorter routes around the base of the mountain will give you great views of autumn's splendour and leave you enough energy to enjoy Jeju's other sights.
Here's a quick summary of the 4 main trails:
Gwaneumsa Trail:
8.7km (one-way)
8-10 hours total hike
Seongpanak Trail:
9.6km (one-way)
7-9 hours total hike
Eorimok Trail:
4.7km (one-way)
2.5 hours return hike
Yeongsil Trail:
3.7km (one-way)
2 hours return
Wherever you go, however, make sure to start hiking early as the trails start turning people away after 12:00pm.
How To Get There
There are 4 different paths to climb in Hallasan National Park and they can all be accessed by taxi or public transport from either Jeju City, Jeju Airport, or Seogwipo City.
19: Yangju Nari Park
mid – late October
This spot isn't really a place for autumn leaves, but I wanted to include it anyway as it's a festival of colours and autumn flowers and a great place to spend a day out near Seoul.
Nari Park in Yangju is a haven of autumn plants and flowers, including Mexican fire brush, globe amaranth, and the increasingly popular pink muhly. Take a stroll through the pinks, purples, and reds of these fall flowers.
Immerse yourself in schools of butterflies, floating and dancing between the flowers. A true symbol of autumn, working hard to keep the beauty alive and ready for next year.
How To Get There
Take the subway to Yangju Subway Station (Line 1 – dark blue). Take the local bus 2-4 and get off at Mansong-dong 1-tong, or take a taxi to this address – 경기도 양주시 만송동 산46.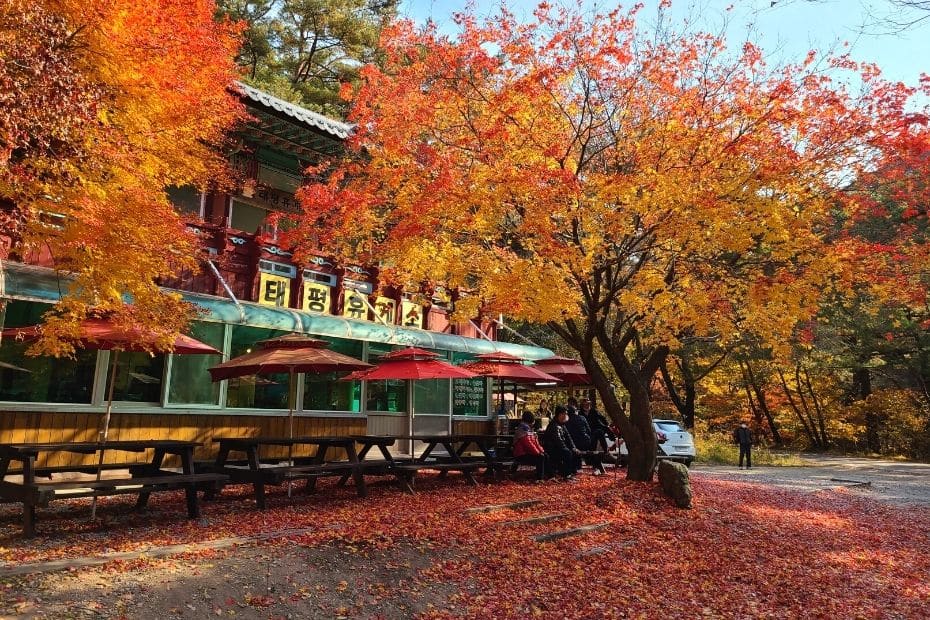 20: Songnisan National Park
mid – late October
Located in the heart of Korea, Songnisan was one of the first national parks in Korea and remains one of the best, especially for an all-round autumn experience. It's also the place where I took the cover photo for this article.
The hiking trails take you from the historic Beopjusa Temple, with a gigantic standing golden Buddha, past shaded streams, a lush valley floor, and up into the moderately high peaks. There are lovely fall sights at every step and peaceful restaurants to enjoy the views in as you hike.
If you're looking for a truly unique Korean experience to enjoy during autumn, I'd highly recommend booking a temple stay at Beopjusa Temple in Songnisan National Park. I've done it twice and it's something you'll never forget.
How To Get There
Bus from Daejeon:
Take the intercity bus from Daejeon Bokhap Terminal to Songnisan National Park entrance and walk towards the restaurants and cafes that lead to the start of the hiking courses.
From other cities:
Take the train to Jochiwon or bus to Cheongju and transfer to a local bus to Songnisan.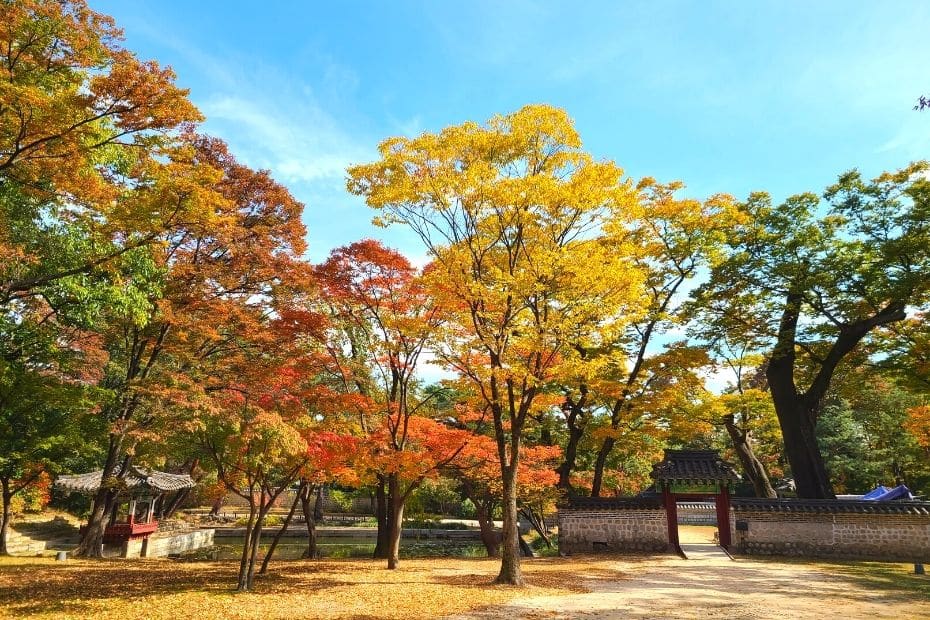 Quick Guide To Autumn In Korea
If you're interested in hiking during autumn, which I would really recommend, then check out my guide to hiking in Korea, featuring lots of great tips all about Korea's number 1 outdoor pastime.
Here are a few more tips to help you get the most out of your time seeing autumn leaves in Korea, such as what the weather is like, what to wear, and how to travel to see fall foliage.
Why Autumn Is The Best Time To Visit Korea
Korea has 4 very distinct seasons, ranging from really hot and humid summer (40+ degrees) to a freezing cold winter (-18 degrees). Spring and autumn are short, but packed full of opportunities to travel.
Although spring has cherry blossoms to see, autumn is the best for me due to the better weather, lower air pollution (which peaks in spring), and the feeling of relief that comes with the cooler weather after a long, tough summer.
If you want to travel to Korea, September to early November are definitely the best times to travel. You'll see autumn leaves, get to enjoy local foods and fresh produce, and witness a lot of festivals and public holidays.
Autumn Weather In Korea
The weather in autumn ranges from hot and humid in early September (30 degrees) to freezing cold by early November. The temperature ranges from 10-25 degrees during the day, but can fall below 10 degrees at night.
Typhoons during September and October can change the weather very quickly, and rain showers or strong winds can appear one day and be gone the next, leaving the spectacular skies you can only see at this time of year.
What To Wear During Autumn In Korea
Because the temperature can change quite a lot from morning to night, I'd recommend packing a light jacket or sweater to keep you warm after the sun sets. Lighter clothes should be fine during the day until mid-October, after that it's time for more layers.
How To See Fall Foliage In Korea
The best way to see fall foliage in Korea is to get out into the mountains and national parks and try hiking. You don't need to be a seasoned hiker to experience the best of the leaves, and in fact you don't want to go too high as the best views are in the valleys.
Most national parks have walking trails through the valleys that can range from a couple of kilometres up to 10km (at Odaesan) of forest trails.
Alternatively, head to the historic sites across Korea, such as the royal palaces in Seoul, fortresses, or historic cities such as Gyeongju or Buyeo.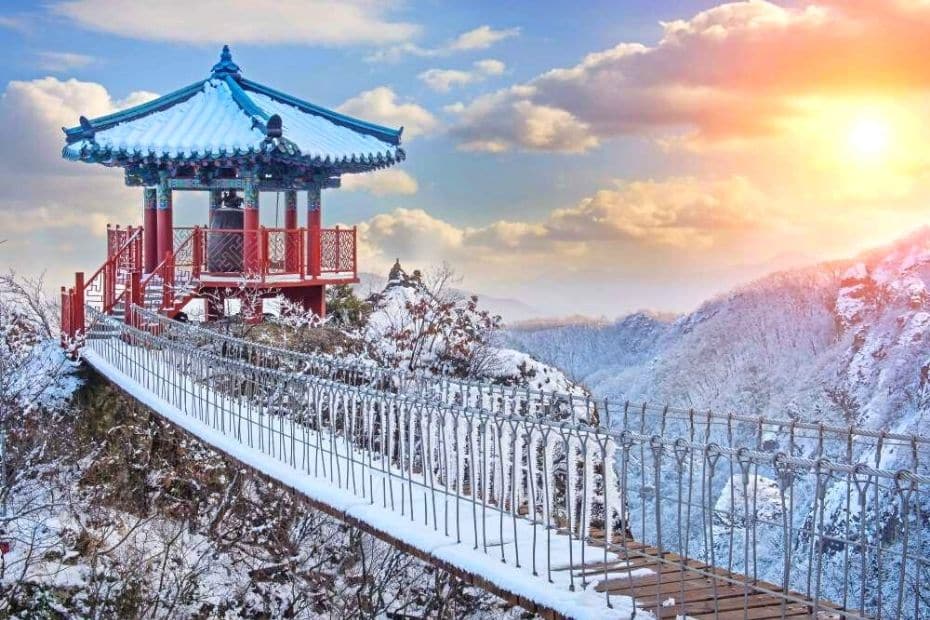 Visiting Korea In Other Seasons?
Can't travel to Korea in autumn?
No worries, Korea has so many amazing sights to see and things to experience all year round. Here are a few articles that will help you out in other seasons:
There's so much to see in every season: snow, cherry blossoms, summer beaches, and autumn leaves. There's never a bad time to visit Korea.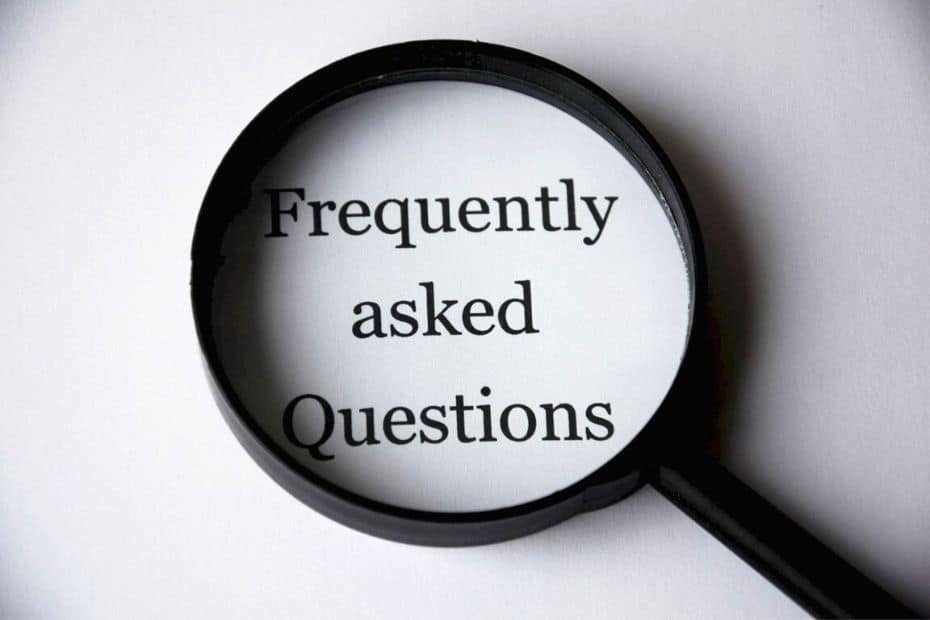 FAQ About Seeing Autumn Leaves In Korea
Finally, here's a few FAQs about seeing autumn leaves in Korea, in case the above information didn't cover enough for you.
Where Can I See Autumn Leaves In Korea?
The best places to see autumn leaves in Korea are without a doubt in Korea's national parks. There are national parks spread across the country, as well as dozens of smaller areas of natural beauty where you can see fall foliage.
Where Can I See Autumn Leaves In Seoul?
You can find autumn leaves in Seoul very easily as there are many green areas throughout the city. Some of the most popular spots are in the royal palaces in the heart of Seoul, especially Changdeokgung Palace. Seoul has many other places to experience fall foliage, including Seoul Zoo, Seoul Forest, along the banks of the Han River, and Namsan Tower.
What Is There To Do In Seoul In Autumn?
There are many autumn festivals in Seoul that coincide with the major holiday of the season, which is called Chuseok in Korea. When the autumn leaves appear, many people go hiking in national parks and walking in nature. Autumn is cool and has low levels of pollution, making it a great time to get outside and enjoy nature's blessings. The evenings are still warm in early autumn, so many people in Seoul visit night markets in various locations, too.
What Should I Wear To See Autumn Leaves In Korea?
Autumn leaves start falling in late September and the weather cools significantly after the hot summer. You'll need at least a light jacket and something appropriate to cover your legs and arms. If you want to see autumn leaves in Korea, you should be fine with regular shoes for walking around a city. However, if you want to see Korea's fall foliage in the national parks, then you should wear training or hiking shoes that are comfortable in rough terrain.
How Cold Is Autumn In Korea?
Autumn in Korea starts in September and is still warm and humid. However, the temperature drops quickly and by mid-October it can be windy and cold enough for a jacket. By November the temperature drops further and starts to get below zero as Korea approaches winter. During peak autumn season time (October), temperatures are around 10-15 degrees Celsius during the day. There can be typhoons during this season, so be careful as there can be strong winds and heavy rains for brief periods. Otherwise, the weather is mostly calm and sunny.
When Can I See Autumn Leaves In Seoul?
The best time to see autumn leaves in Seoul is around mid-October as the trees start to change colour. The autumn leaves in Seoul should stay for several weeks and reach their peak around the end of October. Places close to Seoul, such as Seoraksan National Park, usually peak before Seoul.
When Can I See Autumn Leaves In Korea?
Autumn leaves in Korea first appear at the end of September in the north-east of Korea, before moving down through the country and reaching Jeju Island around mid-October. The start date is not the same as the peak date, which is when the autumn leaves will be most colourful.
Can I See Autumn Leaves In Korea During November?
There are several national parks in the south of Korea, including Jirisan National Park, Naejangsang National Park, and Hallasan National Park on Jeju Island. These should all still have autumn leaves on their trees by early-mid November. The last time you'll see autumn leaves in Korea is the middle of November. After that, the weather drops quickly and winter in Korea begins.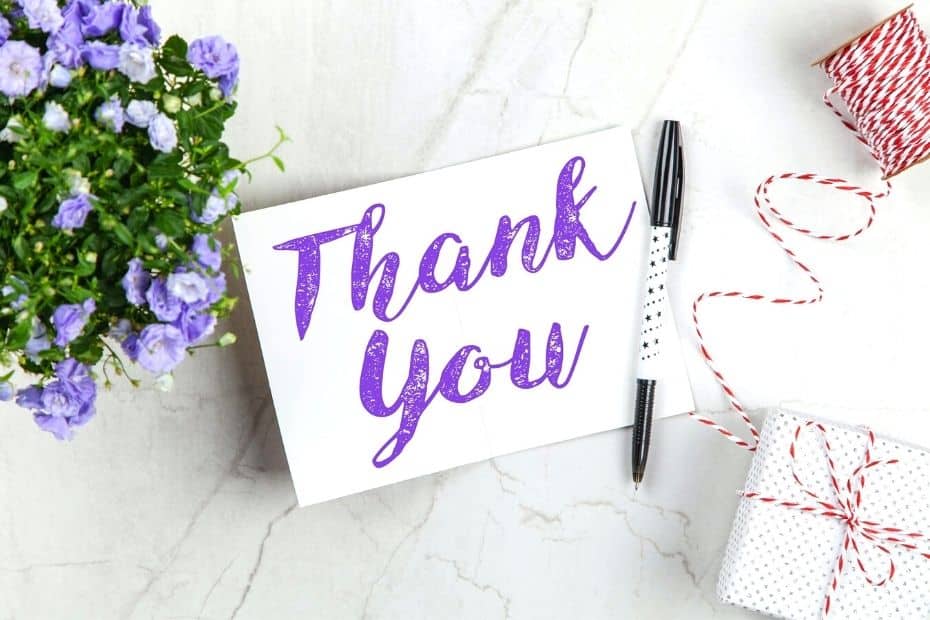 Share Your Thoughts
If you enjoyed reading this article, or if you have any thoughts about it that you want to share, please feel free to leave a message in the comments below. I'd love to hear your feedback about this article and the subject.
If you want some recommendations about where to see autumn leaves in Korea, then you can also ask in the Korea Travel Advice group on Facebook.
Thanks for reading. If you want to help me to create more great content in the future, why not buy me a coffee?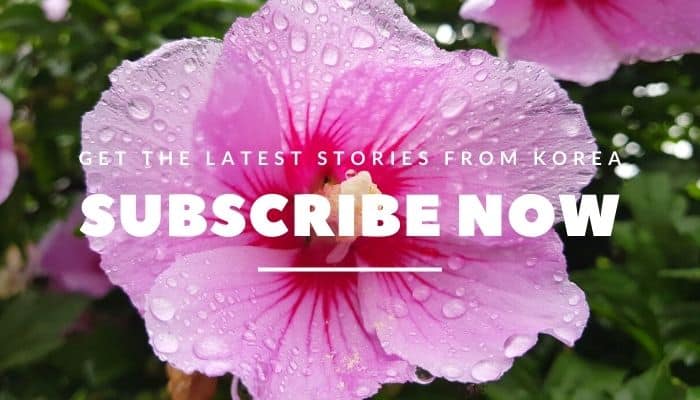 Liked This? Pin It For Others
If you enjoyed reading this article, then please go ahead and share this with your friends on Pinterest.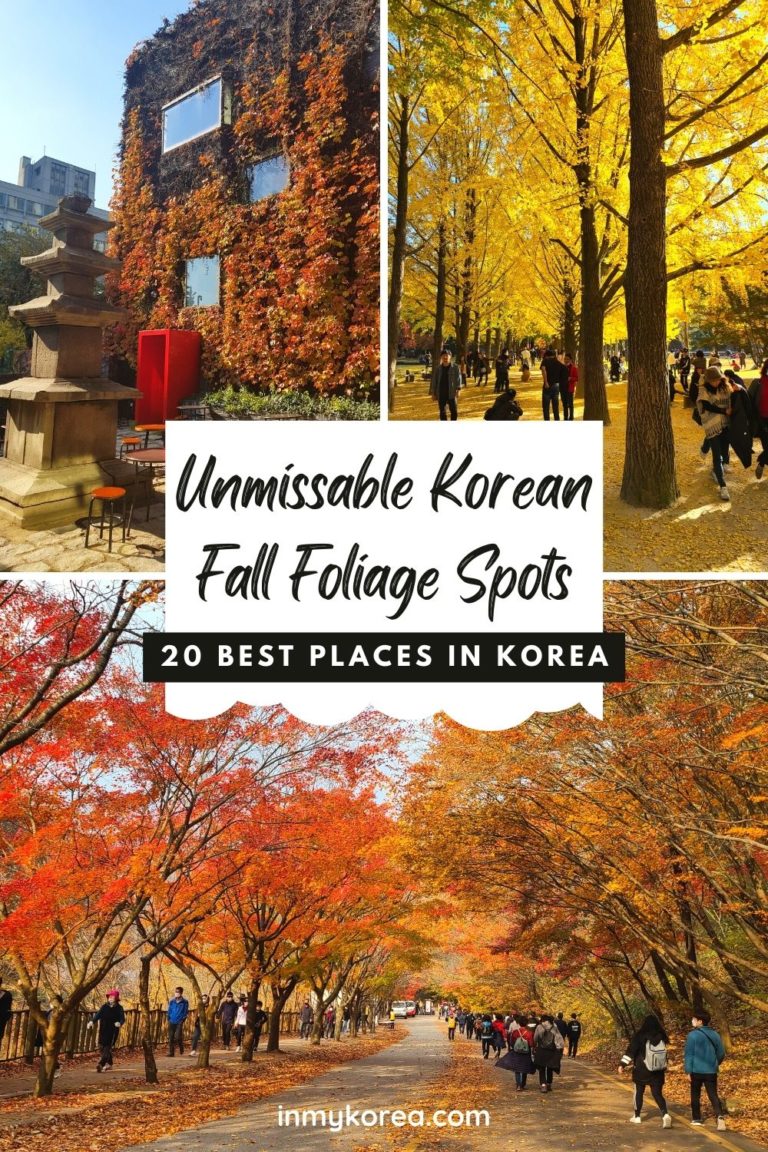 Related Articles