Seoraksan National Park is one of Korea's most beautiful parks to explore, whether you're hiking to rocky peaks, walking through leafy valleys, or simply taking in the views from a hanok cafe. It's even more incredible in autumn when waves of red and gold spread through the park. Young or old, experienced or novice, Seoraksan National Park has something for you

This guide to visiting Seoraksan shows you what to see & do in the park, including the giant bronze Buddha, Sinheungsa Temple, Geumganggul Cave, and the Seoraksan Cable Car. There's also full details about how to get to Seoraksan by car, public transport, or guided tour, and where to stay.

There's something for all ages and abilities at Seoraksan National Park, with many great hiking trails available. This article will introduce six trails that range from beginner to advanced and I've included lots of practical hiking tips based on my own experience hiking Seoraksan to help you, too.
Affiliate Disclaimer: This site contains affiliate links and I may earn commission for purchases made after clicking these links.
---
Why Should You Hike Seoraksan National Park?
Seoraksan National Park has something for everyone; hiking and trekking trails for all levels, a cable car, Buddhist temples, cafes, restaurants, and charming sights. Seoraksan can be accessed by car, public transport, or day tour from Seoul, and is one of the most beautiful of Korea's national parks.
Here are 5 reasons you'll love visiting Seoraksan National Park:
Accessible to all: You don't have to be a hiker to visit Seoraksan National Park and many people who visit probably don't even hike at all. There are valley walks that you don't need any special preparation for, as well as a cable car that will lift you up to a mountaintop temple with great views.
Autumn leaves: Seoraksan National Park is the first place to see stunning autumn foliage in Korea, which starts in Seoraksan from early October each year. Of course, any time is a good time to visit Seoraksan National Park. See snowy peaks in winter, spring flowers, and leafy sights in summer.
Traditional Korean culture: You'll be amazed at the Buddhist temples and other traditional sights in Seoraksan National Park, including a giant bronze Buddha statue. This park is rich in history and is famous for the legend of Gwongeumseong, which was apparently built overnight by two brothers.
Breathtaking hiking routes: If you dream of hiking in Korea, there are several options for hiking in Seoraksan National Park, including 1-day, 2-day, and even 3-day hikes. You can sleep in a mountain lodge – perfect for those who want to wake up with a sunrise over the mountains and East Sea.
A park of natural beauty: There are over 2,000 animal species living in Seoraksan National Park, including the Korean goral, musk deer, otters, and maybe some bears! Seoraksan was designated a Biosphere Preservation District by UNESCO in 1982 due to it's abundant plant and animal life.
There's so much more to love about Seoraksan National Park, which will be covered in this article. After reading this article, you'll see why it's one of the most popular day trip destinations from Seoul, especially during October, and a must-add for your South Korea bucket list.
---
What Are You Looking For?
To help make it easier for you to find what you're looking for, I've broken this article into the following sections. Click the quick links below to jump straight there or keep reading through all parts.
---
---
What To See And Do At Seoraksan National Park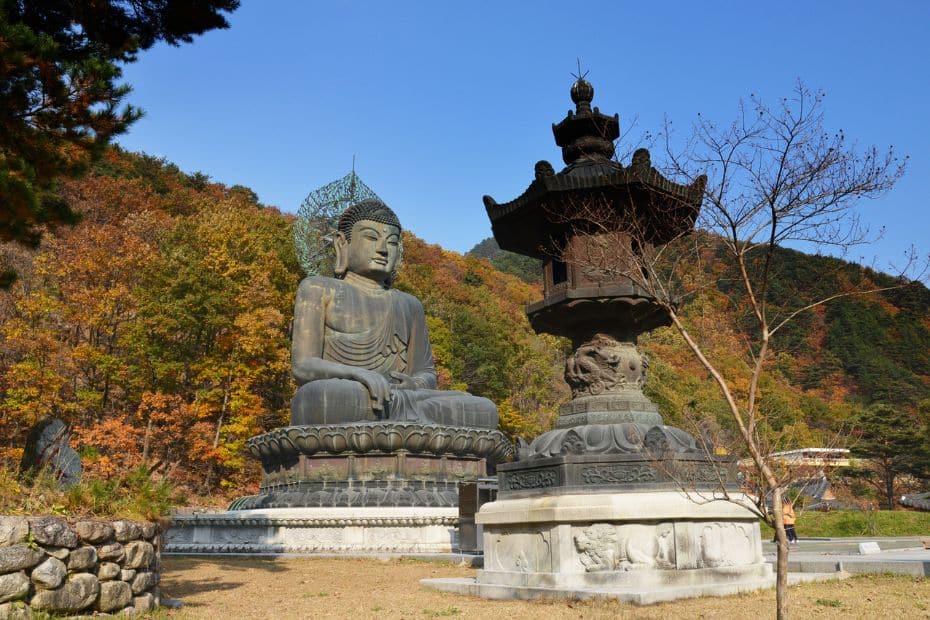 Whether you're a hiker, or just want to experience the natural wonders of a Korean national park, you won't be disappointed with a day trip to Seoraksan National Park. There is plenty to see at Seoraksan National Park; from the peaks and hiking trails, to traditional buildings and natural wonders.
Here are 7 of the best things to see at Seoraksan National Park:
---
Not only can you enjoy seeing incredible views as you hike and walk around Seoraksan National Park, there are also lots of fun activities to do that are suitable for all ages and travellers. Explore and discover traditional Korean culture, dine on Korea's favourite post-hiking dishes, and more.
Here are 5 great things you can do at Seoraksan National Park any time of the year:
---
However you spend your time at Seoraksan National Park, I'm sure you'll enjoy all there is to see and do. My personal favourite is hiking the trails, especially to Ulsanbawi Peak, which is covered later in the Hiking Trails Section of this article. Next up is how to get to Seoraksan National Park from Seoul.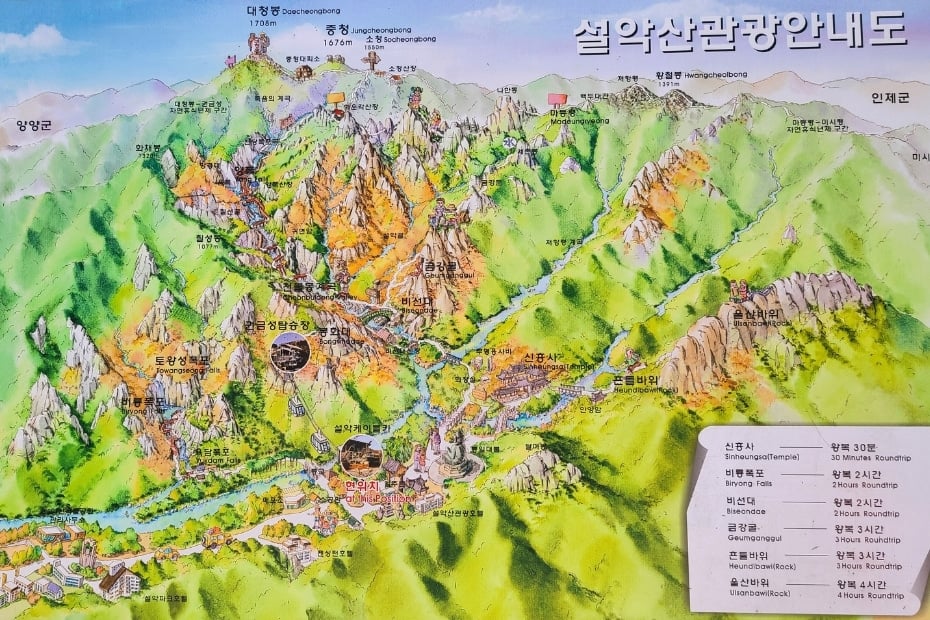 ---
How To Get To Seoraksan National Park From Seoul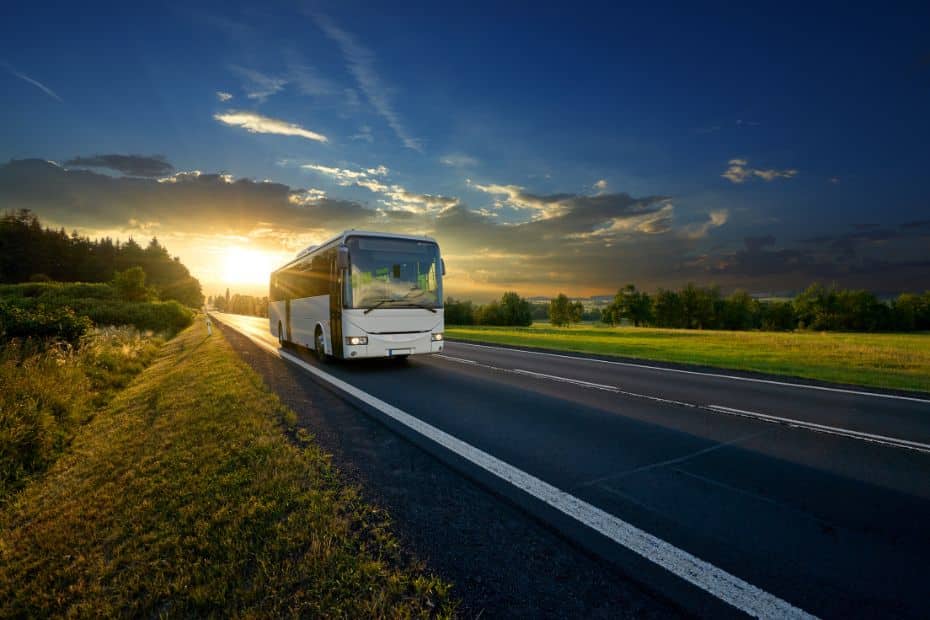 Seoraksan National Park is one of Korea's largest national parks and spreads over nearly 400 square kilometres in Gangwon Province in north-eastern Korea. The park is so large that you can spend several days hiking from one side to the other, going from peak to peak and staying in lodges.
This guide won't cover every entrance and hiking trail in Seoraksan, but will instead focus on the most popular and easy-to-reach entrance, which is the Sogongwon Park entrance (설악산소공원). As shown in the map below, the Sogongwon Park entrance is accessed from the park's eastern border.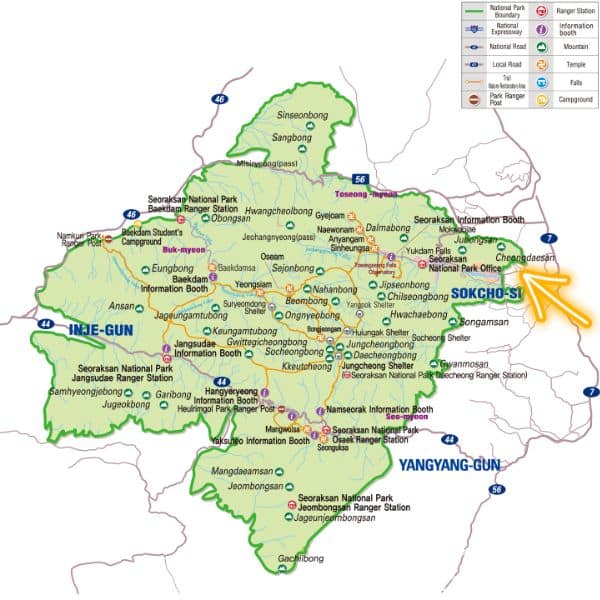 The Songwon Park entrance is the furthest entrance from Seoul but, thanks to it's location close to Sokcho City, it's one of the easiest entrances to get to by public transport. This section will cover how to get to Seoraksan by public transport, by car, and by tour, which can be the most practical way.
---
How To Get To Seoraksan National Park By Bus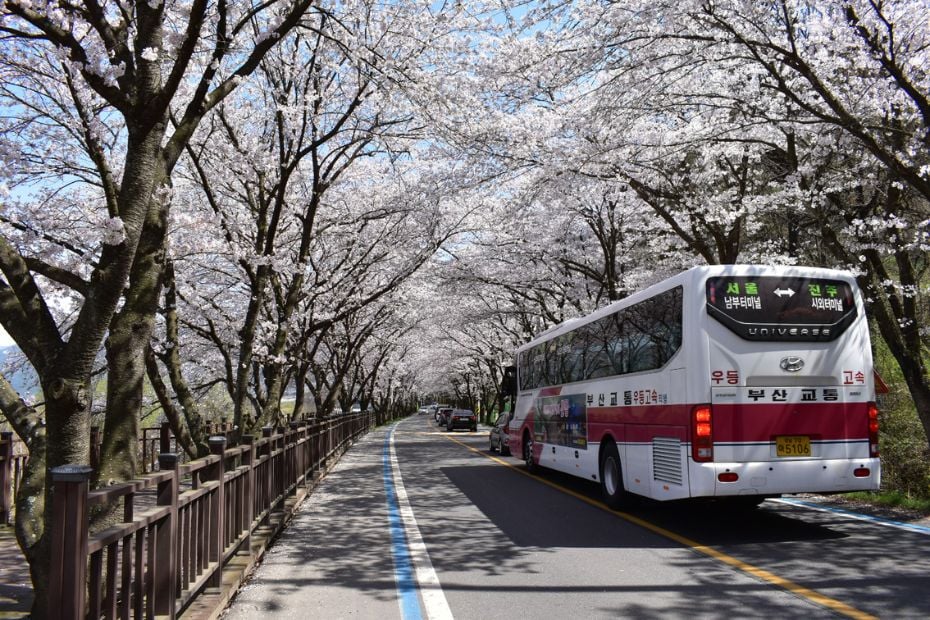 If you want to travel to Seoraksan National park by bus from Seoul, you will need to travel from one of two bus terminals in Seoul to Sokcho. From Sokcho, you should transfer to a local bus that goes to Seoraksan National Park. Here's a step-by-step guide to getting to Seoraksan by bus.
I've added Naver Map location pins for each of the locations in this guide. Naver Map is the recommended app for navigating in Korea and is more reliable than Google Maps in Korea.
Step 1: Seoul To Sokcho By Intercity Bus
Go to Dong-Seoul Bus Terminal (동서울종합터미널) or Seoul Express Bus Terminal (서울고속버스터미널) for buses to Sokcho Express Bus Terminal (속초고속버스터미널). Buses go frequently, but can be sold out in advance, especially on the weekend. You can book in advance online or at the terminal.
---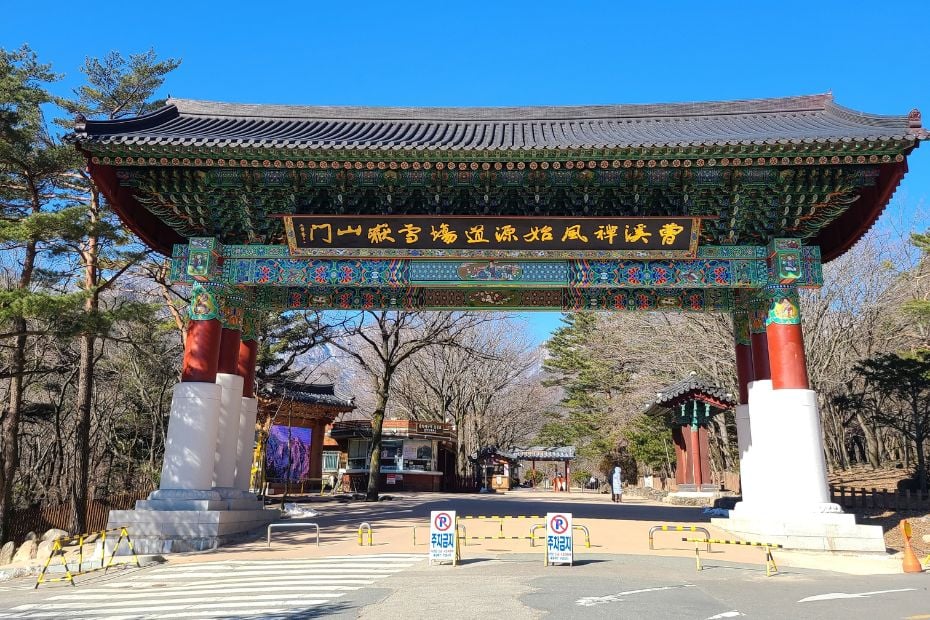 Step 2: Sokcho Bus Terminal To Seoraksan National Park
Once you have arrived in Sokcho, you need to transfer to a local (blue) bus to get to Seoraksan National Park. From the Sokcho Express Bus Terminal, you should cross the street from the entrance of the bus terminal and take bus #7 or #7-1 to the Sogongwon Bus Stop (설악산소공원)
The bus will go all the way to the entrance of the national park (pictured above) and will take around 35 minutes. The first bus from Sokcho Bus Terminal to Seoraksan leaves at 06:51 and the last bus from the park leaves at around 20:30. The buses run a couple of times each hour.
If you want to take a taxi, there is a taxi rank outside of the bus terminal. The taxi ride takes 20-25 minutes and costs 15,000 – 20,000 KRW depending on traffic. You can use Kakao Taxi to book taxis in Korea, but please note that it might be difficult to get a taxi back from the park.
---
How To Get To Seoraksan National Park By Car
Travelling from Seoul to Seoraksan National Park by car is a convenient and fast option. If you have a car, or plan to rent a car in Korea, the drive to Seoraksan National Park takes just over 2 hours and is approximately 185km. Most of the journey is by Korean Expressway, which is charged in Korea.
If travelling by car, there are parking spaces at the entrance of Seoraksan national park. However, over the weekend they may be taken up quickly. In that case, you could park your car earlier, by the pensions and hotels, and either walk up to the park entrance or hop on the bus along the way.
If you're driving to Seoraksan National Park, the address for the Seoraksan Sogongwon Car Park is shown below. I recommend using the Naver Map app to help navigate your journey.
Seoraksan Sogongwon Parking Lot, Seorak-dong, Sokcho-si, Gangwon-do
강원 속초시 설악산로 1032
Tip: If you don't have a car or don't want to travel so far to experience a great Korean National Park, then I recommend hiking Baegundae Peak in Bukhansan National Park instead. It's located in Seoul and offers incredible views of the capital. Perfect for a day hike while in Seoul.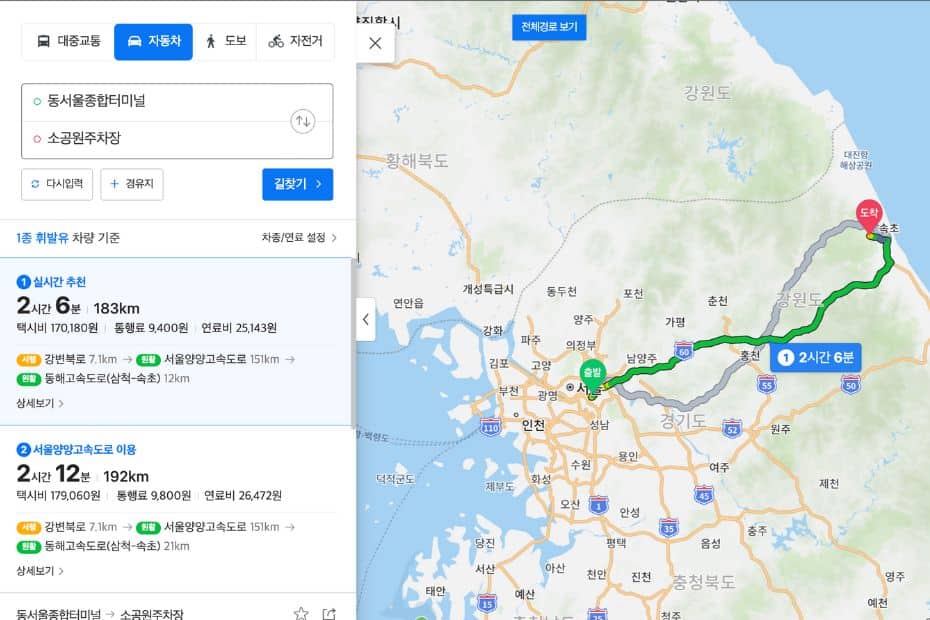 ---
How To Get To Seoraksan National Park By Organised Tour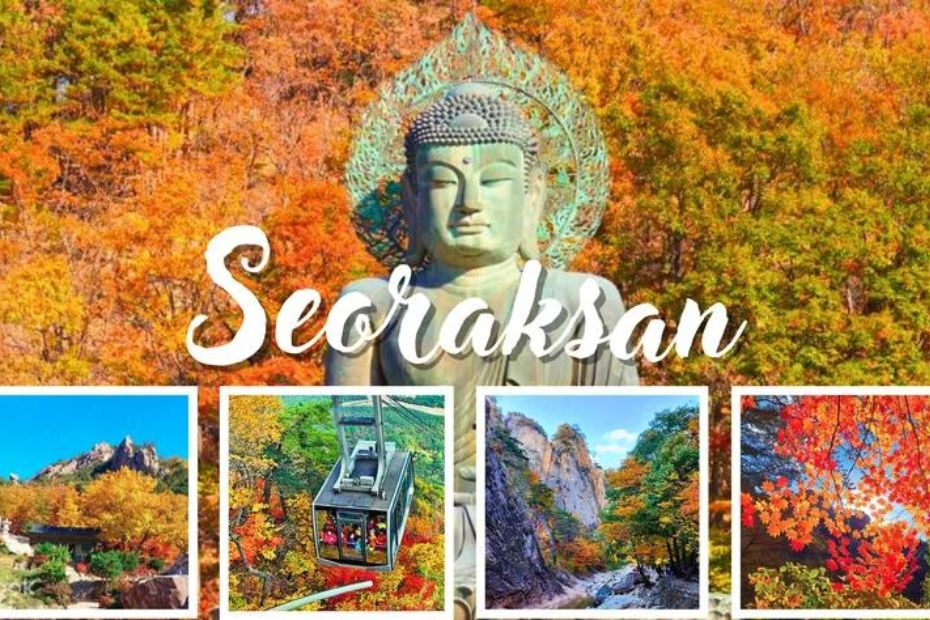 The most convenient way to get to Seoraksan National Park from Seoul is with an organised tour. Most organised tours to Seoraksan depart from Seoul and the tours available range from simple transport to the park, to private tours with mountain hiking, or even a weekend with a night in Sokcho.
If you just want transportation to Seoraksan National Park and then back to Seoul, then a day trip to Seoraksan is the cheapest option. These trips usually include another stop along the way, such as Nami Island, Alpaca World, or the Garden of Morning Calm. Prices start at 95,000 KRW.
During autumn (September to November), there are more tours to Seoraksan National Park as many people want to view the autumn foliage. As this is peak season for travelling in Korea and for visiting Seoraksan National Park, I recommend booking these tours at least 1-2 months in advance.
Seoraksan National Park Tours
Below is a list of some of the organised tours to Seoraksan National Park that depart from Seoul. Several of these are only available during autumn, but some run throughout the year. There are many tour options from Klook, Get Your Guide, Trip Advisor, and Viator that go to Seoraksan.
---
Seoraksan National Park Entrance Fee
There is no entrance fee for Seoraksan National Park. There was a fee of 3,500 KRW to enter Seoraksan, which was actually a fee payable to Sinheungsa Temple. However, since May 2023, most Buddhist temples in Korea have agreed to waive all entrance fees, including Sinheungsa Temple.
If you travel to Seoraksan National Park, you shouldn't have to pay an entrance fee to enter. However, there will be fees for parking, fees to ride the cable car, and fees for using other facilities, such as showers and camping sites. Click for a full list of Seoraksan National Park fees.
Seoraksan National Park Opening Hours
Seoraksan National Park opening hours are from 6:00am until 8:00pm every day. The Seoraksan Cable Car runs from 9:00am until 6:00pm. Buses to Seoraksan National Park from Sokcho begin at 6:51am and the last bus to leave Seoraksan towards Sokcho is around 8:30pm.
---
Best 1-Day Hiking Trails At Seoraksan National Park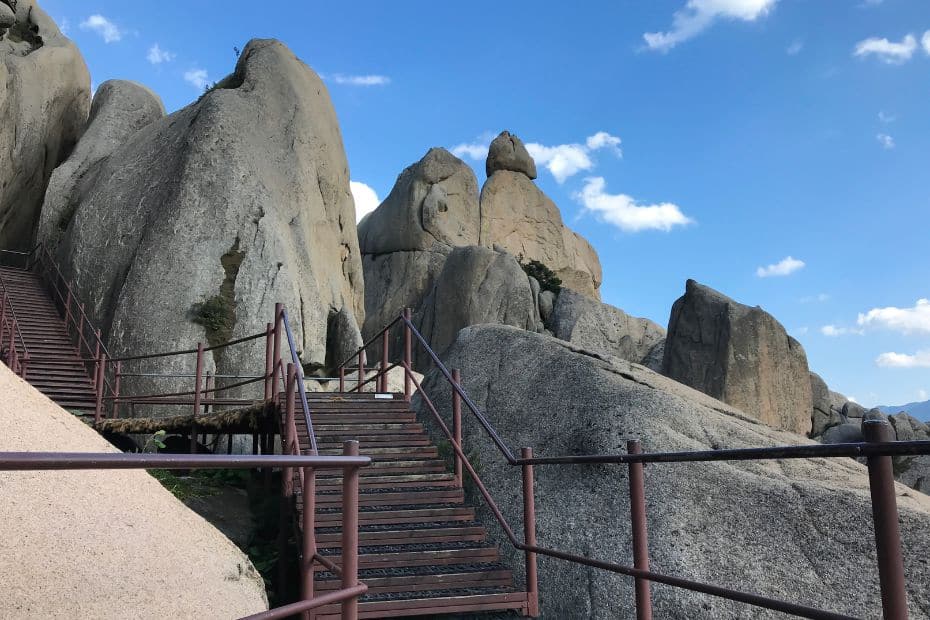 There are many stunning 1-day trails to hike in Seoraksan National Park, including these 6 trails that start from the Sogongwon Park entrance. These hiking trails offer something for everyone with beginner, intermediate, and advanced courses available, each with unique views on offer.
Here are six 1-day hikes in Seoraksan National Park with difficulty, length, and time details:
The map below of the eastern part of Seoraksan National Park shows all of these hiking routes, the distances between each location, and the start point for each of these hikes – Sogongwon Park. The trails head out in three different directions and it's possible to do several smaller trails in one day.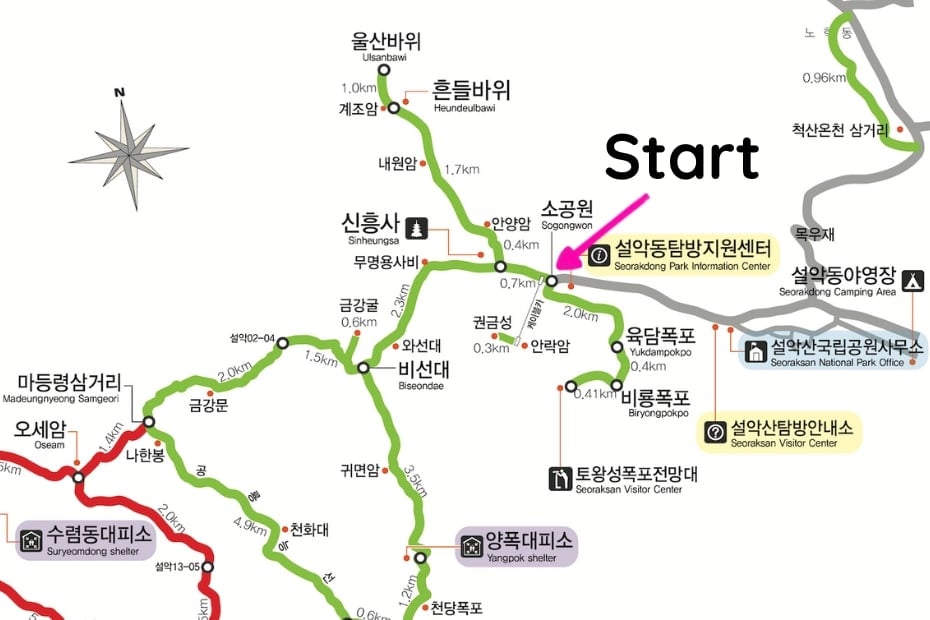 ---
1: Ulsanbawi Peak Hiking Trail
Difficulty: Advanced (3/4) | Length: 3.8km (1-way) | Time: 2:20 (1-way)
The hike to Ulsanbawi Peak (876m high) is the perfect way to experience several attractions of Seoraksan National Park. This trail offers wonderfully unique views of both the valleys below and Ulsanbawi's unusually shaped peak, which is formed of 6 rocks jutting upwards along a ridge.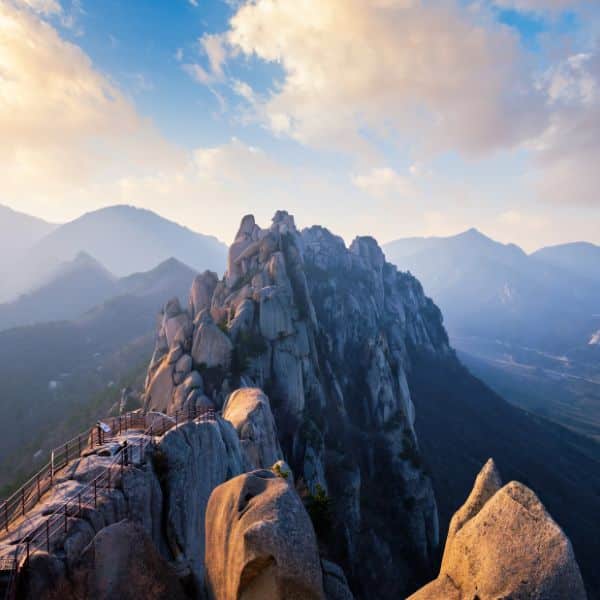 ---
The Ulsanbaw hiking trail begins in Sogongwon Park and is flat to begin with, leading you past the impressive Sinheungsa Temple before branching off right into the start of the actual hiking area. Follow the signposts for Ulsanbawi, which will have some cute Buddhist monk characters on them.
After Sinheungsa Temple, the route begins to get a bit steeper, but isn't too difficult for this 2.1km stretch. You'll follow a river for a while, passing a few bridges and walking over stone steps as you ascend towards Heundeulbawi and Gyejoam Temple. This is a beautiful walk under leafy trees.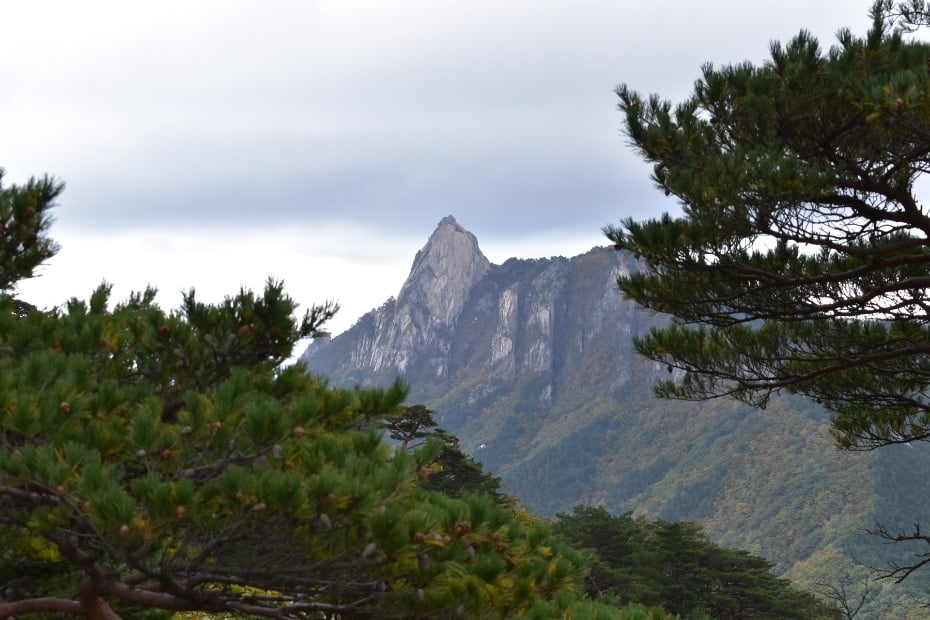 Once you reach Gyejoam Temple and round Heundeulbawi boulder, the route gets serious, so take a break here if you feel tired. There's a lookout point (pictured above) not far from Heundeulbawi which is a great place to look out over the park and at Ulsanbawi above and behind you.
The final 1km hiking path to Ulsanbawi from Gyejoam Temple is 'advanced'. There are lots of stairs to the peak, which can be tiring for your legs, so go slowly and take breaks to enjoy the view and take pictures. The final ascent is tough but definitely worth it once you make it to the peak.
After what feels like a lifetime of gruelling steps up-and-up wooden staircases, you come out onto a viewing platform at the peak with breathtaking views all around, including the iconic Ulsanbawi Peak and Seoraksan's highest peak, Daecheongbong. The peak definitely gives the best view in this area.
---
2: Biryong Falls Hiking Trail
Difficulty: Intermediate (2/4) | Length: 2.4km (1-way) | Time: 50 mins (1-way)
The hike to Biryong Falls gives you the chance to walk amongst trees and spot animals living in the wilderness, passing by a couple of waterfalls on the way. There's also the chance to extend the hike to see the towering Towangseong Falls from an observation platform looking out over the valley.
---
The Biryong Falls hiking trail begins at Sogongwong Park and goes in the opposite direction of the Ulsanbawi trail. You won't pass by Sinheungsa Temple on this course, but the route is relatively short so you can visit there afterwards. This course isn't that difficult, but gets harder after Yukdam Falls.
To get to Biryong Falls, you should take the first left after the entrance and walk along a bridge. As you walk across the bridge you are able to see the cable car moving up and down the mountain. The next 2km is a gentle gravel path that leads through forested pathways until you reach Yukdam Falls.
After Yukdam Falls, the path changes to intermediate level due to the increased incline and rockier pathways for the 400m walk to Biryong Falls. This section is short and still not that difficult, so I definitely recommend pushing ahead for this final section as the views of Biryong Falls are lovely,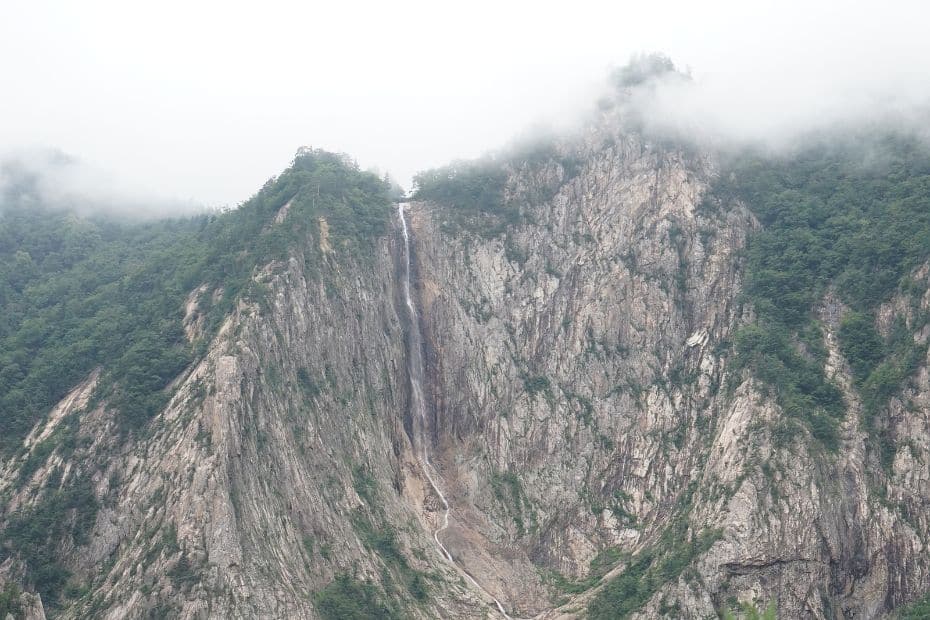 Optional Extension: If you want to see more waterfalls and valley views, continue the trek to Towangseong Falls Observatory after Biryong Falls. The journey to Towangseong is classed as advanced, meaning it's steeper and involves more stairs. This section is short – only 400m.
The path is not too difficult and you can take breaks along the way and enjoy the views. When you walk back, you can see wide views of the valley in reverse as you wind along the narrow natural path. This trail is perfect for those who want to enjoy nature, but without the strain of hiking to a peak.
---
3: Cable Car & Gwongeumseong Fortress Trail
Difficulty: Beginner (1/4) | Length: 300m (1-way) | Time: 15 mins (1-way)
One of the most popular attractions at Seoraksan National Park is the cable car. After taking the cable car up the cliff face, there's a short 15 minute hike to Gwongeumseong Fortress. This is a great way to enjoy the sublime views of Seoraksan without hiking. There's also a small temple at the top to see.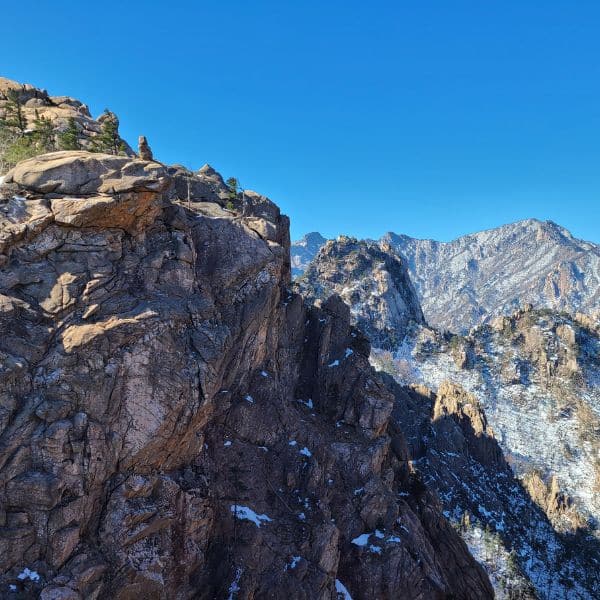 ---
The cable car course doesn't offer much for hikers, but it's the best way for visitors to Seoraksan National Park to enjoy high views without getting sweaty. An adult ticket for the cable car is 15,000 KRW. You can buy a ticket from the Seoraksan Cable Car Center near the park entrance.
Once in the cable car, you can take in views of the valley as you ascend up the mountain. When you arrive to the top, there is a cafe area where you can grab drinks and snacks. There are also toilets. As you go outside, there's a viewpoint on the side of the building to look out at the beautiful scenery.
The hiking part of this trail begins once you leave the cable car station. Follow the path to the right from the cable car centre up some staircases and over rocks. After 15 minutes, you'll come to a rocky peak, which is where the Gwongeumseong Fortress was said to have been. Sadly it's not there now.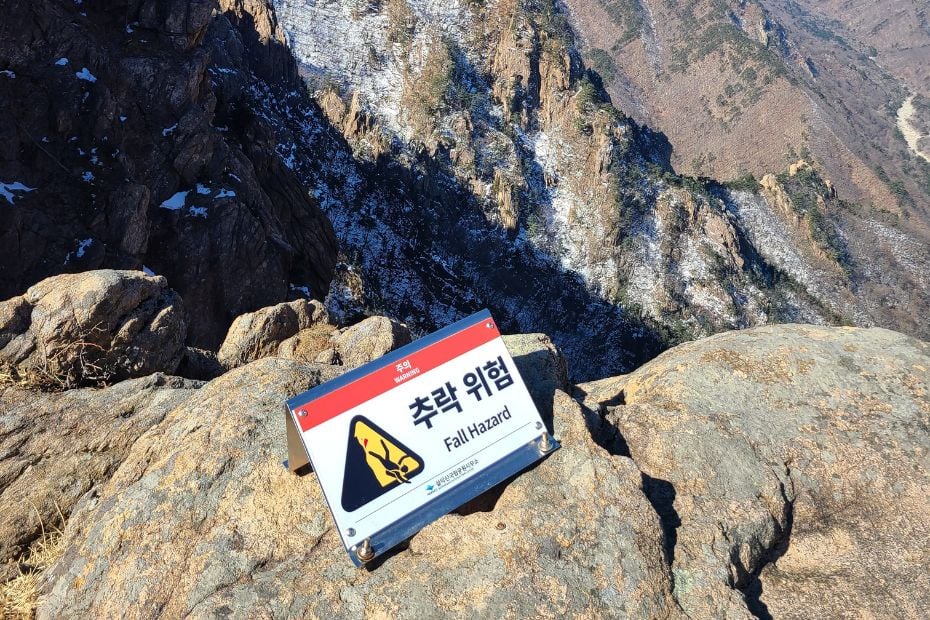 From this peak you can see all the way to Sokcho and out into the blue East Sea beyond. It takes 15-20 minutes to explore and appreciate the views here, which also look over Seoraksan's other peaks and offer a scary sheer drop down on one side (pictured above). Take care when looking around.
Before heading down, be sure to visit the temple in the opposite direction of the fortress from the cable car stop. It's less busy but has some nice views, too. When you decide it's time to head back, go back to the cable car stop. There's no set return time, so queue up and wait for an available ride.
---
4: Biseondae Rock Trail
Difficulty: Beginner (1/4) | Length: 3.0km (1-way) | Time: 1:20 (1-way)
The Biseondae Rock trail is the perfect way to explore Seoraksan's lower valleys without having to hike. This trail goes to Biseondae Rock, a mysterious giant rock that creates waterfalls when it rains. The tree-covered path to Biseondae Rock follows a lazy stream and has pleasant views all around.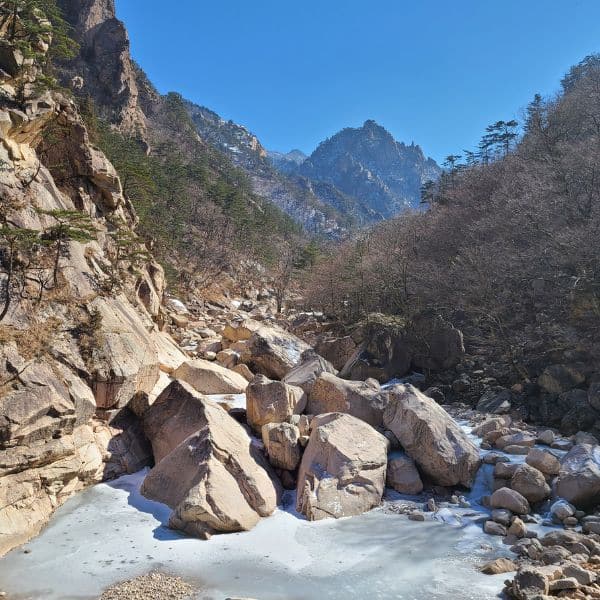 ---
The Biseondae Rock trail starts at the Sogongwon Park entrance, passing the giant bronze Buddha and Sinheungsa Temple and then crossing a small stone bridge. As you cross over the bridge you will find yourself walking through a forested pathway with a stream trickling down to the left of you.
The trail to Biseondae Rock follows one path, which is classed as beginner and runs for 2.3km. After 1.2km, the path begins to get a bit steeper, but it's not too difficult and doesn't require special gear. There's a sign about Biseondae Rock at the end of the trail and you'll see Biseondae Peak above.
The walk through the forest is an easy walk and pleasant. You will find shade under the trees and you can enjoy the sounds of nature all around you. The river will be on your left for most of the trail. If you're visiting during winter, you might even be able to walk along the frozen river most of the way.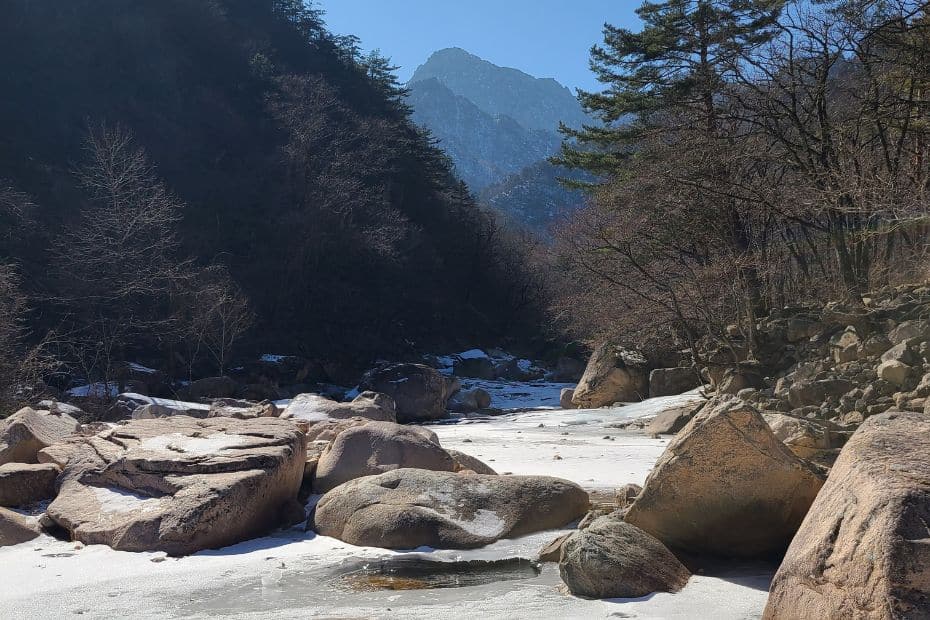 For visitors to Seoraksan who want to take in the valley views and incredible rocky peaks without hiking, this is a good place to turn around and head back to the entrance. You can complete the Biseondae Rock trail in a few hours and have time for a cable car ride or trek to see waterfalls.
If you want to hike further, the large bridge and information office at the end of the Biseondae Rock trail marks the start of the ascent towards the other hiking trails in Seoraksan. These include the Geumganggul Cave trail and the Yangpok Shelter trail, both of which will be covered next.
---
5: Geumganggul Cave Hiking Trail
Difficulty: Intermediate (2/4) | Length: 3.6km (1-way) | Time: 1:40 (1-way)
The Geumganggul Cave trail is an extension of the Biseondae Rock trail that goes up into a revered grotto that was once a place of worship for local Buddhists. This is a steep but short ascent and offers fascinating views inside the cave, as well as wide vistas of Seoraksan from the mouth of the cave.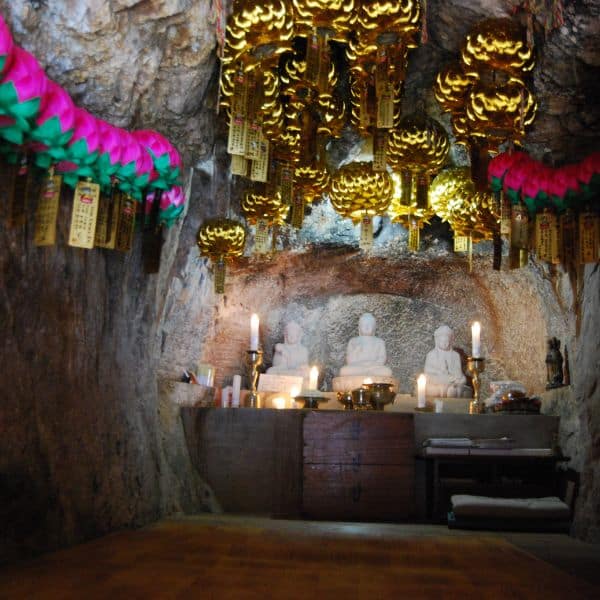 ---
The Geumganggul Cave trail begins at Sogongwon Park and follows the aforementioned Biseondae Rock trail along the valley floor. Once you reach Biseondae Rock, the trail moves from beginner to expert level due to the steep steps and stairways leading up to the Geumganggul Cave (grotto).
The cave's entrance is roughly 600 metres from Biseondae Rock, meaning it's only a short addition to the Biseondae Rock trail, but certainly a tough one that you should be prepared for. As you can see from the picture below, the path ascends quickly with a 35.2% incline. Take it slowly.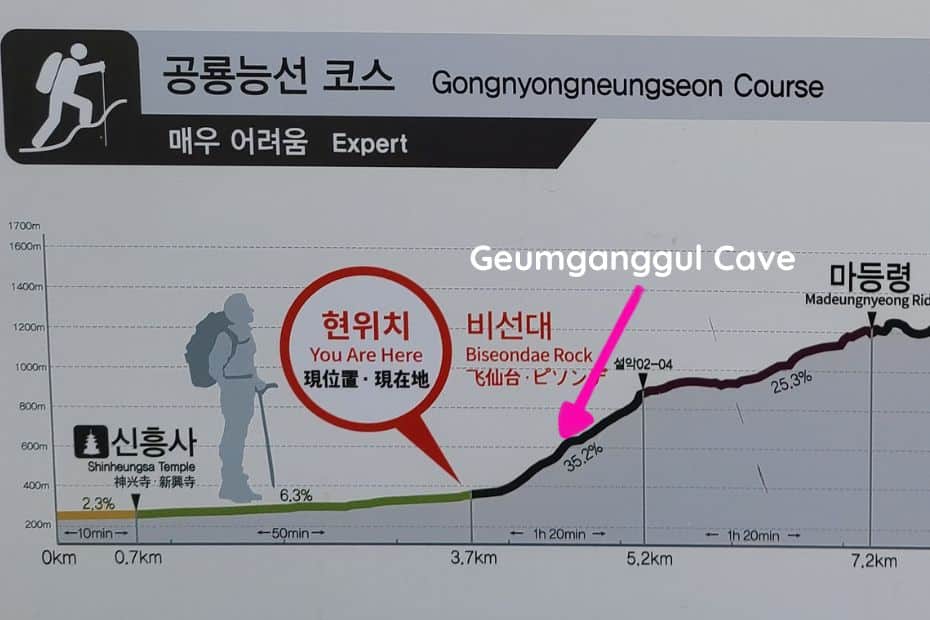 Despite the steepness and difficulty level of the hike between Biseondae Rock and Geumganggul Cave, it's still possible for most people to complete it, as long as you take it slowly and cautiously. The steps are no different from walking inside a building, except that they come with a better view.
Once you reach the cave entrance, passing over some bridges along the way, you'll learn why people push on up those steps and why monks and poets came here to worship, meditate, and contemplate. Spend as long as you need here, taking it in and resting before the tough descent down again.
Not ready to go back down and want to keep hiking further? After the Geumganggul Cave, the trail continues to be difficult, but offers a rewarding journey for hikers. If you plan to spend a weekend in Seoraksan National Park, book a night at the Hoeh-un-gak Shelter and hike more the next day,
---
6: Yangpok Shelter Trail
Difficulty: Intermediate (2/4) | Length: 6km (1-way) | Time: 3:50 (1-way)
The Yangpok Shelter trail is an extension of the Biseondae Rock trail and provides a long and rewarding hike, slowly ascending up to the shelter and passing into Seoraksan's lofty heights. The shelter is located near several waterfalls, including the Yang Falls and the picturesque Oryeon Falls.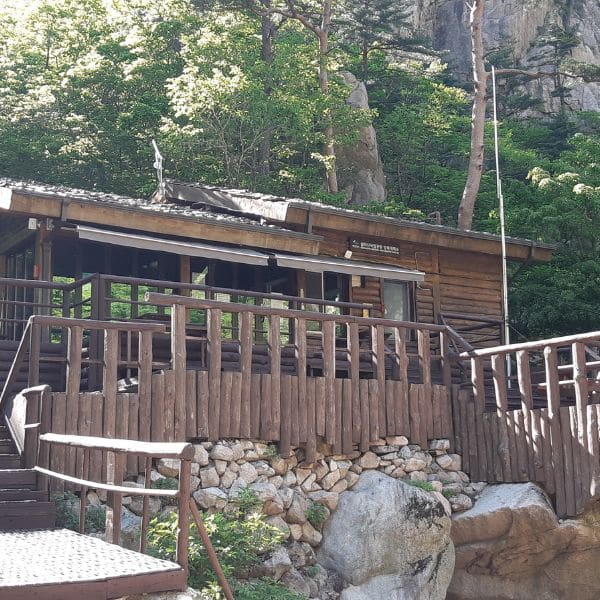 ---
The Yangpok Shelter trail begins at Sogongwon Park and follows the aforementioned Biseondae Rock trail along the valley floor. Once you reach Biseondae Rock, follow the trail left towards Yangpok Shelter. The course moves from beginner to intermediate, ascending slowly during this 3.5km section.
The route is long and steady, passing through forests, over rocky trails and wooden staircases most of the way, as well as a few bridges. About an hour into this section, you will see the Gwimyeonam Rock sticking out of the trees like giants had piled up smooth stone slabs for safe keeping.
As you hike along the trail to Yangpok Shelter, the beauty of the Cheonbuldong Valley unfolds around you with an abundance of nature on show. Near the shelter, you'll find Oryeon Falls, which is a short waterfall dropping into a round pond below, as well as the Yang Falls 30m from the shelter.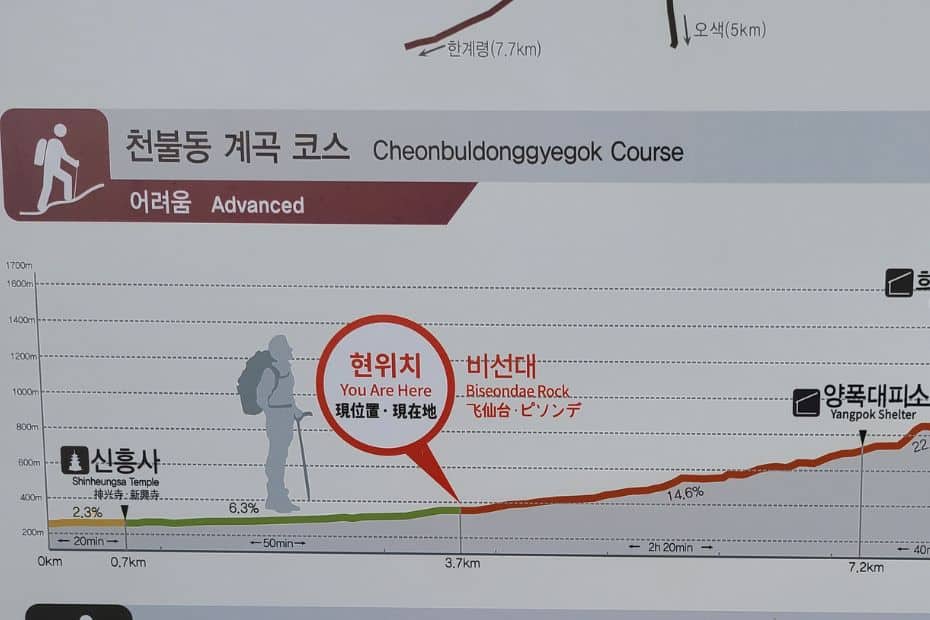 The trail to Yangpok Shelter is known as the Cheonbuldonggyegok Course (shown above) because it goes through the Cheonbuldong Valley. This is arguably one of the prettiest courses to take in Seoraksan if you want to be surrounded by nature with bare-faced rocks staring down from above.
The Yangpok Shelter is available for hikers who want to spend the night in Seoraksan's peaks and continue hiking on one of the available 2 or 3-day courses, including the hike to Seoraksan's highest point – Daecheongbong Peak (1,708m). Otherwise, turn around and head back to the park entrance.
---
What To Prepare To Hike In Seoraksan National Park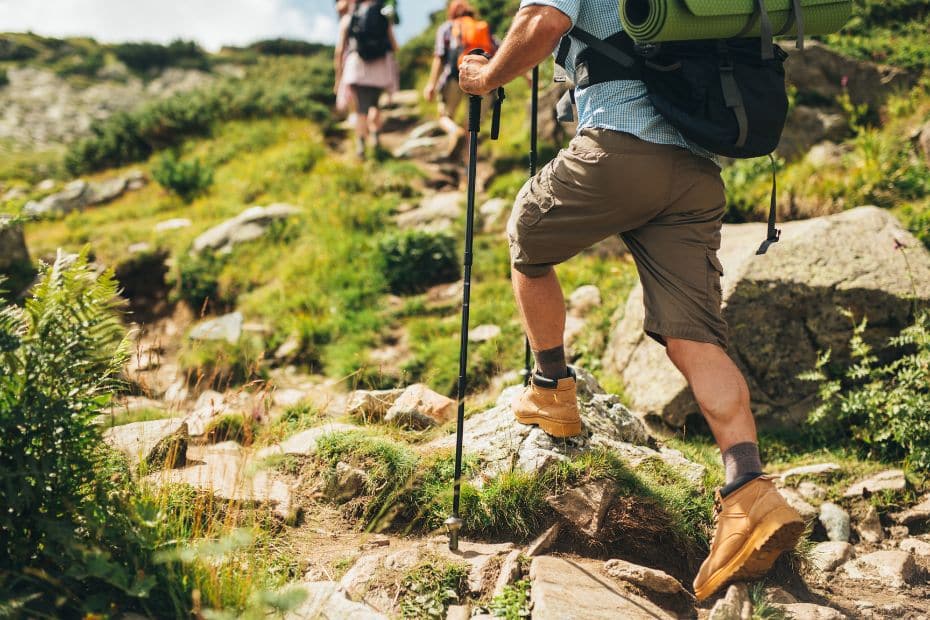 To be fully prepared for hiking Seoraksan National Park there are a few things you should get ready before you head out on your adventure. Some of these are essential considerations to be aware of before you hike, others are nice extras to think about and can improve your hiking experience.
Choose which trail to hike: Hopefully you've already decided which path you want to hike to the peak from the previous sections in this article. Consider the time and difficulty of your chosen course.
Work out how to get to Seoraksan: See the 'How to get to Seoraksan' section above. I also recommend downloading the Naver Map app as it's essential for getting around Korea.
Decide when you will go hiking: There's something to see in Seoraksan in every season. Visit on a weekday for less crowded hiking trails and avoid hiking in the rain if possible.
Consider what to wear when hiking Seoraksan: From hiking clothes to hiking accessories, it's good to prepare in advance and make sure you have the right gear any time you hike in Korea.
Pack appropriately for your Seoraksan hike: As well as the right clothes, you'll need a some hiking equipment, food, snacks, and other supplies to keep you safe and comfortable all day.
Think about what to do when you finish hiking: This final consideration could be the one that leaves a lasting memory and caps off a great day out in Seoraksan National Park.
These last 4 points will be covered in the next sections of this guide. This is really useful info that I've gathered through years of hiking, as well as from the odd mistake and accident. Take a note of these sections to make sure you have all you need to enjoy your hike in Seoraksan National Park.
One last thing, when you hike in Korea…
This passport-style book allows you to collect stamps from all of the national parks across Korea, including Hallasan National Park on Jeju Island. If you live in Korea, this is a fun challenge to encourage you to hike all of Korea's best national parks and see more of the country.
---
Best Time To Visit Seoraksan National Park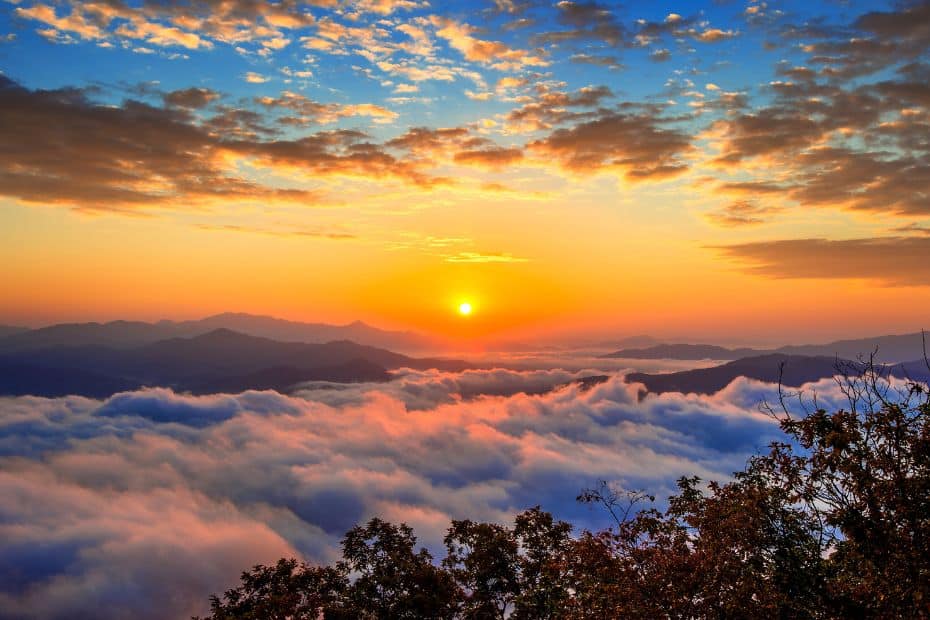 The best time to visit Seoraksan National Park is late September and early October when fall foliage begins to appear and spreads across the park. This is also one of the busiest times to visit Seoraksan, with weekends being extremely busy. Therefore, visit during the week if you can.
When to visit Seoraksan depends on what you want to see and do. The best times to go hiking in Seoraksan are from September to May when the weather is cooler and there's less rain. The best time to visit Seoraksan for sightseeing & trekking are spring and autumn when there's more nature.
In the winter the peaks are often covered with a layer of snow, which adds another dimension to the sharp mountain edges. As spring comes, you can see the trees come back to life and enjoy a hike with fresh spring air. During summer the mountains are covered in seas of green trees & bushes.
Finally, the most popular season is autumn. Seoraksan National Park is renowned for its montage of colour as the trees begin to shake off their leaves for winter. In every season you will be in awe of the views of the rolling mountains surrounding you and the long views out to the east coast of Korea.
---
Autumn Foliage Tours To Seoraksan National Park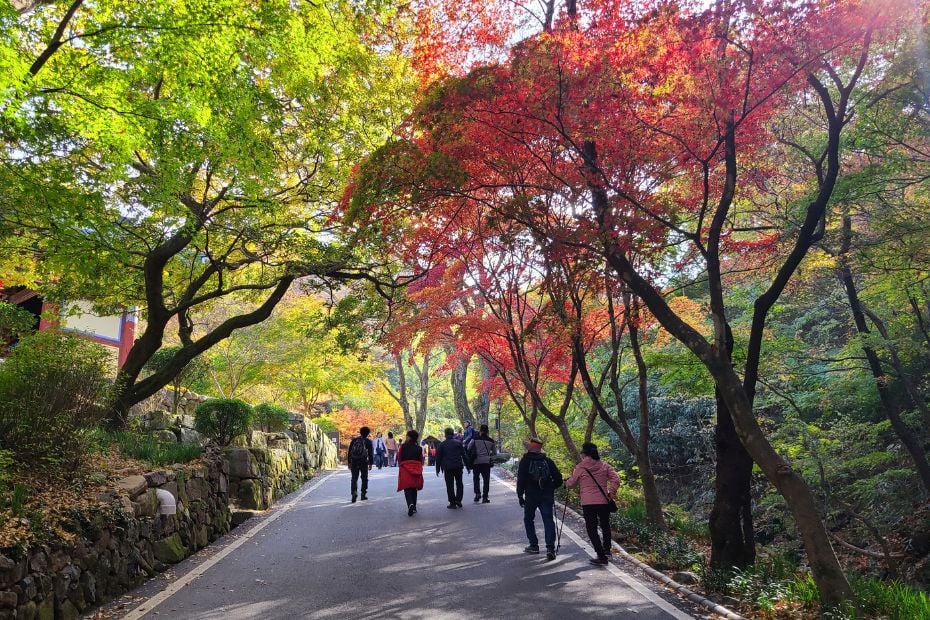 If you want to visit Seoraksan during autumn, definitely book ahead for transportation, tours, and accommodation. October in Korea is peak season not only for international tourists visiting Korea, but also for local tourists. There are several public holidays at this time of year, including Chuseok.
The most convenient way to see autumn foliage in Seoraksan National Park is to either stay in Sokcho and travel on a bus from there, or book an organised tour from Seoul. These tours will bring you to Seoraksan without the hassle of using public transport and provide you with information, too.
---
What To Wear Hiking In Seoraksan National Park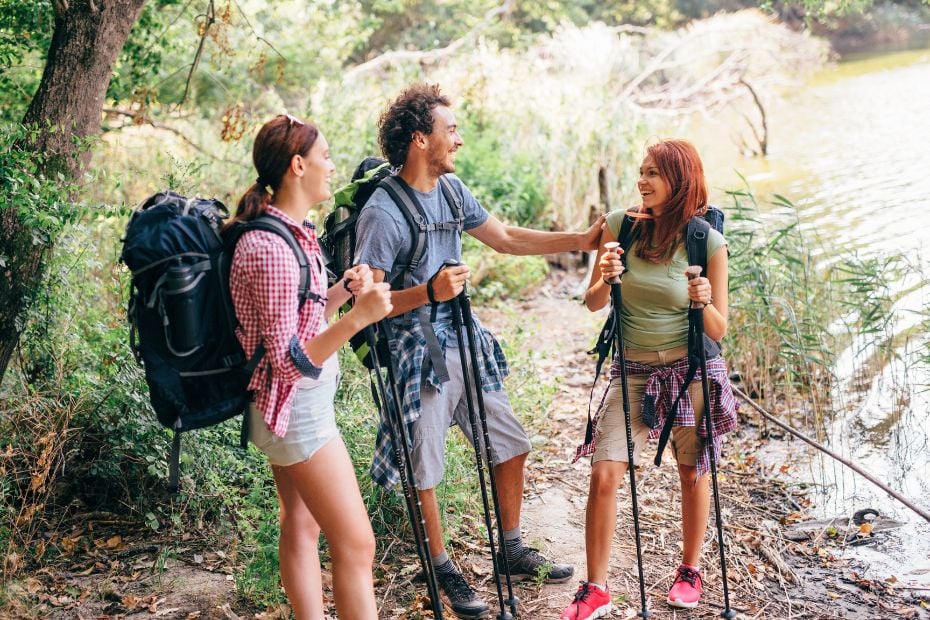 Once you've figured out what time of year you want to hike Seoraksan National Park, you should pack the right clothes for the season. Of course, the weather in Korea can change day to day, so also bring appropriate clothes for the weather that day (i.e. a raincoat if it's raining).
Here's a rough guide to what to pack for hiking in each season:
Spring & Autumn: These seasons are warm with a few showers, but not heavy rain or snow. Dress lightly as you'll be hot going up the mountain, but also pack a light jacket for the peak as it can get windy and cold up there. You'll also be cooler going down after reaching the summit.
Top: Light top. Jacket you can store in your bag.
Legs: Light trousers to protect from insects.
Feet: Regular hiking socks.
Summer: Summer in Korea is hot and humid and the wettest season. I recommend light clothes for hiking in hot weather. Cover your arms and legs to avoid mosquito bites and reduce the chance of sunburn. Pack a poncho (sold in the parks during summer) or light waterproof jacket in case of rain.
Top: Long-sleeved thin hiking or cotton t-shirt. Rain jacket or rain poncho if raining
Legs: Long shorts or trousers to protect against mosquitoes.
Feet: Ankle socks.
Winter: The winter months in Korea can be very cold, well below freezing, so wrap up warm. However, you'll heat up as you hike, so also wear clothes that you can shove in a bag or wrap around your waist. Insulated socks and inner wear are recommended if the weather is far below zero.
Top: Layers that you can remove easily. Jacket with wind protection, thin fleece.
Legs: Thick or lined trousers (with leggings if really cold).
Feet: Woollen hiking socks.
Headwear: A cap or a wool hat can be important on a hike to protect yourself from the sun or to keep you warm as the temperature drops. This applies to all seasons as you can be get sunburn in any season, even winter. Bring a cap for summer and wool hat for winter to help keep heat in.
Hiking boots: A decent pair of hiking boots is the best investment you can make when hiking. I use the same pair most of the year round (except summer) and they keep my feet and ankles safe and protected from injury. They also help me in bad weather conditions as they provide sturdy grip.
No matter the season you should wear hiking boots if you plan to take one of the intermediate or advanced hiking courses in Seoraksan. They provide better grip and safety when you need it. For the beginner courses and the cable car route, a good pair of trainers / sneakers will be fine.
For more info about what to wear, pack, and prepare for hiking in Seoraksan or other Korean national parks, check out this guide to hiking in Korea. There are more than 20 hiking tips that will make sure you have a great day out in the mountains (weather not guaranteed!).
---
What To Pack To Hike Seoraksan National Park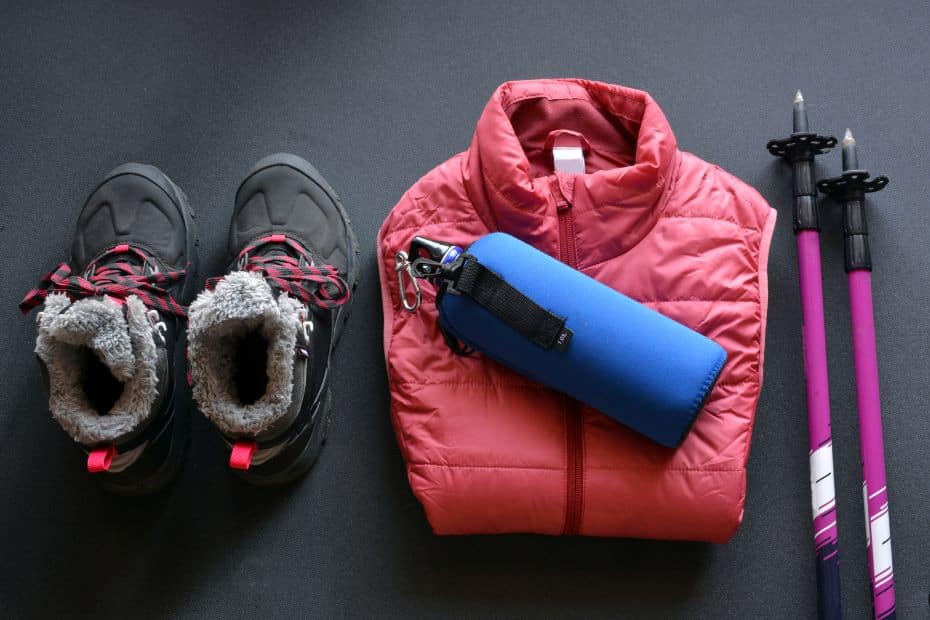 What should you pack to hike Seoraksan National Park? As mentioned, for your Seoraksan hike it is important to take extra layers and clothes that will keep you warm. Depending on the season you will add different items to your bag, but extra layers are something you should always consider.
Food And Drinks For Hiking In Seoraksan
If you plan to hike one of the longer courses in Seoraksan, such as the Ulsanbawi Peak trail, the Yangpok Shelter trail, or the Geumganggul Cave trail, you should pack some snacks, water or other liquids, and possibly a lunch in your bag. You can buy snacks and drinks at shops in the park.
Water, or your choice of hydrating drink, is a must when hiking. Depending on the season, the amount you need to drink will differ. In winter a 500ml bottle may be enough, but if you hike in summer, you'll need at least 1 litre or more as you'll lose a lot of liquids through sweat in the high heat and humidity.
If you plan on sticking to the shorter courses or you're taking the cable car, you don't need to worry about bringing extra supplies as there are shops, cafes, and restaurants available in the main area around the cable car, as well as at the cable car station. Just bring some water with you.
---
Hiking Equipment For Hiking In Seoraksan National Park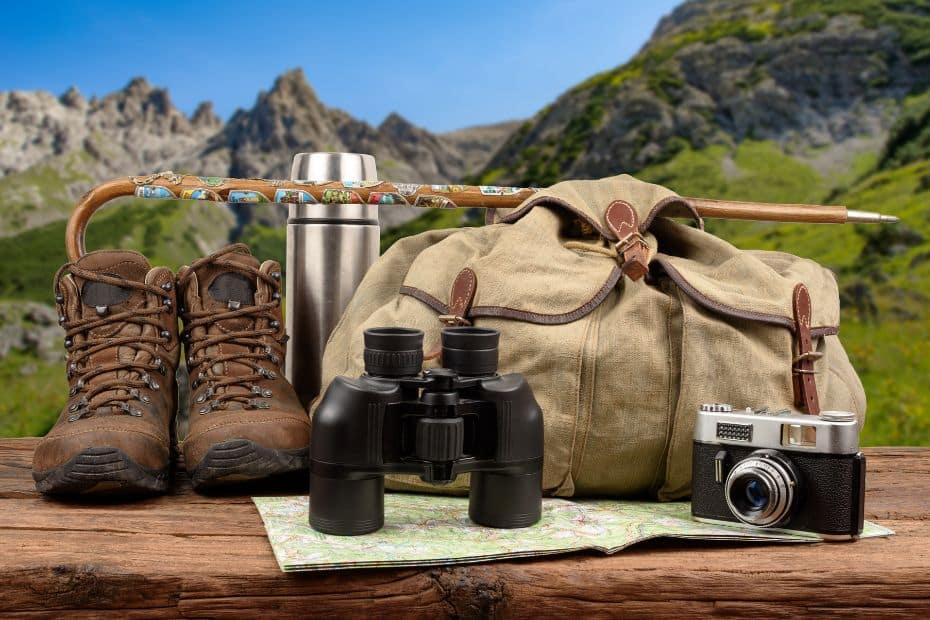 Even though you'll want a light backpack when you hike Seoraksan, there are some essential items that you should bring whenever you hike, such as hiking poles, tissues, a sweat towel, and gloves. These items can change depending on the season, but most are essential for the longer trails.
Backpack or daypack: You'll need something light to carry your snacks, water, and equipment with you when you hike. For a day hike, you shouldn't need more than a 25 litre backpack.
Reusable water bottles: If you want to reduce your environmental impact, bring some collapsible or reusable water bottles with you and fill them at the water fountains at the park's entrance.
Hiking poles: These extendable hiking sticks are great for getting over rocky paths and for improving balance while reducing leg pressure when descending the mountain. Not essential for everyone.
Sun protection: Being outside means being exposed to sunshine, especially at the peaks and at the Gwongeumseong Fortress. Be sure to apply suncream and wear sunglasses to stay safe.
Sweat towel or handkerchief: Whatever season you hike Seoraksan in, you're probably going to sweat a bit (or lots). A sweat towel or handkerchief is also useful for drying your hands.
Insect repellant: From spring to autumn, you will find mosquitoes in the mountains. Be sure to spray yourself when visiting Seoraksan. Summer is the worst period for insects while winter has none.
Hygiene supplies: This includes tissues, wet wipes, and hand sanitiser. Tissues and wet wipes have many uses, including cleaning your hands before you eat or if you need to use a mountain toilet.
First aid kit: This isn't necessary, but can be useful if you're concerned about cuts and scrapes while you hike. I usually have a few plasters in my bag in case I cut myself on a thorny bush.
Cash & Debit card: Bring some cash to use at the food stalls or vending machines at the national park entrances and other locations. Use a WOWPASS to pay for meals, souvenirs, and shop items.
If you only plan to explore Seoraksan National Park and stick to the shorter or beginner courses, you won't need hiking poles, hiking boots, or proper hiking gear. However, I would still recommend the other items, especially if you're travelling in summer when it's hot and there are many insects around.
---
What To Bring For Hiking Seoraksan In Winter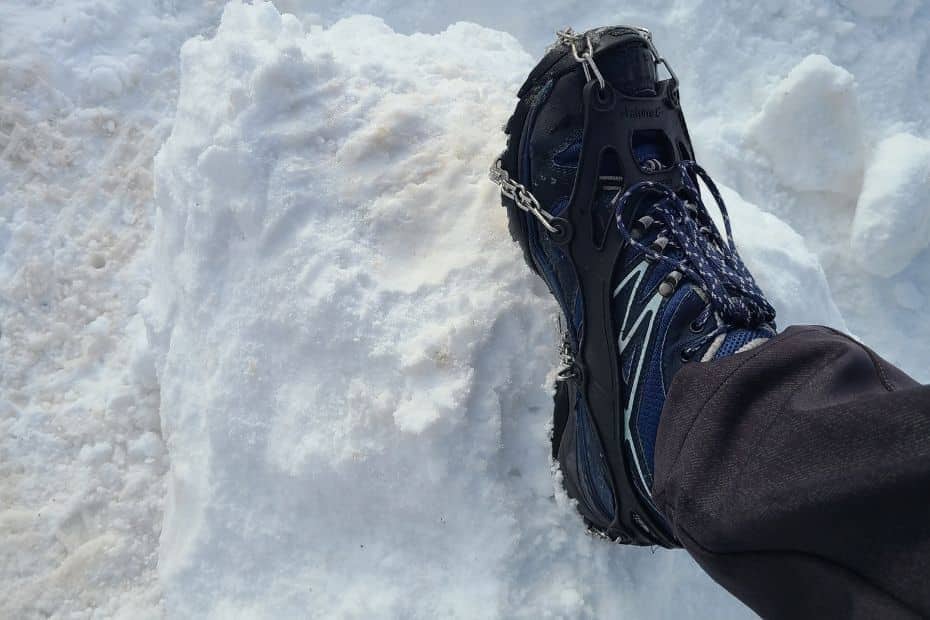 The following items are hiking equipment you might need if you plan to hike in winter when snow and ice can build up on the hiking paths of Seoraksan. Even the river route to Biseondae Rock can be icy during winter and hiking sticks can help with balance. For hikes into the mountains, bring these:
Crampons / cleats: Even if the start point doesn't have ice or snow, there certainly can be some at the peak. Pack some cleats to slip on when it gets icy to stop you from slipping and injuring yourself.
Windproof hiking gloves: Temperatures in winter get below zero and as you hike to Ulsanbawi Peak, the temperature will drop even more. Windproof, waterproof gloves will keep your hands safe.
Sunglasses: Winter in Korea is the sunniest time of the year and the sun can be blinding as it reflects off the snow or ice. Definitely bring shades if you plan to hike Seoraksan in winter.
Heat packs: Hand and foot warmers or heat packs to stick on your clothes are both really useful for hiking in Korea during winter. I always pack hand warmers for my pockets to keep my hands alive.
You can buy most of these items at the shops in Seoraksan National Park in case you don't have them with you when you visit Korea. These will be fairly basic and if you plan to hike during winter more than once, it's definitely worth investing in decent winter hiking gear for Korea or elsewhere.
---
Where To Eat At Seoraksan National Park
If you come to Seoraksan National Park for a stroll through the woods, a trip up to Gwongeumseong Fortress in the cable car, or a hike up one of its numerous peaks, then you will want to take a rest for some delicious Korean food or a coffee and cake. Fortunately, there are plenty of options for you.
Not far from the Sogongwon Park entrance of the national park is a rest area. Here there are several restaurants for you to choose from with most selling Korean food. I recommend 비선대 만난의 광장; here you can nibble on some delicious haemul pajeon and try corn makgeolli made in Sokcho.
Here are 3 restaurants to try in Seoraksan National Park:
If you want to sample some traditional Korean dishes, a restaurant at Seoraksan National Park is a great place to sample haemul pajeon, bibimbap, gamjajeon, and more. There's also Western food available at The Kensington Hotel, which is a large hotel in Seoraksan National Park.
Feel like a coffee with gorgeous views of Seoraksan's rocky peaks and lush forests? There are several cafes in Seoraksan, including one close to Sinheungsa Temple. These cafes not only provide a coffee-fix, they also serve sweet Korean treats, including bingsu, a refreshing shaved ice dessert.
---
Where To Stay To Visit Seoraksan National Park
While there are plenty of tour options to Seoraksan from Seoul that will allow you to experience the park in a single day, you might want to spend more time in the park and in nearby Sokcho. There are several options for places to stay to access Seoraksan National Park without a long journey.
Here are the accommodation options near Seoraksan Sogongown Park entrance:
---
If you prefer to have the conveniences of a city, then Sokcho is the best place to stay to access Seoraksan National Park. When I visit Seoraksan for a weekend, this is where I prefer to stay as there are lovely sights to see in Sokcho, including a traditional market with great Korean street food.
Here are accommodation options in Sokcho on the bus route to Seoraksan National Park:
---
If you plan to hike for more than one day in Seoraksan and want to stay over in the mountains, you can book a shelter from the Korean National Park Service website. Shelters are basic, providing just a place to sleep and a few refreshments. You'll need your own sleeping bag and pillow.
---
Hiking Seoraksan National Park FAQs
Finally, here are a few FAQs about how to hike Seoraksan National Park, in case the above information didn't cover enough for you. If you have any other questions you'd like to ask, feel free to leave a comment.
---
Liked This? Pin It For Others
If you enjoyed reading this article, then please share this with your friends on Pinterest.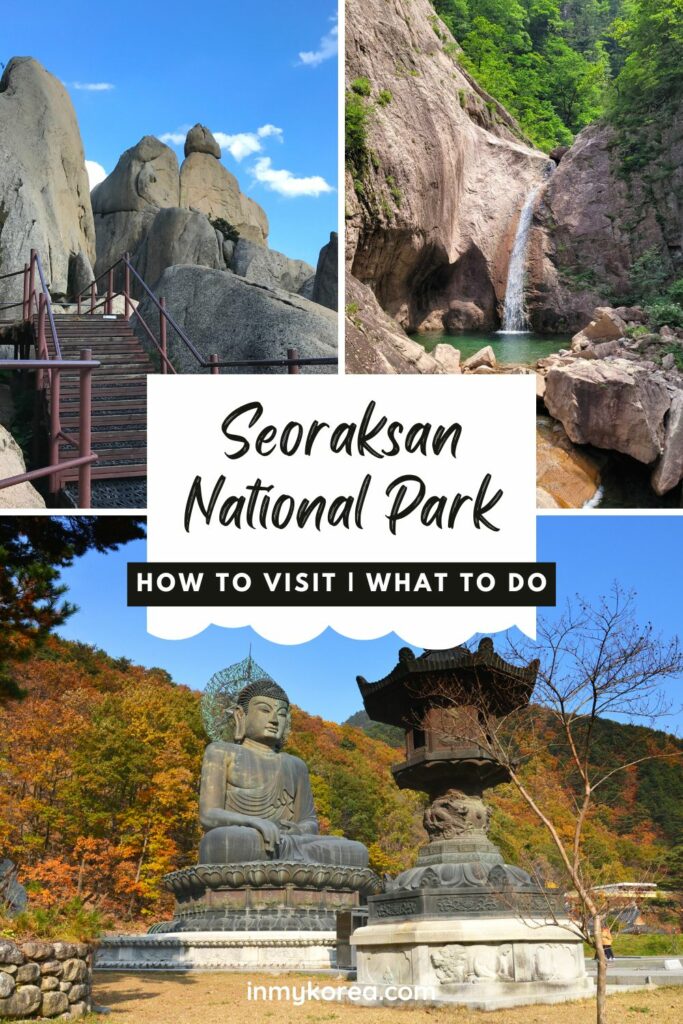 ---
Related Articles