If you're wondering when the best time to visit Korea is, I honestly have to say that it's autumn. Once you see these beautiful Korean autumn leaves pictures, I think you'll understand why.
After a long, hot, green summer, autumn not only brings with it cool weather with clear skies, but also a change in colours that add a final flash of brilliance before the empty, drab months of winter kick in.
Verdant greens slowly melt into flickering yellows, dazzling golds, gooey oranges, and fiery reds over the autumn months, setting forests aflame with sunset hues that drop slowly from the tree tops to the ground below.
I hope this collection of Korean autumn leaves pictures inspires you to visit Korea during this incredible season and lets you appreciate the majestic beauty of this fleeting season in the Land of the Morning Calm.
Disclaimer: This site contains affiliate links and I may earn commission for purchases made after clicking one of these links. Affiliate Disclaimer
---
My Favourite Korean Autumn Leaves Pictures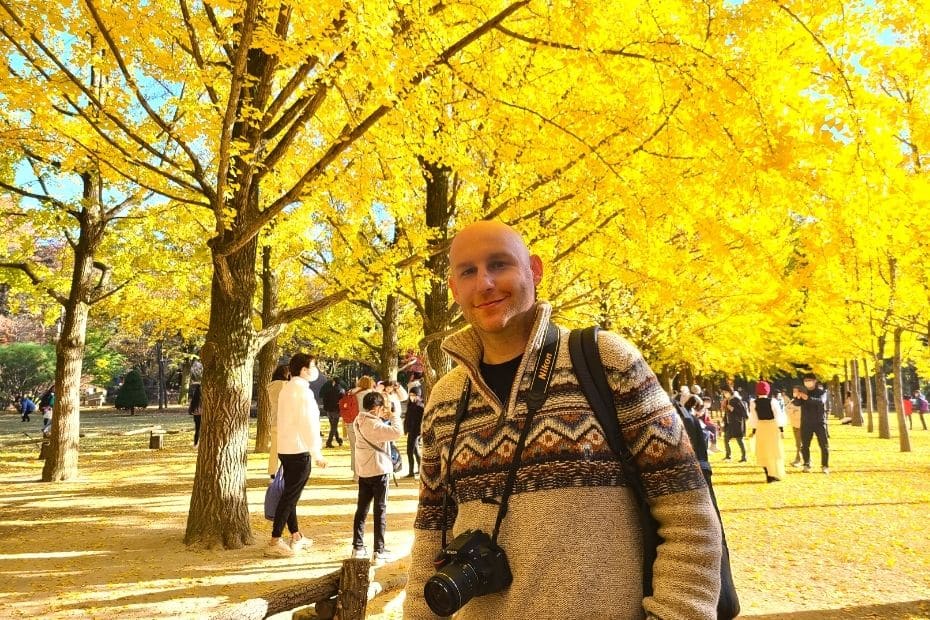 I want to start with my top 3 Korean autumn leaves pictures before showing you the rest, because these have created some of the most memorable moments in my time living in Korea.
---
1: Changdeokgung Palace & Secret Garden, Seoul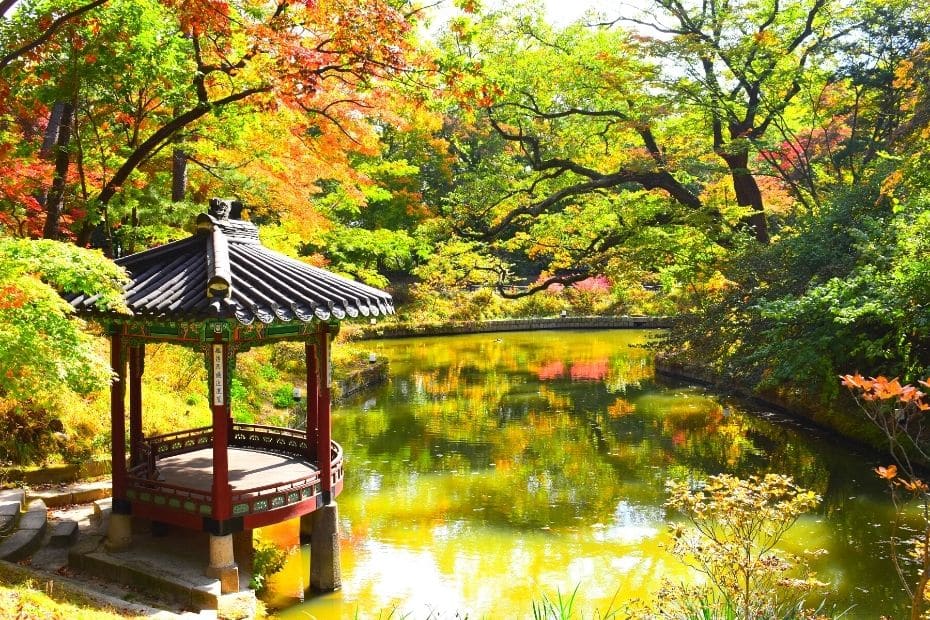 Changdeokgung Palace is an incredible place to visit in Seoul for people who want the chance to explore a traditional palace, dress up in Korean hanbok (traditional clothes), and see lots of lovely nature.
If you're lucky, you can also get access to the Secret Garden, which is restricted to a small number of guided tours each day. These royal gardens, which were kept exclusively for the royal family to unwind and relax in, offer a gorgeous glimpse into Korean royal life and display timeless sights of natural wonders.
---
2: Nami Island, Gapyeong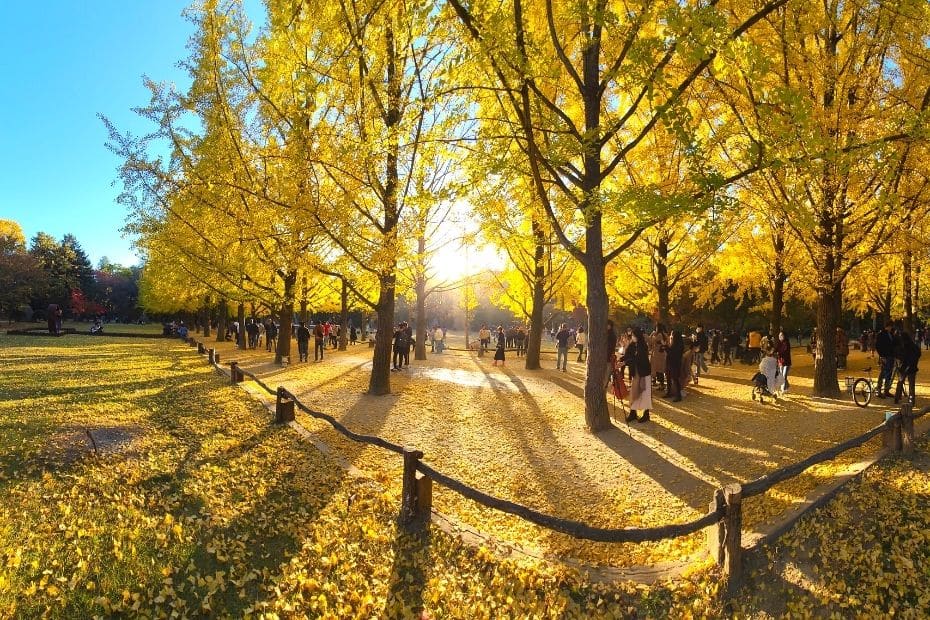 One of the must-see places in Korea at any time of year, Nami Island really comes alive in autumn due to its abundance of natural beauty and tree-lined streets that create the perfect areas to take sweeping shots of autumn colours.
If you want to see more pictures of Nami Island, check out my Guide To Getting To Nami Island From Seoul. You'll see a few more Korean autumn leaves pictures from Nami Island in that article, too.
---
3: Naejangsan National Park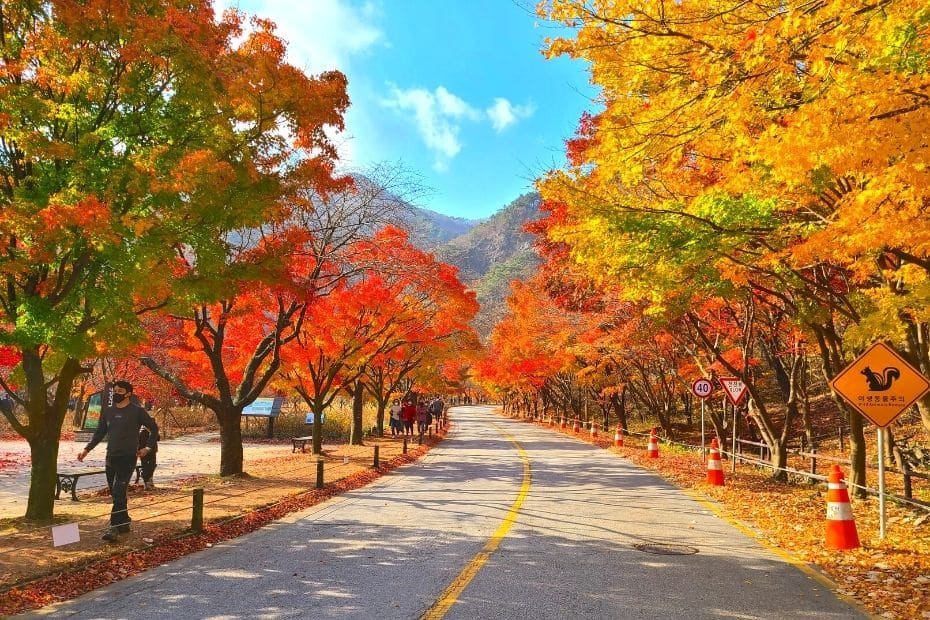 Naejangsan National Park in the south-west of Korea is one of the must-see destinations for Korean autumn leaves. This small but stunning national park is packed with photogenic spots, such as the Maple Tree Road, Naejangsa Temple, Uhwajeong Pavilion, and the observatory at the top of the mountain.
You'll probably recognise some of these views from iconic Korean autumn leaves pictures. If you want to see more, check out my article all about Visiting Naejangsan In Autumn.
If you want to know more about where and how to see fall foliage in Korea, be sure to check out my detailed guide to Autumn Leaves In Korea.
Please note: The majority of these pictures are all photos I've taken during my time living in Korea. A few are 'borrowed' from free photo sharing sites.
---
Seoul Autumn Leaves Pictures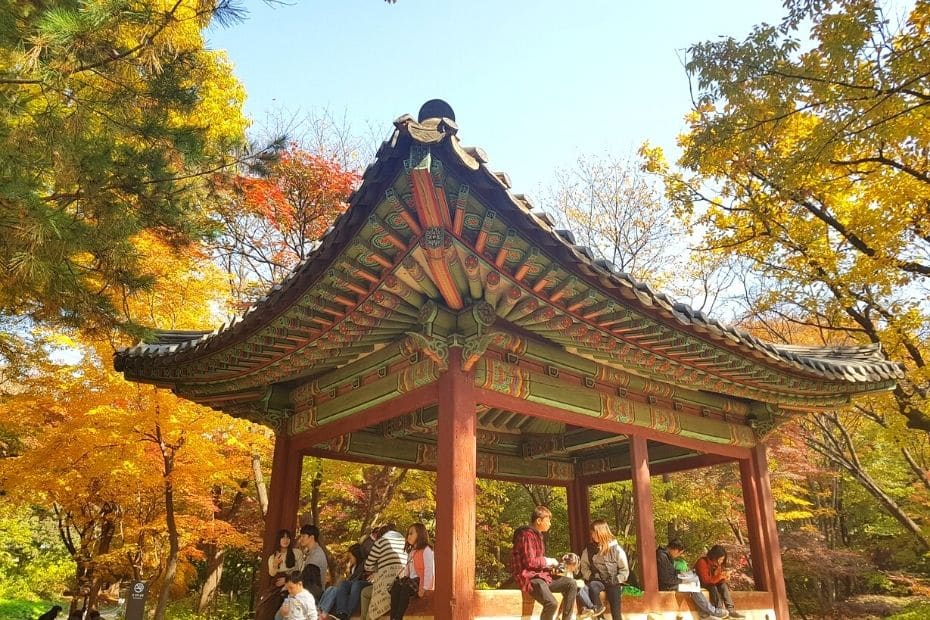 If you want to see autumn leaves in Seoul, then you're in luck. Seoul is a very leafy city with lots of natural beauty to check out throughout the year, especially in autumn. Here's some of the sights you can see in Seoul.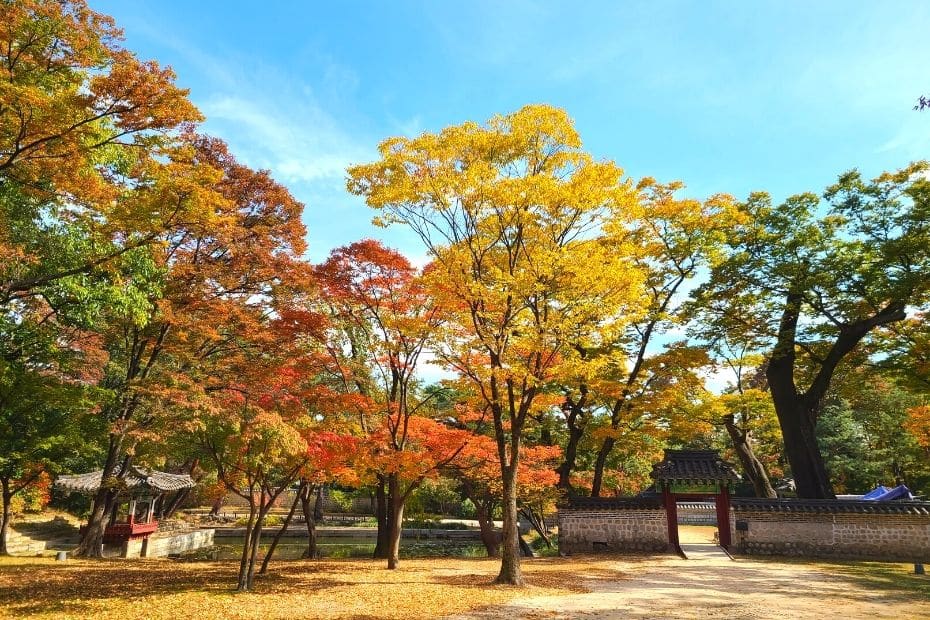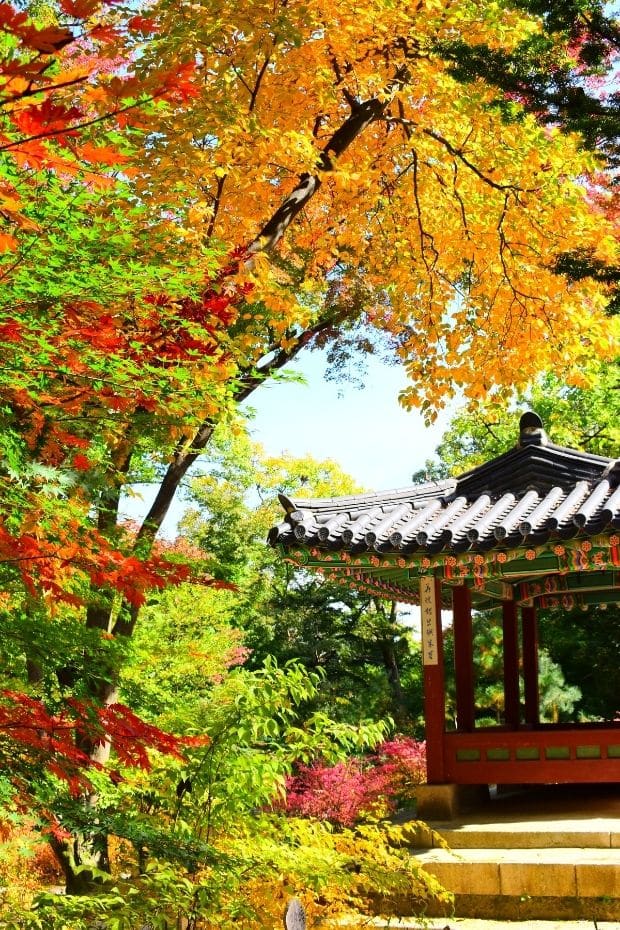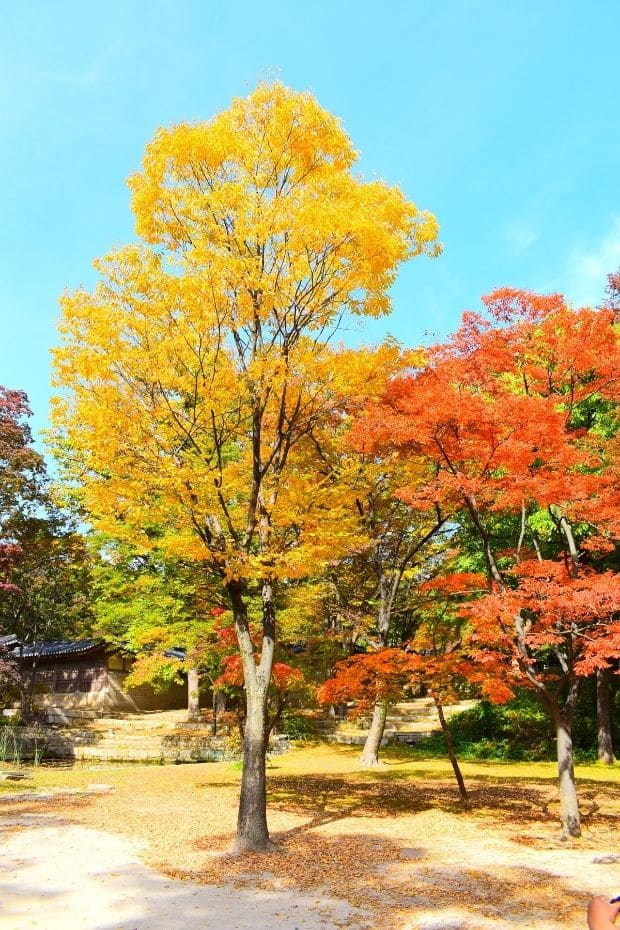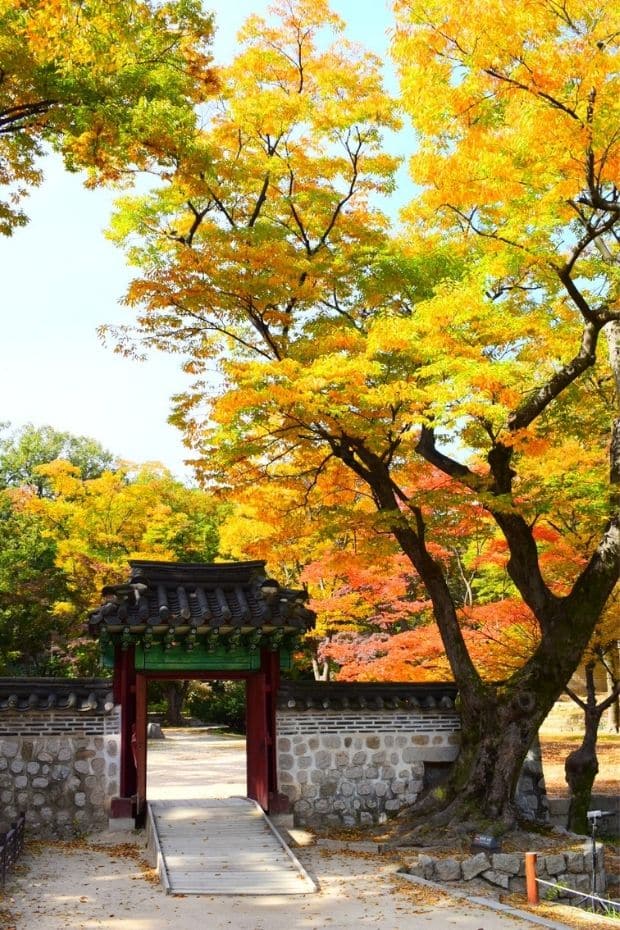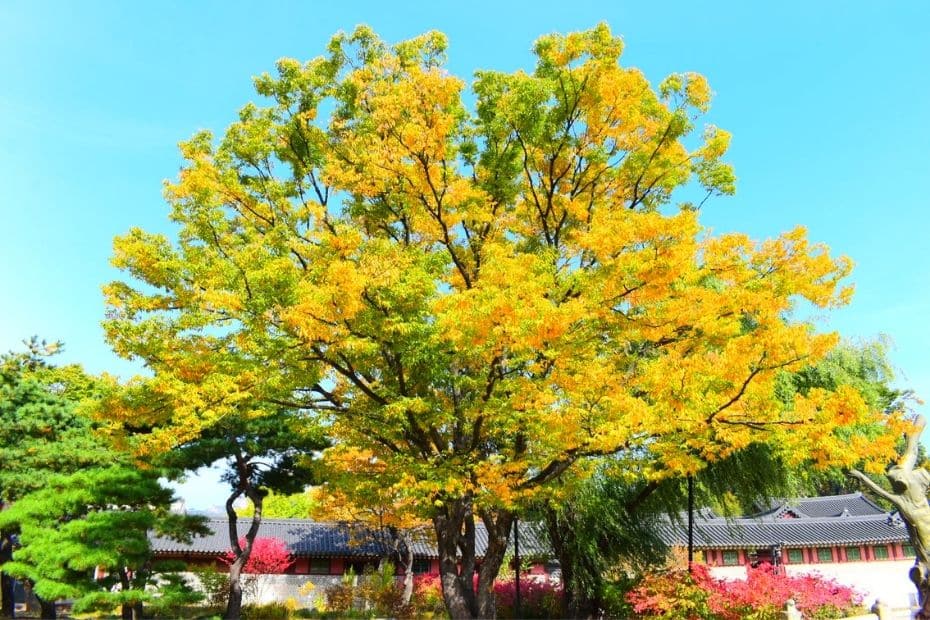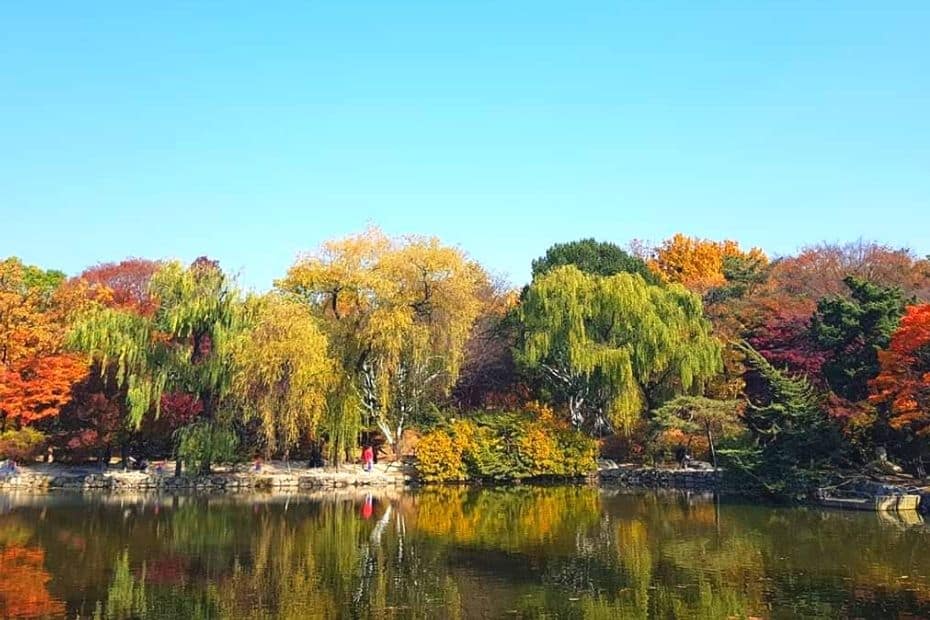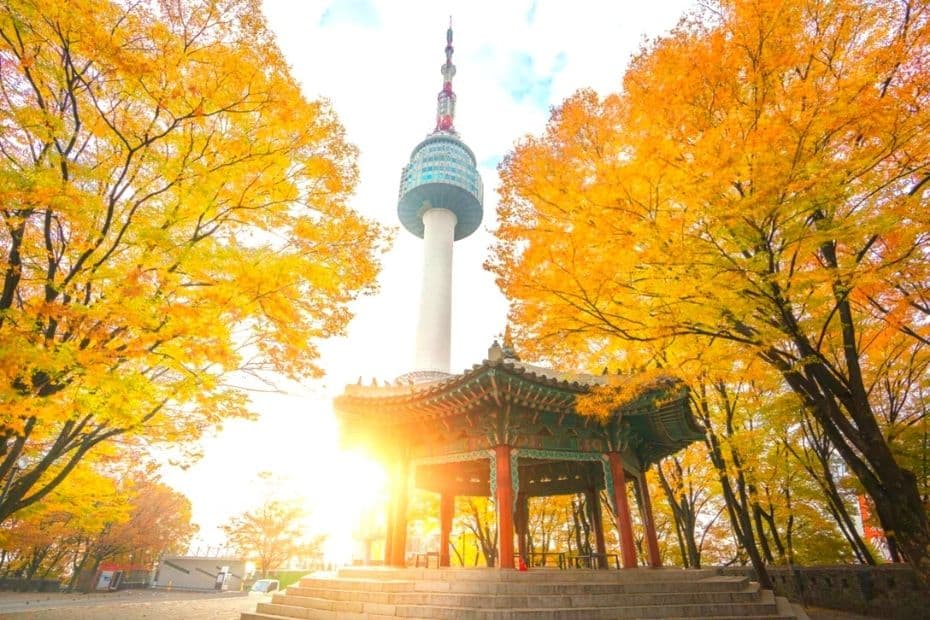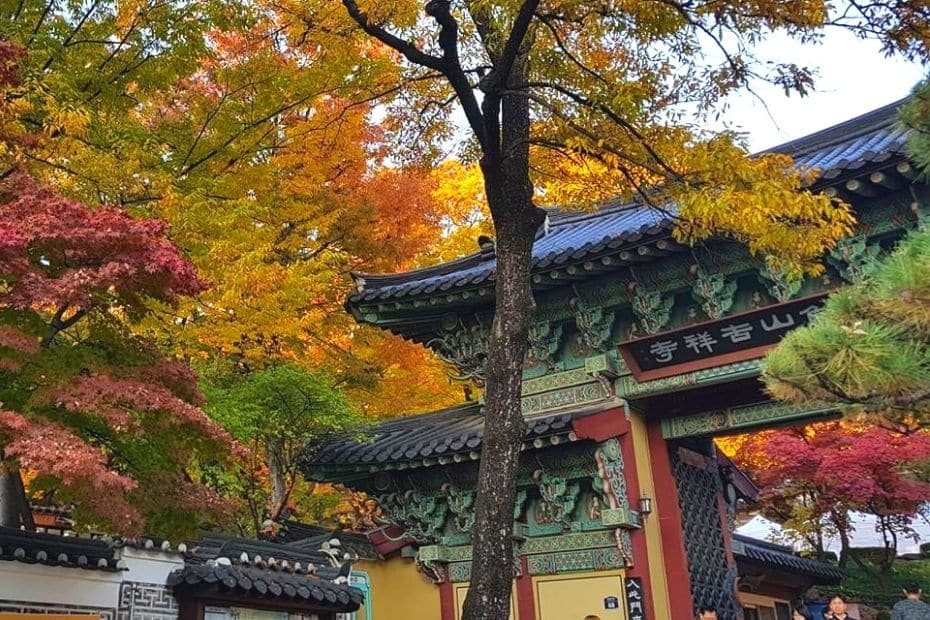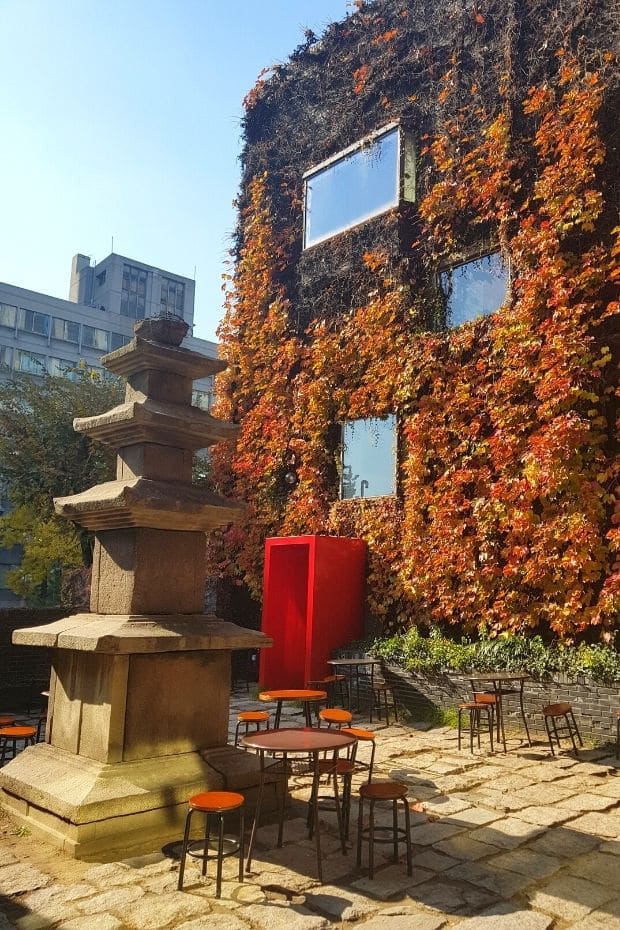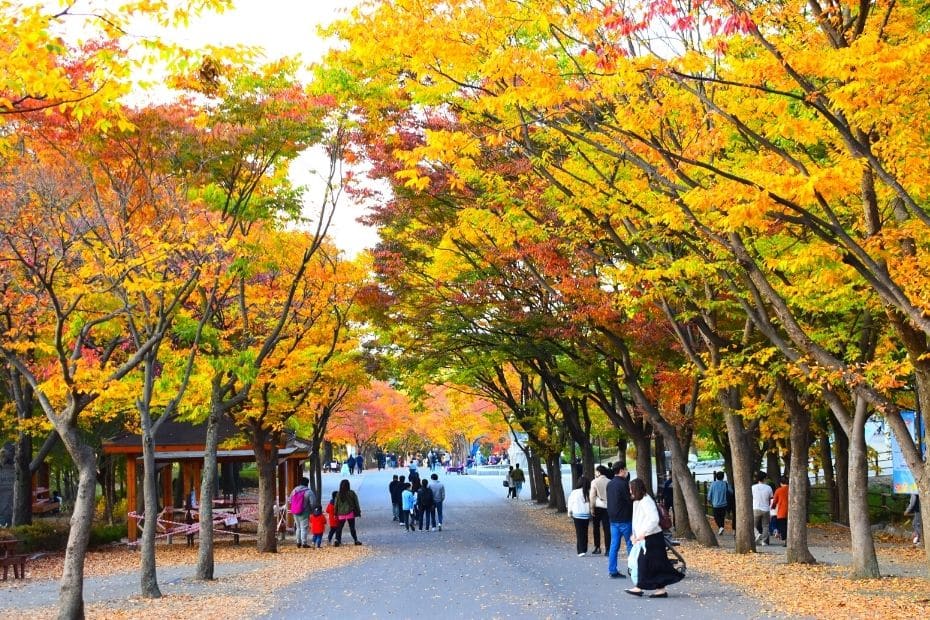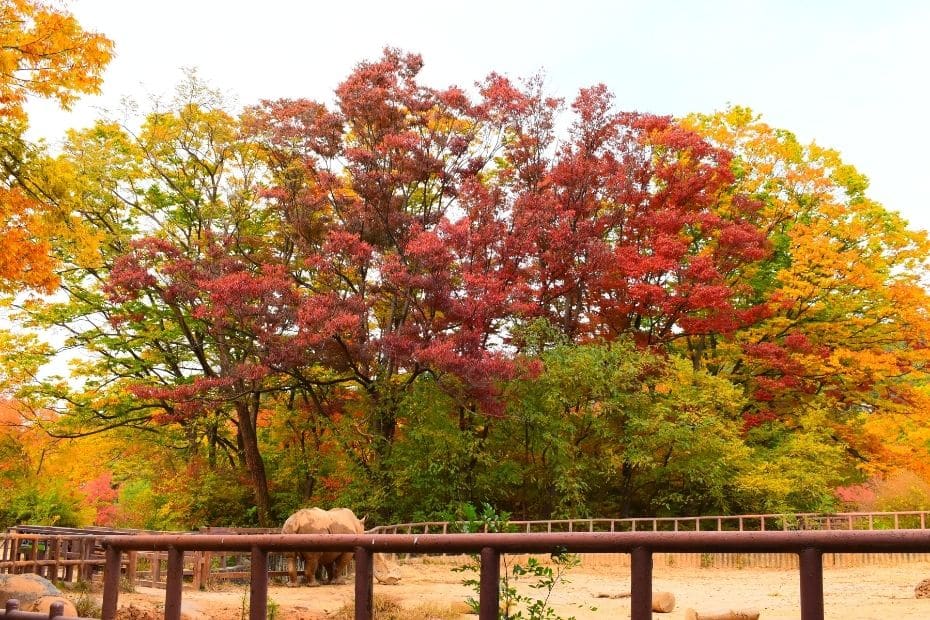 There are plenty of other places to check out autumn leaves in Seoul, such as Seoul Forest, along the Han River, Gwanaksan Mountain, Bukhansan National Park and Seoul National Cemetery.
Now, here's a whole load of Korean autumn leaves pictures from the rest of Korea.
---
NEED TRAVEL ADVICE FOR SOUTH KOREA?
Join Korea Travel Advice on Facebook | Discover amazing places to see in Korea | Connect with a friendly community | Get essential advice for your Korean journey.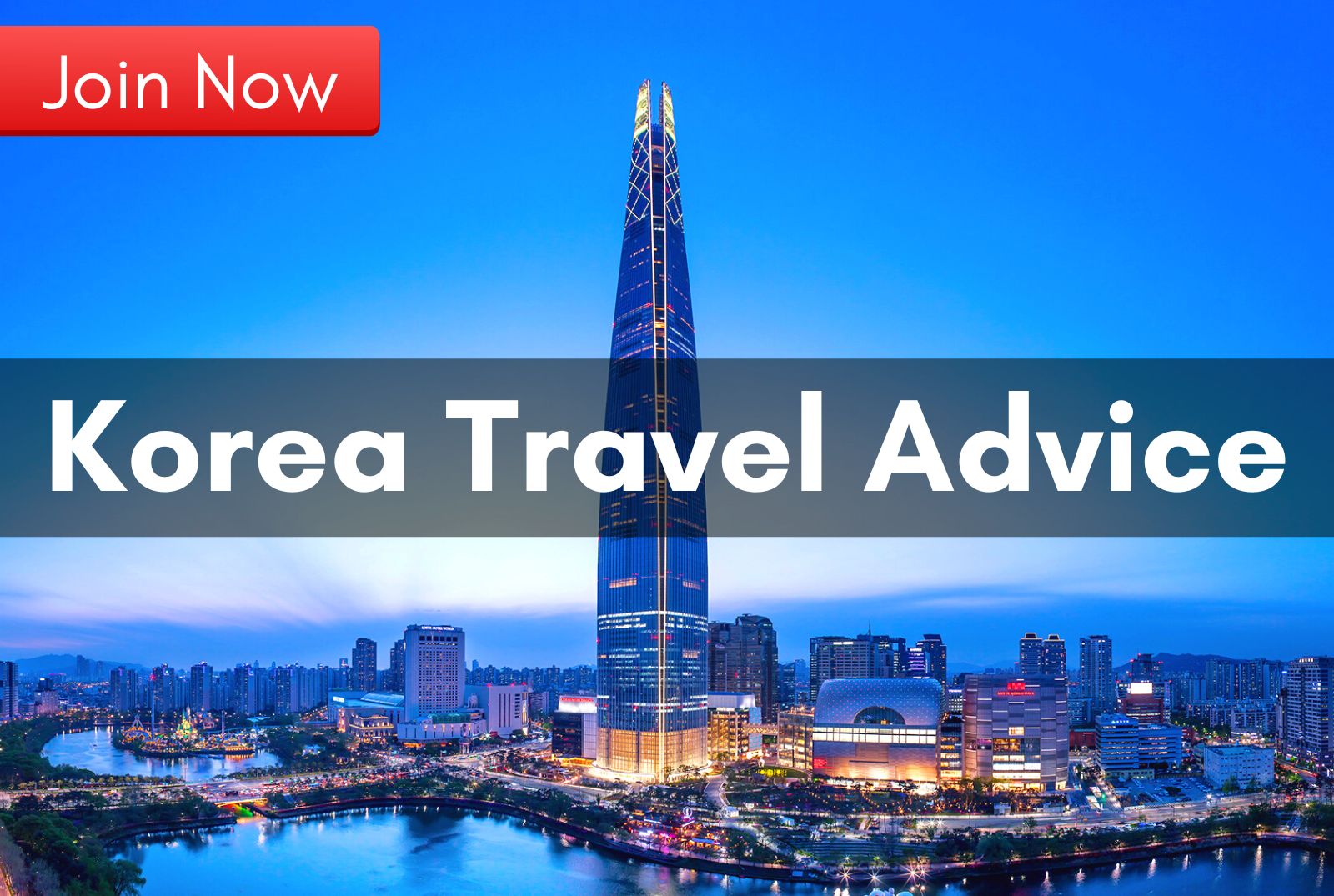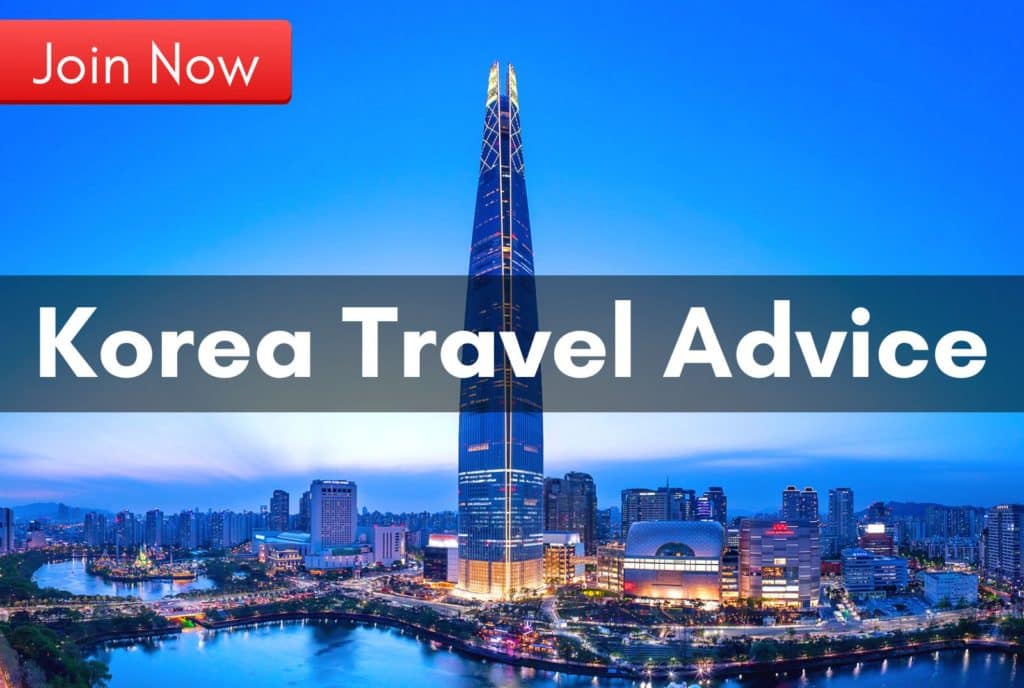 ---
Korean Autumn Leaves Pictures From National Parks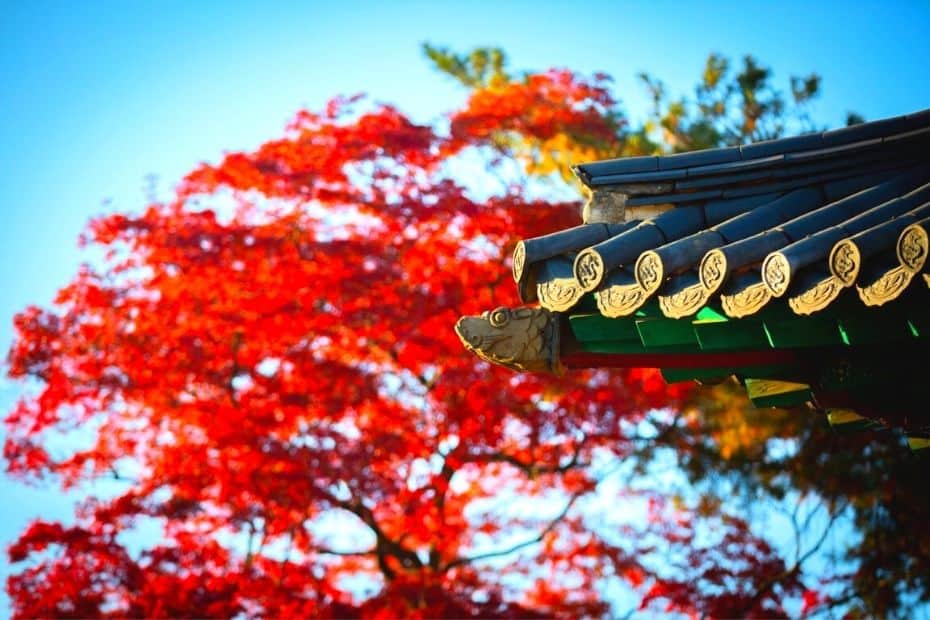 Although there are lots of nice places to see autumn leaves in Seoul, the best places are outside of the capital, amongst the forests, mountains, and parks that Korea is packed full of.
If you're visiting Korea in autumn, be sure to book a few trips out of the cities for the best views. Here are some of my personal favourite Korean autumn leaves pictures, but there are a lot, lot more that I haven't covered here.
For info about how to get to the national parks, check out my guide about How To Go Hiking In Korea.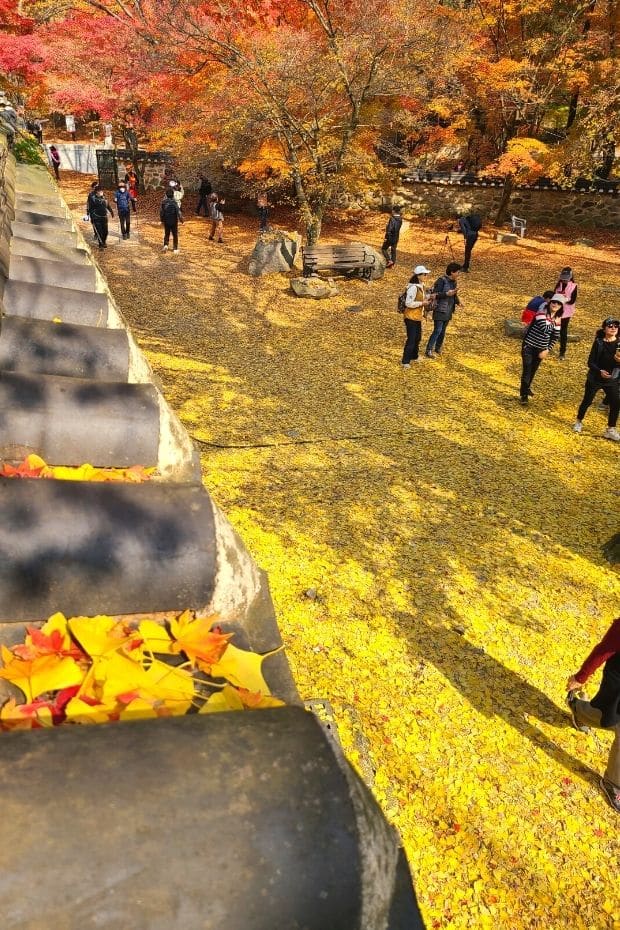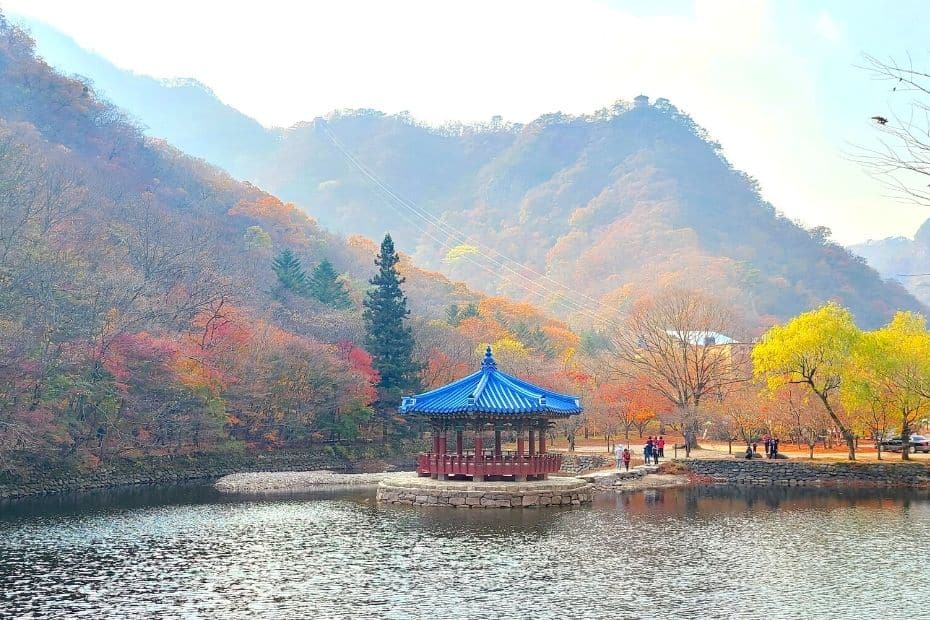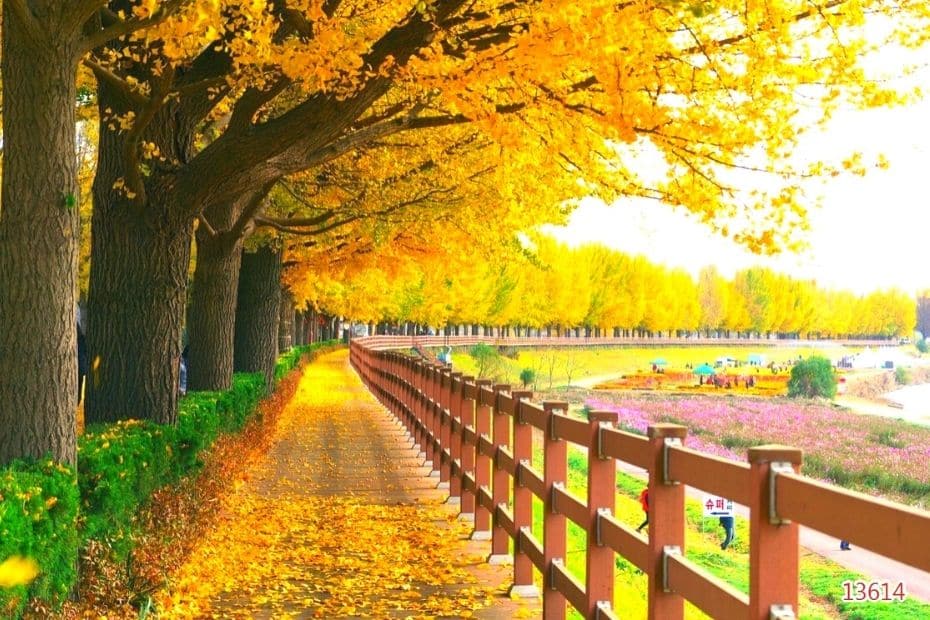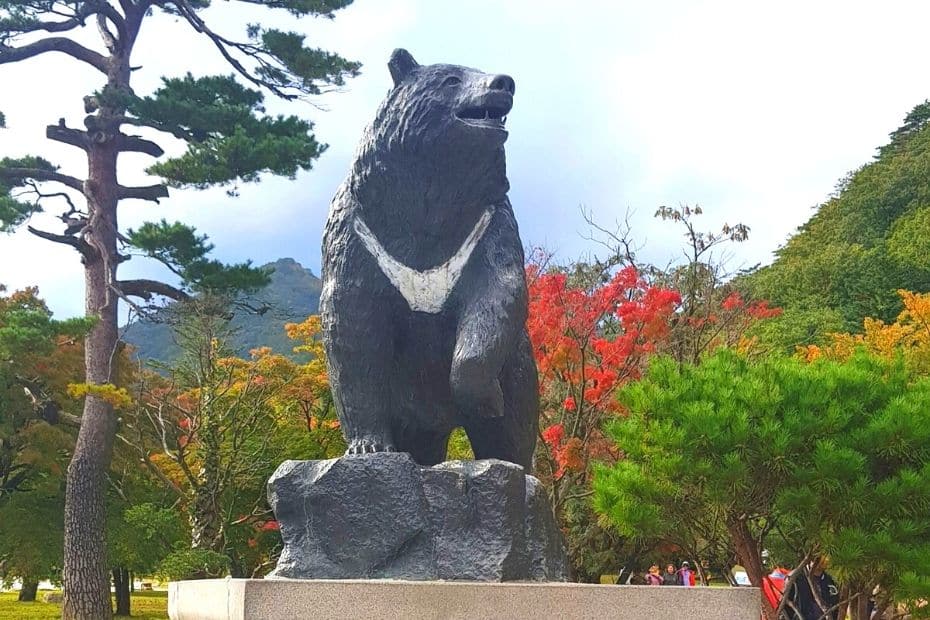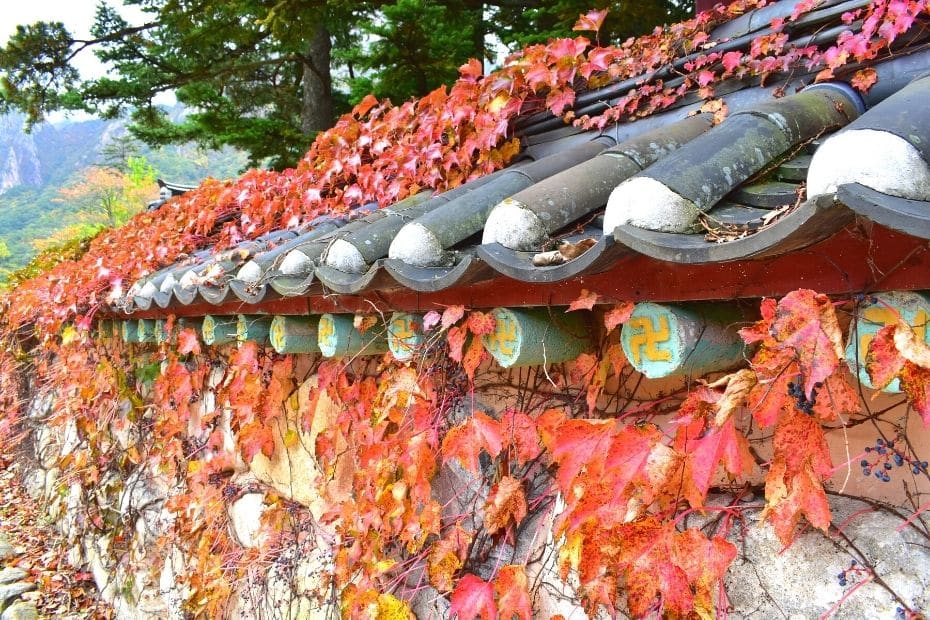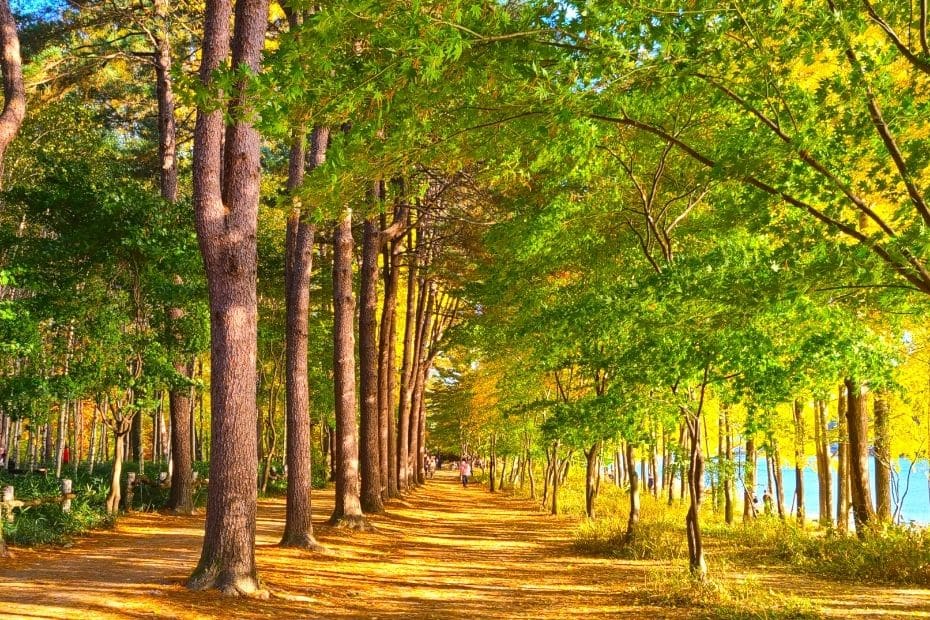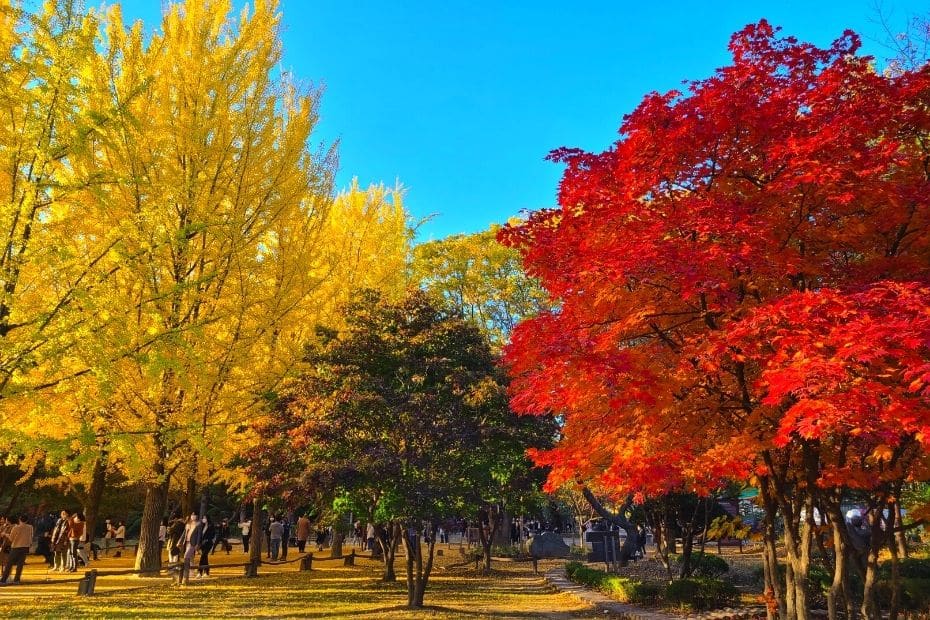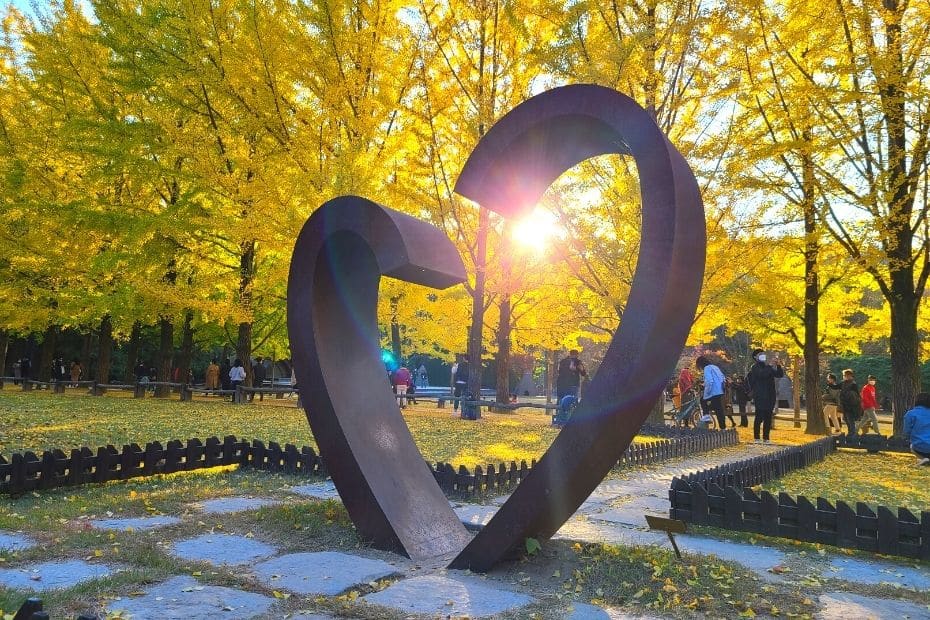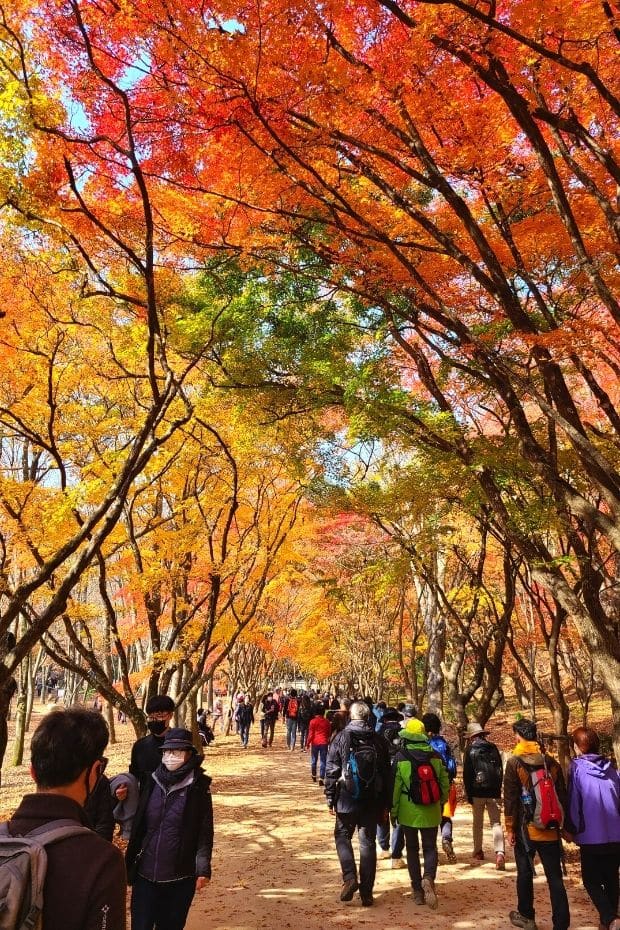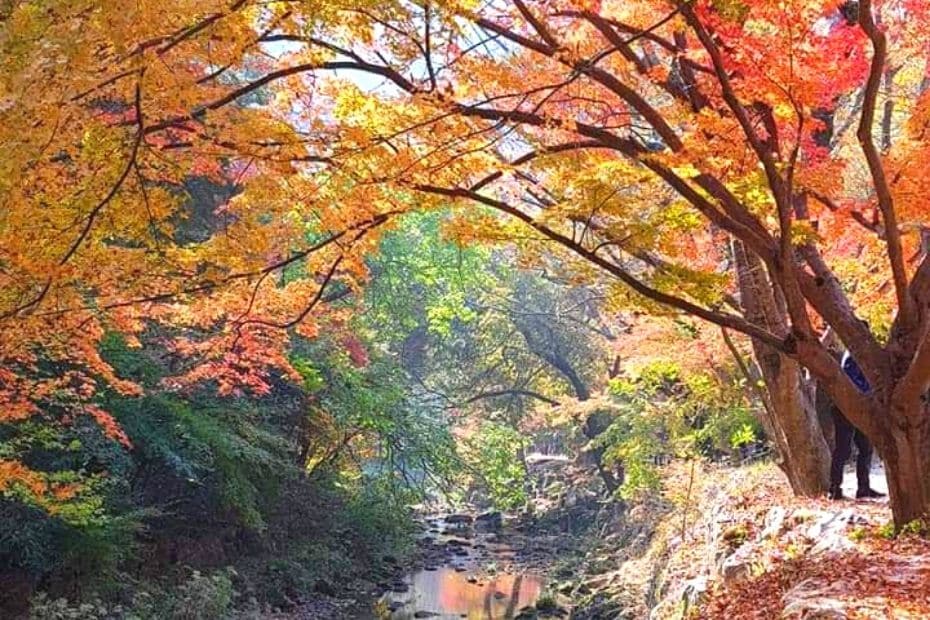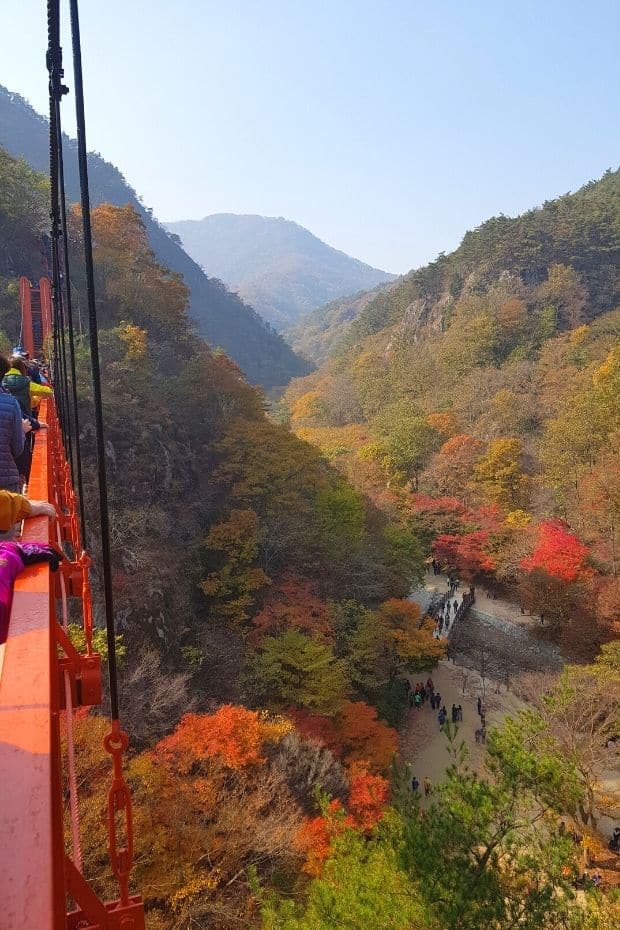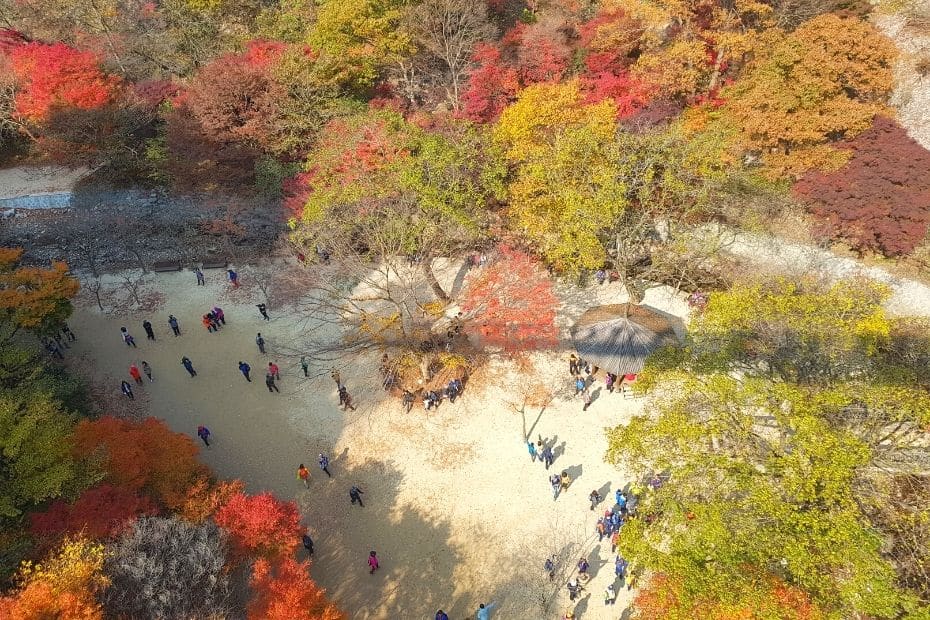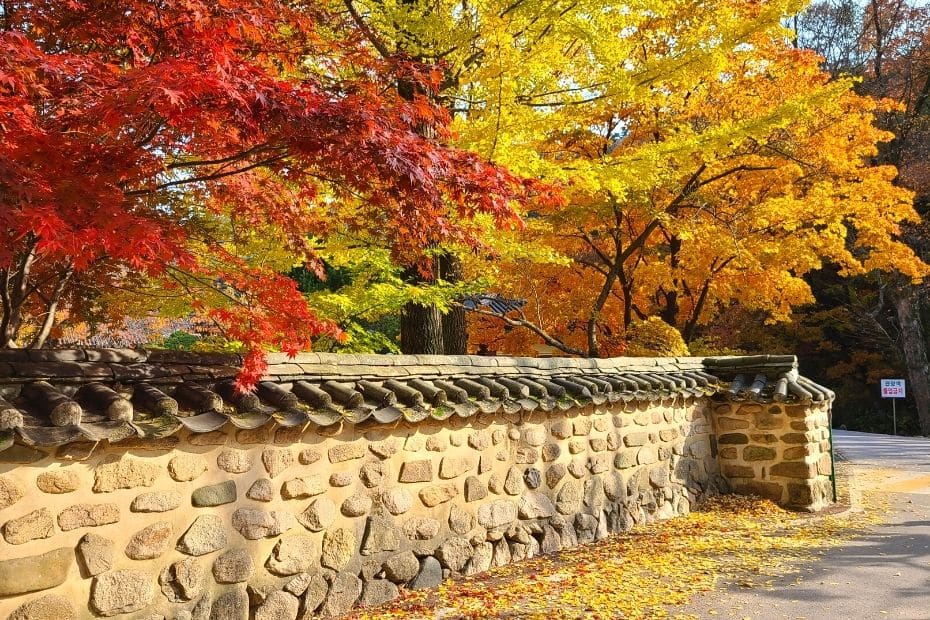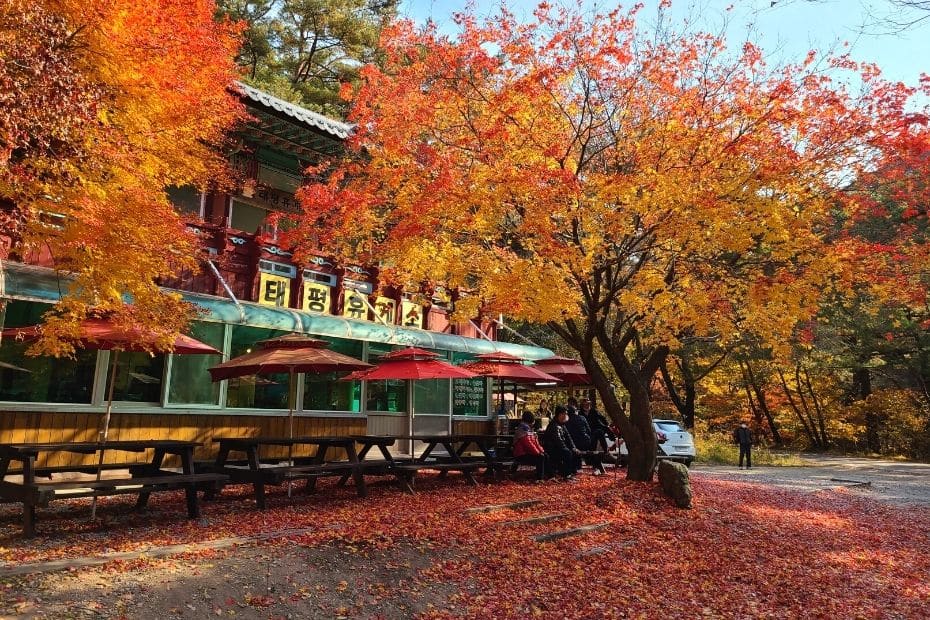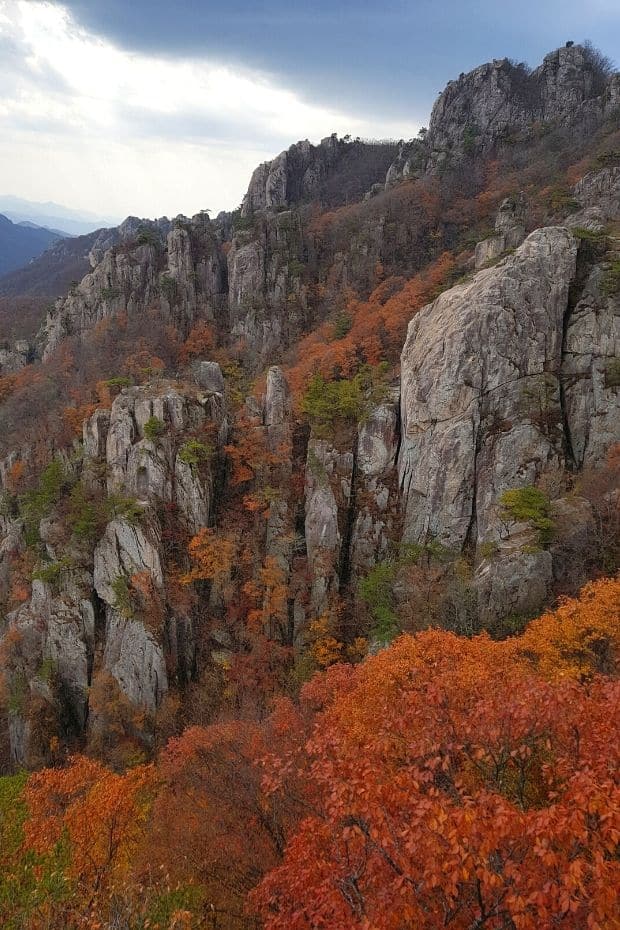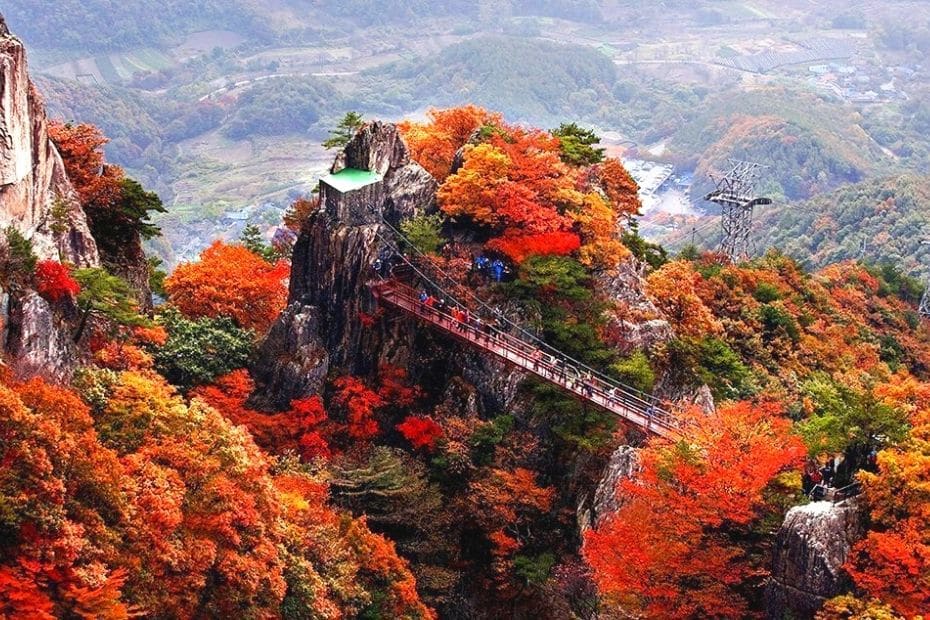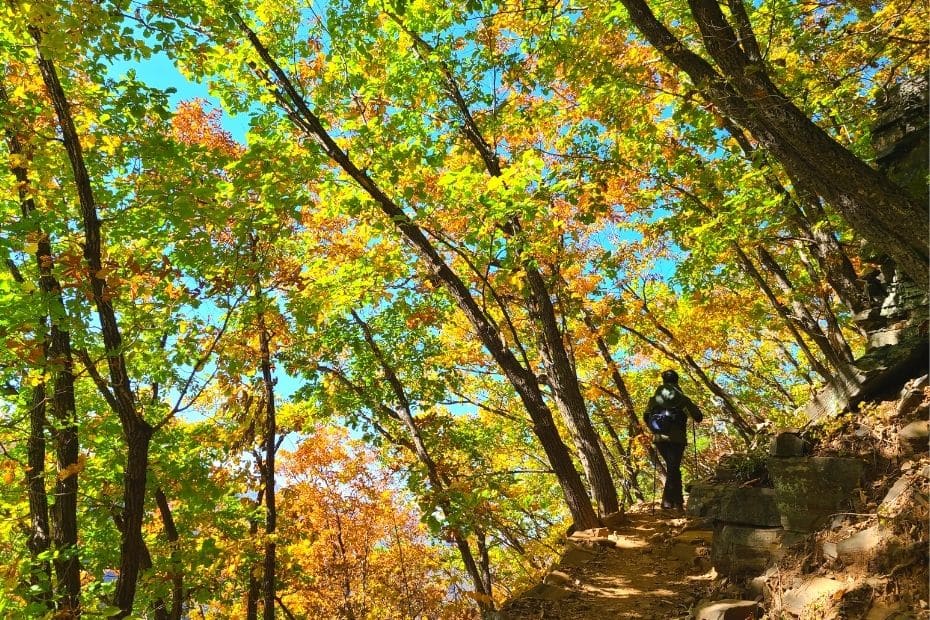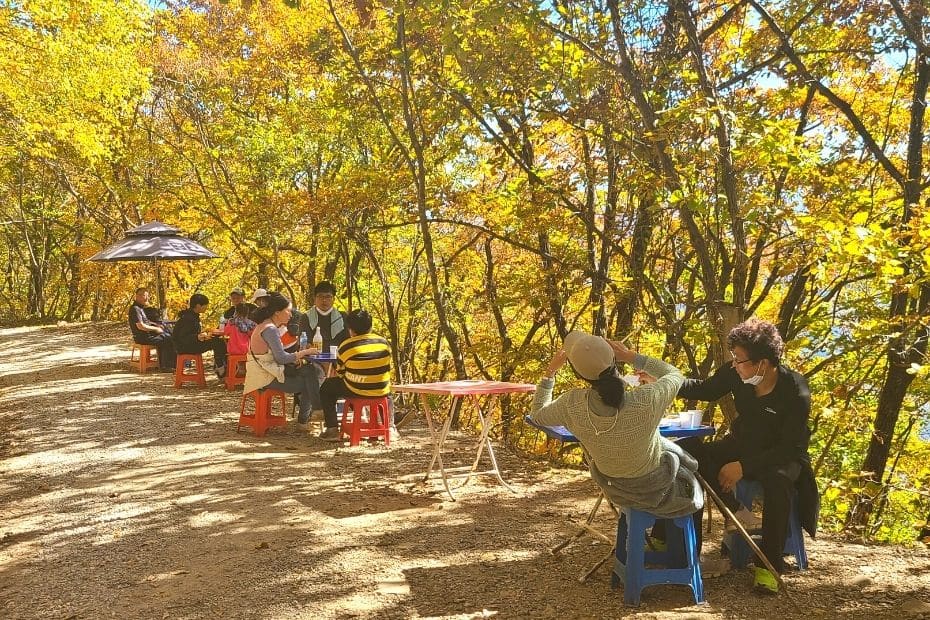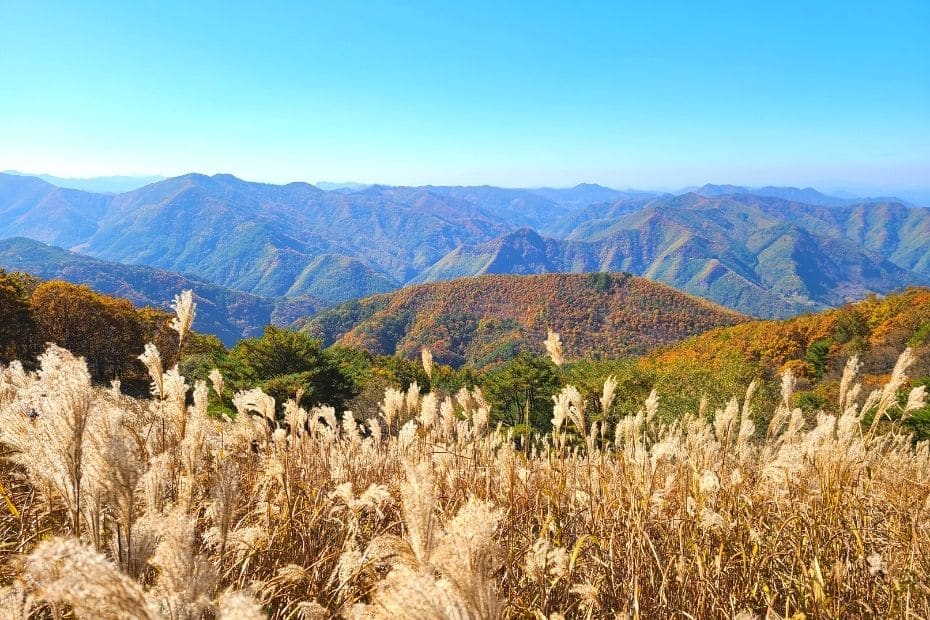 ---
Other Autumn Sights To See In Korea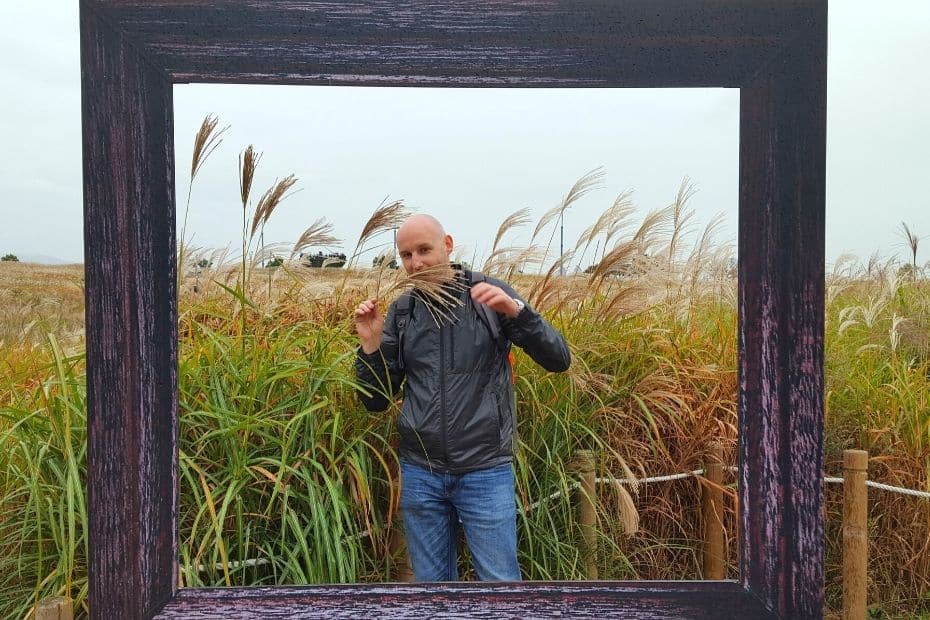 There's not just autumn leaves to see during autumn, it's also the best time to see these tall reeds, known as silver grass. Some great locations for this include Mindungsan (above), Haneul Park in Seoul, Seoul Forest, and along the shores of many rivers in Korea.
Finally, here are some pictures from the city I live in, Daejeon. Like many big Korean cities, Daejeon has lots of parks, tree-lined streets, and places to see autumn leaves. Daejeon is blessed with many surrounding mountains and Gyeryongsan National Park, too.
Take a look at these final Korean autumn leaves pictures and maybe you'll understand why I enjoy living in Daejeon.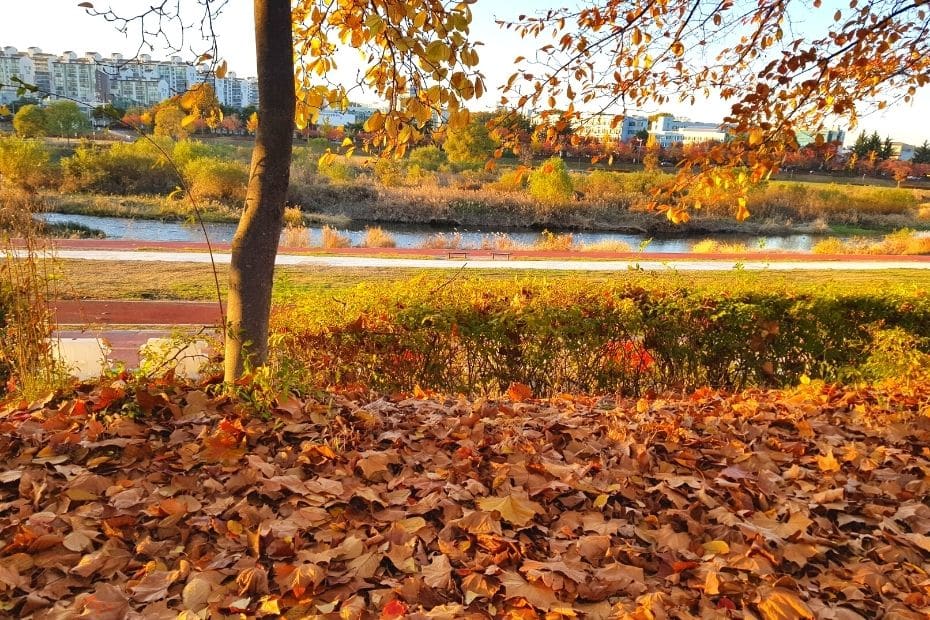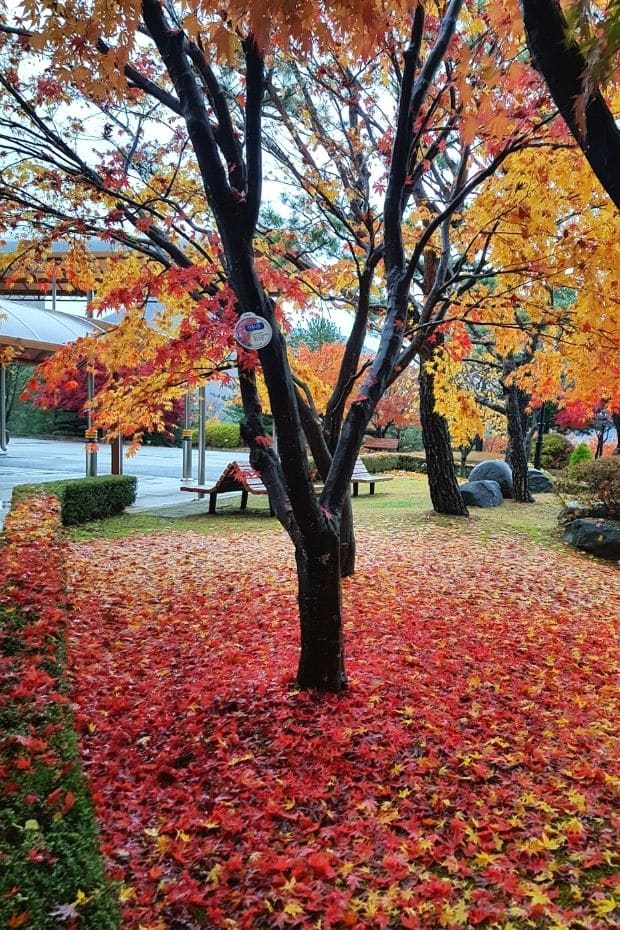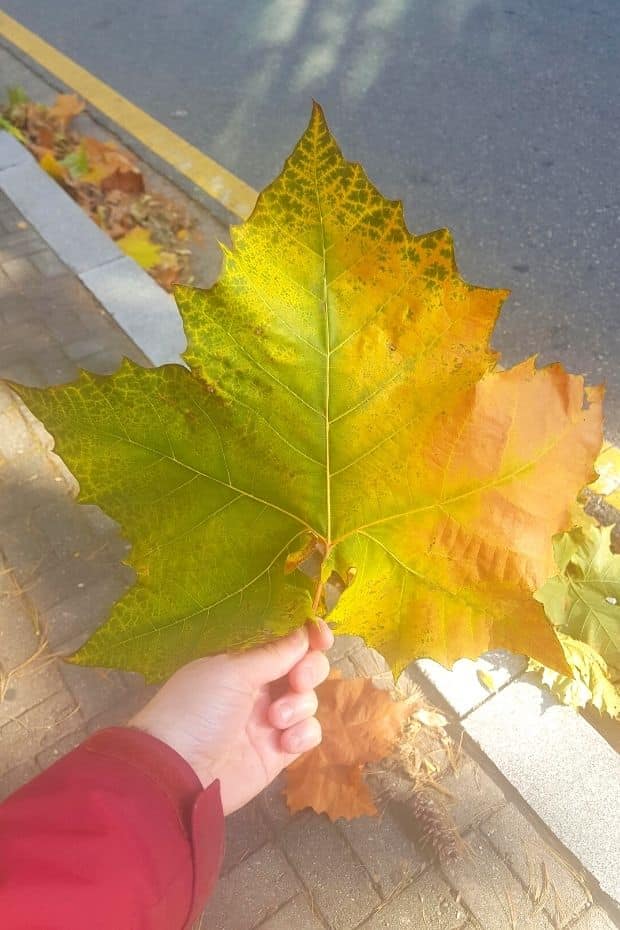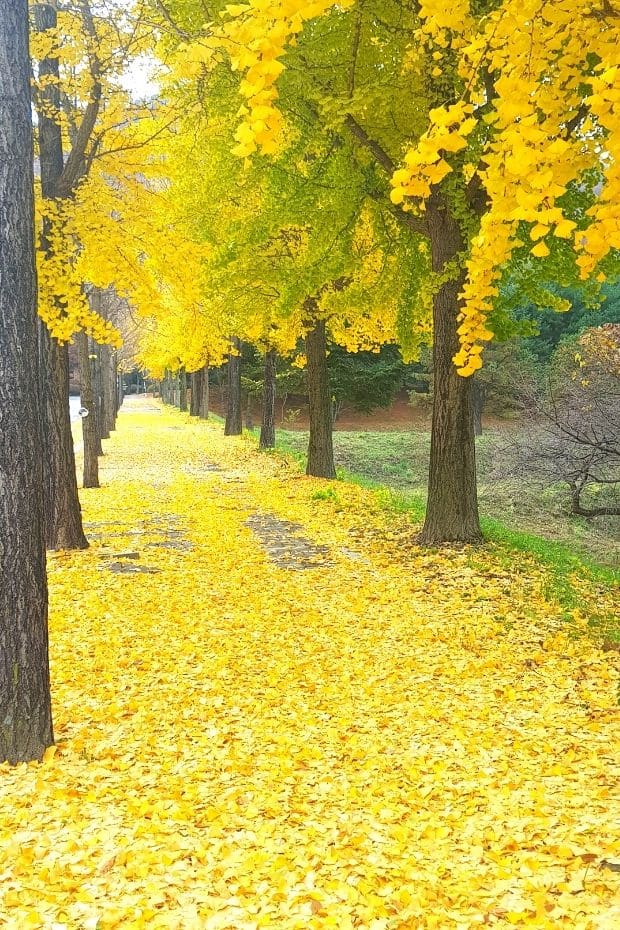 Here's one final image from autumn that might surprise you…
This was taken in November 2017, just a few days after the picture above of the yellow ginkgo leaves.
Yes, you can see snow during autumn in Korea.
It doesn't happen often, but it makes a very surprising sight to see autumn leaves one day and then white blankets over everything the next.
---
Want To Know More About Autumn In Korea?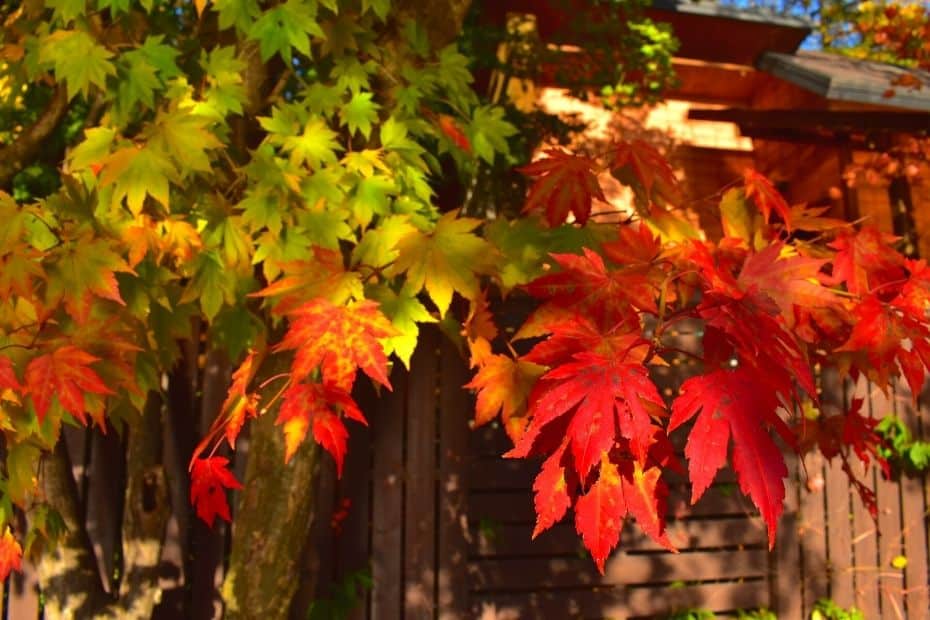 Autumn is a fantastic time to visit and if you want to take Korean autumn leaves pictures like these yourself, then I'd definitely recommend visiting during this season.
When: Autumn in Korea runs from September until early November. Peak autumn leaves season starts in mid-October (Seoul area) and ends in early November (Jeju / south coast).
Where: Korea is mostly mountainous and has dozens of amazing spots to see autumn leaves in national parks, as well as city parks and areas of natural beauty. Some of the best are Nami Island, Seoraksan National Park, Seoul's royal palaces, Jirisan National Park and Asan Ginkgo Tree Road.
How: In Seoul and other cities, you can travel to autumn leaves sites on public transport. For Nami Island, you can take a day trip there from Seoul. For the national parks and other locations, you can book day trips from reputable tour companies such as Klook and Trazy.
---
Korean Travel Essentials
To save you time and money when you travel to Korea, here are my personal recommended Korea travel essentials.
Korea Electronic Travel Authorisation (K-ETA)
Most countries need a K-ETA to travel to Korea. Apply online before you travel only with the Official K-ETA Site.
Transportation
The best way to get around cheaply and conveniently is with a T-Money Card. No tickets and discounts on every ride.
Korea Rail Pass
If plan to use Korea's high speed train network, then save money and get unlimited rides with a Korea Rail Pass.
Hotels In Seoul
Here's the 10 Best Hotels In Hongdae, Seoul's coolest district, and 10 Budget Hotels In Myeongdong which are close to Seoul's sights. I recommend Klook or Agoda for the best deals.
Flights To Korea
Always look around before you book flights. I recommend flight comparison sites such as Expedia and Skyscanner for the best deals to fly to Korea.
Learn Korean
Want to learn Korean before you travel to Korea? I recommend 90 Day Korean as they have well-structured lessons and loads of useful resources.
---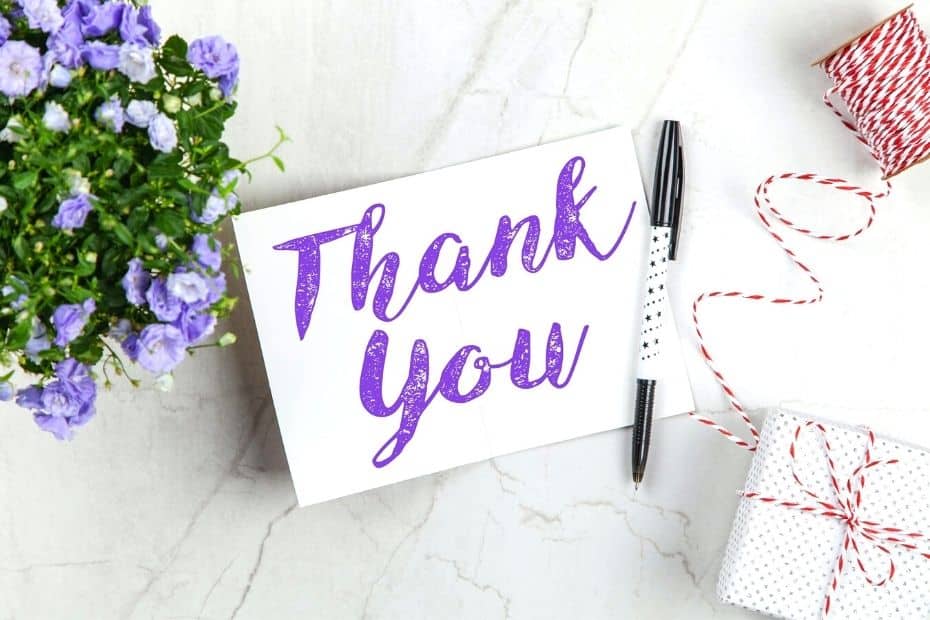 Share Your Thoughts
If you enjoyed reading this article, or if you have any thoughts about it that you want to share, please feel free to leave a message in the comments below. I'd love to hear your feedback about this article and the subject.
Thanks for reading. If you want to help me to create more great content in the future, why not buy me a coffee?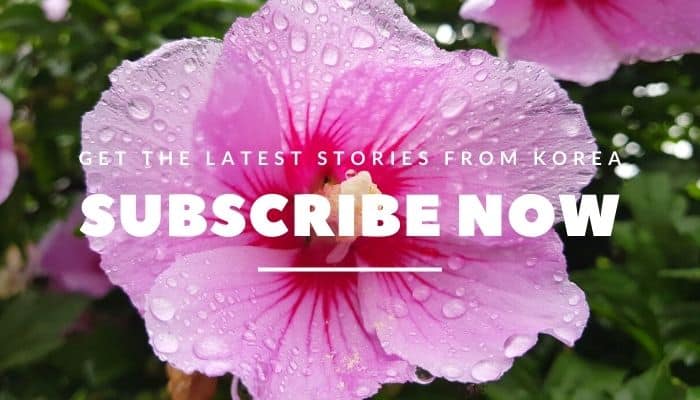 Liked This? Pin It For Others
If you enjoyed reading this article, then please go ahead and share this with your friends on Pinterest.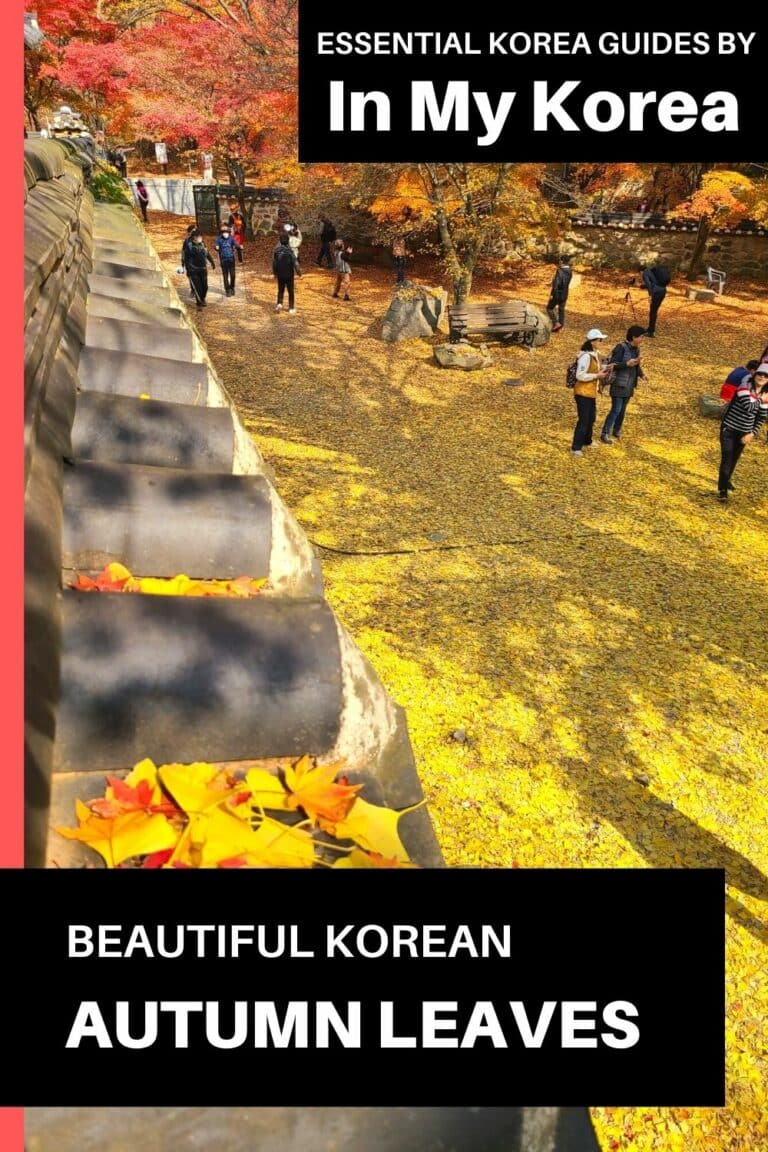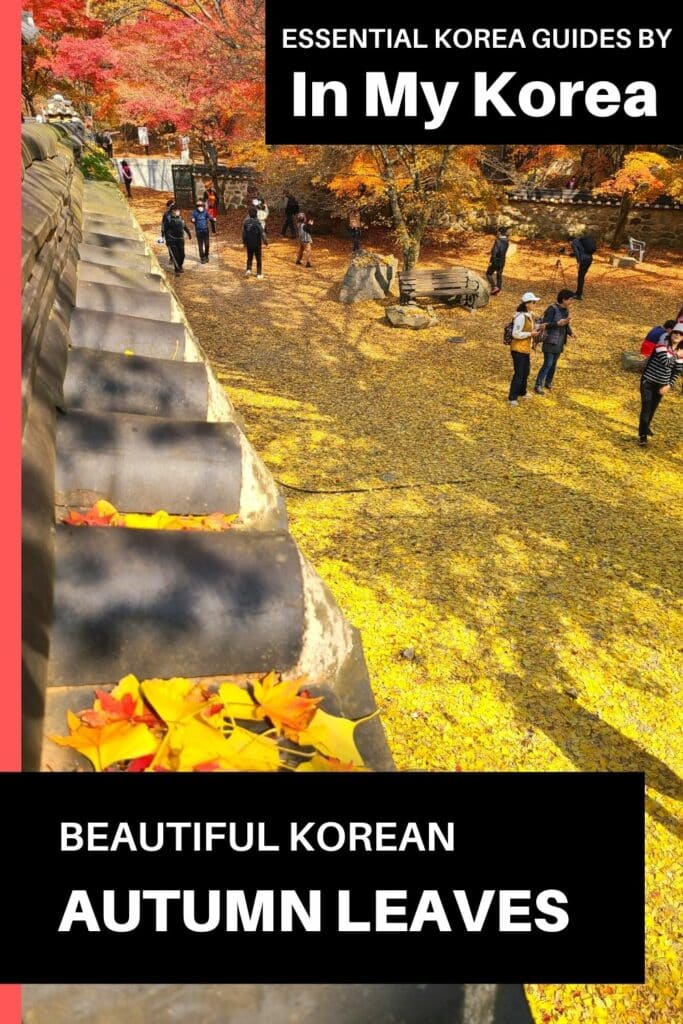 Related Articles