Are you interested in opening up a box of Korean seasonal goodies that have been hand-picked and themed to introduce you to a fun part of Korean culture? Then you might be interested in the Daebak Box – one of the best subscription Korean gift box services.
This Daebak Box review will introduce you to this popular gift box that arrives neatly packed with Korean goodies direct from Seoul each quarter. Find out how much the Daebak Box costs, what you can get inside, and whether it's good value for money.
Whether buying a box for yourself, or for a friend who is a massive fan of Korean culture, cosmetics, lifestyle goods, or characters, the insights and opinions in this article should help you decide if the Daebak Box is something you want to buy.
Read on to find out more and start exploring the world of Korean subscription gift boxes. Be warned, you might want to buy one straight away!
Affiliate Disclaimer: This site contains affiliate links and I may earn commission for purchases made after clicking these links.
---
What Is The Daebak Box?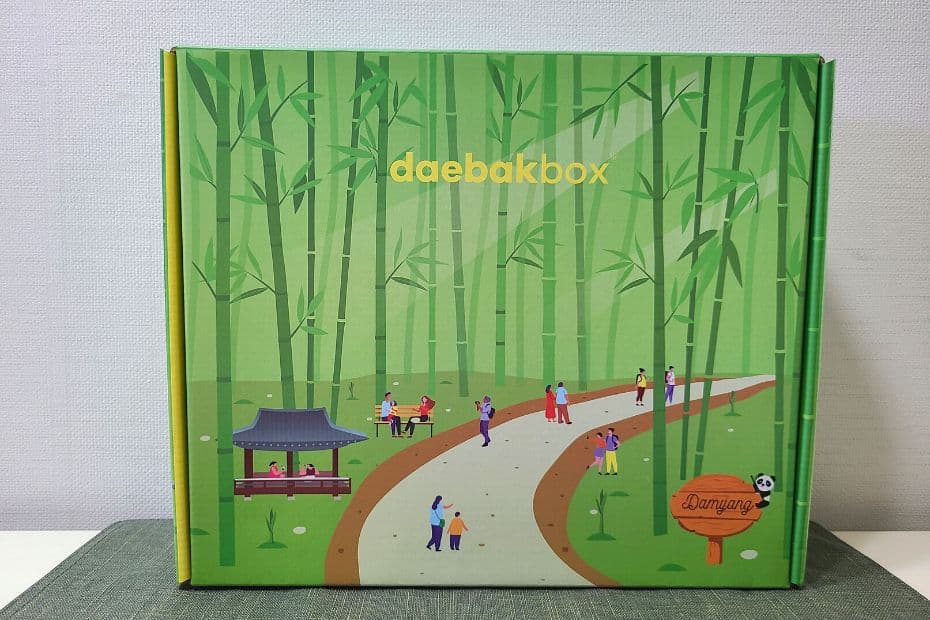 The Daebak Box is a gift box for yourself or other fans of Korea that contains more than 10 wonderful goodies from the Land of Morning Calm.
Inside each box, sent quarterly direct from Korea, you can find K-Pop and K-Drama items, Korean beauty products, uniquely Korean snacks and foods, and Korean lifestyle products.
Daebak Box is a quarterly box full of trendy authentic Korean goodies!
Daebak promises that each Daebak Box will contain more than $100 worth of Korean goodies at retail value (something I'll cover later on in this article).
If you want a slice of cool Korea delivered to your doorstep every 3 months, then the Daebak Box is probably something you'll really enjoy.
Got a friend or family member who is obsessed with Korean culture, beauty, products, and lifestyle? Send a one-off Daebak Box or Daebak Gift Card to them as a wonderful surprise.
---
Disclaimer: I received a Daebak Box free of charge from the Daebak Company to help me write this review. I didn't receive any additional incentives from the company. The opinions in this article are based on what I think of the Daebak Box, the contents, and the service as a whole. As always, I would not recommend products that I don't think are beneficial to you and always strive to promote the best items from Korea.
---
What Do You Get With A Daebak Box?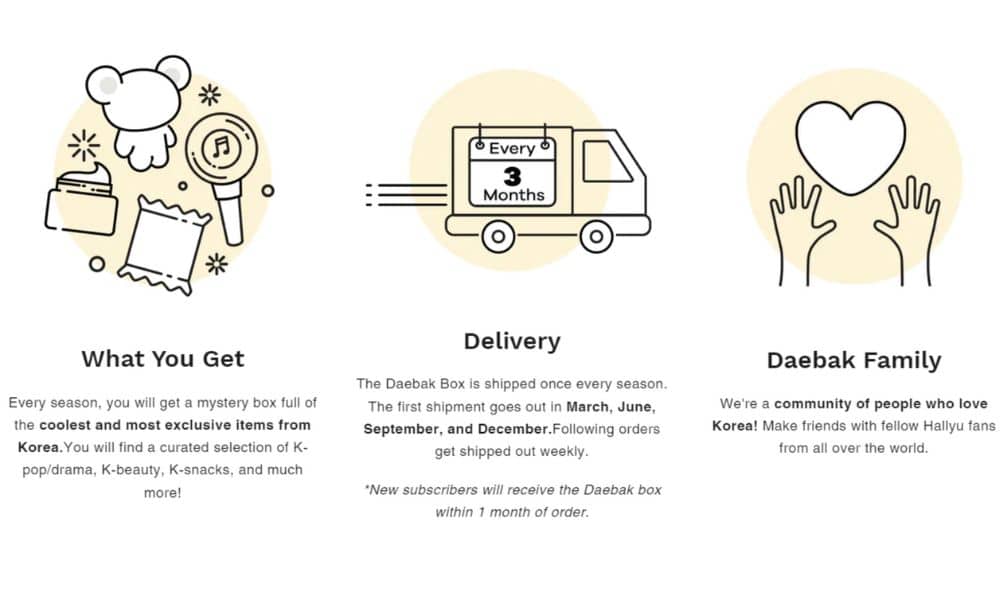 The contents of the Daebak Box change every time, so you always get something fresh and original to enjoy every quarter. The box contains a selection of goods that include:
Korean Cosmetics / Beauty
K-Drama / K-Pop
Korean Foods / Drinks
Korean Culture
Other Fun Korean Items
There is a minimum of 10 items in each box, hand picked to match a seasonal theme. I've included the contents of the Daebak Box I received for this review in a later section.
You'll receive a Daebak Box every quarter, bringing you the best seasonal items from Korea in a beautiful box that you can keep and use again and again.
Not only do you get a magical box full of Korean delights, you also get to be part of the Daebak Community, as you can see from the picture below.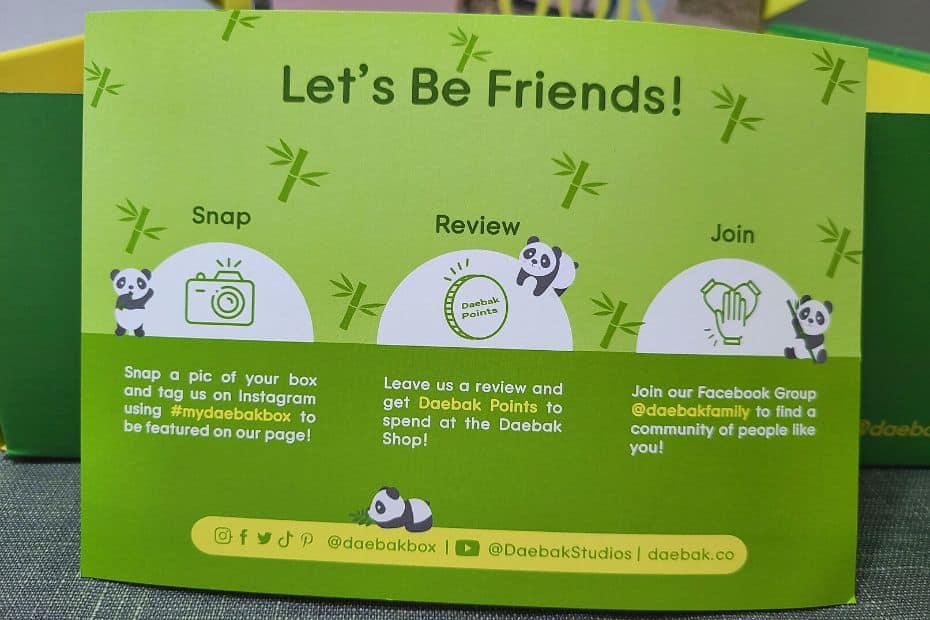 Join the community, share your reviews and pictures, and have the chance to win Daebak Points to spend at the Daebak Shop for even more fantastic Korean items.
---
Planning to visit Korea? These travel essentials will help you plan your trip, get the best deals, and save you time and money before and during your Korean adventure.

Korea Electronic Travel Authorisation (K-ETA): Most countries need a K-ETA to travel to Korea. Apply before you travel only with the Official K-ETA Site.

Staying Connected: Pre-order a Korean Sim Card or a Portable WiFi Router to collect on-arrival at Incheon Airport. Collection desks are open 24 hours. Alternatively, download a Korean eSIM for you travels.

Hotels In Korea: Staying in Seoul, I recommend Myeongdong (convenient), Hongdae (cool culture) or Gangnam (shopping). Find the best hotel prices across Korea with Agoda, Klook, or Hotels.com.

Incheon Airport To Seoul: Take the Airport Express (AREX) to Seoul Station or a limo bus across Seoul. Don't like carrying heavy suitcases? Book an Incheon Airport Private Transfer and relax to or from the airport.

Korean Tours: Find the best tours in Korea with tour companies that have a big presence in Korea, including Klook, Trazy, Viator, and Get Your Guide. These sites also offer discounted entry tickets for top attractions.
Seoul City Passes: Visit Seoul's top attractions for free with a Discover Seoul Pass or Go City Seoul Pass. These passes are especially good for families and couples visiting Seoul and can save you lots.

Transportation: Get a T-Money Card or WOWPASS to pay for public transport, including buses, subways, and taxis. For Korea's high speed trains, save money and get unlimited rides with a Korea Rail Pass.

Travel Money: Exchange foreign currency in Myeongdong or Hongdae money exchanges. Pick up a Wise, Revolut, or WOWPASS travel money card for the best rates and convenient card payments in Korea.

Flights To Korea: I recommend using flight comparison sites such as Expedia and Skyscanner to find the best flights to Korea from any country. Air Asia is a good option for budget flights from Asia.

Learning Korean: Want to learn Korean? I recommend a complete language learning course from 90 Day Korean or Korean Class 101 – both have well-structured lessons and lots of useful resources.
---
How Much Does The Daebak Box Cost?
The Daebak Box starts from as little as $49.99 per quarter, delivered to your doorstep wrapped up and beautifully presented. The actual price you'll pay for the Daebak Box can vary depending on two main factors – which subscription plan you sign up for (seasonal or annual) and where you live.
Here are the key details about the two different subscription plans and their costs.
---
Daebak Box Seasonal Plan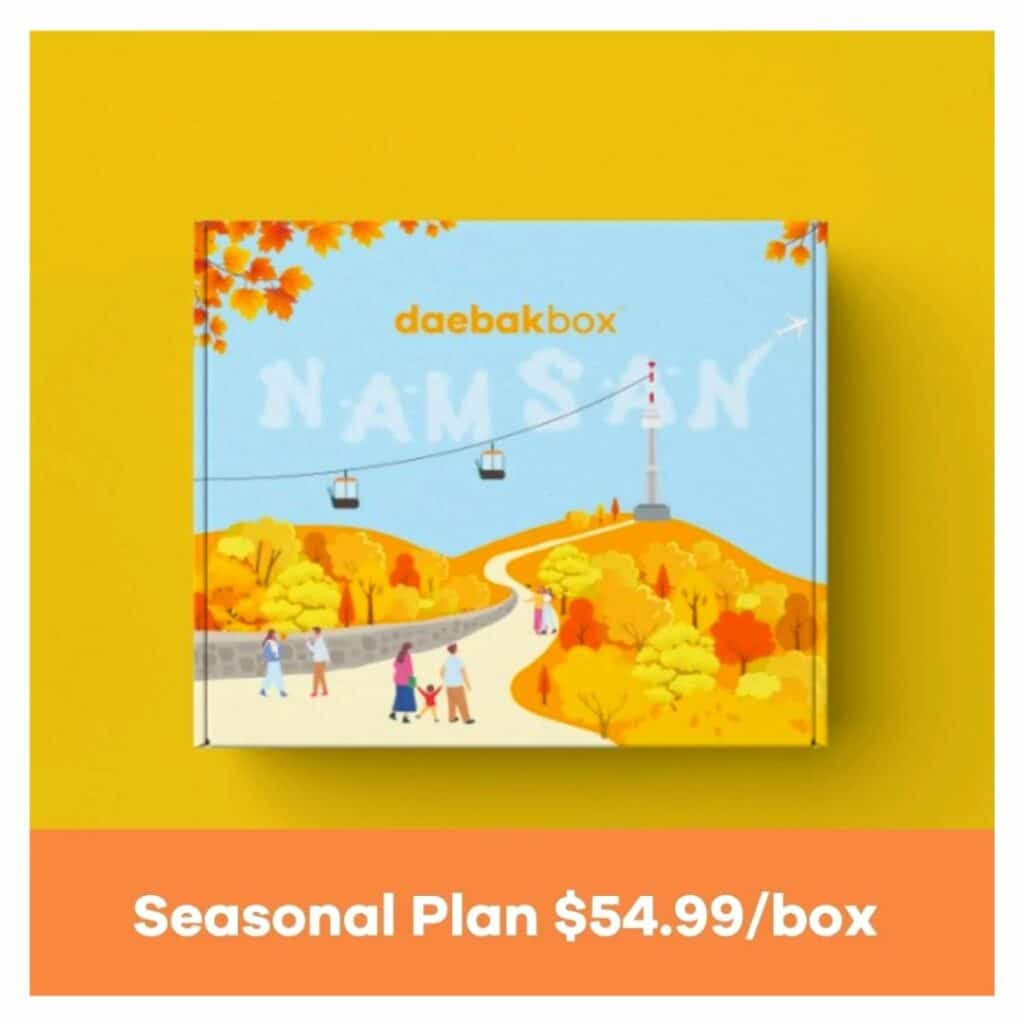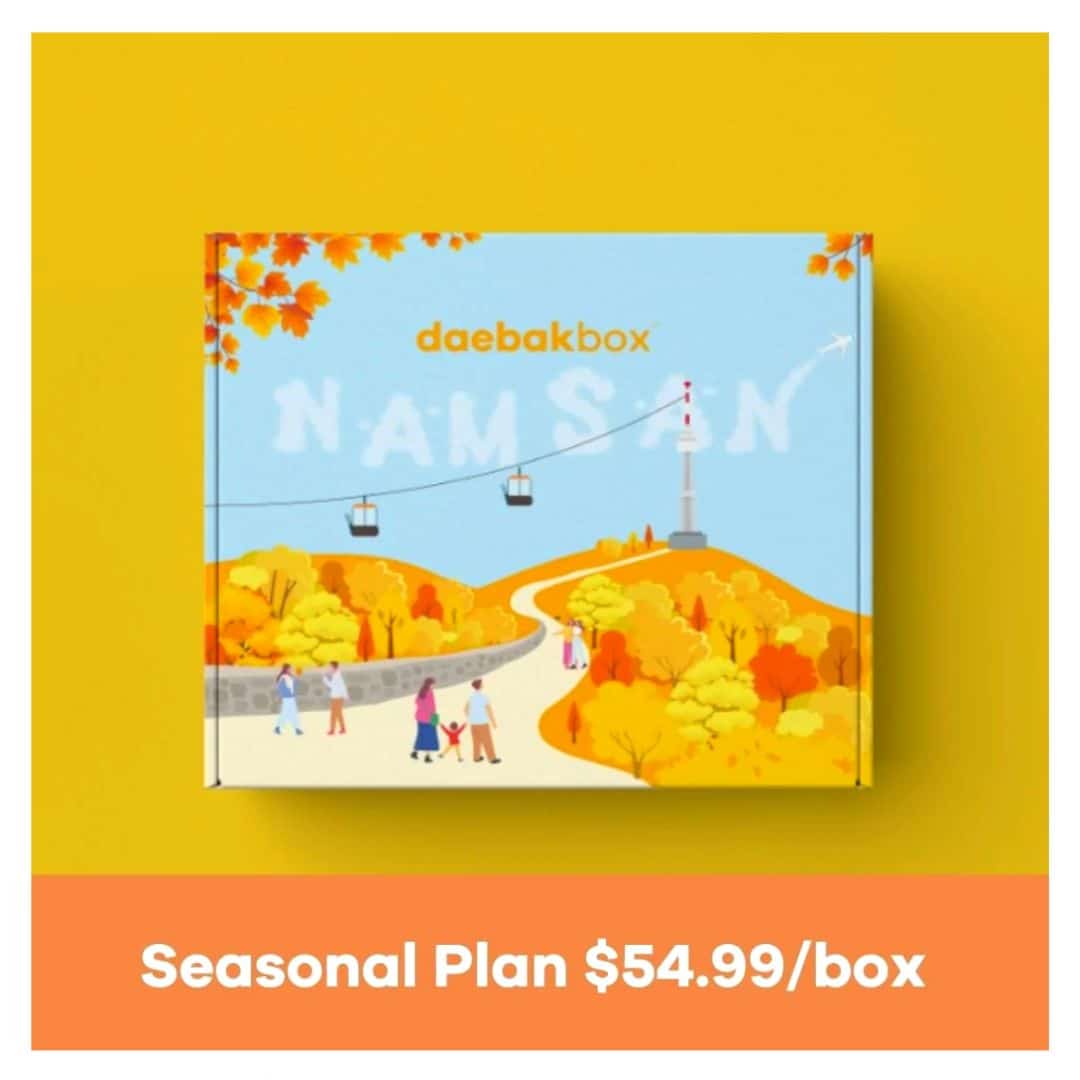 The Daebak Box Seasonal Plan is for those who want to experiment with the Korean gift box service without committing to a full year (or more) of Korean goodies.
The Seasonal Plan allows you to buy the current seasonal box (spring | summer | autumn | winter) and get it delivered to your house (or to a friend's if you're buying it as a gift).
The price is $54.99 for a recurring subscription or $59.99 for a one-off purchase. The seasonal plan auto-renews every 3 months, but you can cancel it any time before the next billing date.
Use the discount code 'INMYKOREA' to get 5% off any one-off Daebak Box.
---
Shipping Cost
There is a one-off cost for shipping that is not included in the subscription price. The cost will be added based on your location. Customers in the US currently pay around $9.99 for shipping for the seasonal box. Taxes may be added depending on location, too (such as in the UK).
---
Daebak Box Annual Plan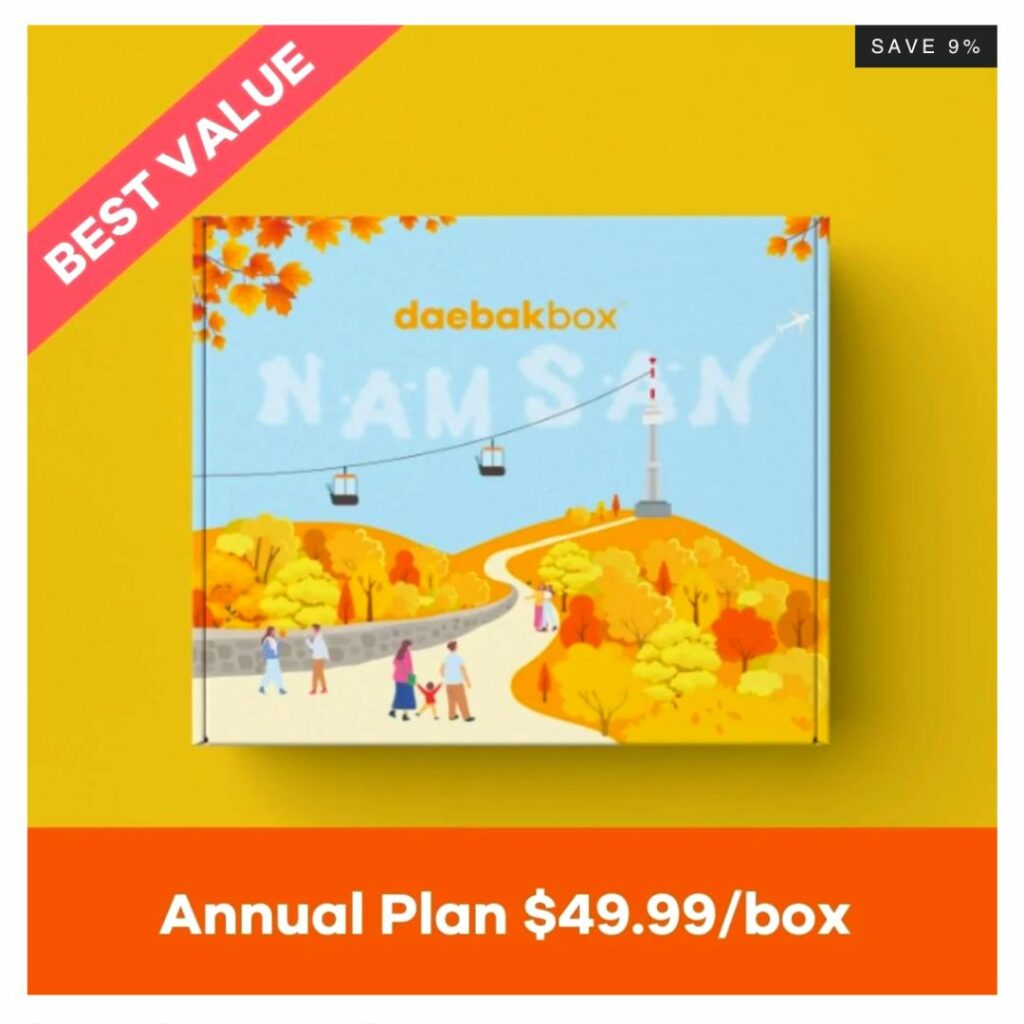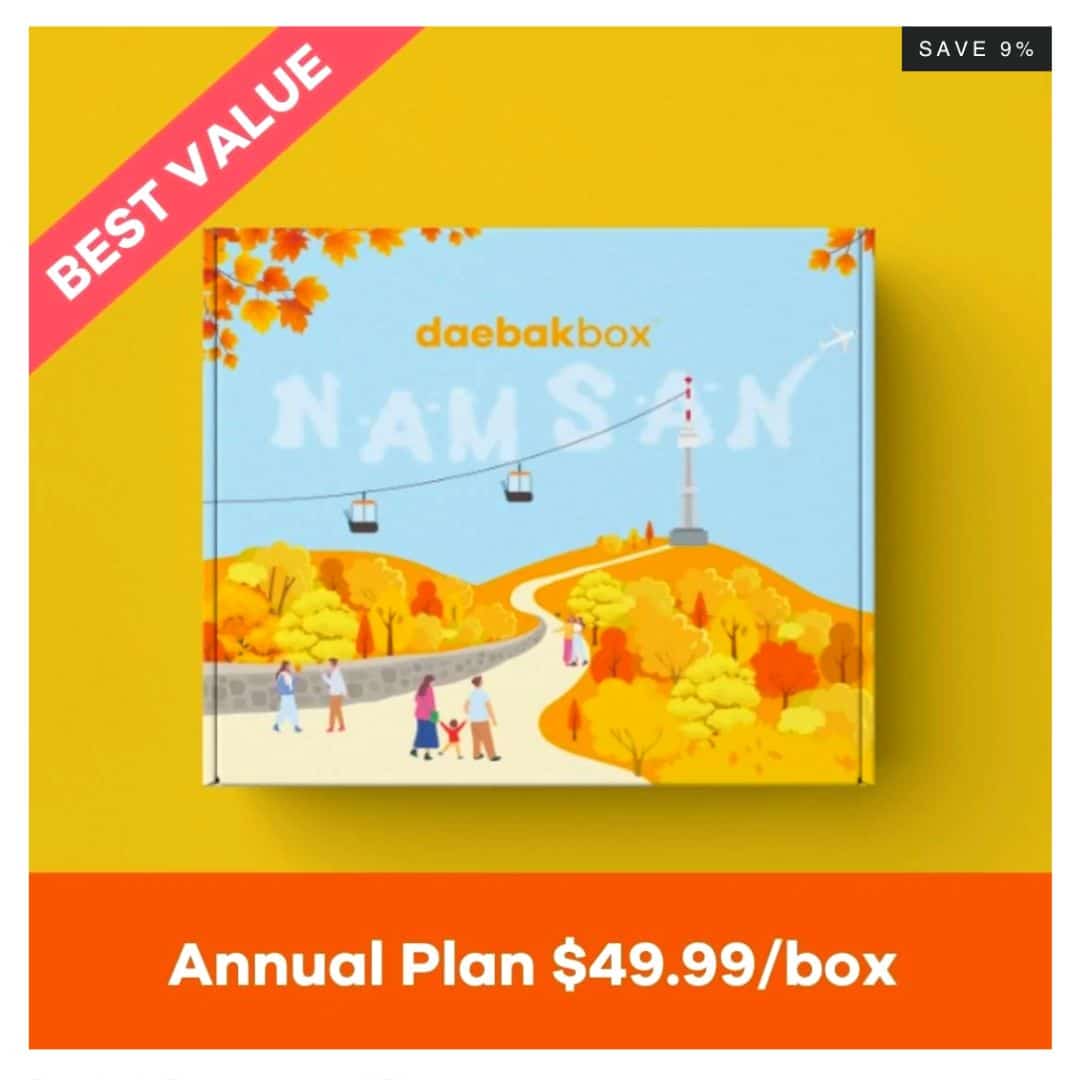 The Daebak Box Annual Plan costs $199.96 per year, which works out at $49.99 per box.
This is $20 cheaper than the Seasonal Plan ($219.96 per year) if you get all 4 quarterly boxes and definitely the best option if you plan to get more than one box.
---
Shipping Cost
If you sign up to the Annual Plan for the Daebak Box, there is no shipping fee* added as far as I can tell. This means you save even more with the annual plan than the Seasonal Plan
*I checked addresses in a few countries, including the USA, UK and the Philippines, and they all had free shipping and no taxes.
---
Example Daebak Box Contents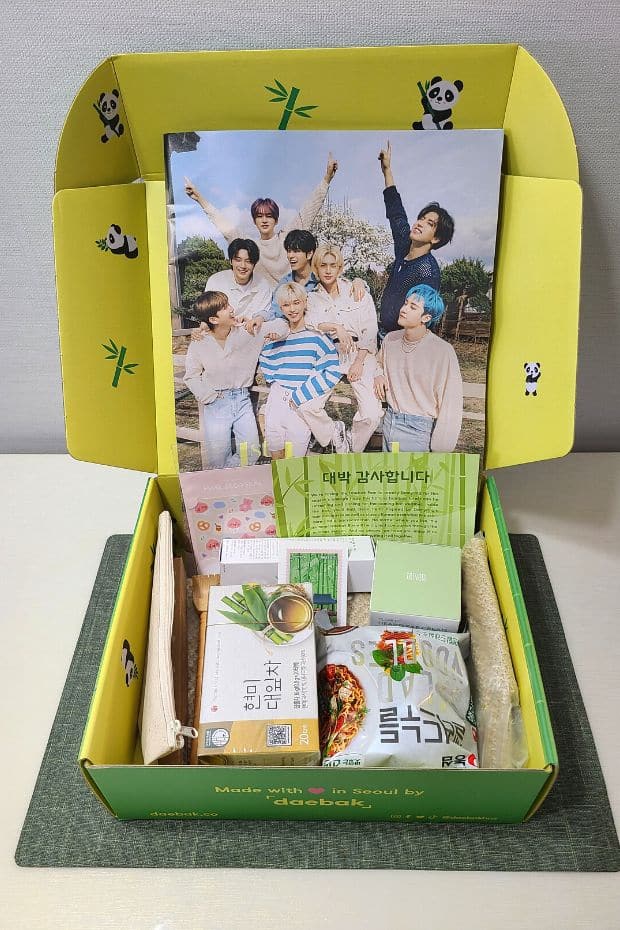 I received a lovely bamboo-themed Daebak Box to help me write this review. The box design is unique every season and this one represents the charming views of Damyang Bamboo Forest – a lovely place to visit during summer in Korea.
This next section of the Daebak Box review will outline all the fun things that were packed into this surprisingly large box, grouped into different categories based on the the type of product included.
As mentioned, Daebak Boxes are guaranteed to include K-Culture, K-Food, K-Beauty, and K-Lifestyle goodies, as well as a copy of the latest Daebak Magazine.
---
Korean Cosmetics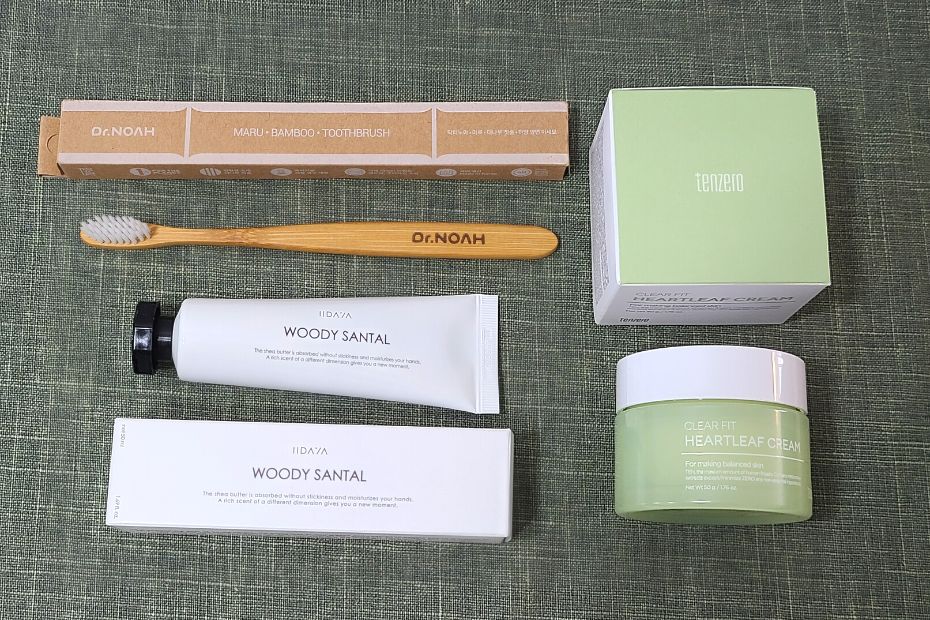 There were 3 Korean cosmetic products inside this Daebak Box:
TenZero Clearfit Heartleaf Cream:
All-in-one cream that provides anti-wrinkle and moisturising benefits. Contains houttuynia cordata extract, which has a soothing effect, hydrating the different skin layers to retain skin moisture.
Regular Price $29.54
Iidaya Woody Santal Hand Cream:
Thick hand cream with shea butter that is quickly absorbed into your hands. Has a rich scent made from natural ingredients including violet, eucalyptus, musk, sandalwood, and cedarwood.
Regular Price: $27.29
Dr. Noah Maru Bamboo Toothbrush:
Made with sustainable bamboo, these wood toothbrushes are made to create a lasting impact by reducing plastic waste for an ideal sustainable bathroom product.
Regular Price: $3.33
I'm writing this article in late October, so the first thing I tried out was the hand cream. Winter in Korea is very dry and I use a lot of hand cream and so far I've been very impressed with it. Definitely a top quality product. Same with the toothbrush, which was a bit unusual at first, but you soon get used to it. I must admit, I haven't used the anti-wrinkle cream as I'm saving it as a gift for my mum, but I've been assured it's a good brand and product.
---
Korean Tea & Snacks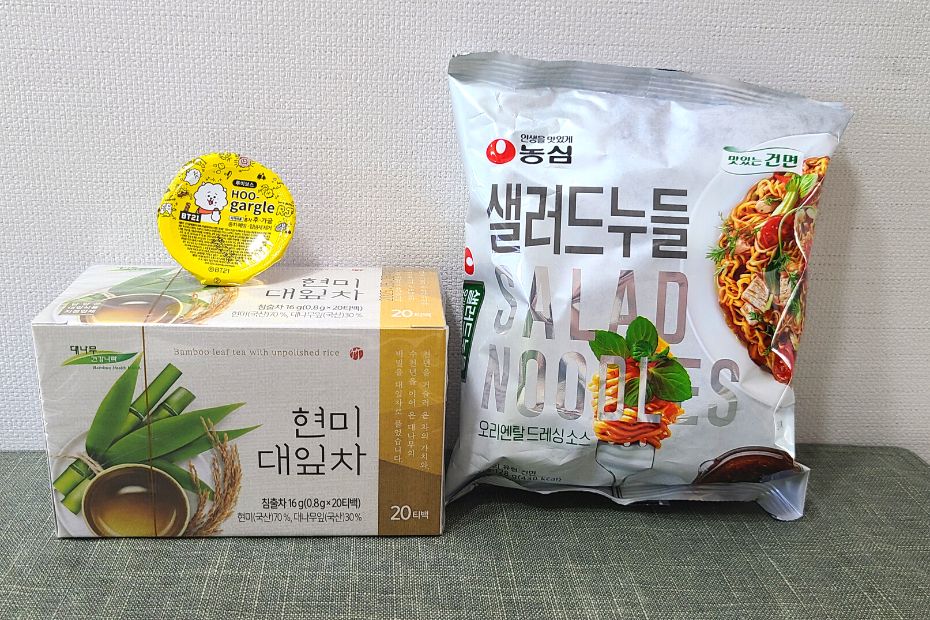 There were 3 Korean food products inside this Daebak Box:
Nong Shim Salad Noodles:
A healthier version of Korea's famous instant ramyeon noodles. Comes with a fresh oriental dressing to give it a light taste.
Regular Price: $2.99
Bamboo Leaf Tea Bags:
Healthy herbal tea bags made from bamboo leaves and unpolished rice grains. A non-caffeinated hot drink to calm and soothe you before bed.
Regular Price: $6.49
BT21 Hoo Gargle:
Refreshing mouth wash from the cute characters inspired by BTS. Helps keep your mouth clean and smelling fresh. Comes in a disposable capsule so you can take it with you.
Regular Price: $1.50
I'm a big fan of Korean tea and the tea bags certainly didn't disappoint. They are refreshing and perfect for drinking at night now that the evenings are getting colder and colder here in Korea. And they won't keep me up, which is a big bonus. The mouthwash was fine, it has a rooibos taste and worked the same as my regular mouth wash. One for BTS fans to keep instead of use. The noodles were a tasty treat. Not as heavy as Shin Ramyeon and good for an early morning snack.
---
Korean Lifestyle Products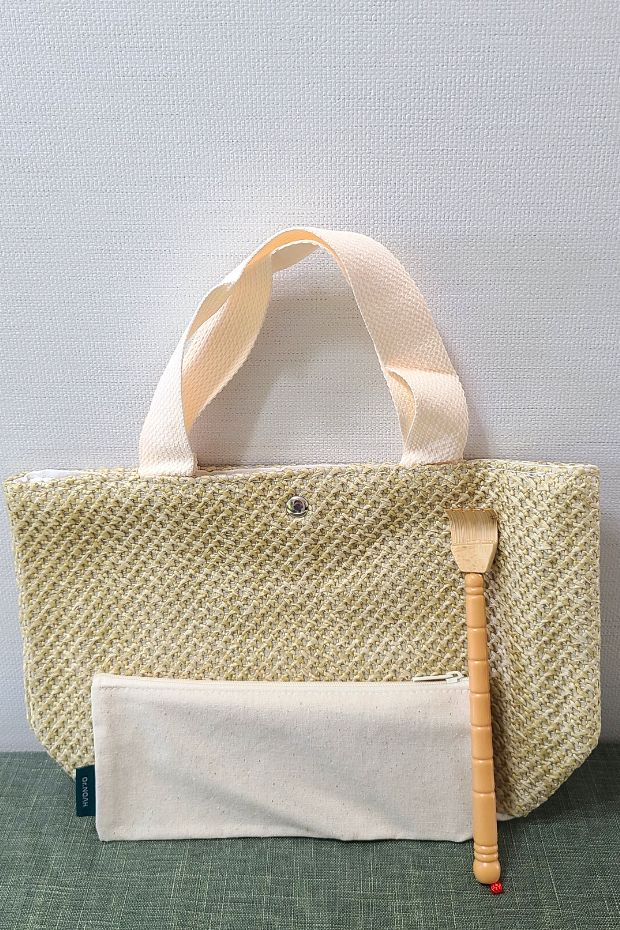 There were 5 Korean lifestyle products inside this Daebak Box:
Mini Rattan Bag:
A cute and spacious woven bag that compliments any summer outfit and is ideal for carrying things to the beach or pool.
Estimated Price: $14.99
Hyojason Bamboo Back Scratcher:
An easy-to-carry mini back scratcher that is made from bamboo. The length is adjustable to relieve an itch anywhere you can not easily reach with your hands..
Regular Price: $8.99
Dr. Noah Cotton Toothbrush / Pencil Case:
Cotton case that can be used to store bamboo toothbrushes from Dr. Noah, or as a pencil case for your favourite stationery.
Regular Price $2.99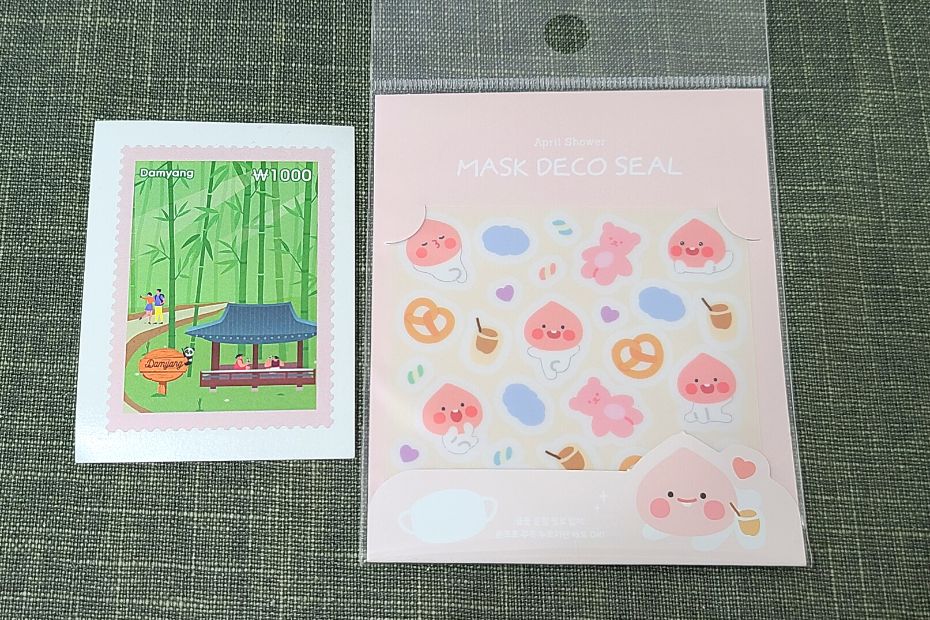 Kakao Friends Apeach Mask Deco Seal:
Make your boring face mask look cute and colourful with these deco seals featuring the popular Kakao Friends character, Apeach.
Regular Price $4.99
Damyang Bamboo Forest Sticker:
A souvenir from the pretty Damyang Bamboo Forest in Korea. A unique sticker that you can place on your wall, notebook, or suitcase.
Regular Price $0.99
I originally thought the cotton case was meant for stationery, but then realised it was actually for the bamboo toothbrush. It works perfectly well in either case. I really like the back scratcher – it deals with any itch you have. The handbag seems water-resistant and useful for carrying things near water, such as a summertime trip to one of Korea's sandy beaches.
I haven't tried the mask deco seals as I use a reusable mask in Korea, but it will make a good present. The Damyang Bamboo Forest sticker will go on my next notebook.
---
Korean Magazine & Daebak Magazine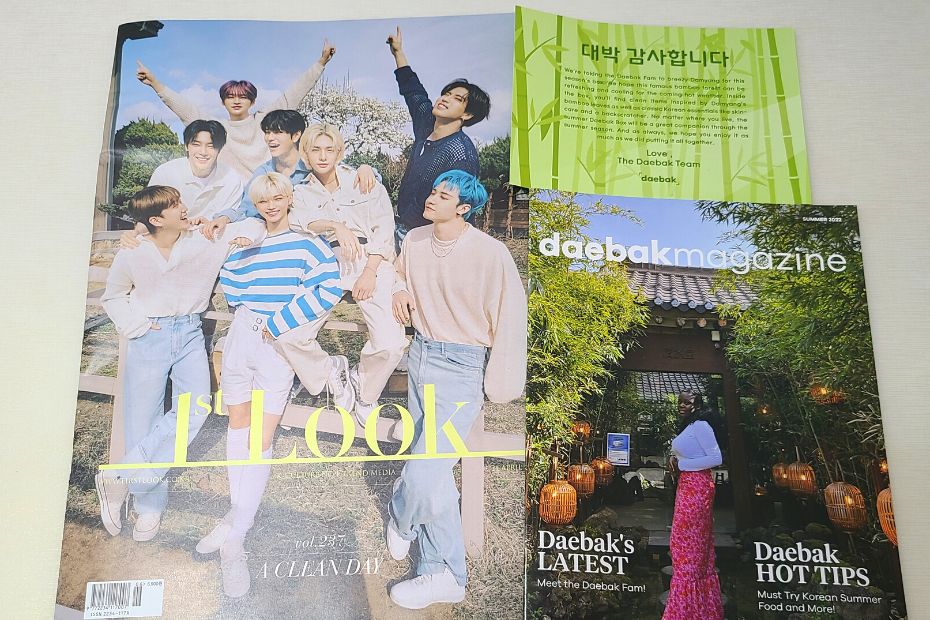 First Look Magazine:
Top K-Pop group, Stray Kids, graces the cover of this season's 1st Look Magazine. Plus, get an exclusive look at the new Netflix K-Drama, 'Annara Sumanara', starring Choi Sung-Eun.
Regular Price $4.99
Daebak Magazine:
Colourful magazine by Daebak which follows the same theme as the Daebak Box (bamboo forest). Includes details about box contents, the Daebak community, Korean cultural insights, Korean expressions, a fun quiz, and lots more.
Regular Price: Free
The 1st Look Magazine is packed full of Korean cultural content with large pictures and stories that'll certainly please any K-Fan. It's all in Korean, so you can practice developing your Korean skills (or just look at the pictures like I did). The Daebak Magazine is fun. It explains what's in the box and has some fun quizzes and useful info. On the back page is a mini-box. A miniature replica of the regular box, which is a cute bonus. I'll use it to give a small gift.
---
My Daebak Box Review: Honest Opinions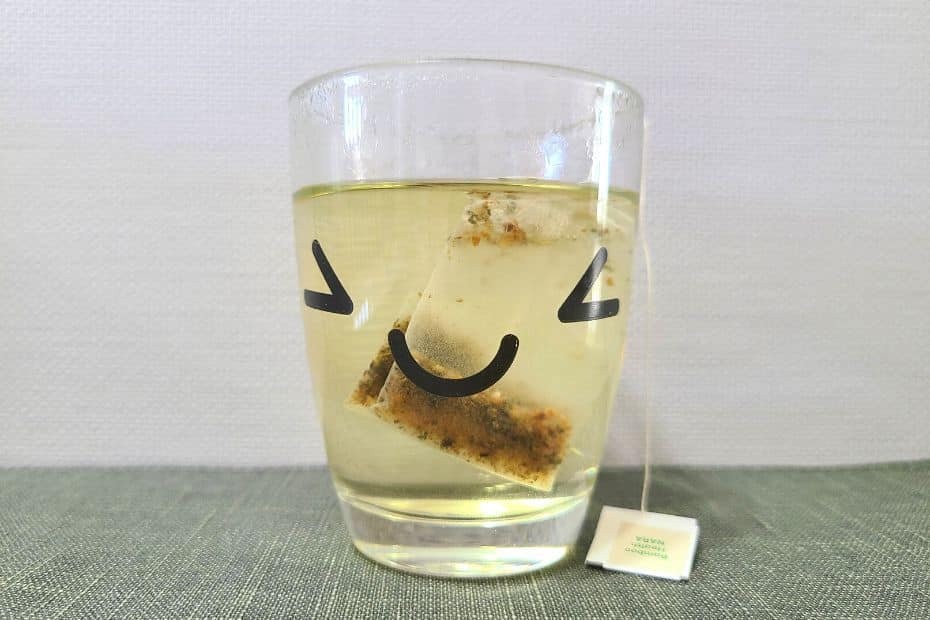 As mentioned previously, I was provided a free Daebak Box from the Daebak Company to help me write this review. I was asked to share my thoughts of the box with you lovely people, not to exaggerate about how wonderful this Korean gift box service is.
Indeed, I never agree to shamelessly promote an item and will always give my honest thoughts, whether good or bad. As you can see in my Lingo Pie review article, where I give both praise and suggestions for how the service could better help Korean language learners.
Therefore, please find below my honest opinions about the contents, packaging, and costs for the Daebak Box and whether I think it's value for money.
If you want to add your own comments about this box, please feel free to share your thoughts in the comments section at the end of this review.
---
Daebak Box Contents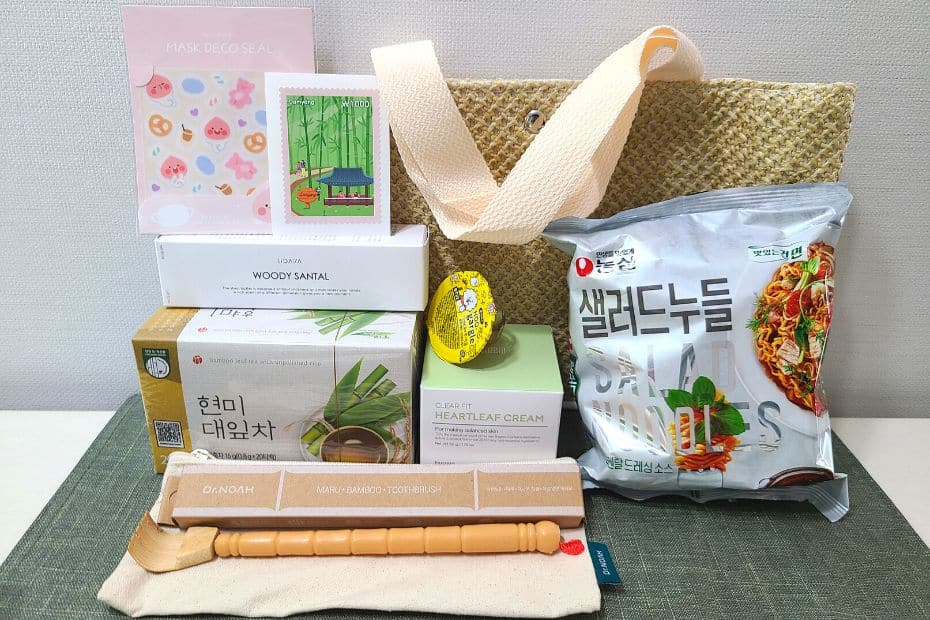 Here's a summary of my thoughts about the box contents:
Wide range of products
Good quality Korean items
Hard to find outside of Korea
Consistent theme
Premium options chosen instead of cheaper variants
Not all products likely to appeal to every person
Magazine in Korean
The contents of the Daebak Box really are varied and include a wide range of premium and basic items, from luxurious hand cream to basic ramyeon noodles. They're all well made, Korean goods that you wouldn't be able to pick up easily (or cheaply) outside of Korea.
This box's theme was the Damyang Bamboo Forest in Korea and the products all fit nicely into the theme. The box packaging, which I'll discuss next, keeps the same theme and the whole collection has a strong natural feeling to it. The Damyang sticker is a nice touch and can be a lasting reminder of the box after the rest has been used.
Not only are the products good quality, they're also better than they could be. There are cheaper alternatives to most of these items, such as the hand cream and anti-wrinkle cream, that could have been included, but weren't. There are certainly more expensive versions, too, but the quality, when considering the cost of the box, is definitely good. More on value for money later on.
Personally, I don't plan to use all of the items in this box, but I can gift things like the anti-wrinkle cream and rattan bag to other people, so that's fine. Different things will appeal to different people and the diversity of products means there's something for everyone.
I think that most people, especially those who don't live in Korea, will appreciate and enjoy the contents of the Daebak Box. I certainly enjoyed them and it introduced me to a new hand cream which I really like now.
This isn't a criticism of the box, as it certainly adds authenticity, but the magazine was all in Korean. This could make it a bit redundant for people who don't read Korean or aren't interested in K-Pop and other K-Culture. But if you're not interested in those things, you probably won't order this box anyway, so it's a moot point.
Overall, the contents of the Daebak Box are of a good quality, varied, interesting, and fun. Fans of Korean culture, travel, or cosmetics will certainly be pleased with the contents. If you sign up for the Seasonal Box, there's enough inside to keep you going from one box to the next and the Daebak Magazine adds more to do and learn about.
---
Daebak Box Packaging & Delivery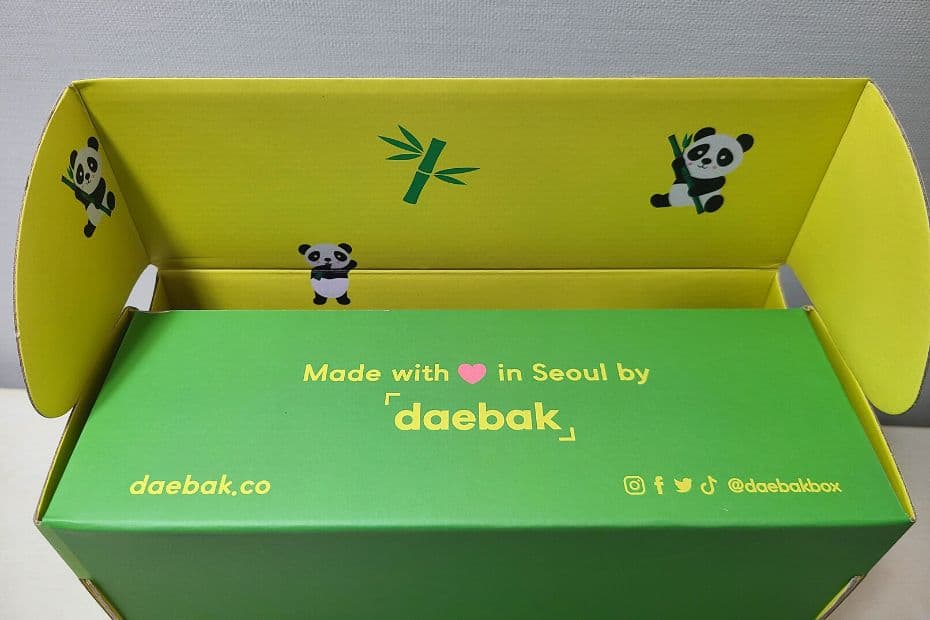 The packaging for the Daebak Box is really nice. The box arrived at my house in a parcel and the box itself was wrapped with bubble wrap, keeping the box and contents secure and undamaged.
Every part of the box is colourful and continues the bamboo theme that was the theme for this season. The outside of the box had a clear, colourful bamboo forest scene (go to Damyang and you can see the same) that is like a postcard itself.
When you open the box, you're greeted by some cute pandas munching on bamboo and playing around joyfully. It's charming and every part of the box is pretty to look at. It certainly encourages me to keep using the box long after the contents have been taken out.
The box itself is sturdy and larger than I thought it would be. There's a lot squeezed into the box, but nothing was bent or damaged by being put inside – it's clear that it was packed carefully and smartly.
The only slight problem was that the magazine was folded up, which is the only way it would fit as it's much taller than the box is. It's not a real issue though as it is easily straightened out again.
Overall, the packaging was of a good quality. The items arrived in perfect condition and the box is really lovely and can be reused for a long time.
---
Daebak Box Value For Money
Here's a breakdown of the cost of each of these items if you were to buy them separately. The Daebak Company states that each box contains over $100 worth of goods in each box, which is based on the price of the goods they sell in their online shop.
| Content | Price (USD) |
| --- | --- |
| TenZero Clearfit Heartleaf Cream | $29.54 |
| Iidaya Woody Santal Hand Cream | $27.29 |
| Dr. Noah Maru Bamboo Toothbrush | $3.33 |
| Nong Shim Salad Noodles | $2.99 |
| Bamboo Leaf Tea Bags | $6.49 |
| BT21 Hoo Gargle | $1.50 |
| Mini Rattan Bag | $14.99 |
| Hyojason Bamboo Back Scratcher | $8.99 |
| Dr. Noah Cotton Case | $2.99 |
| Kakao Friends Apeach Mask Deco Seal | $4.99 |
| Damyang Bamboo Forest Sticker | $0.99 |
| First Look Magazine | $4.99 |
| Total Cost | $109.08 |
These prices aren't necessarily what you'd pay in Korea, they're what you'd pay to buy these items online or in other countries. Some items (i.e. hand cream) use the Korean price while others use Amazon USA, the Daebak website, and other sites.
As you can see from the table above, the total cost of these items (without shipping and taxes) would be $109.08. This supports Daebak's claim that each box includes more than $100 of goods inside.
I'm tempted to add the cost of the box to the total value of the Daebak Box as it's really nice and sturdy and something I would expect to pay at least $5 – $10 for considering the interesting theme. The Daebak magazine, too. The high level of production definitely adds value.
The Daebak Box ranges from $49.99 (Annual Plan) to $59.99 (One-off Seasonal Box), which certainly means that you save a significant amount of money vs. the regular cost of buying these products. You can save about $50 with each Daebak Box.
There are discount codes available for the one-off Daebak Boxes, such as the one below. It can save you 5% on the total price, making it better value for money.
Use the discount code 'INMYKOREA' to get 5% off any one-off Daebak Box.
Overall, as long as you appreciate and use the items that are included in the Daebak Box, it's definitely value for money. The cost to buy each item separately is almost double what you'll pay for the box. Is the Daebak Box worth it? That's what I'll discuss in more detail next.
---
Is The Daebak Box Worth It?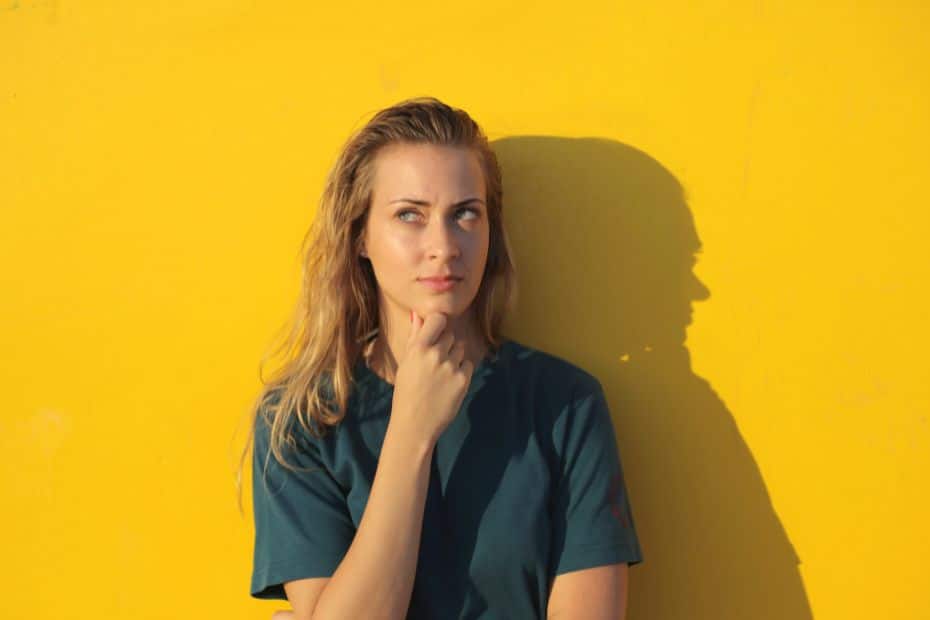 This is the trickiest part of this Daebak Box review and whether something is worth buying or not is a relative concept. It can depend on where you live and how much you appreciate the items in the box. For this review I'll assume you're living outside of Korea and Korean products aren't easily available.
Each box has different contents. Some people will love everything, some people will be amazed with most items, some people might not use half of the box and give the rest away. There's simply no pleasing everyone, but for people who are fans of Korean culture, cosmetics, and products, I think they'll fall into the first two categories and be impressed with the box.
The items included in the box offer value for money, assuming that they are things you like, will use, and want to receive. Personally, I won't use the rattan bag, mask stickers, or anti-wrinkle cream. That takes away almost $50 of value from the box, making it about the same price as buying everything separately. However, I will certainly not waste them and will gift them to other people, which will make them happy and that's worth the money.
The Daebak Box isn't going to be something you can buy for someone who isn't interested in Korea. It's not designed for that and probably wouldn't appeal to them. There's also cool stuff that anyone can enjoy. You don't need to love Korea to appreciate good hand cream.
If you're buying it as a gift, or for yourself, decide whether or not the chance to get these cool Korean goods is worth the cost. If you want a uniquely Korean sticker on your laptop, a refreshing cup of Korean tea, a delightfully smooth hand cream, a magazine full of your favourite Korean celebs, and lots more, then the Daebak Box is probably the most fun, cost-effective way to go.
Overall, fans of Korean products and culture will appreciate the box and its contents. If you are in a position to spend $50+ per quarter to get hold of uniquely Korean goodies, or if you want to spend $60 to buy the box as a one-off gift, then go for it. I don't think you'll regret it.
---
About The Daebak Company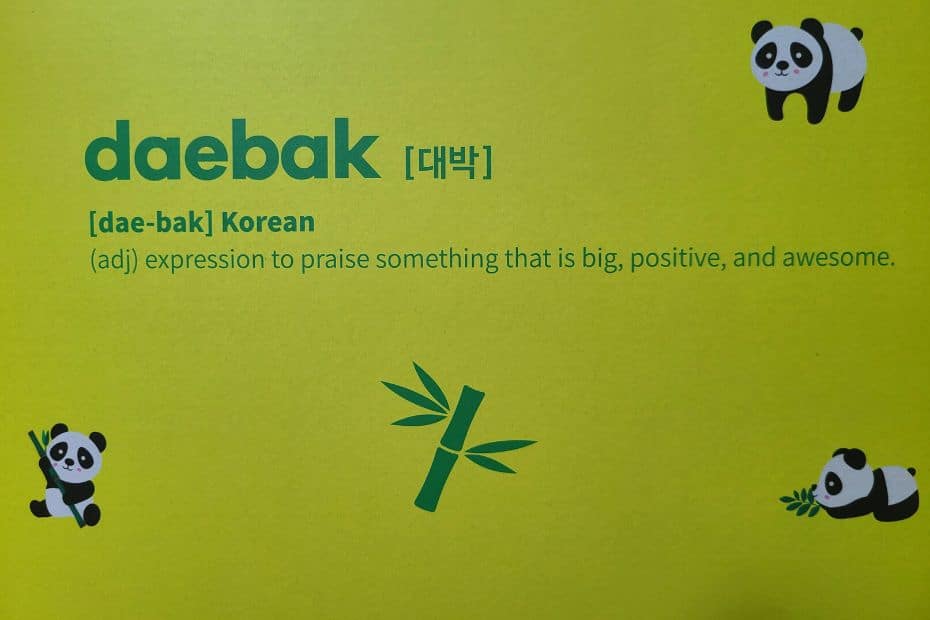 The Daebak Company is a Seoul-based company that provides Korean goods direct from Korea to the rest of the world. They want to share their love of Korean culture, products, and experiences to the growing army of K-Culture lovers around the world.
Our mission is to provide the most "daebak" Korean cultural experience, to bring authentic Korean products worldwide and become the best K-Pop store in the world.
Not only do they sell the Daebak Box, they also provide the chance to pre-order and purchase the hottest Korean pop, movie, and cultural goods from anywhere in the world.
You can find out more about the Daebak Company from their fun Instagram posts and the Daebak Community on Facebook, as well as on their homepage.
---
Other Korean Gift Boxes By Daebak
As well as the Daebak Box, which provides a range of Korean products, they also provide delicious Snack Fever Boxes. The Snack Fever boxes are monthly Korean subscription boxes packed full of yummy (and sometimes weird) Korean snacks. From chocolatey Pepero to super-spicy instant noodles and a whole lot of tasty and unusual snacks in between.
---
Korean Goods From Daebak
You can find hundreds of items in their online shop, including K-Pop, K-Drama, K-Beauty, K-Lifestyle, and K-Character goods. From cool BTS memorabilia to cute Kakao Friends accessories, there's so much available on their website.
---
Daebak Box Review FAQs
Finally, here are a few FAQs about the Daebak Box, in case the above information didn't cover enough for you. If you have any other questions you'd like to ask, feel free to leave a comment.
Can you gift someone a Daebak Box?
You can send a one-off Daebak Box to another person, or sign up for a Seasonal Plan and send them multiple boxes. The Seasonal Plan is auto-renewing, but can be cancelled at any time before the next box is sent.
How much is a Daebak Box?
The price of the Daebak Box starts at $49.99 (excluding shipping and possible taxes). This is the price for the Annual Plan. Prices might be higher if purchased with different plans or as a one-off gift.
How many Daebak Boxes are sent per year?
There are 4 Daebak Boxes each year, sent quarterly every 3 months. You can subscribe to the service at any time in the year and it isn't necessary to get all 4 boxes.
Are Daebak Boxes the same each time?
Each Daebak box is unique and comes with different contents and theme. The items inside generally match the theme of the box and include Korean cosmetics, cultural items, foods, stationery, and other products.
What is normally inside a Daebak Box?
Each Daebak Box has different contents, changing every 3 months. The Daebak Boxes will contain a selection Korean cosmetic, cultural, food, and stationery products, as well as other unique items.
Is the Daebak Box value for money?
If you're interested in Korean culture and goods, the Daebak Box can save you more than $50 per box vs. the cost of buying the items separately. For fans of Korean products, this is good value.
---
Liked This? Pin It For Others
If you enjoyed reading this article, then please share this with your friends on Pinterest.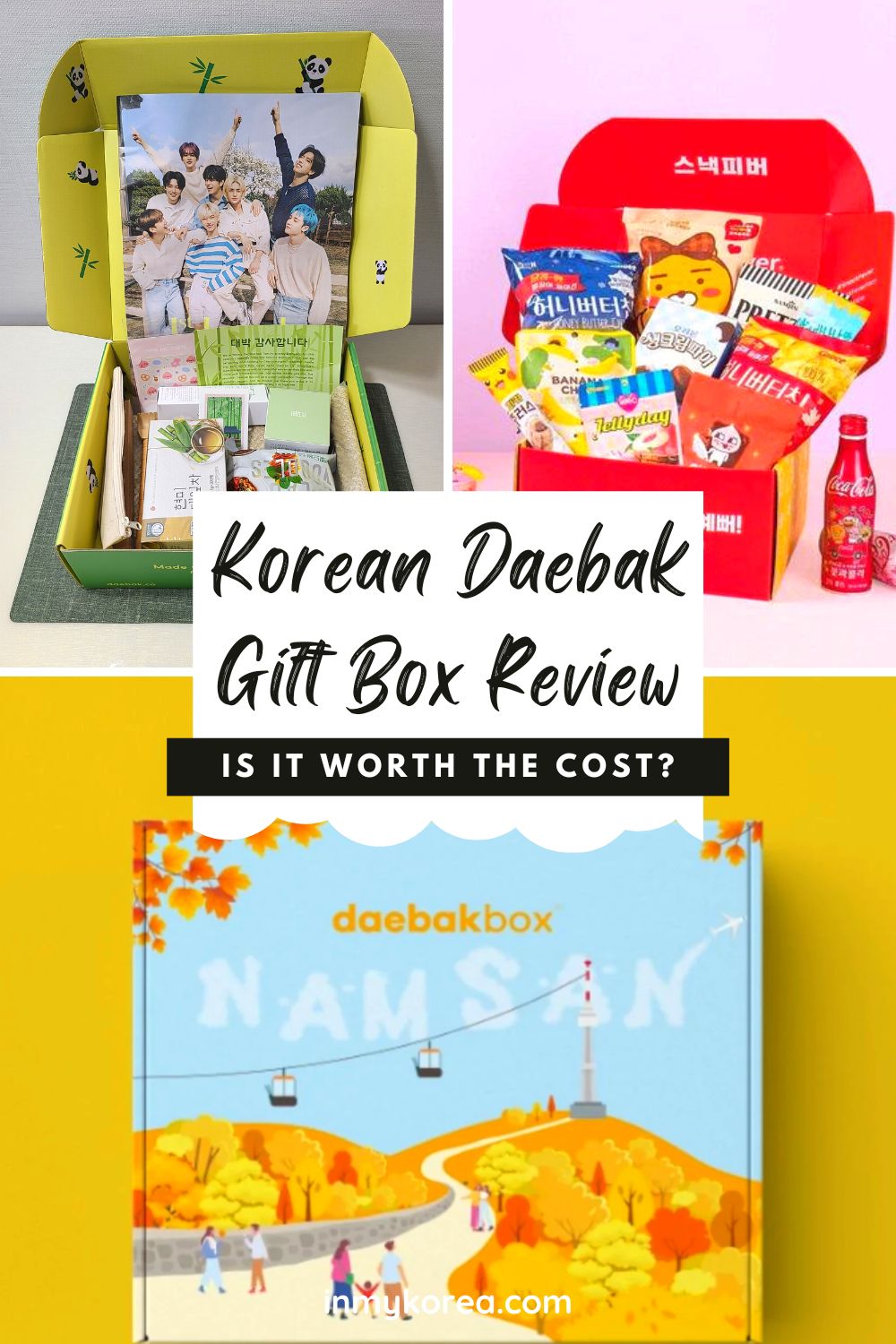 ---
Related Articles