Want to get out of the big Korean cities and see more cultural, historic, and natural sights that will entertain and educate? Then you should check out all the interesting things to do in Buyeo, a UNESCO World Heritage City located in western Korea.
Buyeo was the capital city of the Baekje Kingdom, which ended when invaded by the Silla Kingdom in the 7th Century. Like Gyeongju, the capital of the Silla Kingdom, there are ancient temples, fortresses, shrines, and other monuments to explore.
There are more things to do in Buyeo than just check out the history, though. It's a great city for nature lovers, with beautiful ponds full of lotus flowers, sleepy rivers to cruise down, fortress forests to trek through, and a range of lovely parks to visit.
This guide to the top 10 things to do in Buyeo will help you plan a day trip (or weekend) to this historic city and show you all the reasons why Buyeo should be on your travel itinerary for an alternative Korean adventure.
Affiliate Disclaimer: This site contains affiliate links and I may earn commission for purchases made after clicking these links.
---
Top 10 Things To Do In Buyeo City In A Day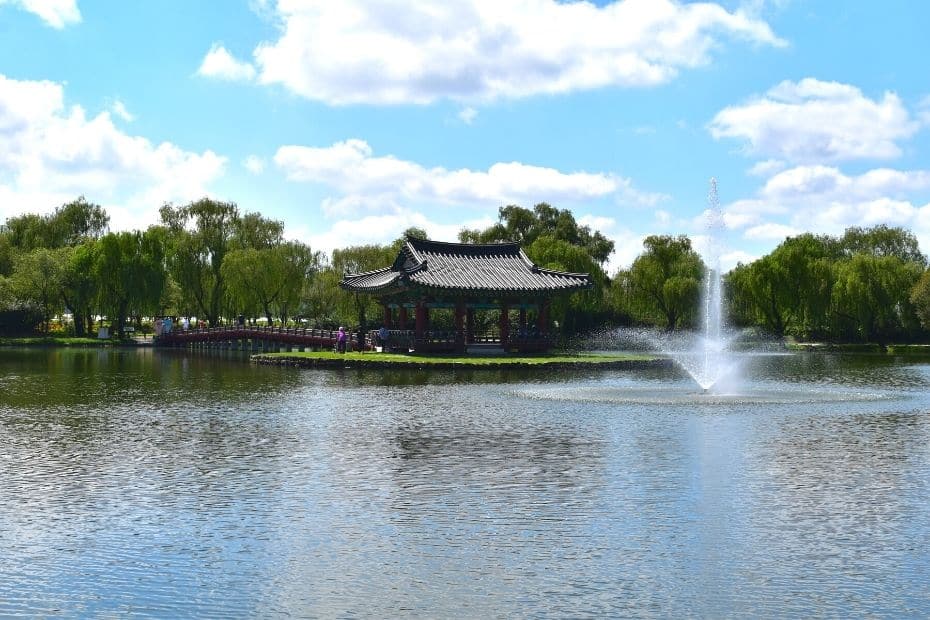 One of the things I liked about Buyeo, aside from the incredible history and culture, is the fact that so many of these things to do in Buyeo were so close together.
These top 10 things to do in Buyeo City are referred to as the 'Downtown Course' as they're all within walking distance of the city centre and bus terminal.
I've structured this list so that you can use it as a guided walking tour – you can walk from 1 – 10 in that order within a day.
Gungnamji Pond is top of the list as it's one of my favourite things to do in Buyeo and I'd highly recommend visiting it, especially if you're travelling in summer or autumn.
After the top 10 there is a really useful guide to Buyeo and more about the city.
---
Planning to visit Korea? These travel essentials will help you plan your trip, get the best deals, and save you time and money before and during your Korean adventure.

Korea Electronic Travel Authorisation (K-ETA): Most countries need a K-ETA to travel to Korea. Apply before you travel only with the Official K-ETA Site.

Staying Connected: Pre-order a Korean Sim Card or a Portable WiFi Router to collect on-arrival at Incheon Airport. Collection desks are open 24 hours. Alternatively, download a Korean eSIM for you travels.

Hotels In Korea: Staying in Seoul, I recommend Myeongdong (convenient), Hongdae (cool culture) or Gangnam (shopping). Find the best hotel prices across Korea with Agoda, Klook, or Hotels.com.

Incheon Airport To Seoul: Take the Airport Express (AREX) to Seoul Station or a limo bus across Seoul. Don't like carrying heavy suitcases? Book an Incheon Airport Private Transfer and relax to or from the airport.

Korean Tours: Find the best tours in Korea with tour companies that have a big presence in Korea, including Klook, Trazy, Viator, and Get Your Guide. These sites also offer discounted entry tickets for top attractions.
Seoul City Passes: Visit Seoul's top attractions for free with a Discover Seoul Pass or Go City Seoul Pass. These passes are especially good for families and couples visiting Seoul and can save you lots.

Transportation: Get a T-Money Card or WOWPASS to pay for public transport, including buses, subways, and taxis. For Korea's high speed trains, save money and get unlimited rides with a Korea Rail Pass.

Travel Money: Exchange foreign currency in Myeongdong or Hongdae money exchanges. Pick up a Wise, Revolut, or WOWPASS travel money card for the best rates and convenient card payments in Korea.

Flights To Korea: I recommend using flight comparison sites such as Expedia and Skyscanner to find the best flights to Korea from any country. Air Asia is a good option for budget flights from Asia.

Learning Korean: Want to learn Korean? I recommend a complete language learning course from 90 Day Korean or Korean Class 101 – both have well-structured lessons and lots of useful resources.
---
1: Gungnamji Pond In Seodong Park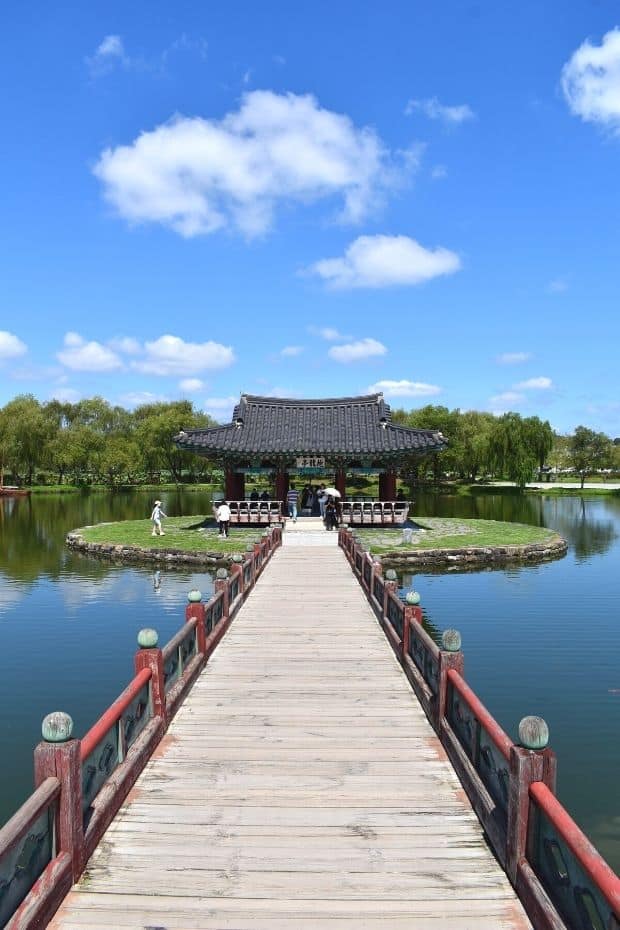 Gungnamji Pond is the oldest man-made pond in Korea and one of the most popular places to visit in the city, especially during summer when the lotus flowers are in full bloom.
In the middle of the shimmering waters is the picturesque Poryonjeong Pavilion, accessible by a single narrow bridge in traditional Korean style.
As you walk to the pavilion, glance over the side and you'll see dozens of goldfish swimming between the arches and willow trees waving to you with drooping branches.
The central pond is surrounded by smaller ponds full of beautiful lotus flowers, friendly ducks, and stunning picture spots that draw in photographers from across Korea.
Time required: 1 hour
Entrance Fee: Free
---
2: Buyeo National Museum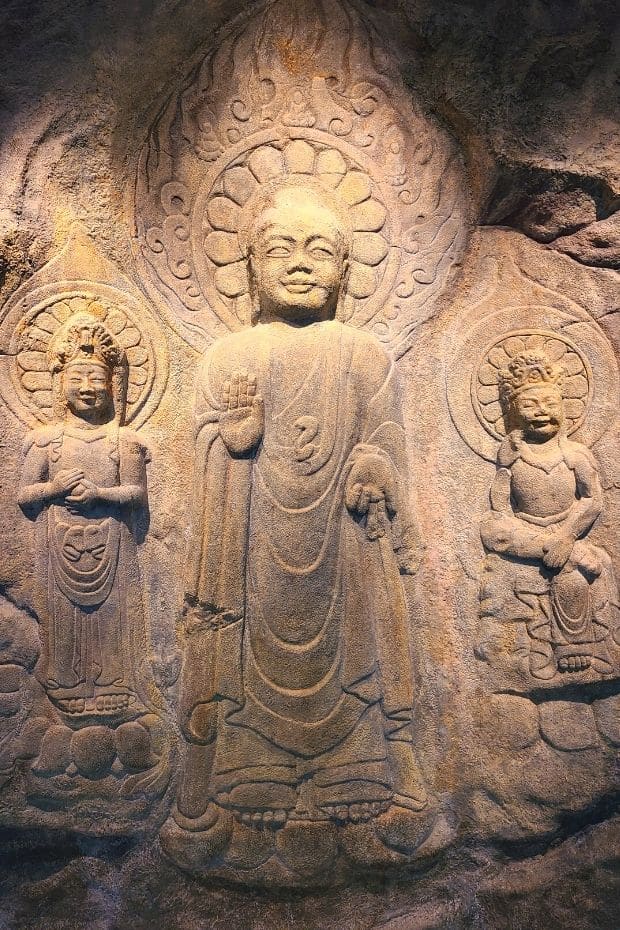 As you leave Gungnamji Pond, head east and you'll soon find the interesting Buyeo National Museum, which houses artefacts from the Sabi period – the height of Baekje Kingdom.
There's over 32,000 relics to see, including 3 national treasures. The museum has 4 main sections that cover different periods and types of artefacts.
Outside the museum there's a number of interesting statues and monuments to check out, as well as pretty trees and flowers.
Time required: 1 hour
Entrance Fee: Free
---
3: Jeongnimsa Temple Site & 5-Story Pagoda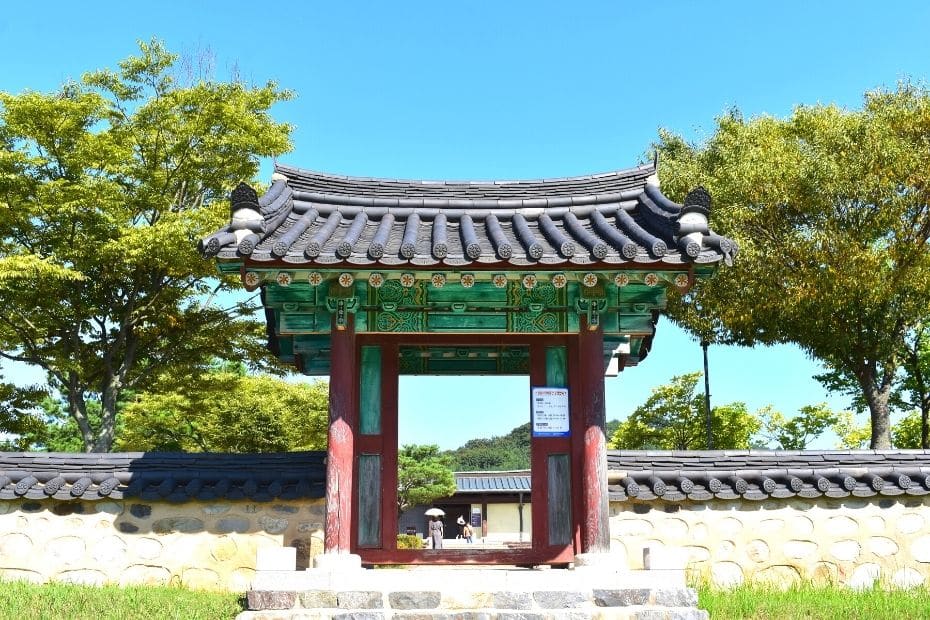 This ancient temple site was built when King Seong moved the capital of Baekje from Gongju to Buyeo. To celebrate the new capital, he built this temple in the centre of the Sabi royal palace.
Unfortunately, the palace no longer remains, but you can still look inside the temple and see a large stone Buddha statue from the Goryeo period. You can also see the 5-story pagoda standing proudly outside the temple.
Built in the 6th Century, it's amazing that these monuments are still standing and you can witness a real piece of ancient Korean history right here.
Once you've looked inside the temple, follow the path to the Jeongnimsa Temple Museum, a small museum with interactive displays and more insights into the history of the temple and surrounding area.
Time required: 1 hour
Entrance Fee: 1,500 KRW
---
4: Busosanseong Fortress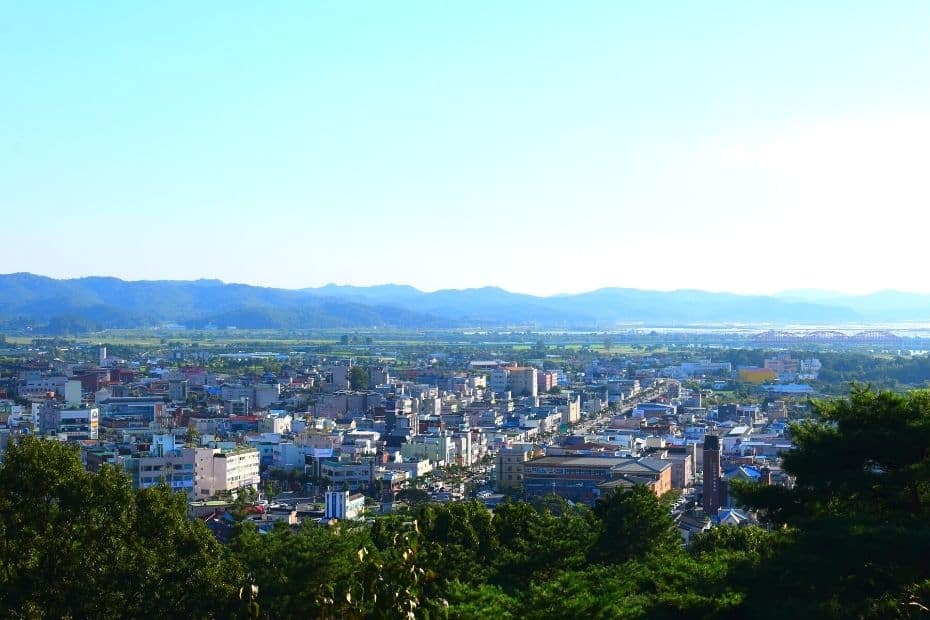 Once an imperious fortress spread across the slopes of Mt Buyo, the remains of the Busosanseong Fortress now provide spectacular sights of the city and surrounding countryside.
A number of top things to do in Buyeo are actually inside the fortress grounds, including the Samchungsa Shrine, Yeongillu Pavilion, Nakhwaam Pavilion, and Goransa Temple.
As you explore the leafy walkways, tracing the footsteps of long-dead soldiers on guard duty, you'll witness old stone fortifications, wooden pagodas, peaceful burial mounds, and a lot of the history and culture of ancient Baekje.
There are plenty of trails to explore in this circular fortress area. I'd recommend starting at the south entrance near the Sabi Virtual Experience Hall and heading in an anti-clockwise direction around the fortress, ending up at the Goransan Temple and ferry terminal.
There are several nice cafes outside the entrance with views over the fortress. A good place for lunch or a quick break before heading into the hills.
Time required: 2-3 hours
Entrance Fee: 1,800 KRW
---
5: Samchungsa Shrine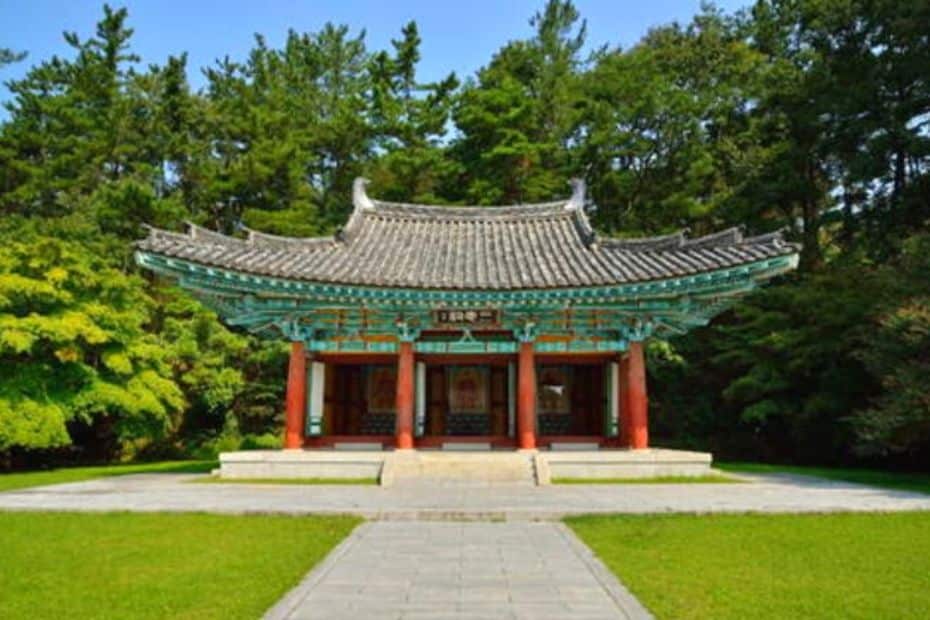 After passing through the beautiful tree-lined pathways of the fortress for a while, you will come across the Samchungsa Shrine.
This shrine, built in 1957, is dedicated to the memory of three overly-loyal officials from the 7th Century Baekje period – Seong Chung, Heung Su, and Gye Baek.
They each have their own tragic story connected to Baekje's final days, including General Gye Baek who, with an army of only 5,000, tried to hold out against 50,000 troops from the Silla Kingdom.
Check out the shrine and pay your respects to these brave souls. And make sure to take in all the intricate details and colours in this beautifully decorated shrine.
---
6: Yeongillu Pavilion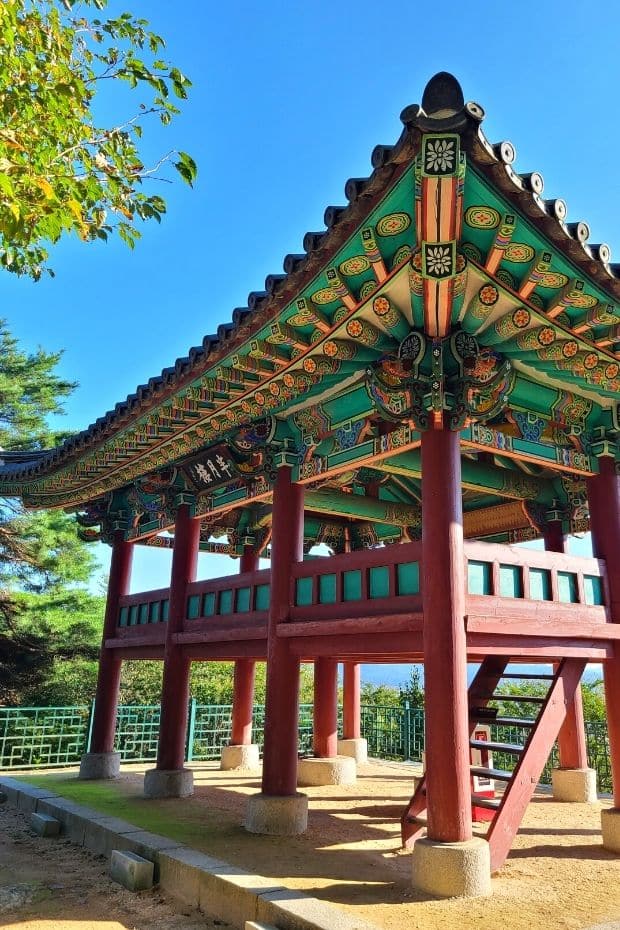 Nestled amongst the trees, but with an open view of Buyeo and the snaking river that curves around the fortress, this is one of the best spots for landscape lovers visiting Buyeo.
The Yeongillu Pavilion, raised above the ground on tall stilts, is a peaceful rest point where you can watch the afternoon sun, soak up the view, and catch your breath.
Definitely get out your camera here for shots of wide vistas and closes ups of the intricate decorations typical of Korean traditional architecture.
Make sure to take off your shoes as you enter the pavilion so that everyone can enjoy the clean floor. Look up when you're inside and see if you can spot the twin dragons that eternally stare at each other on the ceiling.
For views of the opposite side of the fortress, be sure to visit Sajalu Pavilion before visiting Nakhwaam Rock.
---
7: Nakhwaam Rock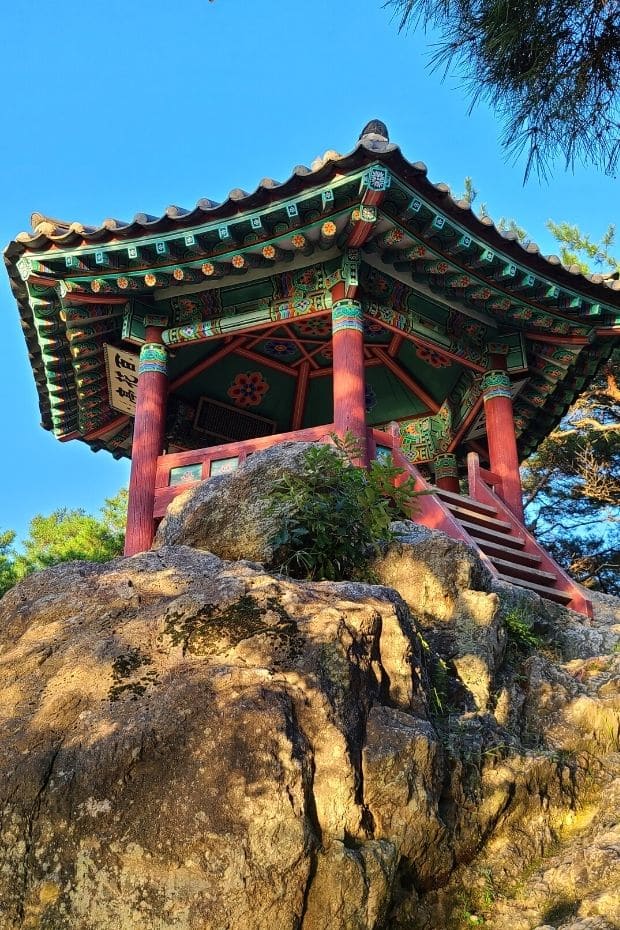 After exploring the rest of the fortress, one of the last spots to see is the tragic, yet inspiring, Nakhwaam Rock.
Also known as 'The Cliff of Falling Flowers', this rocky precipice is infamous due to the 'three thousand court ladies', who were said to have jumped from here after the fortress was invaded, crashing into the wide Geumgang River below.
Make your way to the top of the rocks (it's not far), and spend a moment contemplating their sad fate in the pretty pagoda that now stands atop the rocks in honour of the fallen court ladies and their tragic end.
If you look out to the waters below, you might be able to spot one of the ferries that runs from Goransa Temple back towards the Gudeurae Sculpture Park. Be sure to give a wave to the people on the boat before heading down to the temple to grab the boat.
---
8: Goransa Temple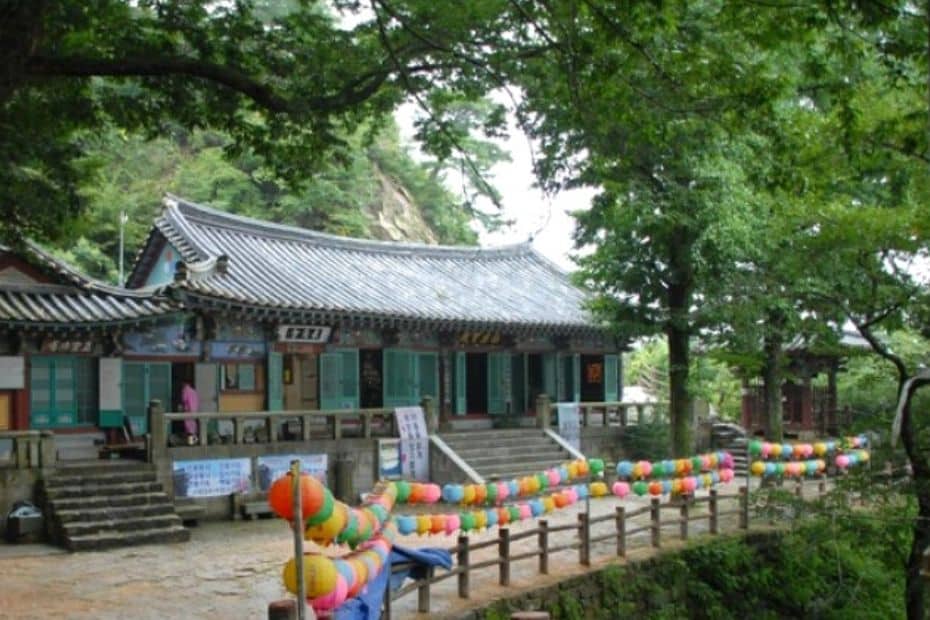 A short walk down the stone steps from Nakhwaam Rock is the hidden Goransa Temple, tucked away between the Geumgang River below and rocky slopes above.
After walking through the fortress you'll probably want a drink of some cool, fresh water. Well, good news, Goransan Temple has a well (Goranjeong) of mineral water and ladles for you to take a sip to quench your thirst.
Even better news – drinking from this temple water will also make you three years younger! Or so the stories say. There's no reason not to try it out and hope for the best.
Next to the temple is the Baegmagang River Cruise Ferry Terminal. I'd recommend visiting the ferry terminal first to book some tickets for the ride off the fortress before exploring Goransa Temple – it'll save you rushing later on.
---
9: Baegmagang River Cruise (Goransa Ferry)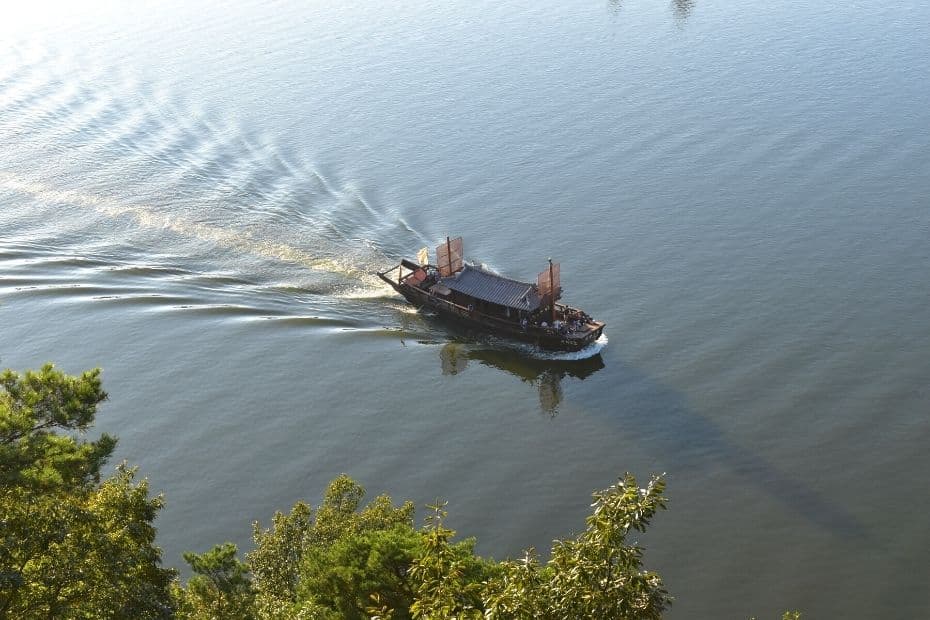 The Baegmagang River, literally 'the largest river in the Baekje Kingdom', is a wide, slow river that flows around the fortress and connects several of the things to do in Buyeo.
The ferries that depart from here aren't your normal ferries, but are designed to look like traditional Korean boats from the Baekje period, complete with tall sails and sloping rooftops. It looks like a floating temple!
Book a ride to the Gudeurae Dock and enjoy the 15 minute cruise along the river, checking out the sights of Baekje Culture Land on the opposite shore, and the mountains and nature that surround Buyeo.
Ticket price: Goransa Temple to Gudeurae Dock
Adults: 5,000 KRW
(return 7,000 KRW)
Children: 2,500 KRW
(return (3,500 KRW)
---
10: Gudeurae Sculpture Park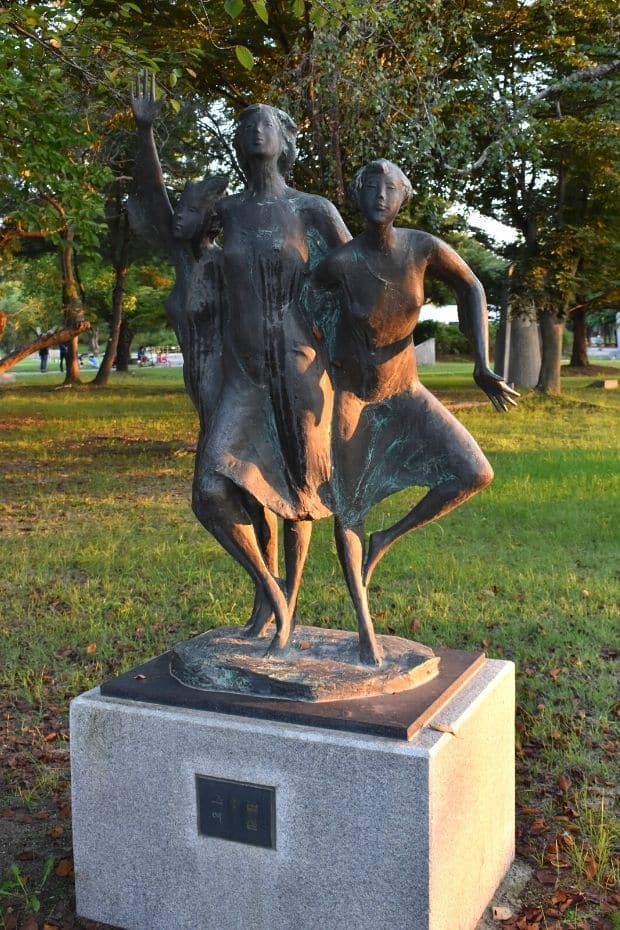 The Gudeurae Sculpture Park is a family-friendly place and a popular space for locals to relax and enjoy the views of Busosanseong Fortress and the Geumgang River, as well as the creative sculptures and artworks on display.
Take your time to explore the various sights on display here, both in the park and along the shore of the river, which is lined with thousands of sunflowers in summer.
A great spot for some interesting photos, or just to grab a drink and chill on the grass, watching the sun set over the mountains in the west.
If you follow the road leading away from the dock, you'll end up heading towards the fortress entrance, which hosts several great restaurants where you can sample local delicacies and traditional Korean dishes.
Keep reading for more info about things to do in Buyeo, where to eat, what to try, and what else there is to see in this history-packed UNESCO World Heritage City.
---
More Things To Do In Buyeo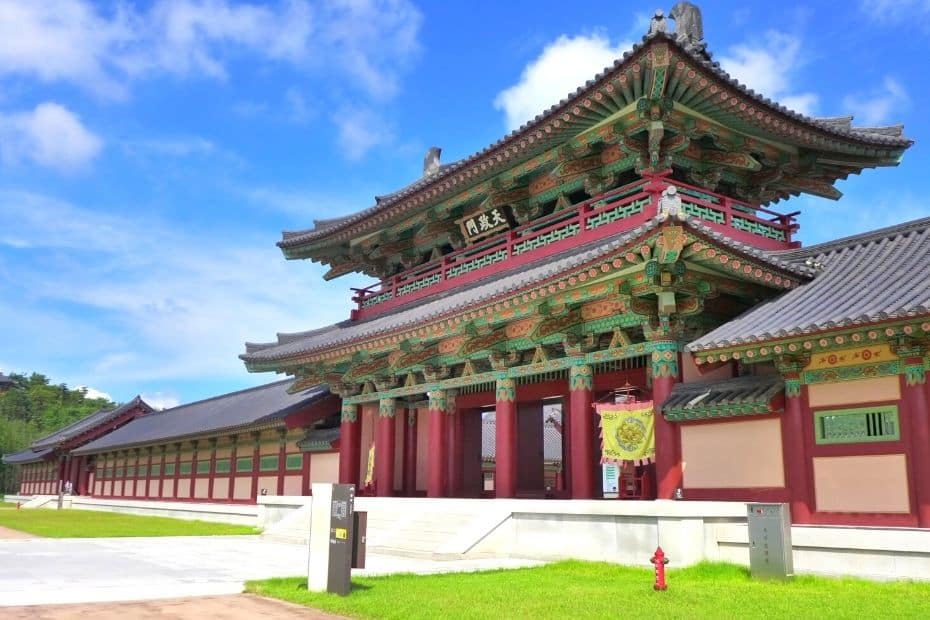 There are so many things to do in Buyeo, both in the city itself and in the surrounding area. As this was such an important city in the former Baekje Kingdom, there are plenty of historic sights to visit, including temples, fortresses, and other important locations.
Not only is there Korean history to absorb, there's also a load of beautiful nature spots to visit, including mountains, riverside walks, farms, and eco-friendly attractions.
I've provided links to each of these other things to do in Buyeo below:
Some of these are quite far out of the city and so it might be best to join a local tour or rent a car to visit some of these spots.
---
Buyeo Travel Guide & Cultural Activities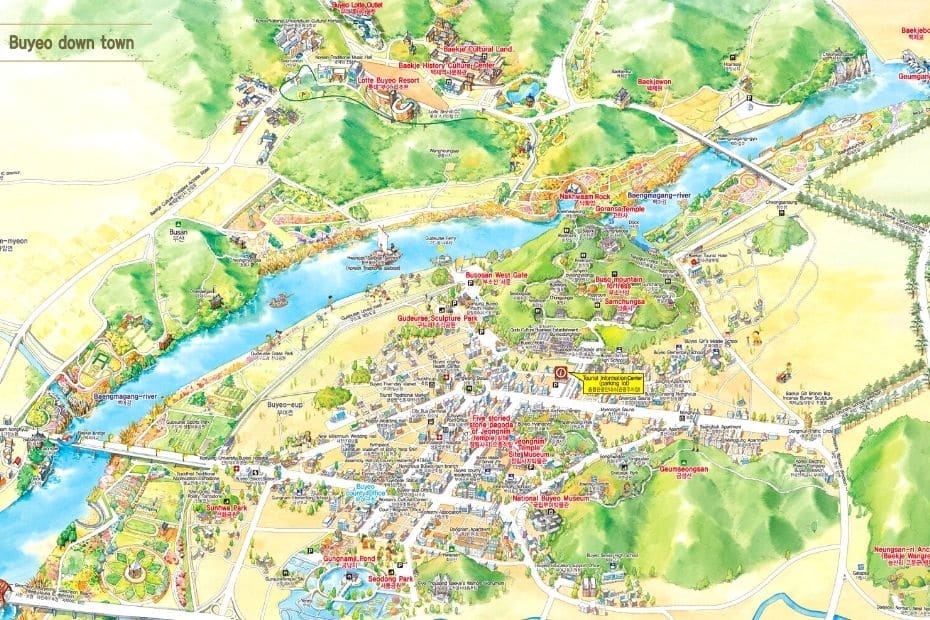 These 10 things to do in Buyeo are just the beginning of what this historic former capital has to offer tourists. The rest of this guide will tell you more about the city, how to get there, where to stay, what to try, and cultural festivals and activities in Buyeo.
---
Why Visit Buyeo?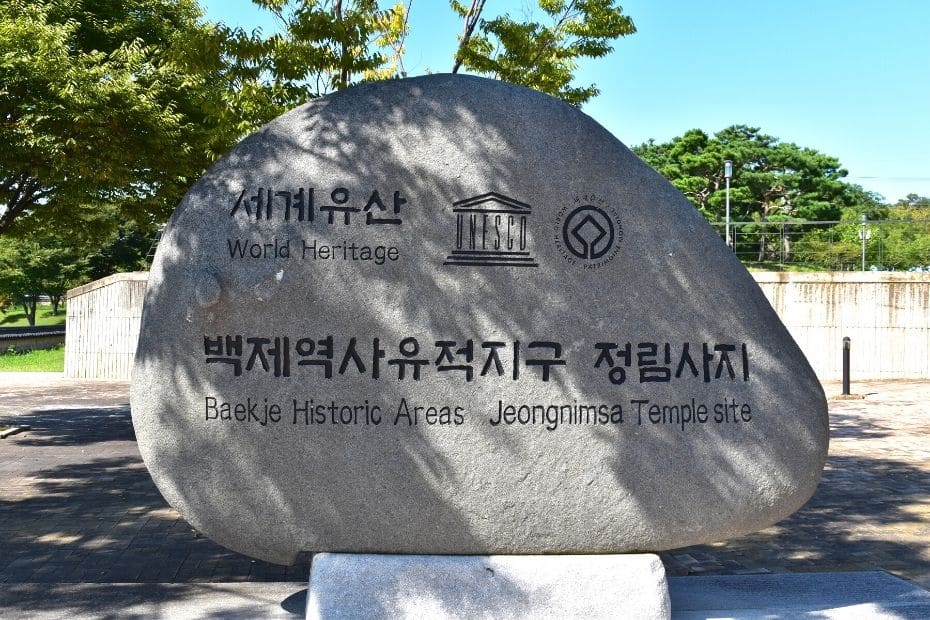 Buyeo is a charming city packed full of history and home to many cultural and historic artefacts from Korea's past. Recognised as a UNESCO World Heritage City, history lovers will really appreciate visiting Buyeo.
The city has a beautiful harmony between nature and humans, with both having lived side by side for centuries, with temples and palaces built in and around the mountains, rivers, and fields.
If you want to get the most of Buyeo, I'd recommend staying for a weekend so that you can explore some of the sights that are outside of the city centre, such as Baekje Culture Land, the Royal Tombs, and Seongheungsan Mountain.
---
How To Get To Buyeo
Buyeo isn't connected to the high-speed Korean train network (KTX), so the best way to get to Buyeo is by car or bus. Taking the train is possible with connections.
Train from Seoul:
If you want to take the train from Seoul, depart from Yongsan Station and head towards Nonsan, then change to a local bus to Buyeo.
Bus from Seoul:
The bus from Seoul Nambu Bus Terminal takes 2 hours and 10 minutes and costs around 17,000 KRW for a one-way ticket.
Bus from Daejeon:
Travellers from Daejeon can get to Buyeo from the Seobu Intercity Bus Terminal. The journey is about 90 minutes and costs around 8,000 KRW.
The picture below shows the various ways to get to Buyeo from around Korea.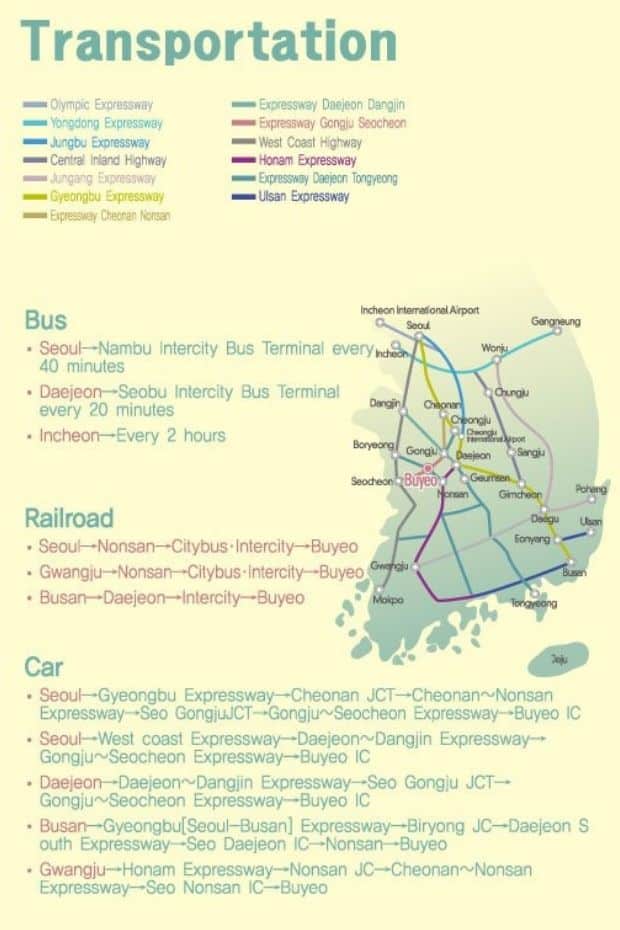 When To Travel To Buyeo
The best time to visit Buyeo for people who want to see the wonder of Korean nature and the countryside in full bloom is any time from early April until late October.
The start of spring will offer beautiful cherry blossom views, whilst the end of October offers incredible autumn leaves that spread across sites like the Busosanseong Fortress.
To get the best views of the Gungnamji Pond and the thousands of lotus flowers there, you should visit in July – this is when the Seodong Lotus Flower Festival is held. You can also see lotus flowers and sunflowers throughout August and into early September.
As many of the things to do in Buyeo, such as the historical sights and museums, are open year-round, there's never a bad time to visit Buyeo.
---
Where To Eat In Buyeo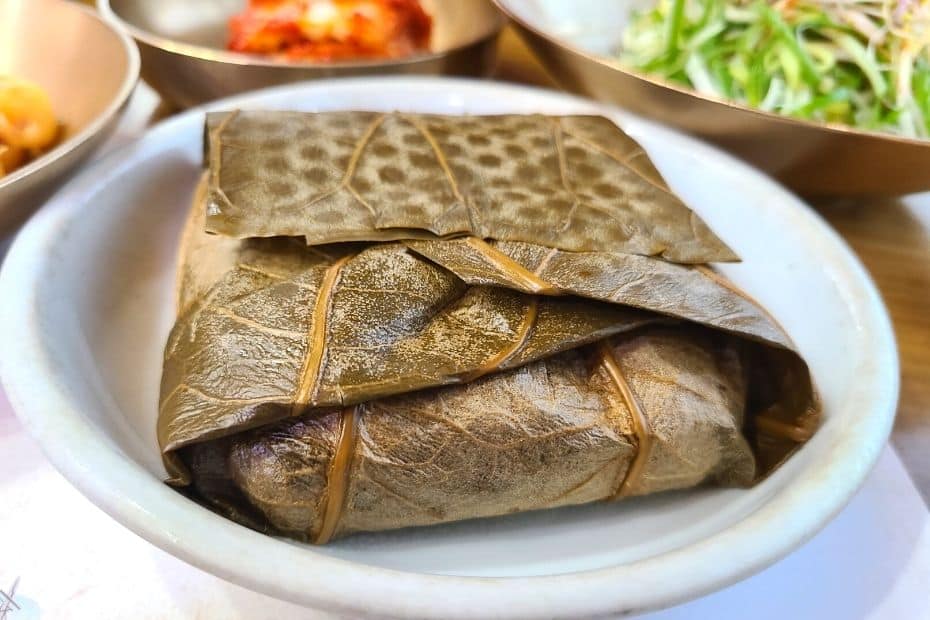 Eating traditional Korean dishes was one of my favourite things to do in Buyeo. There's a range of dining options from cafes overlooking the lotus ponds, to traditional Korean restaurants with a smorgasbord of interesting side dishes.
Here are a few places you might want to try dining in when visiting Buyeo:
---
Cafe At267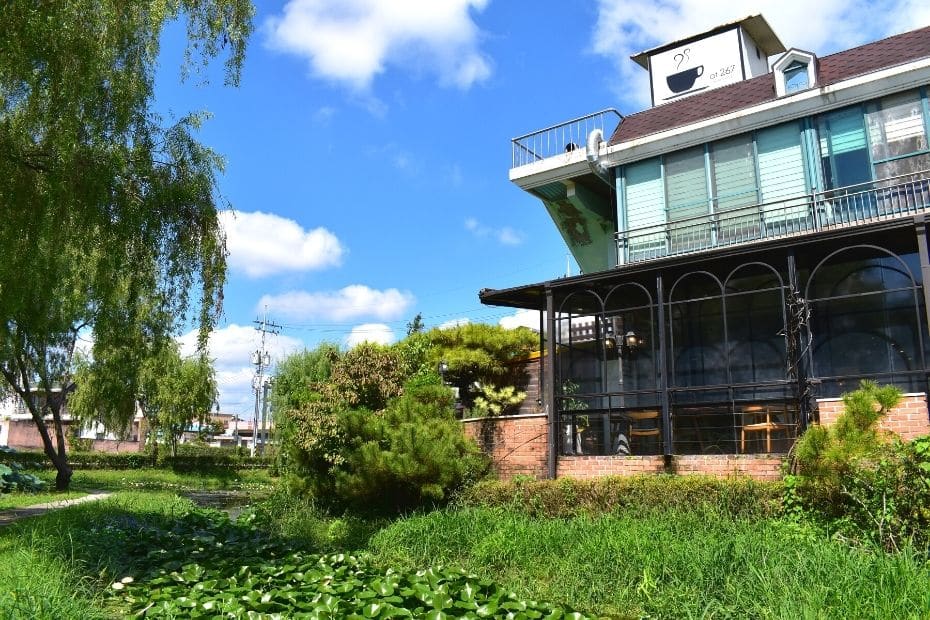 This charming cafe is at the entrance to Seodong Park and overlooks the tall lotus leaves and flowers. A great place to charge up before exploring for the day. Head directly south from Buyeo Bus Terminal to get here. More about Cafe AT267
---
Gudurae Dolssambap
For those who want to mix and match tastes, this restaurant offers the chance to select many side dishes, along with rice in a hot stone pot and braised pork, and wrap them all in a lettuce leaf. Fun and delicious dining. Located near the entrance to the fortress. More about Gudurae Dolssambap.
---
Sol Naeeum 솔내음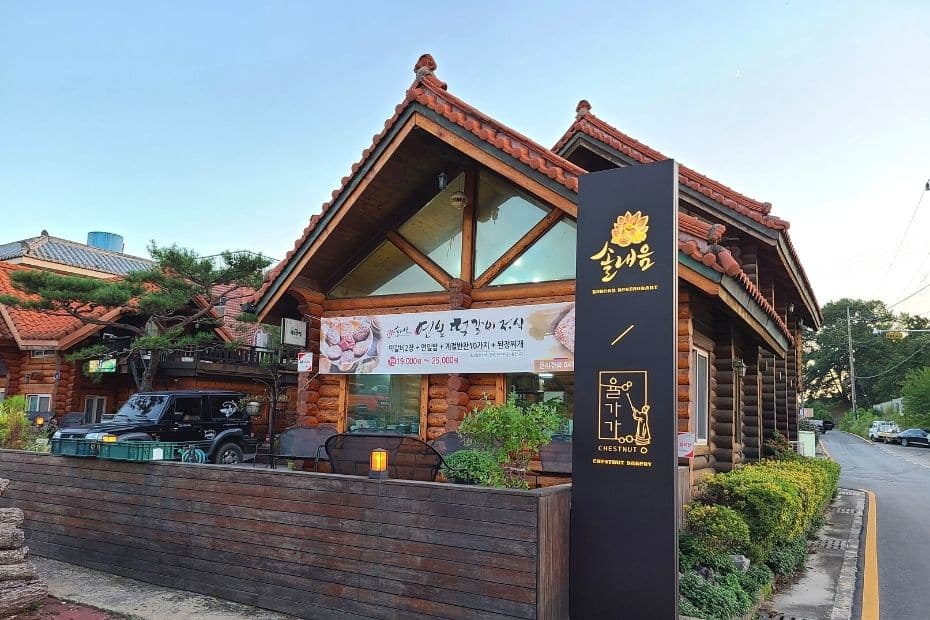 Try some delicious hanu (한우) – Korean beef – made into small patties and served with a side dishes, including rice wrapped in a lotus leaf, ginseng, pancakes, lotus flower, and more. Located right next to Gudeurae Sculpture Park. More about Sol Naeeum.
---
Baekjeui Jip
If you're a fan of mushrooms, then visit this quaint old restaurant that serves a dish of bulgogi and mushrooms with a wide range of side dishes. Located near the entrance to the fortress. More about Baekjeui Jip.
---
Where To Stay In Buyeo
Accommodation options in Buyeo are limited and if you're planning to visit during festival times (July, September), then definitely book in advance.
Here's a couple of places that I think look nice and should give you a good night's rest.
---
Buyeo Baekma River Leisure Park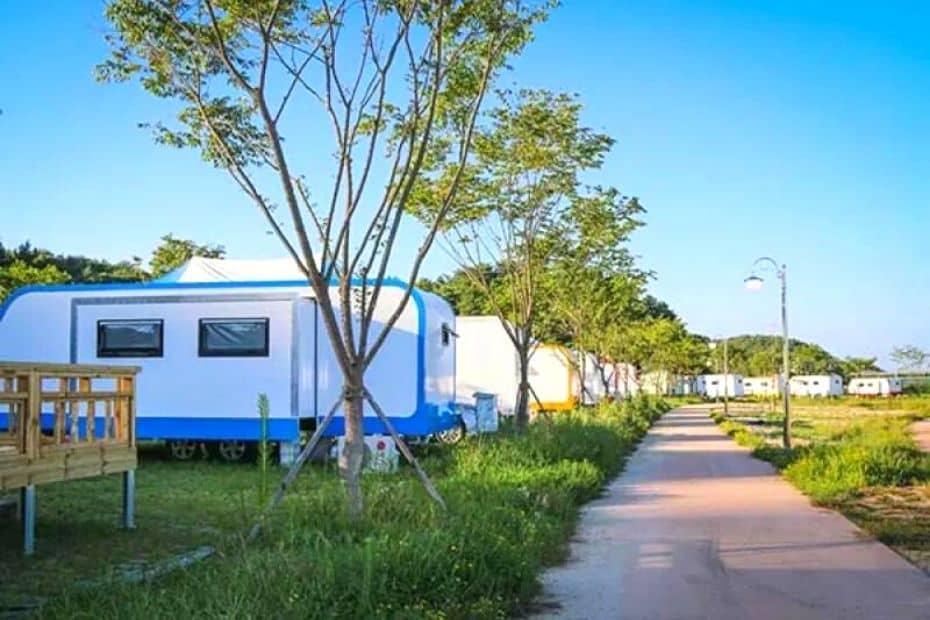 A bit different from your normal hotel or motel, this is a lovely looking site on the shores of the Geumgang River that provides modern caravans for your to sleep in
Wake up to the sunrise from the other side of the river and views of Busosanseong Fortress. This is located close to Baekje Cultural Land and the Lotte Outlets and a good place to start a second day exploring Buyeo.
Buyeo Baekma River Leisure Park: Prices from 130,000 KRW per night.
---
Lotte Buyeo Resort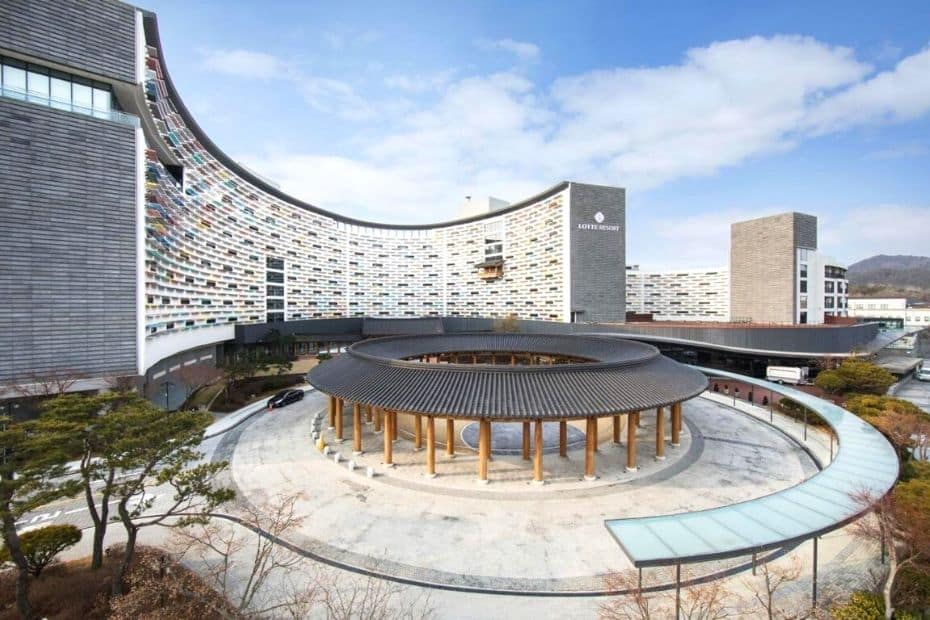 Lotte Hotels are some of the best in Korea, and this stunning looking hotel is sure to please those looking for a bit of luxury as they travel.
Located next to the Lotte Outlets, this hotel is a destination in itself.
Check out the Aqua Garden, an on-site spa to pamper weary travellers after a day of exploring, the wide range of restaurants, and the impressive mountain views from the private balcony in each room.
Lotte Buyeo Resort: Prices from 236,000 KRW per night.
---
To find other hotels in Buyeo, I recommend these websites.
---
Festivals In Buyeo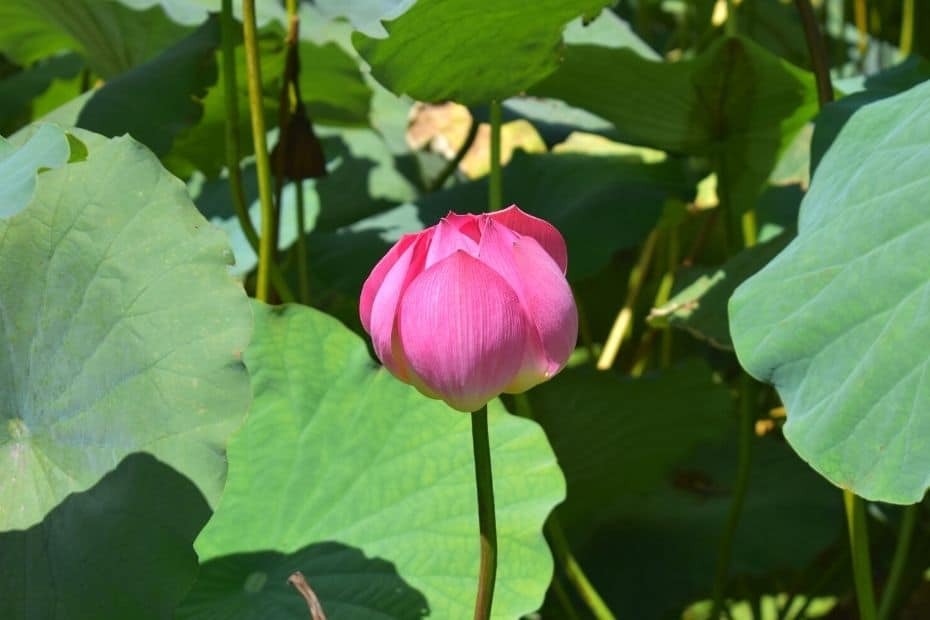 There are two major festivals in Buyeo to enjoy the city's rich history, nature, and culture.
Seodong Lotus Flower Festival
The Seodong Lotus Flower Festival is held in mid-July, when thousands of lotus flowers and lilies of more than 50 different types bloom in the ponds around Gungnamji Pond.
Photographers from across Korea visit during the summer to witness the lotus flowers in full bloom. The park is large, so there's space for everyone to get some great shots.
---
Baekje Cultural Festival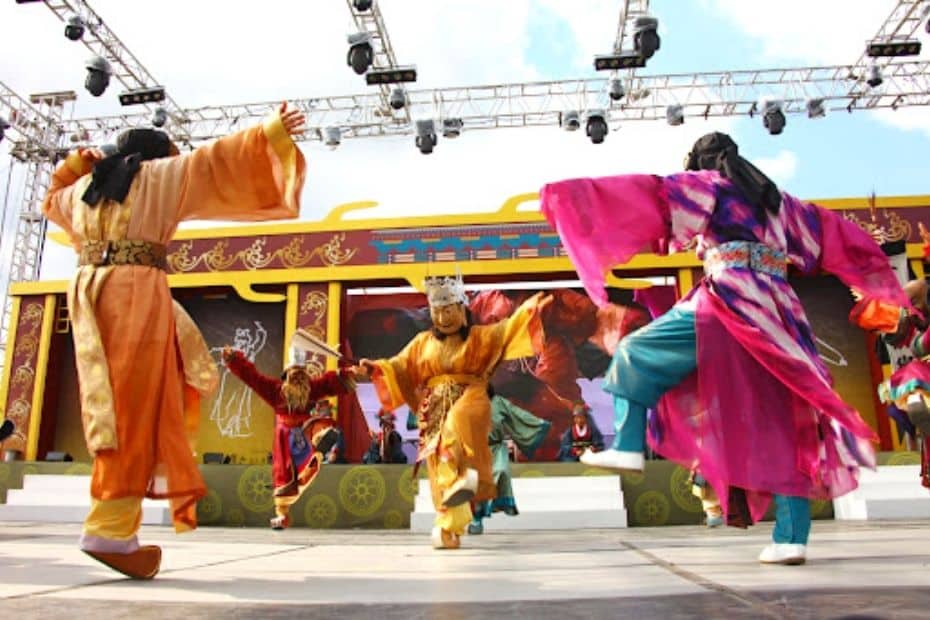 Celebrating the history and culture of the former Baekje Kingdom, this long-held festival spreads across the city and lasts for several weeks in late September / early October.
This festival happens across two cities, and you can also see events in Gongju, the former capital of the Baekje Kingdom before Buyeo took over.
This festival is packed with lanterns spread across the river, cultural processions and events, tea ceremonies, lantern making and releasing, and even some K-pop performances.
After all, Hallyu (the Korean wave) originated from the Baekje Kingdom and the 66th Baekje festival was closed by the king of K-pop, PSY (Gangnam Style).
---
Cultural Activities To Do In Buyeo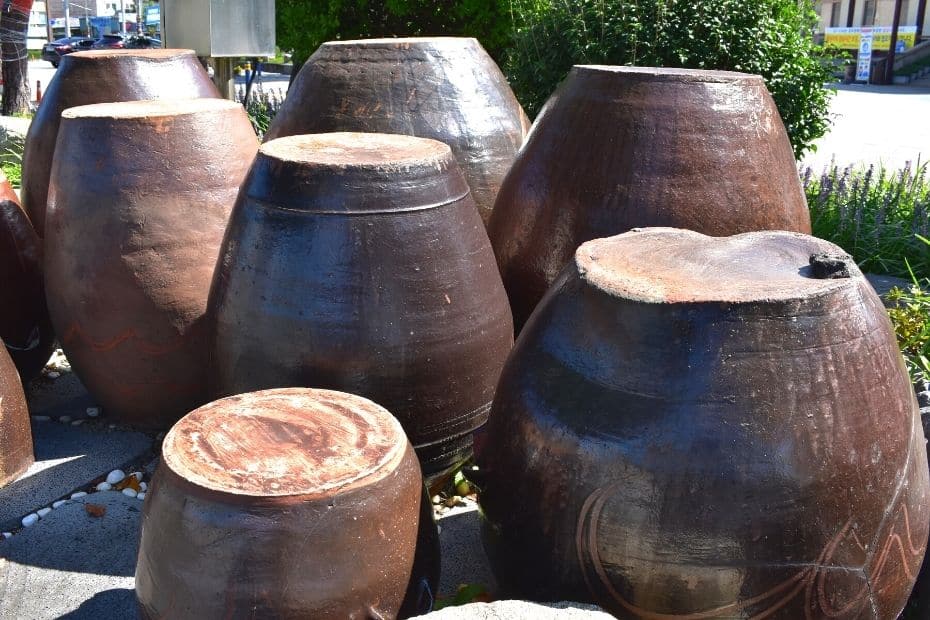 There are many cultural activities you can enjoy throughout the year, including learning about and making traditional pottery, wearing traditional clothes, stone inscription rubbing, making totem poles, and more.
Here are a few sites that will tell you more about cultural activities you can do in Buyeo:
---
Tour Options For Visiting Buyeo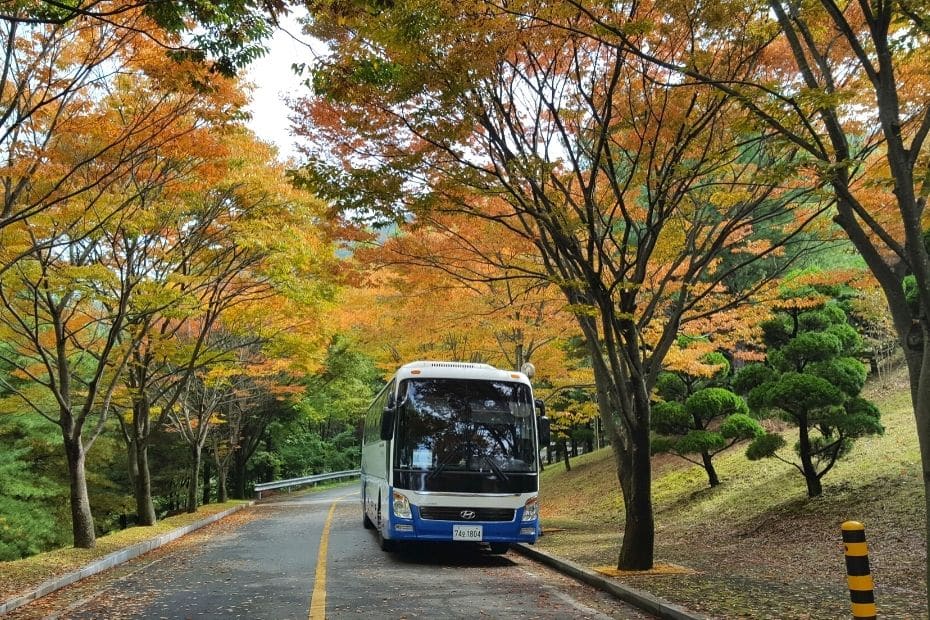 There aren't a lot of options for getting to Buyeo, sadly, as it's quite a distance from Seoul. However, if you'd like to visit, I would recommend hiring a private driver and visiting while touring other nearby sights, such as Gongju and Jeonju.
Join the Korea Travel Advice group on Facebook and you'll find a number of friendly tour guides who can help you out. If you want some more inspiration for places to see and things to do in Korea, be sure to check out my top 50 unique Korean experiences for your South Korea bucket list.
---
Liked This? Pin It For Others
If you enjoyed reading this article, then please share this with your friends on Pinterest.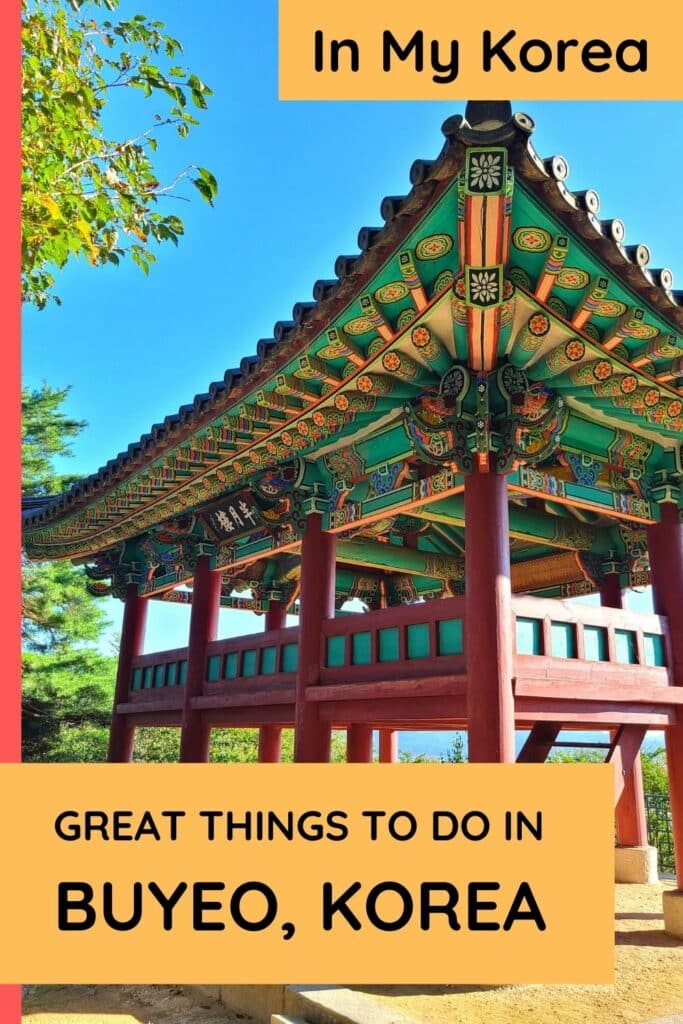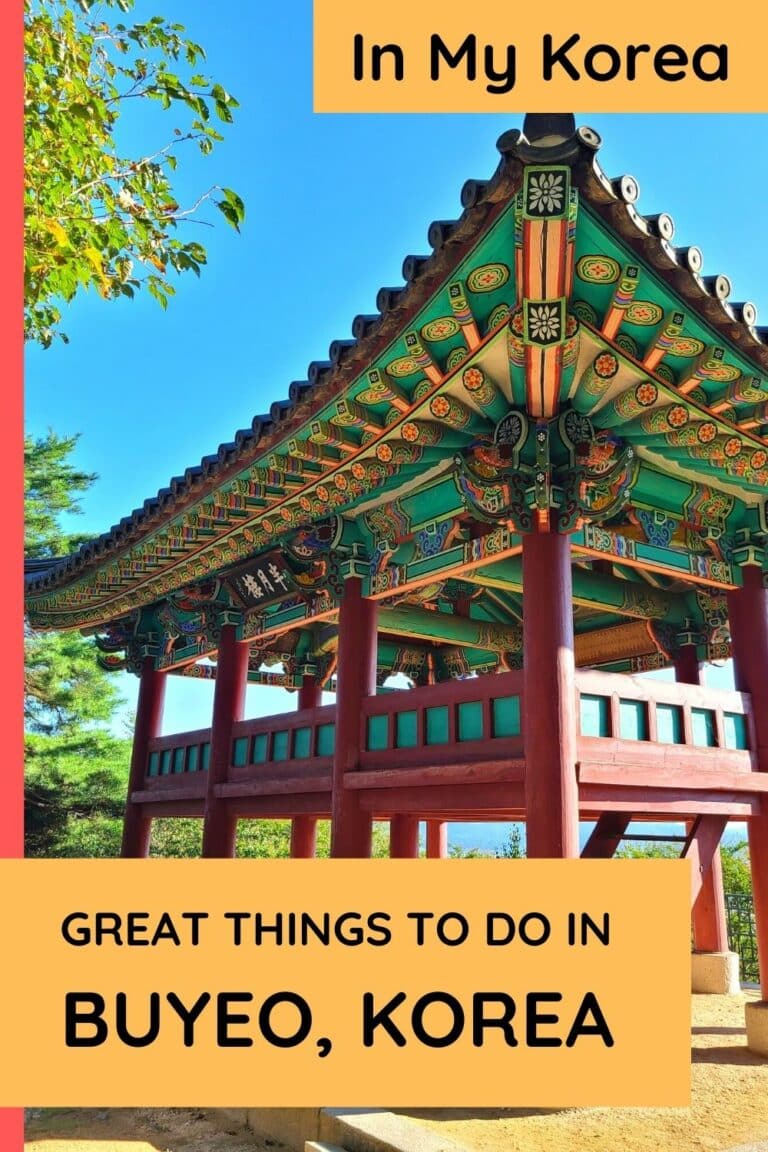 ---
Related Articles