Want to ride your bike in Korea, but not sure where to go? Then read this guide to the best places to go cycling in Korea, from multi-day coastal routes to short trips around beautiful lakes, through cities, and over mountain passes with views for miles.
You'll find the top 3 locations in 5 different types of places to cycle, including the best mountains, lakes, bike routes, cities, and islands. These are personal favourites of the author, who has spent a decade riding from head to tail of the Korean peninsular.
There are also great tips about cycling in Korea, when to visit, and why you definitely must bring your bike or rent one in Korea. Discover where to ride a bike, why you won't want to miss out on Korea's gorgeous scenery and nature, and how to get passport stamps for it all.
Affiliate Disclaimer: This site contains affiliate links and I may earn commission for purchases made after clicking these links.
---
Where Can You Go Cycling In Korea?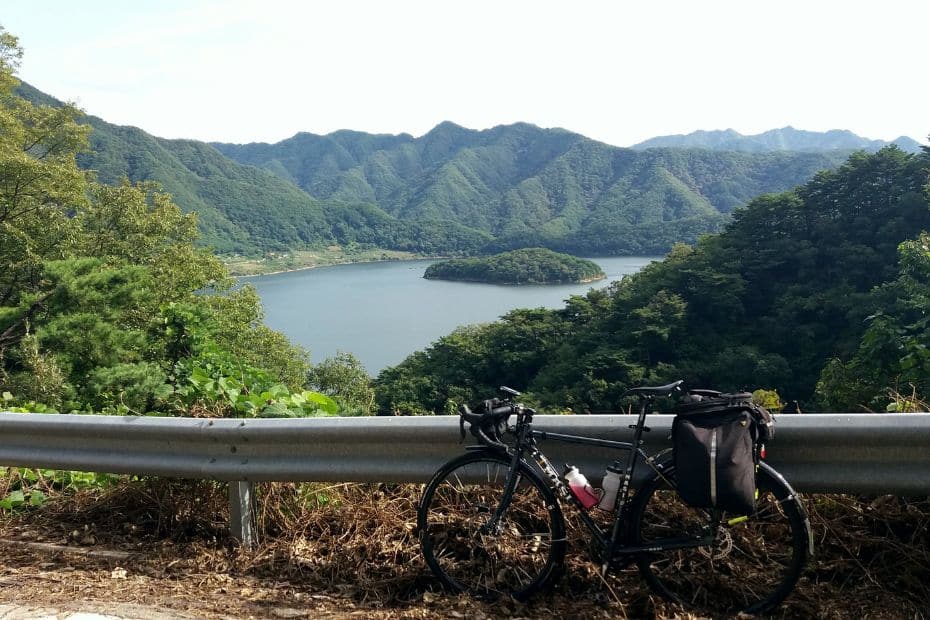 There are many different places to go cycling in Korea, from modern city streets to rustic countryside roads weaving between mountains and alongside rice fields. Truly, there's something for everyone to see and enjoy when cycling in Korea.
There are five main places in Korea where you can find cycle paths and routes that will accommodate cyclists. These are in the cities, hopping between Korea's beautiful islands, along designated cycle routes, over Korea's many mountains, and around pretty lakes.
Here's a brief overview of what you can find in each section of this article:
Best cities to go cycling in: Korea has many sprawling urban areas sandwiched in between mountains and rice fields. Find out which ones are the most bike-friendly.
Best island hopping cycle routes: Dotted along Korea's long shoreline are hundreds of islands you can ride around and between. These three areas are unmissable.
Best cycle routes in Korea: Fancy spending a few days or a week riding across Korea? These 3 routes will show you incredible views as you cycle.
Best mountain paths to cycle along: Ride along the spine of Korea and around majestic national parks. Korea is blessed with thousands of mountains to ride up and over.
Best lakes to ride around: Want a peaceful, tranquil ride around Korea? Then visit these pristine lakes and see the sun reflecting off the calm waters.
Use the links above to jump to the section you're most interested in, or read through to discover all of the best places where you can enjoy cycling in Korea. There's also some great cycling tips at the end to help you plan your cycling adventure.
---
Why Should You Cycle In Korea?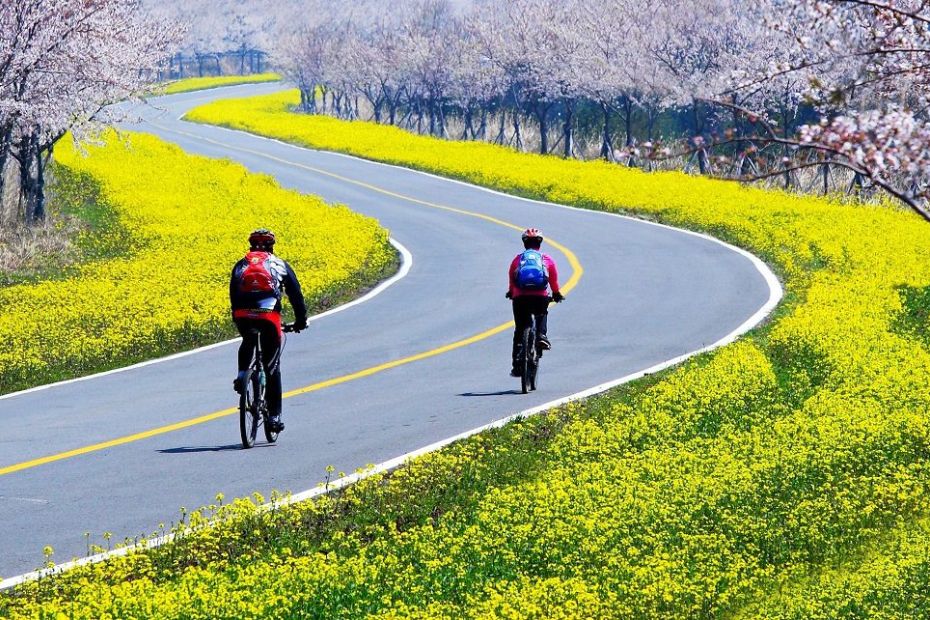 There are many reasons why you should go cycling in Korea. Whether you're a biking enthusiast, or just want to explore Korea's cities or countryside faster than on foot, you're sure to love riding around Korea.
First of all, cycling is a great way to explore Korea. You really get to see the country from a different point of view by slowing down and enjoying the scenery. Korea offers cyclists many different types of cycling for you to enjoy based on your cycling style.
Furthermore, you'll get away from overcrowded, touristy attractions and see the real side of Korea. Of course, there's nothing wrong with seeing all the cool sights, but you should definitely take time to get on a bike and see other parts of Korea, too.
The good news about cycling in Korea is that you don't need to bring your own bike. In cities, you can rent bikes daily for cruising the city streets, such as Seoul's Ttareungyi bikes. These are usually pretty basic, but perfect for a short ride and cost as little as 1,000 KRW per hour.
If you want a biking adventure, you can rent cross-country bikes from places like Green Cycle Park (Seoul), Bike Nara (Seoul), We Ride (Seoul) and Bike Trip (Jeju Island). These places offer bike rental, as well as gear, and can provide you the right bike for your chosen route. Some even offer tours.
Feeling brave and want to experience a uniquely Korean journey across the whole of Korea, riding along rivers, over mountains, past rice fields, and through towns? If you've got 10 days to spare, why not try riding all the way from Seoul to Busan by bike!
Check out the video below to get a taste of what that spectacular odyssey looks like.
---
Planning to visit Korea? These travel essentials will help you plan your trip, get the best deals, and save you time and money before and during your Korean adventure.

Korea Electronic Travel Authorisation (K-ETA): Most countries need a K-ETA to travel to Korea. Apply before you travel only with the Official K-ETA Site.

Staying Connected: Pre-order a Korean Sim Card or a Portable WiFi Router to collect on-arrival at Incheon Airport. Collection desks are open 24 hours. Alternatively, download a Korean eSIM for you travels.

Hotels In Korea: Staying in Seoul, I recommend Myeongdong (convenient), Hongdae (cool culture) or Gangnam (shopping). Find the best hotel prices across Korea with Agoda, Klook, or Hotels.com.

Incheon Airport To Seoul: Take the Airport Express (AREX) to Seoul Station or a limo bus across Seoul. Don't like carrying heavy suitcases? Book an Incheon Airport Private Transfer and relax to or from the airport.

Korean Tours: Find the best tours in Korea with tour companies that have a big presence in Korea, including Klook, Trazy, Viator, and Get Your Guide. These sites also offer discounted entry tickets for top attractions.
Seoul City Passes: Visit Seoul's top attractions for free with a Discover Seoul Pass or Go City Seoul Pass. These passes are especially good for families and couples visiting Seoul and can save you lots.

Transportation: Get a T-Money Card or WOWPASS to pay for public transport, including buses, subways, and taxis. For Korea's high speed trains, save money and get unlimited rides with a Korea Rail Pass.

Travel Money: Exchange foreign currency in Myeongdong or Hongdae money exchanges. Pick up a Wise, Revolut, or WOWPASS travel money card for the best rates and convenient card payments in Korea.

Flights To Korea: I recommend using flight comparison sites such as Expedia and Skyscanner to find the best flights to Korea from any country. Air Asia is a good option for budget flights from Asia.

Learning Korean: Want to learn Korean? I recommend a complete language learning course from 90 Day Korean or Korean Class 101 – both have well-structured lessons and lots of useful resources.
---
About The Guest Author For This Article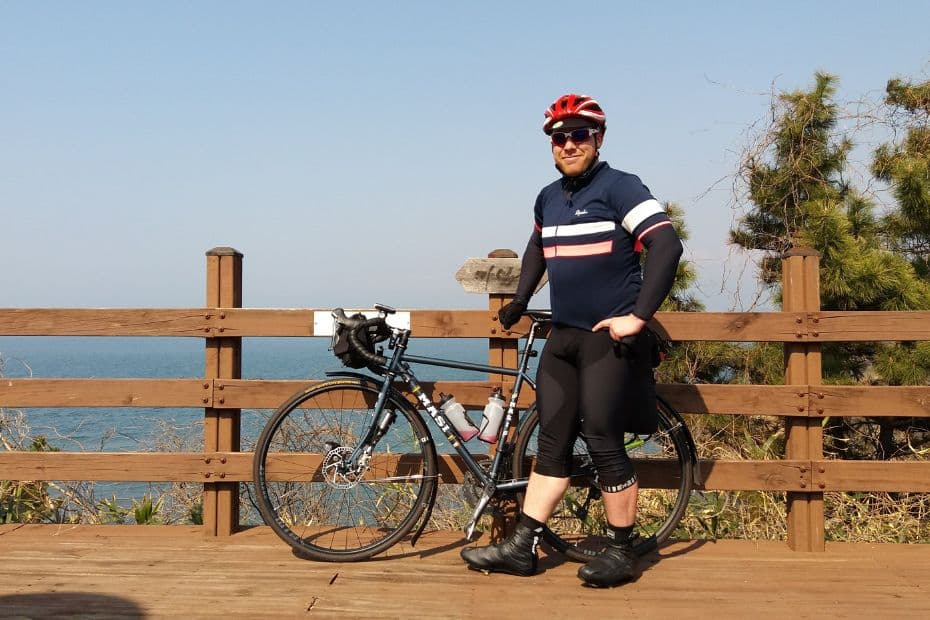 This article was very kindly contributed by my good friend, Tim. Tim has lived in Korea for over a decade and cycled probably every single road in Korea, covering more than 20,000 km of roads and cycle paths in one year alone!
There's no better person to share their knowledge of the best places to go cycling in Korea, discovered through hundreds of rides up and down the country in all seasons.
In this article Tim shares his favourite places to ride in Korea, from mountain pathways to scenic lakeside routes that show off the best of Korea. He also includes his top tips to help you enjoy your time on two wheels in Korea more easily.
Since arriving over a decade ago, I have cycled more than 100,000 km in Korea. Today, I would like to share some of the best places for cycling based on my experiences.
Tim is not only a cycling enthusiast, he's also a keen photographer and captures his experiences visiting parts of rural Korea that you've probably never heard of or seen before.
If you want to learn more about Korean country life, festivals, and hidden gems, follow Tim's adventures around Korea through his Photos Of Korea profile on Facebook or Instagram. To see his incredible pictures from rural Korea and beyond, view his profile on Unsplash.
Starting with the best cities to go cycling in Korea, here are Tim's 5 favourite types of places to go for a ride in Korea and his recommendations for each different place.
---
Best Cities For Cycling In Korea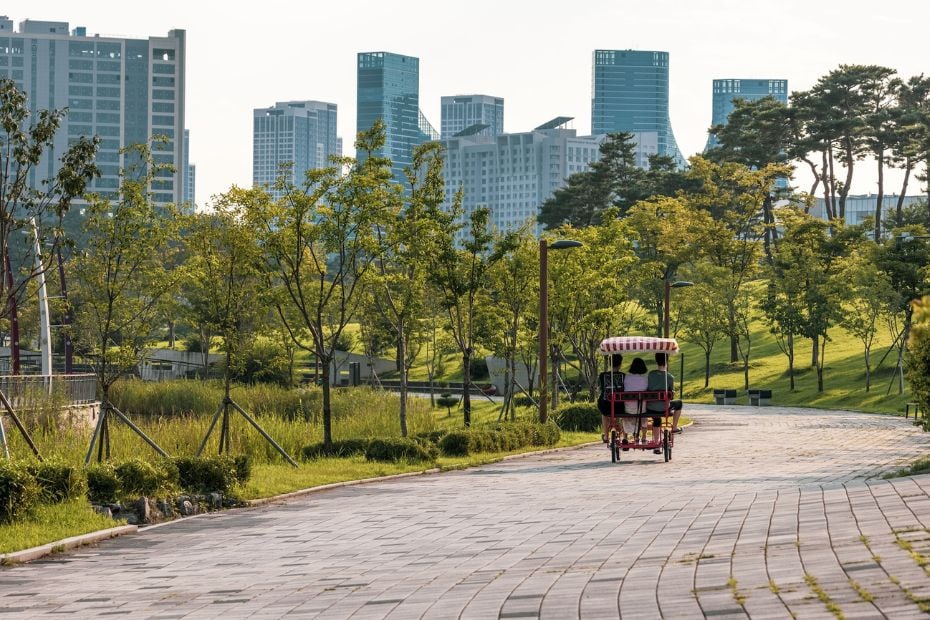 Best city to cycle in: Sejong City
Runners up: Seoul, Gwangju, Daejeon, Daegu
Sejong is a new city, built with both the future and cyclists in mind. The sidewalks are large and there are bike paths weaving through the city. The large pavements mean there are less people on the bike lanes, which makes Sejong more navigable than other cities.
You can rent bikes from Sejong Bike, which has locations throughout the city. Hot spots to cycle in Sejong include the bike path around Sejong Lake and the circular Geumgang Pedestrian Bridge, which has a bike only level that allows you to see wide river views.
There are two streams that merge before connecting to the Geumgang River. These (along with one more on the south side of Geumgang) act as highways for cyclists. Ride along these paths in spring or summer for verdant views of the abundant foliage and blue skies.
Sejong is part of the Geumgang Bicycle Path, which runs for 146km between Daejeon and Gunsan and can be completed in about 8 hours one way. This is one of the four beautiful riverside bike paths that cyclists in Korea should definitely check out.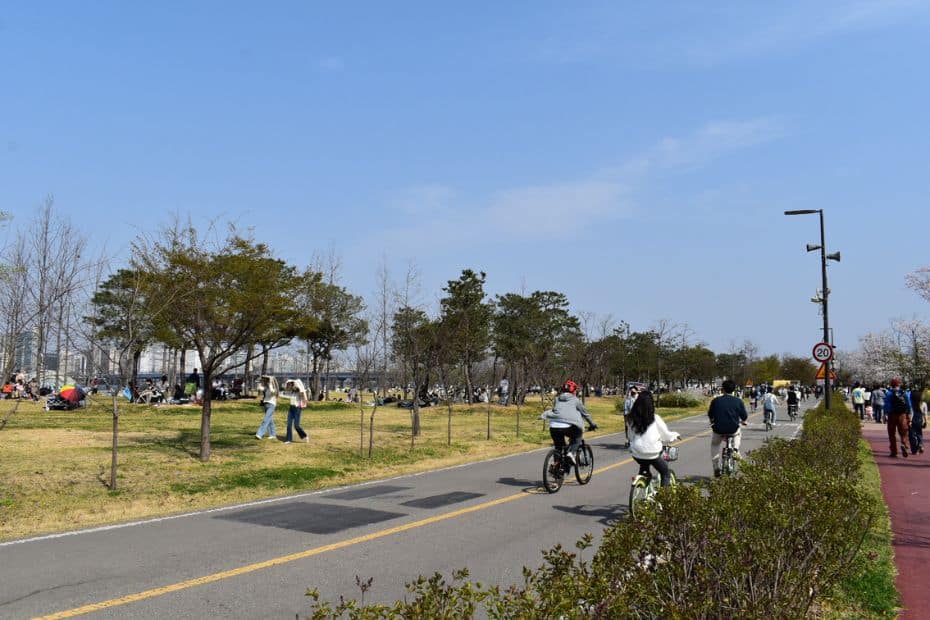 Seoul has done a pretty good job of creating useful bike paths across the city, but it is much harder to get around without having to stop and start. There are cafes along the bike paths and not as many pedestrians in the way as other cities.
However, you will also contend with a larger volume of cyclists as you travel along the Han River, especially in popular areas such as Yeouido and near Seoul Forest. There are cycle lanes for riding in each direction, and separate paths for pedestrians on the main routes.
These cycle paths offer breathtaking views of the sun reflecting off the wide river, especially towards sunset, which explains why they're so busy. The Hangang River Cycling Routes run for 240km throughout Seoul and is the longest cycle route in Korea.
If you want to do some sightseeing while you cycle in Seoul, you can visit the top attractions by bike as easily as you can by foot. Not sure where to go? Join a bike tour in Seoul and ride with others while seeing the sights. It's a good chance to make new friends.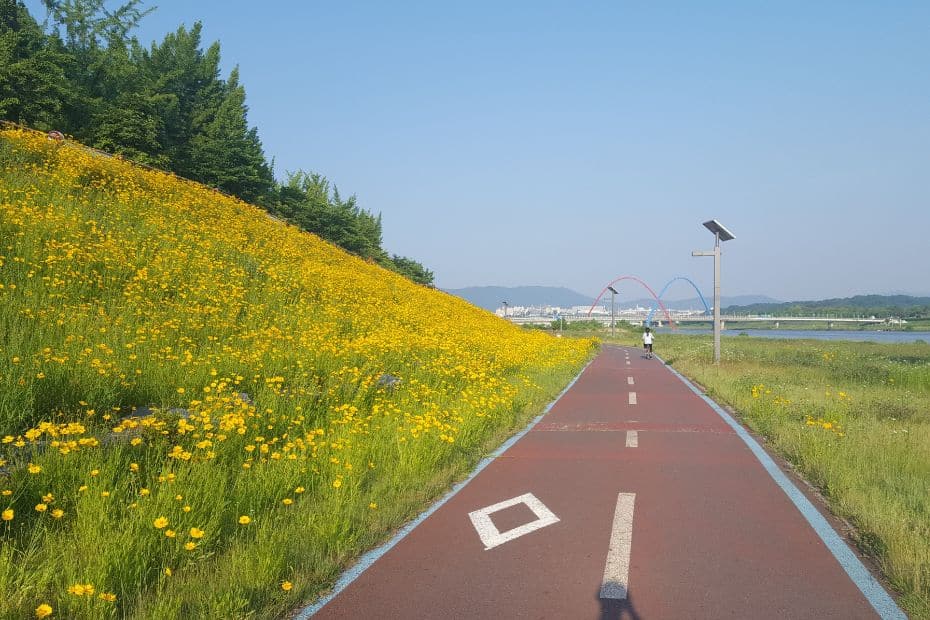 Overall, there are a lot of cities that have bike paths running through the centre that can act as highways to get around the city. Larger cities like Daejeon (pictured above), Gwangju, and Daegu have useful bike paths that run along rivers and around the city.
Most cities in Korea have public bike rental systems in place. If you want to ride through a city in Korea, I recommend visiting the tourist information office when you arrive (they're usually near train stations or bus terminals) and asking for advice about how to rent bikes.
---
Best Island Hopping Cycle Routes In Korea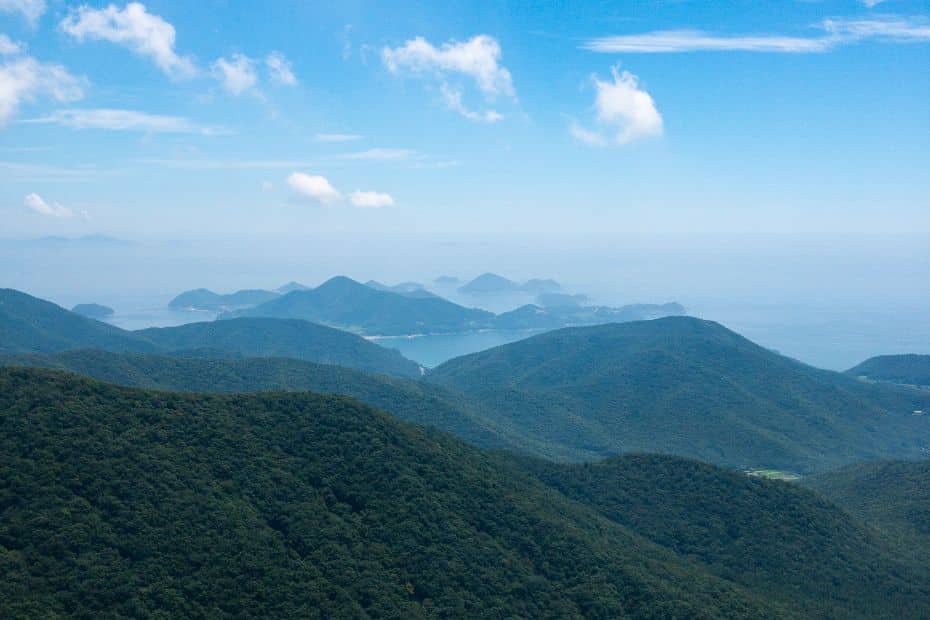 Best island hopping cycle route in Korea: Goheung
Runners up: Geoje and Namhae
One of the best places to go cycling in Korea during the sweltering summer has to be along the coast. You'll find dozens of connected islands waiting to be explored. Cool breezes blow from the sea while you admire the contrast between lush greens and dazzling blues.
The best area for island hopping in Korea is Goheung, a south coast county that stretches its limbs out into the sea and is spread over several islands of varying sizes. These islands are connected by road bridges and also connect to Yeosu, a popular seaside resort area.
There are 19 inhabited islands in Goheung that are packed with mid-sized hills, rocky cliffs, sandy beaches, and winding roads to cycle on. Cyclists are well catered for in Goheung and there's even a bike-only path (pictured below) that runs under the bridge to Geogeum Island.
The scenery is beautiful in this part of Korea and traffic isn't really an issue, except in summer when there are more tourists. The hills are not high but take their toll after a while as you are constantly going up and down. Be sure to take breaks to enjoy the views.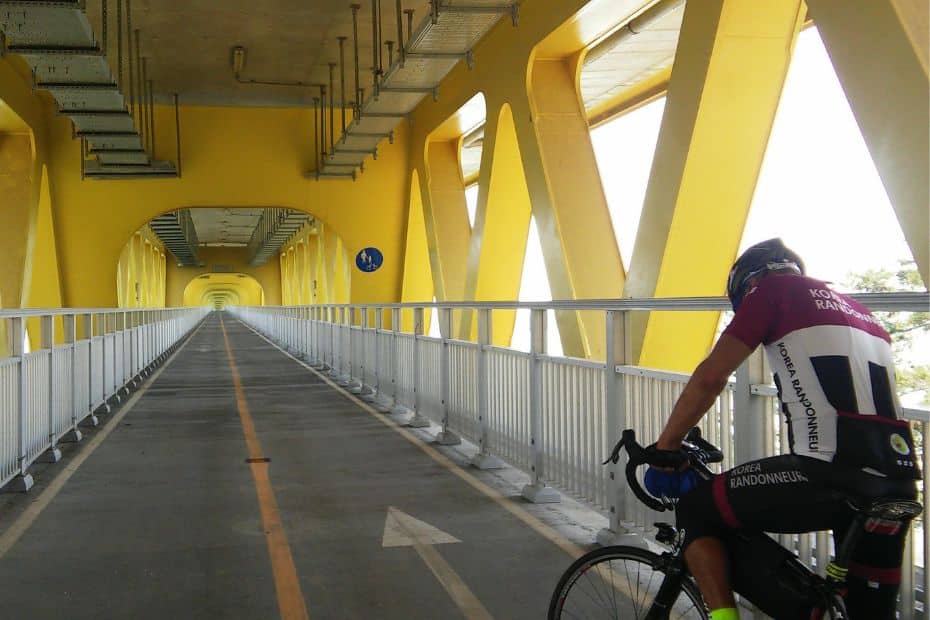 Geojedo (Geoje Island), a popular summer tourist destination close to Busan, is another great island hopping place to go cycling in Korea. It's the largest of the south-coast islands, and offers lots of small roads that hug the coastline that are great for cycling along.
Steer clear of the docks and industrial areas around the north-east area of Geoje and visit the southern and western side to see more of the island's natural wonders, including the hilly areas along the south-east coast. There are also lots of sandy beaches to see.
Several smaller islands are connected by bridge, but you'll need a ferry to some islands, such as Hansando, which is also accessible from Tongyeong. The waters around Hansando are famous in Korea as the place Admiral Yi Sun Sin defeated Japanese invaders.
Namhaedo is the main island of Namhae County and is a beautiful island that might be more popular than the previously mentioned places, especially in summer. This island also caters to cyclists, with lots of roads along the coast and through lush green wooded hills.
The beaches of Namhae are lovely, which don't make it a great place to go cycling, of course, but provide lots of stunning backdrops to check out as you ride past. Or even as places to stay and spend an evening, watching the sun go down as you recover from a ride.
After riding around Namhae, I suggest taking a rest in the port of Noryang-ri before crossing the Namhae suspension bridge. It has a very relaxing atmosphere, offering you one final chance to view the beauty of this southern island.
If you want to spend several days cycling around the south coast in summer, there are pensions (Korean guesthouses) and beachside hotels you can rent for the night. This applies to coastal regions around the country. You can book these with agoda.com and similar sites.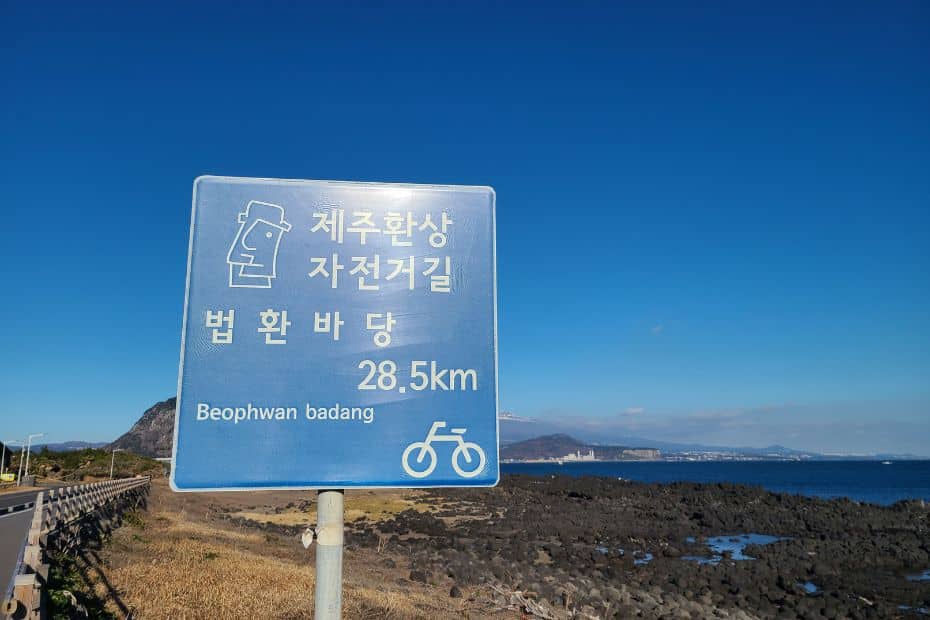 Finally, I have to recommend Jeju Island. You can't really island hop on Jeju Island, as it's just one big island, but you get to enjoy all of the coastal views that you get with the other locations, along with Jeju Island's unique volcanic rocks, food, culture, and sights.
There is a great 10-day Jeju Island cycle route that takes you all around the island. Only one course has a steep uphill (route 4), and most of it is flat, allowing you to speed along the island's rugged coastline with enough energy to enjoy other activities on the island.
There are bike rentals on Jeju Island that allow you to add a cycling adventure to your journey without having to bring your own bike. You can learn more about how to go cycling around Jeju Island with this video.
---
Best Cycle Routes In Korea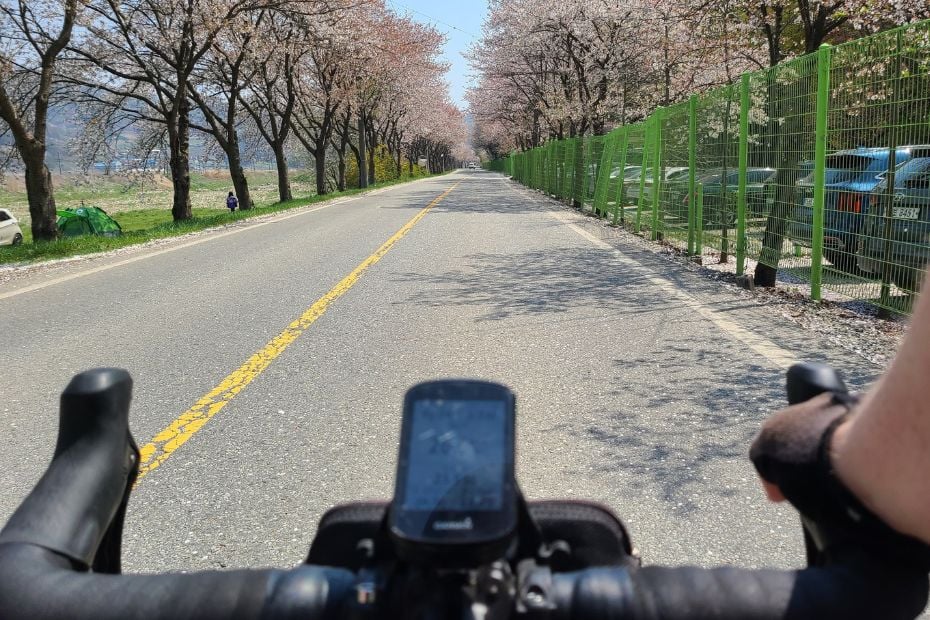 Best cycle route in Korea: East Coast Bike Path
Runners up: Saejae Bicycle Path and Nakdong River Bike Path
Korea has some incredible bike paths that run all across the country, including a 4-part cross country route that connects Seoul to Busan through mountains and along rivers. There are also 4 winding river routes that follow Korea's main rivers, as shown in the cycle map below.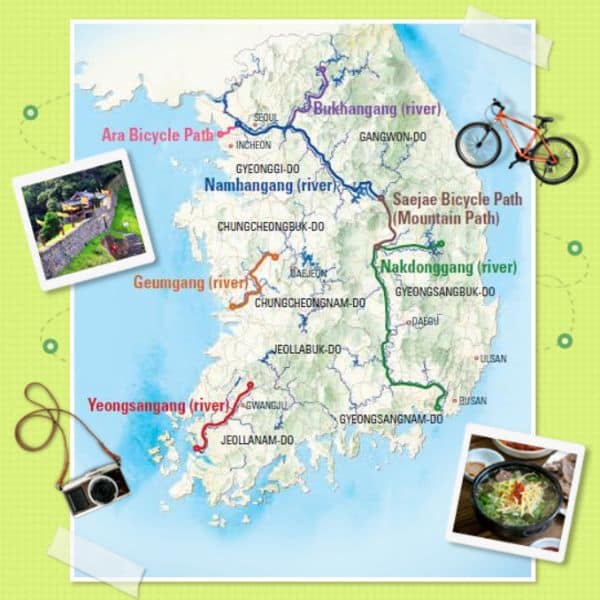 The best bike route in Korea isn't included on the map above. It's known as the East Coast Bike Path and runs from Goseong County near the border with North Korea, all the way down to Yeongdeok County near Pohang. It runs for 343km and takes about 4 – 6 days.
With coastal views on one side and the Taebaek mountain range on the other, the scenery is never dull, passing through seaside towns such as Sokcho and Gangneung. The path is mainly coastal roads and bike paths, but you'll also ride on farm roads and pavements.
The East Coast Bike Path can be difficult to navigate, with pedestrians being an issue in summer, but you just can't beat the views. There are sections of rocky shorelines with crashing waves, beautiful harbours, and points of interest (Sokcho Bay, Sun Cruise Ship).
The hardest part of riding along the East Coast Bike Path is not stopping to take photos every five minutes. Check out the video below to see what the East Coast Bike Path is all about and what sort of views you can expect.
You could argue that the Seomjin River Bike Path is more beautiful than the East Coast Bike Path, and I wouldn't put up much of a fight. If you start near Okjeong Lake, the path has a gentle descent through peaceful mountain roads all the way to Sunchang. Since it is not a popular area, you can let your mind wander with no one around.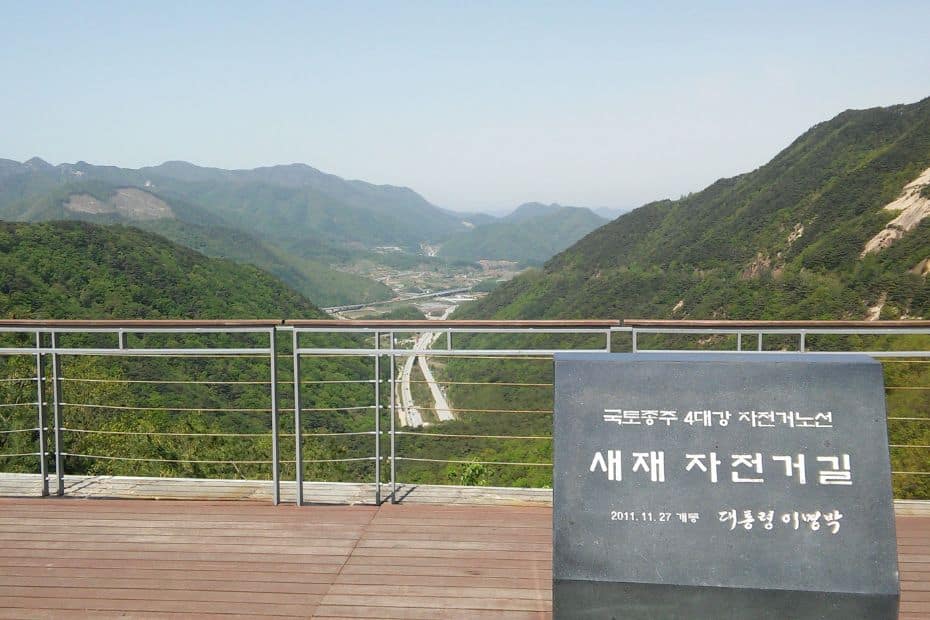 The Saejae Bicycle Path is a mountain route that runs for 100km between the cities of Chungju and Sajang in the centre of Korea. It's a beautiful, yet tough, route that passes near (but not over) the ancient Great Yeongnam Road, which once connected Seoul to Busan.
The highest point of the Saejae Bicycle Path is 539m above sea level, and the route includes the two longest uphill stretches in Korea. This bike route can be challenging if you're used to flat bike paths, but overall it's not too difficult compared to other mountain passes in Korea.
There's a rest stop and lookout at the top, which you should definitely use so you can enjoy the incredible views and prepare yourself for the descent. The mountain provides a lot of cool shade, which you'll need as you sweatily pedal away up those long uphill stretches.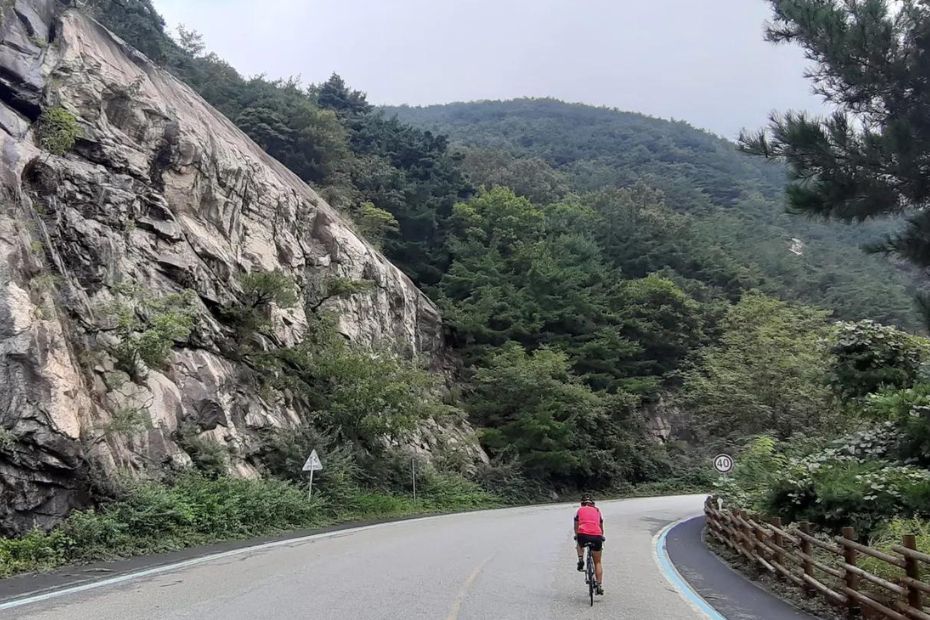 Heading north from this path you will see some beautiful countryside as you pass through Goesan into Jeungpyeong. If you head south instead, you'll find the Nakdong River Bike Path. This is also the final leg of the cross-country bike path that connects Seoul and Busan.
The Nakdong River Bike Path runs for 389km and is mostly a downhill descent into Busan. My favourite part of the Nakdong River Bike Path is between Sangju and Daegu. It's not very difficult, offering you a flat road to cruise along at your own speed. I find it really relaxing.
I especially wanted to mentioned Sangju in this article because it is the self-proclaimed cycling capital of Korea. The Sangju Bicycle Museum, the first bicycle museum in Korea, is located there. If you have time, pop in and visit this museum and check out the historic bikes.
In case you don't have time for the bicycle museum, this video shows the highlights.
---
Best Mountain Cycling Routes In Korea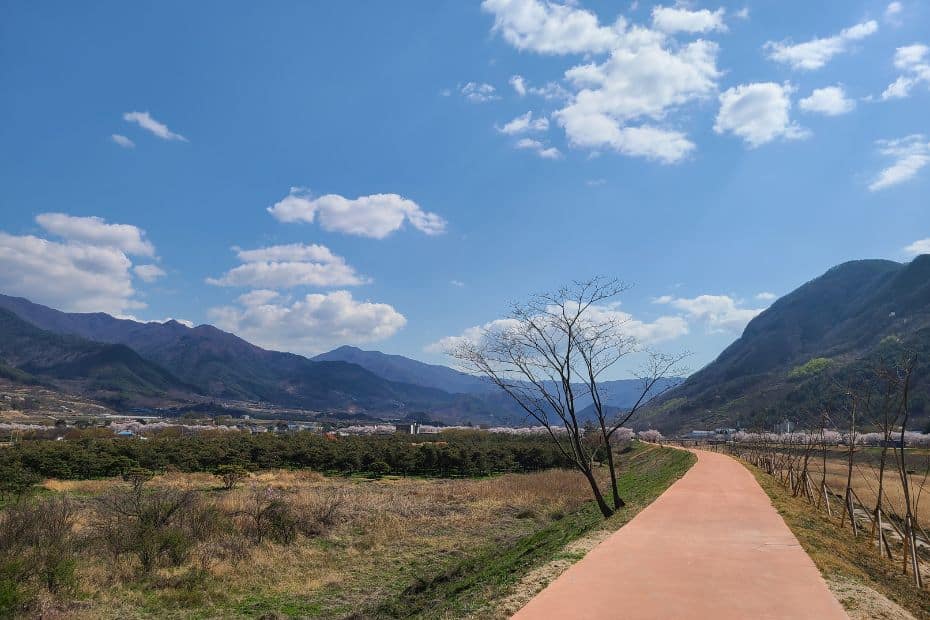 Best mountain cycling route in Korea: Taebaek Ridge around Seoraksan
Runner ups: Songnisan National Park, Jirisan National Park
If you plan to cycle through Korea's mountains, you'll likely pass through the Tabebaek Mountain Range. Known as the spine of Korea, it runs along the east side of the entire peninsula. On the eastern side of the mountain range there is a large drop-off to the sea.
I like the Seorak Mountain pass as the winding road down the mountain is a lot of fun. There is a lookout at the top of the mountain and a place to stop and see Ulsanbawi Rock. The road isn't too busy as the faster traffic uses the highway that runs parallel to this road.
On clear days, you can see all the way to the distant East Sea. There are a number of roads that descend down to the coast from this part of the mountain range. If you head down to the laid back beach towns. you really feel like you are entering a different country.
My favourite ascent in Korea is on the west side of Taebaek Mountain. The road is called Gurae Road (구래로). The road is a bit beat up, but there's a lot of shade and the views between the trees are spectacular. It is a hidden gem for cycling.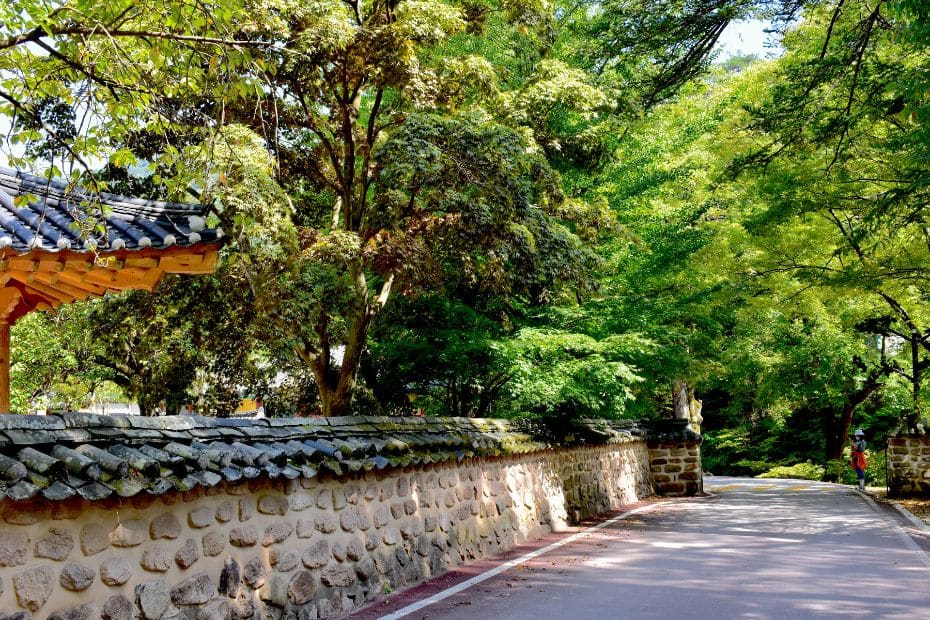 For an individual mountain area, I like Songnisan National Park area. The road leading up to Beopjusa Temple (pictured above) shows you traditional Korean architecture along with lush foliage and Buddhist temple buildings. The whole area inside the park is wonderful.
Songnisan Road heading up from the Jangjae Reservoir was one of my favourite ascents in Korea. The road loops back upon itself a lot with 11 switchbacks. However, it became a tourist hotspot, making it difficult to cycle there as you have to constantly deal with traffic.
I also like the Cheongbuk Alps road (near Samga Reservoir) and Yonghwa Road (997) near Songnisan. This area has a lot to offer and is convenient if you live in Daejeon.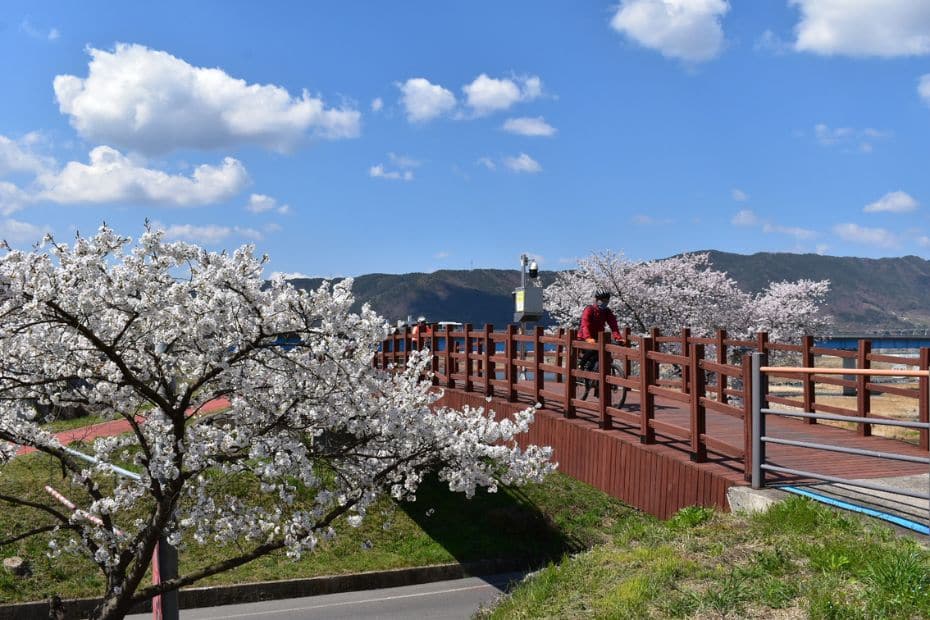 Jirisan National Park is Korea's largest national park and has one of the highest mountain passes on mainland Korea. There are 3 roads that meet near the top of Jirisan, allowing you to travel between Namwon, Gurye, and a small town to the north-east.
You can choose the difficulty of the ascent based on which way you approach the peak. The route from Gurye is definitely the hardest and can put pressure on your brakes if you go down that way. Riding through the main town of Gurye (pictured above) is a treat, though.
Namwon is also pretty difficult but rewarding with a rest area to itself with a nice view. The road to the north-east is the easiest and can be relaxing in a way. There are many other areas to cycle around in Jirisan and routes that follow the edge of the national park instead.
---
Best Lakes To Cycle Around In Korea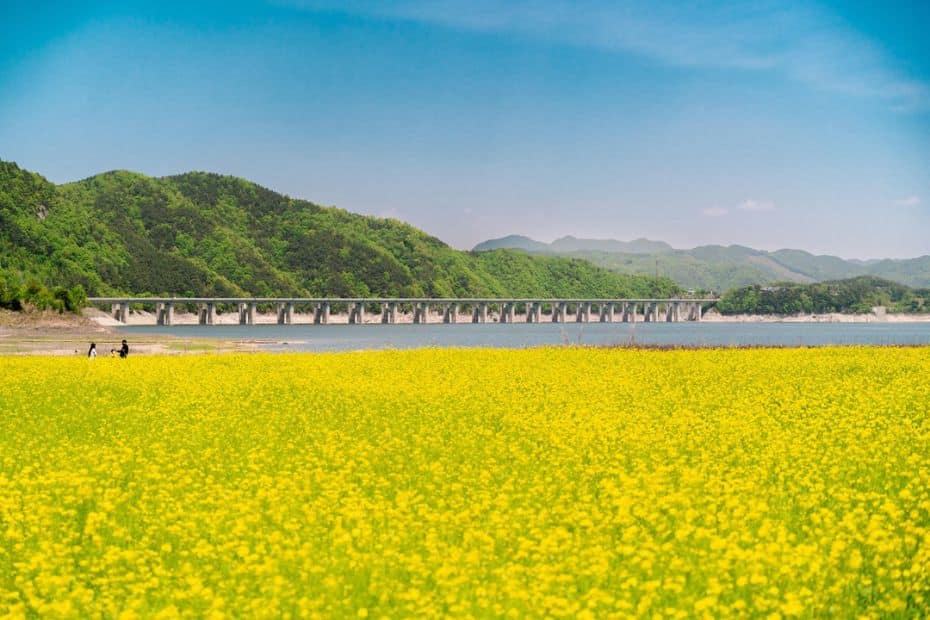 Best lake to cycle around in Korea: Yongdam Lake
Runner ups: Cheongcho Lake (Sokcho) and Sejong Lake
Lakes in Korea are usually beautiful places to go cycling. They are mostly manmade lakes created by damming a river in the mountains. Therefore, you will see the glistening water while also having mountains right beside you.
In my opinion, Yongdam Lake is the best lake to cycle around in Korea, located near Jeonju in central Korea. There is no bike path, but there isn't too much traffic on the roads around it. It is one of the most under-appreciated lakes and I think you will be impressed by its beauty.
I especially love the north side of the lake near the Yongdam Dam Park. There are a number of pavilions and rest spots where you can check out the views or enjoy a bite to eat at a traditional restaurant. In spring, you can see the bright yellow canola flowers all around.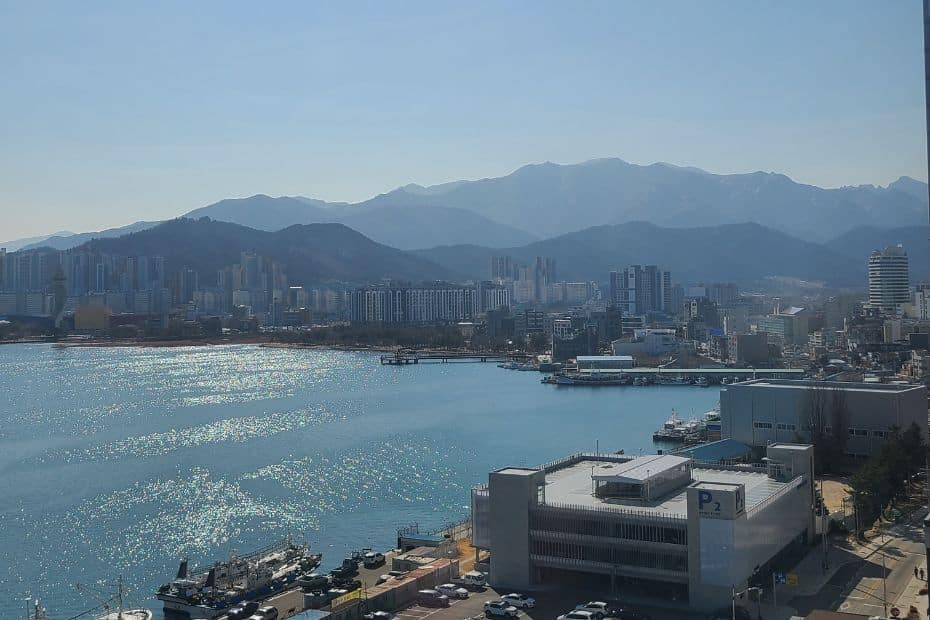 Cheongcho Lake is in Sokcho on Korea's north-east coast. It's a dazzling gem that can be seen as you cycle through the city. I'm not sure if I'd consider Cheongcho Lake (pictured above) a real lake because it was a lagoon sectioned off from the sea by a sandbar.
That being said, it is the prettiest lake within a city. There are bike paths around the lake with plenty of things to see along the way. In particular, Expo Tower and Abai Village are worth exploring. You can also hike in Seoraksan if you want to get off your bike and explore Korean nature on foot.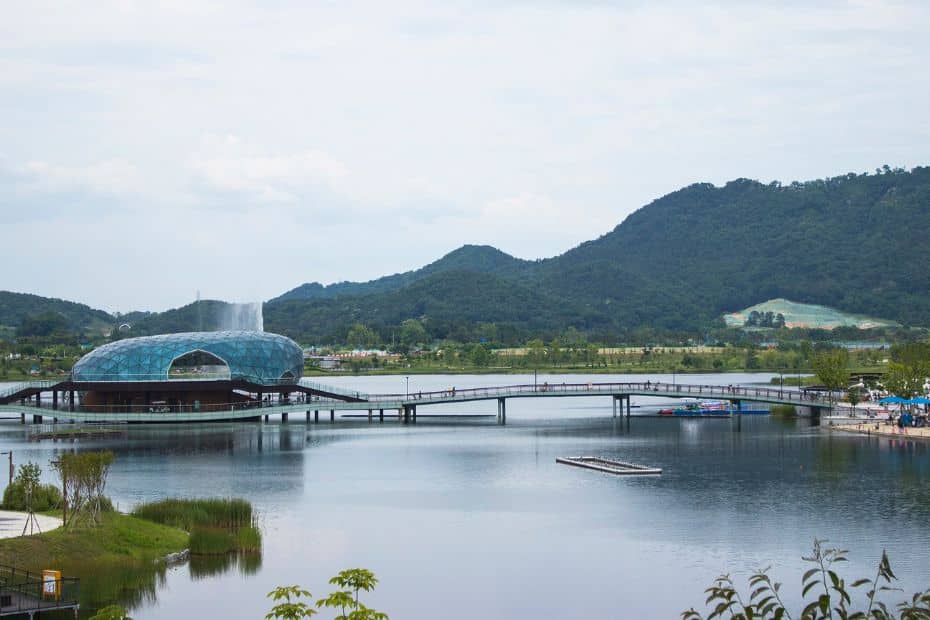 Another city lake worth mentioning is Sejong Lake. It is a relatively new artificial lake (completed in 2013) and part of the ongoing growth of the future capital of Korea. Nearby is an artificial waterfall you can walk behind that even many local residents don't know about.
There are plenty of bike lanes and things to do around the lake and in the area. However, this area is crowded during good weather making it quite frustrating to get around. If you decide to check it out, follow the northern paths that take you under two bridges / tunnels.
A few more honourable mentions for great lakes to cycle around include Gyeongpo Lake, Daea Reservoir, Uiam Lake, Hwanjingpo Lake, Hapcheon Reservoir, and Okjeong Lake.
---
Tips For Cycling In Korea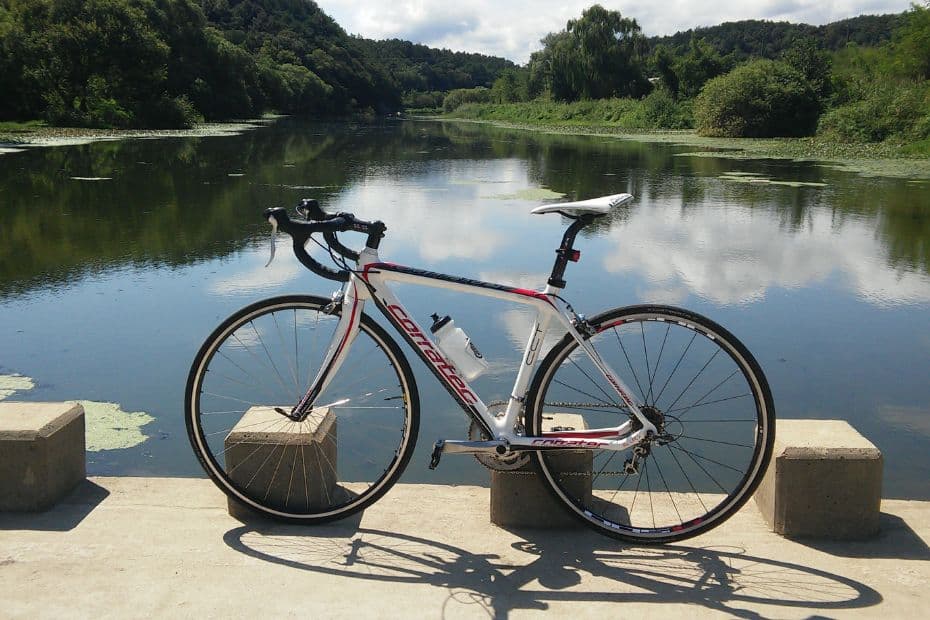 Here are a few tips for cycling in Korea that will help make your ride more comfortable and memorable. If you have any other cycling tips, please feel free to share them in the comments below.
Pick up a cycling passport and collect stamps: did you know you can get stamps when you go cycling around Korea? There are dozens of different stamps you can collect on various cycle routes. The cycling passport costs 4,000 KRW and makes for an awesome souvenir of your travels.
Know about Korea's seasons: Korea has 4 distinct seasons and they can definitely affect bike riding plans. Summer is hot and humid and very wet in June and July. Cycling will be tough. Winter is very cold (below zero a lot of the time) and you really need to wrap up warm, especially your fingers. Spring and autumn are lovely times to cycle in Korea.
Bring plenty of water: this is especially important if you're cycling in Korea during summer where the temperature can reach over 35 degrees with high humidity. Convenience stores sell cheap bottles of water and other drinks. Snacks, too.
Plan your route: if you're going to ride on one of the designated bicycle routes, figure out where you're going to start and stop and how you're going to get around. You should be able to take your bike on trains, subways, or coaches, but check before you board. The last carriage on subways / trains is usually good for bikes.
Book accommodation ahead of time: want to spend a few days cycling in Korea? If you're travelling on a weekend or during a busy time (cherry blossoms, autumn leaves, school holidays), you might find no room at the inn. Motels near train stations are a good last resort.
Get a T-Money Card: The T-Money Transportation Card is really useful when riding in Korea as you can use it to pay for items in shops without having to get cash out. You can also use it when taking a subway.
Learn a bit of Korean: some basic Korean phrases, or a good Korean translation app such as Papago, will help you out in case of problems and make planning more easy. At least have a copy of some emergency expressions with you as a last resort.
Remember that cars in Korea drive on the right: this is important to remember if you're from a country that drives on the left, such as the UK. In Korea, cars turn right through red lights, which poses a danger for cyclists. Korean drivers generally cause a lot of problems for cyclists, so make sure you give them a wide berth and stay on bike lanes when possible.
This video has a few more essential tips about cycling in Korea. I hope it helps. Most of the tips you'd use for cycling at home are relevant here and always stay safe when cycling.
---
Other Outdoor Activities To Enjoy In Korea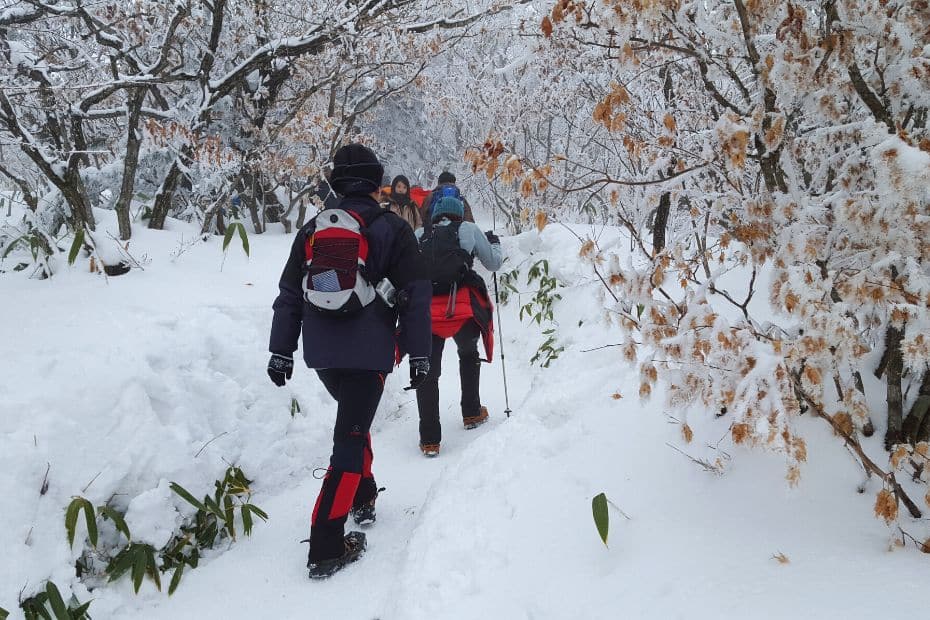 Korea has a lot to offer for lovers of the great outdoors. Not only can you enjoy cycling around Korea, you can also go hiking and trekking in the many mountains, paragliding off the top of some. There are also a load of water sports and winter sports to enjoy.
Here's a quick overview of the outdoor activities you can try in Korea.
Hiking: Hiking is Korea's national pastime and with 70% of the country being mountainous, it's easy to understand why. There are lots of places to go hiking in Korea in any season.
Trekking: As with hiking, trekking is popular and easier to get into as you don't have to scale the high peaks. National parks such as Jirisan offer numerous trekking courses for all levels.
Paragliding: Head to Yangpyeong near Seoul or Danyang to experience the rush of gliding over the green valleys of Korea's foothills and soaring the skies from above the clouds.
Water Sports: Water sports fans can try surfing, windsurfing, scuba diving, snorkelling, and lots more at Korea's many beaches. Check out Surfyy Beach in Yangyang, it has a 1km beach just for surfers. Jeju Island provides diving spots, snorkelling, kitesurfing, and more.
Winter Sports: From December to February, there are lots of winter sports to enjoy in Korea, such as snowboarding and skiing in Korea's ski resorts. There's also sledding, ice fishing, ice skating, and more.
---
Places To Go Cycling In Korea FAQs
Finally, here's a few FAQs about places go cycling in Korea, in case the above information didn't cover enough for you.
Is South Korea a good place for cycling?
Korea is a good place for cycling. There are several long-distance courses that cross the country, including a nationwide route from Seoul to Busan. Jeju Island has a designated bike path that loops around the island and there are also many places to cycle along the Korean coastline.
Is Seoul a bike friendly city?
Seoul is becoming more of a bike-friendly destination and offers more than 240km of riverside bike paths that spread through the city and out to other towns. Although cycle lanes aren't so common inside the city, there are many smaller back lanes where it's easier to cycle.
Do you have to wear a helmet when cycling in Korea?
It is a legal requirement to wear a helmet when cycling or using a scooter in Korea. Bicycles must obey all traffic laws and ride on the road, not the pavement. Cyclists must stop at red lights, too.
Can you take bikes on the KTX trains in Korea?
Bicycles are allowed on bike-friendly KTX trains. These are usually towards the back of the train and there are designated racks where bikes can be parked. If in doubt, ask at the station if bicycles are allowed on the train as some trains may not allow them.
Are there public bikes available in Seoul?
Public bikes are widely available in Seoul. Known as 'Ttareungi', these bikes can be rented on an hourly basis and used to ride in Seoul. You will need to download an app to register your details and activate the rental. There are private bike rentals as well, such as the yellow bikes provided by Kakao Bike.
What's the best place to go cycling in Korea?
There are many great places to go cycling in Korea, including bike paths in cities, along the coast, through mountains, and by lakes and rivers. The 4 riverside bike courses are some of the most popular long-distance places to cycle in Korea. For short-distance bike routes, routes along the Han River (Seoul), Gapcheon River (Daejeon), and by Sejong Lake (Sejong) are good options.
---
Liked This? Pin It For Others
If you enjoyed reading this article, then please share this with your friends on Pinterest.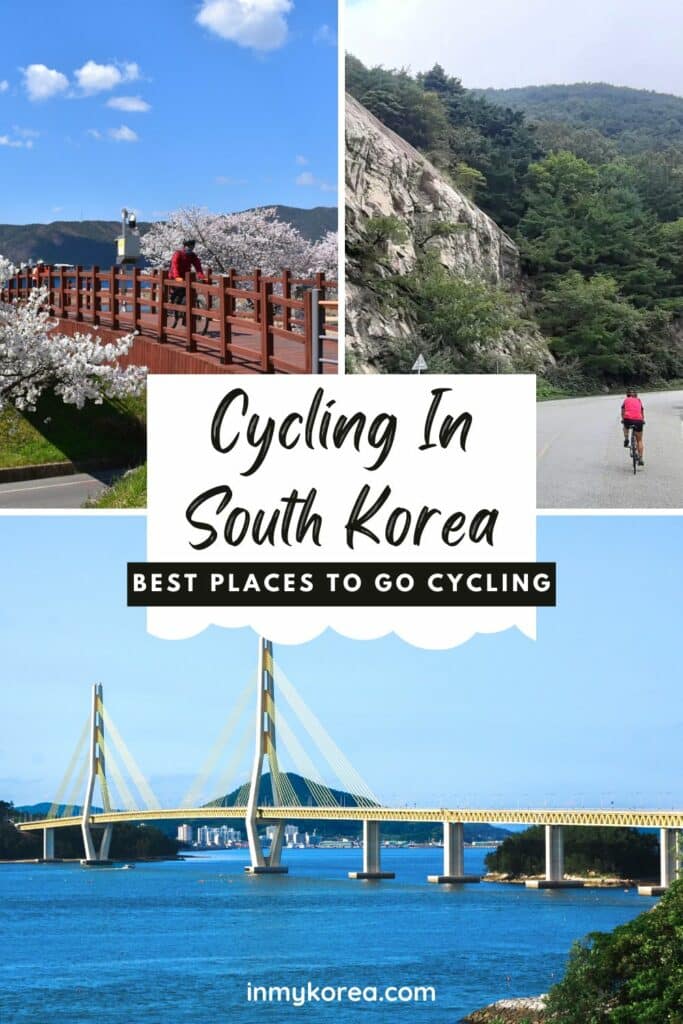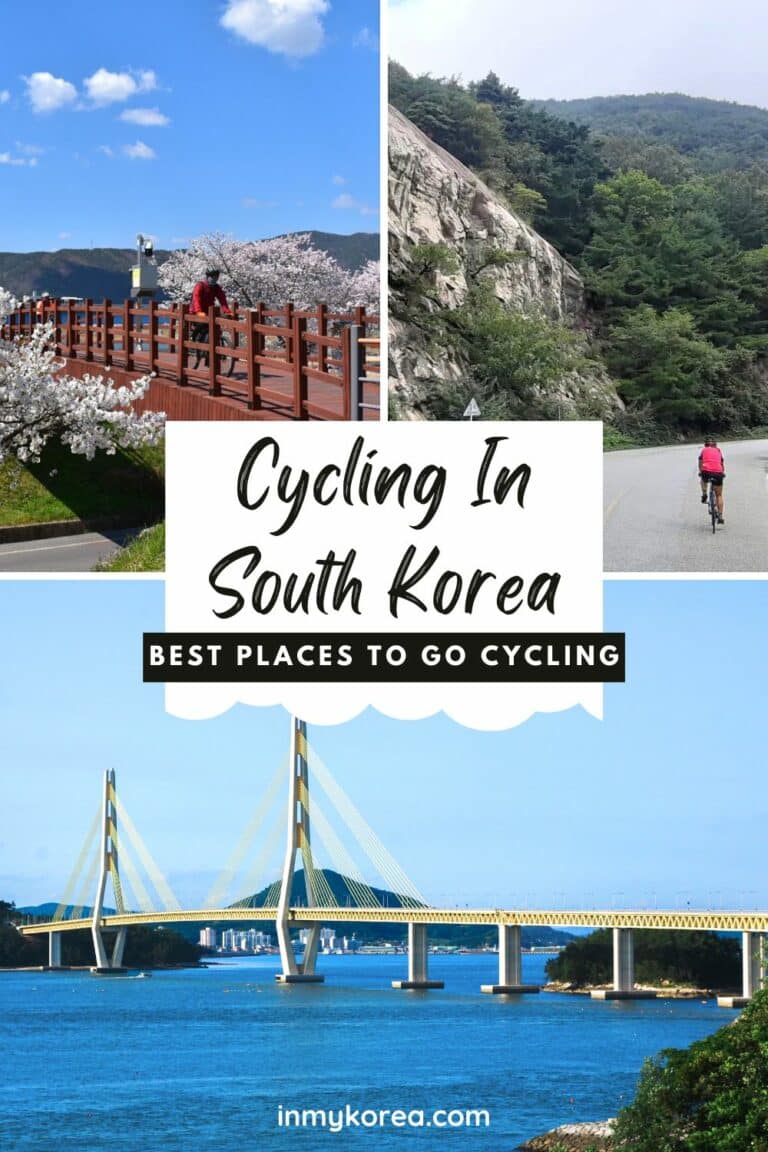 ---
Related Articles