Are you suffering from a rainy day in Busan that's come along and messed up your well planned trip? Well don't worry, this guide to the best indoor activities in Busan has you covered! There's something for everyone, including family fun places, cultural wonders, relaxing spas, cozy cafes, and exciting activities you might not even know about.
This list of things to do in Busan when it's raining is packed full of great activities that you can also use as a guide for when it's not raining. If you haven't already planned to visit these places, I'd definitely recommend checking them out not only during rainy season in Korea, but in any other season, too.
Read on to find out how to spend a rainy day in Busan without getting soaked and have an incredible day out whatever the weather. Whether you're travelling alone, as a family, or with friends, there's always something fun to do in Busan. I hope you find the perfect indoor activities for you.
Affiliate Disclaimer: This site contains affiliate links and I may earn commission for purchases made after clicking these links.
---
Having A Rainy Day In Busan?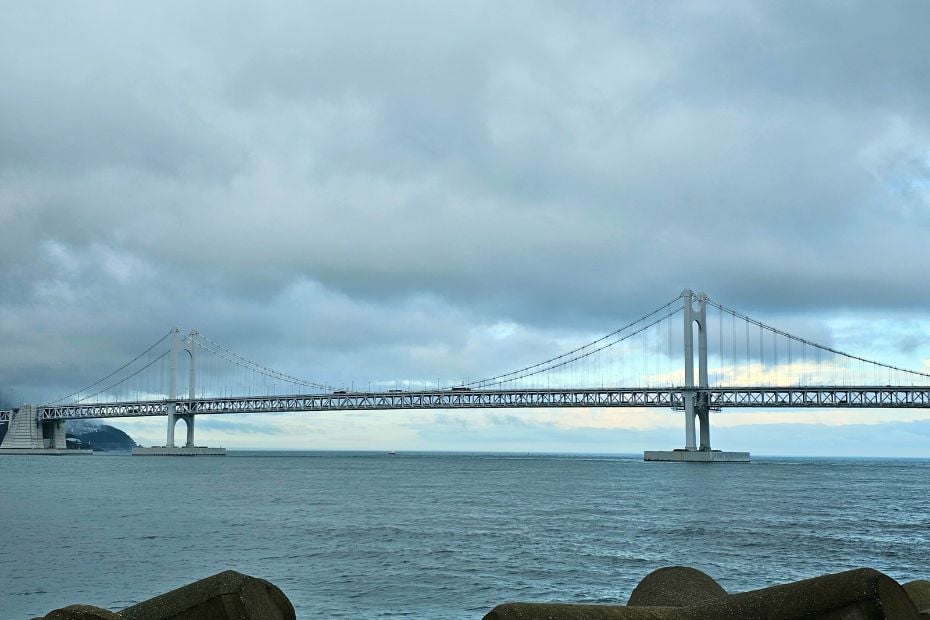 I know how you feel, there's nothing worse than planning a day out, only to find that your plans to visit leafy parks, walk the streets, and enjoy the great outdoors have been ruined by rainy weather. Fortunately, Busan is a fun, vibrant city with many indoor attractions for you to enjoy when it's raining.
What Are You Looking For?
To help make it easier for you to find what you're looking for, I've broken this article into the following sections. Click the quick links below to jump straight there or keep reading through all parts.
---
Visit Busan Pass Activities
Some of these activities are free or discounted with the Visit Busan Pass, a city-pass for foreigners visiting Busan. The Visit Busan Pass can save you money on entrance fees across Busan and is a great investment if you plan to visit attractions like Busan X The Sky, Songdo Cable Car, and more.
When activities in Busan are covered by the Visit Busan Pass, I will add details about the discount. If you want to know more about what's covered by the pass and get some itinerary ideas about how to use the pass and save money, check out the Visit Busan Pass website for more information.
Booking Activities Online
Some of these rainy day indoor activities in Busan can be booked online on the day or in advance. It is often cheaper to use tour companies like Klook, Viator, or Get Your Guide to book tickets (even last minute) vs. paying full entrance price. When online tickets are available, I'll include a link for them.
Please note: When researching indoor activities in Busan, I found that several popular places have closed down in recent years. These are still listed on other guides that were written pre-covid. I recommend checking destinations on Naver Map for opening times and whether they're still running.
---
---
Family Friendly Indoor Activities In Busan
Want to find somewhere to take the kids while it's raining in Busan? Here are 6 really fun indoor activities in Busan that kids will love.
Please note: Some activities may be language-dependent. It's best to check if there are English speaking guides available before booking.
---
Fun Indoor Activities In Busan For All
Whether you're travelling with children, or want somewhere fun to stay dry while it's wet outside, these indoor activities will keep everyone amused.
---
---
Rainy Day Sightseeing Spots In Busan
A rainy day in Busan doesn't have to mean the end to your sightseeing plans. Sure, it's much better to visit popular outdoor sights when there are blue skies above, but these sights are still worth seeing even when the weather isn't going your way.
---
Indoor Saunas And Spas In Busan
Whatever the weather outside, visiting a spa or sauna is a great indoor activity that you can enjoy in Busan. There are lots of spas and water parks to see in Busan, from family friendly to luxury.
---
Cafe And Shopping Spots In Busan
If it's raining, or even if it's not, these awesome cafe and shopping destinations in Busan are a great place to take a break, plan your next destination, and buy some cool souvenirs.
---
Indoor History And Culture Sights In Busan
Museums and galleries are one of the best places to visit when it's raining in Busan and should be on your travel list regardless of the weather. Please note: some museums close on Mondays.
---
Night-Time And Adult Activities In Busan
Adults who want to go out and explore Busan's nightlife might be surprised at the wide range of fun and relaxing activities there are on offer. From bars to spas, massages and movies.
---
Cultural Experiences And Classes In Busan
If you plan to travel during rainy season, why not make sure you have some interesting and culturally broadening indoor activities to do. These creative classes in Busan offer just that.
---
Grab An Umbrella And Walk In The Rain In Busan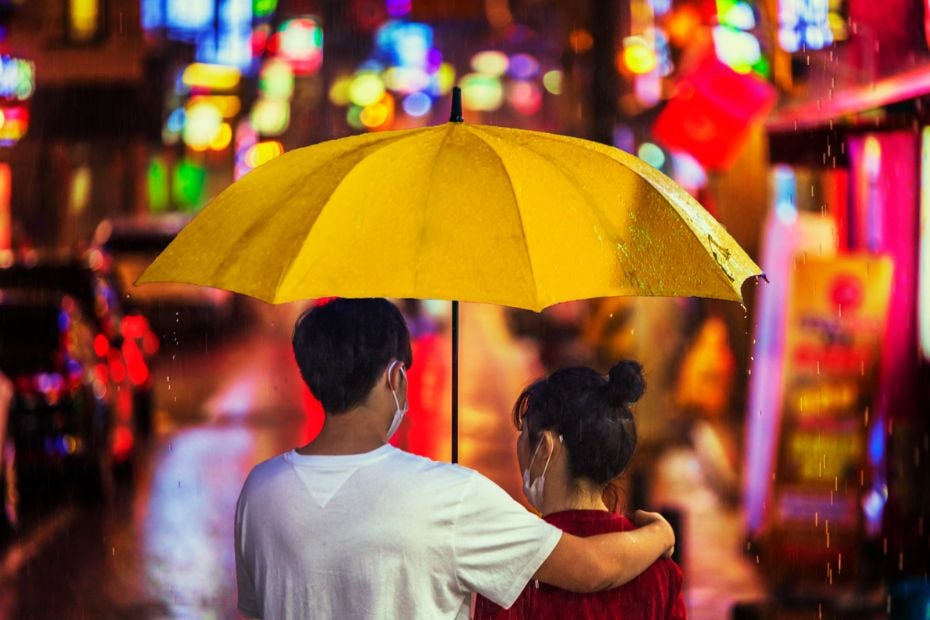 This final rainy day in Busan activity is one of the best. Busan is an action packed city and there is no excuse to waste a minute of it by staying inside the whole time. Even when it's raining, you can still explore with a pair of good boots and a cheap umbrella from a convenience store.
Make no excuses, get out there, get a bit wet, but see some of the best city views you'll ever see. Wandering around at night in the rain is a pleasure in itself. If you run out of things to do in Busan when it's raining, this is always an option.
Location: Everywhere in Busan
---
Visiting Busan During Rainy Season
If you plan to visit Busan between June and August, you might find yourself looking for more indoor activities than usual. That's because summer in Korea starts off with rainy season, which typically runs from late-June until late-July. August is also one of the wettest months of the year in Korea.
Fortunately, there are plenty of summer activities in Korea, both indoors and outdoors. When it's not raining, the summer temperature is often over 30 degrees during the day and stays above 20 degrees even at night. It's hard to stay cool in summer, so you might actually welcome so cool, rainy relief.
Here are a few tips to help you out during rainy season:
Umbrella: You can grab umbrellas at any convenience store, stationery shop, Daiso, or department store. A cheap umbrella shouldn't cost more than 7,000 – 10,000 KRW depending on size.
Rain gear: If you plan to go outside a lot, bring some rain gear such as a waterproof jacket and rain boots. You can always buy these in Busan. Head to a department store or hiking shop.
Taxis: Taxis in Korea are relatively cheap and taking a taxi can be more convenient than public transport. Check out my guide to Kakao taxi to help you call taxis to you at any time.
---
Rainy Day In Busan FAQs
Finally, here are a few FAQs about rainy day activities in Busan, in case the above information didn't cover enough for you. If you have any other questions you'd like to ask, feel free to leave a comment.
---
Liked This? Pin It For Others
If you enjoyed reading this article, then please share this with your friends on Pinterest.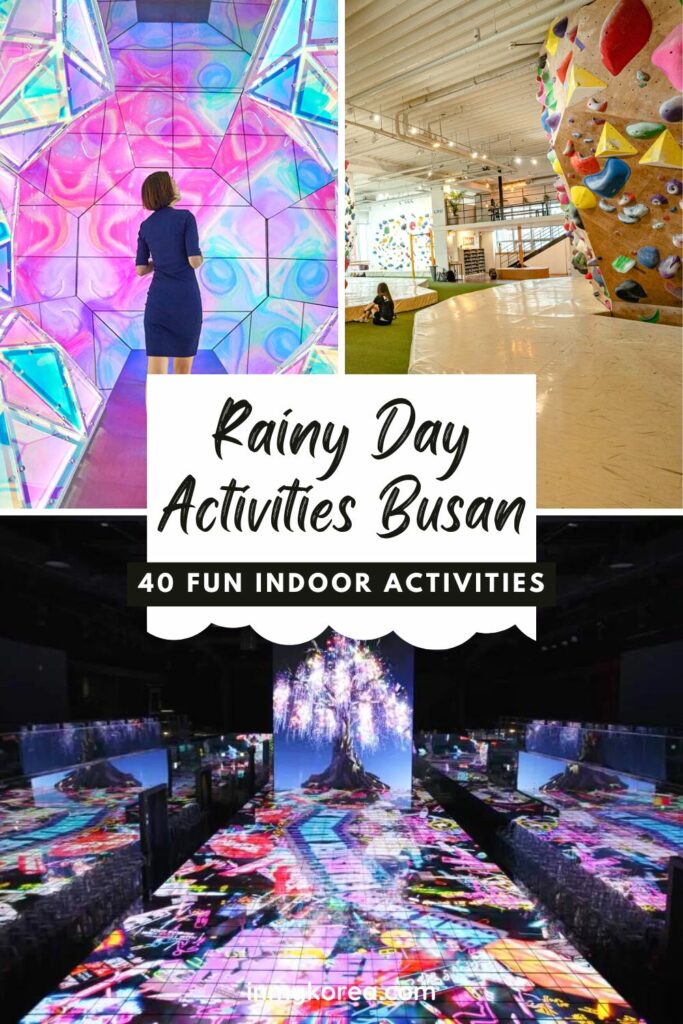 ---
Related Articles