Create unforgettable memories and see the sights of Busan and beyond from the Busan X The Sky observatory on the 100th floor of the Landmark Tower on Haeundae Beach. Korea's largest observatory not only offers you incredible views, it is home to the fine dining restaurant Sky 99 Grill and Pasta, where you can eat a delicious meal in style 99 floors above the beach.
Find out how to visit Busan X The Sky, including details of where it is, how to get there, how to book tickets, what to see there, and when to visit. There's also lots of useful information about the Sky 99 Grill and Pasta restaurant and why it's one of the best places in Busan for a romantic dinner for two.
Affiliate Disclaimer: This site contains affiliate links and I may earn commission for purchases made after clicking these links.
---
What Is Busan X The Sky?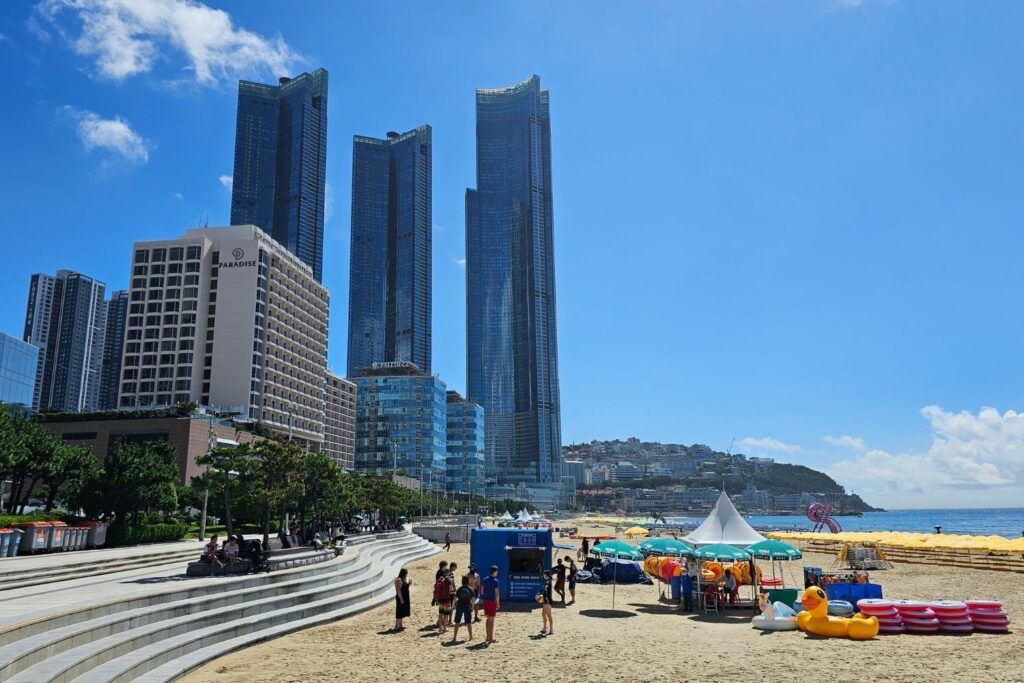 Busan X The Sky is an observatory on floors 98 to 100 of Landmark Tower in Haeundae, part of the Haeundae LCT The Sharp complex of towers that stand at the corner of Haeundae Beach in Busan. As well as offering views over Busan, there is also a fine dining restaurant on the 99th floor called Sky 99.
At 411.6 metres, Busan X The Sky is the tallest building in Busan and the second tallest in Korea after the Lotte World Tower in Seoul and home to the highest Starbucks in the world. Visitors to Busan X The Sky can experience panoramic views of Busan and the East Sea at day or night from each floor.
Built in 2019, this is Korea's largest observatory and besides offering breathtaking views all around, there are a number of other attractions to see in Busan X The Sky. Stand on the Shocking Bridge – a glass floor 98 floors above Haeundae Beach and pose for pictures on the Sky Gate steps.
At Busan X The Sky you can watch the sun set over the city, explore three floors of sweeping city views, relax in the world's highest cafe, buy memorable gifts, and enjoy a fancy meal out. Here are a few pictures of what you can see and discover at this fun attraction in Haeundae, Busan.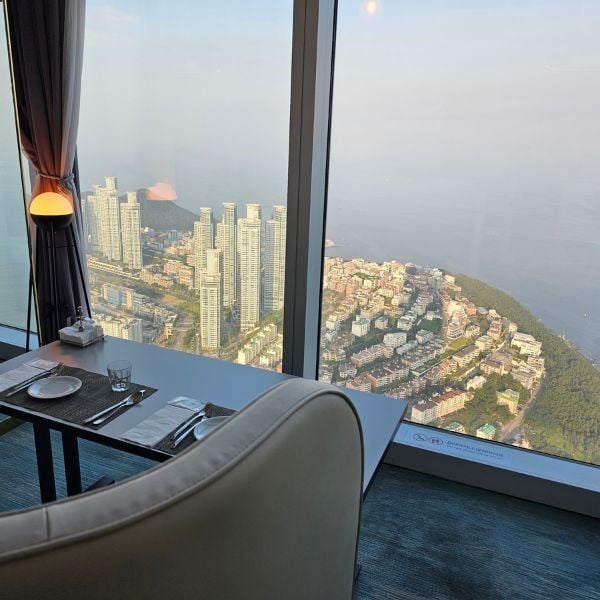 ---
Getting There & Buying Tickets
Busan X The Sky is located on Haeundae Beach, a popular place to stay and visit in Busan, making it a convenient location for visitors and easy to access. The observatory is open year round from 10:00am each day. You can book a ticket on the day or online in advance (which is cheaper).
This section provides information about how to get to Busan X The Sky, how to buy tickets, how to book a table at the Sky 99 restaurant, and some tips about the best time to visit.
---
---
What To See And Do At Busan X The Sky
Busan X The Sky is one of the hottest attractions in Busan and provides many activities and attractions for you to enjoy. You can spend an hour or two walking around the three floors of the observatory, or more if you plan to eat at the Sky 99 Grill and Pasta restaurant or get a coffee at Starbucks.
There are many temporary exhibitions that come and go depending on the season, such as the Baby Shark exhibition that was on when I visited Busan X The Sky. Blackup Coffee on the 98th floor has closed down and has been replaced with another temporary exhibition, leaving only Starbucks.
Here are all the things to see and do at Busan X The Sky (besides looking out the many windows).
---
---
Dining At The Sky 99 Grill And Pasta Restaurant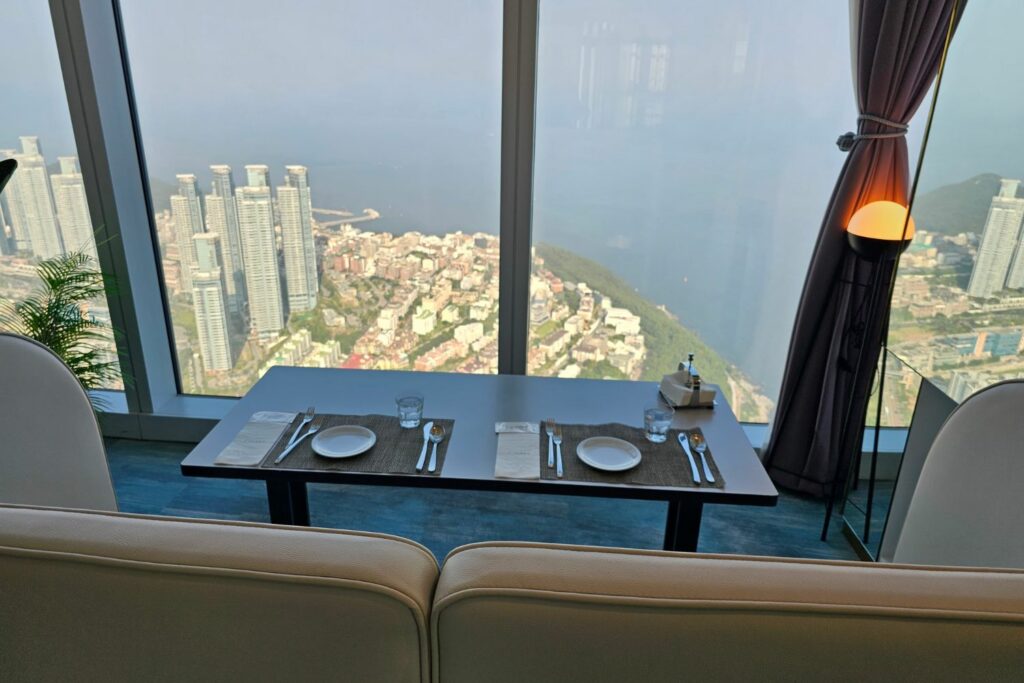 Located on the 99th floor in the Busan X The Sky observatory is a fine dining restaurant called Sky 99 Grill and Pasta that serves steak and pasta dishes for lunch and dinner. The main selling point of this exclusive restaurant, besides the delicious food, is the breathtaking views while dining.
Hallyu fans might recognise the Sky 99 restaurant as the location in 'Now, We Are Breaking Up' where Song Hye-Kyo and Jang Ki-Yong have dinner together while staying at the Signiel Hotel (also in the Landmark Tower). At the Sky 99 restaurant, you can recreate you own K-Drama moment.
To eat at the Sky 99 restaurant, you will need to pay to enter the Busan X The Sky observatory. You can either book observatory entrance tickets and order from the a la carte menu, or you can book a lunch or any time package that includes entrance tickets for Busan X The Sky, which can be cheaper.
Here are the latest Sky 99 lunch and any time specials, as of summer 2023:
The Sky 99 lunch and any time special meals come with a range of steak and pasta options, including steak (tomahawk steak at lunch), shrimp bisque, spicy tomato pasta, bread, soup, salad, and soft drinks. The any time special comes with desserts and a glass of wine or vin chaud, too.
Considering the entrance fee for Busan X The Sky is ₩27,000, the lunch and any time sets can be great value. When I visited Busan X The Sky, I ordered the Ocean Set (₩149,000 for 2 people), which worked out as under ₩50,000 per person when you exclude the observation entrance fee.
The price for a steak and pasta meal with wine and dessert in a fine dining restaurant in Korea would normally cost around ₩50,000 per person. However, when you consider the spectacular views available at the Sky 99 restaurant, as well as the great service, this meal out was a bargain.
If you want a romantic meal out in Busan with fine dining and unbelievable views, the Sky 99 Grill and Pasta at Busan X The Sky is one of the best options available. After eating at this restaurant with my girlfriend and seeing the views, I would wholeheartedly recommend it.
To see both day and night views, I recommend booking a meal at 17:00 or 19:00 so you can see day views, watch the sunset, enjoy dinner, and then see Busan's night views. In summer, the 19:00 dinner time would be best, while at other times of the year you should choose 17:00.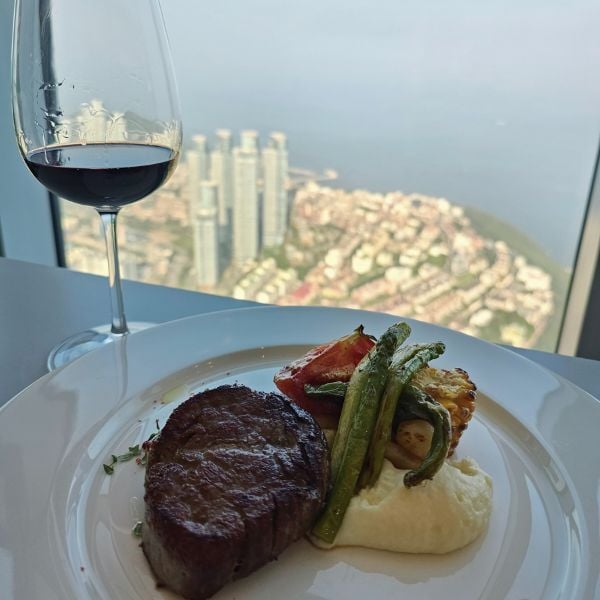 ---
What To Do Near Busan X The Sky
Busan X The Sky is located on Haeundae Beach and is close to many of Busan's most popular attractions. If you visit the observatory, here are some other attractions and activities you can enjoy nearby, including cliffside temples, family fun attractions, cafe streets, and a cute coastal monorail.
Here are some of the attractions and sights near Busan X The Sky:
---
Where To Stay In Haeundae
Haeundae is one of the best places to stay in Busan for several reasons. Haeundae subway station and many bus connections make it easy to travel across Busan. There are many sights and attractions in and near Haeundae. Furthermore, there's a wide selection of hotels available for all budgets.
Travellers love Haeundae for its blend of traditional and modern Korea. Enjoy Korean street food at the traditional market and explore the beach and natural areas, such as Dongbaek Island and Dalmaji Hill. There's also loads of great restaurants, cafes, bars, and nightclubs in Haeundae.
Whether you want to stay in a backpacker hostel, budget hotel, or five-star luxury, there's somewhere perfect for you in Haeundae. If you're only visiting Busan for a few days, then Haeundae is definitely the most convenient place to stay to see many of the city's top sights and to see local culture.
Here are some of the best hotels in Haeundae:
---
Busan X The Sky FAQs
Finally, here are a few FAQs about visiting Busan X The Sky, in case the above information didn't cover enough for you. If you have any other questions you'd like to ask, feel free to leave a comment.
---
Liked This? Pin It For Others
If you enjoyed reading this article, then please share this with your friends on Pinterest.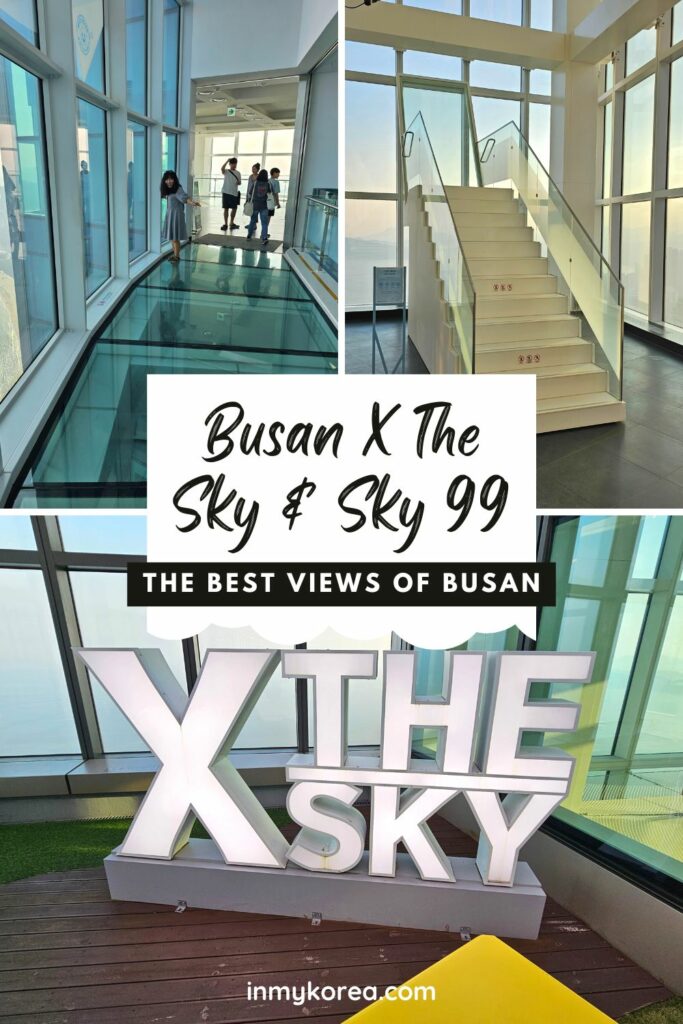 ---
Related Articles