Here's a list of the 50 most amazingly unique Korean experiences that you'll absolutely want to add to your South Korea bucket list. From dressing up in traditional hanbok clothes and visiting hanok houses, to sitting down with some ramyeon noodles and watching the cherry blossoms, there are many novel ways to spend your time in Korea.
Do you want to recreate famous scenes from your favourite K-drama or K-movie, dressing up and snapping pics like a star? Or do you want to dance under the Gangnam Style statue whilst munching mouthwatering Korean street food? In this list of the 50 unique Korean experiences, you'll find out loads of great ideas that you can do in all seasons and across Korea. You'll definitely want to use these ideas to create your own South Korean bucket list.
Whilst you might be familiar with some of these, there's hopefully a lot of unique Korean experiences that you've never heard of our considered before. I'm sure you'll find something fun that you'll want to try out as soon as you're in Korea.
Affiliate Disclaimer: This site contains affiliate links and I may earn commission for purchases made after clicking these links.
---
Guide To These Unique Korean Experiences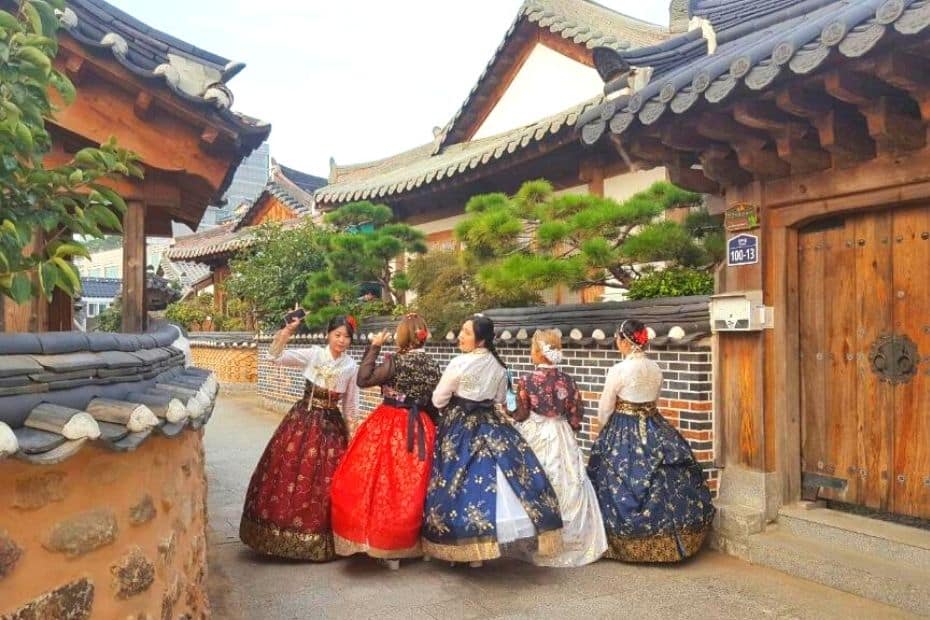 These unique Korean experiences are all things you can do only in Korea, or at least only in a Korean way. Seeing cherry blossoms might be available in many countries, but the way Korea celebrates their oncoming can be unique.
To help you get the most out of this South Korea bucket list, I've included links to explain more about each experience or to book online (when appropriate). Booking online helps to avoid crowds and can save money. I've also added some links to other articles that I've written about travelling in Korea and these unique Korean experiences. They'll give you a much deeper insight into how, why, and when to enjoy these activities.
---
Planning to visit Korea? These travel essentials will help you plan your trip, get the best deals, and save you time and money before and during your Korean adventure.

Korea Electronic Travel Authorisation (K-ETA): Most countries need a K-ETA to travel to Korea. Apply before you travel only with the Official K-ETA Site.

Staying Connected: Pre-order a Korean Sim Card or a Portable WiFi Router to collect on-arrival at Incheon Airport. Collection desks are open 24 hours. Alternatively, download a Korean eSIM for you travels.

Hotels In Korea: Staying in Seoul, I recommend Myeongdong (convenient), Hongdae (cool culture) or Gangnam (shopping). Find the best hotel prices across Korea with Agoda, Klook, or Hotels.com.

Incheon Airport To Seoul: Take the Airport Express (AREX) to Seoul Station or a limo bus across Seoul. Don't like carrying heavy suitcases? Book an Incheon Airport Private Transfer and relax to or from the airport.

Korean Tours: Find the best tours in Korea with tour companies that have a big presence in Korea, including Klook, Trazy, Viator, and Get Your Guide. These sites also offer discounted entry tickets for top attractions.
Seoul City Passes: Visit Seoul's top attractions for free with a Discover Seoul Pass or Go City Seoul Pass. These passes are especially good for families and couples visiting Seoul and can save you lots.

Transportation: Get a T-Money Card or WOWPASS to pay for public transport, including buses, subways, and taxis. For Korea's high speed trains, save money and get unlimited rides with a Korea Rail Pass.

Travel Money: Exchange foreign currency in Myeongdong or Hongdae money exchanges. Pick up a Wise, Revolut, or WOWPASS travel money card for the best rates and convenient card payments in Korea.

Flights To Korea: I recommend using flight comparison sites such as Expedia and Skyscanner to find the best flights to Korea from any country. Air Asia is a good option for budget flights from Asia.

Learning Korean: Want to learn Korean? I recommend a complete language learning course from 90 Day Korean or Korean Class 101 – both have well-structured lessons and lots of useful resources.
---
50 Unique Korean Experiences You Must Try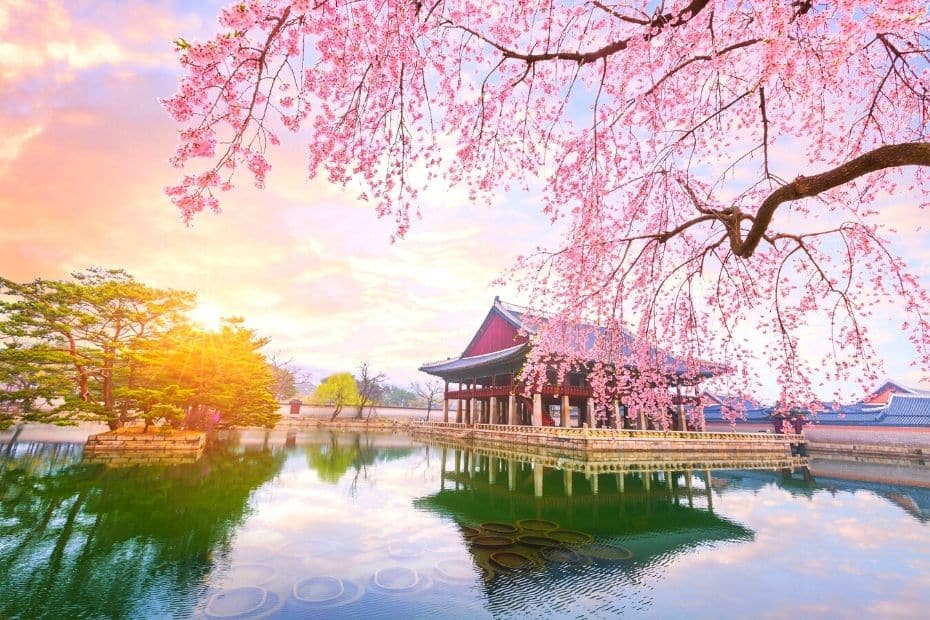 Without further ado, here are the top 50 unique Korean experiences that I think everyone should add to their South Korean bucket list when they visit Korea.
If you have any more that you think would be a good addition to the list, please let me know in the comments at the end of this article.
1: See The Majesty Of Seoul's Royal Palaces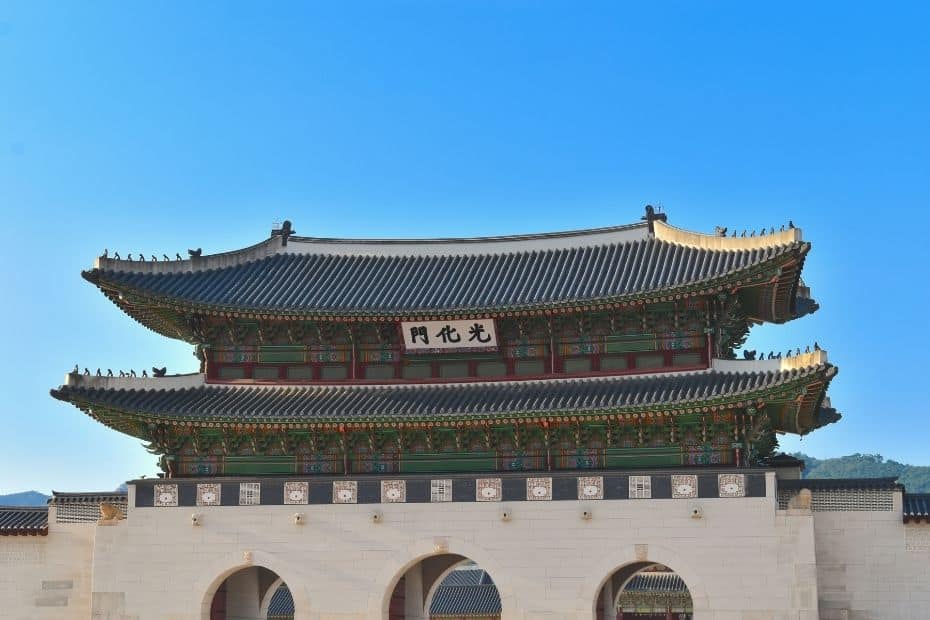 There are 5 beautifully preserved / restored palaces for you to explore in central Seoul where you can peek into ancient throne rooms, walk through picturesque gardens, and experience the life of an emperor or empress.
The 5 Royal Palaces in Seoul are Gyeongbokgung, Changgyeonggung, Changdeokgung, Deoksugung, and Gyeonghuigung. Gyeongbokgung is the oldest and largest of the temples and one of the most incredible Landmarks In Asia that you should definitely check out.
I personally recommend Changdeokgung as it's equally impressive but also includes The Secret Garden – a beautifully preserved royal garden which only a select few can see each day (bookings needed).
2: Dress Up In Traditional Korean Hanbok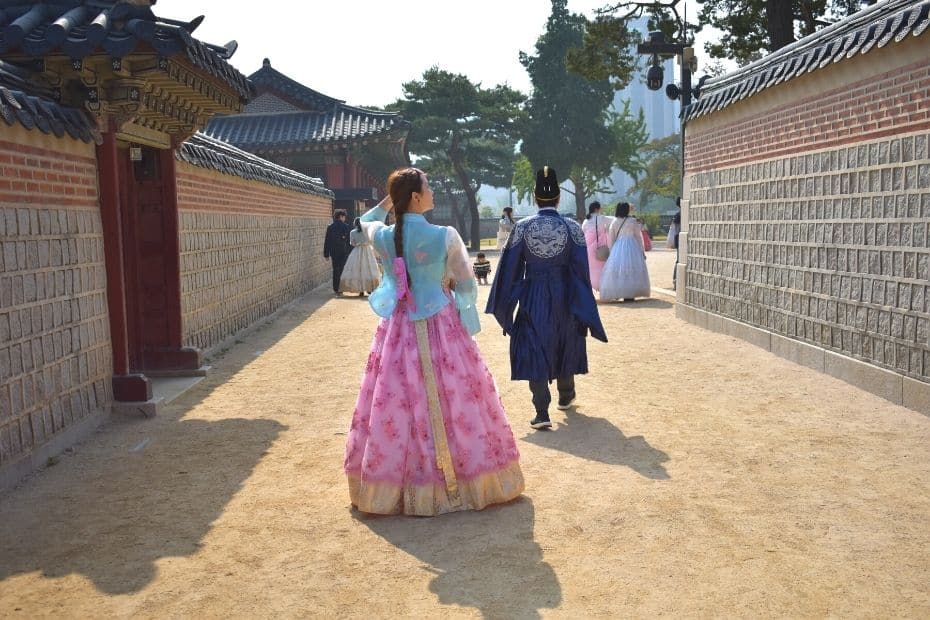 What could be a more unique Korean experience than dressing up in gorgeous Korean hanbok (traditional Korean clothes)? Available for both men and women, these traditional clothes come in a range of colours with lots of extra accessories and hair styling available.
The best place to Experience Wearing Korean Hanbok is in central Seoul, whilst you're exploring Seoul's royal palaces or Bukchon Hanok Village. You can also try this unique Korean experience in Jeonju Hanok Village outside of Seoul and in similar places.
Don't miss out on the chance to snap some unforgettable pics of yourself dressed up as a Korean lord or lady when you visit Korea.
3: Eat Delicious Korean Street Food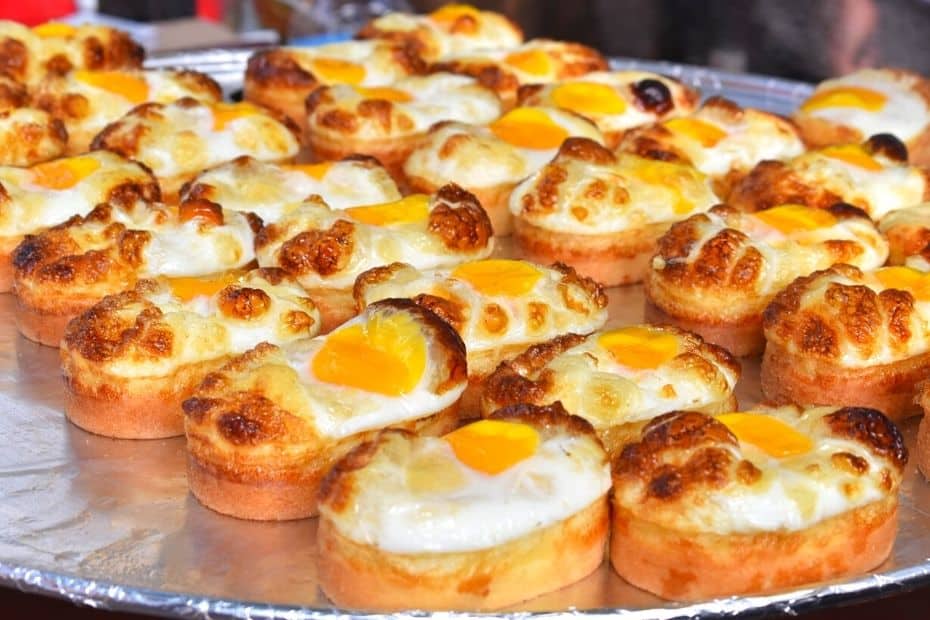 One that's certainly on most people's South Korea bucket lists is trying out the amazing street food on offer at markets across the country. From spicy tteokbokki to sweet hotteok, or even finger licking KFC (Korean fried chicken), Korea's markets have an incredible array of tastes, smells, and culinary options for you to try out.
The best news is that Korean Street Food is cheap, so you can sample all of them! For the most authentic Korean street food experience, head to Gwangjang Market in Seoul – you might recognise it from the Netflix show about street food. Definitely try bindaetteok from the food stalls here.
You can find street food in all cities across Korea, each providing some special dishes that are unique to the area. Be sure to try as much as you can when you explore Korea.
4: See The Most Dangerous Border In The World At The DMZ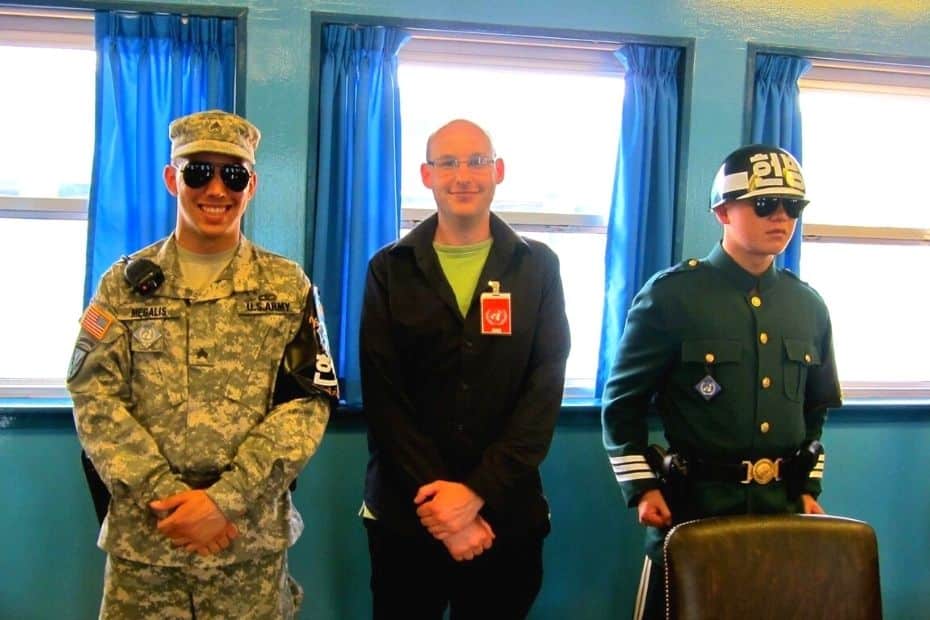 South Korea and North Korea are technically still at war, despite recent attempts to finally bring peace to the peninsula. Separating these two countries, and dividing the Korean people, is the De-militarised Zone (AKA the DMZ), lined with landmines, outposts, and thousands of soldiers.
Fortunately, it's not that dangerous most of the time, which means you can go and see it for yourself while travelling to Seoul. DMZ tours will take you to several famous sights from the ongoing Korean war, as well as allow you to access the Panmunjom 'Peace Village' – an area on the border between the north and south.
In Panmunjom you can have what is undeniably a unique Korean experience – you can walk into North Korea and pose with Korean soldiers from both sides. *Please note that tours to Panmunjom are currently unavailable but should be back in the future.
5: Find Your Soul At A Korean Buddhist Temple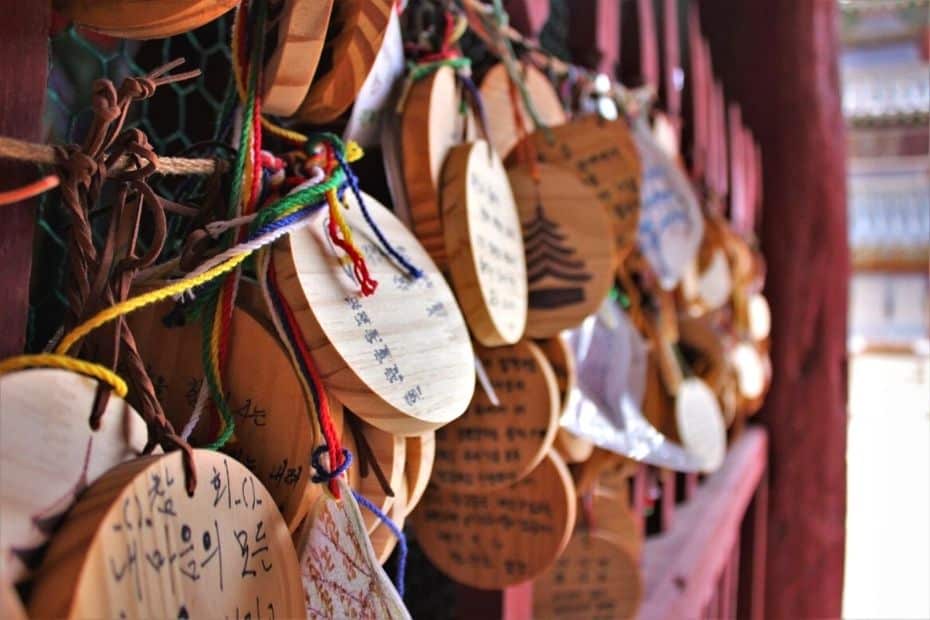 Going through a long list of South Korea bucket list items can be tiring, physically and mentally. It's important to take some time out and rediscover your spiritual side as you travel. Where better to do that in one of the peaceful Korean Buddhist temples that are scattered throughout Korea.
Gaze in awe at the traditional architecture – in bright greens, blues, golds, and reds. Learn about a religion and history that you might have had no idea about before. And if you're lucky, you might make it in time for one of the many festivals and events at the temple, such as Buddha's Birthday in spring.
For an ultimately unique Korean experience, why not try an overnight temple stay? You can visit the temple, join in the sacred rituals, learn about Korean Buddhism (in a non-preachy way), and witness the daily life of the monks.
6: Brave The Heights Of The Seoul Sky Observatory
The best place to see Seoul is from the Seoul Sky Observatory on the 120th floor of the Lotte World Tower. The Lotte World Tower, the world's 6th largest building, stands like a diamond finger pointing up into the heavens in the centre of Seoul.
Spread over 7 floors, from the 117th to 123rd floor, there are lots of things to do here. Are you brave enough to take a selfie on the glass floor? Or even braver to take a walk outside the tower on the Sky Bridge? Certainly not for the faint hearted!
7: Immerse Yourself In Nature At Nami Island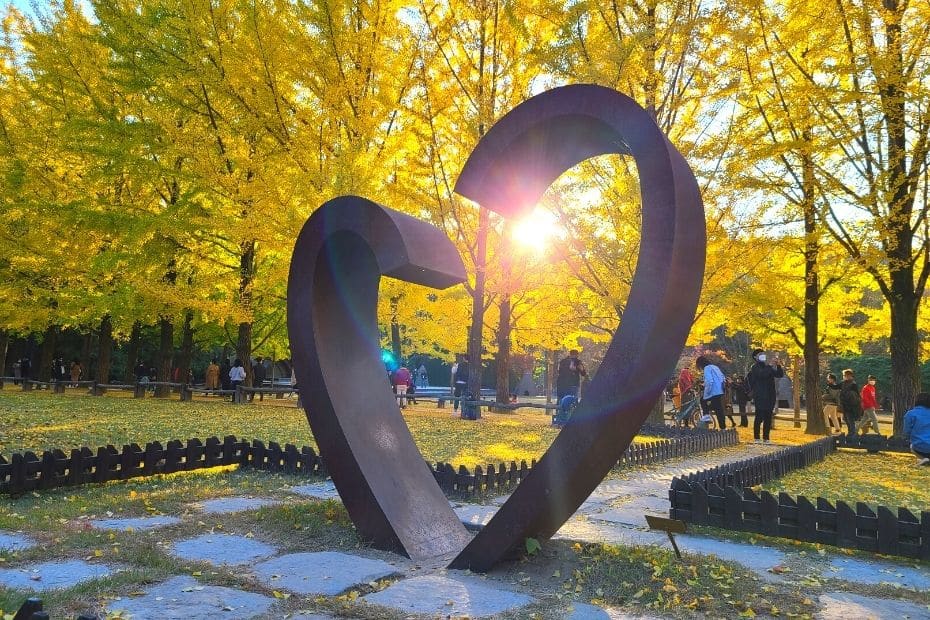 A short journey from Seoul, Nami Island is a natural wonder that's amazing year round and has many beautiful attractions to discover. See the giant metasequoia, golden ginkgo trees, as well as cherry blossoms, pines, and many other natural wonders.
Explore the many tree-lined paths, one of which was a filming location for the hit Korean drama Winter Sonata. There are also traditional markets, cultural performances and local foods to try.
Nami Island is the perfect getaway for families, couples, and those looking for some tranquil peace. Nami Island caters for the adventurous, too. You can enter the park on the Nami Island zip line and there are other water-sports nearby. Getting To Nami Island is easy, with public transport or tour options available.
8: See The Views Of Gamcheon Culture Village In Busan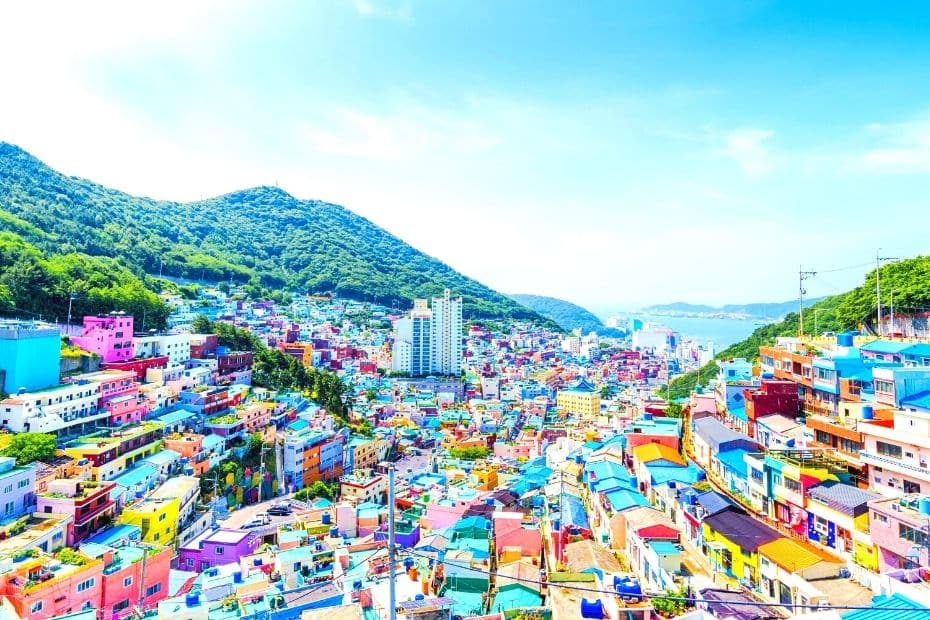 Known as the Machu Picchu of Korea, Gamcheon Culture Village in Busan is high on all photographers' bucket lists. See hundreds of colourful buildings on the slopes of these coastal hills, as well as murals and sculptures created by local residents. A lot of the art makes use of boring parts of the local landscape and turns them into Instagram-worthy locales.
You can follow the regular street maps, which will show you where to collect stamps along the way. Or get lost in amongst the winding streets, up and down painted stairway murals. There are even cosy little cafes hidden around the place to recover in.
For the best experience, enter via the northern entrance and you'll find a lot of the most famous sites, including art from The Little Prince, love locks, sock shops, the Library Stairs, and others.
Here are some more ideas for What To Do In Busan.
9: Learn About Hallyu Culture In Gangnam
Is K-Pop on your South Korean bucket list? If so, then Gangnam is the place for you. Gangnam is home to many attractions relating to Hallyu 한류 – the Korean cultural wave that has spread around the world through music, movies, TV, and idols.
There are loads of attractions in this area to learn about Hallyu, including the K Star Road (see the cute GangnamDols of K-Pop stars), the HQ of several entertainment companies, restaurants and cafes owned by K-Pop stars, and the impressive Gangnam Statue dedicated to PSY himself.
Truly the best of these unique Korean experiences for K-Pop fans and if you're lucky, you might bump into some stars in the area, too!
10: Eat Korea's Best Dish – Korean BBQ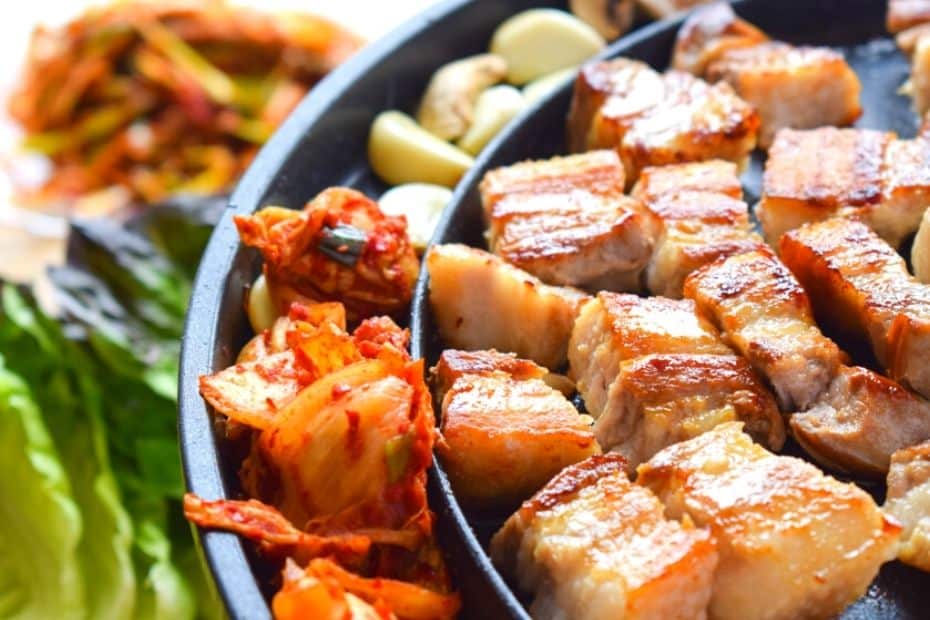 The most delicious of these unique Korean experiences, and one you might find yourself indulging in multiple times when you visit Korea, is enjoying a night of Korean BBQ. You might think that BBQ is a global thing, but in Korea, eating BBQ is more than just a meal – it's an event.
A Korean BBQ is a microcosm of Korean culture – it's about sharing, indulging, letting go whilst thinking of others, and the need to have a good time. It's a shared meal which often involves a lot of drinking, etiquette rules (that you probably won't know about), social bonding, and amazing food. Lots and lots of amazing food.
If you're not a fan of pork, you can also try Korean BBQ with beef. If you don't eat meat at all, but don't want to miss any unique Korean experiences, there are plenty of non-meat side dishes you can order, such as naeng-myeon (cold noodles), fried rice, and salads.
11: See Seoul From The N Seoul Tower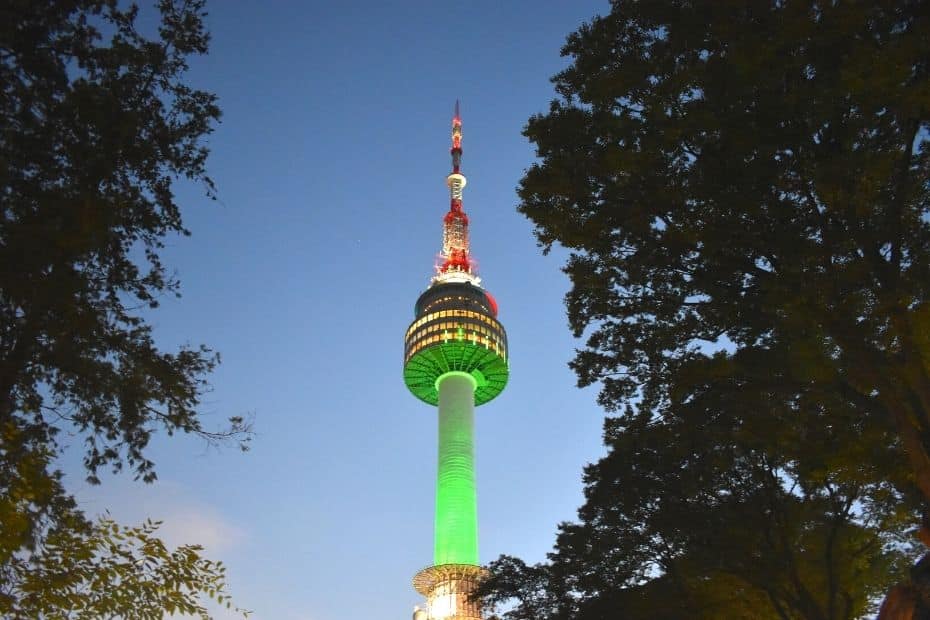 The N Seoul Tower is an iconic location in Seoul, viewable from all around thanks to its location on top of Namsan Mountain in central Seoul. The original date spot in Seoul, this is is a hit with locals and tourists alike and features millions of love locks left by romantic couples from all over the world.
You can get to the N Seoul Tower on foot, hiking up the small hill, but the best way is by the cable car. Once you're at the top, head to the observatory for lovely 360 degree views of Seoul, including the mountains of Bukhansan National Park.
There are lots of shops, restaurants, and attractions at the N Seoul Tower, too, making this a fun place to explore for an evening.
If you plan to visit many of Seoul's premium attractions, including the N Seoul Tower and Lotte World, check out this article about the Klook Pass Seoul and how it can save you money in Seoul.
12: Rule The Walls Of Hwaseong Fortress In Suwon
Korea has a history of conflict, with many walls and fortresses needed to protect Korea from their neighbours or factions within the country. One of the best fortress that remains standing if the magnificent Hwaseong Fortress in Suwon and is one of the many fun things to do in Suwon.
This fortress allows you to hike the 6km of walls in a big circuit that cuts through the city, explore the many fortress buildings, and try traditional Korean sports and games, such as archery. This is one of Korea's UNESCO World Heritage sights and is definitely worth a day trip from Seoul.
There are also beautiful gardens, cosy cafes, and markets near the fortress, as well as the famous Suwon Fried Chicken Street for Korea's best chicken.
If you're looking to try some of Seoul's best chicken joints, then check out the Zen Kimchi Chicken & Beer Tour that runs at night. Experience the best of Seoul's lesser-known chicken restaurants.
13: Cleanse Your Mind At A Korean Tea Room
Tea is a core part of Korean culture and a good tea room can be a welcome respite for busy tourists and locals alike. Traditional tea houses offer the chance to try fresh green tea from tea fields across Korea, or sample something a bit more unique, such as tea made from rose, persimmon, bamboo, or even mugwort.
Enjoy the tea in a traditional hanok building with peaceful surroundings and calm interiors that will help you unwind. Remember to take off your shoes before you enter, try not to make too much noise, and drink slowly in small sips. Let the tea sit in your mouth for a while before swallowing it and wait as it refreshes your body and soul.
14: Marvel At The Beautiful Cherry Blossoms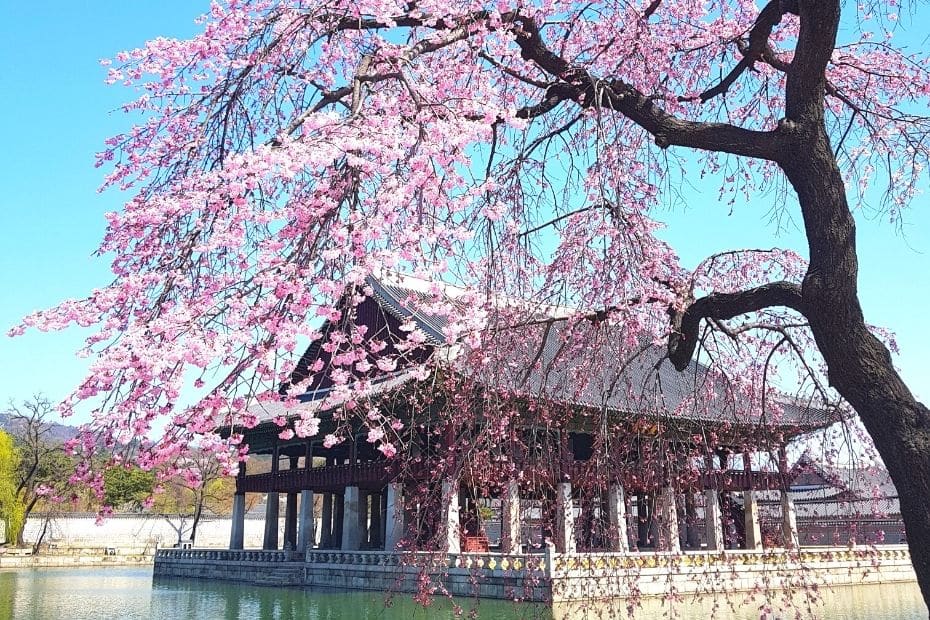 If you're visiting Korea in spring, seeing the Gorgeous Cherry Blossoms should definitely be on your South Korea bucket list. These pinky-white blossoms adorn millions of trees and Korea has so many wonderful spots to view these harbingers of spring that it's hard to choose the best place to see them. From royal palaces to national parks, you'll find cherry blossoms of all kinds across Korea.
Whilst you may associate cherry blossoms with Japan, I've included this on the list of unique Korean experiences for the way cherry blossom season is celebrated in Korea. Grab some ramyeon and beer from the nearest convenience store, find a nice spot to sit outside, and devour them whilst appreciating the blossoms – just like many Koreans do each spring.
15: Find Fashion, Fun, & Future Trends In Hongdae
Hongdae is arguably the coolest place in Seoul and for many good reasons. Home to big name fashion & discount stores, award winning restaurants, nightclubs, cute cafes, escape rooms, activity cafes, art galleries, and so, so so much more, you can visit Hongdae many times over and never get bored.
My favourite spots (to show tourists) are the Thanks Nature Sheep Cafe, Bau House Dog Cafe, VR & arcade game buildings, Kakao Friends Store, the many wonderful restaurants & craft beer bars, and the stores near Hongik University subway station.
One of the top unique Korean experiences for art lovers, students, and bargain hunters. If you're after bargain clothes, snacks, souvenirs, or accessories to take home, Hongdae is the place for you.
If you're planning to visit Korea, I definitely recommend staying in Hongdae. It's a great place to explore local Korean culture. Here's 10 Amazing Hotels In Hongdae to stay in.
16: Sing Your Heart Out At A Korean Noraebang
Korean people love, love, love to sing. You can't walk around a city of any size in Korea without bumping into a noraebang (노래방) – a Korean singing room. Noraebangs are designed to let you sing your heart out with a few beers whilst enjoying the disco lighting and fancy wigs they offer. Music lovers will want this on their South Korea bucket list.
If you're travelling with some friends then check out the singing rooms. You can order drinks and pay a small fee to sing for as many hours as you'd like. Travelling alone but still want to sing? No problem, just find one of the individual singing booths (like a large photo booth). Belt out your favourite K Pop, love songs, or teary ballads.
17: Try Korean Pancake With Makgeolli After Hiking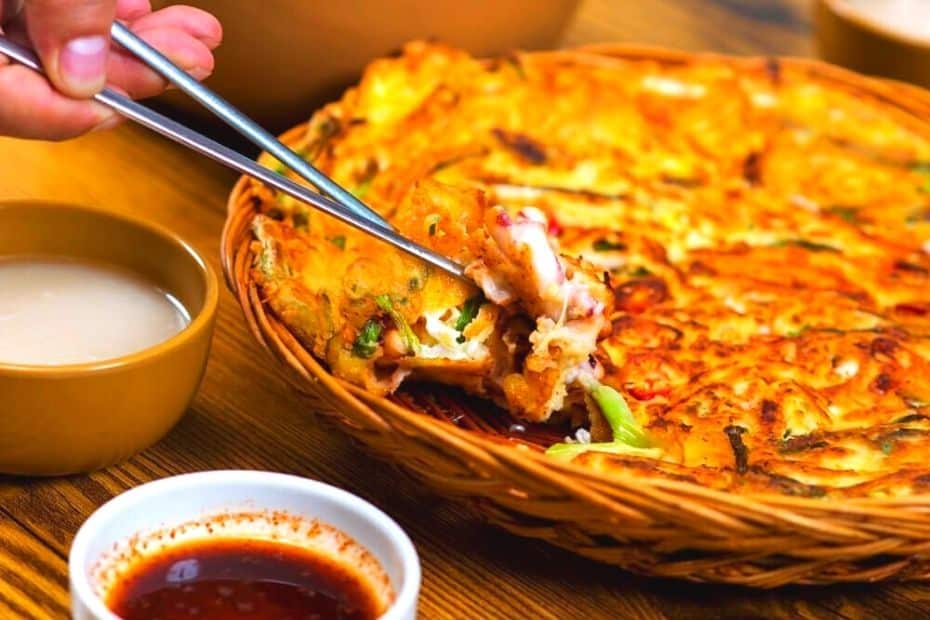 Whilst hiking isn't a unique Korean experience in itself, there is a lot of culture and tradition involved in the Korean hiking scene, one of Korea's most popular pastimes. Drinking soju at the top of a mountain seems to be one of them, but I'm not sure I'd recommend that to most people who go hiking as you might come down the mountain more quickly than expected!
Instead, try out some delicious Traditional Korean Pajeon (Korean pancake) and makgeolli (rice wine) – a perfect combination that you'll find in most national parks and hiking spots. The most popular pajeon is haemul pajeon (seafood pancake), which comes with squid, spring onions, and other ingredients.
For makgeolli, each area has their own unique taste. My favourite is chestnut flavour. Try them all. It's all a lot nicer than it sounds, and this is from someone who doesn't normally eat squid.
18: Cruise On The Han River & See Seoul's Sights
Take a cruise along the Han River in Seoul and watch the sunset while the city starts to shine. The river is the perfect places to see the sights of Seoul. You can see the N Seoul Tower, the Olympic Stadium, and the famous Yanghwa Bridge.
You'll pass by many bridges along the way, but one is more magical than the rest – the Banpo Rainbow Bridge. This bridge was installed with a full spectrum of colourful lights that shine down through jets of water. This creates a stunning rainbow waterfall on the north side of the bridge. The lights are turned on between April and October.
19: Find Thrills In Everland & Caribbean Bay
Korea's answer to Disney Land or Universal Studios is the thrilling Everland and Caribbean Bay. These are a must for any thrill seeker's South Korean bucket list.
Everland is Korea's largest theme park and boasts the world's steepest roller coaster. This sends you hurtling down to the ground at an angle of 77 degrees and at 104 km/h! Great for thrill seekers, families, couples looking to create some unforgettable memories, and even animal lovers.
Caribbean Bay is one of the world's largest water parks. With loads of rides, this is the best place to have fun and cool off in summer. Some of the best rides at Caribbean Bay include the Mega Storm, Aqua Loop, and the Tower Raft. Caribbean Bay also features an indoor infant pool, sauna, spa, diving pool, and many types of swimming pools.
20: Drink A Latte From A Toilet At The Poop Cafe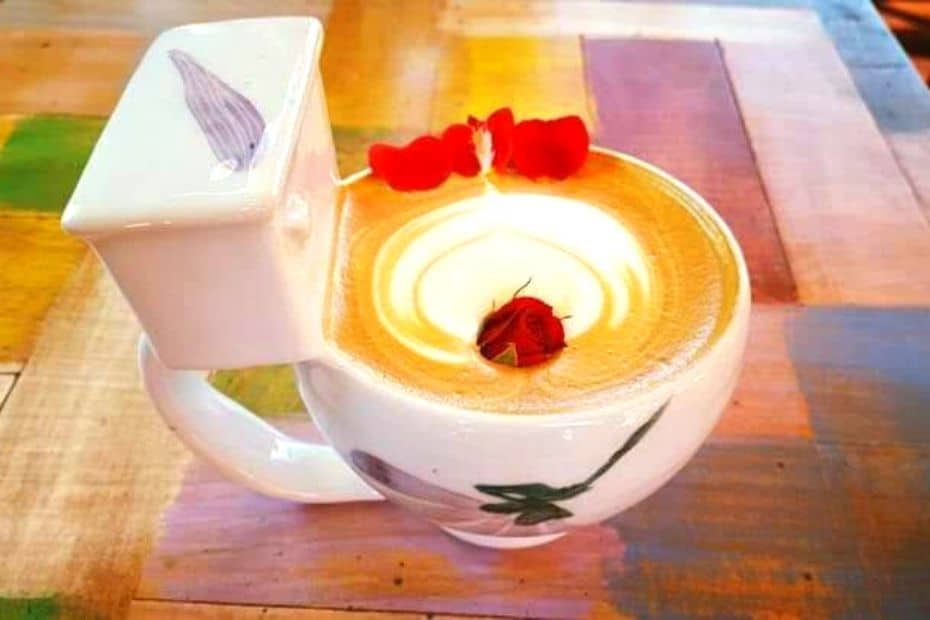 I don't know of any other country where poop is treated as something cute, but that's what you'll find in Korea. For those that might be a bit squeamish at the idea of a poop cafe, don't worry. This latte in a mini-toilet is actually pretty cute. The colourful decor is on the theme of, well, poop, and there are little poop hats to wear.
This is a must for those looking for really unique Korean experiences and don't have a problem taking some really strange pictures for social media. And what could be stranger than a rose (or mint) latte served in a little toilet cup from the Poop Cafe?
Whats more, you can also buy ddong bbang 똥빵 (literally translated to poop bread) and curry served in a traditional style Korean toilet. Gross? Maybe, but definitely memorable!
21: Relax & Unwind At A Korean Sauna
Life in Korea is hectic and there's nothing better than soaking in a hot pool after a long day. Tired from rushing around ticking off your South Korea bucket list, why not stay at a jjimjjilbang 찜질방(Korean sauna)? Here you can let the stress and tiredness wash off your body.
These indoor hot springs have something for everyone, from steaming saunas to a freezing cold pool and everything in between. You can even sleep in a rest area with free pyjamas provided for you. Jjimjjilbangs also act as cheap overnight accommodation or emergency hotel rooms when you're stuck without somewhere to stay.
22: View The Streets Of Bukchon Hanok Village
Bukchon Hanok Village is a little piece of history tucked away in central Seoul, between two royal palaces. It's the perfect place to see traditional style Korean houses – hanok. The area is packed with beautifully preserved hanok buildings where you can pose for pictures, pop your head inside, explore small galleries, sit and enjoy some Korean tea, and lots more.
You'll probably recognise this area if you've seen pictures of Seoul, it's one of the best places to see traditional Korean buildings, and you get an awesome view of the N Seoul Tower, royal palaces, and Myeongdong as a background. This should really be on your South Korea bucket list if it's your first time to Seoul and don't forget to rent some hanbok when you visit, too.
23: Stroll Along The Cheonggyecheon Stream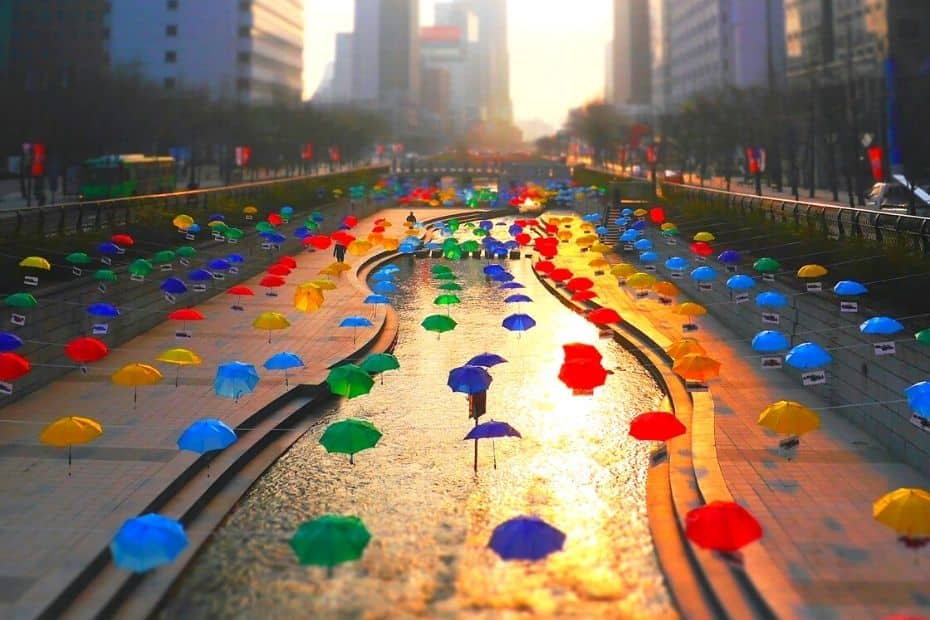 Another great place to escape the summer heat and enjoy something uniquely Korean, is a trip to the Cheonggyecheon Stream in central Seoul. The Cheonggyecheon Stream was created as a place for gathering, harmony, peace, and unity, giving Seoulites a place to come and cool off in the summer heat and to walk together away from the concrete jungle.
For tourists, this is a wonderful chance to experience the light and lantern festivals that often occur along the stream, as well as take a break to hop over the stepping stones and get some colourful photos. The start area, Cheonggye Plaza, usually has events for tourists, including hands-on activities to learn about Korean culture and history.
24: Learn About Kimchi At Museum Kimchikan
Truly Korean, kimchi is the national dish of Korea and a part of every meal – even breakfast. Kimchi is a fermented cabbage or radish dish that is a bit spicy and salty, but very healthy. You'll find it in any restaurant you go to and it goes with everything. I've even had kimchi beer!
Korea wants to share kimchi with the world, which is why they created a whole museum for it in Insadong, Seoul. Museum Kimchikan teaches you all about the history, health benefits, and process of kimchi-making. You can also try samples of different kimchi (there are over 200 types).
25: Enjoy Beer & Ramyeon By The Han River
Summer In Korea is hot and although it's not the best time to visit, there are some incredible unique Korean experiences you can discover at this time. The one enjoyed by many Seoulites (and me) is heading to the Han River, grabbing a cold beer and some ramyeon noodles, and taking in the riverside culture that springs up in summer – boarders, musicians, markets, games, and more.
Go to Yeouinaru Station and head to the Han River and you'll find shops selling various flavours of ramyeon with automatic cookers that will prepare everything for you at the touch of a button. Grab a can of Cass, find a table or spot of grass, and enjoy. You can even rent a tent and make an afternoon of it, watching the sun set and the many lights of Seoul spark on.
26: Visit The Purple Instragrammable Island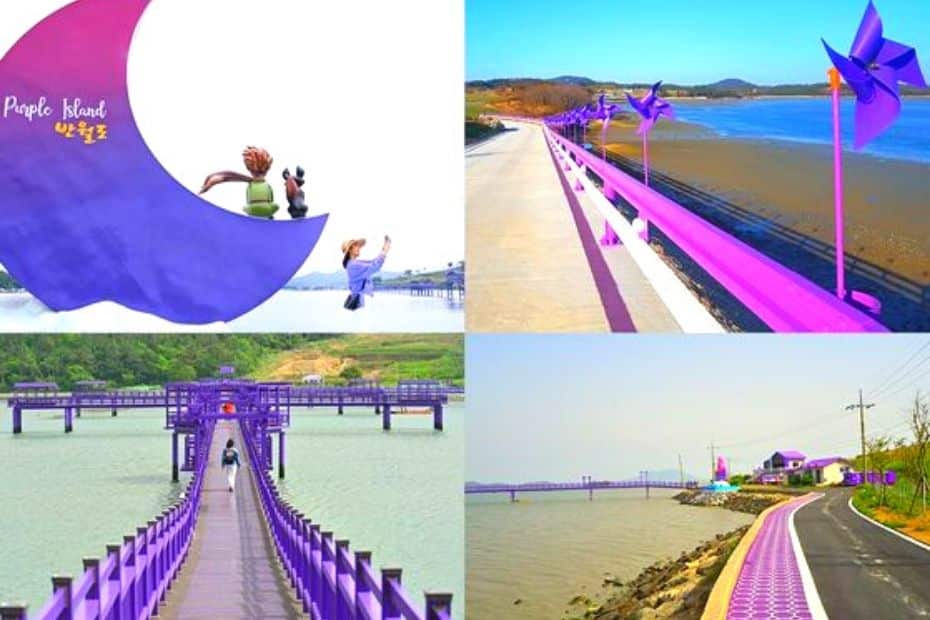 A former farming town in southern Korea has transformed itself into a insta-worthy attraction by painting everything a lovely shade of lilac.
Banwol Island, known as 'Purple Island', really has to be seen to be believed. There are over 400 homes, bridges, and other buildings painted in purple colours, with summer lavender providing even more purple picture opportunities.
27: Catch Your Lunch At The Hwacheon Ice Festival
Running for most of January each year, the Hwacheon Ice Fishing Festival is arguably the best winter festival in Korea. During this time you can take part in various winter activities, including ice fishing for sancheoneo (mountain trout), tubing on a giant ice slide, grabbing fish with your bare hands, and even ice sledding.
Those who don't mind the cold water can join in the barehanded fish catching contest. Catch the one with the golden ring attached and you can win the grand prize! If you're not really into fish, then check out the ice sculptures, snow sculptures, light displays, and festival food on offer throughout the village. There are several other ice fishing festivals and these unique Korean experiences provide a perfect winter activity to enjoy the snow.
28: Try The Drink That's Bigger Than Vodka – Soju
When you think of the world's biggest spirit brand, you probably think of Vodka. Little do most people know that the world's largest spirit brand is Jinro Soju. Soju is Korea's national drink and consumed regularly by many Koreans. Being only 14% in strength and costing less than 2,000 won (about $2) for a bottle in a convenience store, it is easy to see why this drink is so popular.
Soju by itself doesn't taste of much, but mixing it with maekju (Korean for beer) makes a drink called somaek, vastly improving the two individual drinks. Of course, if that doesn't sound sweet enough for you, there are a range of fruit flavoured sojus that make drinking (and getting drunk!) a lot easier. Popular flavours include peach, tangerine, and grape. Cheers!
29: Explore Jeju Island – A True Wonder Of Nature
One of Korea's most famous tourist attractions, and labelled as one of the New 7 Wonders of Nature, Jeju Island has an impressive array of natural environments to explore – from beaches to volcanoes, lava tubes, tea plantations and millions of beautiful flowers. This is one of my personal favourites of these unique Korean experiences and I never get bored of visiting this island paradise.
The most attention-grabbing feature is Hallasan, the gigantic volcano in the centre of the island that created Jeju, visible from most places on the island. Although not active, you can climb up to the top of the mountain and look at the crater lakes. You can hike to the top and back within a day.
Not only this, there are a few big cities and a tonne of weird and wacky museums to check out (even 2 'love' museums!). If you're looking for unique Jeju Island goods, make sure to sample the Jeju 'black pig' Korean BBQ, the hallabong oranges (juicy and fresh), and see the dol hareubang – ancient island statues made by the local people.
If you're visiting Jeju Island In Winter, be sure to check out my guide to Hiking Hallasan When It's Snowing.
30: Get Snap-Happy At The Dreamy Camera Cafe
For those looking to leave the bustling streets of Seoul behind, along with all the other cute cafes and cool hangouts, then why not head out to the Dreamy Camera Cafe in Yangpyeong County. As the name suggests, this is more than just a cafe, it's a place to dream. Set in the idyllic Korean countryside, the views are astounding, both of the model Rolleiflex Twin Lens Camera building, and the never ending greenery outside.
The friendly owner of the cafe encourages guests to take some time out and enjoy the beautiful natural surroundings whilst pondering their own dreams for the future. Take your time and sample some fresh coffee and one of the delicious cakes on offer while you contemplate. Before you leave, take a minute to write down those dreams. Who knows, maybe you'll come back again one day and realise that dreams can come true?
31: Experience Traditional Culture At The Jeonju Hanok Village
Jeonju Hanok Village in central Jeonju beautifully demonstrates life in a traditional Korean setting, with hundreds of hanok (traditional Korean) buildings, shops, cultural experiences, and delicious traditional foods – including Jeonju's own famous dish, bibimbap. It's one of those unique Korean experiences that shows you how people used to live, play, eat, and enjoy life.
It's certainly not a museum, however. You get to be part of the experience, joining in traditional activities at the Jeonju Crafts Exhibition Hall, playing Korean games, dressing up in traditional Korean hanbok, and sitting on the smooth wooden floors of the hanok buildings whilst you eat. You can even stay overnight and see how people used to (and still do) sleep on the floor with futons and underground heating.
32: Get Muddy At The Boryeong Mud Festival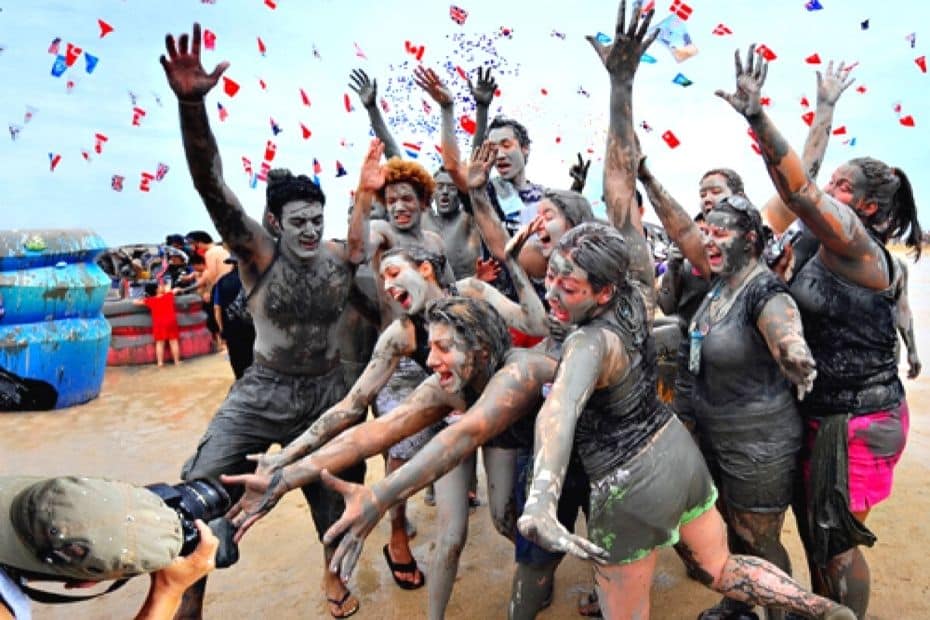 Don't mind getting dirty or want to put on an all-body mud pack? Then the Boryeong Mud Festival is the place for you. This festival is one of the wildest in Korea and attracts the largest number of foreign visitors. Running throughout the second half of July, the cool mud is a great way to escape the Korean summer heat.
There are a wide range of activities on offer, including mud face painting, mud beauty products, and the Mudflat Games. The Mudflat Games are what make this festival so unique, with mud wrestling, mud football, and even a mud marathon to compete in.
After spending a busy day in the mud, why not sample some fresh hoe (raw fish) and watch the sparkling sun set into the calm ocean. Spectacular views, good food, healthy mud, and lots of fun – this festival should be high on your South Korean bucket list.
33: Make Your Own Lunch Box At Tongin Food Market
I love the food at traditional Korean markets and the food at Tongin Food Market is no exception. Unlike regular markets, Tongin Food Market has one big difference – you can mix and match your own doshirak. Doshirak are traditional Korean lunch boxes that typically come with a selection of different foods inside, such as rice, fish, meat, veg, or other side dishes.
For a set fee, you'll get the lunch box and some golden coins you can use to purchase whatever you want from the market. Tongin Food Market has dozens of stalls inside, so its best to wander around for a while and choose whatever looks best to you. I'd recommend the mandu (dumplings), tteokbokki (spicy rice cakes), and kocchi (skewered snacks). Visit with some friends so you can each try a bit from every stall and experience the most delectable market foods.
34: Sample Fresh Seafood At Jagalchi Fish Market
Jagalchi Fish Market, located in downtown Busan, is stinky, messy, and packed full of weird looking sea creatures, but also an experience that shouldn't be missed when you're in Busan. The thought of seeing millions of wriggling sea creatures might seem a bit strange to most people, but once you start walking around the busy stalls, you'll find yourself enthralled with the many different types of fish and seafood on offer.
The good news for the curious travellers is that you can try many of the freshly caught seafood offerings. Make your purchases from the open markets on the first floor, then wait as they're cooked (or served raw) for you on the second floor. Even if you don't like seafood, this place is still worth checking out for one of those really unique Korean experiences. Keep an eye out for the active market sellers and walk around to find the best bargains.
Here's a load more Great Things To Do In Busan.
35: Visit Coastal Haedong Yonggungsa Temple In Busan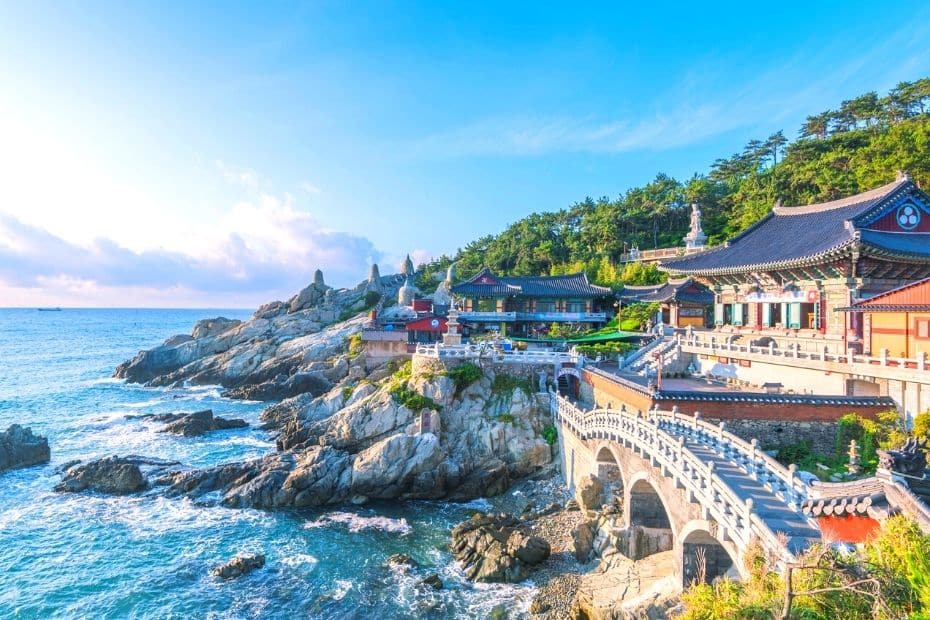 A trip to Haedong Yonggungsa Temple is a rare chance to see the beautiful southern coast and one of the oldest Buddhist temples in Korea. The clear blue seas are on par with what you'll find in Haeundae Beach. However, when contrasted by the rugged rocks and unique architecture, this is an even more amazing view.
As you make your way from the entrance, you will be amazed by all the sights there are to see. Pass by rows of zodiac statues (can you find yours?), be astounded by the large golden statues of Buddha, and, of course, take lots of pics of the temple itself, like the one above.
Haedong Yonggungsa Temple is one of the three sacred places related to the Goddess of Buddha of South Korea. Its motto is 'at least one of your wishes will be answered here through sincere prayers'. Hopefully your wish can come true.
36: Discover Peace In The Garden Of Morning Calm
The Garden of Morning Calm is one of the most beautifully sculpted (and most popular) natural attractions to visit near Seoul. Created by a horticultural professor in 1996, the garden is world-class and provides a place to experience the calm and peace that symbolises Korea – also known as the Land of Morning Calm.
You'll certainly feel calm as you stroll through, smell the flowers, cross wooden swing bridges, see inside traditional Korean houses, or stop for a snack by one of the many streams or ponds. Perfect in all four seasons, this place offers breathtaking walks through dreamy gardens with pagodas, stepping stones, lakes, and an abundance of native and foreign flowers.
37: Visit Famous Korean Drama / Movie Filming Locations
Love Korean movies and dramas? Want to see where your favourite stars shot that iconic scene? Want to recreate famous scenes with some friends? Then try visiting a Korean Filming Location in dozens of spots across the country.
Many of Korea's top productions are shot outdoors in real world locations which you can go and visit yourself, such as on the beach in Gangneung, the streets of Incheon, the forests of Odaesan National Park, in Korean palaces and parks, on Nami Island, and many others.
These publicly available filming locations, usually conveniently signposted, allow you to relive the famous scenes for yourself and take lots of impressive photos to show your friends and family.
38: Learn About Korean History – Past & Present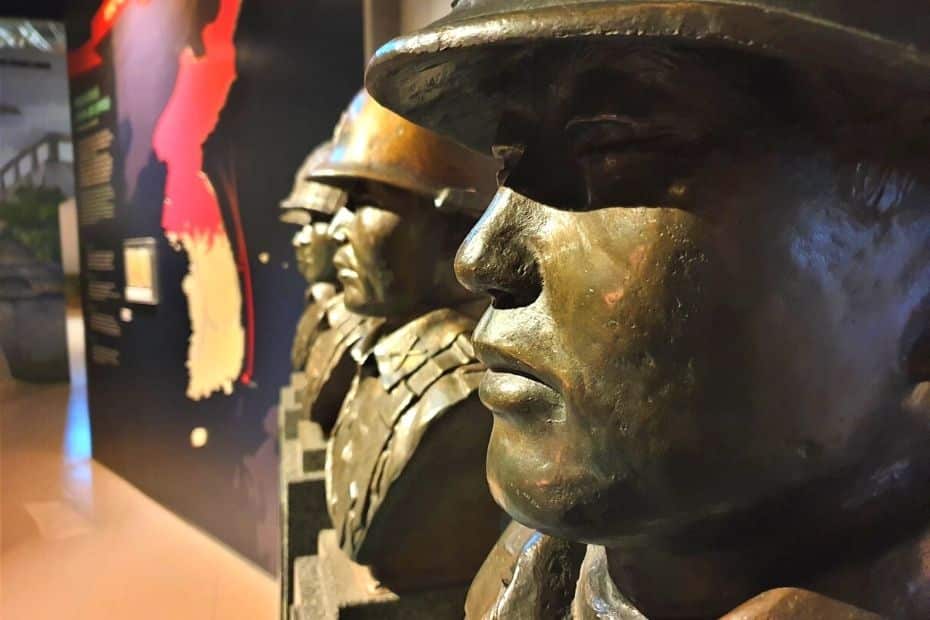 Located in the Yongsan area of central Seoul, the War Memorial of Korea and National Museum of Korea are must-sees for history enthusiasts. It's also great for those who simply want to know more about the often tragic, always enthralling history of Korea.
The War Memorial of Korea puts a focus on visual, realistic imagery and uses provocative models to bring the horror of war to life. Learn about the role of war in Korean society and conflicts with their bigger neighbours, Japan and China.
The National Museum of Korea completes the history lesson. See the various kingdoms that made up Korea in the past. Marvel at the wide range of artefacts on display, dating from the stone age to now. Finally, learn more about Korean culture through the ages and the contributions Korea has made to the world.
39: Stay Overnight In A Traditional Hanok House
What could be more of a unique Korean experience than spending a night in a Traditional Korean Hanok House? Sleeping amongst old wooden walls, feeling the heat through the ondul underfloor heating, sipping tea on polished floors served in the traditional Korean way, and taking in all the intricate decorations on walls, furniture, and fabrics.
You can experience this for yourself during your trip to Korea in places such as the Bukchon Hanok Village, Jeonju Hanok Village, and several other places with hanok buildings that have been carefully converted into hotels. This type of accommodation is open to all visitors, with hanok stays ranging from cheap-sleeps on a futon to more luxurious conditions and 5 star service.
40: Grab Some Bargains In Seoul's Fashion Markets
Shopaholics looking for the best bargains have so many options available to them in Seoul's Fashion Markets. There is a wide range of discounted goods, with everything from knock-off Supreme sweatshirts to bargain brand names and lots more.
Some of the best areas to explore Seoul's fashion markets are Namdaemun, Myeongdong, and Dongdaemun, which all have large traditional markets. Dongdaemun is the best for clothing and also features wholesalers who can ship internationally, as well as department stores and shopping centres.
Wherever you go, make sure to bargain and get the best deals. If you need an extra suitcase to bring it all back in, you can buy those, too.
41: Explore The Secret Garden Hidden For Centuries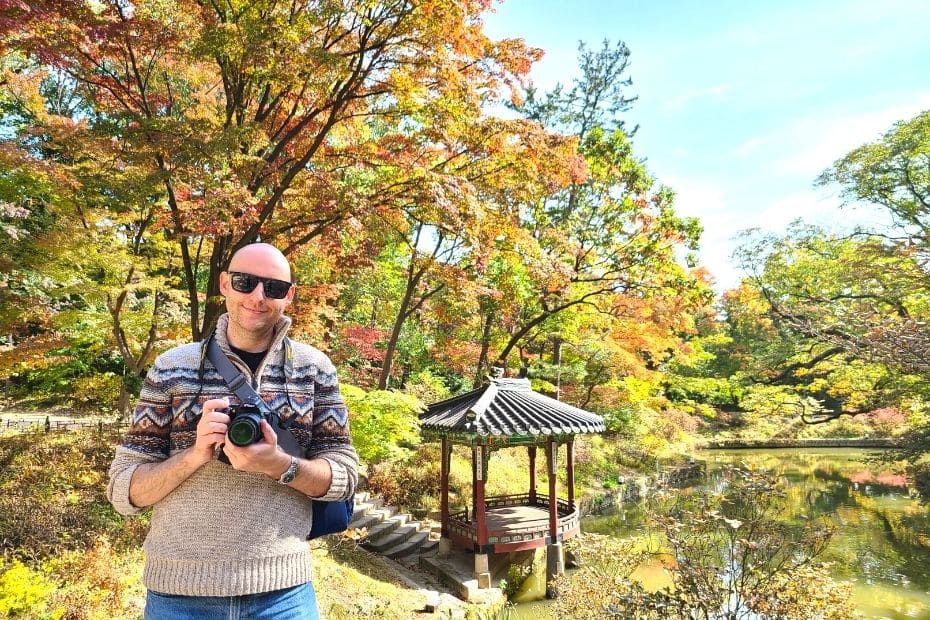 Hidden away in the wide grounds of Changdeokgung Palace is a real treasure that only a limited number of people get to enjoy each day – The Secret Garden.
The Secret Garden, also known as Huwon or Biwon, takes up a large chunk of the palace grounds, and was originally an area reserved fro the Korean royal family to rest and relax. The area features iconic scenes, such as the pond shaped like Korea (pictured above), beautiful pagodas, and other historic buildings.
The real attraction is the nature on show, with cherry blossoms and autumn leaves coming to life throughout the year, and an abundance of other plants, trees, and even wild animals.
Unlike the other royal palaces, The Secret Garden is not freely open to visitors. To gain access you must book a tour on that day. Be sure to get there early so you don't miss out on this unique Korean experience.
42: Try Green Tea At The Boseong Green Tea Fields
The Boseong Green Tea Fields near Gwangju is the biggest plantation in Korea and setup to welcome curious tourists who wish to learn more about this delicious drink.
The sight of row upon row of fresh, bright tea leaves just waiting to be picked and drowned in hot water is incredible and like a postcard picture. Spend your time walking around the green tea bushes set on the side of lush hills where you might even be able to see the sea on a sunny day.
Other attractions, besides drinking lots of tea, include the Korean Tea Culture Park, the Tea Museum of Korea, and, of course, the gift shop. Korean green tea is refreshing, healthy, and one of the unique Korean experiences you can take home and share with friends and family.
If you're visiting Jeju Island, you can also see green tea plantations at the O'Sulloc Tea Museum and Green Tea Fields.
43: Get Lost In The Damyang Bamboo Forest
The Bamboo Forests Of Damyang, known as Juknokwon in Korean, provide a unique opportunity to see gigantic bamboo trees. Meander along shaded pathways, experience a traditional Korean village, and try some bamboo beer (better than it sounds). Sample the local delicacy daetong bap (bamboo rice), which is a healthy portion of steamed rice served in a bamboo stem. Yummy.
This lush, dense bamboo forest drowns out the noise and heat of modern Korea and is a breath of fresh air. Quite literally, in fact, as there is a high level of oxygen produced from all those bamboo trees. Take a deep breath and cleanse your lungs and your soul as you walk through the cool forest, perfect for those who want a zen South Korea bucket list.
44: Eat, Shop, Play In Seoul's Night Goblin Markets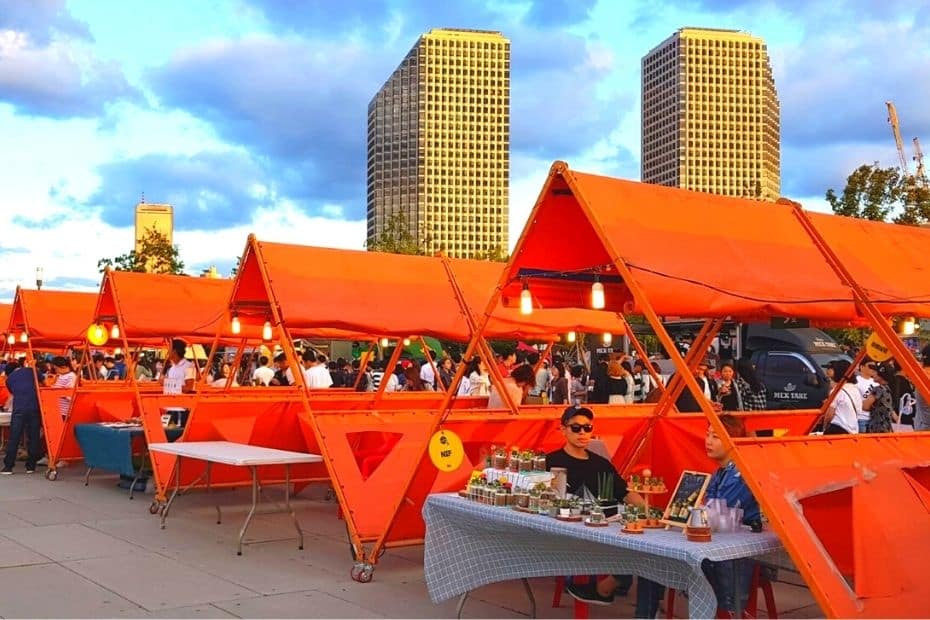 Seoul's Bam-Dokkaebi (Night Goblin) Markets are the best thing about summer in Seoul. Found across the city from April until October, these markets provide an opportunity to purchase hand-made items from local artists, watch live performances, and sample freshly cooked food from one of the ubiquitous food trucks.
With the heat still lingering at night during summer, the best way to enjoy the evening is by grabbing a cold beer, strolling through the markets, and listening to the impromptu live music performances, especially near the Han River at the Yeouido Global Night Market. If you're in Seoul in the summer time, then these markets are a must-visit to see how the locals spend their evenings.
45: Try Weird Korean Dishes Such As Live Squid
This could be the least appealing of these unique Korean experiences for some, but I hope some people will be brave enough to try them. There are many truly Weird Korean Dishes, for better or worse, that have to be seen (and eaten) to be believed. If you've ever watched Old Boy, a Korean movie where the star eats a live octopus, you'll know what I mean.
There's more than just live octopus to try, though. You can try live squid legs – a popular dish in coastal towns, fermented sting ray (really stinky!), penis fish (for the shape, not the ingredients), dead body soup (not actually dead people inside), and lots more. Silkworm larvae are festival favourites and you can find them across Korea.
46: See The Lights At Jinju Lantern Festival
With thousands of lanterns on display, including full-sized replicas of buildings and trees, it's easy to see why the Jinju Namgang Yudeung (Lantern) Festival is the most popular of all the lantern festivals held in Korea. Hundreds of thousands of people attend this two week festival in October.
The most impressive section is along the river and in the Jinjuseong Fortress. The best time to see the lanterns is after the sun goes down, but there's still a lot to see and do while the sun is up, including cultural displays (dancing) in the fortress, lantern making (various kinds), traditional Korean games, and a lantern contest to judge.
47: Find Rare Books In Bosu-Dong Book Alley Busan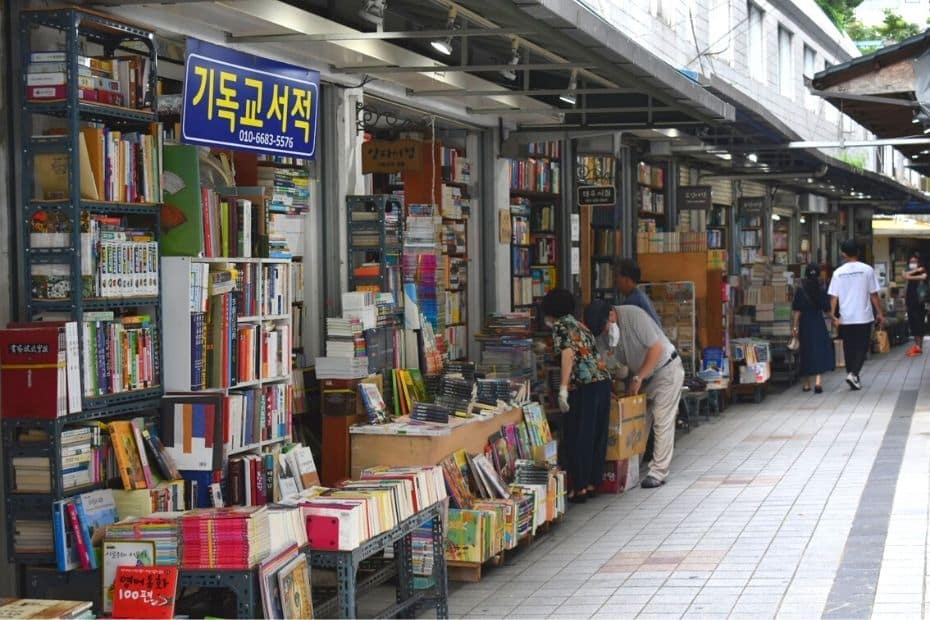 Book lovers making a South Korea bucket list will love this spot. The quaint Bosu-Dong Book Alley in Busan has books of every kind in a range of different languages. It's a must for book lovers who want to find something unique and for those who just love being around books. Don't worry if you can't understand everything, you can browse freely and take in the atmosphere.
When you get tired of looking at books and squeezing through the narrow street, there are many cafes nestled in or between the book shops. The atmosphere is very different from the rest of Busan and the ambience and charm from this historic, mostly untouched street that has been selling books for over 70 years now is lovely.
48: See The World's Highest Lava Column
Ever thought about walking inside the lava tubes formed by a 2km high volcano and seeing the world's highest lava column? Well, even if you haven't, you should probably add it to your South Korea bucket list and check it out if you visit Jeju Island – home to South Korea's largest mountain and active volcano.
At Manjaggul Cave on Jeju Island you can walk along a dark and spooky tunnel created by lava as it violently pushed its way from the depths of the earth out into the seas. You'll see the where the lava flowed, learn about the island's history, and at the end see the world's highest lava column, standing like a frozen rocky waterfall.
49: Witness A Miracle At The Jindo Sea Parting Festival
Like Moses parting the waters, the Jindo Sea Parting Festival is a unique annual occurrence that has to be seen to be believed. Watch as the seas give way and form a 3km-long pathway between islands. You're not likely to see an event like this elsewhere in the world. This is one of the best of the spring festivals in Korea.
Join the festival and watch as the waters part before your eyes and then trek across the pathway between islands. There are also lots of cultural events and activities going on while you wait for the miracle to occur.
50: Hike Korea's National Parks & Watch Out For Bears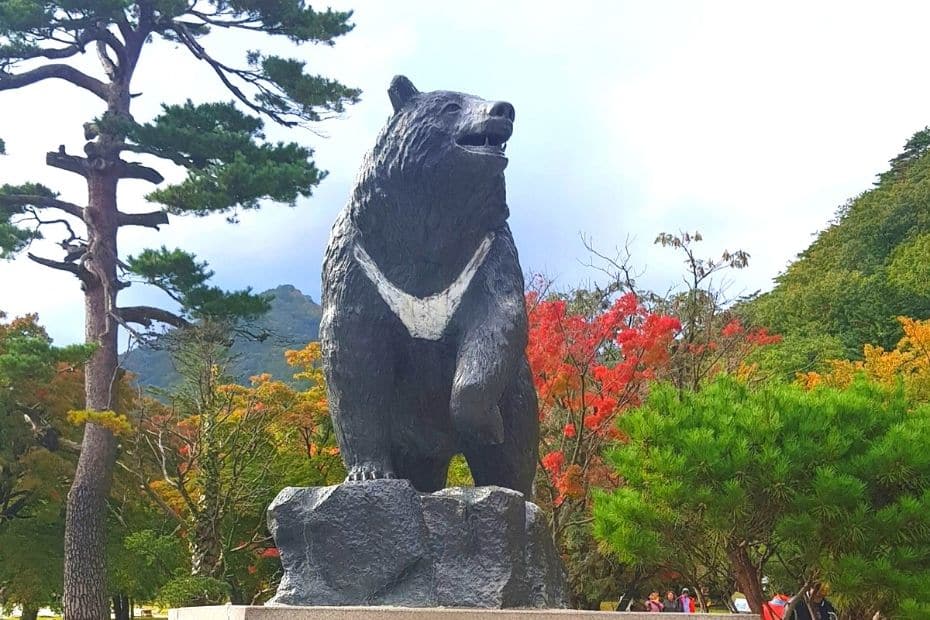 The last of these unique Korean experiences is one of my favourites and one enjoyed by millions of Koreans each week – Hiking In Korea. Korea is 70% mountainous and has 17 national parks and thousands of interesting mountains to hike.
Some of them are even home to Korea's black bears and other wildlife, including wild boars, deers, and tigers (actually, they died out a long time ago).
There is a hiking path for everyone in Korea, ranging from gentle walks along the valley floor, to sweating it out climbing over rocks and taking in the incredible views at the peak. Some mountains have cable cars to help you to the top, where you'll be rewarded with amazing sunset views and, in winter, snowy scenes to take your breath away.
---
Best Time To Try These Unique Korean Experiences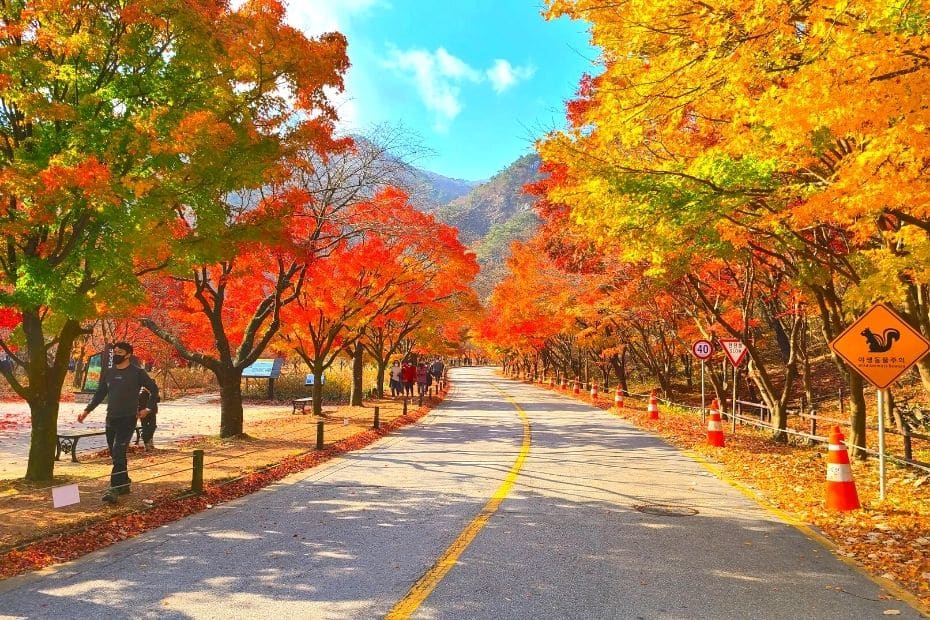 The best time to try these unique Korean experiences will usually be spring or autumn. These are the best times to visit Korea as the weather is warm, clear, and the conditions are ideal for completing your South Korea bucket list. Learn more about visiting Korea with this Korea travel guide.
I'd definitely recommend you visit Korea during these seasons if you can as you get the added bonus of seeing Cherry Blossoms (spring) and Autumn Leaves (autumn).
Of course, some of these unique Korean experiences can only be done at certain times of year, such as ice fishing in winter and cherry blossom viewing in spring. In this case, you might have to visit Korea multiple times in different seasons. But that's not a bad thing!
---
Why Make A South Korea Bucket List?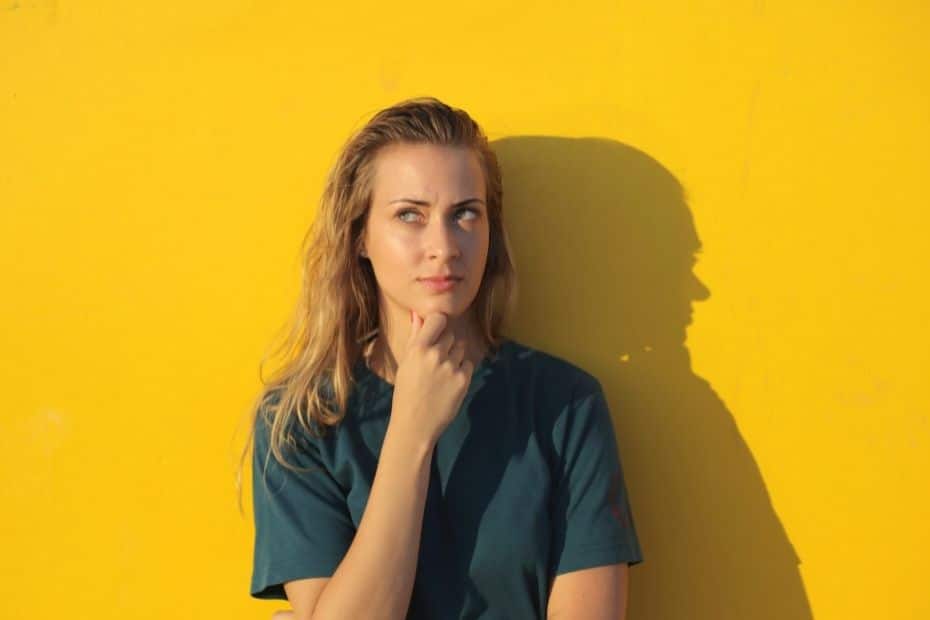 There's a certain charm in turning up in a new location – exploring with all your senses, not knowing what to expect and discovering unimaginable experiences that you hadn't ever considered before. That's part of the joy of travel and one of the reasons I love to travel so much to new places.
However, there's also the chance that not planning for a trip means you miss out on things you're not aware of, or turn up somewhere and find out that it's closed on that day. Pre-Planning Your Trip To Korea and creating lists of things that you must see, such as these unique Korean experiences, is really useful for getting the most of your trip.
Making a South Korea bucket list is a great way to plan your schedule, know what things you really want to see, or what might be a good alternative if the weather is bad. I hope these 50 experiences listed here will help you create your dream Korean adventure.
---
Unique Korean Experiences FAQs
Finally, here's a few FAQs about these unique Korean experiences, in case you need more help planning your South Korea bucket list.
What are the most unique Korean experiences?
The most unique Korean experiences, ones you can't find outside of Korea, are trying on Korean hanbok, staying in a traditional Korean hanok building, and sampling Korean street food at one of the sprawling traditional markets in Seoul and other cities.
Are there any unique Korean experiences outside Seoul?
Yes, there are many unique Korean experiences that you can't witness in Seoul, such as doing a temple stay in a national park, visiting one of the many unique festivals, visiting the Boseong Green Tea Fields, and lots of unique experiences that you can find on Jeju Island.
What are some things Korea is famous for?
Korea is famous for many things, including kimchi, hanbok traditional clothes, hanok houses, the royal palaces of Seoul, Jeju Island – one of the New 7 Wonders of Nature, Lotte World Tower – the world's 6th tallest building, and lots more.
What unique Korean experiences should I not miss?
Don't miss out on the chance to wear traditional Korean hanbok and visit the traditional hanok villages in Bukchon or Jeonju. Also try some of the unique Korean dishes that are best in Korea, such as BBQ, live octopus, and pajeon.
What unique Korean experiences can I do for free?
There are many unique Korean experiences that you can enjoy for free, such as wearing hanbok (traditional Korean clothes), hiking to the N Seoul Tower, visiting the many Korean Buddhist temples, and even exploring the royal palaces on Culture Day (last Wednesday of each month).
---
Liked This? Pin It For Others
If you enjoyed reading this article, then please share this with your friends on Pinterest.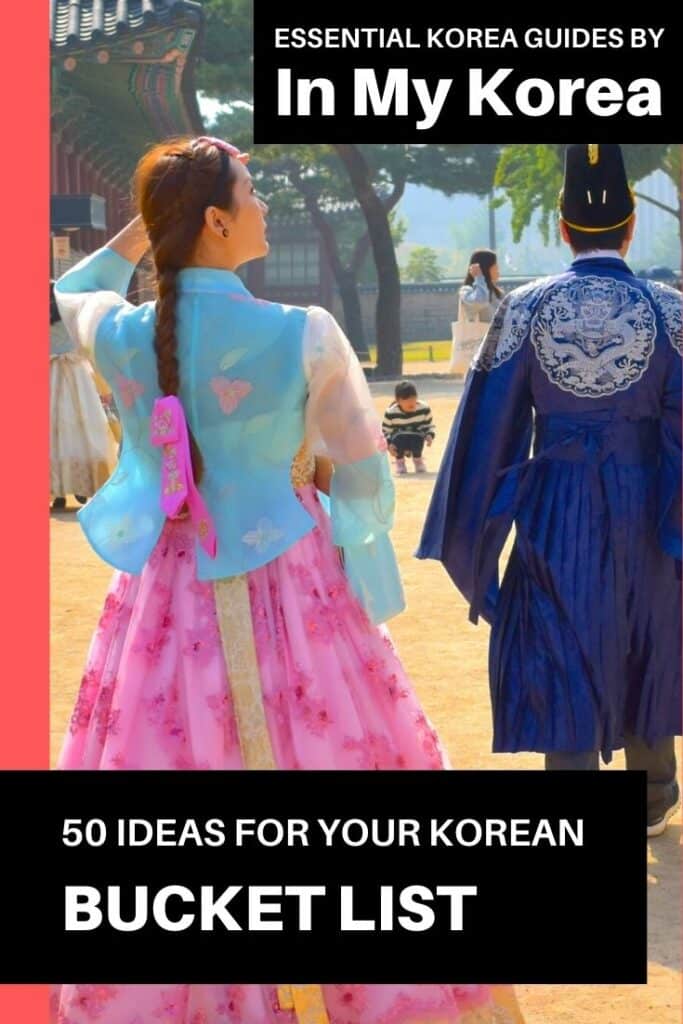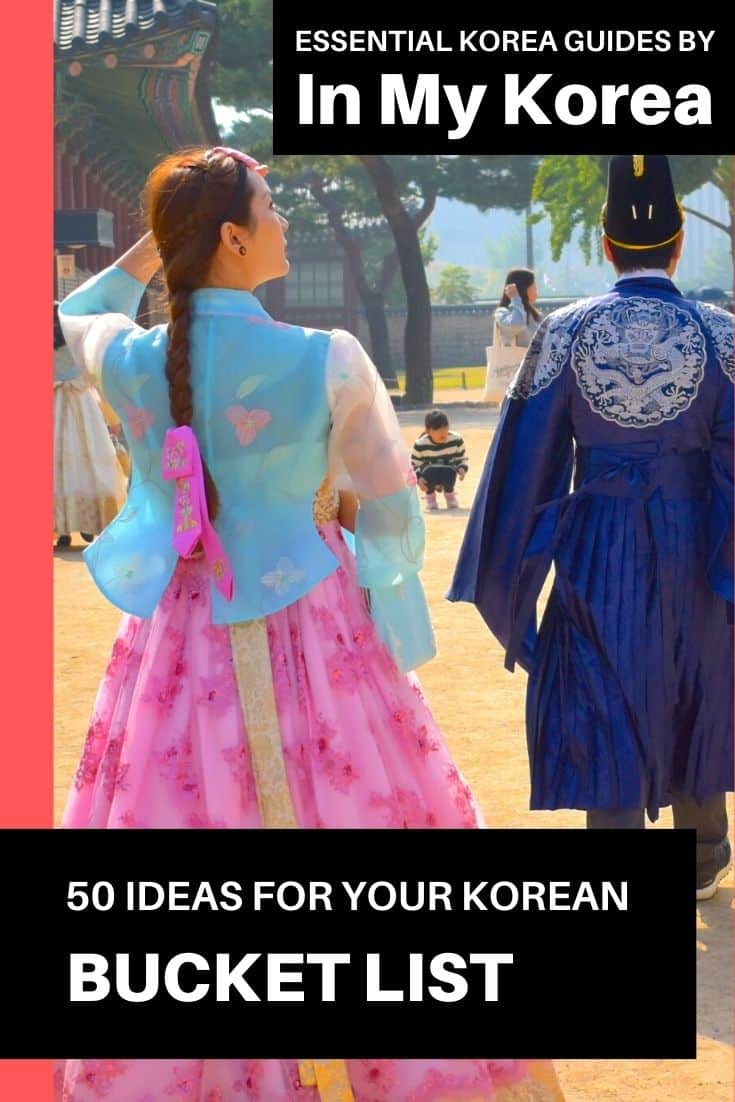 ---
Related Articles