If you're travelling to Korea this winter, you have the chance to see snow-capped mountains, Korean temples blanketed in snow, and many other unique sights from the Land of Morning Calm. So, where does it snow in Korea and what are the best places to see snow?
The good news is, you don't have to go too far to see snow in Korea, especially if you're visiting during the snowiest months – January and February. From Jeju Island to Seoul, there are snowy sights across Korea to enjoy this winter.
Find out for yourself why Korea is known as the 'land of high mountains and sparkling streams' by witnessing the natural beauty of Korea blanketed in snow at one of these fun winter locations.
Disclaimer: This site contains affiliate links and I may earn commission for purchases made after clicking one of these links. Affiliate Disclaimer
---
Best Places To See Snow In Korea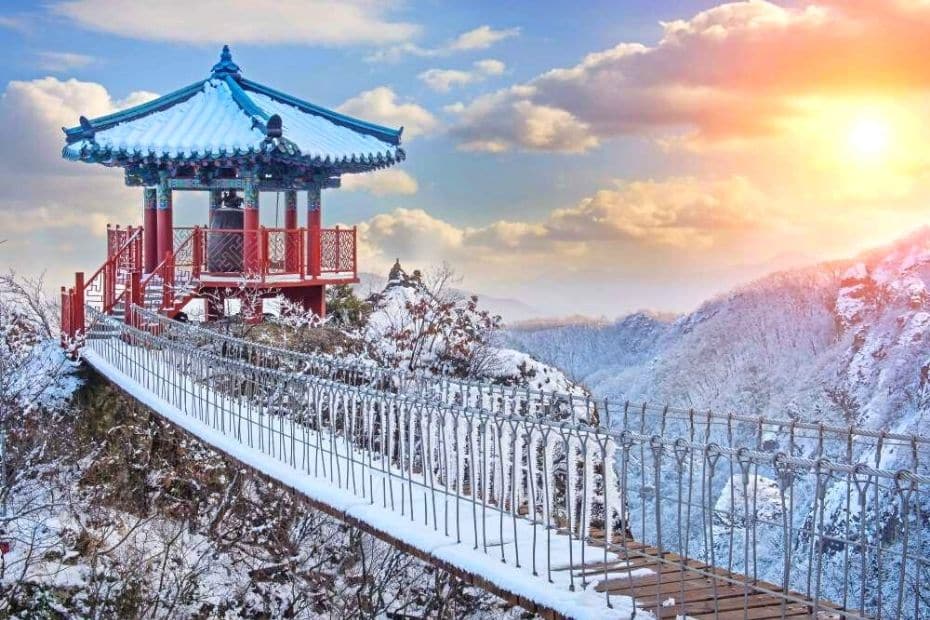 There are various kinds of winter snow spots where you can have fun playing in the snow, including ski resorts, festivals, national parks, and family fun attractions across Korea.
I am recommending these places as I've visited (or had friends visit) many of them. Others are unmissable spots in Korea with great reputations for winter fun. I personally love to go hiking a lot during winter as it's so much fun to see the snowy peaks.
This article will cover more than 25 different locations where you can see snow in Korea and introduce unique and interesting activities that you can do in these areas.
If you're looking for places to enjoy snow in Seoul, check out this article:
---
When Does It Snow In Korea?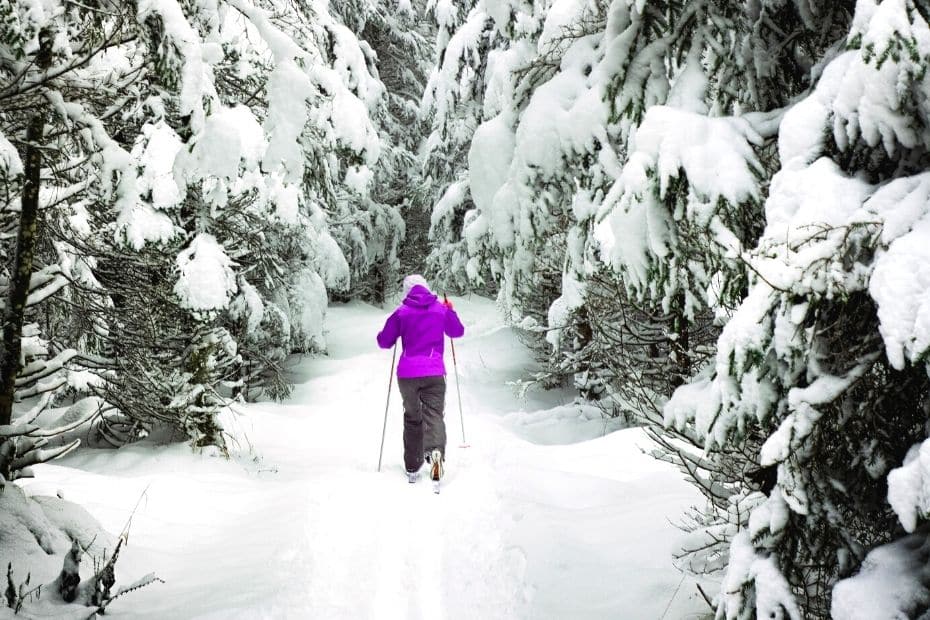 The first snowfall in Korea in 2021 was in October, falling on the slopes of Seoraksan Mountain before the autumn leaves had even finished coming out. That was earlier than usual, the highest mountains typically see snowfall in early November.
You're most likely to see snow in Korea in January and February as these are the coldest months, with temperatures around 0 degrees (and colder at night).
You can see snow in Korea from late November to early March, however, I'd recommend visiting from late December to mid-February for the best chance to see snow.
---
Where Does It Snow In Korea?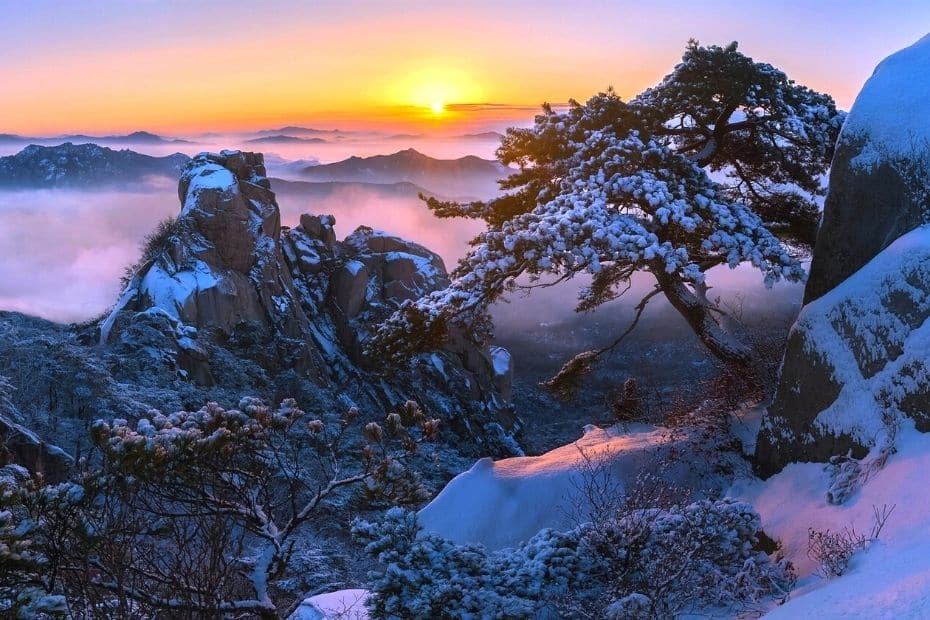 It typically snows more in the mountains than in the cities. Korea is 70% mountainous, though, which means there are loads of places to see snow in Korea.
The tallest mountains will have snow throughout January and February, making them the best places to see snow in Korea. They also see the first and last snow fall each year.
You can still see snow in other areas, even on the palm-tree lined beaches of Jeju Island! Snow can fall anywhere in Korea and the whole country is cold in winter.
However, snow is relatively rare outside the mountainous areas and there are often only 3-4 weeks per year where it will snow in Korean cities, and this is not constant.
---
1: Visit Winter Attractions In Korea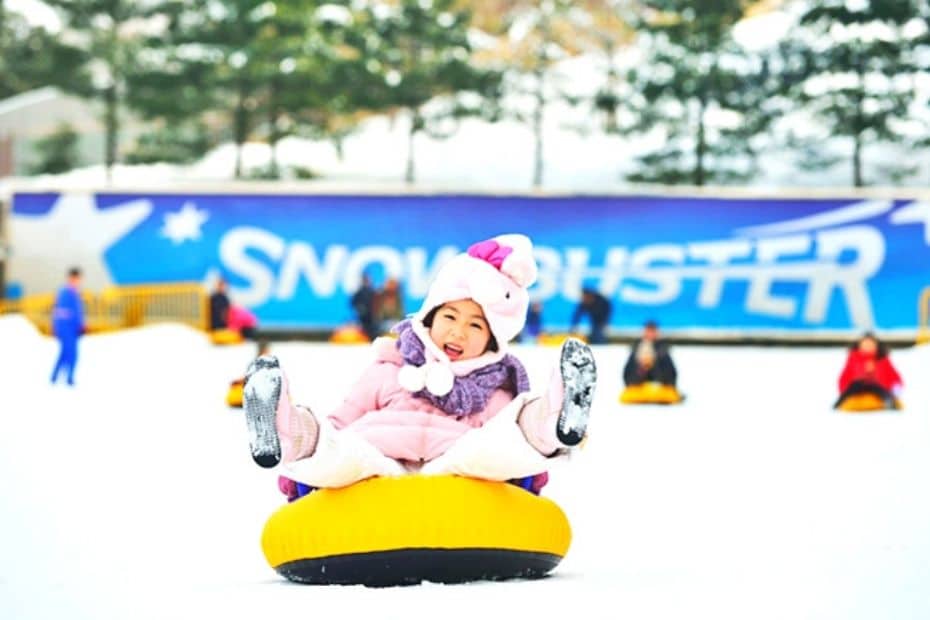 Korea has many wonderful attractions to see during winter. They're fun places to visit any time of the year, but excel in winter when the snow falls.
You can visit a lot of these on day tours from Seoul and other major cities. Where there are tour options, I will add links for your convenience.
Here are some of the best attractions to see when it's snowing:
---
Nami Island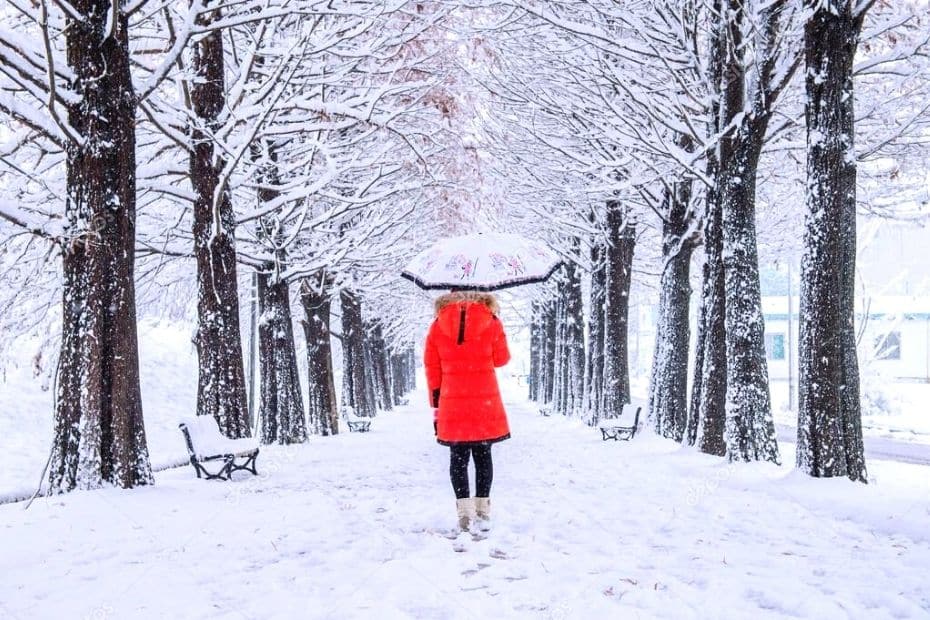 Nami Island, famous for its long, tree-lined walkways, unique statues, and cosy cafes, provides dozens of photo-worthy spots to enjoy the snowy sights, as well as snowman statues and winter lights. Not only can you witness the natural beauty of Nami Island covered in snow, you can also experience cultural festivals, see the island's wildlife, and ride around the island on a rented bike.
Here's a guide about How To Get To Nami Island by public transport
---
Gangchon Railbike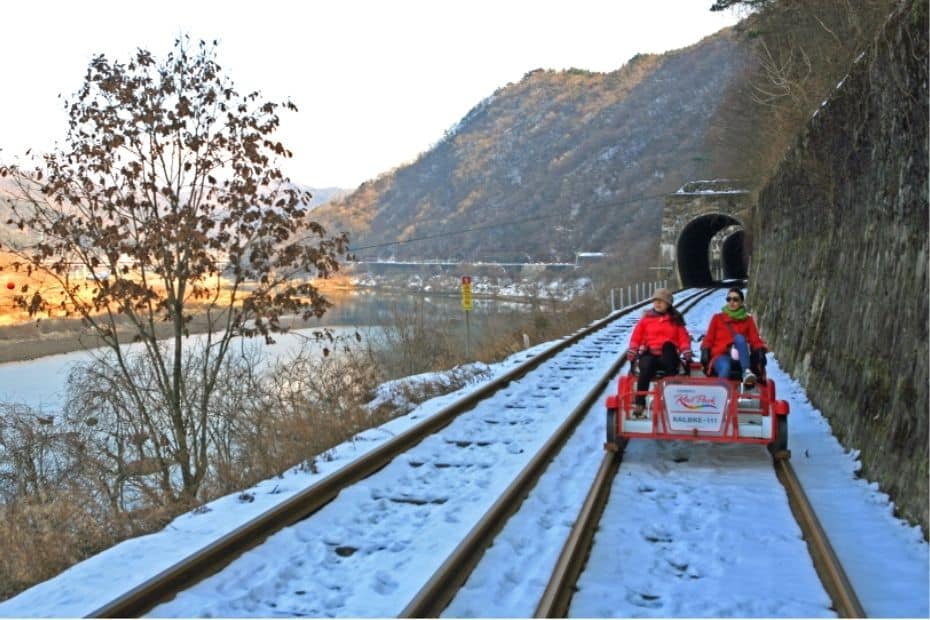 Pedalling your way along an abandoned railway track with views of the Bukhan River and forested valleys all covered in snow is the perfect way to spend a sunny winter's day. Located close to Nami Island (and available for day trips from Seoul), the Gangchon Railbike offers a chance to get out and see Korean nature draped in snowy blankets.
---
Daegwallyeong Sheep Farm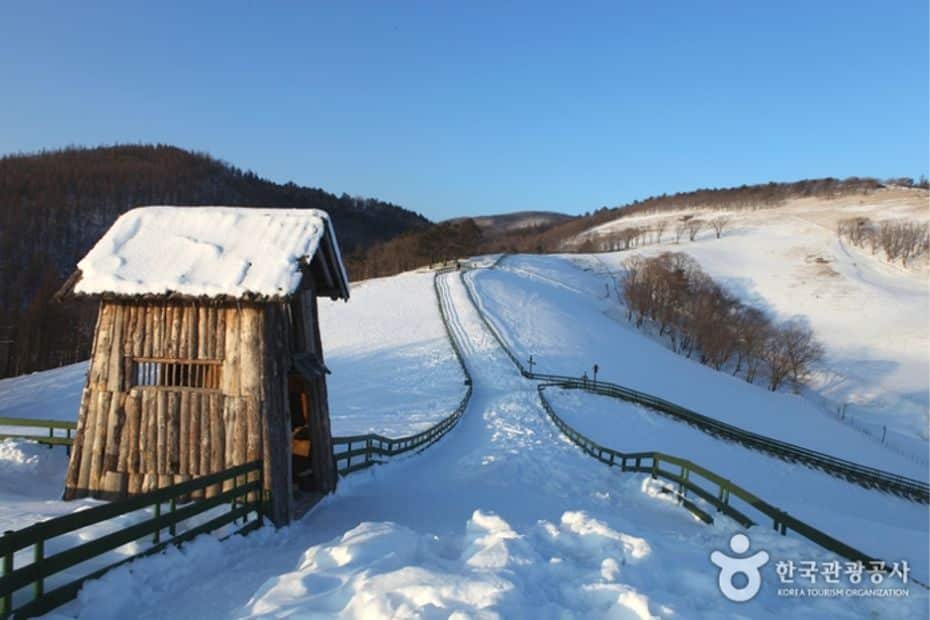 Tucked away in the 'Alps of Korea', the Daegwallyeong Sheep Farm is an interesting place to explore Korea's winter scenery on a snowy day. Gaze at the fields and surrounding forests blanketed in snow whilst trying to find the camouflaged sheep.
The Daegwallyeong Sheep Farm is located close to Gangneung City on Korea's east coast, a city that has lots of lovely seaside cafes to stay warm in during winter.
---
Onyang Hot Springs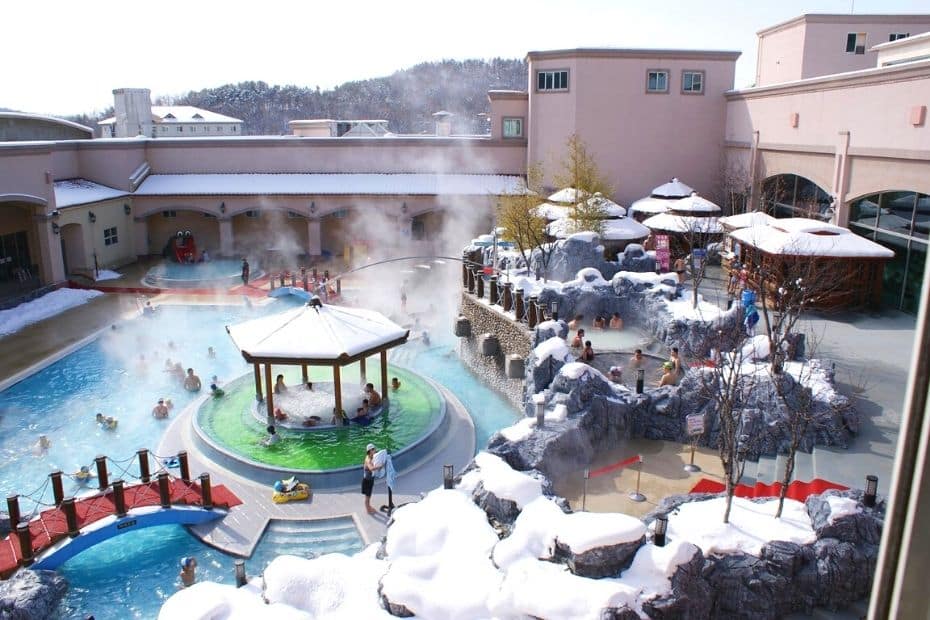 The hot waters of Onyang Hot Springs (온양온천지구), Asan, are the ideal remedy for the cold winter weather, and also provide a unique place to see falling snow. Sit outside in the steaming hot water while snow falls from above and melts into the pool. Not only are the hot springs a relaxing place to enjoy winter in Korea, they'll do wonders for your body with their healing waters.
---
Wondaeri Birch Forest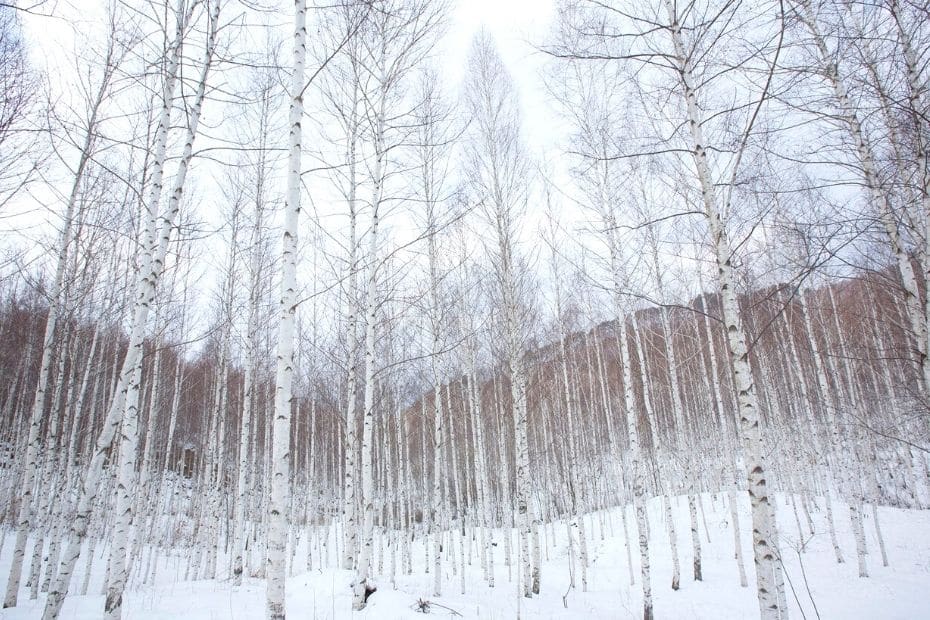 The Wondaeri Birch Forest near Inje, home to more than 700,000 silvery birch trees, provides a peaceful winter trek through the snow.
The four main trekking courses are:
Birch Forest Course
(0.9km, 40-50 mins)
Healing Course
(1.5km, 1.5 hrs)
Exploration Course
(1.1km, 40 mins)
Healing Course
(2.4km, 1.5 hrs)
There are many paths to explore in this tranquil forest, winding through the tall trees, with plenty of photo-worthy spots and places to sit and contemplate the scenery.
---
2: Explore Korean Winter Festivals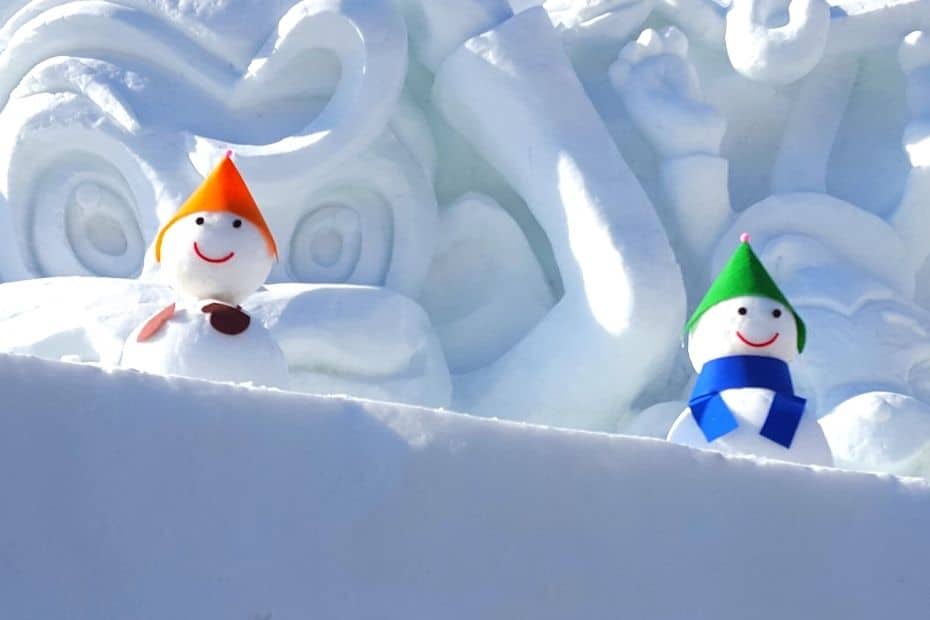 Korea loves to hold festivals in all seasons, and winter provides some of the most interesting festivals of the whole year. These festivals celebrate the winter snow and activities that you can enjoy best when the temperature drops below zero.
Wrap up warm and head to these festivals for the best sights of snow in Korea and also to have a fun day out. From fishing in icy lakes, to evening strolls through snowy winter illuminations, there are so many charming ways to enjoy seeing snow.
---
Ice Fishing Festivals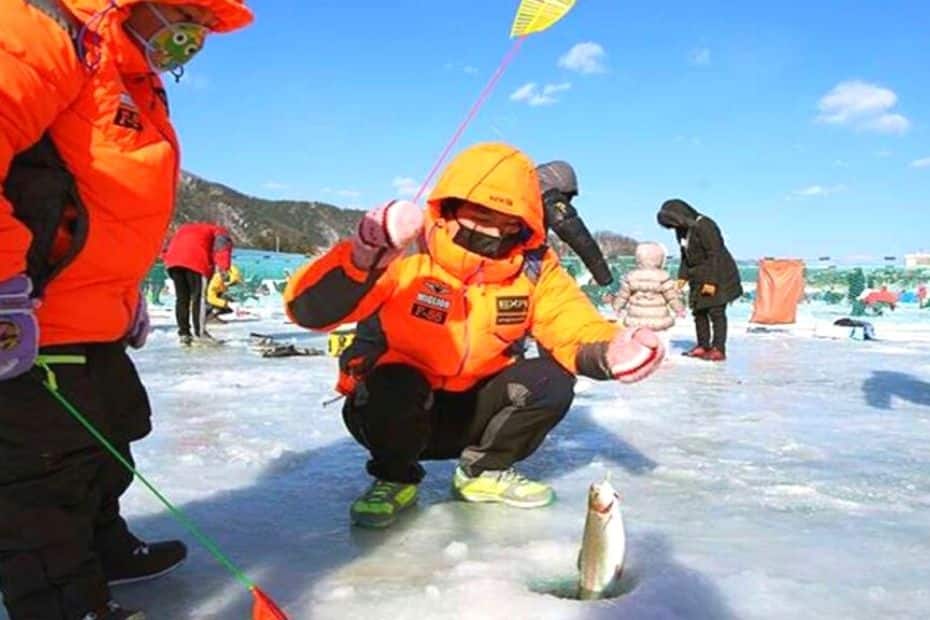 A wonderfully unique place to experience snowy (and icy) fun in Korea is at one of the big ice-fishing festivals held in January and February. These are held in smaller towns across the country and offer you the chance to try a range of activities in snowy surroundings.
Here are some of the biggest and best ice fishing festivals in Korea. For more info on each one, check out my article about Korean Winter Festivals.
---
Hwacheon Sancheoneo Ice Fishing Festival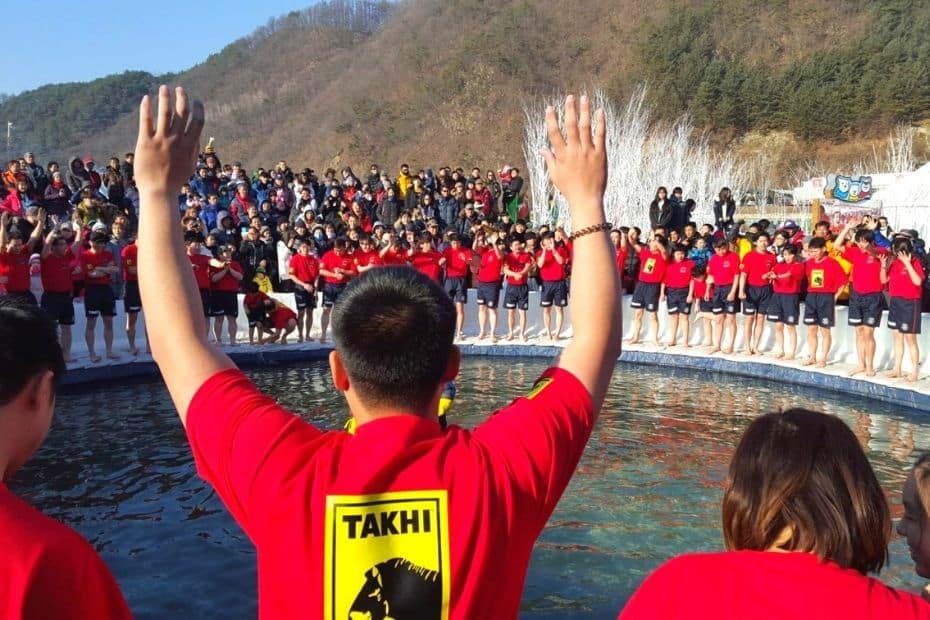 This festival claims to be one of the 4 best winter festivals in the world and is one of my favourite Korean winter festivals. Located in the northern city of Hwacheon and running for more than 3 weeks in January, this festival gives you the chance to experience life as an ice fisher, trying to catch your lunch even when the water is frozen. You can also enjoy a range of other wintry attractions, including sledding, ice sculptures, and bare-handed ice fishing.
---
Pyeongchang Trout Ice Fishing Festival
Home to the 2018 Winter Olympics, you can understand why Pyeongchang would be the perfect place to host this winter festival. The main draw at this festival is the chance to catch (and then cook) your own lunch. Head over to the large icy river and get ready to fish.
---
Inje Ice Fishing Festival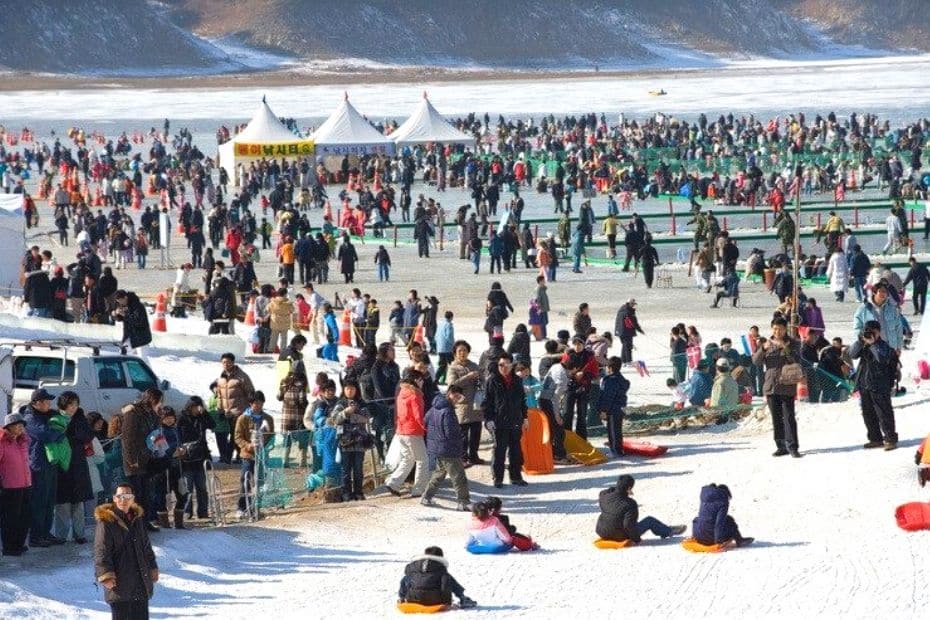 This winter festival has a lot more to offer than just ice fishing. Running for more than 20 years, the Inje Ice Fishing Festival has developed a range of other activities for fun in the snow. You'll find family-friendly areas such as the Ice Playground and Snow Playground. There are loads of ice and snow-based winter activities and sports for all ages.
---
Hongcheon Ggong Ggong River Ginseng Trout Festival
Want to try an ice fishing festival in Korea with a difference? Then head to the Hongcheon Ggong Ggong River Ginseng Trout Festival, where the fish are fed on a diet of 6-year old Hongcheon Gingseng. Besides the healthy lunch you can catch with your bare hands, there is also a lot of wintry fun to be had nearby, including Vivaldi Park Snow World for ice sledding and the ice sculpture exhibition.
---
Winter Illumination Festivals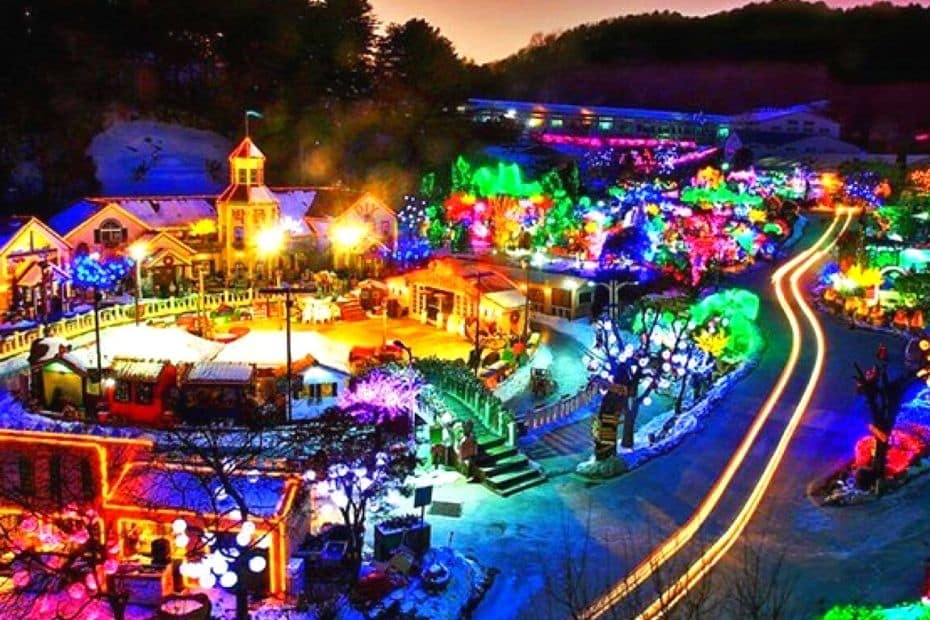 What's better than seeing the glittering white snow? How about millions of colourful lights reflected in that snow, creating a crystalline carpet of colours in some great gardens and parks? You'll find incredibly colourful displays at these festivals. There are lots of winter lights festivals across Korea, including many that you can visit on a day trip from Seoul.
Here are some of the best winter lights festivals that will look incredible in the snow. For more info on each one, check out my article about Korean Winter Festivals.
---
Garden Of Morning Calm Lighting Festival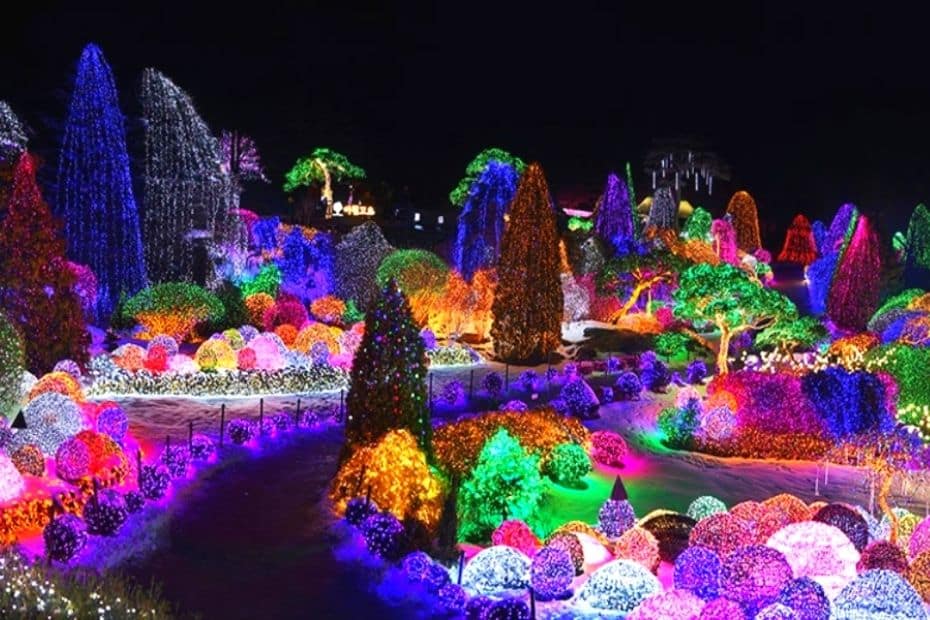 The Garden of Morning Calm Lighting Festival is one of the top spots to visit during the dark, wintry days. Walking through the gardens when the sun has set is like entering into a magical world, a true winter fantasia. Explore the diverse themed areas that focus on animals, plants, and even love. A great place to take your loved one for some romantic memories walking between the electric forests and white snow.
The Garden of Morning Calm Lighting Festival can be enjoyed together with a trip to Nami Island and the Gangchon Railbike, providing a fun snowy day out from Seoul. You can book discounted tour tickets for these below:
---
Herb Island Light Festival
These herb gardens transform into an electric circus of lights, illuminations, and wonderful displays in winter. Herb Island also has a Santa's Village area, with over 300 Santa Clauses to meet. Great for unforgettable snowy Christmas pics.
This winter festival is a place for lovers to share a romantic stroll, or for friends to make lasting memories of their adventures together. Families will also enjoy a magical time here.
---
Boseong Green Tea Plantation Winter Light Festival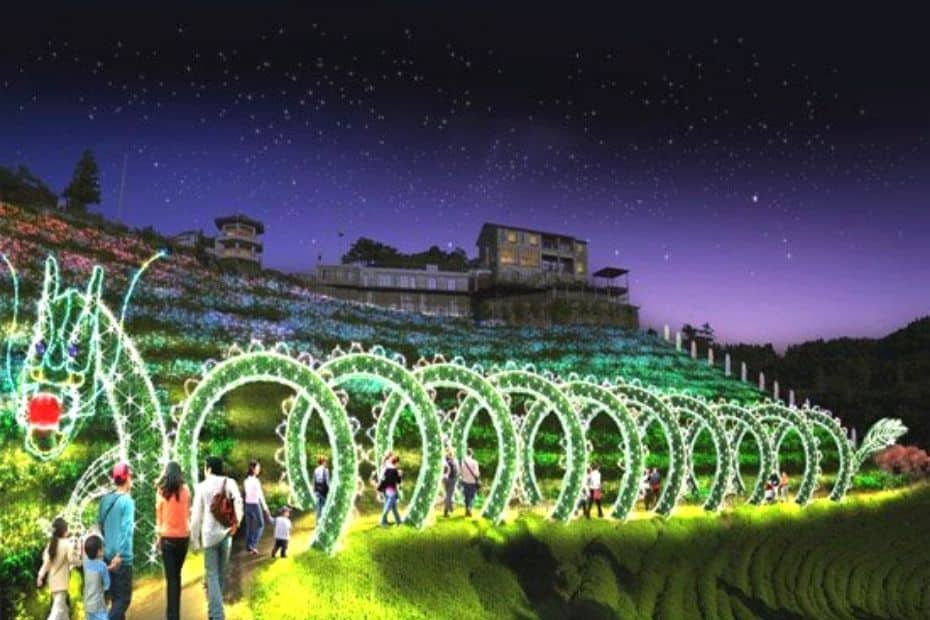 One of the oldest winter festivals in Korea, the Boseong Green Tea Plantation Light Festival turns the lush green tea fields into a wonderful display of lights and lanterns. Come to Boseong on a day trip from Seoul and see the winter lights, snowy fields, and take in all the unique displays, romantic photo zones, and Christmas decorations.
---
Winter Theme Park Festivals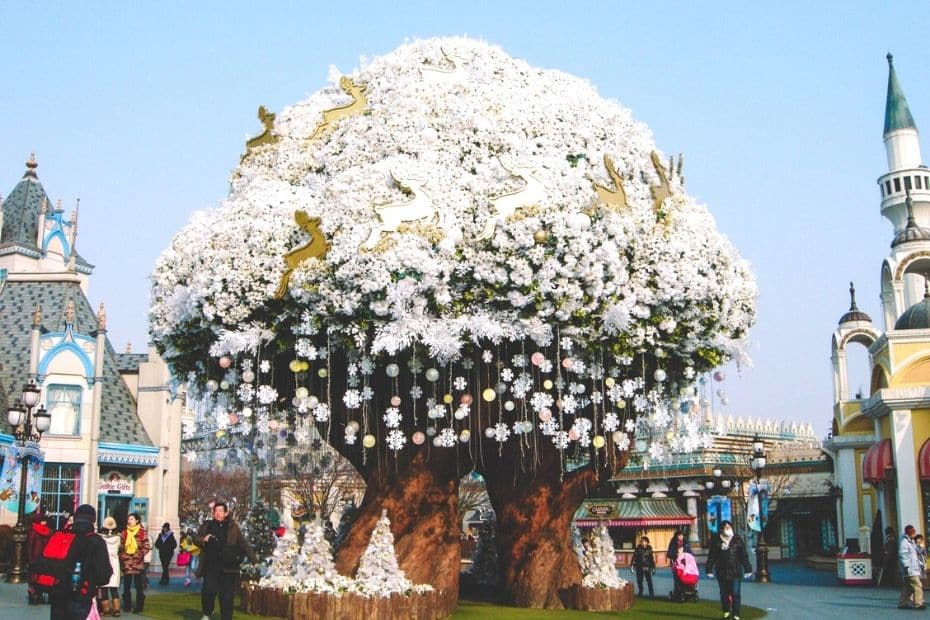 You might not think about visiting a theme park in winter, but there are actually a lot of fun things to do in this season, including some big winter festivals that embrace the cold weather and give you a chance to enjoy snowy sights.
Although several of the major theme parks are in Seoul, which I've covered in the article below, I'll include the two biggest theme parks here for your information. On a snowy day, they'll be a great place for a family fun day out.
---
Everland Christmas Fantasy Festival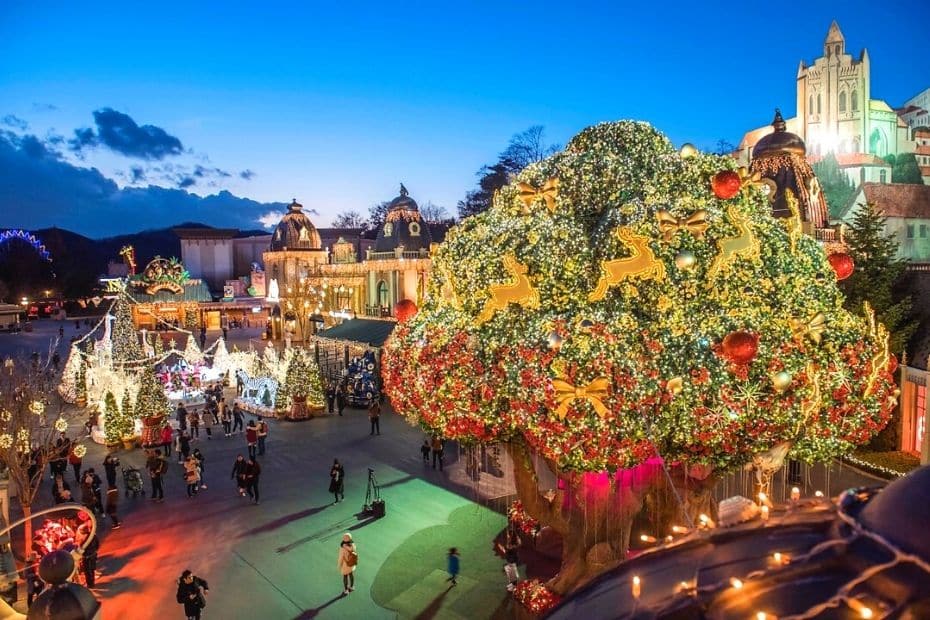 Everland is one the best theme parks in Korea, and a fun place to enjoy snow and winter activities. The festivals on offer change each year, but typically include a Christmassy-style festival in November and December and then a snow-based festival from January until early March.
In winter 2022 you can experience the Romantic Illumination Festival, featuring more than 120,000 LED lights, which runs until March 1, 2022.
---
Lotte World Christmas Miracle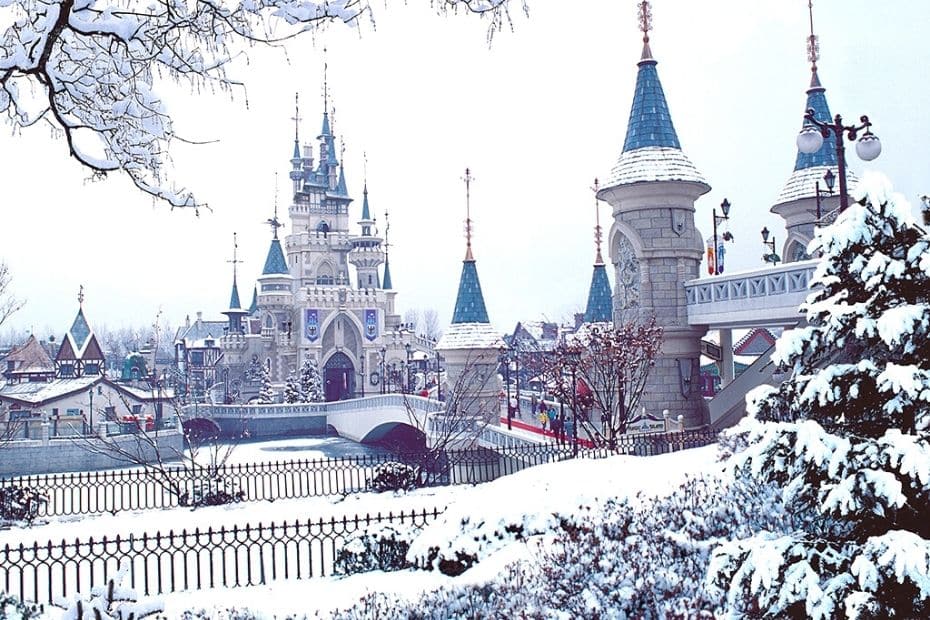 As you can see from the picture above, Lotte World in Jamsil, Seoul, takes a lot from Disneyland and even has a fantasy-themed 'Magic Island', which sits in the lovely Seokchon Lake. For families looking for a magical place to see snow in Korea, then the Lotte World Christmas Miracle is for you.
There are Christmas decorations, parades, carols, an appearance from Santa Claus, and a lot of photo-worthy spots to see the snow. If it gets too cold, the good news is that the rest of the theme park, Lotte World Adventure, is indoors.
---
Snow & Ice Festivals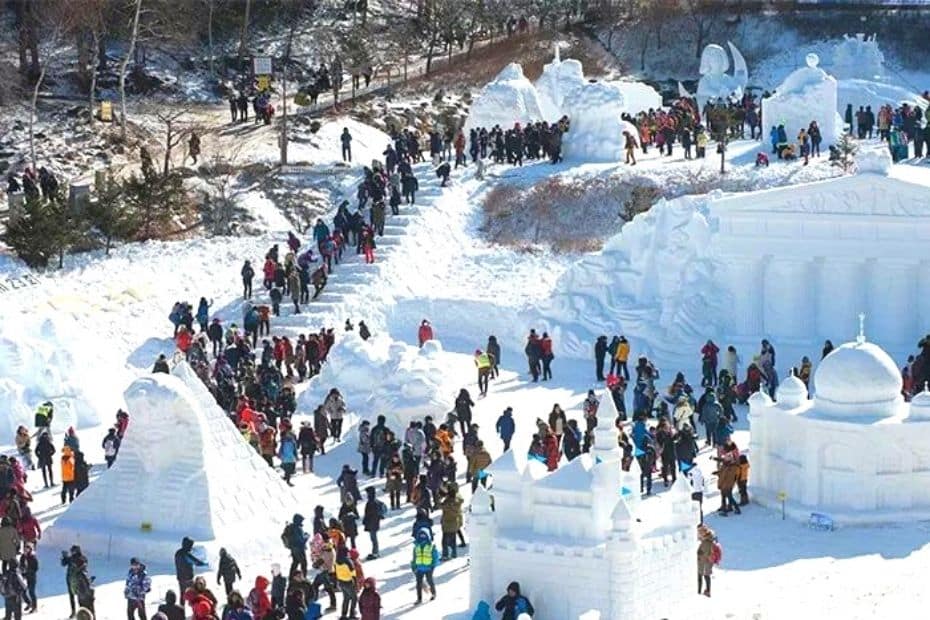 What could be a better place to see snow in Korea than at a festival dedicated to the powdery white goodness? There are a couple of big festivals that run in January each winter, where you have a good chance to see snow and enjoy a wide range of snowy activities, too.
---
Taebaeksan Mountain Snow Festival
The Taebaeksan Mountain Snow Festival offers you the chance to see rural Korea, up in the mountains of Taebaeksan National Park. Walk among gigantic snow and ice sculptures and try a spot of hiking, too. You can enjoy snow sliding, snow hiking, pop into an ice igloo, and see the various performances at this festival. Come on the weekend for performances, or any time for snowy beauty. Taebaeksan is one of the best regions to hike and see snow in Korea, so don't miss it.
---
Daegwallyeong Snow Festival
Located at the previously mentioned Daegwallyeong Sheep Farm, there is a snow festival that runs during the middle of January and has a range of fun activities to enjoy in the snow. Try snow sledding and sliding down the snowy slopes into soft snow below. You can also walk around huge ice sculptures representing building-sized structures, such as castles, people, characters, and more. There are performances during the day, parades, and a fireworks show to light up the skies at night.
---
NEED TRAVEL ADVICE FOR SOUTH KOREA?
Join Korea Travel Advice on Facebook | Discover amazing places to see in Korea | Connect with a friendly community | Get essential advice for your Korean journey.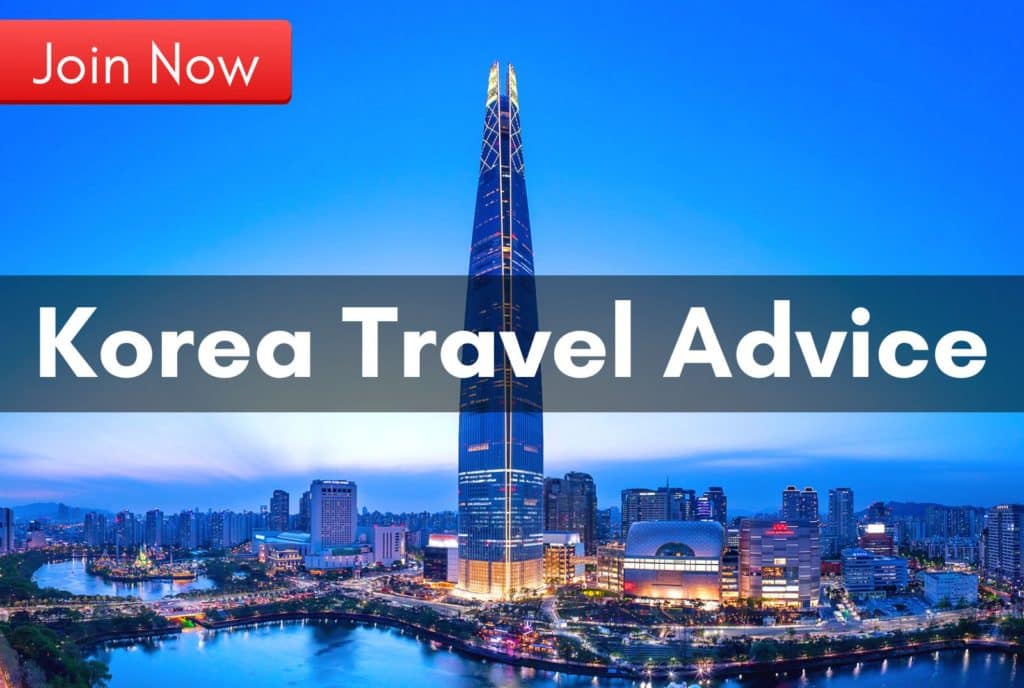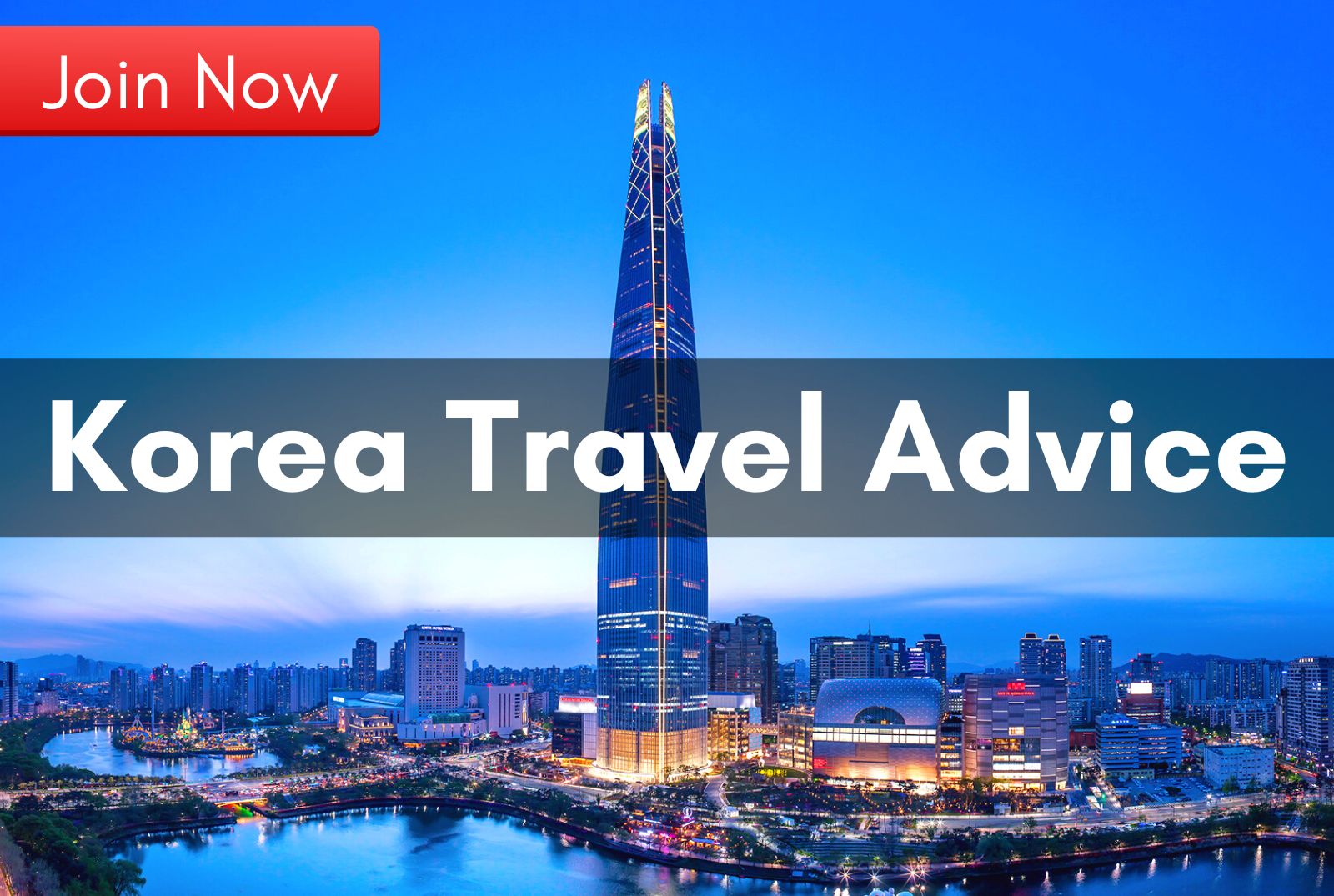 ---
3: See Snow At Ski Resorts In Korea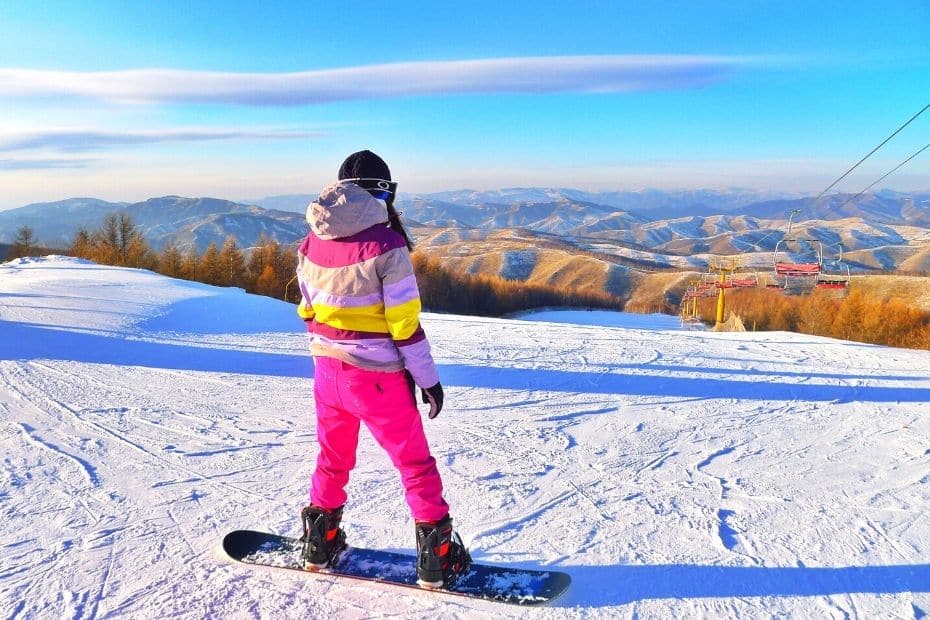 There are many ski resorts in Korea, where you can enjoy a range of winter sports, or play around in the snow and make a snowman. As they're high up in the mountains, these resorts can have snow for several months, giving the best chance to see snowy landscapes.
Skiing and snowboarding are very popular winter activities in Korea and there are a range of resorts that offer slopes and training for all levels, from absolute beginners to experts.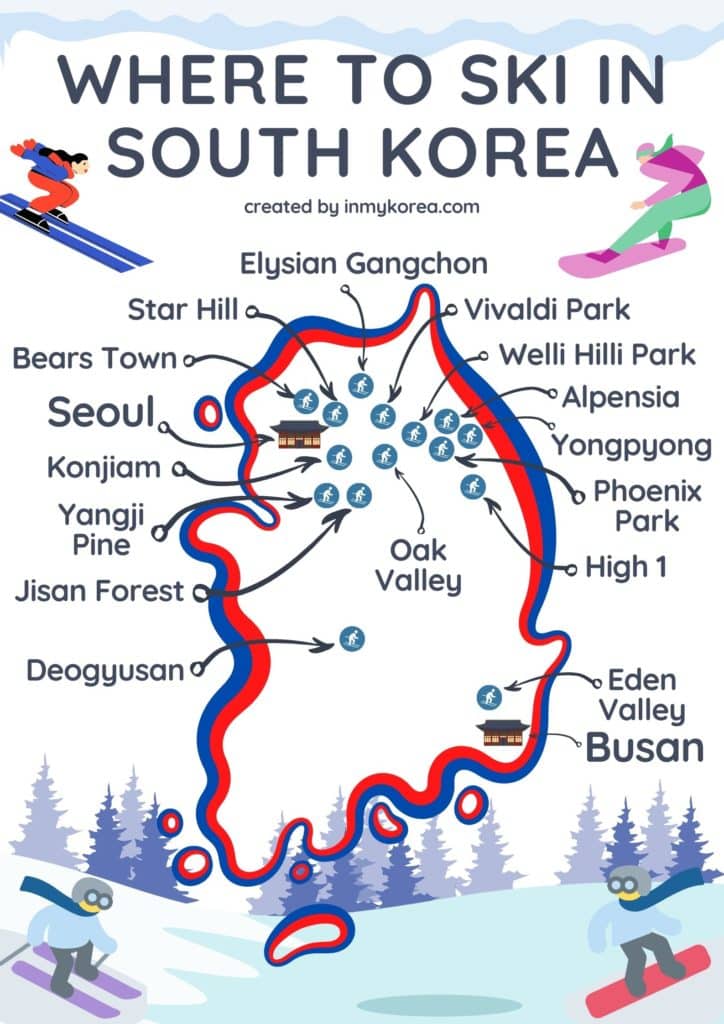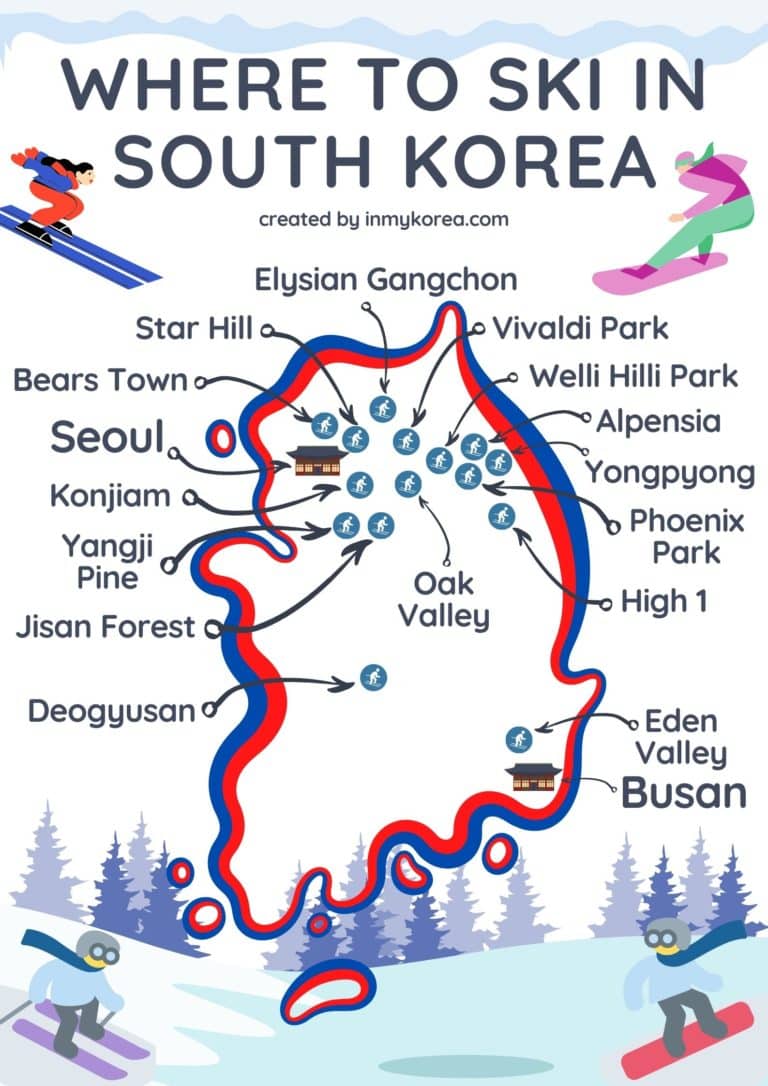 Most of the ski resorts in Korea are in the north, located in Gyeonggi and Gangwon province. These are really convenient for day trips or weekend breaks from Seoul and you'll find a lot of locals visiting on the weekends.
Some resorts, such as Vivaldi Park, have a separate area for families or non-skiers where you can ride sleds, slide down icy slopes, mess around in playgrounds, see winter illuminations, chill in cosy cafes, and just take in the sights.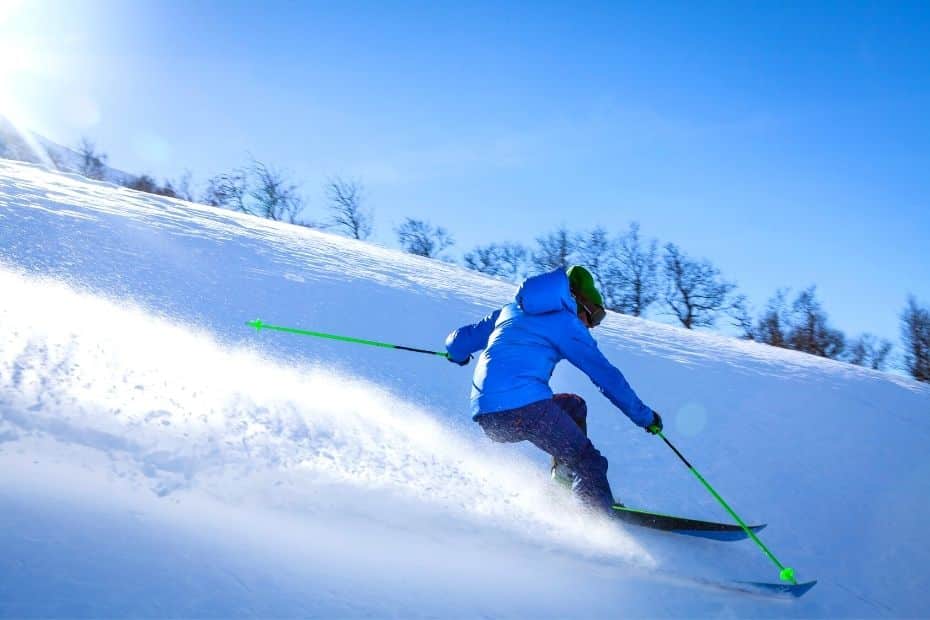 Below are some of the best ski resorts in Korea for winter snow sports.
I've added links to some package tours from Trazy.com. Trazy offers a range of well-priced tours to ski resorts, as well as discounted ski passes, equipment, and overnight stays. Booking a tour often works out a lot cheaper and easier than trying to travel yourself.
---
Vivaldi Park Ski Resort
The most popular ski resort in Korea, with state of the art facilities and amazing courses. There are 12 slopes and 10 lifts here, with something suitable for any level, as well as Snowy Land – a family fun play area to mess around in the snow.
---
Alpensia Ski Resort
One of the main resorts used for the 2018 Winter Olympics, Alpensia Ski Resort offers a range of winter activities for levels of all ages. There are 6 courses for various skill levels.
---
Bears Town Ski Resort
One of the best skiing destinations in Korea. This resort has over 11 slopes and 8 lifts. The tracks are varied, with courses for all skill levels, from beginners to experts.
---
Elysian Gangchon Ski Resort
The stunning Elysian Gangchon Ski Resort offers skiing, snowboard, and snow sledding. You can also hike around the area and see the beautiful snow-covered Korean nature.
---
Yongpyong Ski Resort
Another resort used for the 2018 Winter Olympics. This is a large ski resort that has 28 slopes to choose from. Very popular with ski and snowboarding enthusiasts.
---
Welli Hilli Snow Park
If you're into snowboarding, this is one of the best resorts in Korea for you. Featuring one of Korea's few half-pipes, these courses favour snowboarders over skiers.
---
4: Hike In Korea's Snowy Mountains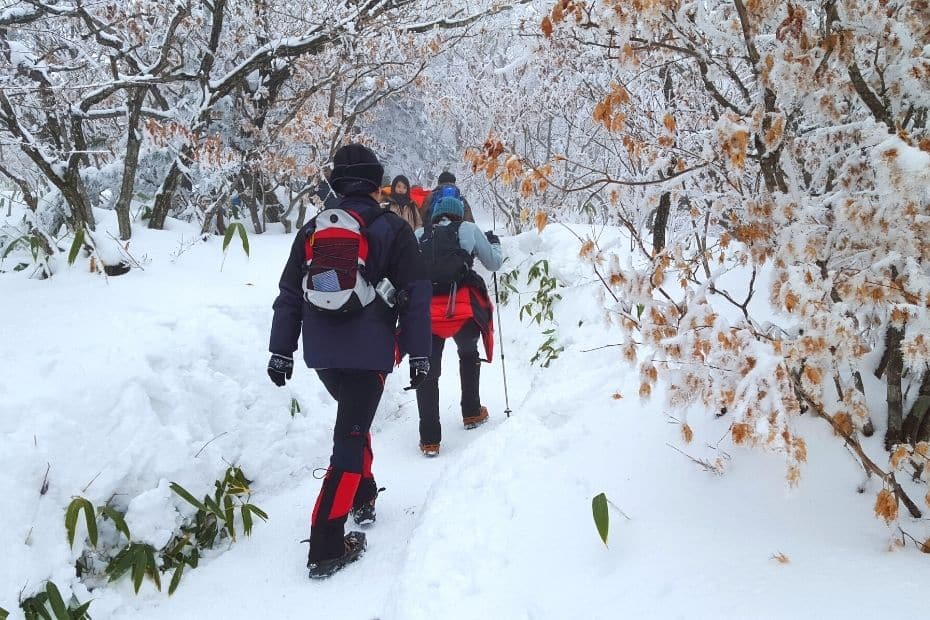 This is one of my favourite winter activities and there are lots of wonderful national parks across Korea where you can find snowy mountain peaks.
Not only can you hike and trek through the increasingly deeper snow, you'll also get to see traditional Korean Buddhist temples covered in snow, which is a sight worthy of the effort alone.
Whilst any national park would be good to visit in winter, these 5 mountains and national parks have some of the best snow scenes or highest chances of snow.
---
Taebaeksan Mountain
Taebaeksan Mountain, a holy place littered with shamanistic shrines, is one of the best mountains for seeing snow in Korea. It's tall, at over 1,500 metres, and located in the heart of the Korean Alps. If you come to Taebaeksan, be sure to check out the aforementioned Taebaeksan Mountain Snow Festival, too.
---
Deogyusan Mountain, Muju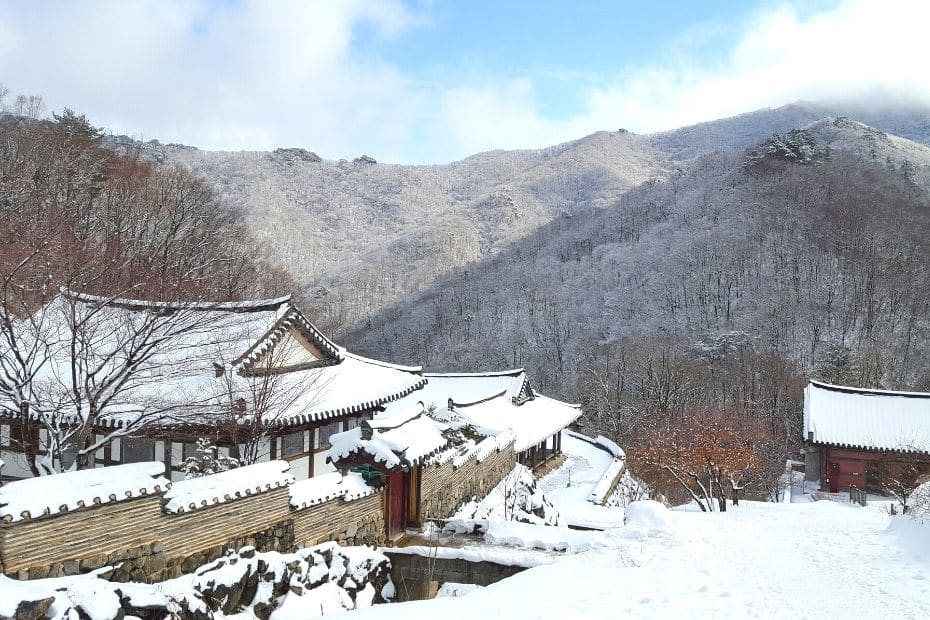 A personal favourite of mine as it's close to Daejeon, Deogyusan Mountain is one of the tallest mountains in Korea and offers a great day hike to the top. Start by passing through snowy valleys, eat lunch at a snow-covered temple, and then ascend to the all-white peak. The peak is right next to Deogyusan ski resort, which offers fantastic views of the snowy slopes and a scenic cable car that you can ride to get down the hill.
---
Cheonwangbong Peak, Jirisan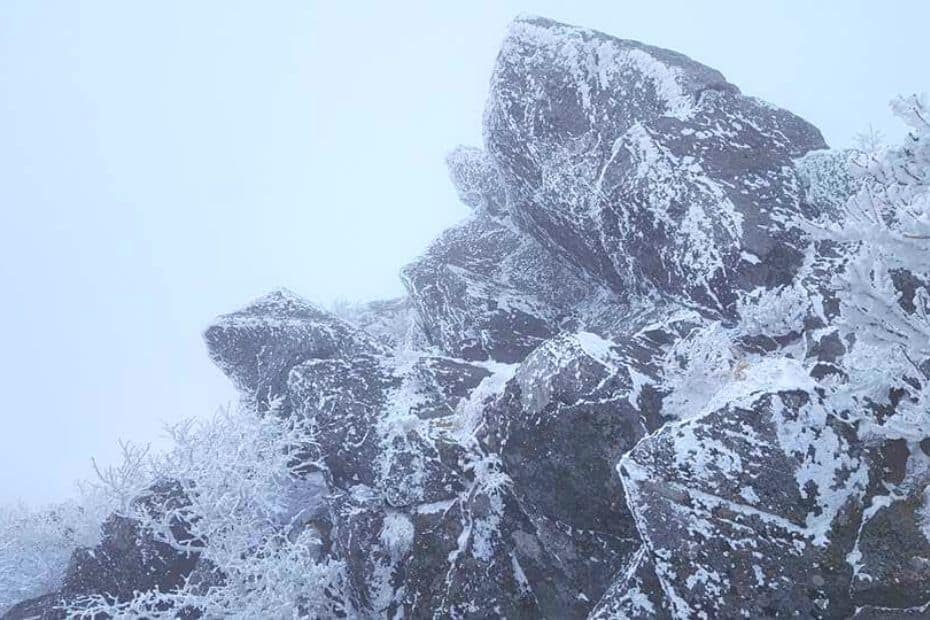 The highest peak in Jirisan National Park and the second highest mountain in Korea, Cheonwangbong offers a rare chance to sleep overnight and make a sunrise hike in the morning to see rows of mountains covered in snow and the valleys below. You don't have to stay overnight, however, you can still hike in Jirisan during the day see many snowy sights and walk through snow that can be knee-deep.
---
Hallasan Mountain, Jeju Island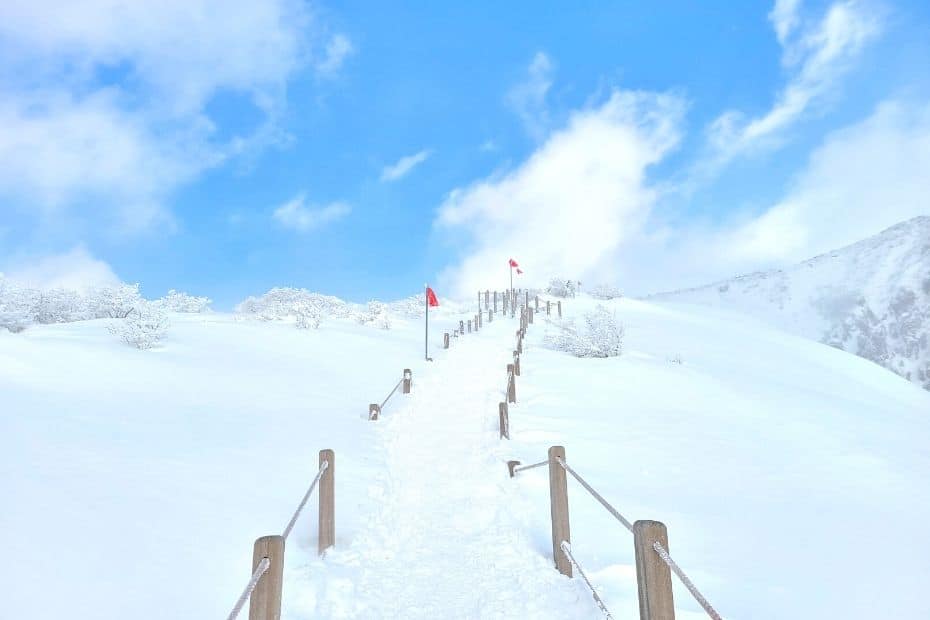 Can you believe there's deep snow only 20 minutes from sandy beaches on a semi-tropical island? On the slopes of Hallasan Mountain, Korea's only active volcano, you can see some incredible snowy scenes whilst looking out at the coast. If you're looking for snow on Jeju Island, then Hallasan is the place to go. There are several courses that lead to the peak of Hallasan, or pass by the side, and all offer some of the best snow scenes in Korea I've ever seen. The best part? Sliding down the pathways on the way back down.
---
Seonjaryeong Ridge, Pyeongchang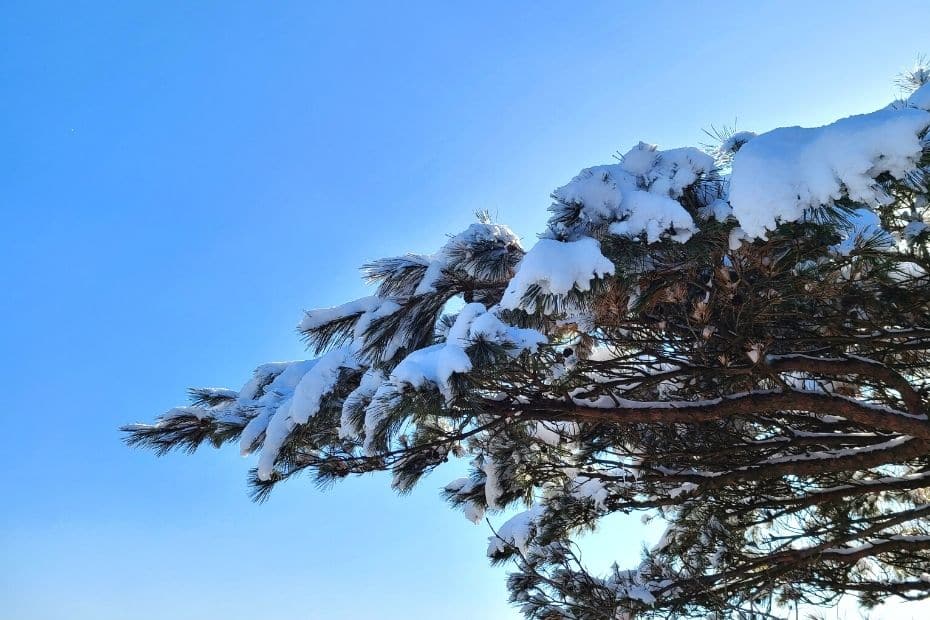 Seonjaryeong, located close to Gangneung and the aforementioned Daegwallyeong Sheep Farm, offers one of the prettiest treks through winter snow. It's also known as one of the snowiest places in Korea. The trek through this area is slow and steady (not steep), passing fir-lined snowscapes and suitable for most hikers. The main route takes about 4 hours to complete.
Korea's National Parks
Almost all Korean national parks with tall mountains will have snow on them, so if you can't get to one of these listed above, it's still worth visiting one that is closest to you.
Bukhansan National Park is easiest for visitors to Seoul, Jirisan National Park is good if you're in Busan. For those in Jeju, be sure to check out Hallasan National Park. Check out my list of the 10 Best National Parks in Korea packed with useful information all about them.
Not sure about how to go hiking in Korea? Don't worry, I've got you covered with these 21 Top Hiking In Korea Tips.
---
Tips To Enjoy The Snow In Korea Safely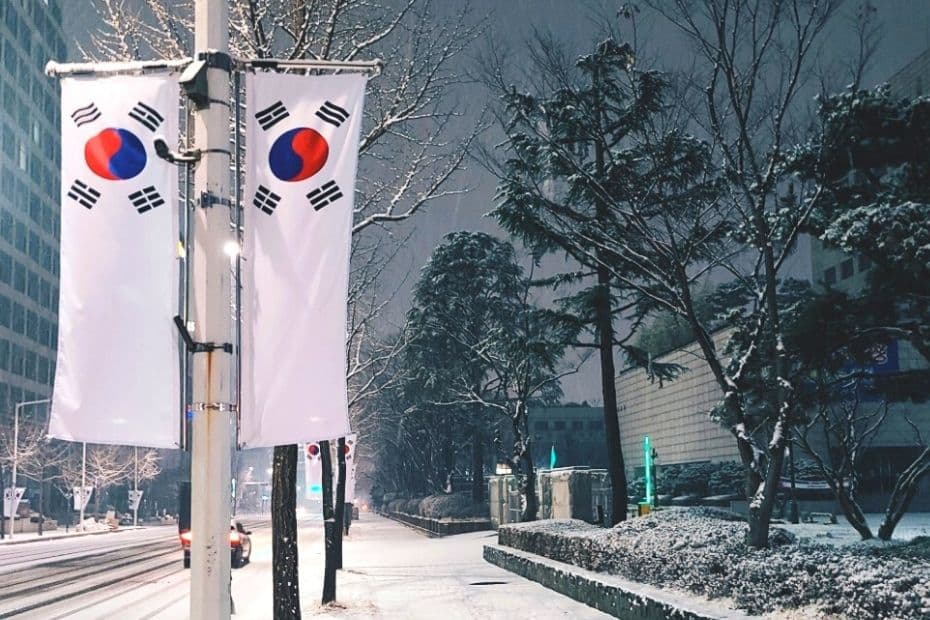 Here are a few tips for enjoying the Korean snow sights safely. Winter may be colder and icier than you're used to, and being prepared will save you from problems later.
Wear The Right Clothes
First, I want to say how important it is to wear the right clothes. The ice can be slippery, the weather is bone-numbingly cold at times, and the snow can get everywhere. Wear several layers and make sure you have a thick jacket when you go outside.
Be prepared for the weather and you should be fine. Even if you're not, Korea has all you will ever need to survive and you can buy stuff in Korea. Check out the markets near Seoul Station or in Myeongdong Market and Namdaemun Market for cheap winter clothes.
Bring The Right Equipment
Hiking boots are a must if you plan to hike one of Korea's many mountains. Whilst you don't need to dress like a professional hiker all the time, the right equipment will definitely help you out a lot.
If you're going hiking in deep snow or ice, find out whether or not you'll need crampons (probably) to stop you slipping. And try to bring some hiking poles, too.
Pack Some Heat
Heat packs, whilst not too great environmentally, are certainly a wonderful way to keep warm and stop your fingers from falling off. You can buy these from convenience stores, cosmetics shops, and supermarkets.
Look After Your Skin
Winter is the driest season in Korea and your skin will dry out quickly. Be sure to pack lots of skin cream, hand cream, and lip balm and apply them daily. You can buy these from cosmetics shops in Korea at reasonable prices.
Stay Hydrated & Fill Up
As mentioned, winter is very dry. Stay warm and drink lots of hot drinks. Stay hydrated to avoid problems, especially if you're out in the mountains. You can get heated drinks at convenience stores, including healthy ginseng drinks for extra energy.
Try some Korean Winter Dishes, you won't regret it. There's nothing like a bit of spice for staying warm inside, but be careful with some of it or you'll be sweating like a turkey at Christmas.
Book Ahead To Avoid Disappointment
Winter festivals and hotels in popular places can sell out far in advance. To avoid disappointment, make sure to book tours and accommodation as soon as you make plans to go somewhere.
Wherever you go to see snow in Korea, I hope you have a safe and exciting time!
---
Korean Travel Essentials
To save you time and money when you travel to Korea, here are my personal recommended Korea travel essentials.
Korea Electronic Travel Authorisation (K-ETA)
Most countries need a K-ETA to travel to Korea. Apply online before you travel only with the Official K-ETA Site.
Transportation
The best way to get around cheaply and conveniently is with a T-Money Card. No tickets and discounts on every ride.
Korea Rail Pass
If plan to use Korea's high speed train network, then save money and get unlimited rides with a Korea Rail Pass.
Hotels In Seoul
Here's the 10 Best Hotels In Hongdae, Seoul's coolest district, and 10 Budget Hotels In Myeongdong which are close to Seoul's sights. I recommend Klook or Agoda for the best deals.
Flights To Korea
Always look around before you book flights. I recommend flight comparison sites such as Expedia and Skyscanner for the best deals to fly to Korea.
Learn Korean
Want to learn Korean before you travel to Korea? I recommend 90 Day Korean as they have well-structured lessons and loads of useful resources.
---
Visiting Korea In Other Seasons?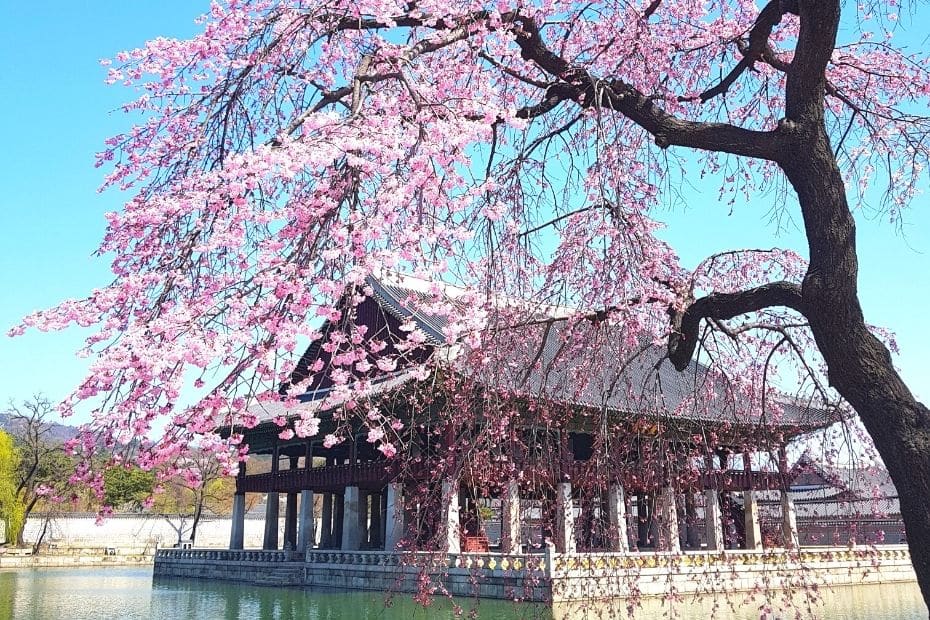 Can't travel to Korea in winter?
No worries, Korea has so many amazing sights to see and things to experience all year round. Here are a few articles that will help you out in other seasons:
Spring: Spring is all about the new blossoms and nature returning for the new year. The biggest thing to do in spring is to see Cherry Blossoms Across Korea. From royal palaces to riverside walkways, there are loads of places to enjoy the fresh nature.
Summer: A hot and rainy time of year, but perfect for getting out to enjoy the best Korean Summer Activities, such as water sports, camping by the beach, summer festivals, eating yummy Korean summer foods, and getting a tan. If the rain is too heavy, there are plenty of Indoor Activities in Seoul where you can stay dry and still have fun.
Autumn: Like spring, autumn is all about nature and the change of seasons represented by the fall foliage. There are many incredible places to see Autumn Leaves In Korea, including golden gingko leaves and multi-coloured maple leaves, which change from green to gold to red.
There's so much to see in every season: winter snow, spring cherry blossoms, summer beaches, and autumn leaves. There's never a bad time to visit Korea.
---
Where To See Snow In Korea FAQs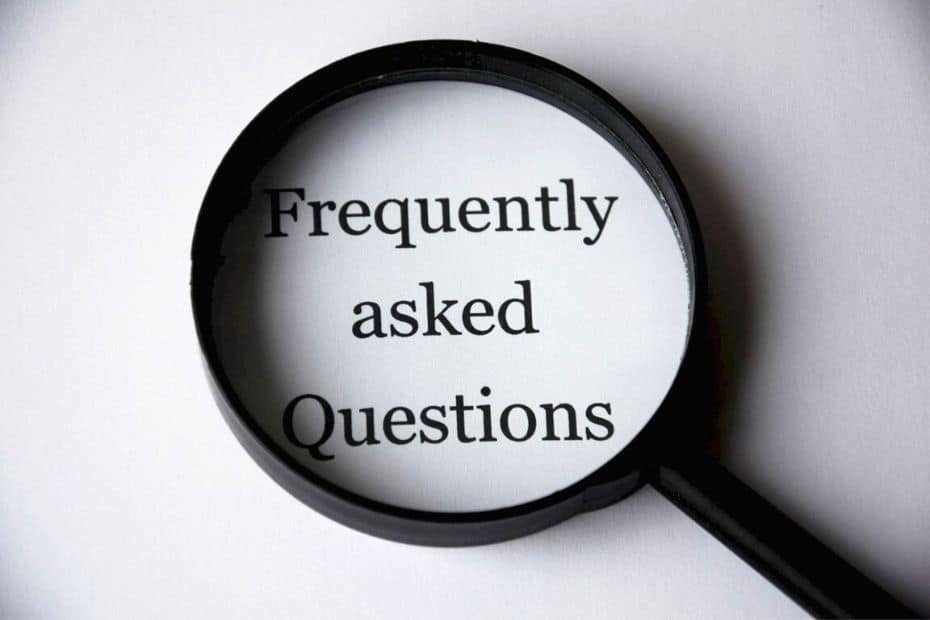 Finally, here's a few FAQs about where to see snow in Korea, in case the article didn't answer all of your questions.
Does It Snow In Korea?
Yes. It snows in Korea every year in the mountains and ski resorts. It also snows in cities and other areas of Korea, but not as frequently. For the best chance to see snow in Korea, visit a ski resort or go hiking in one of Korea's national parks.
When Does It Snow In Korea?
The first snowfall in Korea is usually in November, but can be as early as October. The most common months to see snow in Korea are January and February, which have the highest levels of snowfall in Korea.
When Is The Best Month To See Snow In Korea?
The best months to see snow in Korea are January and February. These are the months with the heaviest snowfall in Korea. You can still see snow in November, December and early-March, but the chance of seeing snow outside of the mountains is lower.
What Is Winter Like In Korea?
Winter in Korea is cold and dry. The temperature in Korea, especially in the northern regions, stays around or below zero degrees Celsius during the day and even lower at night. As winter is the driest season in Korea, that means there isn't much rainfall, which makes it good for travelling.
Can I See Snow In Korea?
Yes. You can see snow in Korea in many places, including in ski resorts and in the mountains. However, snow is never guaranteed and it is infrequent outside of the mountainous regions. The amount of snowfall during winter fluctuates annually and some winters in Korea may see a lot of snowfall, whilst other winters don't get much at all.
Can I Ski In South Korea?
Yes. There are a wide range of ski resorts in Korea that are open for winter skiing and other winter sports. These typically run from December until February when the snowfall is heaviest. Most of the ski resorts are in the northern half of South Korea, but there are ski resorts in other areas, too.
Does It Snow In Seoul?
Yes. It snows in Seoul during winter, but it is unpredictable. There is usually a few weeks of snow in Seoul during January or February, which are the months with the highest snowfall in Korea.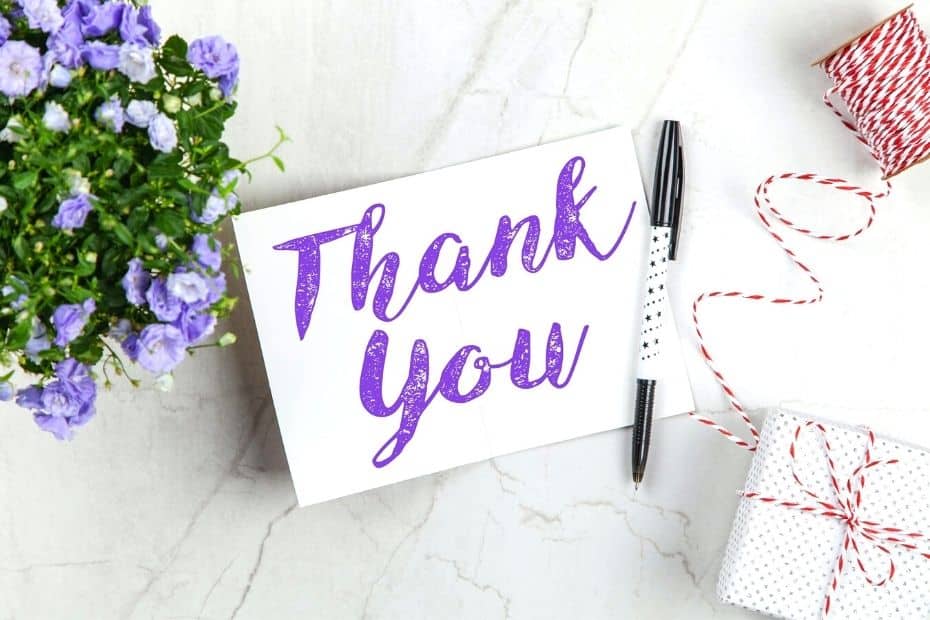 Share Your Thoughts
If you enjoyed reading this article, or if you have any thoughts about it that you want to share, please feel free to leave a message in the comments below. I'd love to hear your feedback about this article and the subject.
Thanks for reading. If you want to help me to create more great content in the future, why not buy me a coffee?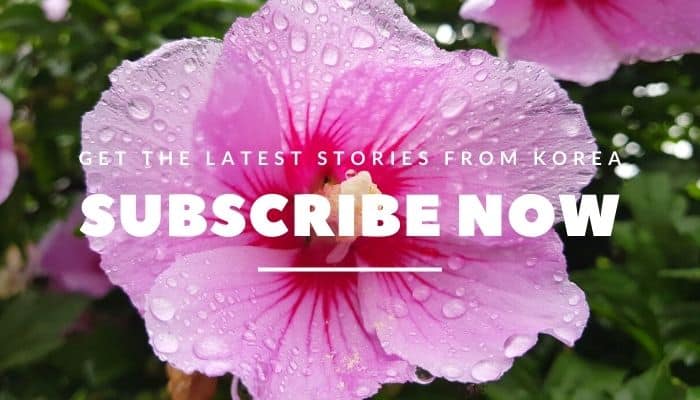 Liked This? Pin It For Others
If you enjoyed reading this article, then please share this with your friends on Pinterest.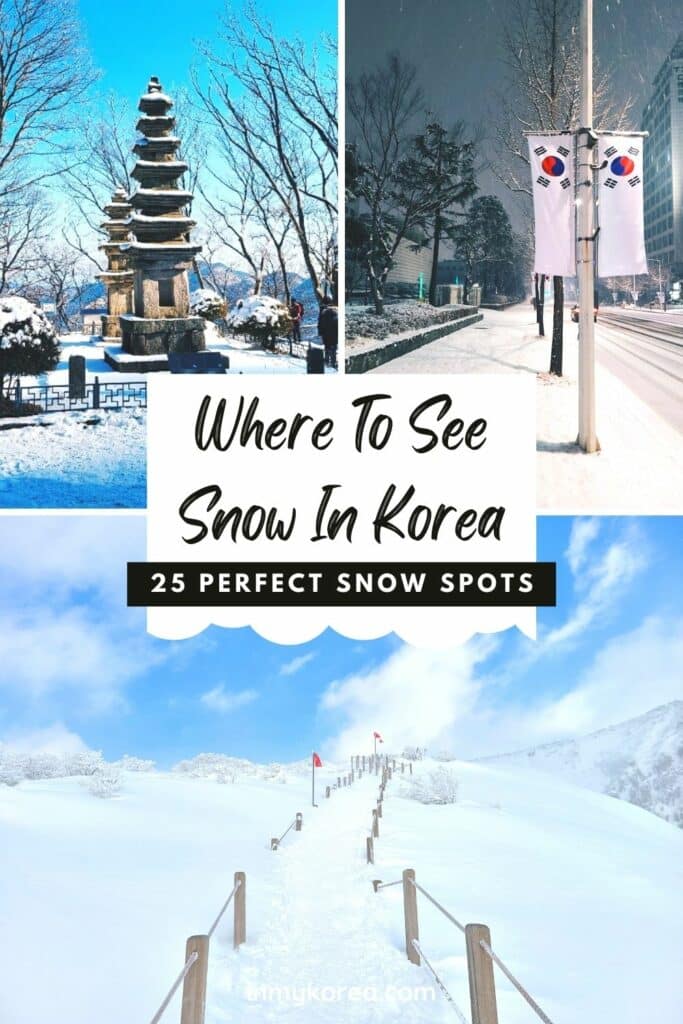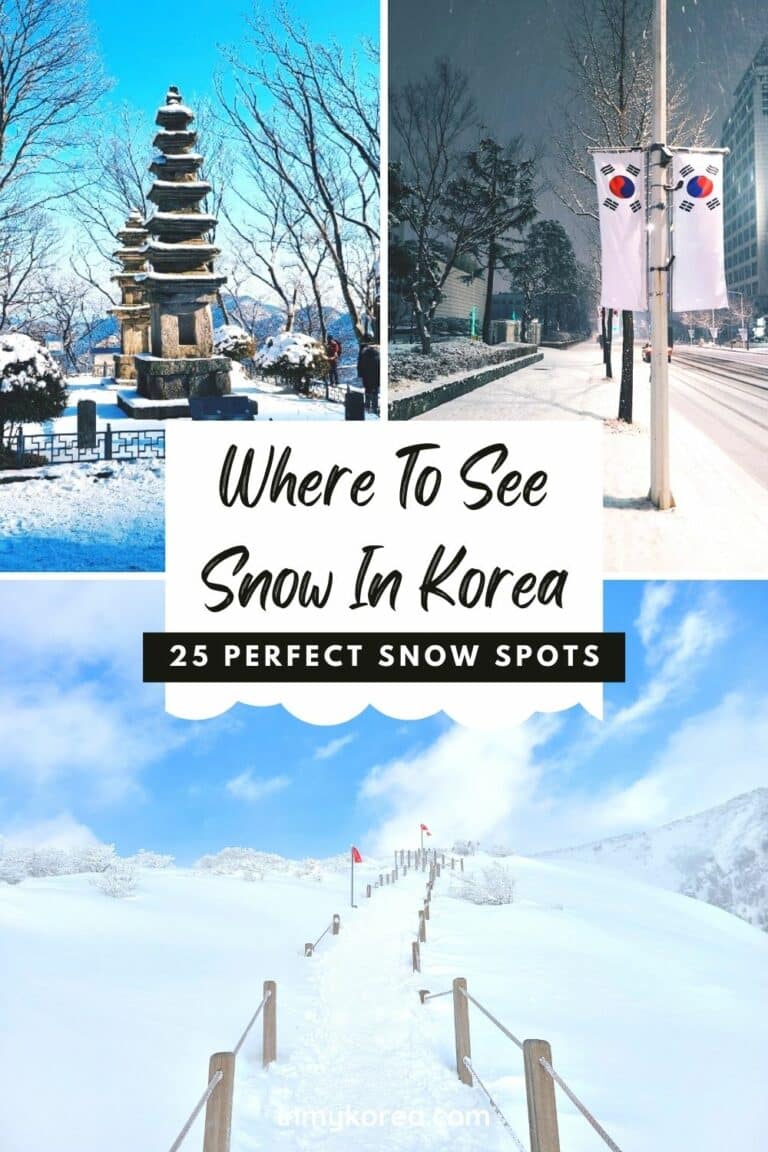 Related Articles