The JW Marriott Dongdaemun Square Seoul is an impressive 5 star hotel in central Seoul, close to a number of unmissable attractions, shops, and restaurants. If you're looking for a hotel that offers an extremely comfortable night's sleep, convenient transportation options, and incredible views, this could be just the place for you.
I recently visited Seoul for the weekend and had the pleasure of spending a night in this fantastically cosy hotel. I want to share my experience in this hotel trying out the Korean cultural trend of hocance, as well as give you all the essential information about the hotel to help you decide if it's for you.
The JW Marriott Dongdaemun Square is perfect for couples, families and solo travellers who want a pleasant, comfortable stay in Seoul. In this review, I'll tell you all about what the hotel offers, what's nearby the JW Marriott Dongdaemun Square Seoul, and other key details about the hotel.
As always, I'll also provide useful recommendations for things to do in Seoul, as well as insights to help you get the best from your journey. Thanks for reading.
Affiliate Disclaimer: This site contains affiliate links and I may earn commission for purchases made after clicking these links.
---
My Experience At JW Marriott Dongdaemun Square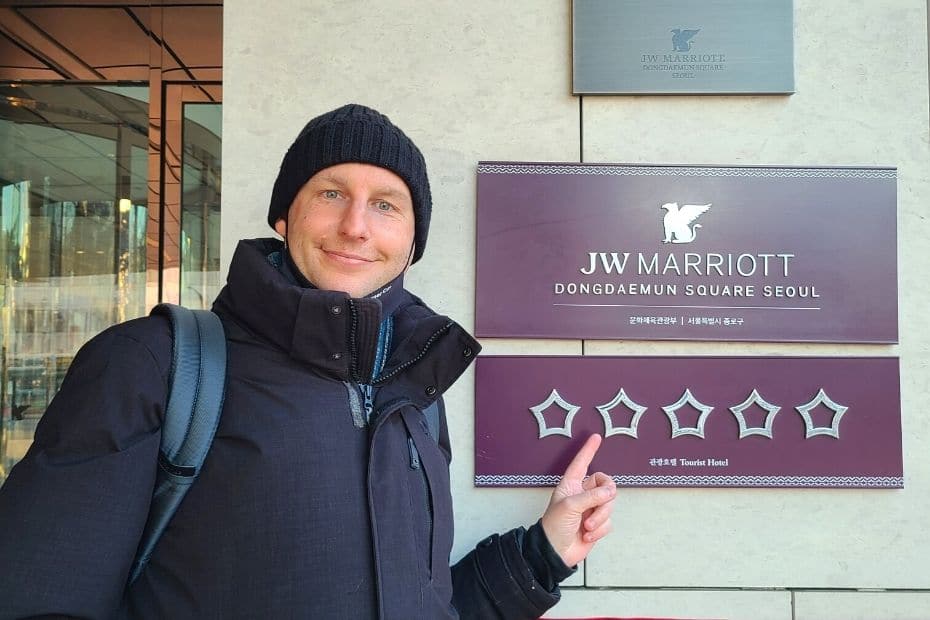 My girlfriend and I recently visited the JW Marriott Dongdaemun Square hotel and stayed for one night in a delightful double room with a king-sized bed. The room was on the 5th floor and looked out over the historic Dongdaemun Gate, Seoul's fortress walls, and the sloping hills of northern Seoul.
We arrived at the hotel in the afternoon and were promptly greeted and made welcome by the friendly staff. Thanks, Eddie. Within minutes we were checked in and into our room for the night, with my girlfriend instantly falling onto the voluminous bed and declaring she wasn't going to move until check out the next day. After sitting on it myself, I could see why she wouldn't want to move!
After a brief photo-session of the room, we went out to explore the hotel's features, including the famous swimming pool (a popular spot for Instagrammers), spa, and sauna. We wandered down to the dining floor to torture ourselves with the delectable smells on offer from the Tavolo 24 (international buffet) and BLT Steak (steakhouse) restaurants. The latter was featured in a K-drama (Vincenzo, 2021).
Regrettably, we'd just visited the nearby Gwangjang Market and filled ourselves with bindaetteok (pancakes) and makgeolli (rice wine) and were too full to eat at that time. If you've ever tried Korea's Delicious Traditional Food, you'll understand it's impossible to resist!
---
Planning to visit Korea? These travel essentials will help you plan your trip, get the best deals, and save you time and money before and during your Korean adventure.

Korea Electronic Travel Authorisation (K-ETA): Most countries need a K-ETA to travel to Korea. Apply before you travel only with the Official K-ETA Site.

Staying Connected: Pre-order a Korean Sim Card or a Portable WiFi Router to collect on-arrival at Incheon Airport. Collection desks are open 24 hours. Alternatively, download a Korean eSIM for you travels.

Hotels In Korea: Staying in Seoul, I recommend Myeongdong (convenient), Hongdae (cool culture) or Gangnam (shopping). Find the best hotel prices across Korea with Agoda, Klook, or Hotels.com.

Incheon Airport To Seoul: Take the Airport Express (AREX) to Seoul Station or a limo bus across Seoul. Don't like carrying heavy suitcases? Book an Incheon Airport Private Transfer and relax to or from the airport.

Korean Tours: Find the best tours in Korea with tour companies that have a big presence in Korea, including Klook, Trazy, Viator, and Get Your Guide. These sites also offer discounted entry tickets for top attractions.
Seoul City Passes: Visit Seoul's top attractions for free with a Discover Seoul Pass or Go City Seoul Pass. These passes are especially good for families and couples visiting Seoul and can save you lots.

Transportation: Get a T-Money Card or WOWPASS to pay for public transport, including buses, subways, and taxis. For Korea's high speed trains, save money and get unlimited rides with a Korea Rail Pass.

Travel Money: Exchange foreign currency in Myeongdong or Hongdae money exchanges. Pick up a Wise, Revolut, or WOWPASS travel money card for the best rates and convenient card payments in Korea.

Flights To Korea: I recommend using flight comparison sites such as Expedia and Skyscanner to find the best flights to Korea from any country. Air Asia is a good option for budget flights from Asia.

Learning Korean: Want to learn Korean? I recommend a complete language learning course from 90 Day Korean or Korean Class 101 – both have well-structured lessons and lots of useful resources.
---
A Night Of 'Hocance' At The Hotel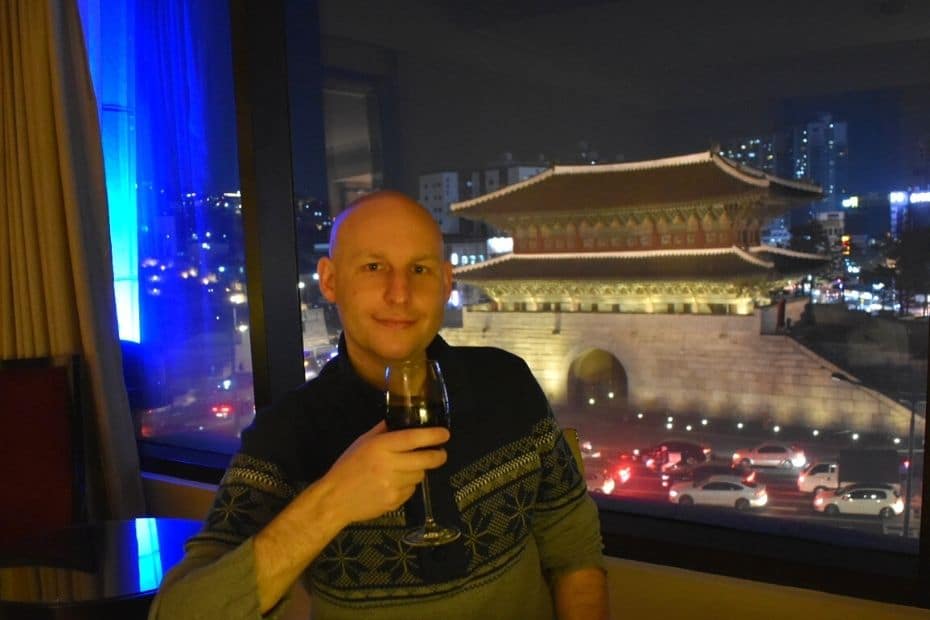 Fortunately, we'd planned to enjoy a Korean cultural craze that's become popular during the pandemic – hocance (호캉스) – a Konglish word made from ho(tel) and (va)cance which means 'a way that you spend your entire holidays in a hotel'. After all, when you are staying in a beautiful 5 star hotel in central Seoul, why wouldn't you spend as much time inside as possible?
After a couple of hours exploring the local area (more on what's nearby later), we decided to head back to the hotel to indulge in wine, snacks, and the delicious night views on offer. The hotel provides a mini-bar, selection of drinks, wine glasses, and everything else you need to enjoy a night of hocance in style.
The room was spacious, providing comfy chairs and sturdy tables for us to sit at while looking out at the views below. There's nothing like an armchair with footstool to rest your feet on whilst drinking a glass of wine, reading, and looking out over one of the world's most dynamic cities. I can see why hocance is so popular in Korea.
After a few hours of watching the city wind down to sleep (and my girlfriend already being fast asleep herself), I decided it was time to test out one of the hotel's features I'd most been looking forward to – the bathtub. I'd just spent a Week On Jeju Island hiking South Korea's highest mountain and walking along the shore each day, so I couldn't wait to sink into a relaxing hot bath (with bath salts provided) and soak away my body's strains.
---
The Best Way To Wake Up!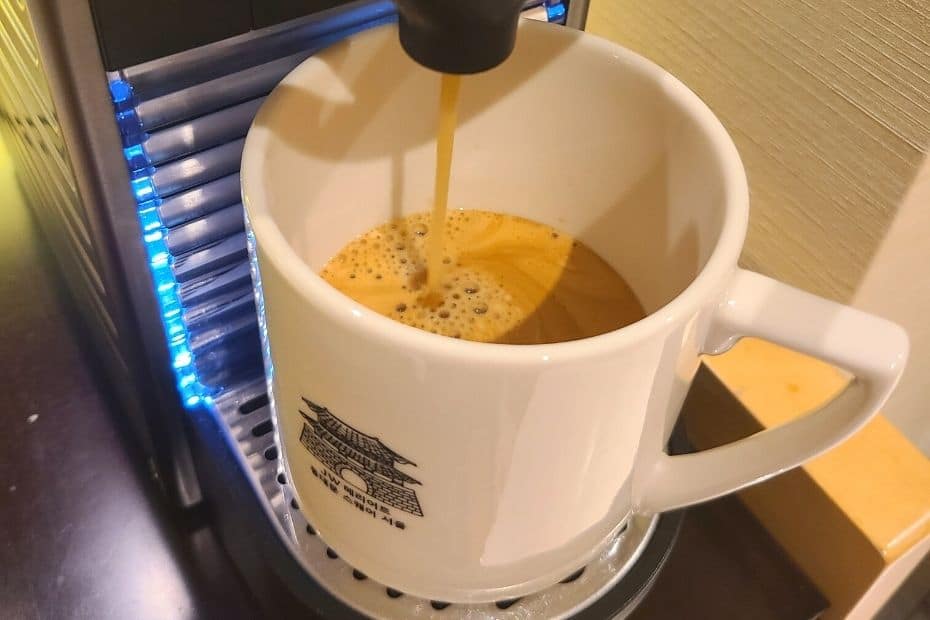 The beds at the JW Marriott Dongdaemun Square Seoul are so snug that I really didn't want to wake up at all. Indeed, my girlfriend and I stayed in until 10am, recharging our batteries through the power of an amazing night's sleep. We've decided we're going to have to get a new bed just like it!
Fortunately, I did manage to escape the warm embrace of the thick bedding, making my way to the Nespresso coffee machine to make myself a coffee (and later a second). I pushed the button for the automatic curtains (also need some of those) and watched the mid-morning sun sitting atop the city's buildings in the distance.
Dongdaemun literally means 'Great Eastern Gate' and the hotel looks out over the east and this eastern fortress gate. If I'd been able to wake up early enough, I would have been treated to a sunrise over Seoul. The view was certainly lovely enough though.
At 11:30am I had to bribe my girlfriend out of bed, refusing to leave as she'd promised the night before, with coffee and some chocolate leftover from the previous night's hocance. Luckily, checkout at the JW Marriott Dongdaemun Square isn't until noon, which is a great time to start exploring Dongdaemun and the rest of Seoul. Korea is a nation of late-starters and a lot of shops (and even cafes!) don't open until almost noon.
Overall, I had a wonderful stay at the JW Marriott Dongdaemun Square Seoul. I was really well rested by morning, got to make the most of the hotel's facilities and amenities, and was fresh and ready to head out into busy Seoul.
If you're considering spending a night at the JW Marriott Dongdaemun Square Seoul, you can check out the rooms by clicking the button below.
Now, I'll tell you all about the hotel, some of its features, and what's nearby.
---
What Are The Rooms Like In This Hotel?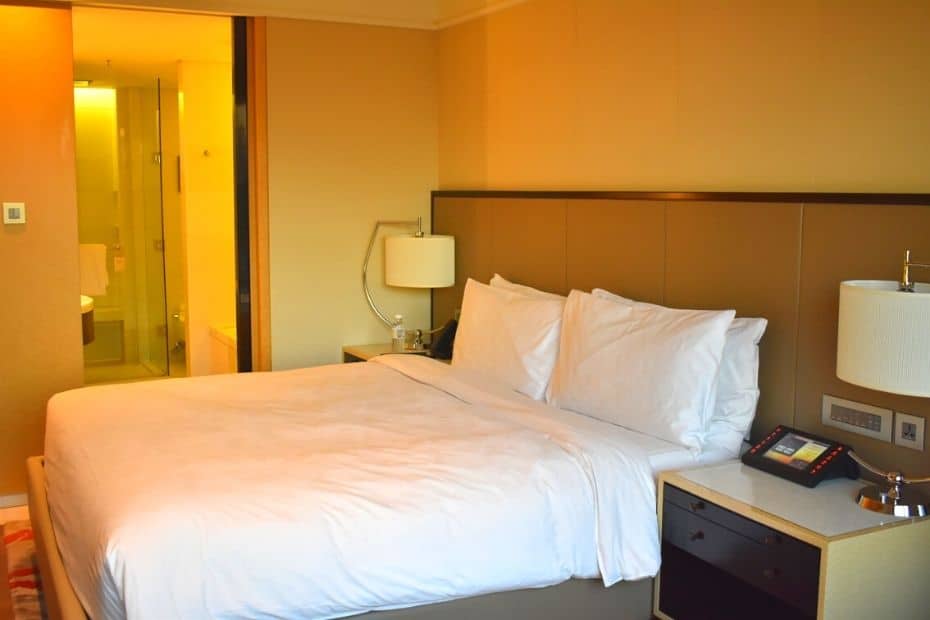 I stayed in a Deluxe King Room with a view overlooking Dongdaemun Gate, Seoul's fortress walls, and the surrounding Dongdaemun area.
The room was spacious and clean with all the expected modern conveniences, including a shower, bath, air-conditioning, heating, bathroom goodies, automatic curtains, fridge, TV, wifi, mini-bar, and more.
When you enter the room, you immediately notice how much space there is – something of a rarity in Seoul's hotels. There's plenty of room to store your shoes and a cupboard with dressing gowns and slippers inside.
The bathroom has a separate shower (with overhead shower options), as well as a separate bathtub and generous sink, mirror and room to prepare. The towels are full length and snuggle you dry after a shower or soak in the bath.
The main attraction in the room was the king-sized bed, with plentiful pillows and a cushiony quilt calling you in. There's a large TV opposite the bed, perfect for late night binge-watching while you enjoy hocance.
Next to the window, another excellent feature of the room, was an armchair, footrest, and coffee table, as well as a separate desk and reclining chair. Plenty of space for 2 people to enjoy wine and the evening view.
Other features of the room were the mini bar, Nespresso coffee machine, concealed safe, and a range of storage solutions in case you have a longer stay at the hotel.
---
Rooms At The JW Marriott Dongdaemun Square Hotel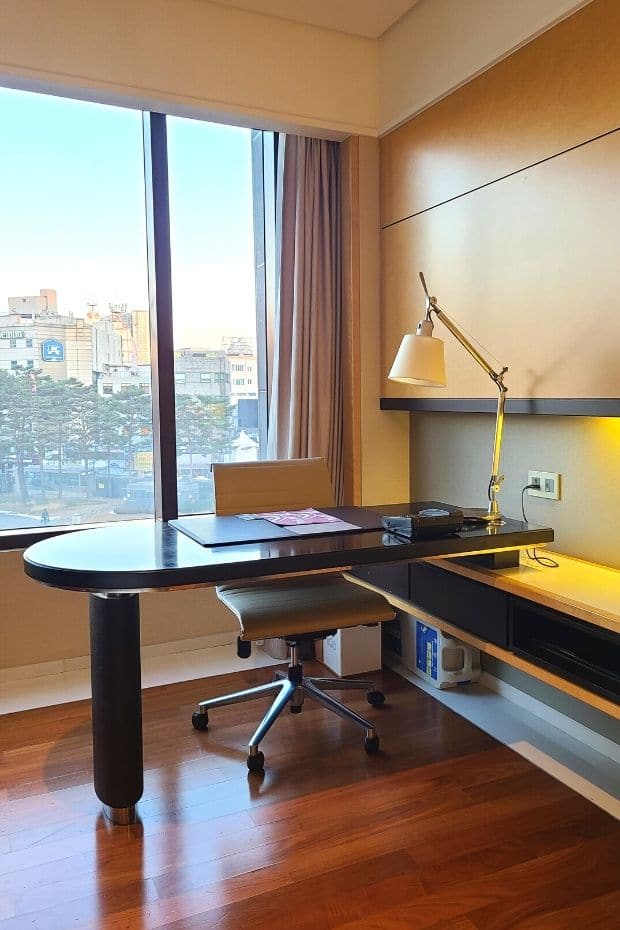 There are a range of rooms available at the JW Marriott Dongdaemun Square Seoul, including the following:
Sky View Room
Presidential Suite
Deluxe King Room
Deluxe Twin Room
The Sky View rooms are located on the top floor of the JW Marriott Dongdaemun Square Hotel and offer stunning views of Seoul's skyline with sloping rooftop windows.
The Presidential Suite is ideal for entertaining guests and includes a conference room for private business meetings, as well as a kitchen, studio, two bathrooms, and king-sized bed.
These rooms come as Executive or Standard. The Executive option providing exclusive access to the Executive Lounge.
---
What Facilities And Amenities Are There?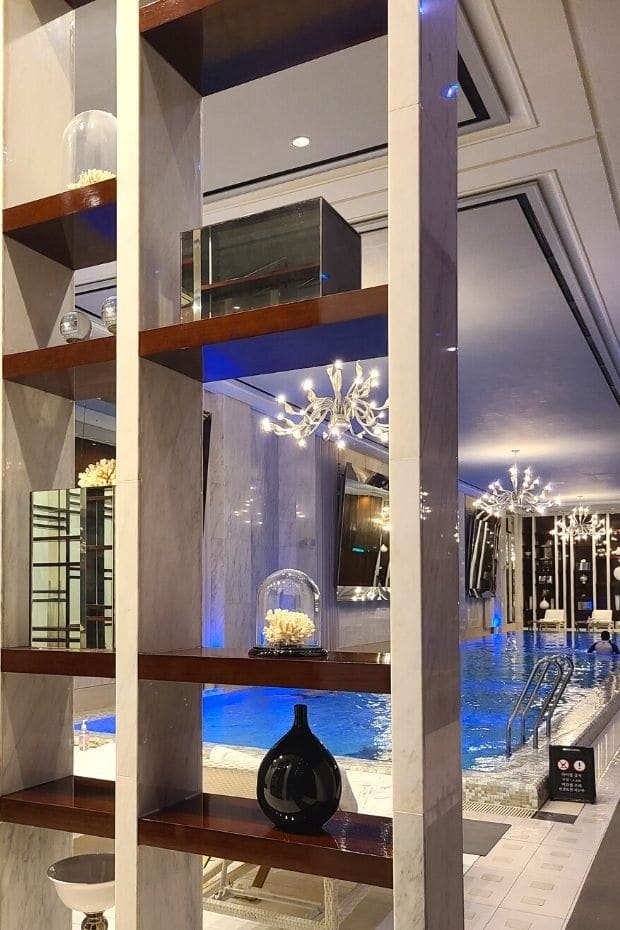 Besides the aforementioned features of the room, there are a number of other facilities and amenities at the hotel for a truly 5 star service.
In the room you'll find an iron, alarm clock, hangers, storage facilities, hot and cold drinks, a coffee machine and kettle, glasses, and cutlery. The flat-screen TV provides cable & satellite channels and pay-per-view options. Rooms are cleaned and fresh water is supplied daily. Room service is available, as well as a wake up call.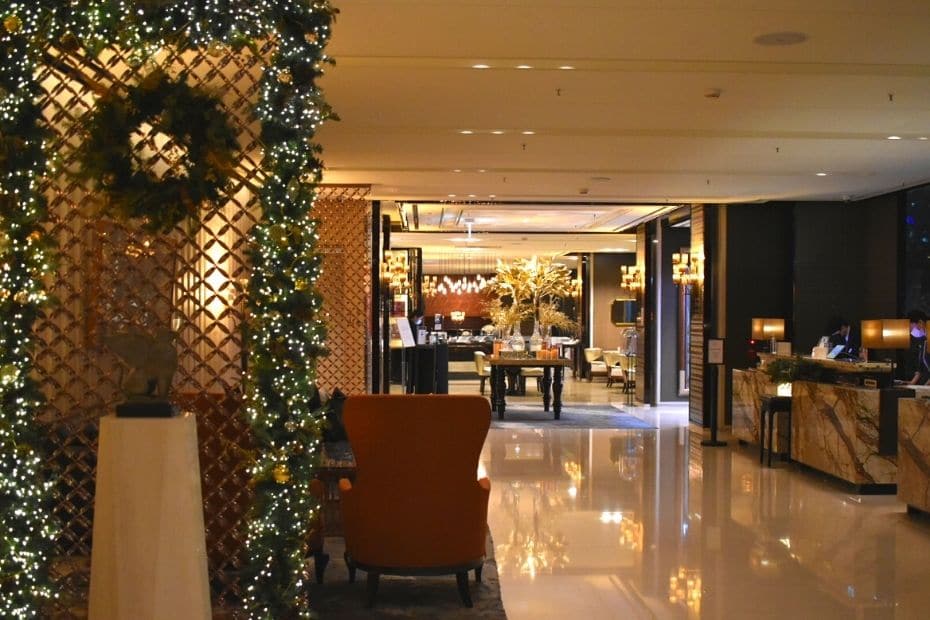 The JW Marriott Dongdaemun Square Hotel also offers a range of facilities accessible to guests, including the following:
Indoor swimming pool
Children's swimming pool
Fitness centre
Golf Range (virtual)
Spa and sauna
Executive Lounge
The Griffin Bar
Two Restaurants
Seoul Bakery
Themed Lounge
For business travellers, you can arrange business meetings or seminars in private conference rooms. There's also a business centre to help you manage your affairs.
For couples looking for the perfect wedding location in Seoul, there's the Urban Boutique Wedding, where you can get married in style and comfort.
You can find out a full list of facilities and amenities Here.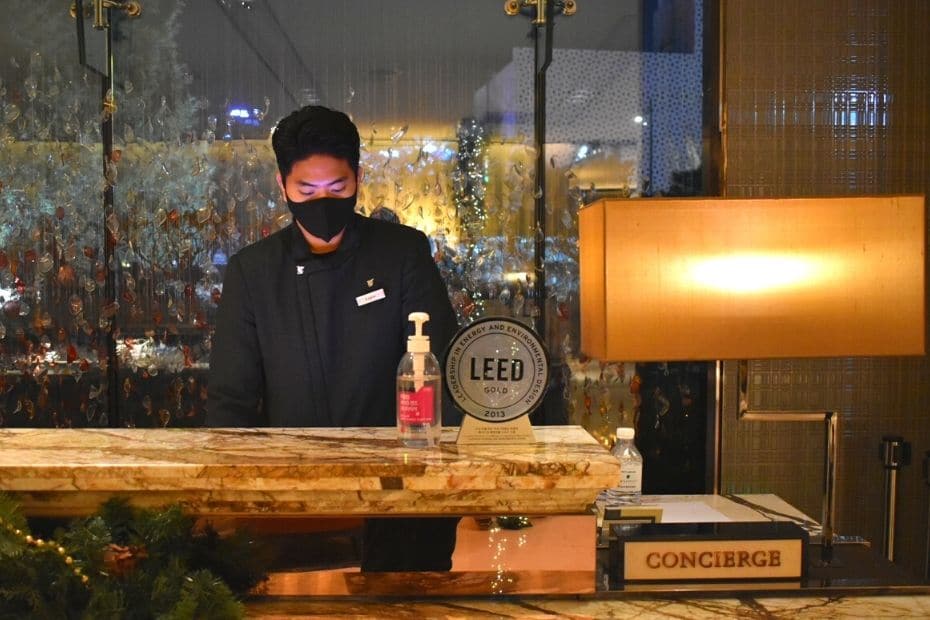 The best part of this hotel for me, aside from the wonderfully comfortable bed, was the service provided by the ever-friendly and helpful staff. Check in was quick and easy (and all in English) and I was greeted with smiles and assistance whenever I needed it.
This extra effort from the hotel staff is what earns the JW Marriott Dongdaemun Square Seoul the full 5 stars from me.
---
The View From The JW Marriott Dongdaemun Square Seoul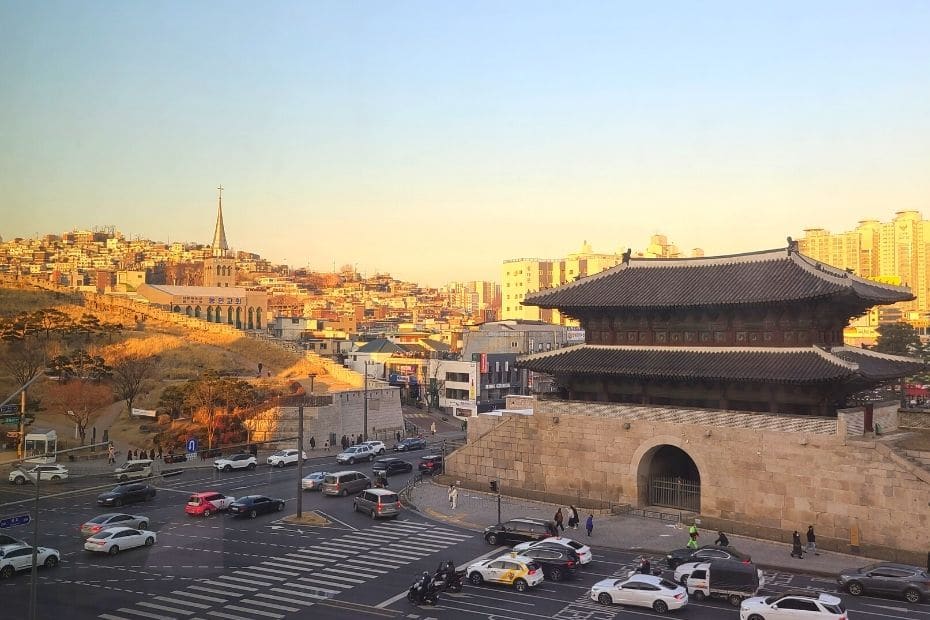 I've mentioned the view from the hotel several times, and here it is. This was taken around sunset on a sunny winter's evening. The light drifts slowly over the tops of the old Seoul houses and towers before setting behind the hotel.
Unfortunately, I'm not an early bird, so I missed the sunrise coming from behind the tall Dongdaemun Gate, but I'm sure it would have been impressive. The fortress wall in the left of the picture goes up to Naksan Park and continues around Seoul for miles.
If you look right from the hotel, you can see the Dongdaemun Design Plaza and some of the fashion markets that Dongdaemun is famous for. It's quite a contrast and an impressive view any time of day.
---
Where Is The JW Marriott Dongdaemun Square Seoul?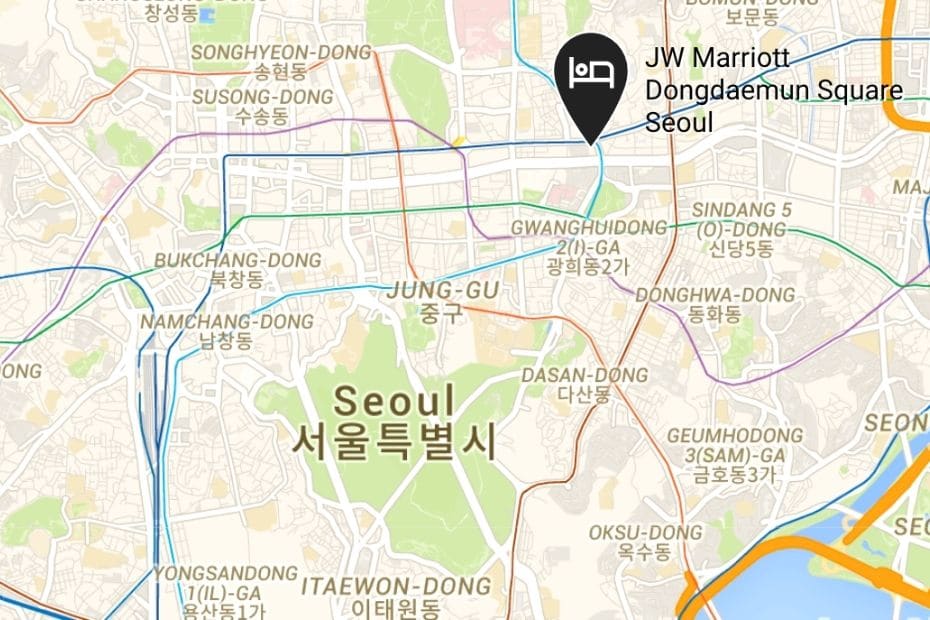 The JW Marriott Dongdaemun Square Seoul is located directly outside Dongdaemun Subway Station (Line 1 / Line 4) and accessed from Exit 8.
Travellers arriving at Incheon Airport can get to the JW Marriott Dongdaemun Square by airport limousine bus 6002. This bus goes directly from Incheon Airport to the hotel and takes approximately 1 hour.
Travellers arriving at Seoul Station can get to the JW Marriott Dongdaemun Square on Line 1 or Line 4. Both subway lines go directly to the hotel from Seoul Station.
---
What To Do Near JW Marriott Dongdaemun Square Seoul?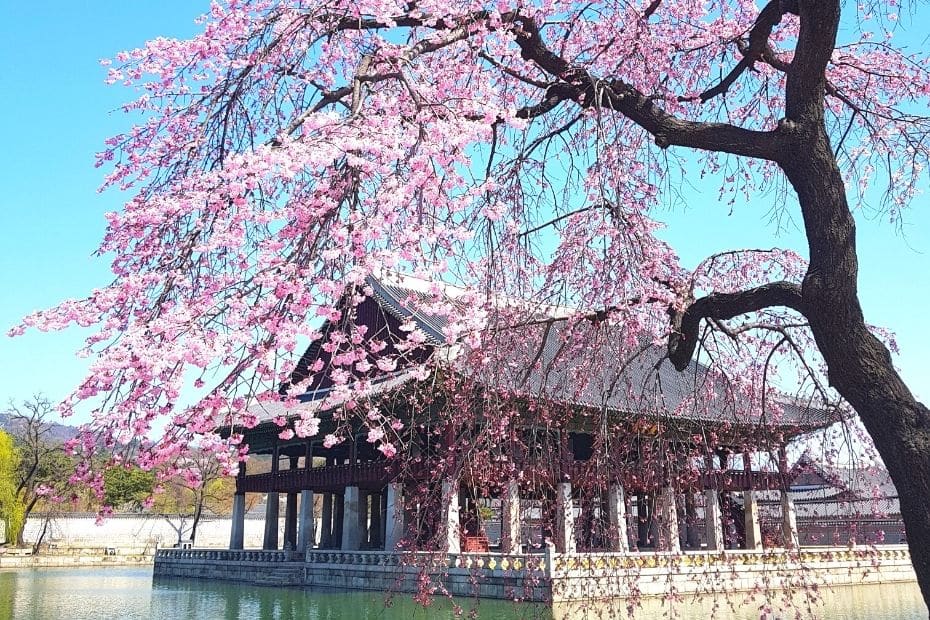 Dongdaemun is a great location to base yourself for exploring Seoul's many unique sights and attractions. Not only is there the immediately visible Dongdaemun Gate and Seoul fortress walls, there are other sights that are only a short walk away.
Here's a few of the highlights near JW Marriott Dongaemun Square Seoul.
---
Changdeokgung Palace & Secret Garden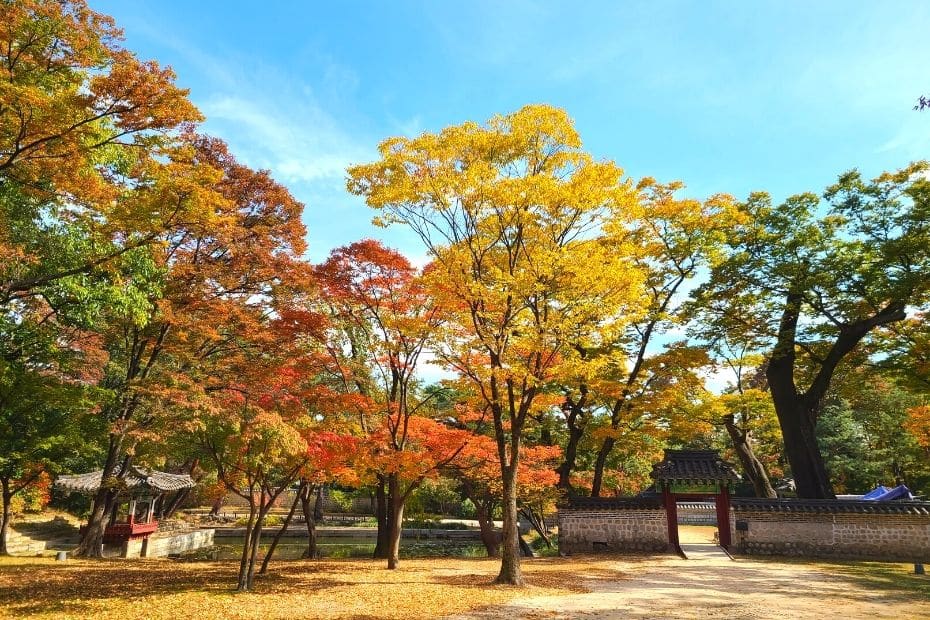 My personal favourite royal palace (Seoul has 5 of them!), Changdeokgung Palace contains an impressive collection of buildings which look beautiful all year long. Be sure to check out the Secret Garden – an exclusive retreat for Korea's royalty that is now open to the public. See the majestic gardens and ponds that have provided many of the iconic images of Seoul's traditional past.
---
Dongdaemun Design Plaza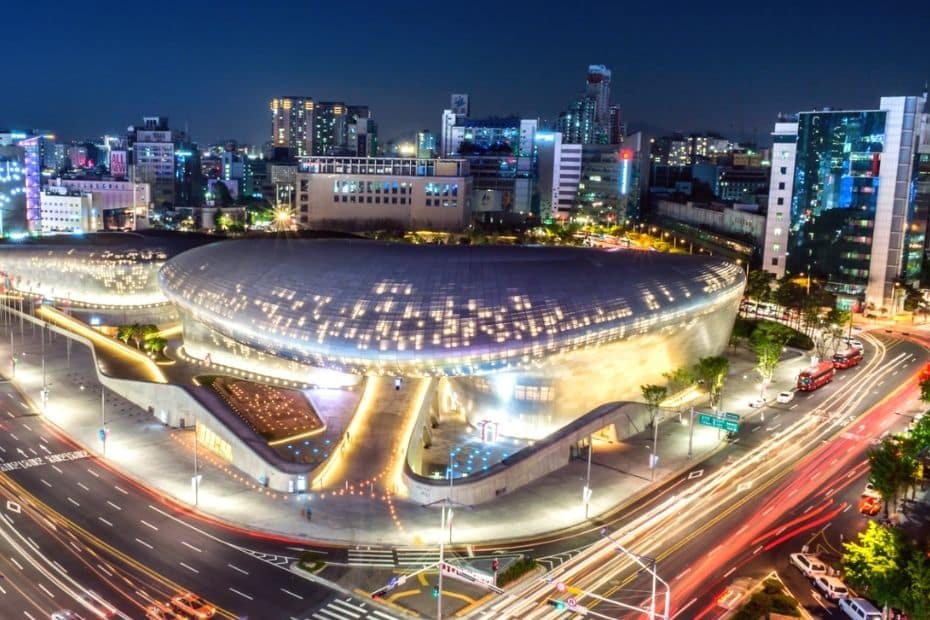 From the past to the future, Dongdaemun Design Plaza (DDP) is a spaceship-esque work of modern art that houses a range of curiosities. The DDP hosts art exhibitions, craft markets, art shops, open air parks, and also provides a creative space for artists to display their works. That includes displays on the curved faces of the buildings themselves through the mesmeric Seoul Light show.
---
Gwangjang Market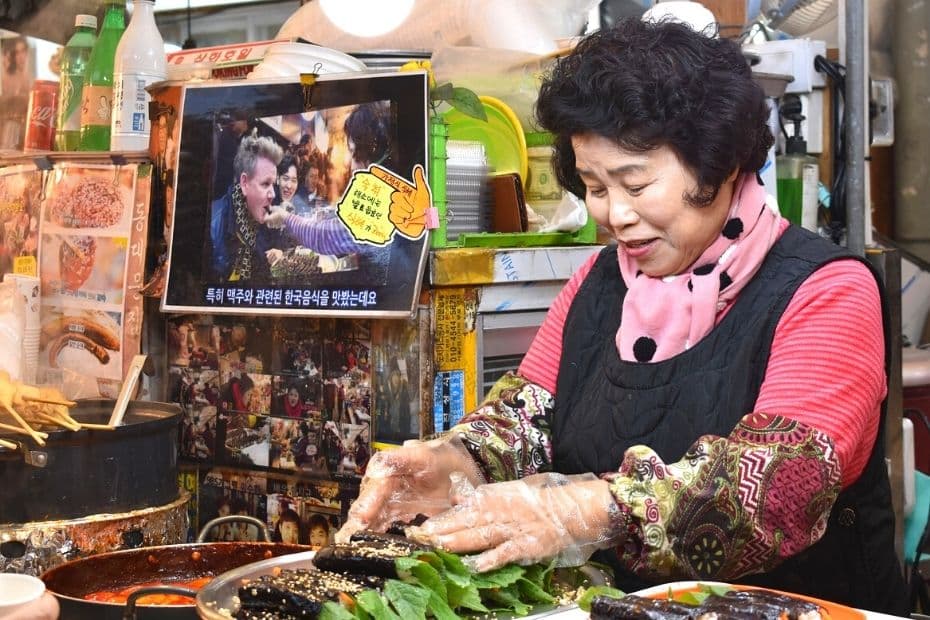 Whether you're hungry for some incredible Korean street food, or you want to get a custom-made hanbok prepared for you, there's always something interesting to see and taste in Gwangjang Market. You might recognise some of the scenes from Netflix's Street Food documentary, too. There are several other markets nearby, including the sprawling Dongdaemun fashion markets and Myeongdong Market.
Of course, there are dozens more things to see and do in Seoul. If you want some more ideas, check out my article about the Top 50 Things To Do In Seoul.
Think this would be the ideal area for you to stay in Seoul? You can check out the rooms and rates right now by clicking on the button below:
---
Tips For Visiting Seoul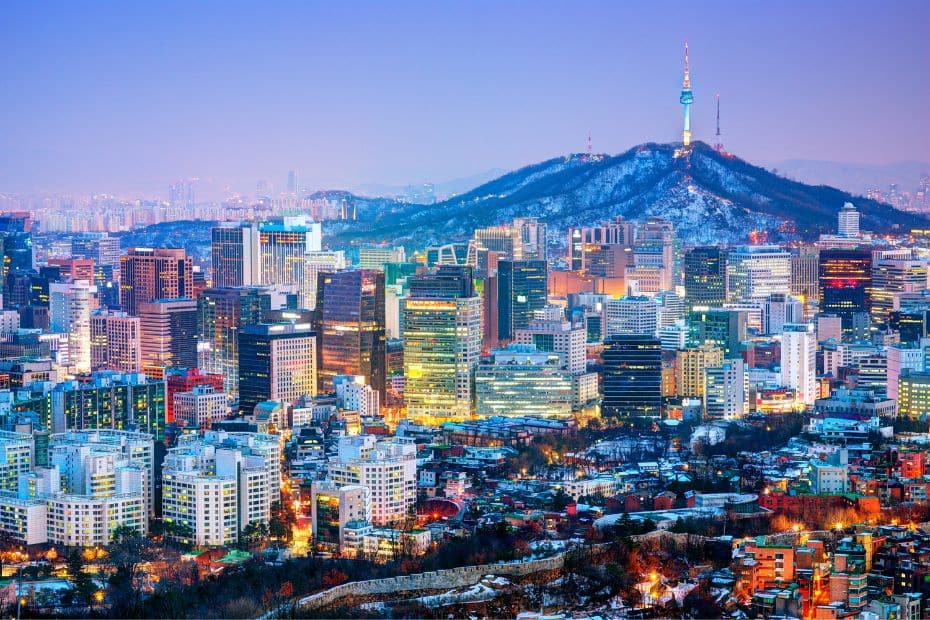 Want to visit Seoul but not sure when to travel, where to go, or where to stay? No worries, these articles have you covered.There's loads of useful information to help you plan your dream trip to Seoul, as well as my cultural insights to help you know more about Korea's capital.
Transportation: Make sure you've got a T-Money Card for travelling around Seoul and other parts of Korea. It'll not only save you time and effort vs. buying a ticket, it'll also save you money with discounted fares for public transport.
Hotels: There are so many great hotels in Seoul, but also some that aren't worth the money. Your trip is special and I'd firstly recommend the JW Marriott Dongdaemun Square. However, if you're looking for something in a different location or for a lower price, check out Myeongdong or Hongdae.
Weekend Trip: Only got a couple of days to see the sights of Seoul? Then check out my guide to Spending A Weekend In Seoul. It shows you all the top places to see in a short time and how to get around to see them all.
---
Full Disclosure About My Stay
My stay at this hotel was provided free of charge by JW Marriott. However, the opinions presented in this article are all my own and my review of the hotel is a reflection of my lovely experience staying at the JW Marriott Dongdaemun Square Seoul for one night.
I never want to mislead the readers of my blog and the contents of this article have not been influenced or checked by JW Marriott. I strive to be open in all my posts and I honestly had a great night's stay in this hotel. After all, it's a 5 star hotel, it's hard not to!
If you're looking for a luxury hotel in central Seoul for a good price, then I think you'd be more than satisfied with the JW Marriott Dongdaemun Square Seoul.
---
JW Marriott Dongdaemun Square Seoul FAQs
Here are some FAQs about the JW Marriott Dongdaemun Square that should answer any other queries you may have about staying in this 5 star Seoul hotel.
What time is check in for JW Marriott Dongdaemun Square Seoul?
You can check in from 3:00pm on the day of your arrival. Check out time is 12:00pm (noon) on the day of your departure. You can store your luggage securely at the hotel before check in / after check out so you can explore Seoul unburdened.
How can I get to JW Marriott Dongdaemun Square Seoul from Incheon Airport?
Take the 6002 airport limousine bus from Incheon Airport directly to JW Marriott Dongdaemun Square. Alternatively, you can ride the ARX train to Seoul Station and then take line 1 or line 4 subway to the Dongdaemun subway station.
Are there are restaurants at the JW Marriott Dongdaemun Square Seoul?
Yes, there are two main restaurants at the hotel, as well as a bakery, a lounge, and a bar. The two restaurants are located on the second floor. BLT Steak is a steakhouse while Tavolo 24 is an international buffet restaurant.
Does the JW Marriott Dongdaemun Square Seoul have a swimming pool?
Yes, there is an indoor swimming pool in the hotel that is available for guests to use. There is also a children's pool, sauna, gym, virtual driving range, and spa at the hotel.
Can I park a car at the JW Marriott Dongdaemun Square Seoul?
Yes, there is parking provided at the hotel. There is parking on site, as well as other facilities, including electric car charging and accessible parking. Parking is free for guests of the hotel.
What does the Korean word 'hocance' mean?
Hocance is a portmanteau of (ho)tel and va(cance) and is the act of going to a hotel to have a holiday. This means that people will travel to the hotel and spend the whole time enjoying the facilities of the hotel, rather than travelling to sights outside of the hotel. Hocance has become popular in Korea due to tight pandemic restrictions.
---
Related Articles