Want to know the best ways to survive summer in Seoul and stay cool during the sweaty, sunny days? Then check out these 10 top tips to keep you cool.
These tips will help whether you're spending summer in Seoul as a tourist or you live there and want some ideas to help stay sane when the summer heat kicks in.
There's a bunch of great places to check out, ways to stay cool, and other travel tips for surviving the most difficult of Korea's seasons.
Embrace summer in Seoul and make the most of the blue skies, delicious desserts, and cool evenings experience Seoul like a local.
Affiliate Disclaimer: This site contains affiliate links and I may earn commission for purchases made after clicking these links.
---
10 Tips To Survive Summer In Seoul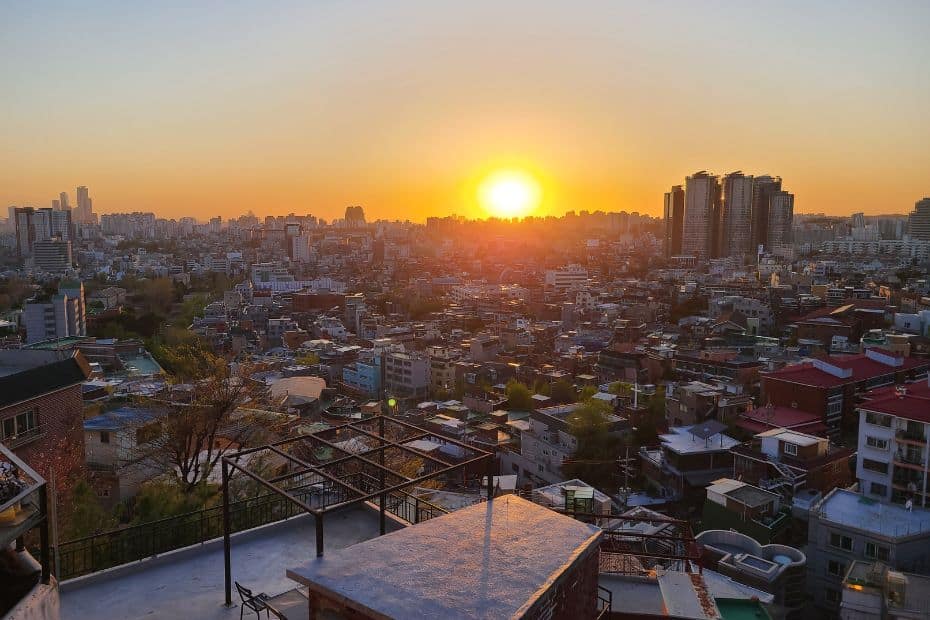 Here's my top 10 tips to survive summer in Seoul. These summer survival tips, built up from more than 6 summers of suffering, will help you make the most of this season, keep cool, and have an awesome time in Seoul.
If you want to know more about what summer in Seoul is like, such as the weather and what activities you can do, be sure to keep reading past these top 10 tips.
Thanks, and stay cool!
---
Planning to visit Korea? These travel essentials will help you plan your trip, get the best deals, and save you time and money before and during your Korean adventure.

Korea Electronic Travel Authorisation (K-ETA): Most countries need a K-ETA to travel to Korea. Apply before you travel only with the Official K-ETA Site.

Staying Connected: Pre-order a Korean Sim Card or a Portable WiFi Router to collect on-arrival at Incheon Airport. Collection desks are open 24 hours. Alternatively, download a Korean eSIM for you travels.

Hotels In Korea: Staying in Seoul, I recommend Myeongdong (convenient), Hongdae (cool culture) or Gangnam (shopping). Find the best hotel prices across Korea with Agoda, Klook, or Hotels.com.

Incheon Airport To Seoul: Take the Airport Express (AREX) to Seoul Station or a limo bus across Seoul. Don't like carrying heavy suitcases? Book an Incheon Airport Private Transfer and relax to or from the airport.

Korean Tours: Find the best tours in Korea with tour companies that have a big presence in Korea, including Klook, Trazy, Viator, and Get Your Guide. These sites also offer discounted entry tickets for top attractions.
Seoul City Passes: Visit Seoul's top attractions for free with a Discover Seoul Pass or Go City Seoul Pass. These passes are especially good for families and couples visiting Seoul and can save you lots.

Transportation: Get a T-Money Card or WOWPASS to pay for public transport, including buses, subways, and taxis. For Korea's high speed trains, save money and get unlimited rides with a Korea Rail Pass.

Travel Money: Exchange foreign currency in Myeongdong or Hongdae money exchanges. Pick up a Wise, Revolut, or WOWPASS travel money card for the best rates and convenient card payments in Korea.

Flights To Korea: I recommend using flight comparison sites such as Expedia and Skyscanner to find the best flights to Korea from any country. Air Asia is a good option for budget flights from Asia.

Learning Korean: Want to learn Korean? I recommend a complete language learning course from 90 Day Korean or Korean Class 101 – both have well-structured lessons and lots of useful resources.
---
1: Dress Down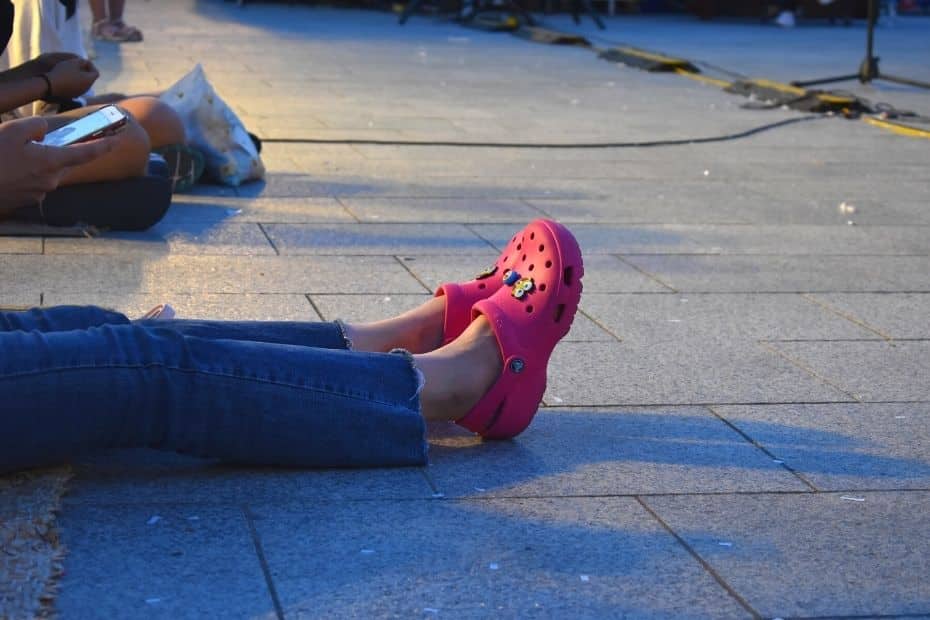 Whilst you may want to look your best for your holiday pics, you will enjoy summer in Seoul a lot more if you wear loose, thin clothing that allows your skin to breathe and aerate.
If you're worried about sunburn or mosquito bites, then long sleeves or trousers will help. In Korea you can get portable sleeves for your arm to help protect you from the sun.
Tops: The lighter, the better. You'll only need one layer and you can usually wear this whatever time of day it is as it stays warm even at night in July and August.
Legs: Shorts or skirts are best to keep your legs cool. I'd avoid trousers unless you plan to get off the beaten path and go into nature.
Shoes: Be a real Korean and wear sandals / crocs during the summer to keep your feet cool. No socks, of course. If you're going to do a lot of walking, then bring a good pair of thin, breathable walking shoes and sweat-resistant walking socks.
Shopping: You can buy most of these clothes for low prices in the Korean fashion markets of Dongdaemun, Myeongdong, or Namdaemun, as well as in the street fashion district of Hongdae.
Korean culture point: There are mixed impressions about what is acceptable in Korea in terms of revealing clothing, especially for women. Korean society was traditionally quite conservative, but attitudes are changing these days.
In terms of clothing and what you can / can't wear, there's no real restrictions in Seoul as long as you're not going around naked! If you're a foreigner, you'll get a pass for most things anyway.
However, you will get a few raised eyebrows for going topless (men) and for low cut tops (women). Hot pants and short skirts are completely acceptable, though.
If in doubt, look at pictures of K-pop singers online and see what they wear.
---
2: Pack A Light Jacket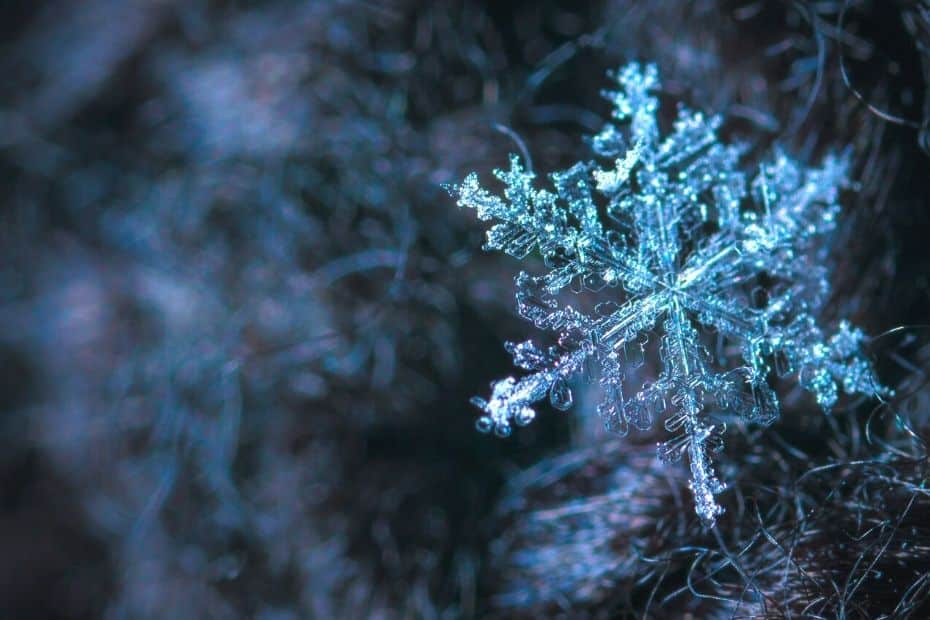 Although you should dress down during summer in Seoul to keep cool, there'll also be plenty of times when you might get too cold. Not because the temperature has dropped, but because you've gone inside a building.
If you walk down the streets of any shopping or dining area in Seoul, you'll feel the cold air blowing at you. Even when you're several feet away. Korean shops and restaurants love to crank the air conditioner to max.
If you plan to stay inside somewhere for more than 30 minutes, this can lead you to get rather chilly. Cinemas and cafes are the worst for this and it's useful to have a light jacket stored in your bag that you can put on to keep cool. The same applies for long bus journeys.
---
3: Drink Lots Of Water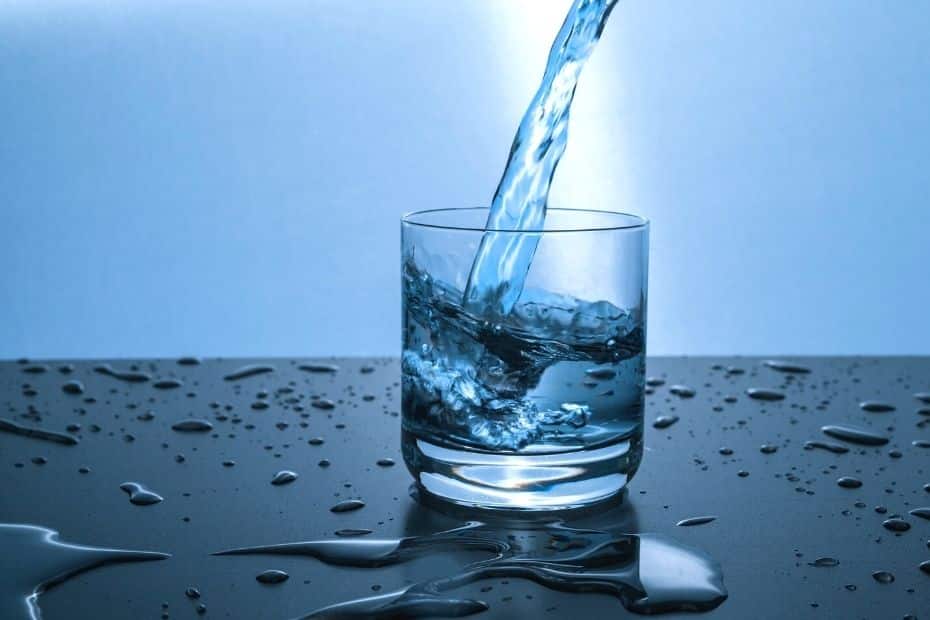 Hydration is really important. Not just because you'll feel sick if you don't get enough liquids, but surviving summer in Seoul is a lot easier when you're cooling off with ice cold water.
Bring a reusable water bottle (or reuse one you've grabbed from your hotel) when you go out. You can fill them up in cafes and restaurants that have water filters and it's a cheap and effective way to stay hydrated.
A nice alternative to iced coffee is popping into a hanok cafe and sampling some traditional Korean teas. Drinking hot tea during summer can actually help reduce your overall temperature as you sweat a bit more when you drink it, which cools you down.
---
4: Stay Cool In A Mall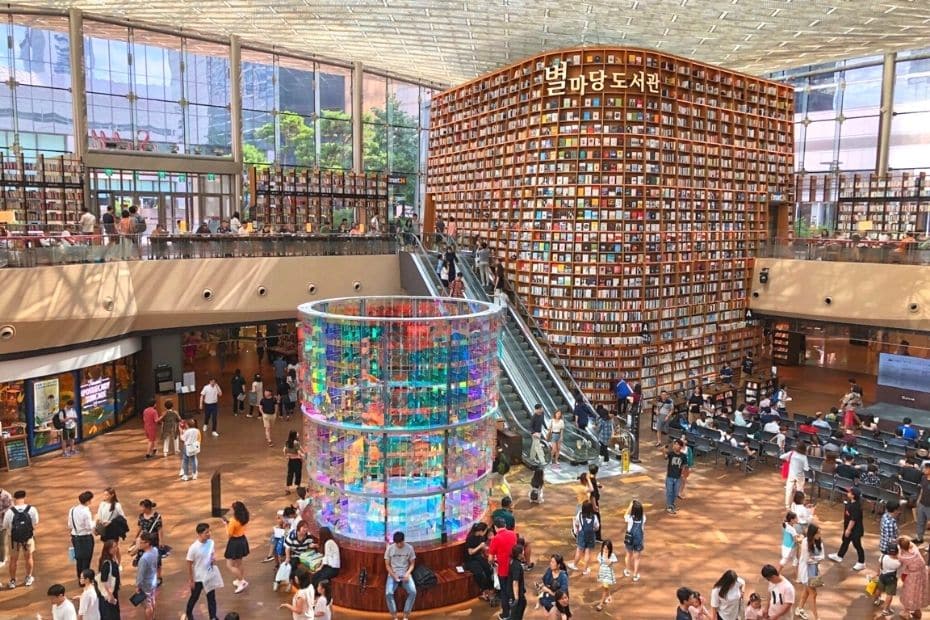 As mentioned, Korean shops and malls love to blast the air conditioner at max power during the summer, which make these places the perfect spot to spend a busy day in Seoul without the sweat.
There are several large malls throughout Seoul that you could spend the whole day in and not get bored. From shopping and dining, to cinemas, aquariums, arcades, and lots more, Seoul's malls are like a self-enclosed (and cool) city.
Some of the best malls to visit during summer in Seoul include:
COEX Mall, Gangnam
Lotte Dept Store, Myeongdong
Times Square Mall, Yeongdeungpo
Anyeong Insadong, Insadong
Doota Mall, Dongdaemun
I-Park Mall, Yongsan
Migliore Mall, Dongdaemun
Mecenatpolis Mall, Hongdae
And many others that you'll want to escape into if you're walking around Seoul during summer. Cool, free air conditioning!
---
5: Go Out At Night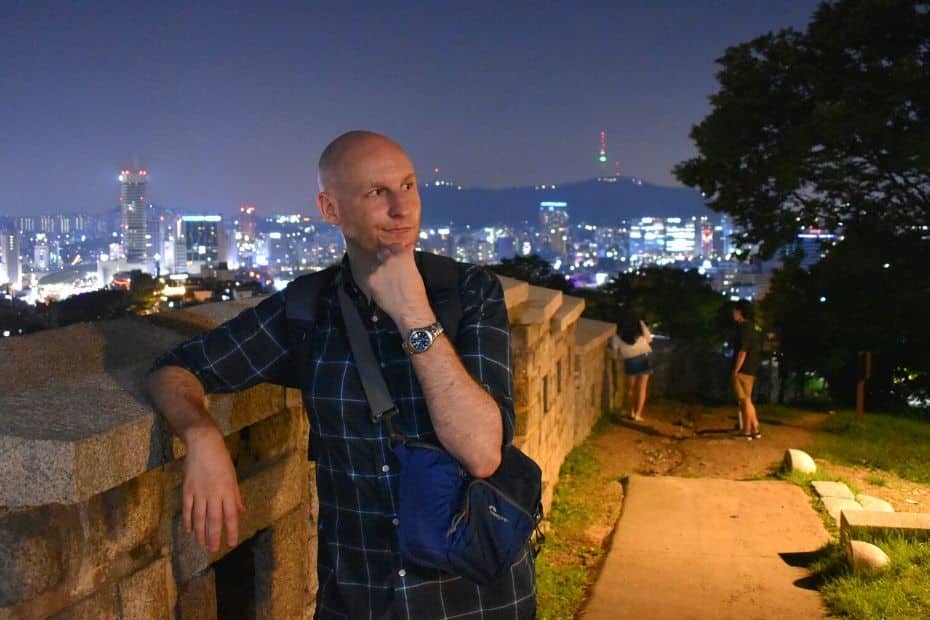 The best time to be out and about during summer in Seoul is the evening and night time. When the sun goes down, the heat drops a bit to slightly less sweaty temperatures. That means mid-20s during July and August.
After checking out indoor places during the daytime, use your energy to explore Seoul by night. This is what a lot of locals do and there are so many awesome places to spend the warm summer evenings.
Use the cool nights to get out and hike the fortress walls (as pictured above), visit the night markets, relax at the Han River parks, or hike up to the N Seoul Tower and see the city lights.
For more ideas of things to do in Seoul at night, check out these 20 Summer Activities In Korea.
---
6: Keep Cool By The Water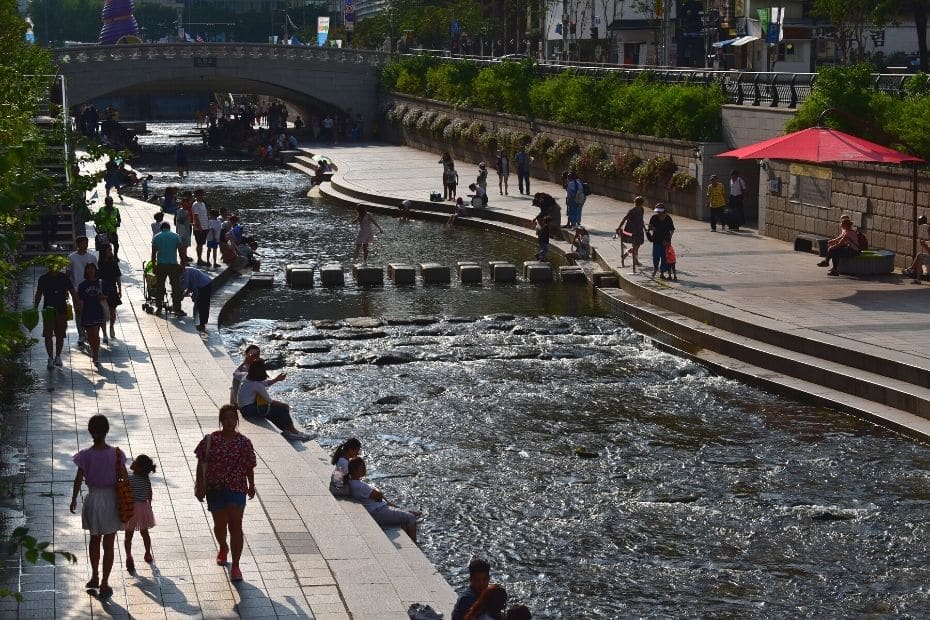 If you're determined to stay outside during the day, then the coolest places to be during summer in Seoul are by the water.
Seoul is blessed with several lovely waterways that not only provide an oasis amongst the heat of the concrete jungle, but also offer a range of fun activities and ways to stay cool.
There are many parks on the shores of the Han River, as well as the 11km long Cheonggyecheon Stream (pictured above), where you can cool off and find some shade.
These spots offer the chance to watch live performances, visit markets, and indulge in some cool Korean treats (or ice cold Korean beer).
---
7: Splash Away The Heat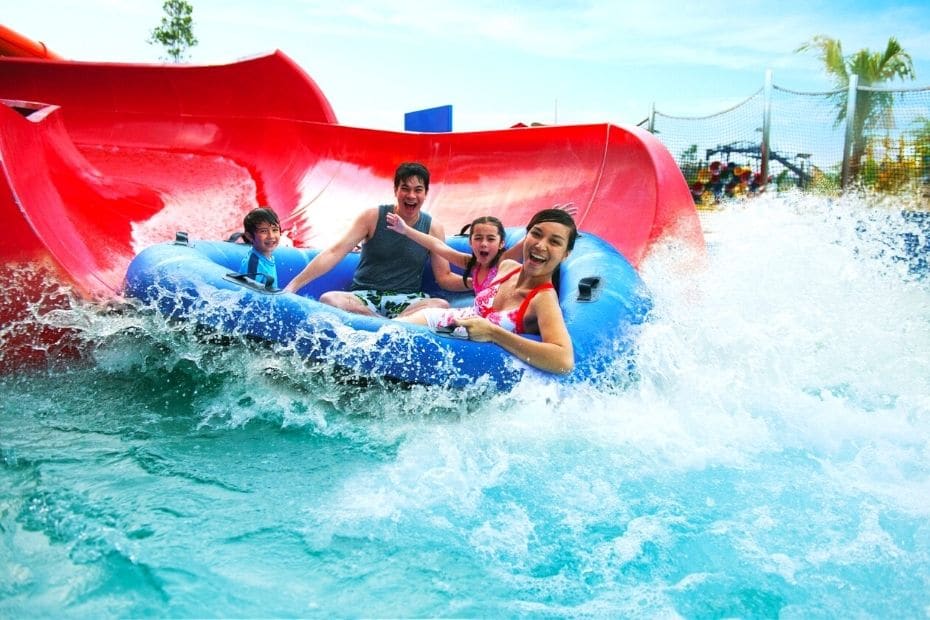 If the idea of sitting by the water without jumping into it sounds too hard to resist, then why not spend a day at one of Seoul's many water parks or water-based play areas instead.
These are locations where you can swim or splash around in the water. Some of these will be full water parks, others simple spots that offer some watery fun. Wherever you go, it'll give you a chance to enjoy the heat and get wet.
Sealala Water Park
Seoul Children's Grand Park
Cheonggye Plaza Water Jets
Lotte Water Park, Gimhae
Onemount Water Park, Goyang
Water Kingdom Water Park & ​​Spa
Outside of Seoul there's also the fantastic Caribbean Bay, which is part of the Everland Resort. Definitely a day trip worth making during summer.
---
8: Eat All The Icy Treats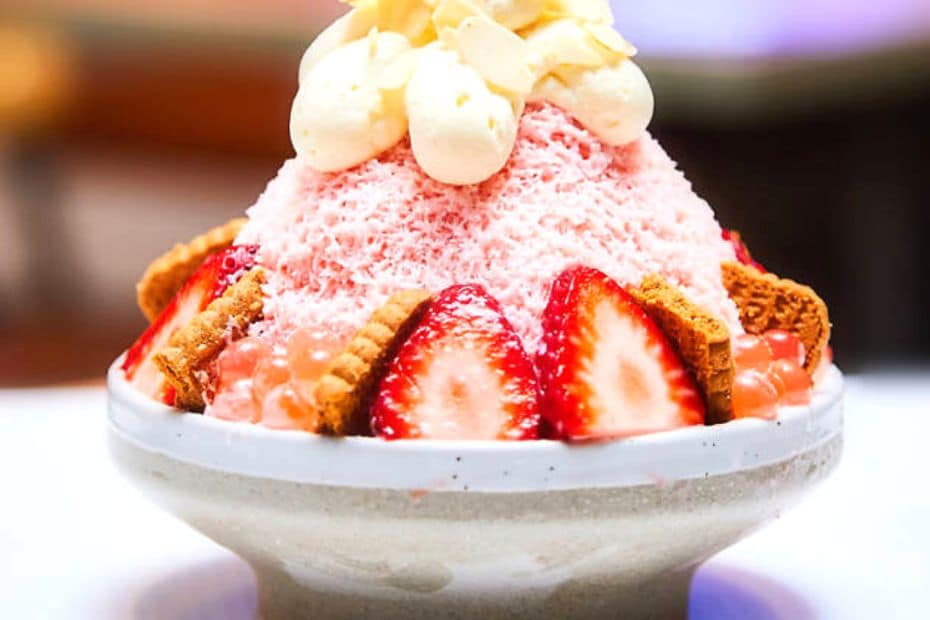 Devouring lots of sugary treats might not be the best idea, health-wise, but it feels so good and is the perfect way to cool down on a hot summer's day in Seoul.
The best of the bunch is a Korean dessert that you really must try – bingsu. This shaved ice dish is the perfect antidote the summer heat. You can find dozens of varieties of this dish that add fruit, ice cream, cakes, sauces, red bean, and lots more.
If you're feeling adventurous, there are often some unique ice creams that come out each summer. I've seen everything from sweetcorn and sweet potato ice cream to super spicy chicken ice cream with red beans. Do you dare try them?
---
9: Buy A Mini Fan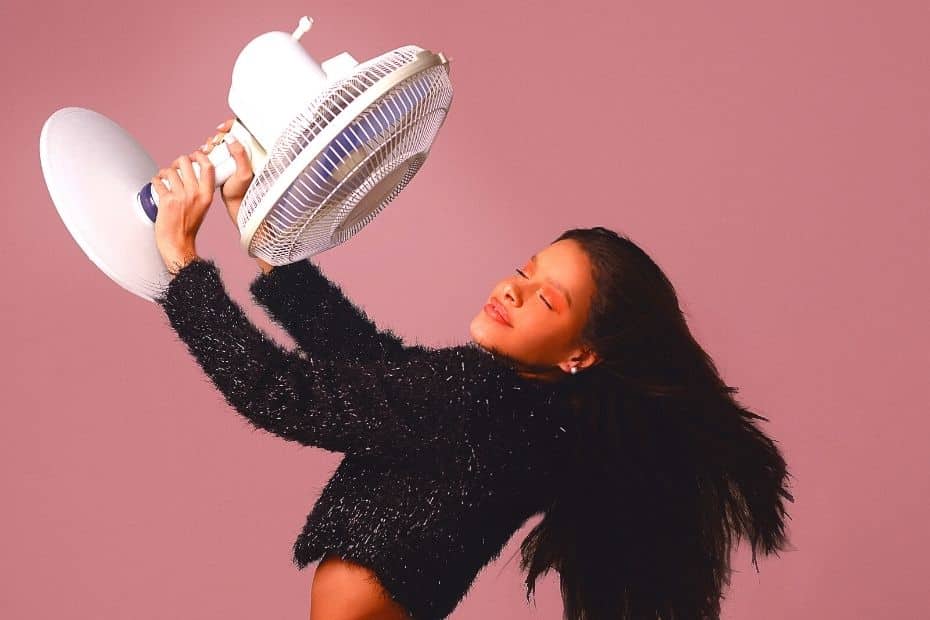 Noisier than a swarm of mosquitos, the buzz of handheld fans can be heard wherever you are in Seoul during summertime.
These modern fans have replaced the traditional handheld fan as the go-to way to keep cool during summer. You don't have to flap your arm as much, which definitely helps stop the sweat in itself.
They're cheap, fit in your pocket, and can be bought at many markets, convenience stores, and many other shops. Pick one up and keep yourself cool.
---
10: Stay Safe From The Sun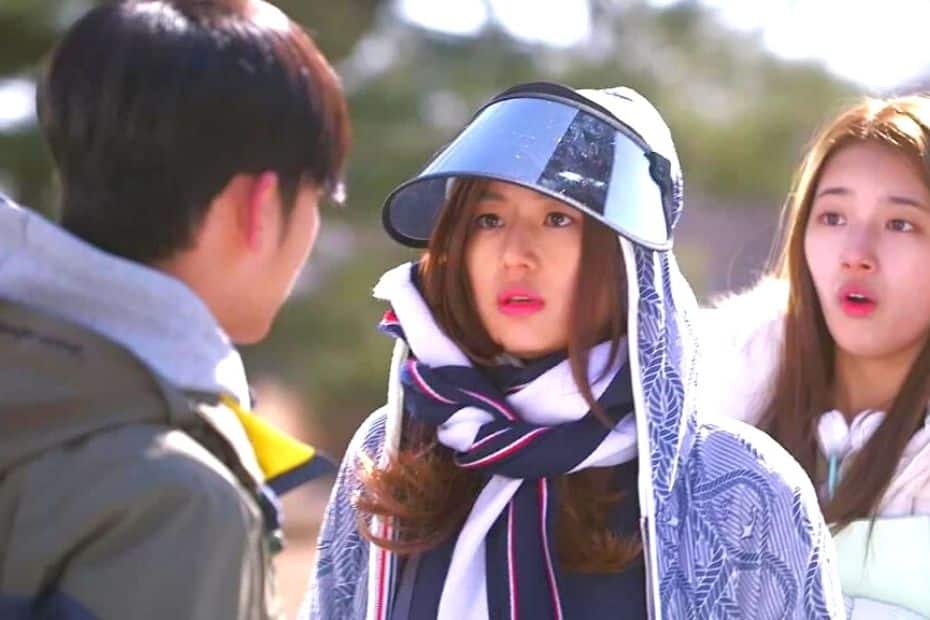 When it's sunny in Seoul, it's not only hot, but very easy to get sunburn. You only need an hour or so to be exposed enough to burn. Better to wrap up like in the picture above if you're sensitive to the sun.
Remember to pack sun cream, sunglasses, parasol, sun hat, and anything else that will protect you. Wear long sleeves if you expect to be outside a lot and to keep cool and shaded, buy a parasol that protects you from both sunshine and the summer rain.
You can buy all the essentials in Seoul in case you forget them. Head to cosmetic shops such as Olive Green or LaLa for a good range of sun protection goods. Daiso also has small sun protection goods at a low price.
---
What Is Summer In Seoul Like?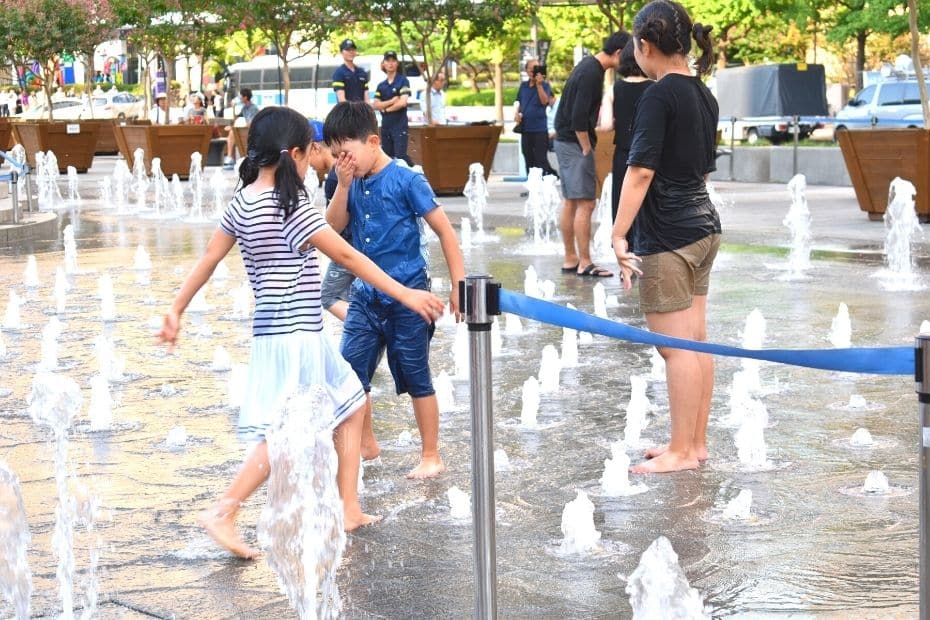 Summer in Seoul is hot, humid, and can be very wet. But it can also be magnificent, with clear blue skies and longer daytime sunshine.
It's definitely the toughest season to travel to Korea and one that you should be prepared for so that you know what to pack, where to go, and how to survive summer in Seoul.
For more information about each season in Korea, check out this article about Korea's Different Seasons
Don't let the heat and rain put you off, though. There's loads of awesome activities that you can enjoy, dishes best served during summer, and great places to visit.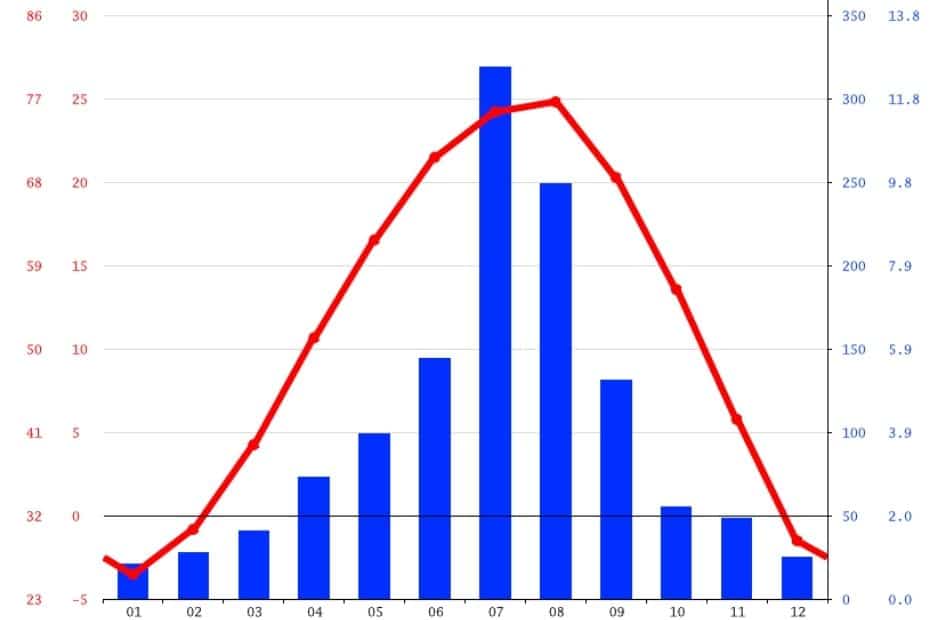 Above you can see a chart showing the average temperature in Seoul for each month, as well as the amount of rainfall.
The summer months (June – September) are the wettest by a long way and also the hottest. Early summer is monsoon season and the weather is very unpredictable, switching from blue skies to heavy rain and back again in the space of a day.
There can also be whole weeks with nothing but rain. However, this is kind of nice as it means the weather is a lot cooler. Don't worry, there are still loads of Things To Do In Seoul When It's Raining.
As for the heat… well that's the biggest issue for me, and if you're from a country that doesn't experience high summer heat and humidity, then it can be quite shocking.
The graph above shows average temperatures for the year, but this doesn't really reflect how hot it can get during the day.
As I'm writing this, the temperature is around 35 degrees celsius and was down to 25-26 degrees at night (3am). It can be over 30 degrees at 10 or 11pm at night.
If it's raining, however, the temperature can stay below 30 degrees and drop to 20 degrees at night. That's why average temperature figures are very deceptive. Either way, it'll usually be hot and, if it's not, then wet.
That's summer in Seoul, sadly. But it's not all bad. Stay cool, go out at night, and make the most of it when you can. At least the air is less polluted than spring, there's loads of cold drinks and desserts to indulge in, and nature as its most resplendent.
It's also a great time to go cycling in Seoul, enjoying the green nature and sparkling waters on a sunny day. I recommend renting a bike during summer and taking a spin around Yeouido and along the Han River. It's a very pleasant way to spend a day out.
Enjoy.
---
Liked This? Pin It For Others
If you enjoyed reading this article, then please share this with your friends on Pinterest.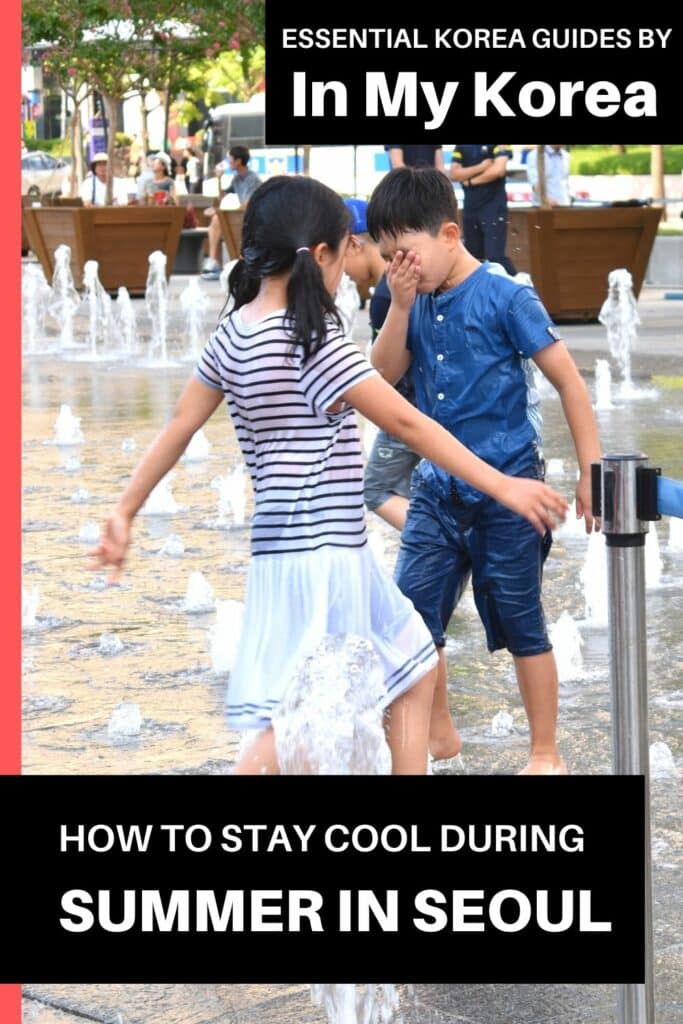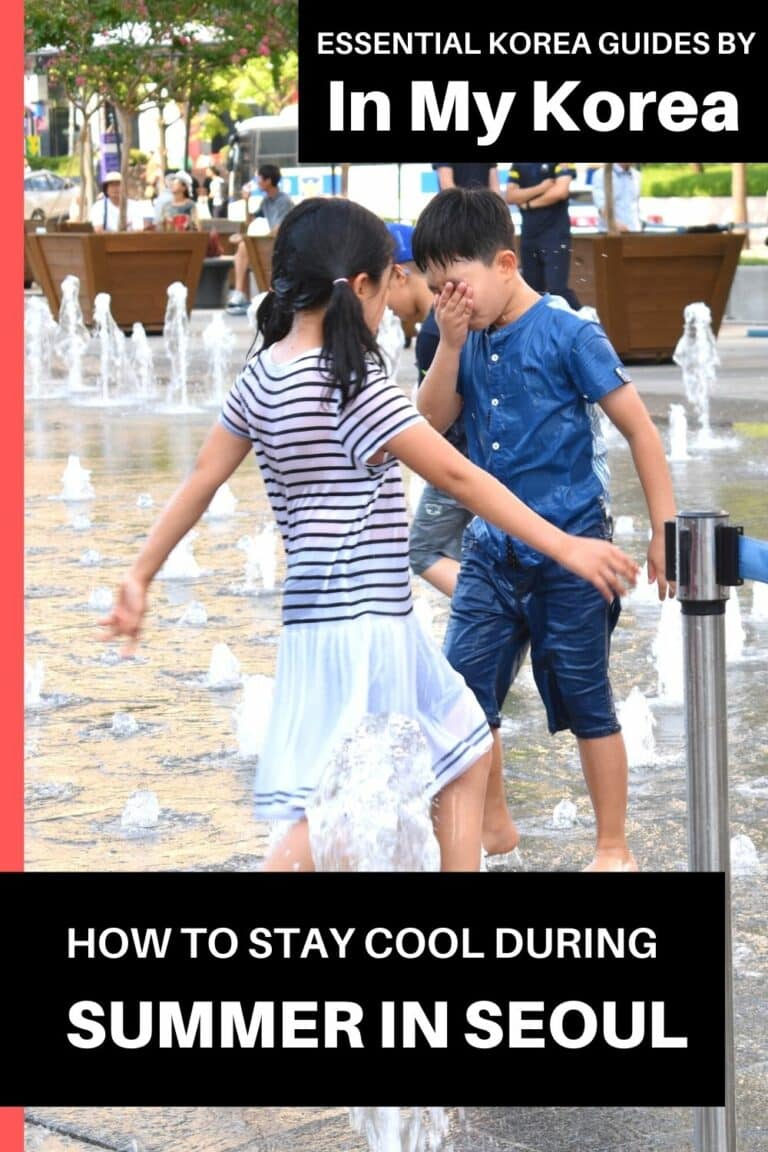 ---
Related Articles