Do you live in Korea and want to find an affordable yet comfortable mattress that will fit into any sized apartment? Having trouble buying a mattress in Korea and want to find a convenient way to get a high-quality foam mattress delivered to your door? Then you'll definitely want to read this Emma mattress review and find a mattress in Korea that's perfect for you.
This article will show you the pros and cons of one of Europe's most awarded mattresses and help you decide whether it's right for your Korean home. Not only does this review focus on the details of the Emma Original mattress, it also covers issues related to buying and using this mattress in Korea.
Having lived in Korea since 2015 and slept on many mattresses in different apartments, guesthouses, and hotels, I can honestly say that the Emma Original mattress, which is reviewed here, has been one of the best. Find out why I like it and whether it could be the right option for you in Korea or abroad.
Affiliate Disclaimer: This site contains affiliate links and I may earn commission for purchases made after clicking these links.
---
Emma Mattress Korea Review: Verdict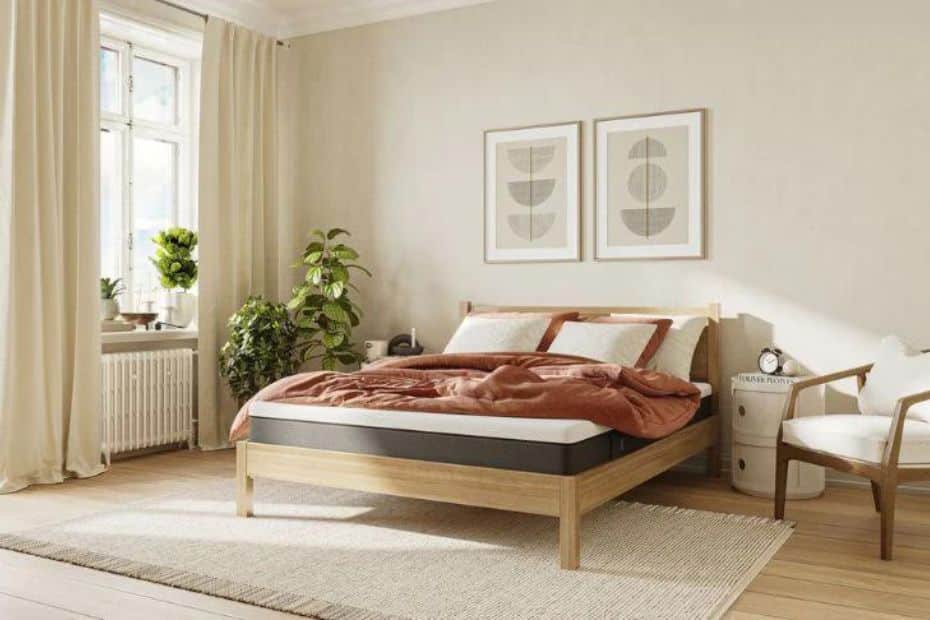 In this article I will be reviewing the Emma Original mattress, a high-quality foam mattress created in Germany that is sold around the world. I will be specifically looking at the version sold in Korea and considering the pros and cons of this mattress based on conditions found in Korea.
The Emma Original mattress is Europe's most awarded mattress and has been designed using Emma's proprietary technology by German engineers to protect your spine while you sleep. This is done by keeping your spine aligned and straight, which helps to reduce back and lumbar pain.
After testing the Emma Original mattress in my Korean apartment during the hot and humid Korean summer months, I have found that the mattress has improved my sleeping conditions. It helps me get a good night's sleep while reducing the aches and pains I sometimes had from my old mattress.
Overall, I've been very pleased with this foam mattress, despite being skeptical about it at first due to bad experiences with other foam mattresses in Korea. Furthermore, the price of this mattress for the quality of mattress you get makes it very competitive compared to other mattress brands in Korea.
I hope this review of one of the best mattresses in Korea that I've slept on outside of a luxury hotel is useful. If you want to see just the pros and cons, check out the table below. I encourage you to read further so you can see my insights into each point and learn more about this comfortable mattress.
| Pros | Cons |
| --- | --- |
| Affordable mattress that comes in a range of sizes. | May not be suitable for some body weights. |
| Easy to purchase and convenient delivery. | Edge support is lacking. |
| Good for back and side sleeping. | Can retain heat at night. |
| Effective motion isolation and pressure relief. | May be too soft for some people. |
| Eco-friendly and hazard-tested materials. | |
| Removable outer cover that is machine washable. | |
| Lightweight and easy to install. | |
| Low radon emission score. | |
Pros and cons of the Emma Original mattress
---
Exclusive Discount Code: An Extra 5% Off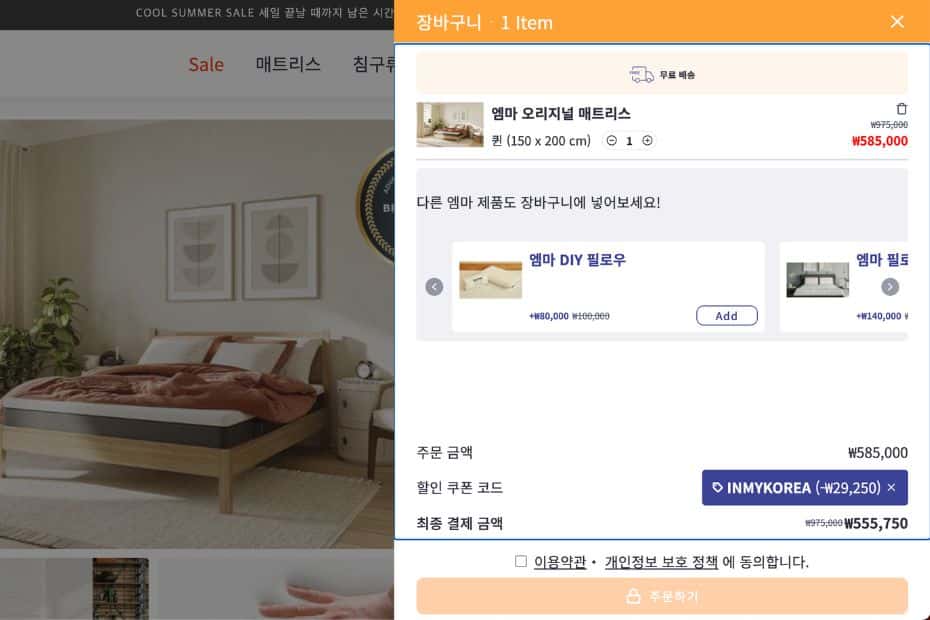 Get an extra 5% off your purchase with this coupon code exclusively for readers of In My Korea. Enter the code "INMYKOREA" after you select any mattress from the Emma website in Korea.
---
Planning to visit Korea? These travel essentials will help you plan your trip, get the best deals, and save you time and money before and during your Korean adventure.

Korea Electronic Travel Authorisation (K-ETA): Most countries need a K-ETA to travel to Korea. Apply before you travel only with the Official K-ETA Site.

Staying Connected: Pre-order a Korean Sim Card or a Portable WiFi Router to collect on-arrival at Incheon Airport. Collection desks are open 24 hours. Alternatively, download a Korean eSIM for you travels.

Hotels In Korea: Staying in Seoul, I recommend Myeongdong (convenient), Hongdae (cool culture) or Gangnam (shopping). Find the best hotel prices across Korea with Agoda, Klook, or Hotels.com.

Incheon Airport To Seoul: Take the Airport Express (AREX) to Seoul Station or a limo bus across Seoul. Don't like carrying heavy suitcases? Book an Incheon Airport Private Transfer and relax to or from the airport.

Korean Tours: Find the best tours in Korea with tour companies that have a big presence in Korea, including Klook, Trazy, Viator, and Get Your Guide. These sites also offer discounted entry tickets for top attractions.
Seoul City Passes: Visit Seoul's top attractions for free with a Discover Seoul Pass or Go City Seoul Pass. These passes are especially good for families and couples visiting Seoul and can save you lots.

Transportation: Get a T-Money Card or WOWPASS to pay for public transport, including buses, subways, and taxis. For Korea's high speed trains, save money and get unlimited rides with a Korea Rail Pass.

Travel Money: Exchange foreign currency in Myeongdong or Hongdae money exchanges. Pick up a Wise, Revolut, or WOWPASS travel money card for the best rates and convenient card payments in Korea.

Flights To Korea: I recommend using flight comparison sites such as Expedia and Skyscanner to find the best flights to Korea from any country. Air Asia is a good option for budget flights from Asia.

Learning Korean: Want to learn Korean? I recommend a complete language learning course from 90 Day Korean or Korean Class 101 – both have well-structured lessons and lots of useful resources.
---
Detailed Review: Emma Original Mattress Korea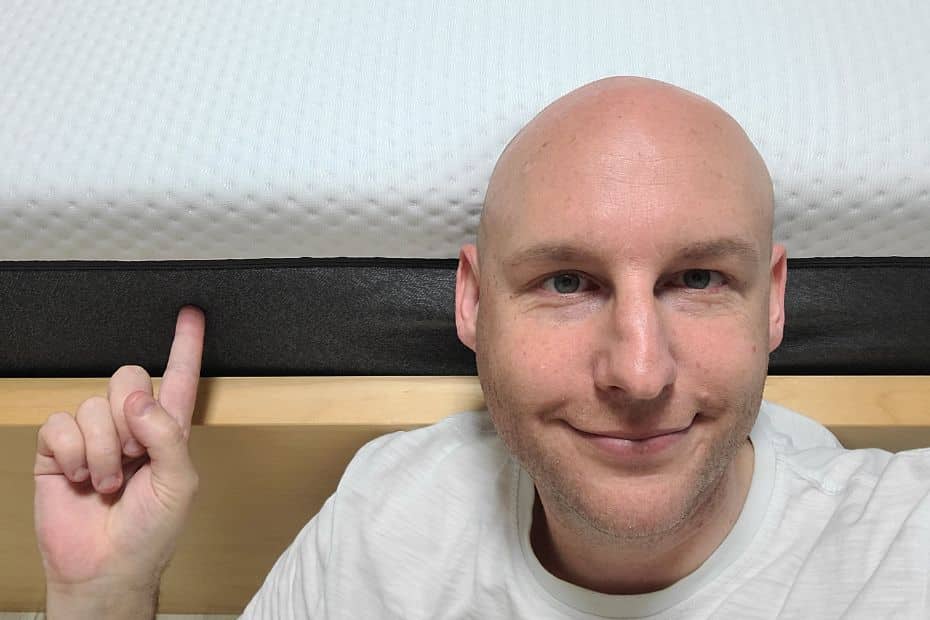 I've spent over three months sleeping on my Emma Original mattress in my Korean apartment before writing this to make sure that I have enough experience to give a detailed review. All opinions expressed here are my own and based on my experience using the Emma Original mattress.
I'm not an expert mattress reviewer (I've added video reviews by people who are), but I hope my opinions and insights will help people in Korea who are looking for a new mattress. I'm a light sleeper and take bedding supplies seriously because they can really make or break a good night's sleep.
---
Disclaimer: I was asked to write this review by Emma and was given a queen-sized Emma Original mattress to help me with the review. Before accepting, I mentioned it to my family in England, who told me they all use Emma mattresses at home and were very pleased with their quality and comfort.
I agreed to write this review for Emma, but please know that all opinions expressed in this article are based on my own experience of using the mattress. I decided that this would be a useful opportunity to help other expats in Korea who are looking for a good priced mattress for their apartment.
---
1: Emma Mattress Specifications
I received an Emma Original Mattress for this review, one of the most popular mattresses available from Emma. The specifications of this mattress can be seen in the table below:
| | |
| --- | --- |
| Mattress Type | Memory foam mattress |
| Mattress Size | 150cm x 200cm (Queen) |
| Original Price | 975,000 KRW* |
| Discounted Price | 585,000 KRW* |
| Firmness | Medium firmness |
| Materials | Memory foam, polyester elastane |
| Warrantee | 10 years |
*As of June 2023
---
2: Mattress Delivery
The Emma Original Mattress was delivered to my Korean apartment compressed (vacuum sealed) and packed neatly inside a box 110cm high and 50cm wide. The total weight was light enough that I could move it into my apartment by myself, however, it might be best to get a friend to help.
As is usual in Korean apartments, the mattress was delivered to my apartment (on the 8th floor) and left outside the apartment door. This is how parcels and other packages are left and theft inside apartments in Korea is very rare. I've never experienced any issues with items being left in this way.
As you can see from the pictures below, the outside of the delivery box was slightly damaged, but the contents inside were safely sealed away and in perfect condition. Although the mattress is 150cm x 200cm, it fits comfortably in this delivery box until you remove the mattress from its packaging.
About compressed mattresses: This isn't the first time I've had a mattress delivered like this and I believe it's quite normal for mattresses to be vacuum packed to make delivery easier. The last mattress I had delivered like this had springs and both have been fine to use after a few hours.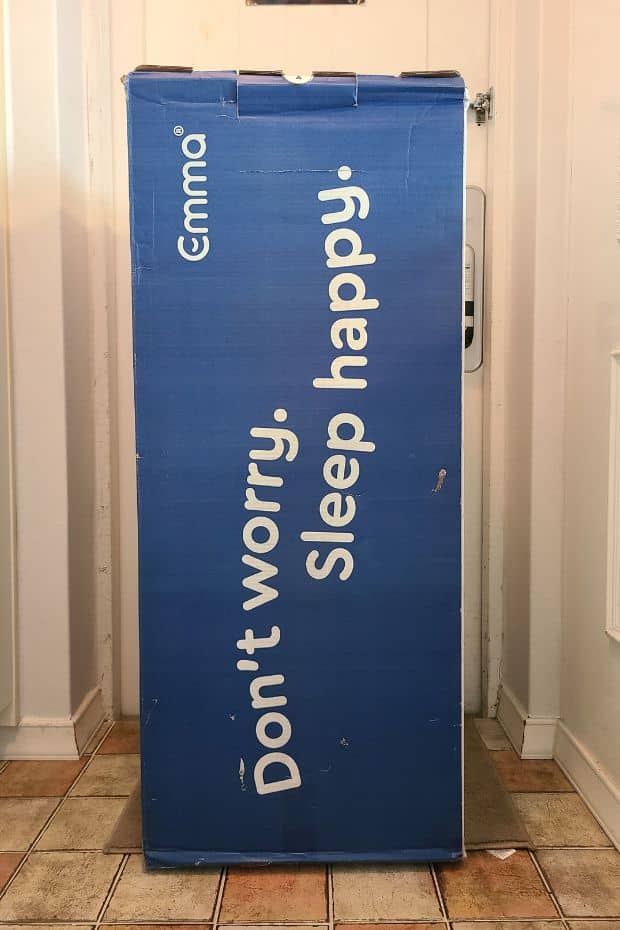 ---
3: Unboxing The Emma Mattress
Once I'd manoeuvred the mattress and the box into my bedroom, sliding out the mattress and placing it on my bed frame was probably the hardest part of installing the mattress, but possible alone. The mattress is rolled up and had to be cut open using the provided cutting tool, as shown below.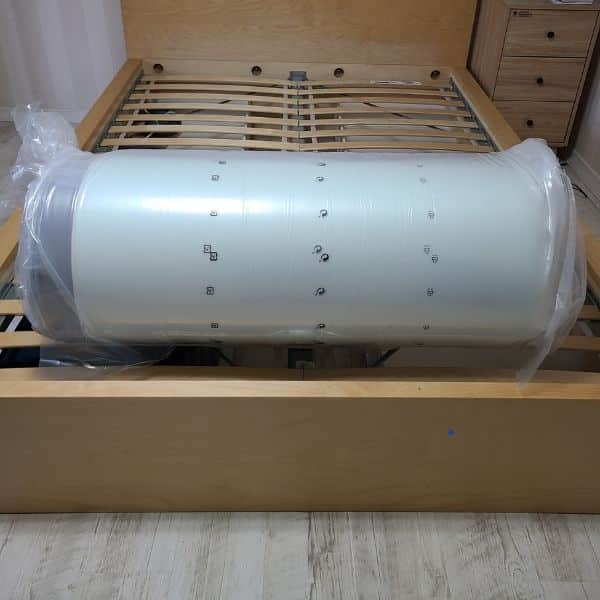 ---
After cutting through the packaging outer layer with the Emma cutting tool, the mattress unfurled easily and unrolling it was like undoing a Swiss roll cake (but bigger). When the mattress was flat, I cut the rest of the wrapping off and flipped the mattress over so the dark section was on the bottom.
The mattress quickly expanded and started to resemble its final look in about a minute. Vacuum packed mattresses need some time to adjust, so it's best not to sit or lie on the mattress for at least 5 hours. The handy picture card instructions included (pictured below) helps to remind you of this.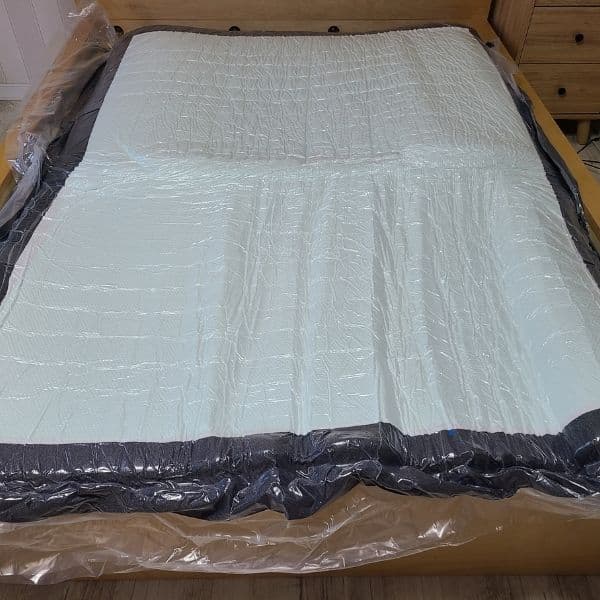 ---
Please note: The picture above shows the mattress the wrong way up. The white section should be at the top with the darker section at the base. You can see the correct position in the picture below.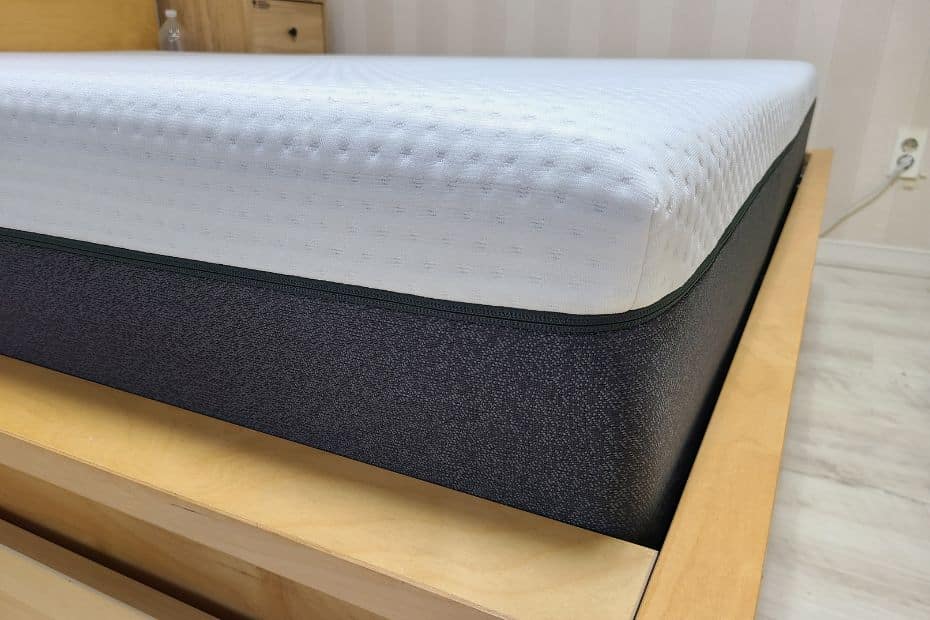 If you want to see what the unboxing process looks like, check out this short video from the Emma website that shows how compact and convenient everything is.
---
4: Mattress Materials & Design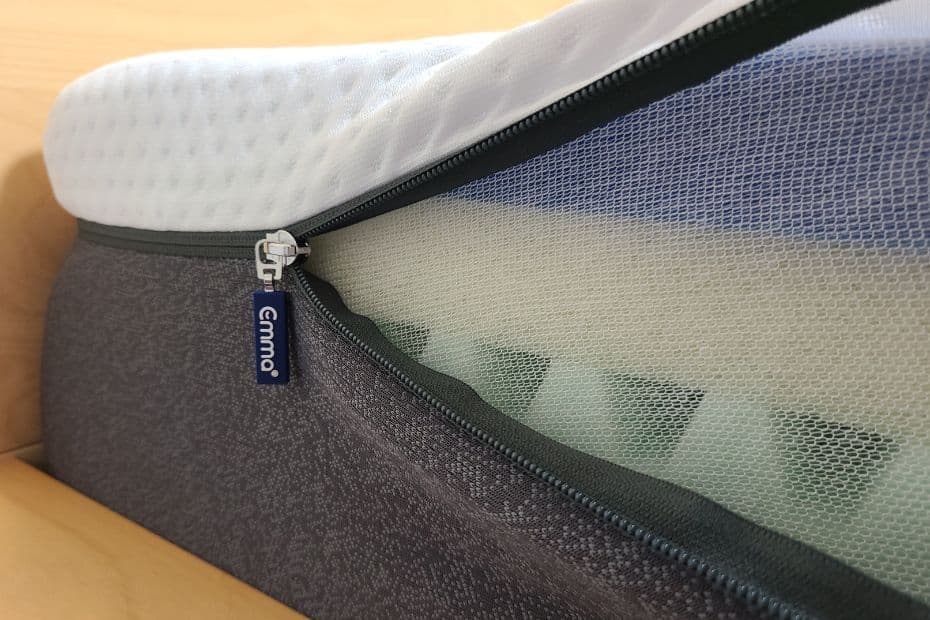 This is my first foam mattress and I'll admit I was a bit skeptical when I thought about using this kind of mattress. Having travelled in Korea a lot, and suffering some uncomfortable nights on cheap futons in Korean guesthouses, I thought that a foam mattress might be too soft and not suitable for me.
I'll cover the materials more in the section 'How The Emma Mattress Works', but for now I want to say that I was happily surprised both with the firmness and the quality of the materials of the Emma Original mattress. The mattress is medium-firm and provides good support while you sleep.
The design of the Emma Original mattress is convenient for living in Korea as the outer cover of the mattress is machine washable. This is particularly useful during summer in Korea when the weather is very hot and humid. Being able to wash the cover is a definite advantage over other mattresses.
---
5: Comfort While Resting On The Bed
The Emma Original mattress is firm but comfortable, making it good to sit or lie on while relaxing in the bedroom. I like to sit up and read in bed at night and I've found this mattress is firm enough to stop me sinking too low into the bed and offers good back support while reading.
Thanks to the motion isolation features of the Emma mattress, I don't get disturbed when my girlfriend moves around and she hasn't had any problems sleeping when I'm reading. The only issue I've had is when sitting on the edge of the bed as the mattress sinks more than it does in the centre.
---
6: Comfort While Sleeping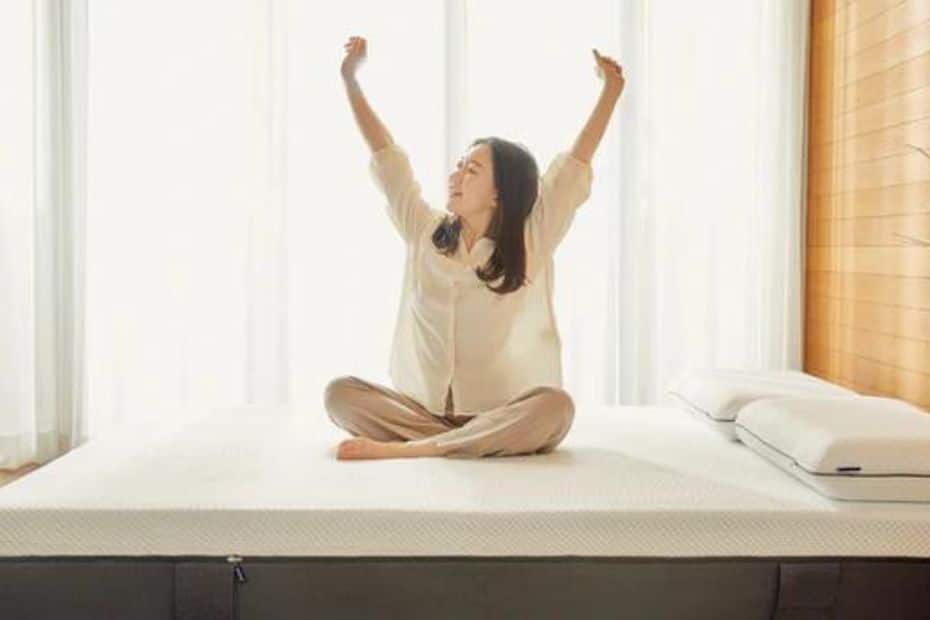 Sleeping well is the main issue when considering which mattress to buy in Korea, and with such extreme weather in summer (hot and humid) and winter (very cold at night), making sure you're comfortable when sleeping is key. As someone who has trouble sleeping easily, comfort is crucial.
I'm writing this review after the Korean summer, which for me is one of the hardest times to sleep due to the hot evening weather. Therefore, any mattress will have to work hard to help me sleep well. Fortunately, the Emma Original mattress hasn't disappointed me in terms of comfort while sleeping.
I use a fan to sleep at night, despite the threat of fan death (a Korean myth), and rely on my mattress and bedding to keep me cool, too. While the Emma Original mattress isn't a cooling mattress, it does include an UltraDry cover (for moisture wicking) and an Airgocell® layer to regulate temperature.
I can happily state that I've had many nights of comfortable sleep and have been happy to sleep on my Emma Original mattress after a long day commuting, travelling, or hiking in Korea. The mattress is very comfortable and I've found the firmness just right for both sleeping on my back and on my side.
I have read from other reviews of the Emma Original mattress that it can retain heat despite being breathable. I have noticed some heat build up, but this is easily avoided with air conditioning or a fan at night. This could be an issue during the summer months if you don't use a fan or air conditioning.
---
7: Sleeping Position & Back Support
I primarily sleep on my side and one of my biggest concerns about getting a foam mattress in Korea was that it wouldn't support my shoulders and back properly when I sleep. This can be a problem for me when sleeping on a futon or mattress without adequate support and pressure release.
Thanks to Emma's German-designed mattress, I have found that I get less back pains than from my old mattress. The Emma website states they have "studied in depth the alignment of the spine, sleep quality, air permeability, and pressure release of the mattress" to provide a comfortable night's sleep.
When I take a nap for an hour or two, I tend to sleep on my back instead of my side. The firmness of the Emma mattress allows offers great support for my back and body in general while sleeping in this position. I've found it more comfortable and easier to get to sleep than I did on my old mattress.
---
8: Edge Support & Motion Isolation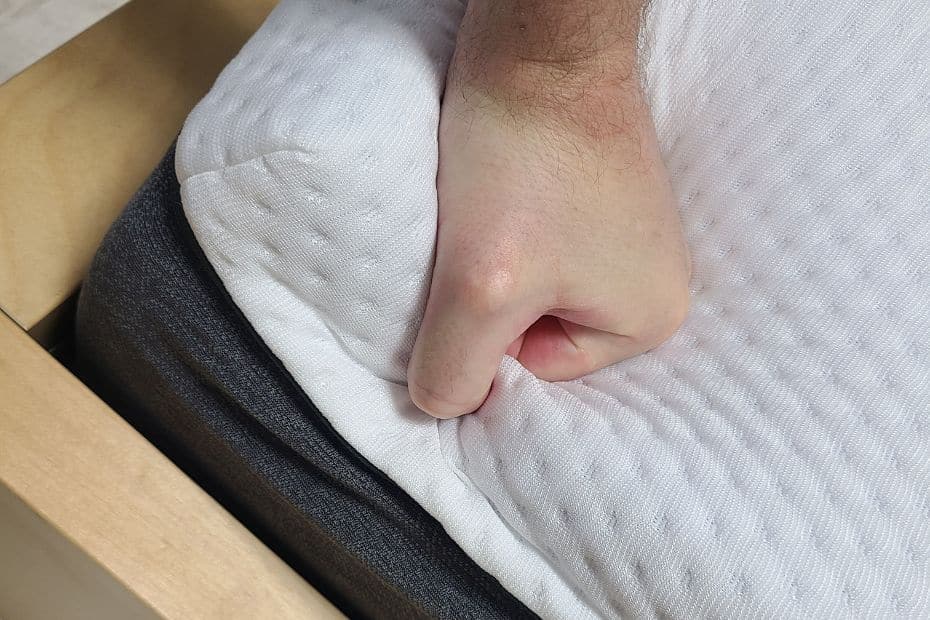 I'm not an expert reviewer, but I tried to consider all aspects of what makes a mattress worthwhile. The areas of edge support and motion isolation aren't something I'd thought of much before, but I've become more aware of them while writing this review. The Emma mattress has mixed results here.
As the Emma Original mattress is a foam-based mattress, it is lacking the edge support that I'm used to from my old sprung mattress. When I sit on the side of the bed, the mattress drops considerably. This isn't a serious issue, but it is worth being aware of if you sit on the edge of the bed a lot.
The central area of the Emma Original mattress is really well designed and has a really good motion isolation feature. As mentioned, when someone else is sleeping or lying on the mattress, you hardly notice them moving at night. This is perfect as I tend to move around a lot when sleeping.
After reading other reviews of the Emma Original mattress, I decided to replicate a test for motion isolation by placing a glass on the mattress and pushing down on other areas. Sorry, the picture below isn't a video, but I can tell you that the glass hardly moved when pushing down on the mattress.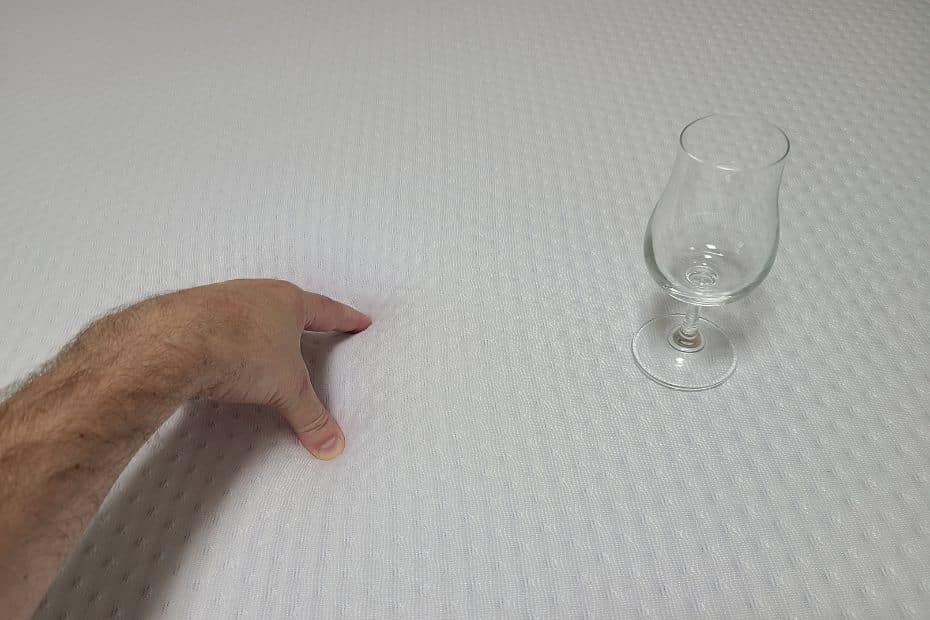 ---
9: Emma Original Mattress Vs My Old Mattress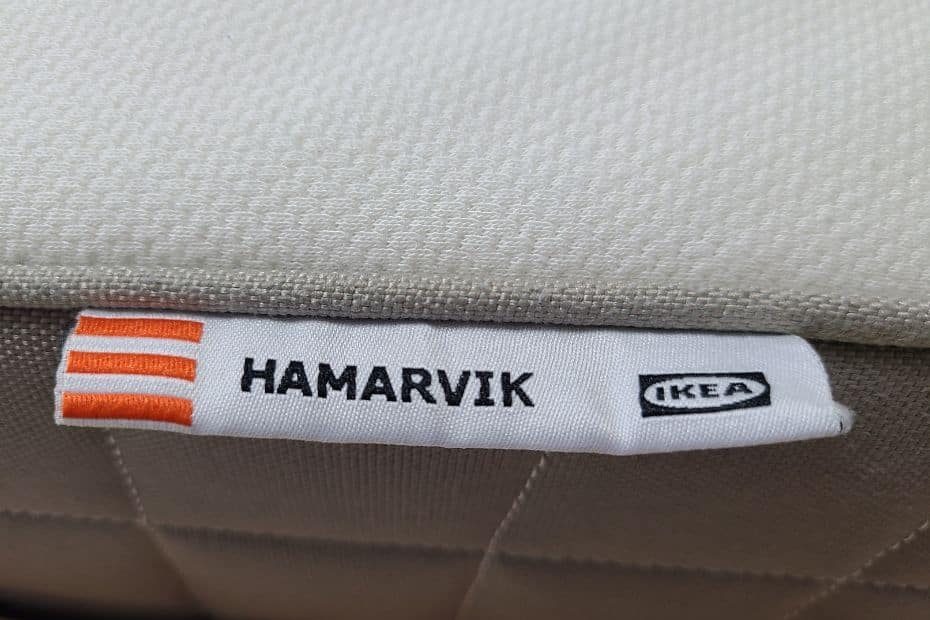 My old mattress was the Hamarvik mattress from IKEA which I bought in Korea about 7 years ago. At that time, there was less choice for good-priced mattresses that offered a reliable night's sleep. I tried this one and found it was good enough for the small apartment I was living in then.
The Hamarvik mattress (which I believe is no longer made) was a sprung mattress that was was described as medium firmness. However, when I compare it to the Emma Original mattress, I can say it was, or has become, quite soft. It wasn't uncomfortable though, despite the age of the mattress.
When I compare the two mattresses, the Emma mattress offers better support for my body when resting or sleeping than my old mattress and is better suited for two people thanks to the motion isolation features. The Emma mattress is generally more comfortable all round.
The ability to wash the outer cover of the Emma mattress and the Airgocell® foam will surely prove to be a major advantage over my old mattress in the years to come, especially during summer. The improved back support should also lead to an improvement in my spinal health vs my old mattress.
---
10: Is The Emma Mattress Korea Worth The Price?
The Emma Original mattress starts for as little 435,000 KRW on sale right now (original price 725,000 KRW) for a single. This is certainly a very reasonable price for a mattress in Korea, especially when you consider the quality of the mattress, the features it provides, and the 10 year warrantee.
Compared to other foreign mattress brands, which usually charge a premium in Korea, the price is very competitive and lower than some of the big-name brands that I've encountered in Korea. When shopping for a queen-sized mattress in early 2023, I often saw prices of more than 1 million KRW.
When you compare the Emma Original mattress to Korean-made mattresses, which have had some issues in the past due to health concerns (covered later), this mattress is worth the price. In fact, Korean brands such as Ace Bedding charge more for their mattress, despite being locally made.
Unlike a futon, which can be bought cheaply in Korea and offers minimal back or body support, the Emma mattress is more expensive but worth the extra cost for the advanced features. After all, there's nothing worse than sleeping on a cheap foam mattress that feels like you're lying on a sponge.
---
Exclusive Discount Code: An Extra 5% Off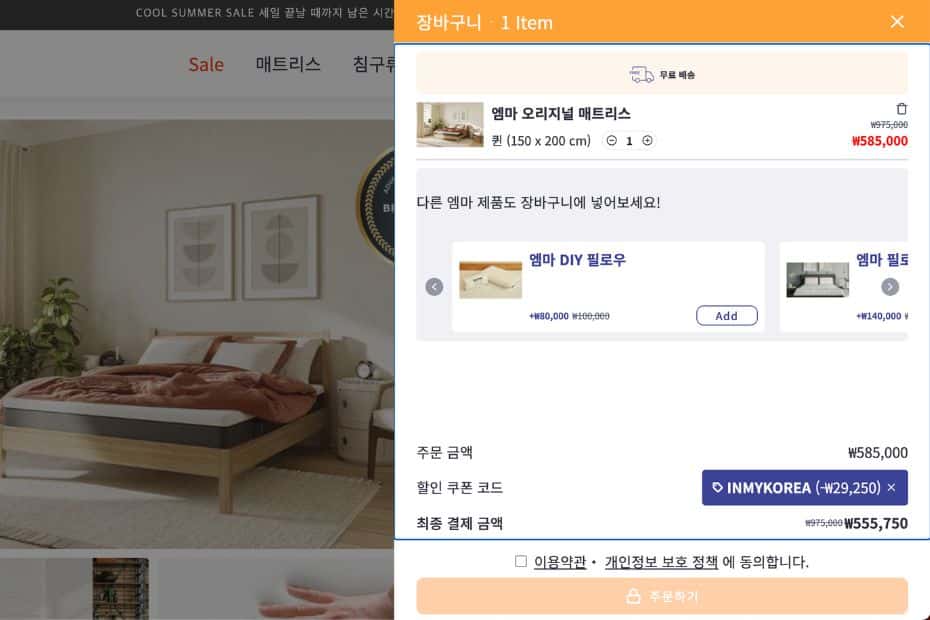 Get an extra 5% off your purchase with this coupon code exclusively for readers of In My Korea. Enter the code "INMYKOREA" after you select any mattress from the Emma website in Korea.
---
See The Emma Original Mattress In Action
If you want to hear more opinions and see the Emma original mattress in action, check out these video reviews. These channels offer more opinions to help you decide whether an Emma mattress is right for your Korean home, and you can also see how the Emma memory foam mattress works.
---
How The Emma Original Mattress Works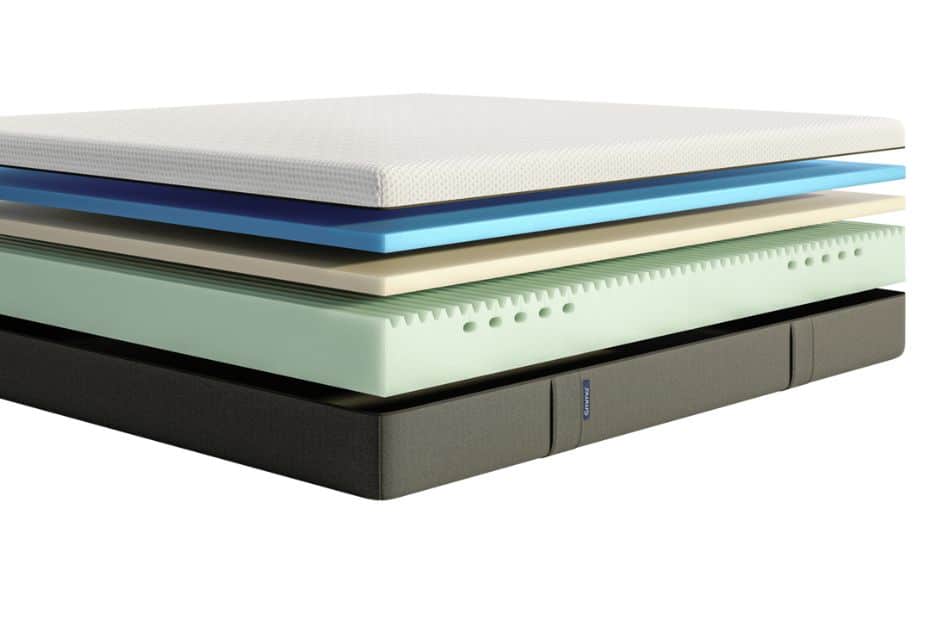 The Emma Original mattress is made of three layers of foam and removable breathing cover that keeps everything in place. Here's a breakdown of those four different components:
Removable breathing cover: This is a detachable cover made of breathable material that provides a healthy sleeping environment. It can be machine washed, helping you to keep your bed hygienic. Simply unzip the cover where the white and black segments meet to remove.
Airgocell® foam: The top layer of foam (blue) is made from Emma's patented Airgocell® foam, which fills at least 50% with air as the pores of the foam open. This special design helps to disperse heat and moisture and enables you to sleep comfortably at night, even when it's hot outside.
High-density viscoelastic memory foam: The middle layer of foam (yellow) is a high-density memory foam with a higher than average density. This helps to distribute your body pressure and wraps tightly to relieve pain in the shoulder and back.
7-zone HRX foam: The bulk of the foam mattress is the bottom later (green). This specially designed foam is essential for a restful and peaceful night's sleep. It's designed to absorb shock with Emma's unique cutting technology, it provides stable support from head to toe.
The combination of these three layers of foam helps to ensure that you have a good night's sleep and maintain a healthy spine position while you rest. The high-quality and eco-friendly materials ensure you stay healthy and happy at night with a hygienic, easy to maintain Emma mattress.
---
Benefits Of This Emma Original Mattress For Korea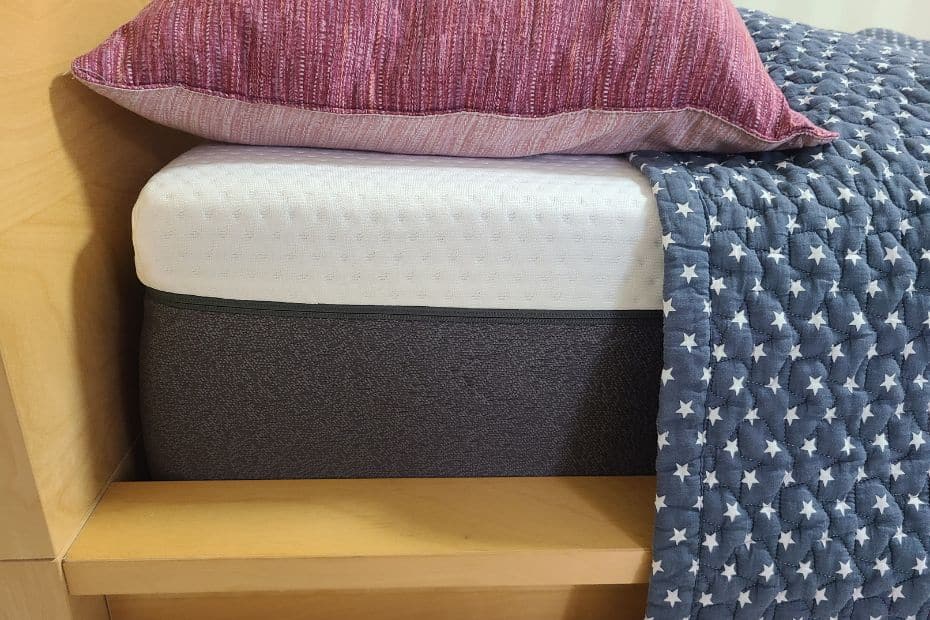 I've written this Emma mattress review for people in Korea and tried to include considerations about how the weather, apartment sizes, and other conditions in Korea might impact your choice of mattress. Here are 5 reasons why I think buying an Emma Original mattress in Korea is a good idea:
Price: A queen-sized Emma Original mattress costs just over 555,000 KRW (when using the discount code "INMYKOREA"), which I think is a great price for a mattress in Korea. This includes delivery within 2-4 days. This is considerably cheaper than other mattresses I've looked at in Korean stores.
Convenience: I know from experience that trying to find and buy a mattress in Korea as an expat can be a struggle, especially if you don't speak Korean well. Knowing you can go online and get a good quality, affordable Emma mattress delivered in a few days makes living in Korea a little bit easier.
Hygiene: Heat and humidity are a serious issue during the Korean summer and sweating in bed can occur. Thanks to the removable cover, as well as the breathable materials, the Emma mattress can help reduce hygiene problems and keep you sleeping healthily at night.
Reliability: Although I haven't had the Emma mattress for long, I have read reviews online and heard positive feedback from my family about the reliability of Emma mattresses. This is useful for expats in Korea for a few years as they won't have to purchase a second mattress and can resell this one.
Space: The Emma Original mattress comes in a wide range of sizes, from single (100 x 200) all the way up to large king (180 x 200). Apartment sizes in Korea are getting smaller and, for single-person households, a single Emma Original mattress is both cheap and very conveniently sized.
For couples and families who still might not have lots of spare space, but value a good night's sleep and prefer to have a larger bed, the queen-sized mattress is perfect. Sometimes you have to prioritise your use of space in a Korean apartment, and having a good sized mattress is top for me.
---
Are Emma Mattresses In Korea Safe To Use?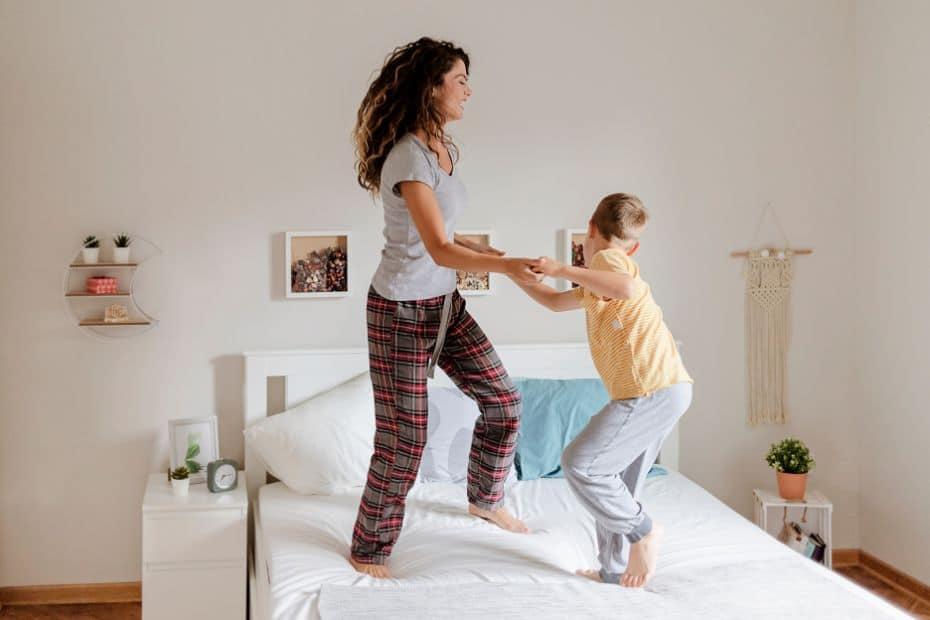 In 2018 there was a big scandal involving mattresses made in Korea that were found to emit more than 9 times the amount of radon than the national standard. Being exposed to high levels of radon over long periods of time can lead to health issues, including lung cancer.
To prove that Emma mattresses in Korea are perfectly safe to use, Emma Korea has submitted to the KOTITI radon test and passed with a radon score of 9.12 Bq/m3 (vs. the recommended standard of 148 Bq/m3). People of all ages can safely use Emma mattresses with no concerns.
Furthermore, Emma mattresses come with an OEKO-TEX® STANDARD 100 label – one of the world's most well-known hazmat-tested textile labels. This guarantees that all components, including yarn, button and other fittings, have been tested for harmful substances and have high product safety.
---
About Emma Mattress Korea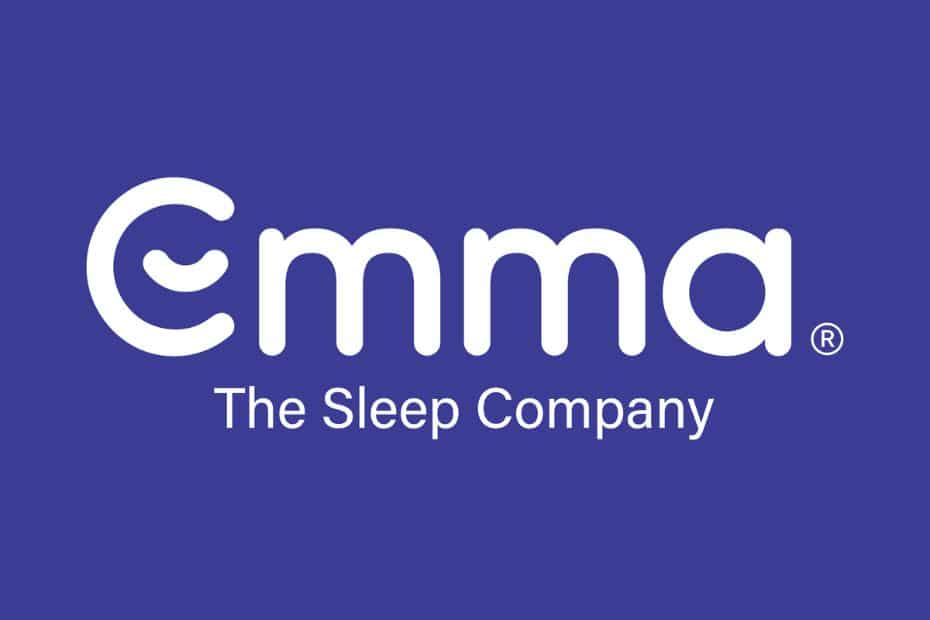 Having lived in Korea since 2015, I had never heard of Emma mattresses before. That's probably due to the fact that the company started in Frankfurt, Germany in 2015. The Emma Original mattress was the first product created after many hours of research and testing in the Emma sleep lab.
Now, Emma is one of the leading sleep brands in the world and operates in 33 countries, including South Korea. That's quite incredible for a company that only started in 2015 and a clear sign that the effort to create well-made and affordable mattresses that are easy to buy has paid off.
Emma is the UK's most awarded sleep brand, winning the most awards in 2019, 2020, 2021, and 2022, including the Which? Best Buy award (4 years in a row). Emma mattresses also have top customer reviews, with the Emma Original mattress receiving a score of 4.8 stars in Korea.
Highly awarded, eco-friendly, world-class German engineering, and consumer focused – the are many reasons to buy an Emma mattress in Korea, as well as the fact it'll help you have a comfortable night's sleep. In case you're not sure, Emma mattresses also come with 100 day trial service:
If you are not satisfied after using the Emma mattress for 100 days after purchase to see if it fits your body, we will return it.
From my own interaction with the Emma company, I can tell that they are focused on delivering a great customer service and trying to find out what issues people in Korea are facing and how to meet their needs. I think that the mattresses they're offering here are going to be very popular in the future.
---
---
Related Articles